The hottest looks touch all corners of interior design – and kitchens are no exception in 2023! This means kitchens of the future hold a world of excitement to look forward to too! According to trend predictors, we're moving into neutral territory with form taking center stage. But there is so much more – read on to see the kitchen trends 2023 sure to fire up any interior!
What are the new interior design kitchen trends in 2023?
Just like interior design trends, 2023 kitchen trends see more personalization and self-expression. The key to current and future designs is creating a space that truly feels like you or those that dwell within the interior. This may mean customizing the room to your every like, while either opting for a sleek minimal look or a bolder, wild design. Similarly, function and layout follow suit to adapt to your way of living.
That said, trends don't dictate or necessitate a kitchen remodel. Fortunately, many trendy options can spruce up your interior without an overhaul. Whether a coat of paint for a daring look or updated fixtures, there's a way to include the newest vogue in any space.   
Tip: It's important to know that kitchen trends 2023 come in many different styles. Taking an

interior design style quiz

can help you pinpoint which trends match your personal style! 
Hottest Kitchen Trends 2023
Trends and fads rise and fall, but some ground-breaking designs stick for a while, if not forever. Besides, among the top kitchen and interior design trends of 2023 are timeless styles that'll work in any setting.
1. Light-Filled Kitchens Dominate 2023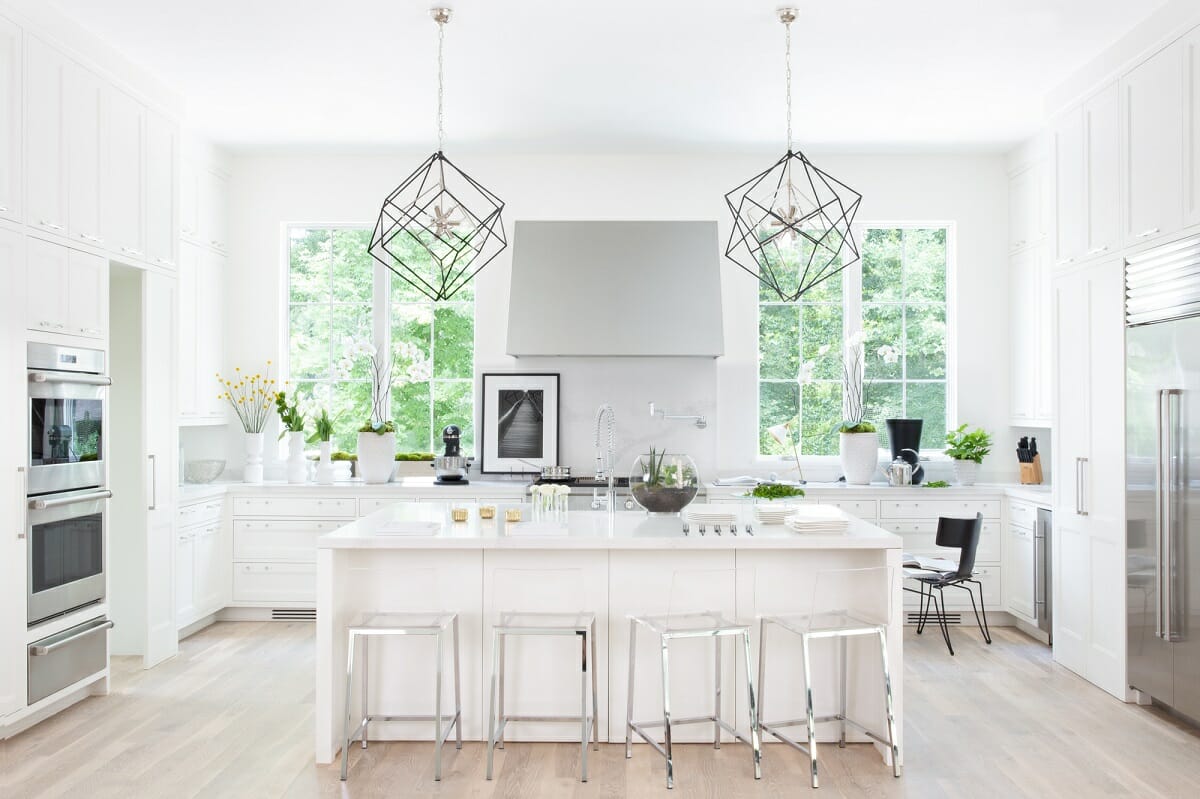 All kitchen trends of 2023 are moving toward lighter and brighter spaces. So, whatever the design or final look, the room will be full of sunlight. That said, maximizing light has been a popular kitchen trend for a while. However, huge windows, light hues, and reflective matte materials will boost the glow even more in the coming years.
2. Statement Kitchen Hood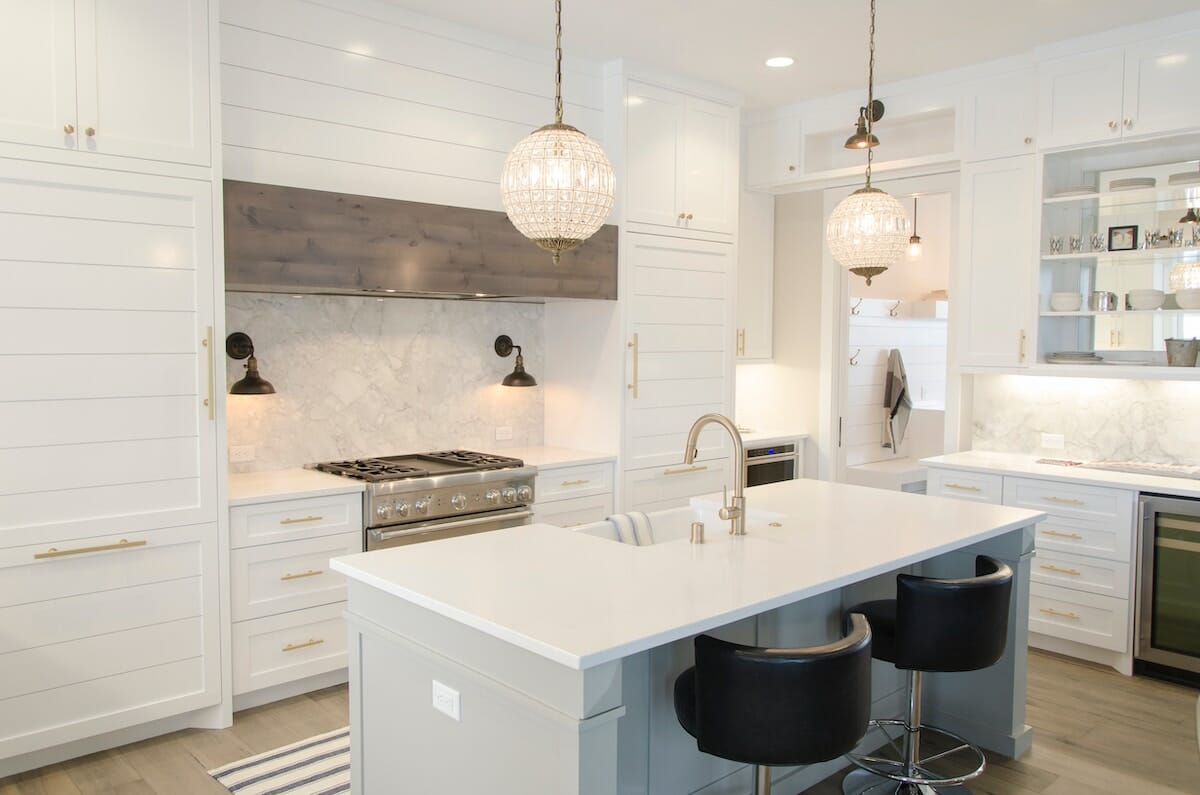 Whether minimalist or traditional, a cooker hood makes a statement. These designs promise fun and creative ways to highlight the kitchen hood. But in the same way, kitchen remodel ideas for 2023 also lean towards minimal and integrated styles. These seem invisible, especially in forward-thinking traditional and online kitchen designs.
3. Family-Centered Kitchen Designs in 2023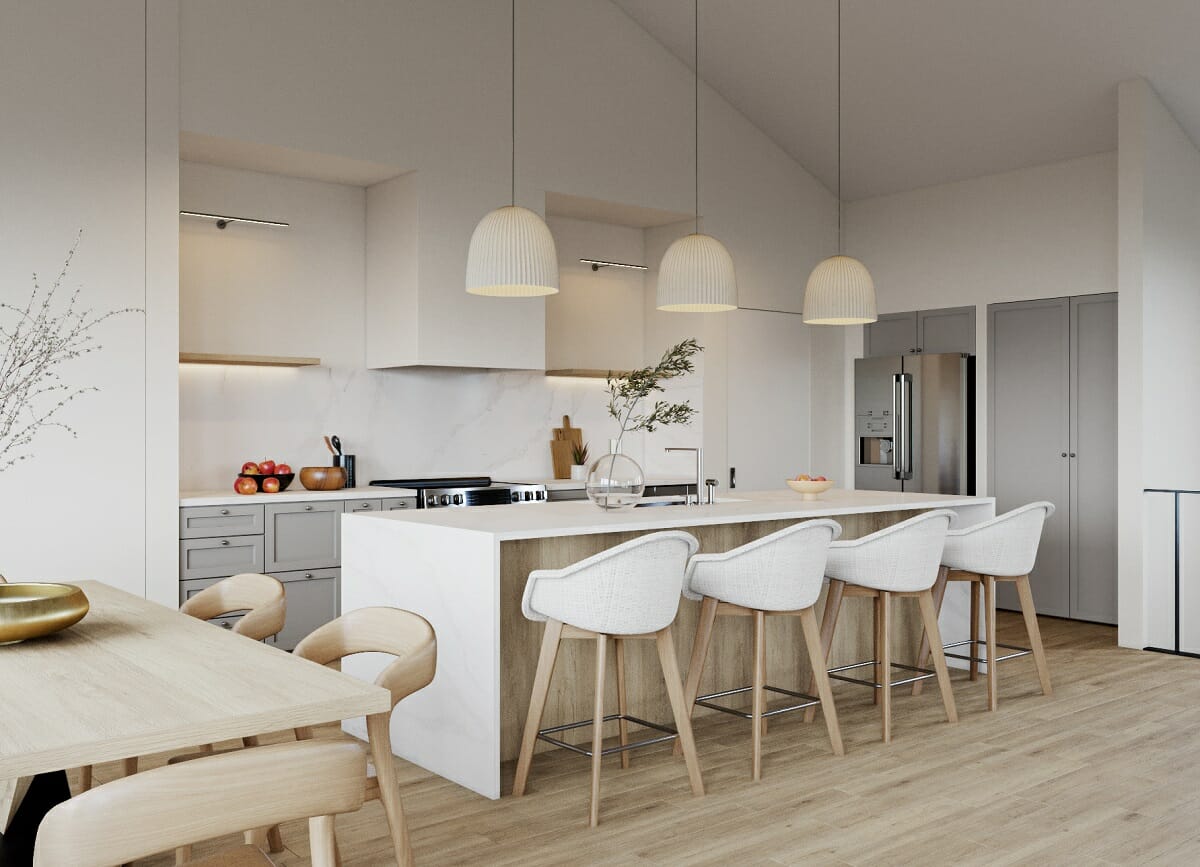 Comfy, cozy spaces with enough seating for family take precedence in residential kitchen designs in 2023. However, balancing comfort and style is vital to the family-friendly spaces of the future. Moreover, the four-pawed family members also get a spot. Improved kitchen islands come with neatly built-in pet-feeding stations. These are great as a fitting to a kitchen island or in a side cabinet.
4. Mini High-End Prep Spaces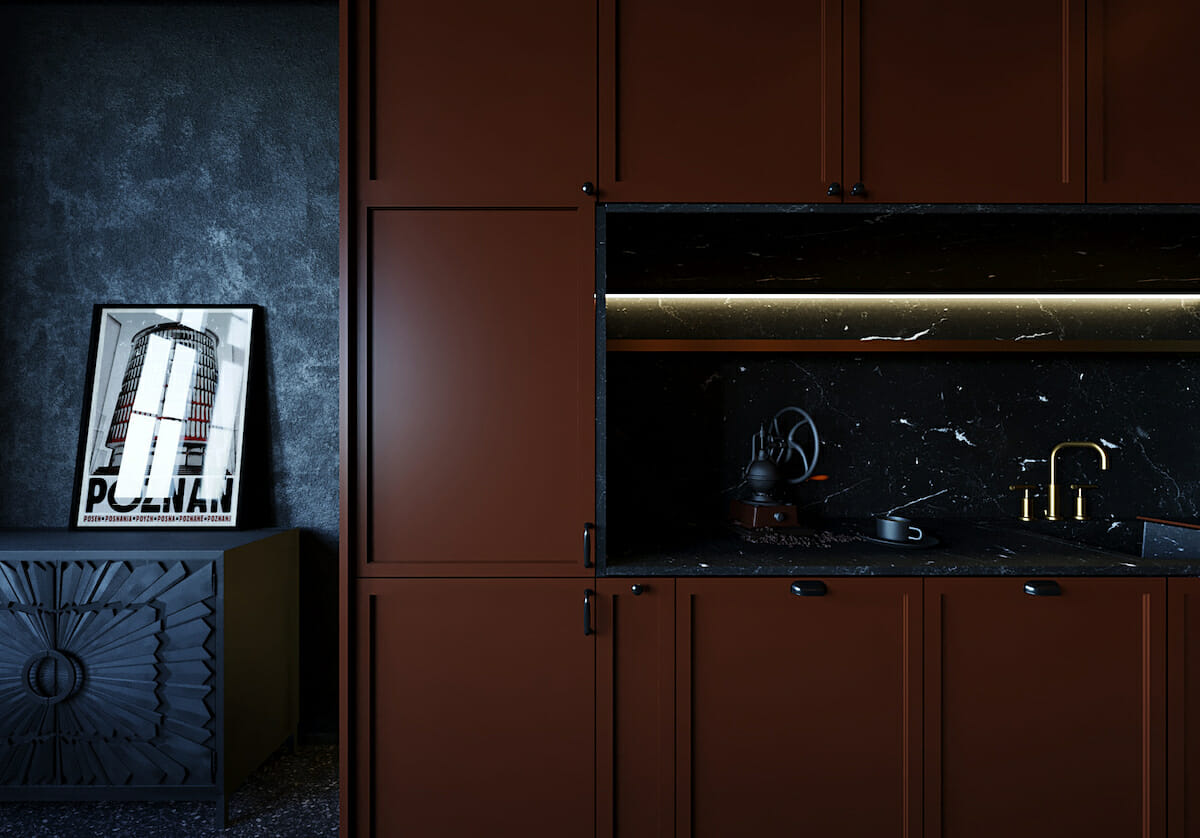 Short-term rentals, especially for quick getaways, are getting a luxe makeover. Creating a small bespoke interior increases the appeal of your vacation rental, without a doubt. But it also makes sticking to a kitchen remodel guide easy. A corner of cabinets topped off with statement finishes are all you need for small-scale luxe kitchen ideas in 2023. 
5. Ecocentric Kitchen Design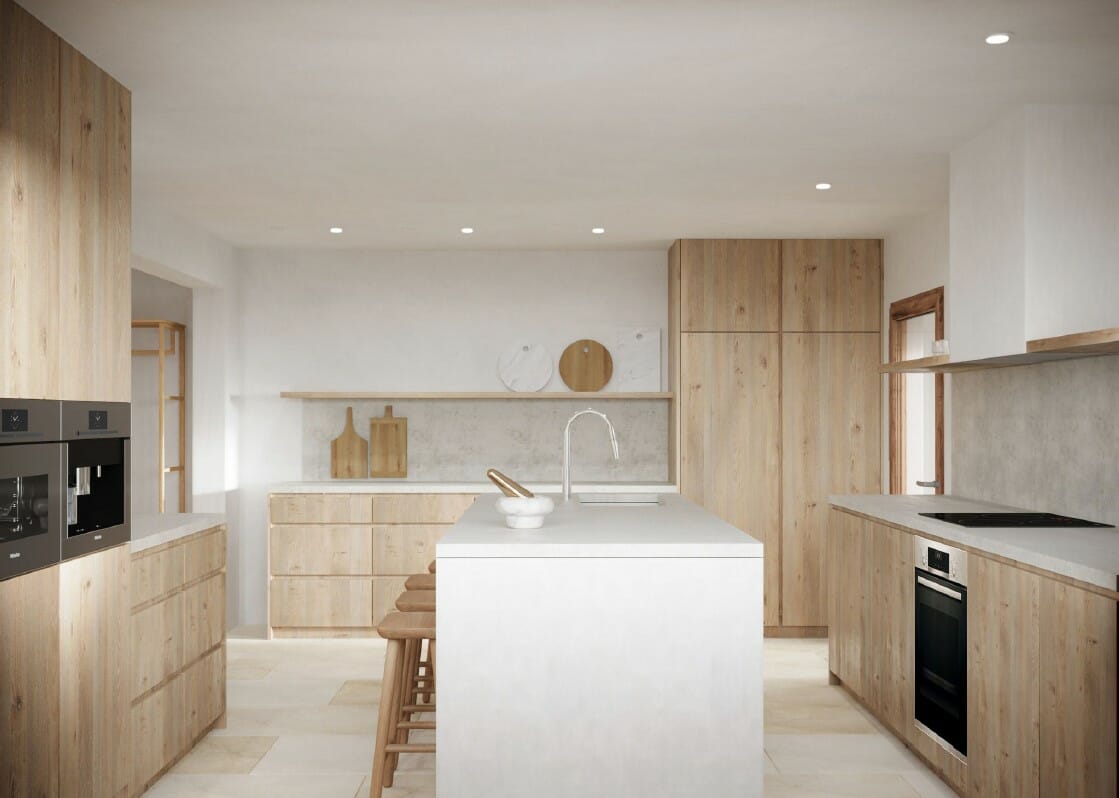 Expect to see an increase in organic, eco-friendly green design. Plastic, unless recycled, is out, and natural, sustainably sourced materials are in. With a heightened awareness of the environmental impact of design, the green movement is sure to stay. To follow suit, opt for ethically sourced and eco-friendly materials in your kitchen designs for 2023 and beyond. 

6. Bye-Bye Upper Cabinets
Although the thorough organization of the popular KonMari method has settled down in past years, its based concept of kurashi has left an imprint on everyday designs. Meanwhile, the recent pandemic has also placed focus on what is important. And so, visually spacious, clutter-free interiors are key. One way kitchen design embraces the trend is by bidding farewell to upper cabinets and embracing sophisticated smart storage instead.   
7. Kitchen Remodel Ideas Raise in 2023
The kitchen makes a decisive impact on a home's buyability. In fact, potential buyers might not consider a house if they dislike the kitchen. Beyond increasing your property's resale value, an updated interior will also be more enjoyable during its daily use.  For this reason, kitchen remodeling ideas are rapidly gaining popularity. 
8. Diverse Materials Clad Kitchens in 2023
Two-tone wood kitchens are gaining popularity, but it's more than contrast that makes it appealing. Kitchen remodel ideas for 2023 predict an increase in multi-material kitchens. This means wood, stone, and ceramics will sit alongside new and upcoming mediums. The result will certainly be visually and texturally pleasing. 
9. Space-Saving Cupboard Kitchen Design 
In 2023, kitchen trends are making the most of compact interiors. Highly populated metropolises are always in need of space-saving and innovative designs. As a result, stowaway kitchens have become popular in tight spaces. This means a room can have more than one function.
A wood shutter could cover a kitchen whenever necessary, allowing the space another function. These kitchen designs of 2023 are so sleek and minimal that they fit into a standard built-in cupboard. So, if you want to renovate, consider one of the up-and-coming space-smart alternatives.
10. Vintage Revival Kitchen Tiles & Details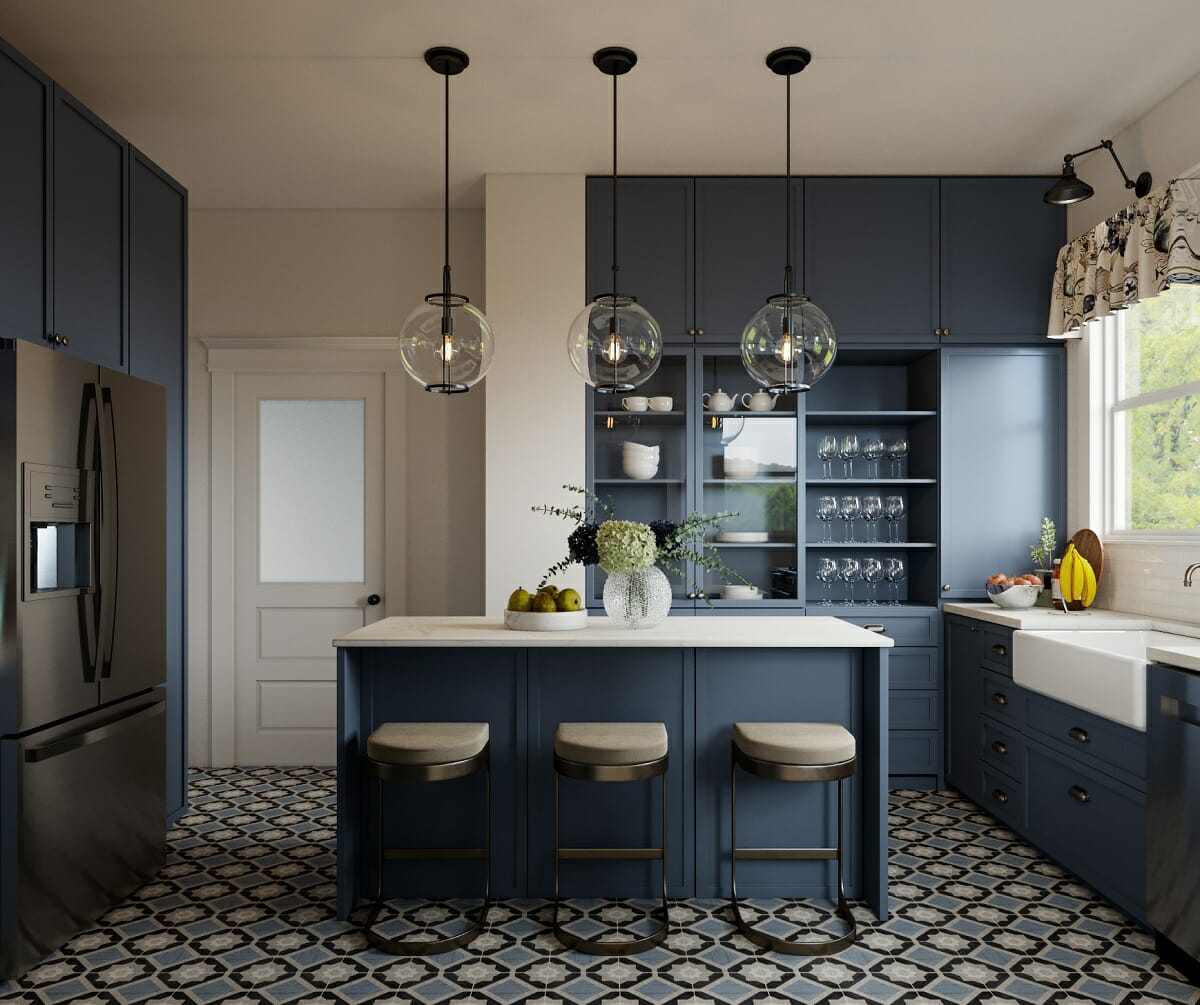 Make the most of what you have. Gut renovations are not necessarily key to your kitchen revamp in the next few years. Some styles, like cottage design, are making a comeback, which means you can simply modernize other details. With this in mind, lighting, tilework, and cabinets always have a great potential to update an interior.  
11. Using an Ex-Show Kitchen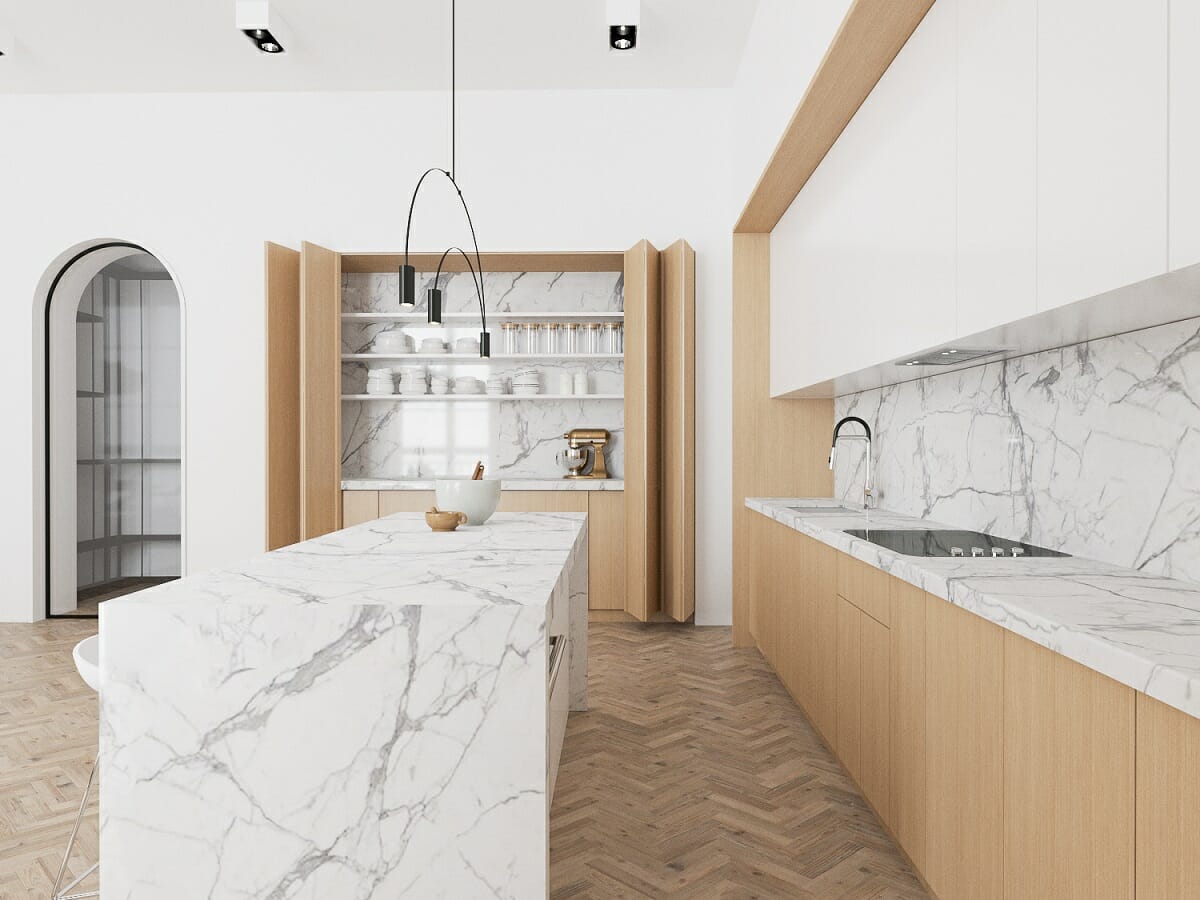 Buying a second-hand kitchen is becoming possible thanks to ex-showroom designs. You can purchase a complete kitchen at the forefront of what's trending. In this way, you'll keep costs low as well as reuse products. It's a financially-wise and environmentally friendly option.
12. Grounding Kitchen Countertop Trends 2023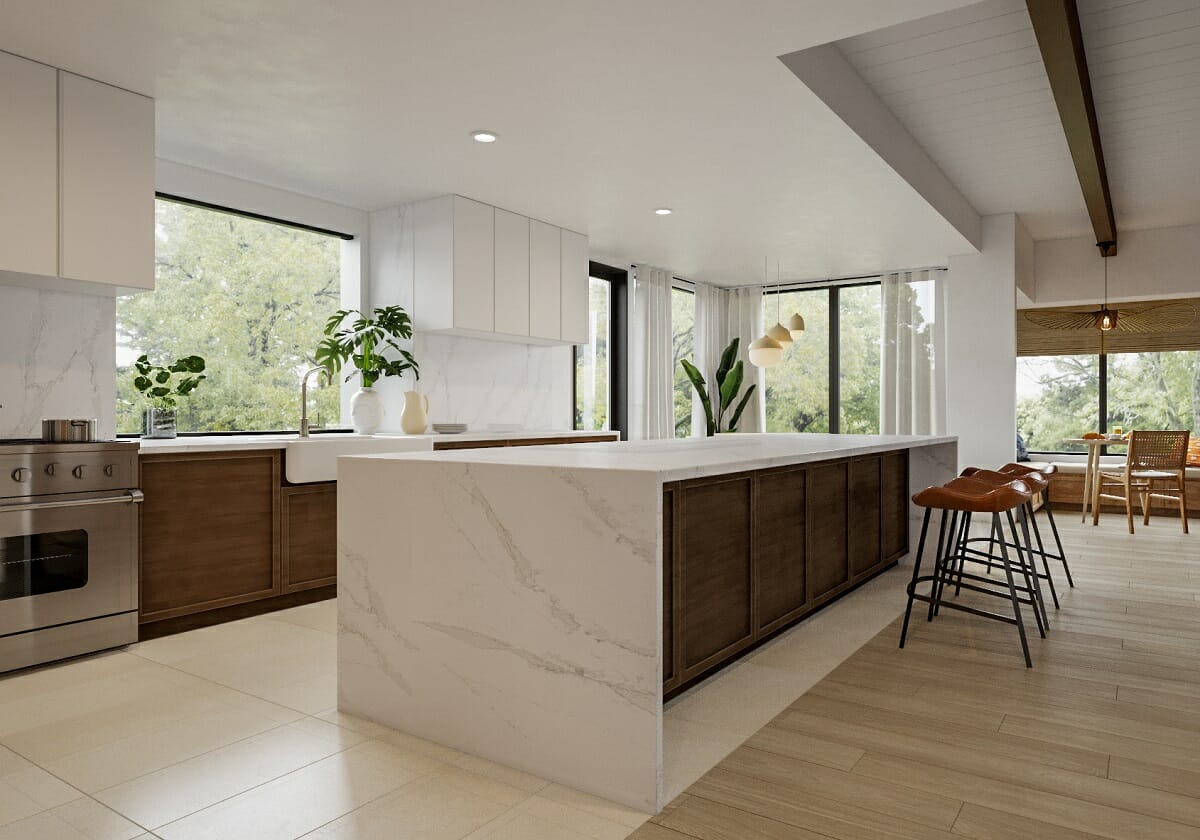 Non-toxic surfaces are imperative to a healthy kitchen environment. Countertops range from solid natural stone, marble, wood, and metals. Many of these options look great next to the top kitchen hardware trends of 2023-2024.  Whichever you choose, ensure you consider the theme and function of your kitchen. Then you can easily incorporate fitting kitchen trends from 2023 and years to come.   
13. Adding Character with Statement Stone
Kitchen design and countertop trends for 2023 allow more personalization than ever. If it's not cabinets or wall color, surfaces – especially stone – can add character to the interior. Although we have new options every year, it looks like the design world is moving to neutral, calming designs with a pop of interest here and there. Deeply veined countertops could be just the thing kitchens need in 2023.
14. Jewelry-Box Terrazzo Detailing
Terrazzo adds a unique look to interiors. They're available in tile format, big-scale for floors, backsplashes, and countertops. It can take on exactly the look you want while reusing chips of other building materials, like glass and marble.
For this reason, it's an eco-friendly choice and becoming more popular as our green awareness improves. Plus, its versatility will match any kitchen cabinet color trends of 2023 and beyond.
15. New Steel Kitchen Trends for 2023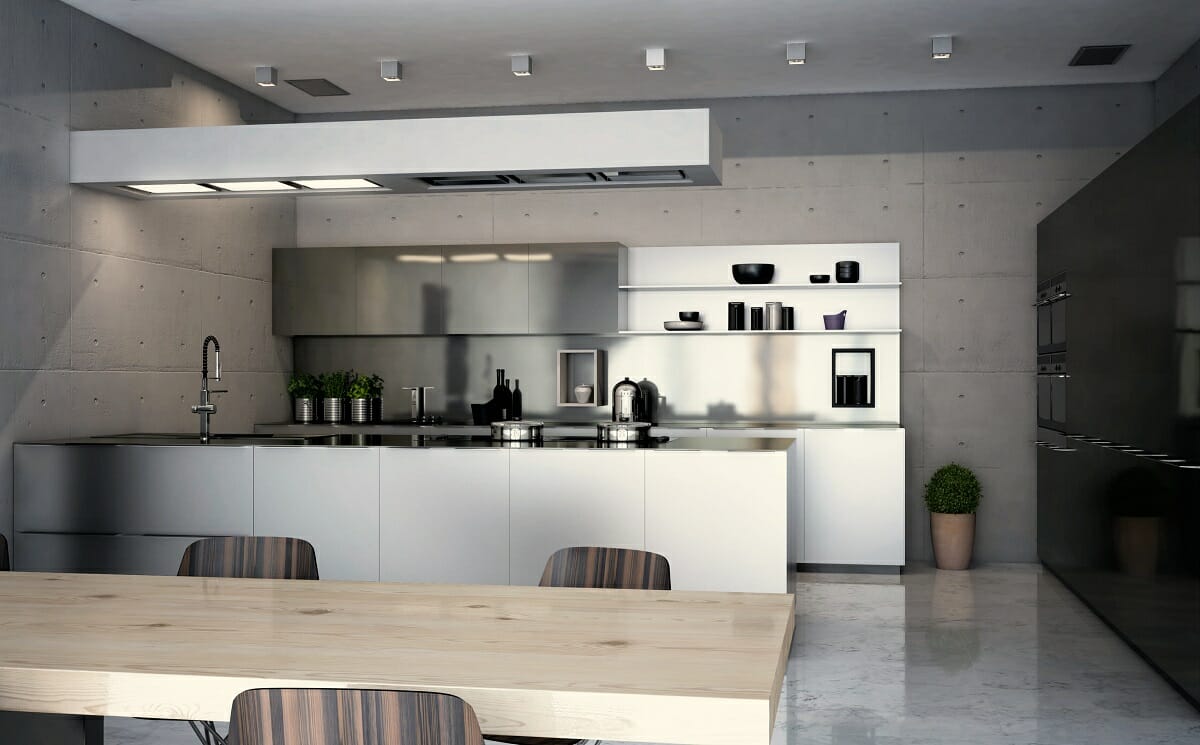 Minimal yet welcoming stainless-steel kitchen cabinets make some of the most attractive trends of 2023. Moreover, it's not only the counter but the entire kitchen that can get a full-metal treatment. Yet, they come with a twist. Brushed, mirrored, laser-printed, and matte finishes will give more variety and suit a range of interior styles.
16. Kitchen Paint Colors Splash into 2023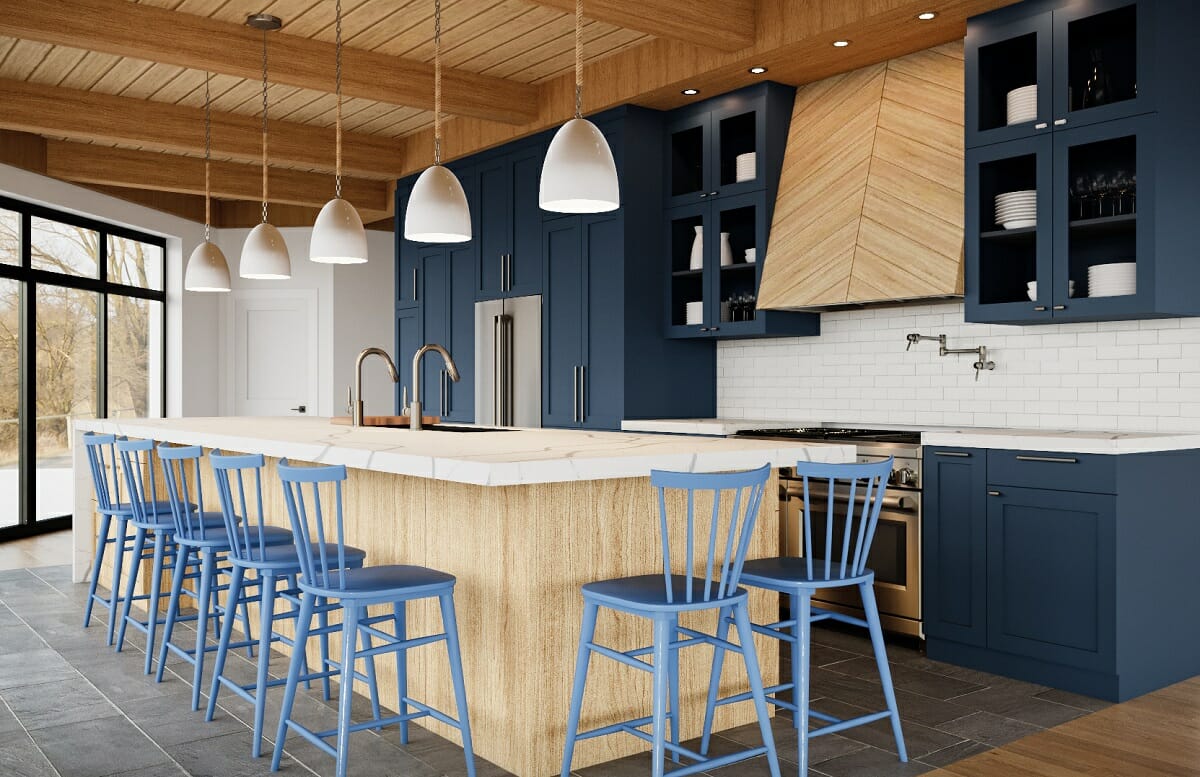 Even the smallest kitchen remodel can benefit from trending paint colors for 2023. Besides, a fresh coat of color can change the complete feel of the interior. It can turn a bland space into one that energizes and inspires. Plus, a new coat of paint will always be in style!
17. Matte Black Kitchen Designs Reign in 2023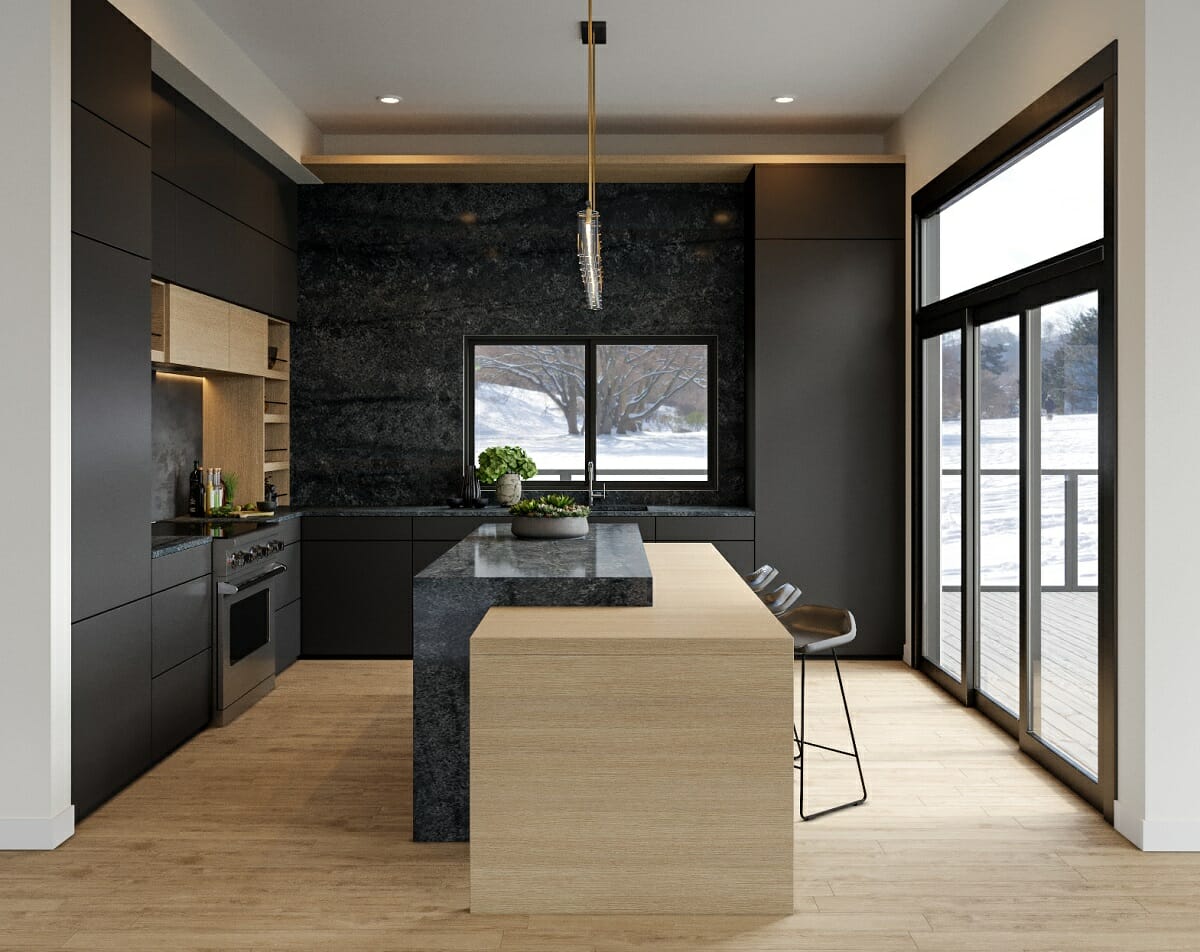 Black is more than a deep contrasting base or accent shade. With a diversity of finishes and materials in the darkest hue, you can create a layered interior using only black. That said, black still stands out most set against a contrasting color. Plus, trending kitchen paint colors in 2023 will have dozens of attractive black tints. They could also make a blissful neutral picture when mixed with woody tones.
18. High Contrast Reigns
Lively, audacious interiors demand defining contrasts. After all, it underscores the details of an exceptional design. So be sure to include rich hues opposite subdued tones, as well as light and dark colors. These touches can also bring life to a slightly outdated design without a big makeover.
19. Olive Green Kitchens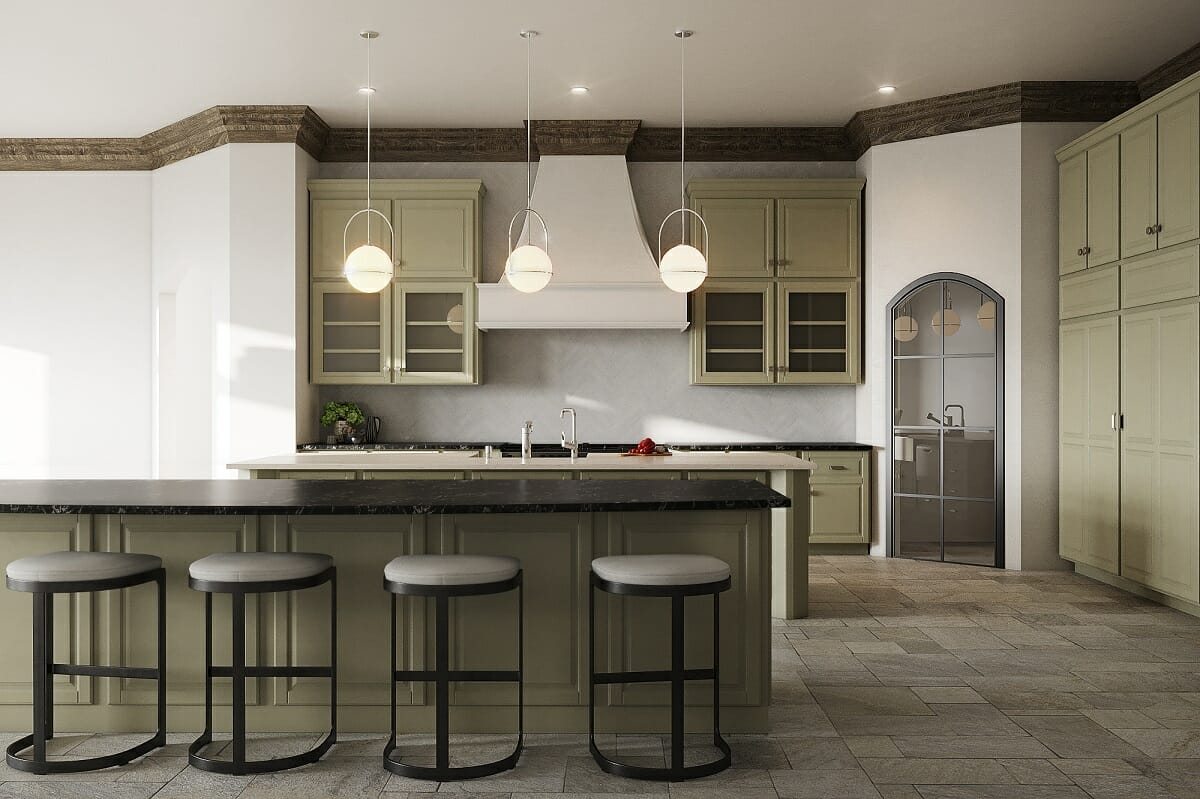 A gentle olive hue will be a delightful alternative for interior lovers who prefer more neutral green in their homes. As one of the earthy kitchen paint colors of 2023, it leans to the warmer spectrum while pairing exceptionally well with white or black. That said, a cool combo with gray or a colorful mix with terracotta could make an unforgettable space. 
20. Warming Vanilla Hues
Milky latte or spiced vanilla hues match whereto design is moving – natural and uncomplicated spaces. They're sure to give an interior a refreshing yet warming glow. Plus, the neutral tone is great for making the most of kitchen backsplash trends in 2023.
Keep the design simple and splash out with a contrasting or bright color next to the stovetop. It won't only pack a small but powerful punch, but also allow an easy change when the time comes for an update.
21. Refining Kitchen Decor Ideas 2023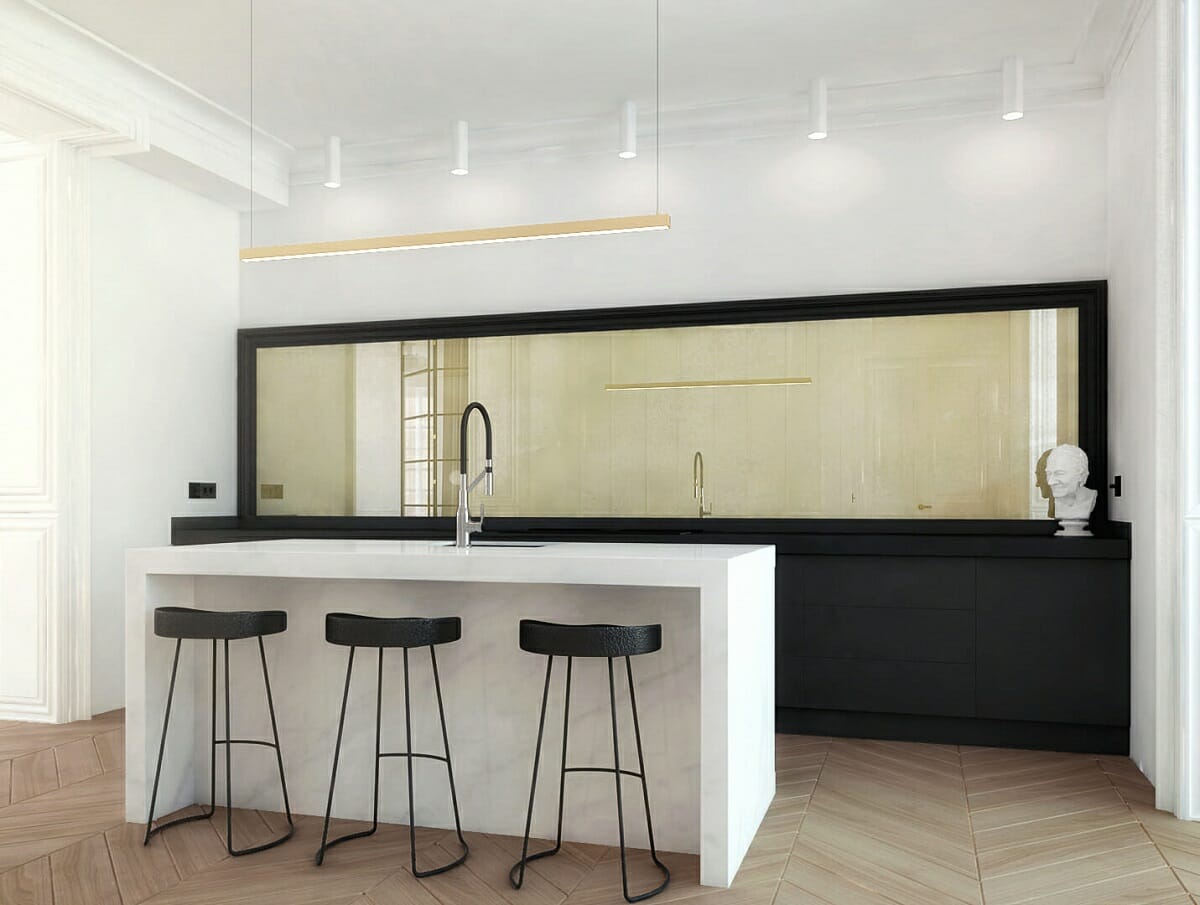 The finishing touches matter. They certainly round off an interior's hard edges. And kitchen décor ideas for 2023 are set to tastefully enhance the space without overpowering the overall look and feel. So, focus on the smaller details as well as bringing focus to one or two key items for the greatest impact. These little additions can turn any kitchen into something memorable. 
22. Art Magnified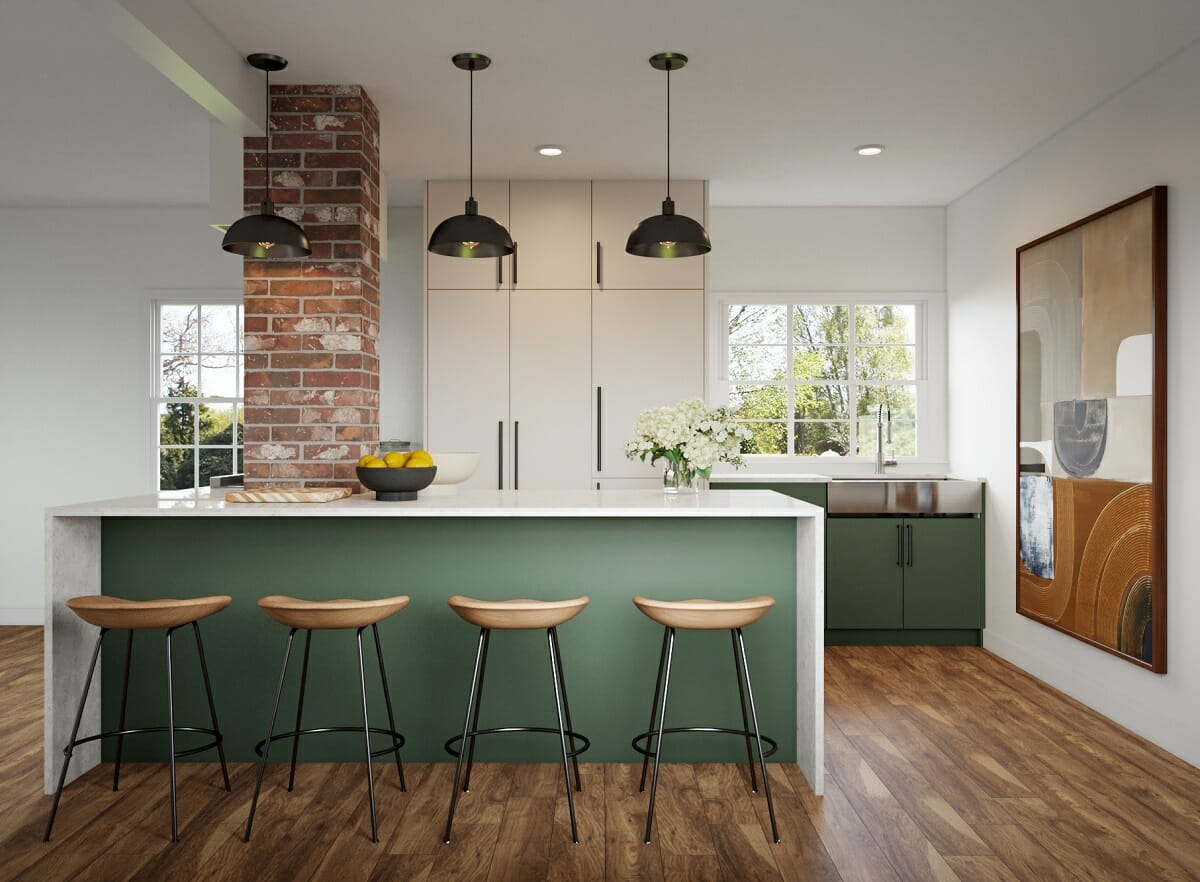 Few but bold decorative elements are the secret ingredients of kitchens in 2023 and beyond. Expect oversize artwork or a feature sculpture to steal the show in these interiors soon. Art isn't just easy to incorporate with kitchen remodel ideas, it also works well with the top cabinet color trends for 2023. 
23. Quirky Kitchens are a Must in 2023 
Homes are set on regaining a sense of fun. Likewise, the kitchens get a playful touch in 2023. This could come in the form of a set of spritely bonsai trees, sculptures that immortalize a humble toy dinosaur, or a large (but pretty) rock. Whatever puts a smile on your face can have a spot in the kitchen – even a whacky sink befitting the trend of 2023 will do!
24. Exquisite Backsplashes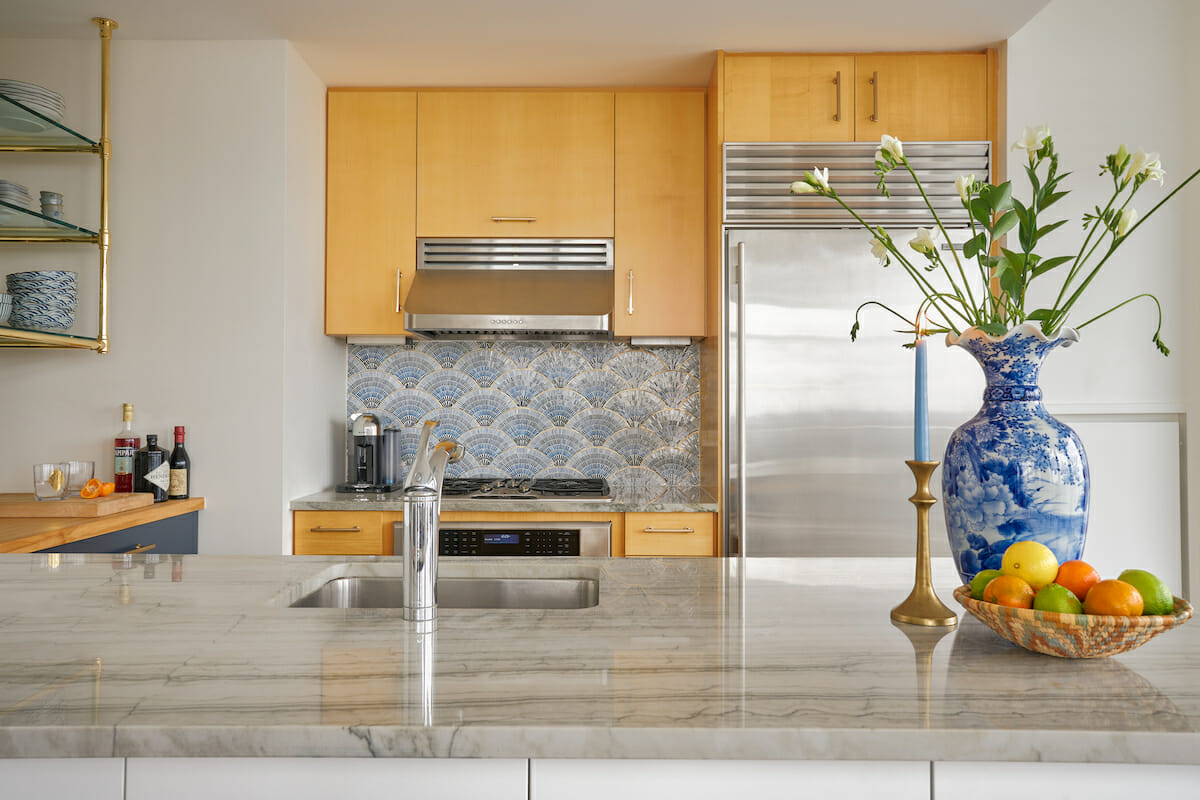 Designer kitchen backsplash trends make a comeback in 2023. The renewed focus includes more Art Deco designs as well as heat and moisture-resistant wallpaper. The latter also opens a modish world to tenants or those who want to try something new before committing to a renovation.
If wallpaper is for you, be sure to seal it with an extra layer of protection. Non-toxic water-based matte varnish will do the job. 
25. Decorating with a Bit of Bling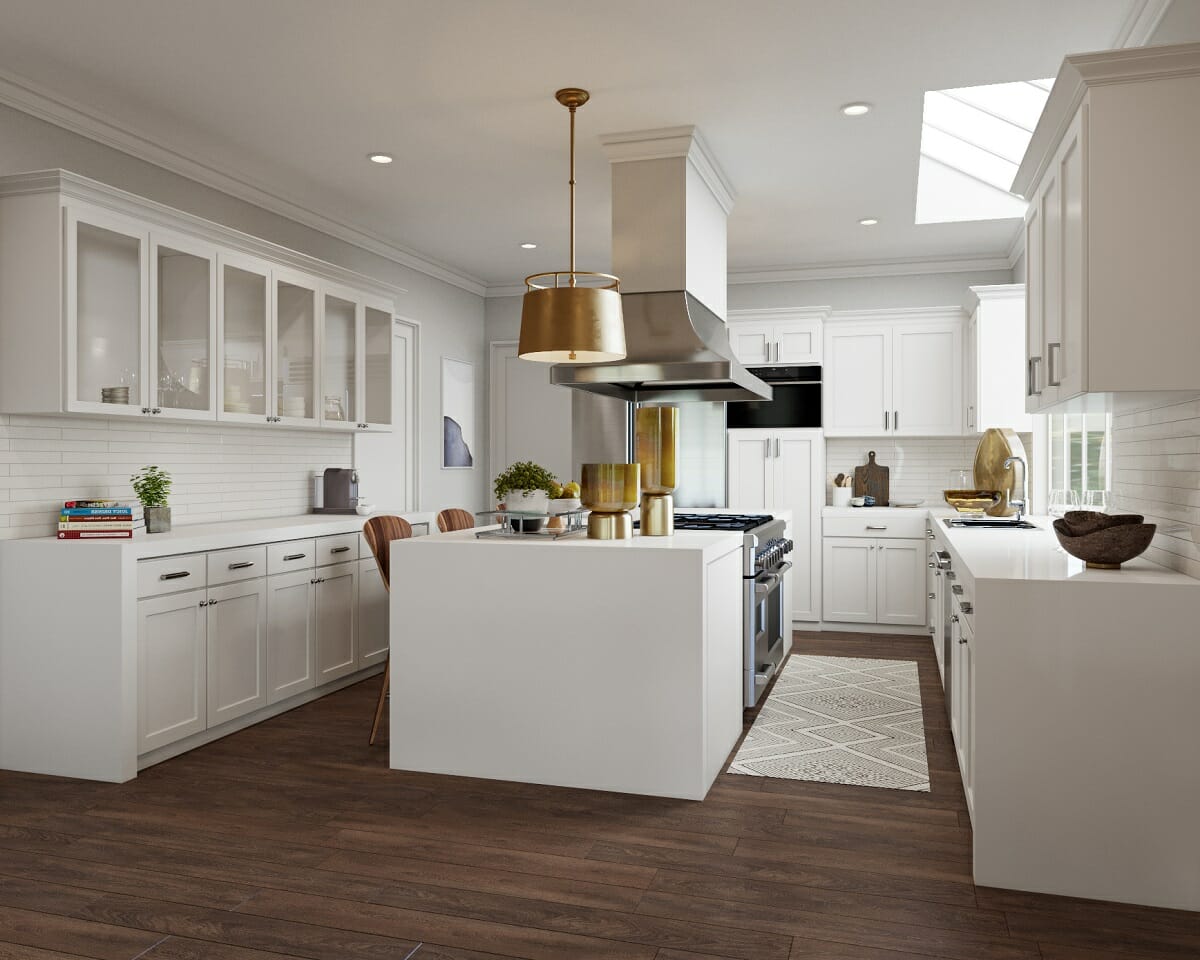 If not wood, then metallics should add warmth to an interior. Copper, bronze, and gold are among the favorites for décor finishes in the coming years. Shimmery vases, bowls, light shades, and hardware can spice up your design. The hue will undoubtedly add a cozy-hug feeling, especially in colder spaces full of marble. Moreover, metallics go well with kitchen cabinet color trends for 2023.
26. Warming Kitchen Lighting Trends 2023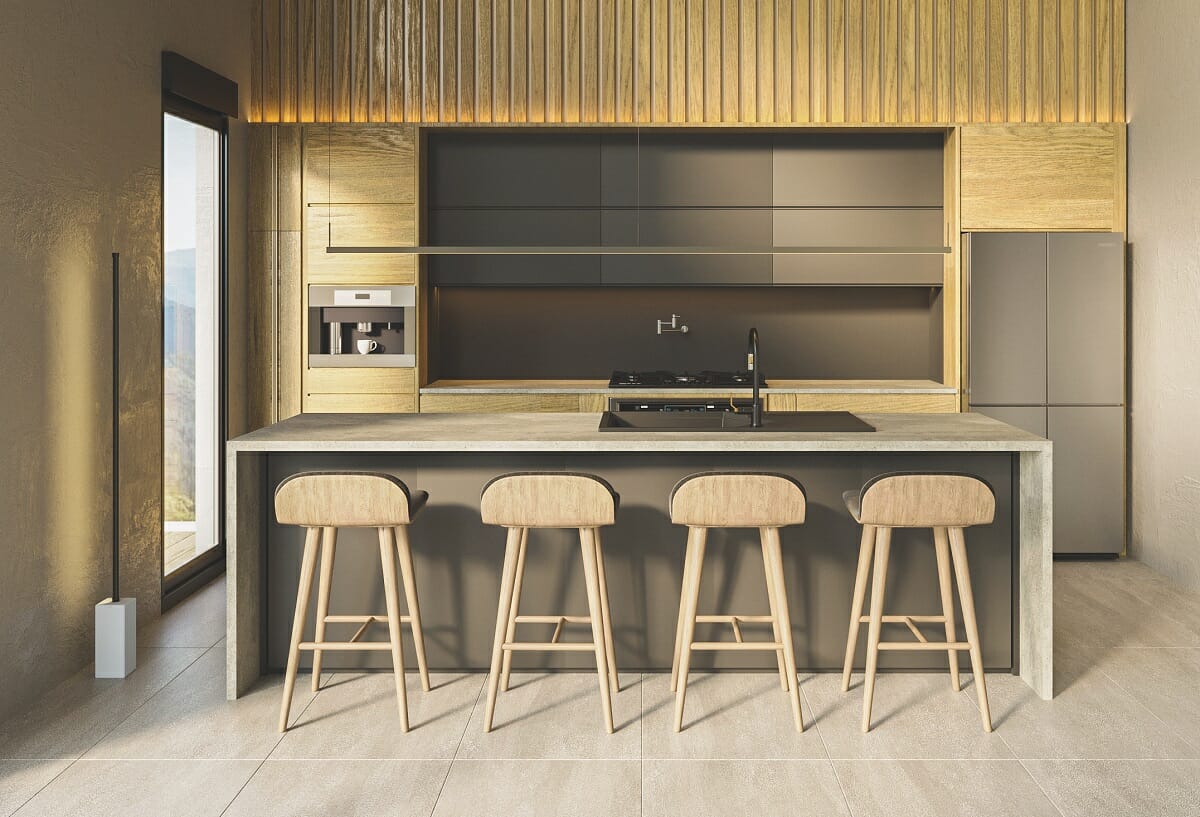 It's no secret that light profoundly impacts the look and feel of an interior (and an exterior, as a matter of fact). It's a crucial element that can make the difference between meh and WOW! Moreover, proper lighting design makes the most of a kitchen and helps us use it to the fullest. Plus, they can make kitchen hardware trends shine even more in 2023. So, home in on your light fixtures to highlight your trendy kitchen! 
27. Asymmetric Kitchen Lighting Trends for 2023
Aspiring kitchen lighting trends pave the way to stunning spaces in 2023. Asymmetrical pendant designs will create intriguing features in the interiors of tomorrow. More experimentation with lighting design promises eye candy beyond what we know. Indeed, the future looks bright! 
28. Emphasized New Silhouettes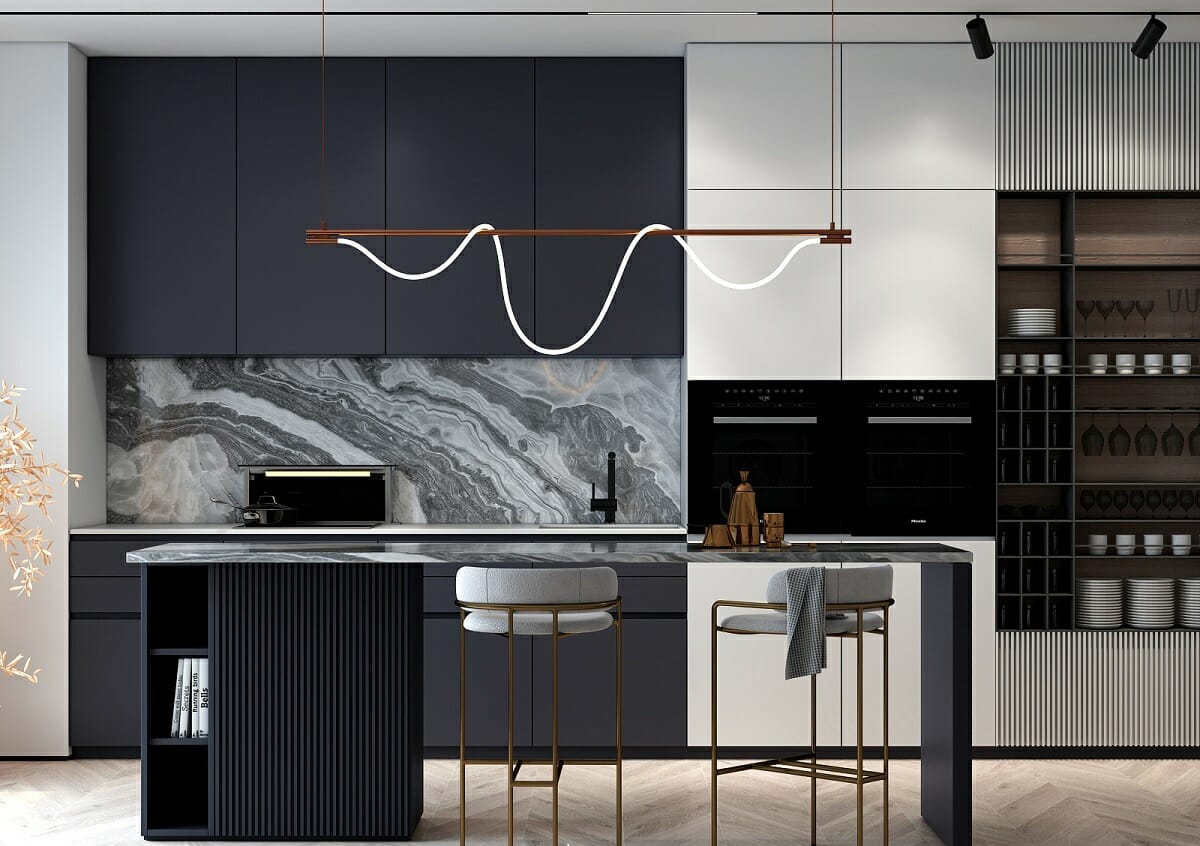 There is so much to look forward to, particularly when it comes to kitchen lighting trends of 2023. Innovative ideas bring new, unexpected shapes and forms into being. What this means for interiors is we'll be able to explore the scale and detail of lighting, from floor to ceiling lights and everything in between.
Minimalist line chandeliers and oversized pendants are sure to fit the sleek kitchen appliance trends of 2023 too! 
29. Traditional with a Twist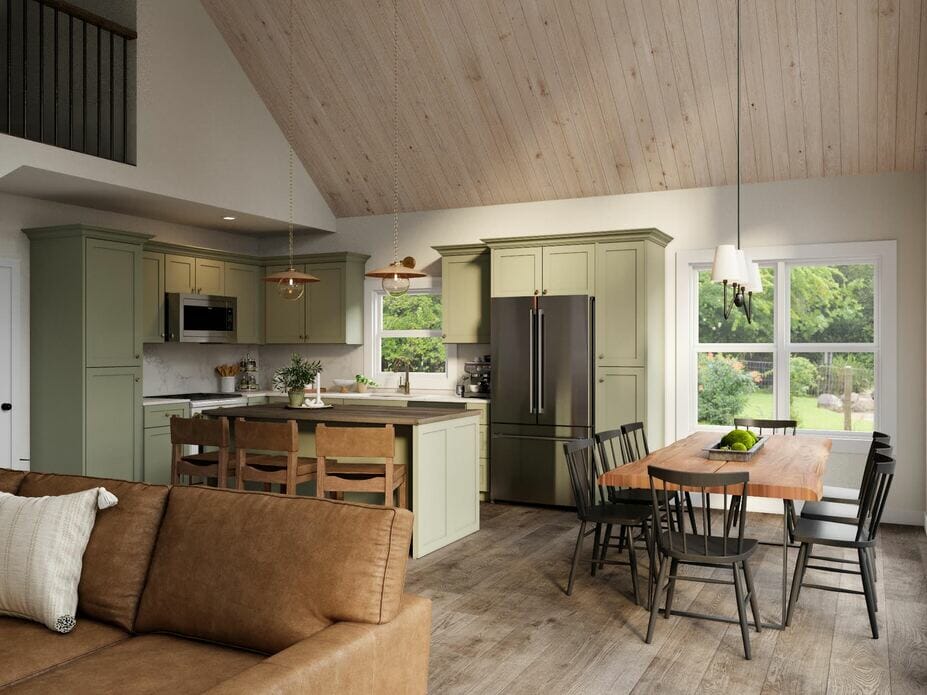 Beloved lampshades feature higher up than the typical floor or table lamp. Expect to see globe pendants with petticoat shades and horn or empire-style shades dress new chandeliers. These lighting trends fit in with the revival of cottage-style and English country interiors.    
30. Bubble Lighting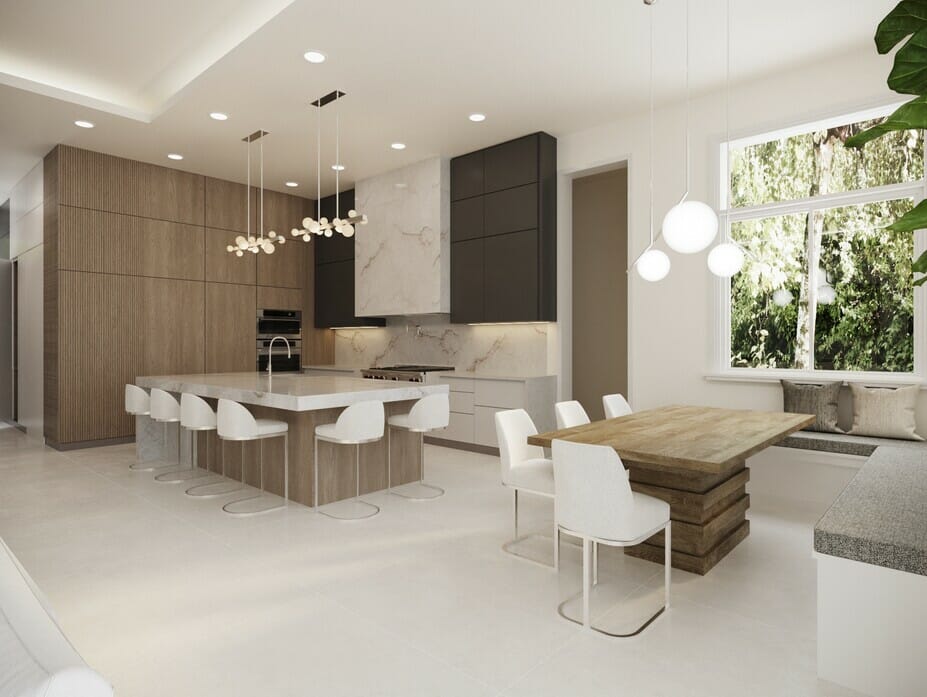 Bubble lights have had a moment in preceding years, with the Molecule light taking center stage. But these globes are gaining popularity as lighting designers dive into their creativity. So expect many more bubbles dazzling kitchens and beyond for years to come.    
What kitchen trends are out in 2023?
Not all trending kitchen ideas are evergreen. A few might resurge in time, while others take an indefinite hiatus from the good design world. So, let's get into what to leave behind in 2023.
Above the Range Appliances 
We're returning to our kitchen design roots by leaving above-range appliances in the past. Instead, these are incorporated below the counters to create a clean aesthetic. Plus, it's much more practical!
Bygone Traditional Cabinets
Cabinet design sees new adaptations every year, but they're becoming sleeker as years come and go. Not only are the fronts more streamlined, but shelving and storage compartments are also more convenient than ever. Traditional cabinets, on the other hand, feel clunky and unpractical. So, best to give them a pass on a new kitchen design.
No More Granite 
When in doubt, opt for innovative countertop materials like recycled glass, eco-friendly non-porous bamboo, or crushed stone. These have a lower impact on the environment. And they feel timeless yet trendy too!
Spruce up Your Interior with the Timeless & Trendy  
Our team of talented designers can help you find the perfect balance between what's new and what's enduring for a beautiful and timeless interior. Schedule a Free Interior Design Consultation to get started today!

[Image Credits: 2, 3, 4, 5, 6, 7, 8, 9, 10, 11, 12, 13, 14, 15, 16, 17, 18, 19, 20, 21, 22, 23, 24, 25, 26, 27, 28, 29, 30, 31, 32, 33, 34, 35, 36, 37, 38, 39, 40]