Sample of Our Online Interior Design Projects
Our Team Creates Your Room Design Online & Offers In-Person Interior Design Too
Total 369 results.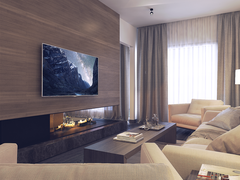 Looking for a fresh modern design for the entire house but would like to start with the hallway, combined living and dining, the bathroom and visitor toilet.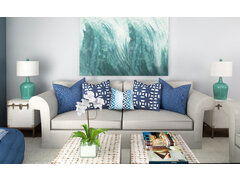 We need help with our summer home in the Hamptons. The entire home is a gut renovation - so we are starting from scratch in every room. Since this is the largest room in the house, we would like this room to be inviting and have a wow factor. We want a transitional, effortless, light, beachy look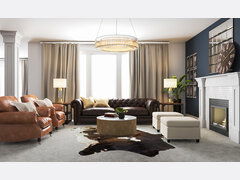 I need help creating a classy and elegant look in my family room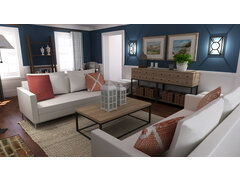 Design floor plan and decorate living room. Somewhat long narrow room, would like to optimize seating around the fireplace so we can host larger groups. We will need to be able to sit 6 people at all times there, but seat a total of 8 people by bringing over chairs from other parts of the room on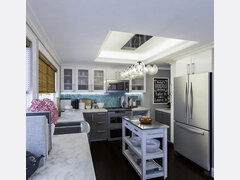 We want to redesign our kitchen, more modern and functional.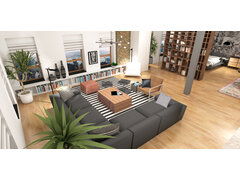 Looking to do design of an open loft space with minimal loft feel. It will be mainly divided into three areas - living, bedroom & work.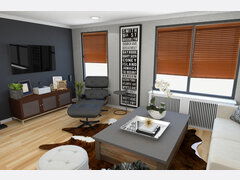 We envision our apartment: clean, modern , comfortable. One large room has a living area, dining area, office area, and kitchen.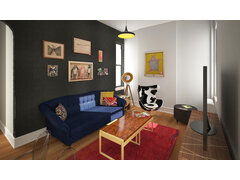 I need help with my living room. Would like a glamorous, edgy, playful eclectic style space. Should look luxurious. Open to color in space.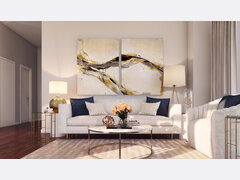 Moving into a new apartment-need to furnish new living/dining space, master bedroom, guest room, small foyer space and paint/wallpaper throughout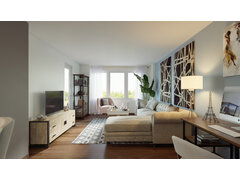 Looking for something stylish but comfortable. Also, a way to style our apartment that would accommodate thin walls.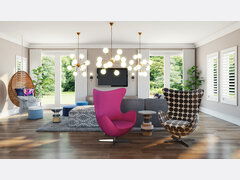 We moved into a newly constructed house with very modern styling. The house is significantly larger than our previous and has a large living and dining area in a large open plan format. We are looking for conceptual help with the large living space, we have a couch and a chair, an interesting side t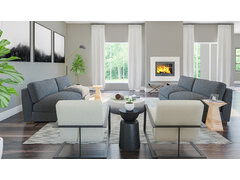 Hello. We are "in the dry" on our new home. We would like to work with someone on ideas for bringing our open concept great-room, dining area, foyer and kitchen together. We are going for the contemporary/modern style with white, grey and black colors. Our ultimate goal in partnering with a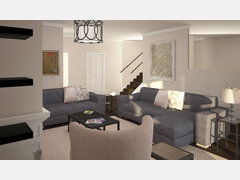 We are building a new home, traditional ranch style and hoping to get help designing some of the interior in a contemporary, transitional style. I uploaded photo of a house (not our plan!) as we will have the same outside color scheme.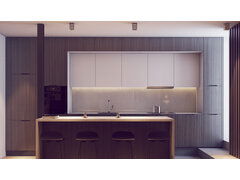 This is a renovation of a 971 sq ft 2/2 brownstone duplex in Boston. I intend to add a four season sunroom to the rear of the basement level to provide more space for dining room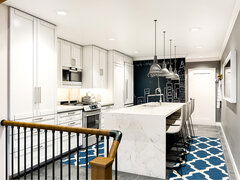 I need help with my kitchen renovation project. This is a complete overhaul. Colors - subtle and neutral palette - whites, taupes with hints of color through organic and natural greenery, like plants. I love the white-ish counter top with the edge that goes down to the floor. I would like t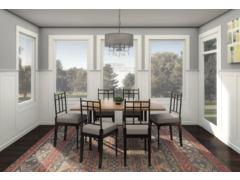 I need help with my first floor which is all open concept. I will not be changing paint colors and the kitchen and foyer are not part of the project. The granite counter top in the kitchen is a stone white, gray, and wine color. There is a mix of shiny chrome and matte chrome in the kitchen and in t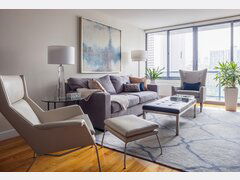 I just moved into a new apartment and already have furniture. I am interested in paint colors, wall art and accessories as well as furniture for a dining area (which is part of the living room).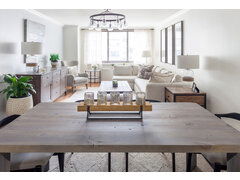 I am closing on my new home this week and looking for a rustic/chic look! I'm moving from a smaller, updated studio to a large one bedroom and I would like to create a home that feels and looks luxurious. It's currently for just myself and my dog and my boyfriend who visits from out of town. Som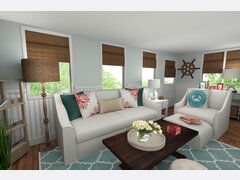 hi! we recently bought a beach house - looking for help with the living room + dining nook. we tend to like transitional styles and we want it to definitely feel beachy, modern and cozy. We're also open to fun, funky elements with pops of color too [we're pretty open to what that pop of color should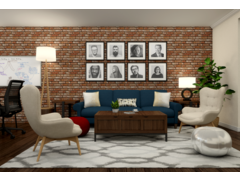 We are a former startup company that has made it past the startup phase. We need help with our office. We don't want any google/facebook startup interiors. It needs to have a homey vibe. We currently occupy 4 different apartment units (each on their own floor) and need to come to a decision w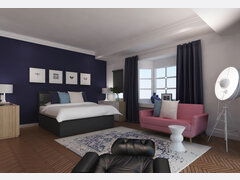 This is a private hourly project for Ibrahim. Need a serious refresh of my bedroom! Feeling stuck due to limitations set by my curtains (which I really cant change due to $$$ spent). Do require some advise for living room as well, but probably not a full redesign as I invested a fair bit in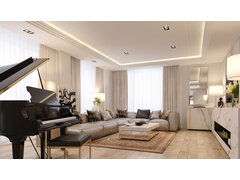 i am combining 2 apartments to make a 4 bedroom apartment The combination is very simple just moving walls in living and master bedroom areas we would like to know if you will provide layout services for the combination (not the whole apartment but the living /dinning room and master bedroom and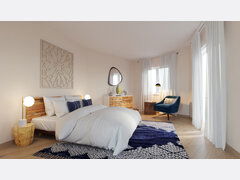 This project is for 3 bedrooms: the master bedroom, and 2 kids rooms. The priority is the master bedroom. There is great light in this room but I feel the dark furniture gives the room a heavy feeling. Furniture needs to be replaced and we'd like to have blackout window dressings. I'd love so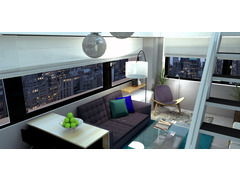 My roommate and I started a lease a month ago for a 2 bd apartment, with a great lofted living room area with 2 stories of windows. We would like help on putting it together so it has some purpose: color palettes, dealing with relative small size and want to maximize the "homeyness/comfort" (and use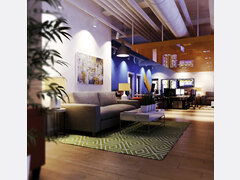 I have a totally empty office that I'm about to move into and haven't chosen anything for the space aside from some cheap ikea desks & chairs. (that came with the last office). I'm looking to do something that feels a little more creative or is at least classier than the utter lack of design we h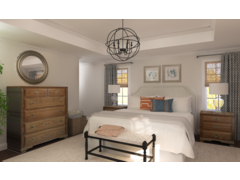 My husband and I are adding a master suite onto our home (master bedroom & bath). The good news is I'm starting from scratch, so the space can basically be anything I want it to be. The challenge is to blend my more traditional style with a touch of cottage & modern with my husband's very relaxed,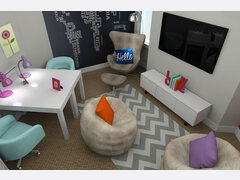 Looking to change the playroom to a useful study room for our three children ranging from age 9 - 14.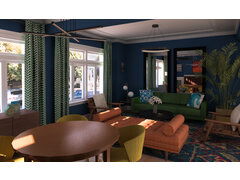 Combo living and dining room; was 2 rooms but wall was removed. Intricate ceilings but prefer more modern in a non-modern space. Looking for help on colors (want to go dark!). One wall is predominantly windows, ~22ft, new couch, rugs, lighting, fabric on existing chairs, more chairs, curtains ,...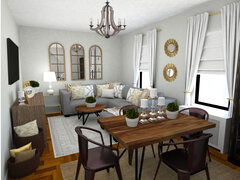 We need help with our living room and master bedroom. Our living room will also act as a dining room. Our bedroom closet is getting extended to the door (see picture)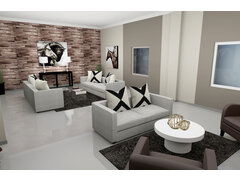 My project It is a waiting area for an equine hospital high end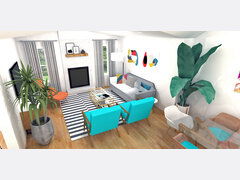 Moving in to a new house and starting from scratch. Open floor plan with living room/dining room/kitchen as one big room. Mid-century modern.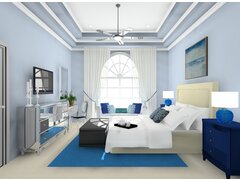 I need help with my master bedroom. I have picked out a bed and nightstands that I love. I need to bring it all together.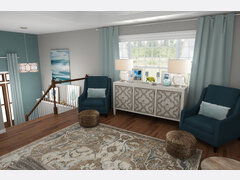 We'd like to continue working with Rachel to finish out the rest of our space including the living room, dining area and foyer. This is a private project for Rachel including renderings for the living room. For the dining area and entry we just need a concept board + shopping list. I want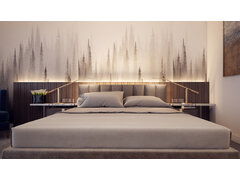 Private project for Mladen. Hotel concept for King Suite including bathroom. Case good pieces are to be custom designed to enhance concept. We want to give the designer quite some latitude on design and let their creative ideas flow. This is for a moderately priced hotel concept for a co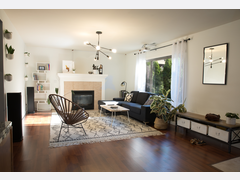 Looking for help with a living/dining room. Client needs help with the main room, a "face lift" for a new space. She has a couch that was a recent purchase that she wants to incorporate, otherwise it's a blank slate. Contemporary style, with some added fun, she's in love with plants and adding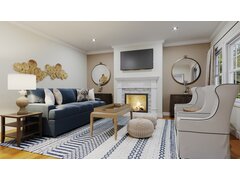 We would like a second option to make this room a formal living room. :) Thank you!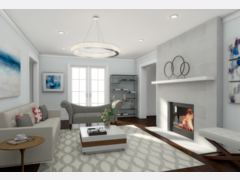 We have bought a 1940 house. We are extending the house and doing major renovation and looking to make the interiors contemporary. The living room is existing but has some structural changes as per the new floor plan. - We need contemporary looking furniture. - We have a old style fireplace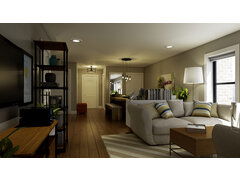 Looking for a farmhouse/rustic feel to our combined living and dining room, but still clean and chic.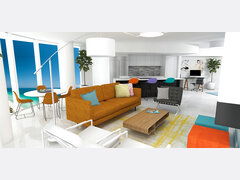 I have just moved in to a 2 bedroom apartment in Miami Beach. Though I have some furniture the apartment needs finishing. Also it is an unusual shape so I am struggling to figure out how to use the space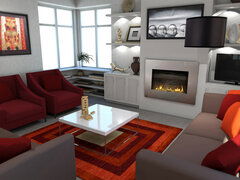 I have a long, rectangular lounge. Recently, I removed a bar area I inherited when I bought the house and it is a huge improvement. I've also just repainted the whole lounge to a lovely neutral white colour called Blanc (Resene, NZ). I now want to turn this newly updated space into a lovely, well la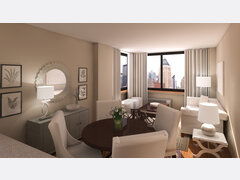 Updating our apartment and switching out our rental furniture for furniture we can keep.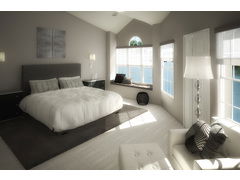 Looking for a Master Bedroom design to include all new furniture and take into many peaks and odd shapes in the room. For the right pieces the budget can go up a bit and doesn't have to take into account paint or labor costs.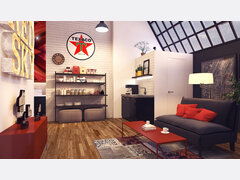 Completely redoing our office design. We need room for up to 8 people. We are considering rearranging the desks to face each other. Open to color suggestions. Our logo is a deep red, but we don't have to use that as our accent color. We'll send our Pinterest link shortly.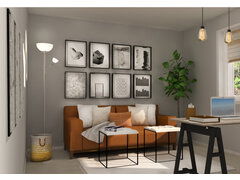 We moved to the burbs and now bought a bigger house and trying to create a more modern with slight contemporary.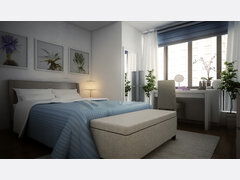 I am moving into my new apartment (1 bedroom apartment), and I need help with a) arranging the furniture that I bought b) decorating the house to fit my lifestyle and needs (purchase + arranging) without extensive alterations (rented apartment, would prefer not to cause permanent changes or paint th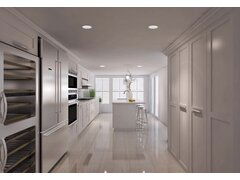 Remodel our townhouse kitchen, Need storage, just two adults live here, we entertain alot, we like good wine, We cook, I work out of the kitchen so I need a space for that. I like everything to be put away and look clean and organized. I like the white shaker style, no glass doors, simple, clean b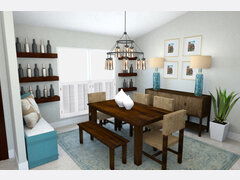 We have 3 areas that we are initially looking for help with. These are the entryway, the living room and the dining room. These three form a great room and are immediately visible when you step into the front door..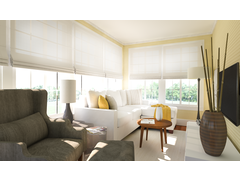 I need help with our new home. I'd like to have the first floor of our new home done in a consistent look. We have no furniture.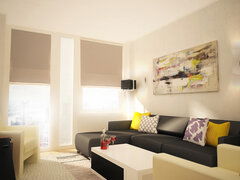 Long, thin rectangular space in Manhattan (aka: small). Linear, begs for more modern/contemp design. Need to LIGHTEN UP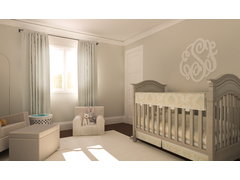 hi- we would like you to help us design a nursery for our daughter.We would like for this room to be able to transition to a "big girl room" when she gets a bit older.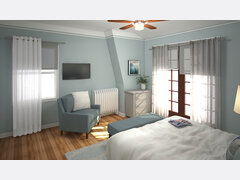 I want a bedroom where I can feel rested.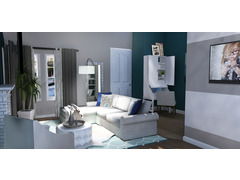 We need a stylish, kid-friendly space for playing and relaxing.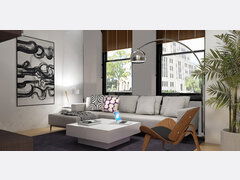 Help me design my Living Room!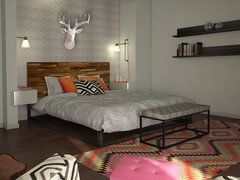 Looking for a fun modern design for our master bedroom. Moved in to our house 6 months ago and we've decorated some of the house but haven't touched our bedroom. We need some inspiration!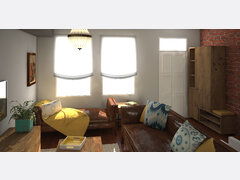 We live in a rehabbed rowhome. We have been here for about four years, but have found it very challenging to design a good flow for our space. Our home has an open concept living/dining room, which is long and narrow. We like darker woods with clean lines, the use of reclaimed materials, and are o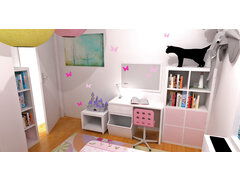 I need a whimsical room for my 6 year old girl.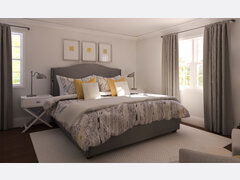 Hi Eleni! We are looking for a design for our master bedroom- in all honestly we dont know what we want it to look like so we trust you to run with it! We would like the master bedroom to be a tranquil, retreat for us - that feels light and airy. If possible we would prefer to have some sort of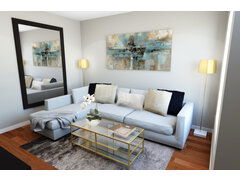 Would like to completely design living room/dining room and kitchen. I just want the space to have a completed look and design.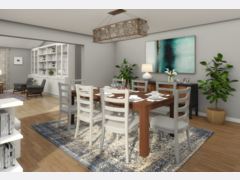 Need help with living room and dining room. Need to work with a lot of existing pieces rather than replace. I am looking for custom storage designs for a few key areas: 1. A custom builtin bench with storage under the window in the dining room (where the dog kennel is currently) 2. Builtin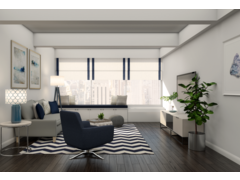 I need help with all of my rooms. in order, living room, bedroom, kids room,, hallway, kitchen.. I do have 2 little girls..so I need decent storage for toys and obv safe for kids.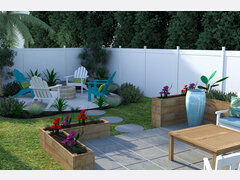 I need help with my backyard / outdoor space. I want this to be a surprise for my wife. The space that needs to be designed is approximately 12' x 10'. It's part of a larger rectangular space within an area of my backyard behind the pool. Although I don't need the entire area behind the pool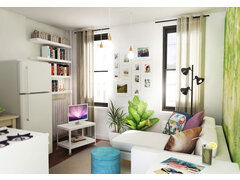 Just moving into this apartment and I want a fresh, comfortable, and cute look for my living room. I like clean lines with pops of color. I have eclectic taste as I am wedding and floral designer who loves travelling.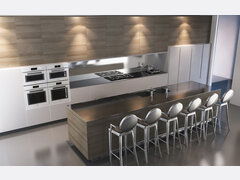 Clean modern well spaced kitchen with large island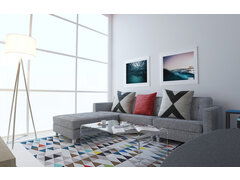 My company has recently moved into a new office space. I am looking for help to make it modern looking with the right accents and placement of furniture. The unit is a loft style unit. It has exposed ceilings for the urban feel. I am looking for a trendy modern look that matches our business of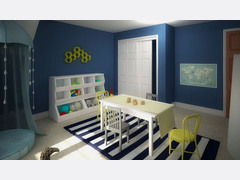 We just purchased a house and everything needs to be redone. The current house is a darker, warmer color tone and dated (we tend to like transitional/coastal style, and the house is very traditional). The rest of the house will be a cool grey/blue/white color palette, but I could see more fun and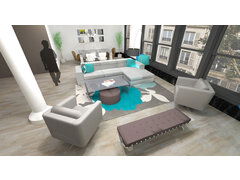 Looking for a fun contemporary loft space for my family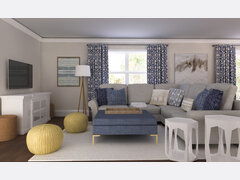 For this living/dining room combo we are looking for a design that compliments the living room we already designed with decorilla. Since the living room/dining room combo is attached to the living room we already designed we would like a cohesive look throughout. For the dining area- this will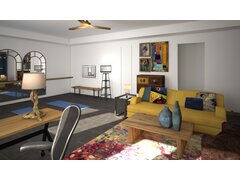 This project is to supplement a previous office project. New renderings will be provided along with accessories and additional finishing touches.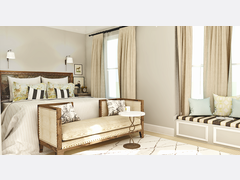 I need help decorating my bedroom. We have a couple big pieces in place but are open minded and need help filling in the gaps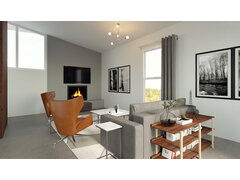 Large great room with fireplace and feature around stairs. Clean. Simple. Modern. Will buy new carpeting once design is complete. Just bought our home. Consider this room a clean slate. Dining area adjacent will be remodeled in June along with an open kitchen (wood floors, dark cabinets, light co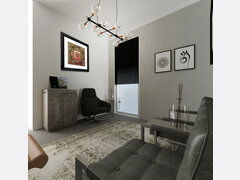 Setting up new therapy office with focus on office room, then waiting room, and bathroom. Want something modern with warmth.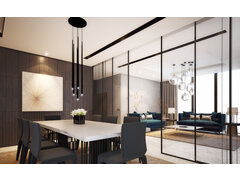 This project include design development of the wall space in areas 6, 4 and 3. Custom design solutions are welcome. A 3D model is include in the project. Please reference design documents for additional project details. I am buying a new house and I need help in some of areas my home is a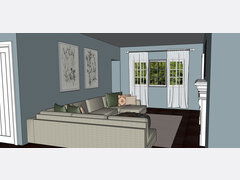 I need help with my living room and dining room-open floor plan. I live in a small condo (about 1200 sqft) total. Living Room - would like seating for 6; open to a U-shaped sectional with a chaise lounge or an L-shaped sectional with accent chairs or other seating options. - Need new coff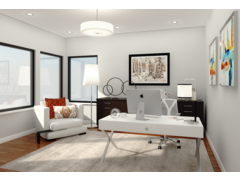 We built a beautiful home and would like design services to finish our space.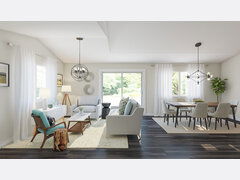 I need help decorating combo living/dining room for townhome. I have a few pieces (TV console, artwork, and chairs) I would like to incorporate but not absolutely necessary.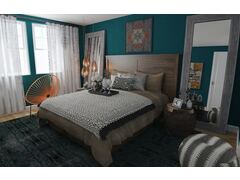 I would like to redecorate my bedroom. Nothing huge, but some small fixes and will make the bedroom more homey.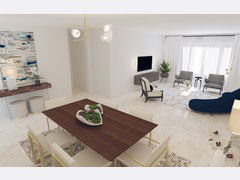 i need help to design my formal living room. We have bought the property but it is not handed over to us. we can give you the plan and finiahes that the builder has given us.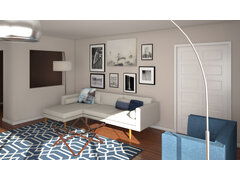 We are looking to redecorate our living room. Currently, we use this space as a family to hangout, lounge and watch TV. We want to keep this functionality but we want to add the ability to make the space more inviting and accommodating for guests. We want a mid-century INSPIRED design.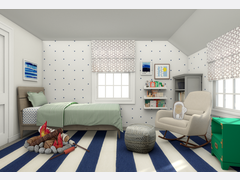 We need help with our two year old son's room. We want it to be sophisticated and fun... Something fun, welcoming and comfortable that he can grow into. We want to replace basically everything in the room. We will keep the window treatments and rug. His crib will stay in the space for a while b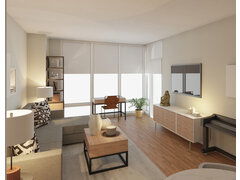 We will be moving to a 2-bedroom condo. We love the contemporary interior design. The favorite brand is Room&Board. We need help design the whole condo. Thanks.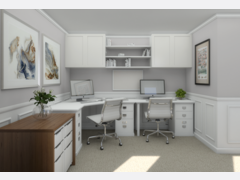 I need help with our home office. For inspiration please review this houzz board - > https://www.houzz.com/ideabooks/5703308/ac=invite/guid=a8ebc69cea72ad4137d3e3fb3312d5a0/thumbs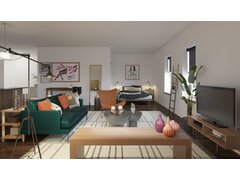 I have a 693 sqft studio rental apartment that I'd like to decorate.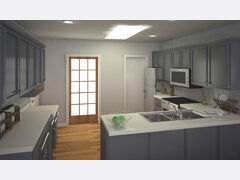 I just moved into a new home and I need help with my living room, dining room, and kitchen.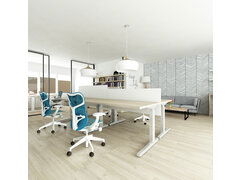 We need help re-doing our office space. The space is roughly 20'x40'. It's a historic building, that needs up dates. We want to remove the wood paneling, blow out the tile ceiling, replace the carpet, etc. There is a wet bar in the space currently that we want to remove and possibly convert into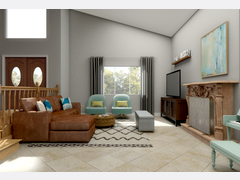 I need help with my living/dining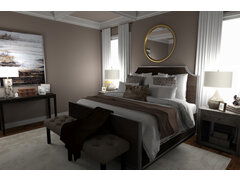 I recently bought a new home (which is larger than my previous space), so have a few rooms that I need to furnish or refresh. For this initial project, I want to focus on designing a luxe master bedroom that is the perfect retreat at the end of the day. I primarily use the room for sleeping only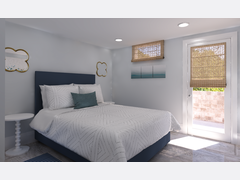 Hello, I am looking for a design for my basement bedroom. We added a closet to this bedroom so it would qualify as a bedroom. The room is really tiny with two windows total. This room is located off the office/play room area of the basement that you already created. I loved the contemporary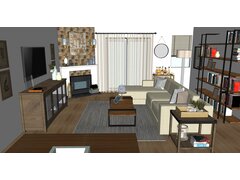 We want to focus on the living room on the 2nd floor.I would describe our style as modern, rustic, eclectic.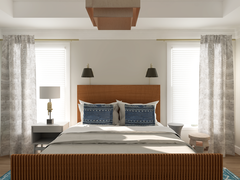 Just relocated to South Carolina and bought a craftsman style home.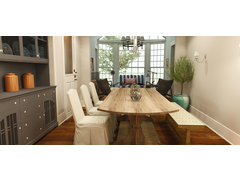 I'm at the stage with my home where I need someone with impeccable taste & a creative eye who can brighten a 20's craftsman home with the pop & flair needed to feel unbelievably welcoming, incredibly charming, enticingly hip, and do it all without breaking the bank.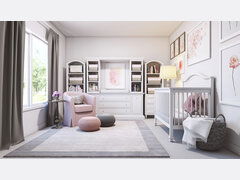 Transform guest room into a comfortable and feminine bedroom for our new baby girl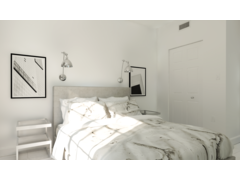 I need some help furnishing my condo. We currently have no furniture for this space. It has to feel comfortable and stylish without a crazy expense. I prefer a minimal, contemporary look. I don't need a ton of furniture pieces and I don't like clutter. It should be clean line and sleek.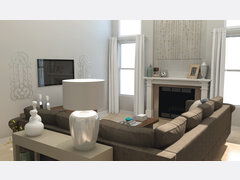 I need help with living room/kitchen/ entry way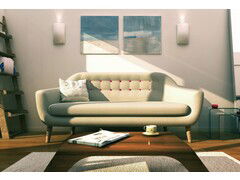 We like the minimal feel, but want a professional touch.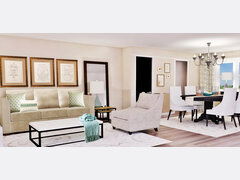 I would like to have a living room with character and that is pet friendly. I have 2 cats and a dog. My house is a small cape cod. The living room and dining are all in the same room. The room Has Cove Ceilings. The house was built 1954. I don't like a lot of clutter. So something like bookshelves I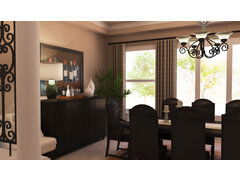 We need help finishing our dining room and figuring out what to do with our display cabinets.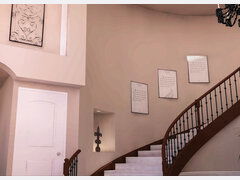 Looking for transitional style decor for our bare entry.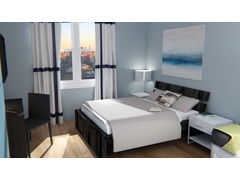 I'm moving into a large bedroom, which I intend to split into a living/bedroom. I've painted my room light blue and redid all the baseboards/molding as white. From my discussions with Joyce, I'm a contemporary type of guy. I want to create an airy, elevated type of room with not a lot of furnitu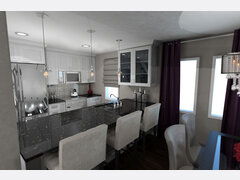 Our kitchen is outdated and feels crowded. In general bring style up to date and have smart storage and spacing for entertaining.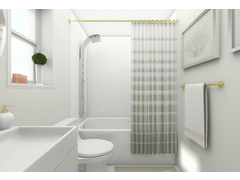 We would love for the bathroom remodel to be modern & sleek. The bathroom is really small so it doesn't have enough space for anything else other then what should be in there. I definitely want to replace the shower no sliding door. Prefer a regular bath with a shower curtain. Replace the floors, mi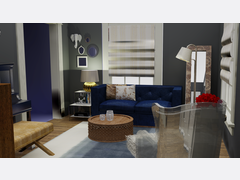 Looking to design our living room. We moved in over a year ago, and have left this room almost untouched. We are very open to colors, and would like to see some different ideas.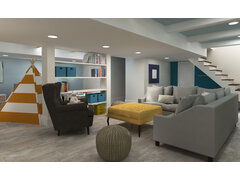 Hi Eleni, I need help with decorating the living room located in my basement. We would like this living room to serve multiple purposes- we would like for it primarily to serve as a sitting area to hang out/watch tv/movies. We would also like the room to have a play area for kids as well as the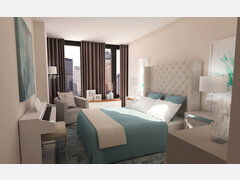 Updating our apartment and switching out our rental furniture for furniture we can keep.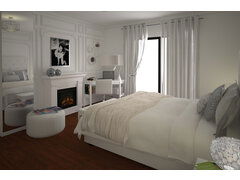 Master bedroom Looking for a modern/contemporary/transitional decor. I'd like to have a bright interior. Also, I was thinking of having a small fake corner fireplace in the bedroom.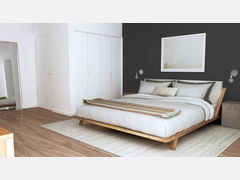 Would like to warm up my bedroom with natural materials.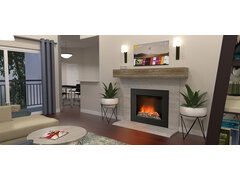 I have a 700 sq ft apartment and moved from a much larger house. I'd like to get some suggestions on how to furnish the house. Especially the living room.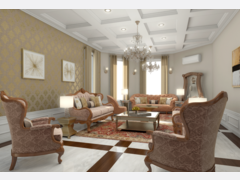 I'm doing a massive renovation to my home. I'm starting with the living room. I like traditional/Mediterranean style.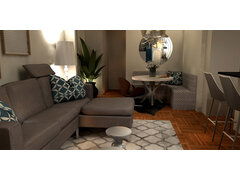 I need help completing my living room and my daughter's bedroom. I just want a modern convenient looking. I would like to use most of my item (except the sofa), unless is necessary for some changes and what I want are the details such as the rugs, the pillows some other details. For my daughters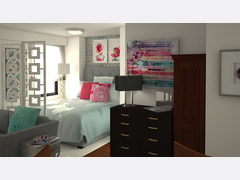 I need help with my studio apartment. I have furniture that I would like to keep and need help with the layout to give the home the right flow and would like the sleeping area to have some feeling of separation from the living area. From the bed and the living room seating I would like to retain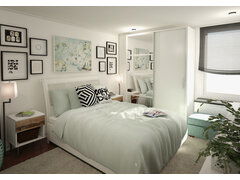 We would like to redo our room and change around the closet space to make the space more cohesive.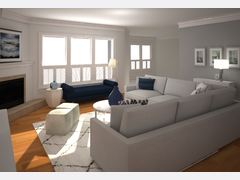 We moved in the house a year ago and haven't really done anything in the space because I don't know what a good furniture arrangement would be. It's a good sized room, but there's doors and "traffic flow" from all sides!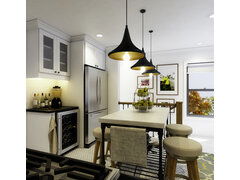 We are buying a house that needs a gut renovation, I need design layout help for kitchen, dining room and living room.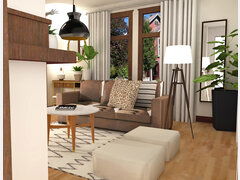 I am looking for a glam, rich, glossy/luxe look with a clean contemporary vibe and lots of texture. I like gold as a metallic, cognac-colored leather and wood, black and white stripes, and coziness via rugs. Also feminine accents mixed with organic and industrial influences to create a unique, colle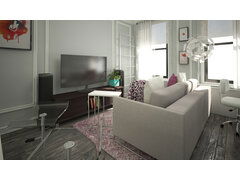 We would be looking for help designing our living room/dining room, master bedroom.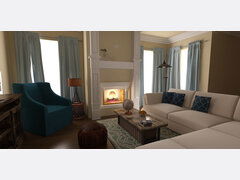 I need help designing and laying out our living room. Currently it is very plain and we need help with figuring out possible rug, coffee table, accent chairs, wall art, lamps, etc. We like both traditional and minimalistic styles, with a hint of modern.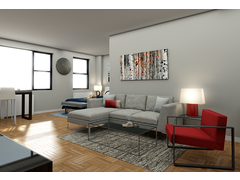 I would like a sleek and stylish interior for my New York studio apartment. I prefer a modern to contemporary/transitional look. I love the sleek and clean lines of a modern style as well as the feeling of space it gives, but I also want the place to feel cozy and inviting which is sometimes lost i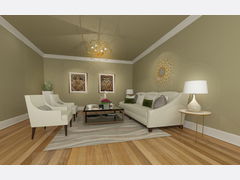 We need to design 2 rooms. Dining and Living. We would like to have at least 8 chairs for the dining table. We have paint and shades in the rooms already. The living room needs to be a statement room. Also we will be doing a kids room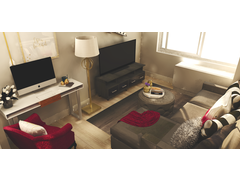 Hello - I would like to get the Living room and dining room designed. They are one room and the space is small. We do like to entertain, but am aware that the space is small.I want to make this a neutral apartment, but would still like some glam to it.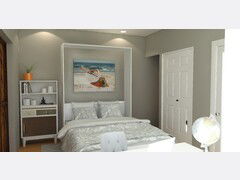 We need help picking out a barn door and the layout for an office/3rd bedroom that we're making out of our 2nd living room. We also want help picking out a bench/storage piece for our bay window.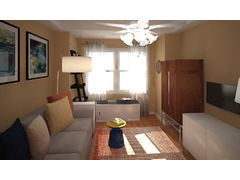 Looking to redecorate our guest bedroom.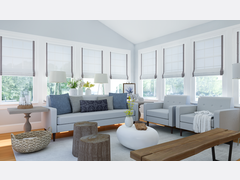 We were hoping for the sunroom to be a relaxing and elegant space which has a cool and airy feeling. The space will be easy to entertain as it opens up to our patio. The double sided fireplace is the focal point as we were designing the house. The sunroom will be flowing in seamlessly into the livin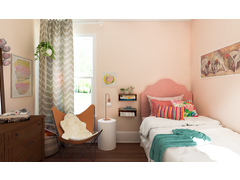 Would love a comfortable bedroom that I can chill in.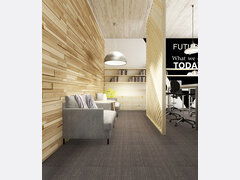 We are a small online educational content providing start up based in India. We are looking for design ideas to help setup our new work space which is a tiny 1,100 sq ft (carpet area) approximately. The design we look for is contemporary and efficient and elegant.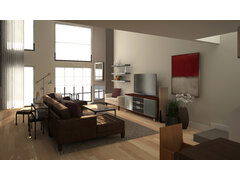 Looking to bring together the living/dining space in a way that makes impact. The space has been completely renovated. Love our kitchen and want the rest of the space to feel as amazing.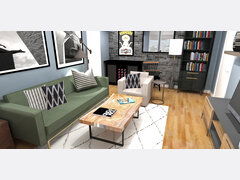 I just bought a condo and renovated the kitchen by myself. But I need help with the living room. I want all new furniture and something that is clean and sophisticated.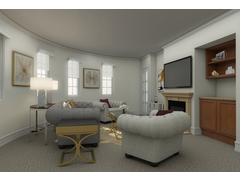 I need help with my living room/dining room. I have an awkwardly shaped living room (it's a semi-circular room) and have been having trouble finding a design to that fits the space while also creating a natural flow throughout the space.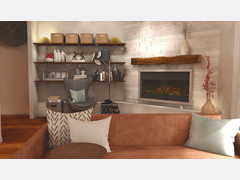 Create a seating layout and select furniture for our living room, which is part of an open-space room that includes the kitchen and a breakfast nook. We do not intend to have a dining area, except for the small breakfast area.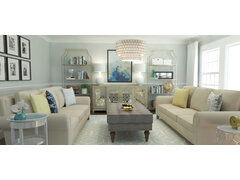 I would like help fully decorating my living room. We're looking for furniture, decor and light fixture suggestions for the living room. It is currently empty and we're hoping to keep the paint color, if possible. I like the idea of using neutral sofas/seating and adding pops of color with pillow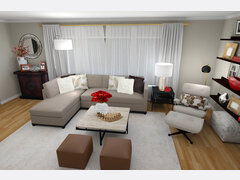 Looking to bring the room together in style by selecting pieces that suit the space. Going for a style that fuses modern and transitional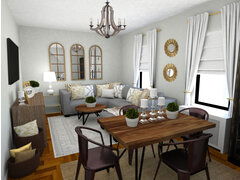 We need help with our living room and master bedroom. Our living room will also act as a dining room. Our bedroom closet is getting extended to the door (see picture)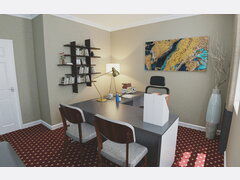 This is my work office.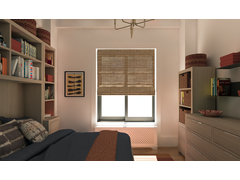 Small NYC rental apartment that I'm not leaving any time soon. Bedroom needs to be totaled--I need wall unit with doors (to hide behind).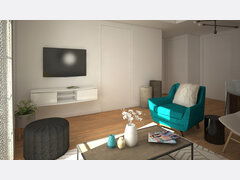 Hi, We are moving into a new apartment and we are getting all new furniture. Our styles differ in that she prefers modern/mid century mod and I lean more towards urban modern with a touch of shabby chic. I think overall we can agree on the transitional style.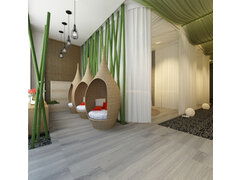 I am fully charged with excitement to final able to launch the project to design my spa. The rented space is not very big around 60 square meter and around 650 square feet, therefore I need all the creative juice from the designers in inventing extraordinary idea to save space and creating an enviro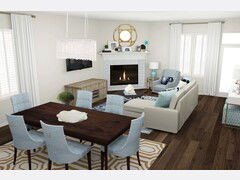 I need help with 3 spaces in my new home: Game Room, Office and Breakfast Nook/Living Room. For the Game Room, I would like it to be multi-functional - to serve as both a play room that can grow with my son and any future kids as well as a family room. For the Office, this room needs to be m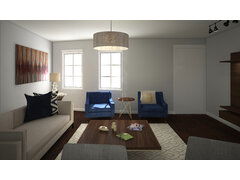 I would like to decorate my condo which is basically two large rooms. A combined living, dining and kitchen. Plus a bedroom.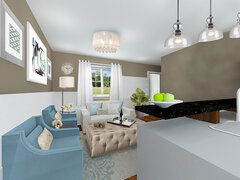 We are purchasing a new home and want to create a cozy and intimate sitting area/reading nook in the kitchen "eat in" area (instead of using that area in a traditional way with a dining table/chairs). Transitional style with a touch of glam.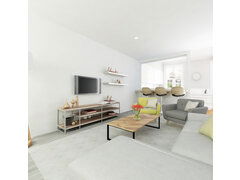 We are building a new home and are starting from scratch.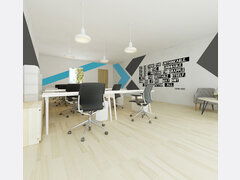 This is a new construction office space for an e-commerce electronics busines. The space is currently empty warehouse space with no walls. We want to convert 1800 square feet of this area into an office. The surrounding space will be for storage and shipping area for our e-commerce electronics bus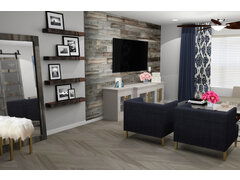 We need help with our living room. We like what we have so far but the room is missing aspects in order to pull the room together.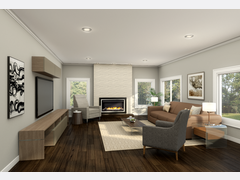 Need help designing an entire house (new house build) but I want to start with my great room. Nothing in the existing photos will stay. I want clean, contemporary, minimal.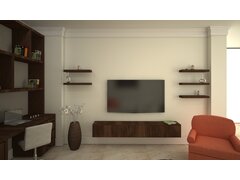 I have a bit of a design challenge. I need an odd shaped space to function as both a den and an office. It needs to be a functional work space as well as a place for my husband and me to relax and watch TV comfortably.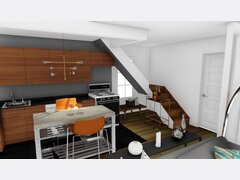 I am looking for a cohesive flow to my space and incorporate more of a modern look. We currently do not have enough storage for stuff and seating is an issue.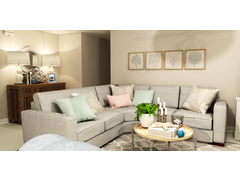 As a newly married couple, we are looking for some major help with decorating our rental home.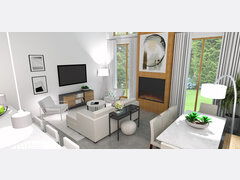 I just moved in to a newly built home and need help with the decor for the open concept living/dining area. I would also like some feedback on changes I'm considering to some of the design choices implemented by the builder.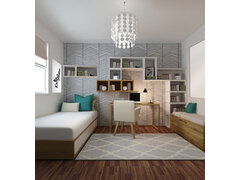 I need help with designing my bedroom. I would like a modern, but feminine style.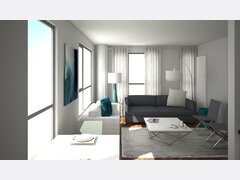 I need help with my living room. The main pieces needed are a dining table that expands (4-6 +) and a comfortable sofa bed for guests.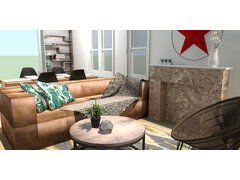 We need help to arrange our living/dining room. The shape of the room is a little bit singular. We are willing to change the furniture with others more functional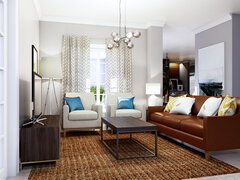 We recently bought a new home and would like to blend the aspects of contemporary/modern, casual/comfortable, and slightly rustic styles with our more traditional house. We are focused on two central areas to start the decorating of our new home. The eat-in dining area and TV area which are in t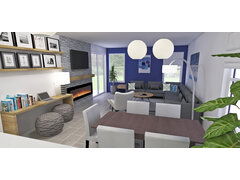 I need help with my dining, living and entry. This is all on one level and I'd like for it to be functional for our lives, fun, live-able and enjoyable for the entire family.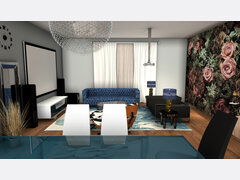 We need help with our Living Room and Dining Room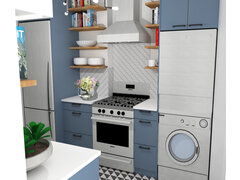 Need help with kitchen.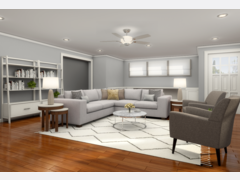 Our new home has two living spaces. We pretty much know what we're doing with one space – TV, couch, etc but this is the living room that one sees as soon as they walk in the front door. The current tenents are using it as a dining room but we're not loving that idea. We'd like it to be f
I need help with our master bedroom, We just moved into a new home and would like it furnished and decorated by a specialist, We want to try to stay away from white furniture if possible but are not opposed to it. Most of all we would love the room to be functional.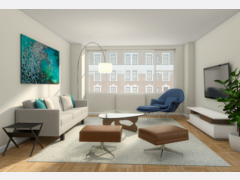 I need help with our master bedroom, and living/dining room areas. We live in a rental, so not much can be done to the walls in terms of painting. We have some furniture that we would like to keep, we need help putting all together and making it feel like home.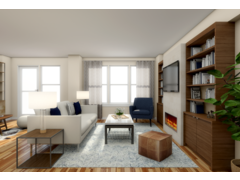 Just moved in to our new apartment in Brooklyn, a 1960 2/2 duplex in Ditmas Park with good western light and balcony.
I want an area elegant, cozy and inviting, I love farm glam style. I would love to have an accent wall on living room area and elegant fireplace. We would love to have a sectional on living room with 1-2 accent chairs.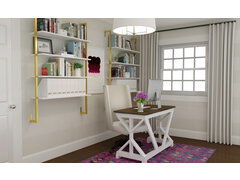 I would like help decorating my home office. It is currently empty now except for a desk that I'd like to keep. I'm looking for paint/wall color suggestions, window covering suggestions, lighting suggestions, desk chair suggestions and storage for files and some books. I'd also like to put a chaise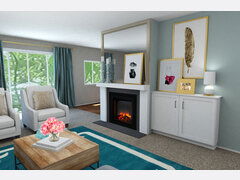 I need help with my living room. Now it's totally empty and i want to make a comfortable and elegant living space. I like to have different pieces from different styles.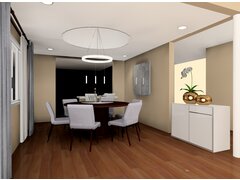 I am about to close on my new house in long island and need professional interior design assistance. I want a nice modern look for my place without breaking the bank. What is a price for just consultation? The clients wants a cozy, comfortable, modern, contemporary, no clutters, simple, clean,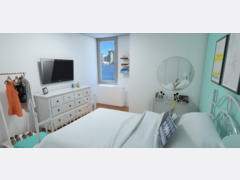 I need help with mapping out my apartment dimensions and knowing what will fit. I also need help with the decor. I am moving from a very large home to a smaller apartment that will accomidate myself plus girlfriend and a room for my two daughters who visit periodically.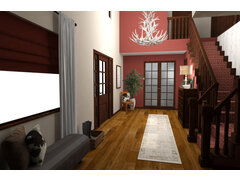 Entry area for my home. We are having new, hardwood stairs put in and need help with the baluster and newel selection, as well as a runner. We'd also like a dramatic chandelier, and some wallpaper, as well as furniture/décor suitable for an entry. All should work well with rooms already designed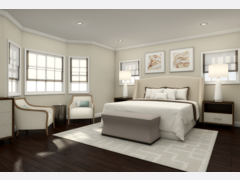 I'm looking for help designing my new home as well as the back yard area. I have an architectural background, but I no longer work in the industry. We will need clear visualization tools (i.e. renderings) to help my wife and children understand how the space will look. Here's some design d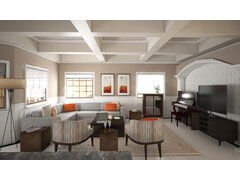 I'm looking for help designing my new home as well as the back yard area. I have an architectural background, but I no longer work in the industry. We will need clear visualization tools (i.e. renderings) to help my wife and children understand how the space will look. Here's some design d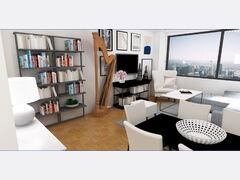 I am moving to a new apartment (rented)- it's a corner one bedroom and I need help with the decor of the bedroom and living space (combined dining/living room).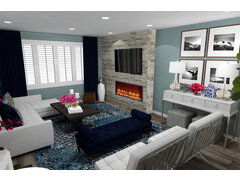 I need yor help with my living room. We use our living room also as a TV room. 19 x13 feet and has windows one side and another side open to dinning room, also I have a fireplace.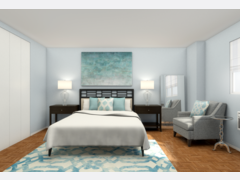 We need help with our bedroom! There's a lot of wasted space in our bedroom and no real decor. We're hoping to make it a more efficient, comfortable, and aesthetically pleasing space.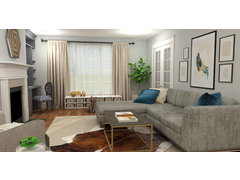 Redo Family Room. This is a space that serves multiple purposes for us. It is a room that we gather to hang out as a family, as well as an area that we keep some toys for the kids. We have an open floor plan, so it connects directly to the kitchen and dining room. This room is also our primary a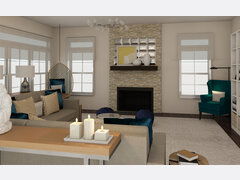 room dimensions: 20'W x 20'L x 9.5'H Design - We enjoy contemporary and elegant design, but not overly contemporary. We want the room to feel warm and inviting, after all it is the family room. - There is a beautiful yard outside, and we have a pool that is open in the summer. So we would lik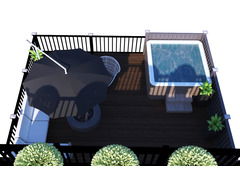 We're building a roof deck, adding an addition to our condo. We would like help with the design/furniture selections. They have lived in the space for a few years and they are just renovating the roof. A staircase has been installed connecting the first and second level of the rooftop.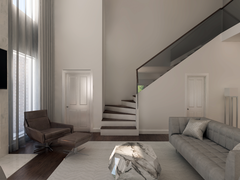 My husband and I are in the process of buying a new home and would like some design help before we remodel it. We need advice on flooring, paint colors, decor, lighting fixtures and finishings. The designs should be modern, clean, warm, comfortable, kid friendly and simplistic with a flair. Th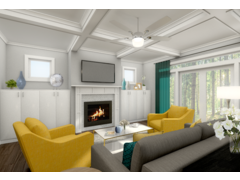 I want help with my living room and bedroom. In that order depending on how long my money lasts! I have an idea about furniture but I'm not totally sure. I really want help "finishing" the space. I have a couch...that's about it.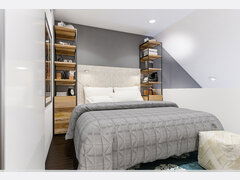 I have a bedroom and 1/2 bath that I want to turn into a bedroom and full bath.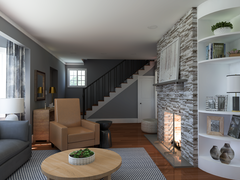 This is a private project for Eleni. I'd like to have my kitchen and entry done by Thanksgiving. I'd like to put $1,000 into the entry and $2,500 into the kitchen. And I'd like to complete the living room by April 2017.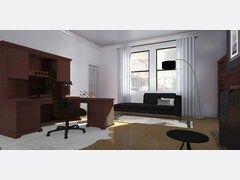 I have an office approx 450 sq feet. It has too much furniture and is ugly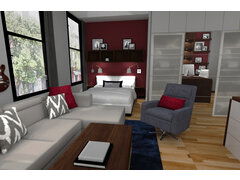 Need creative, attractive and functional solutions for clothing, items, and display needed for 480sf studio apartment without having it look like a college dorm. We used to have a loft for bed where there was storage underneath but the constant use of stairs was unsafe for husband. Layout can't re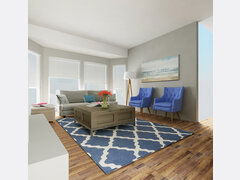 Need help with living room design and a color pallet for adjoining rooms. House was built in 1988 and hasn't been updated. We're looking for functional/comfortable design that flows from room to room. We have dogs and a young son. We'd like to stay around $5K but we are open to going abo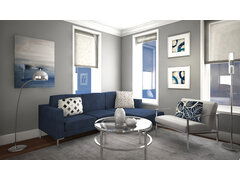 I would like to get design ideas for a living room and dining area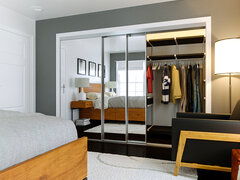 Looking to revamp my bedroom into a sleek bachelors pad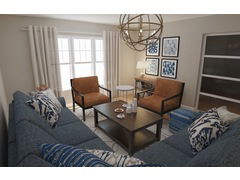 Need help with living room - window treatments, rug, paint color etc.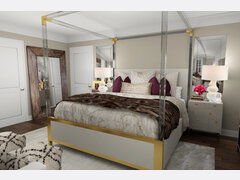 help with my daughters bedroom.. i have a beautiful bed and kelly wearstler nightstands.. but i need to pull it all together now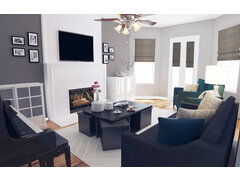 Need help with decorating a three bedroom condo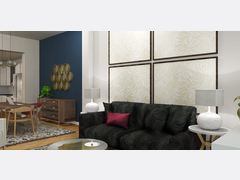 My boyfriend, Chris, and I will be moving to Stamford, CT from Philadelphia, PA. During the week, he will be working in South Jersey and will have an apartment there. So the apartment in CT will be our weekend retreat / time together each week. We hope to be working / living in the same space in the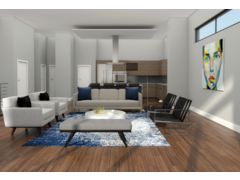 New construction town home. Big open floor plan with kitchen/living/dining. Need assistance with furniture selection, room layout, and decor. Going for a modern clean look (not too sterile) with touches of industrial and a little contemporary. Would like nice, lasting furniture pieces witho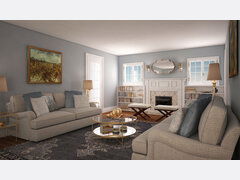 We've worked with Decorilla in the past with great success. We'd like to try the process again for entire home in Manhasset. We would like our Manhasset home to be designed in a more traditional/transitional style. The kitchen, foyer, and dining room wallpaper are staying (thus we would like t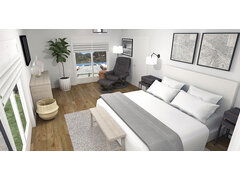 Need help with master bedroom.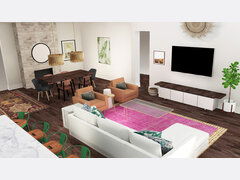 We need a kid friendly space. We want comfy + colorful design solutions. I don't need a lot of storage space and I prefer not to have useless furniture pieces. A comfortable, bright, colorful and visually interesting space...bedrooms are for sleeping so we live, eat and play all in this large sp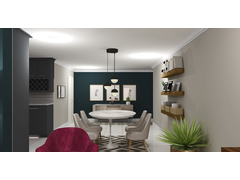 I need help with an open living/dining space.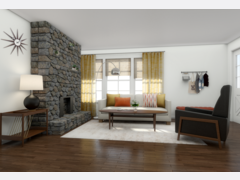 I need help decorating/furnishing my living room/office space. This is a combined space. My living room has a small "nook" where I would like to put a desk and create a small office space.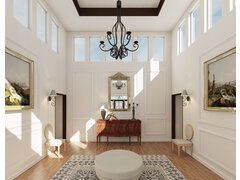 We're in the process of working through our house but didn't really have a thought for the entry room to our home. In fact, this has been a real design challenge for my little head. The room is essentially a 16' square with an 18' ceiling. This entry room is "embedded" into the house.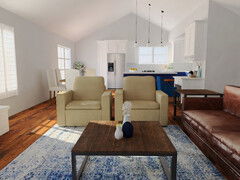 I recently retired (age 59) and am moving from Houston to rural Illinois to a house (ranch, built '92) that I own and previously lived. Would like to renovate to a style that I would enjoy. My immediate interest is in the kitchen and living room; eventually moving to the rest of the house. I am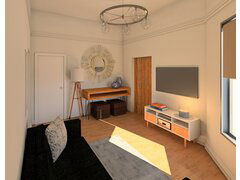 We are looking to improve our living conditions and gain more space while getting rid of clutter. We have a spacious apartment but don't feel like we are using it appropriately. I also want to update the kitchen and bathroom.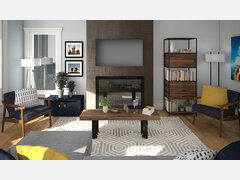 My wife and I recently purchase a home that we're interested in interior design help with. We'd like to start with the family room + kitchen. After we're done with that, we'll move to the living room, dining room and guest room on the bottom floor. And we'll also have the master bedroom, nursery,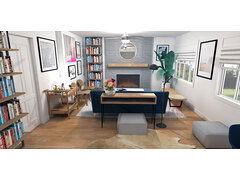 Need help decorating and furnishing my new home. It is a 1940s Cottage/Tudor style home. I like minimalist, scandinavian/mid-century modern decor.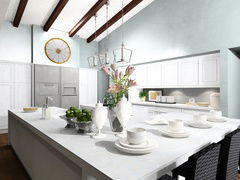 We remodeled our kitchen. The bones are done but it's too white. I need some help figuring out how to add the finishing touches - we aren't sure if we need paint/a barn door/add beams to ceiling, etc. We also need help with the lighting and the dining area. We need someone to help us finalize ou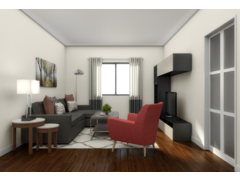 I am in the process in purchasing another unit in my complex directly below the one in my first project with Decorilla and it is identical in size and layout.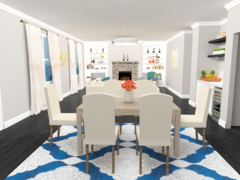 We moved into a new construction house 1.5 years back and now need help in furnishing it and making it a home. I need help with the following rooms. Family Room + dining (breakfast)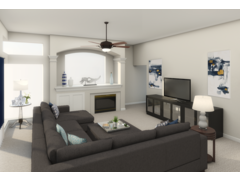 Would like to start with the family room.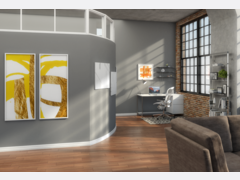 This project is for my small home office. The selected designer will also need to select pieces for the entire curved wall that goes from the home office into the living room (the wall marked in photos). Please focus your initial concept on the office area.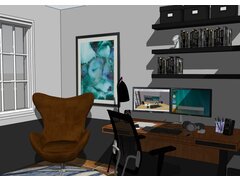 We are looking for an updated office space for my partner who works from home at times. The desk space must be large enough to accommodate multiple computer screens, or one 32". We would also like a sitting area if possible with the space limitation.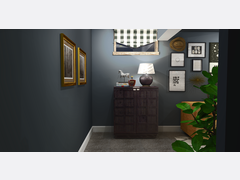 I'm looking to decorate our lower level family room (aka the man cave). The family room will primarily be my husband's space, so I want him to be masculine, cozy and comfortable but also want to use the space for movie nights and entertaining so don't want it to look like a bachelor pad! The lower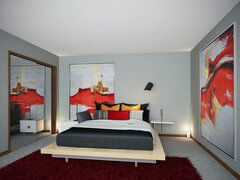 I want to redo our master bedroom in a contemporary style. We have a Peter Maly bed and dresser that we plan to keep. We also don't like a lot of clutter. We would like a sleek and contemporary look. Minimalist, not a lot of stuff all over the place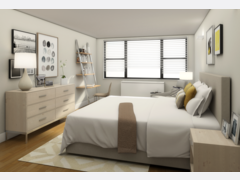 We would like help with our combined living/dining, master bedroom, study/office area, and entryway. We have some living/dining furniture from our old apartment, but we really need help to pull the space together in a very polished and sophisticated way (e.g., with furnishings, decor, prints/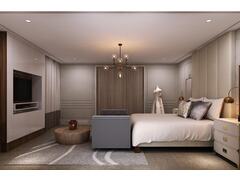 The property is located in Northern California within earshot of Napa Valley. The hotel will make the majority of it's money on it being a venue for weddings. Once the owner approves the design, then we would like to work on the lobby, meeting room, conference area, restaurants, etc. Concepts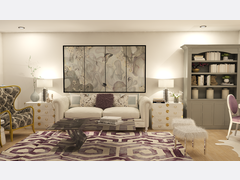 My family are moving into a new space, and we need help integrating a couple of key pieces of old furniture (we have two really distinctive side chairs) into the new space and need help with space planning ideas and furniture selections for the combined living and dining room. We will not be brining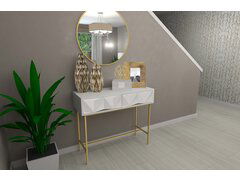 I'm building a new home and I would like ideas to decorate a large room living room and dinning room that face my kitchen. I love crown moulding and luxurious looking trinkets and art prints. I prefer modern décor with a touch of classic Hollywood swank. I have 9FT tall ceilings. I'm in love with t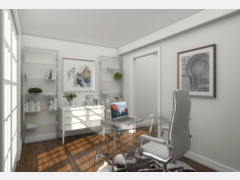 I need help redecorating my home office. I am changing jobs and will be working from home full time at a tech start up. I'd like something more modern and open but I have lots of books so I also need storage space. Currently our furniture in the office is heavy, traditional wood and is too big for t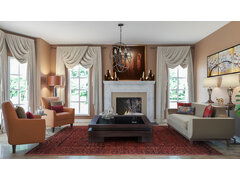 My house was designed in the 90's. It hasn't been upgraded. We have all golden oak flooring. I need help with bringing my entire 1 floor together cohesively. I would like to start with my Living room.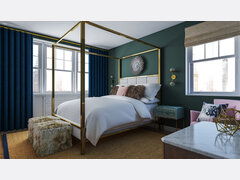 The bedroom is 11 by 17 but about 3 feet is the little entry hallway so the room is really more like 11 by 14. The room is feeling a little old lady to me at the moment, maybe it is the headboard. I love the wall color and would love to include the marble chest of drawers where the TV is, but the re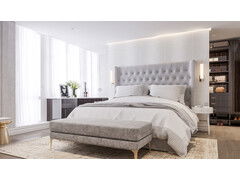 i am combining 2 apartments to make a 4 bedroom apartment The combination is very simple just moving walls in living and master bedroom areas we would like to know if you will provide layout services for the combination (not the whole apartment but the living /dinning room and master bedroom and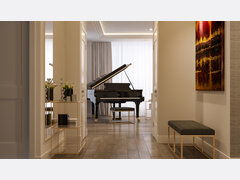 entry way and adj hallways to right and left with Mladen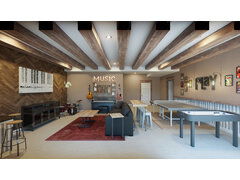 We have lived in our new house for 5 months. We are slowly working on each room but we are really ready to transform our large basement open space into an industrial/inspiring room for music and fun.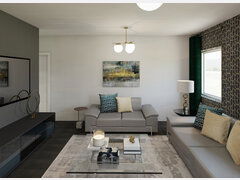 We just moved into a new duplex (new construction) and we need help with our new space. The living room is located on the lower floor and all other rooms are on the second level. The bathrooms are done, but would like suggestions for new vanity and mirrors, shower curtain, rug , towels, trashcan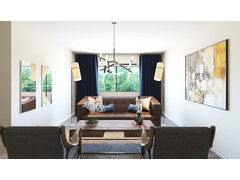 Looking to find a creative idea for my "formal" living room. This area is right off of the foyer and is a space that guests will walk through to get to the kitchen and the main living room. I don't want this room to be a standard sofa, table, chair grouping. I would like to see a creative space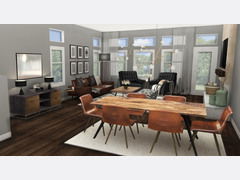 Hi, We just bought a house and want some help with the living room. It's a large room with a small dining space attached. Wanted to give this a try and possibly do our master bedroom later. Budget is in the $5k area, but we're flexible. We've uploaded some example photos of Megan's inspir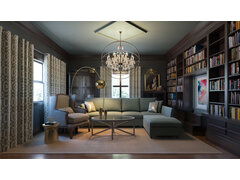 I need help furnishing my library. For some reason I'm really struggling with how to arrange the furniture in this room. I've been collecting vintage classic books for years and love that I actually have a room to display them. The house was built in the 1920's and the walls in this room are orig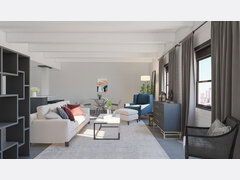 I recently purchased a loft/brick 1 bedroom condo in Boston. I need help getting it furnished!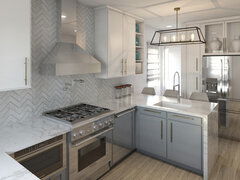 We are looking to demolish our existing kitchen and come up with something that actually has space. We have an odd shape, so I'm definitely looking for some creative ideas.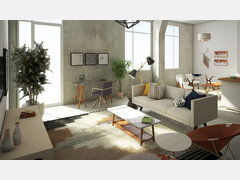 Hi There, I'm Scandinavian and prefer that type of style, though I can't for the life of me find a way to style my 1100 sq ft loft. I want to complete this project sooner then later.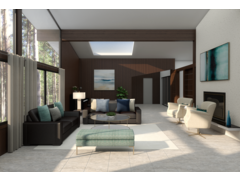 I need help with living/dining room and some outdoor areas.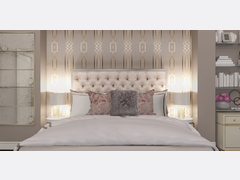 I am looking to decorate my husband and I's bedroom. We used Decorilla for both our living room and my husband's office. His office is HIS space and I'd like our bedroom to be MY space, without being overly feminine. I really love the vibe of our living room- I think it's elegant, classy, and slight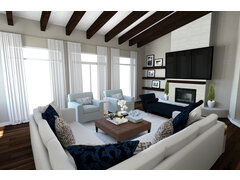 change from traditional to modern look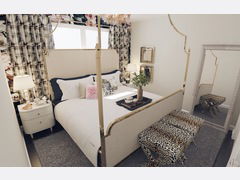 Looking to give my daughter her dream bedroom that is a spiritual bohemian glam retreat. The rest of my house is similar style to the pictures I added to "what other rooms look like". I plan to use you guys for my entire house so want it to really resemble the style of other pics I posted. I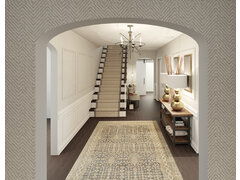 Need to select furnishings, area rugs, decorative items, paint color and possible wall paper for my entryway vestibule, foyer and second floor landing. Keep in mind that there is some flexibility with the budget.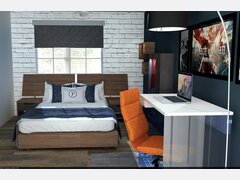 Need help with son's bedroom redesign-- he is moving from a single bed (and furniture purchased when he was 2 years old) to a full-size bed. Need recommendations on floors, paint and new furniture for a pre-teen to carry him through high school.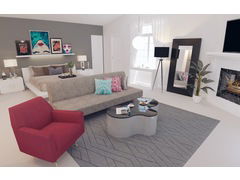 I need help with my master bedroom. It has very strange angles and closets and doors and "nooks".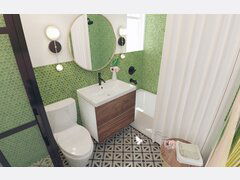 I live in a 2 bedroom one bath apartment. I would like assistance with three spaces in particular: kitchen/dining area (which is one space), small bathroom, and master bedroom. For the kitchen in particular, I may need architectural assistance because I think I want to open the space up. So I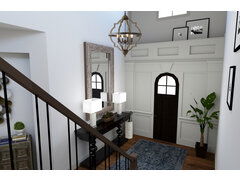 I recently bought a new home (which is larger than my previous space), so have a few rooms that I need to furnish or refresh. For this project, I'm looking to create an entry to my home that is warm/welcoming, functional and has a touch of grandness.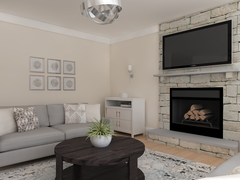 I would like to start with our combined family and breakfast area which I would like to be kid friendly, organized, comfortable but modern with an edge of sophistication. A design that will stand the test of time.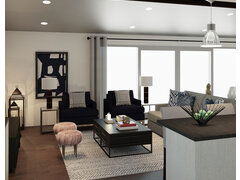 I'd like to focus on the living room area of our great room. You can disregard the area with the instruments. I am looking to update the living / family room portion of the great room that is located by the kitchen. To date, that area has been the main area for all TV watching and my 9 year o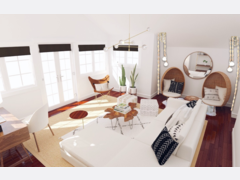 Hey, We need help with a few rooms. Thought I'd start with a room off our master bedroom first and see how it goes. It's on the second floor and has lots of light, a small balcony, and I'm thinking sort of treehouse/library chill space with a bohemian vibe. It'll also double as my home office bu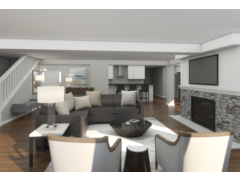 Just engaged. New house starting fresh and new. We are contemporary.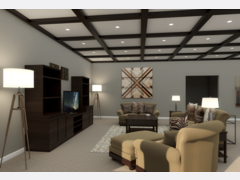 Looking to build out a more comfortable living space and bar area in the basement including a kegerator, small/under counter refrigerator, sink, dishwasher and additional tv along wall adjacent to bathroom to access plumbing. We would like to remove the carpet in the bar area and lay down hardwood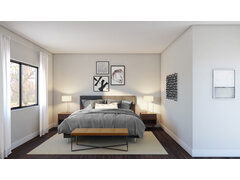 I need help finishing our master bedroom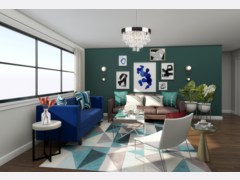 I furnished the living room in my apartment, but I am seeking additional help from a professional's viewpoint on how to decorate and really spruce up the place. My goal is to create a modern & contemporary look, with a touch of eccentric for my living room. I like open spaces and good lighting. I am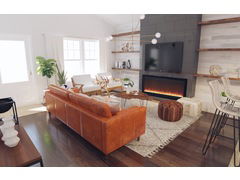 I need help with my living room. I tried another online service and I was not satisfied. I want help not just with furniture selection but also with adding character to the room with different option like wall color or adding veneer or wood paneling walls , window treatments, ceiling beams and may b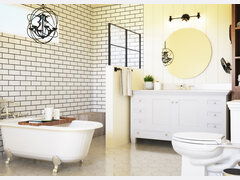 Absolute musts in the new bath are: Place to put up my magnifying mirror (photo of the mirror included) Place to plug in a fan (I'm that age where I need a fan on my face in the morning whilst doing my makeup) Pull out drawer for blow dryer and flat iron (they are always out on the counter, I d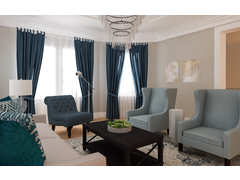 Living room design to complement dining room and entry way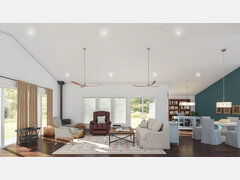 Looking to split up an L-shaped living/dining area into a living/dining area with an office by taking better advantage of the current space.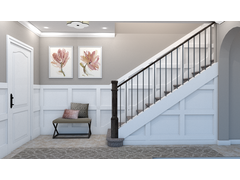 I live in a community of cookie-cutter homes. I want to update the entry in a way that separates it from the entry of all the others in the neighborhood. My plan is to switch the banister, light fixture and add some architectural detail. I need help selecting a paint color (a nice grey)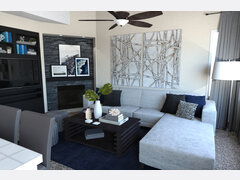 Family room (kitchen + living room) just installed new carpet and painted walls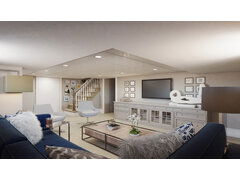 I need to redecorate my basement family room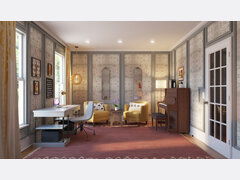 I need design assistance for my home office / music room. Looking for a modern Moroccan style. Architectural style of the house is traditional - molding on walls she would like to see artwork in. Would like to incorporate an existing rug and upright piano into the design. Not looking for bookcases,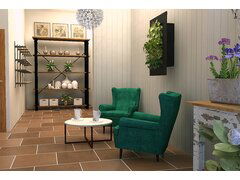 I need help with the interior design of a flower shop. It contain a large space with a small WC and store room(to store the vases..etc). And another designed refregerated room.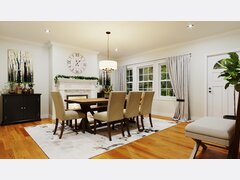 We remodeled a couple of years ago and never got around to actually decorating because we had a baby...who is now THREE! So we're ready to customize and make it feel like home. Please help us design our family room, entry and front formal living room. Thank you!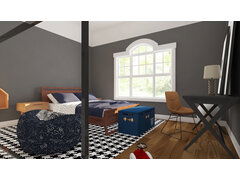 I need help designing both of my son's bedrooms in our new house. They are 3yo and 5yo. Bedroom 1: Although the walls are black, i like the look of this room as it is staged currently. However, my 3 year old boy will be using this room. The pendant light and checkered rug will be staying. I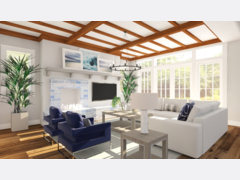 It is time to replace our Family Room furniture - it is our most lived in room and thus important for it to be functional but still "vocal point" to the home.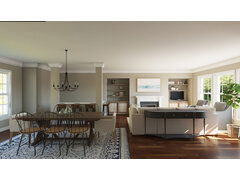 I could use a lot of help with our second floor- its open concept kitchen/living/dining. Ahhhhh.
Building a new home - view the below Link to see the model: https://www.calatlantichomes.com/find-your-new-home/38-san-diego/7863-toscana.html Then view plan 2C - Italian elevation to view the exterior of the home (the one shown when you immediately view the above link is not the correct home,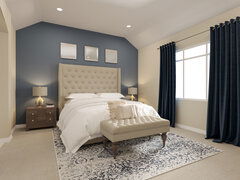 Per In Home Consultant: Sue would like design help for her master bedroom and bathroom, as well as her guest bedroom and home office. She has nice bedding and a bed set that she likes in her master bedroom, but the room doesn't feel complete. It could use a taller headboard, chunkier table lamps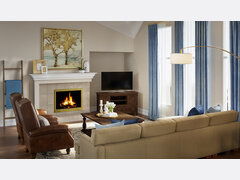 I would like to redecorate our living room, dining room, and adjacent entry way to both elevate the aesthetics of our home and organize the clutter.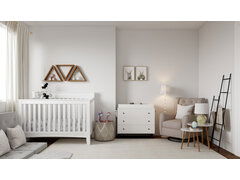 I need help decorating/creating a baby room. I will be relocating from Miami to Philly at the end of June and my baby is due in August. Not much time for nesting. Depending on how that goes, I would like to create other rooms, such as living room. I would also like help creating an area for my vani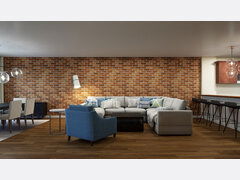 3 story condo built in 2010 and located in Uptown Dallas. 2 bedrooms, 2.5 bath (note - the smaller, second bedroom is on the first floor and serves as a guest room & office combo). I have zero talent for color schemes and layering,which is why I am happy to pay for help! It is critical that I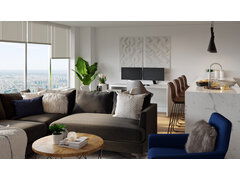 Moving into new apartment - Would like Living Room, Kitchen, Bedroom, and Bathroom decorated. I like modern and geometric design while my fiance likes cozy and coastal. If there is a way we can incorporate both that would be great. Living Room - We want to keep a home and cozy feel - Need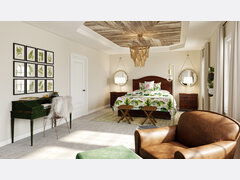 I need help with my bedroom.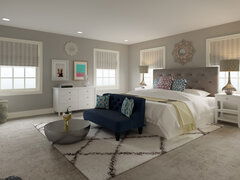 I'm looking for design guidance on wall color, adding a rug, black out window coverings, bedding and any other décor advice to liven up the room. I would like to keep the bed, dresser and nightstands as they're all fairly new. I'm open to swapping out other items. We need to keep the ceiling fan as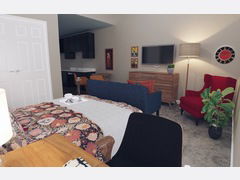 My elderly mother is moving into a studio apartment in assisted living. We would like some help decorating the studio space and small kitchenette. She has a few items (prints, vases she painted herself, and a red clock) that are very dear to her. They aren't the most amazing pieces, but they have
My Mom lives in a very small 1 bed at 30 Dalton St. in Boston and need help decorating the whole living room. We are looking for a minimalist, scandinavian inspired, organic, simple, clean, sparse design. The best part of the apartment is the gorgeous views. We want the design to accentuate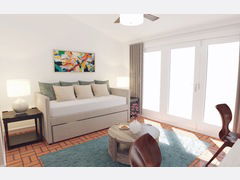 Playroom and house exterior paint colors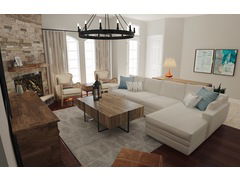 I just bought a house and I have no idea where to start. I definitely need help with paint and how to decorate, furniture.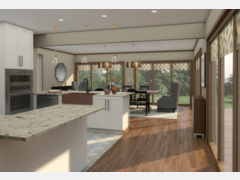 We have a small kitchen (not an eat-in) that needs updating, dining room that needs to be finished and hallway/entryway that needs help. I would like help selecting new cabinets, counters, etc. and any novel ideas for the large windows that surround the front of the kitchen and into the dining roo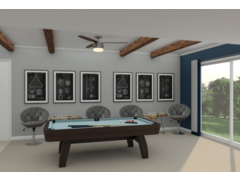 Looking to get ideas for paint colors for my Family room kitchen and dinning room. I have split level home so some walls run into other rooms. Also looking for furniture ideas for family room. Looking to update.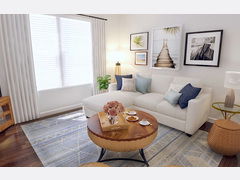 We recently converted an office into a casual family/tv room and need help decorating it.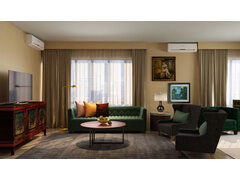 Hello. we live in Kuala Lumpur, Malaysia, and we will be moving into a new rental apartment next month. I would like to work with a designer on paint color schemes which will blend easily from room to room, including painting the ceilings, while incorporating a few of my own pieces of furniture wh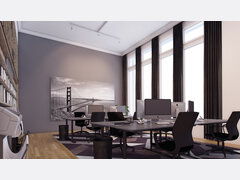 We have an office in downtown SF. It was previously an art gallery: has lots of great light, 16FT+ ceilings, but it is very loud (hard surfaces) and a bit cold (lots of white walls). Looking to bring some warmth and sound dampening to the space. Need work space dividers but do not want typical offic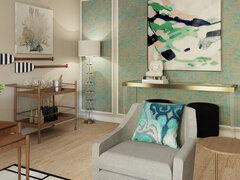 I'm under contract on a condo, and will need almost all new furniture and decor, so I'm currently weighing my options for decorating. Since the room has a lake view, I would like to incorporate some of the colors that are present in the lake throughout the year, like blues, greens, grays, and wh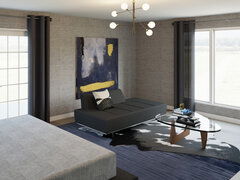 Just purchased new contemporary, modern house. Need decoration ideas/furniture. Thank you.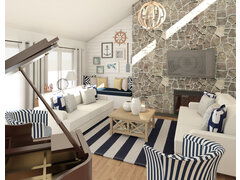 Living Room Remodel: Style: Coastal - beach house - nautical Room has lots of natural light and very high catherdral ceilings. Room size: 29' x 20' Baby grand piano must be worked into mix.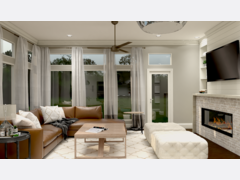 It will be: New cabinetry definitely, they're awful! - The island is a total scrap and redesign. The photo attached is an idea we really like that has it oriented a different way and the island extends into the breakfast nook is and half wood half marble - I have new appliances already, stai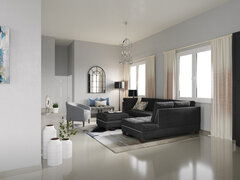 I would like to get help with my family room. I have been struggling with it for a year, and I dont want to keep buying furniture that doesnt work. It's large and kind of an awkward space that is open to the kitchen and to what's going to be the dining room (see plan.I will move the dining room you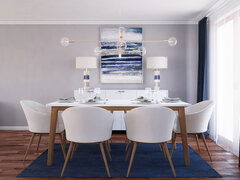 Living room furniture and decor for new house purchased. Move in date aug 22 Have video and dimension and picture of the living room What is your style? contemporary. glam. What is your lifestyle like? My boy is 13. We like functional, comfy. Would like to fit around 5 people on sofa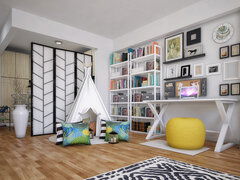 —I'm on a student budget and try to be environmentally conscious and don't love wasting/throwing away perfectly good pieces of furniture and so would love to keep as much of my original furniture as possible. I am very open to suggestions on replacements/upgrades as well obviously, but if you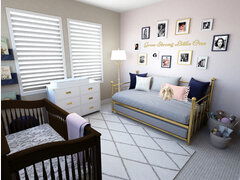 Nursery design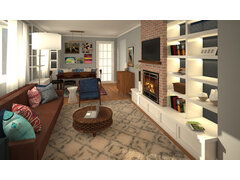 Just moved into a new house. Current furniture not working. We were looking at a new leather sofa at Room and Board, but then thought it would make sense to consult on making our narrow living room as functional as possible. We have future plans for a fireplace install in that room as well, so desig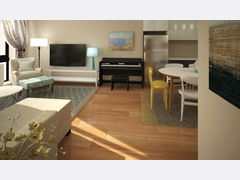 I just purchased a brand new apartment and I need it furnished. The only thing I will be bringing with me is my bed.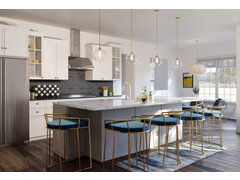 Need assistance with designing our kitchen nook area. Loft perhaps. New construction home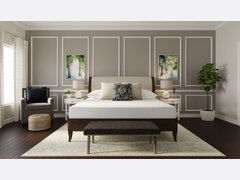 We have a large master bedroom with a sliding door and three large windows facing the pool. Tends to be a bit dark. Need help transforming it!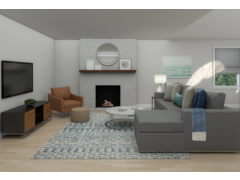 I want a cozy, inviting, clean family room.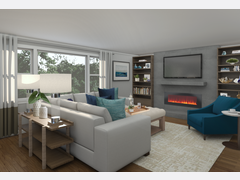 I need help with living room dining room combination. This space shares an open half-wall with a small kitchen. The main entrance to this area is through the kitchen doorway. The front door is rarely used. As people enter this space, they walk through the kitchen and see the far dining room wall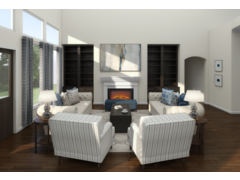 I need help with living room.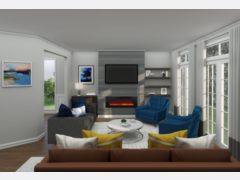 Looking for help with furnishing and decorating our living space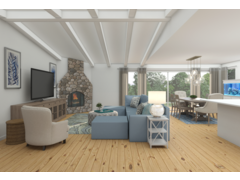 Doing a fire re-build, need help with finishes for kitchen/great room. Have floor plan but nothing else.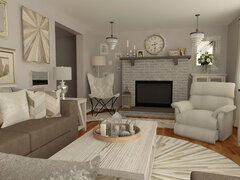 I have small spaces that I need to get the best function out of. I need advice on color palates, window treatments, furniture style and placement. Also am would like decor advice but find things that fit my style/personality. I also plan to do updates on the baseboards, etc. but am not sure where to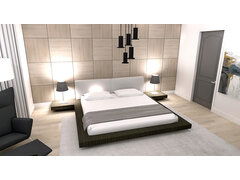 We just bought a home last year and would like to renovate our master bedroom and home office. From our inspiration photos attached, what we are primarily drawn to are great looking wall accents such as large porcelain panels or concrete slabs that hide the plain white wall look. I came across De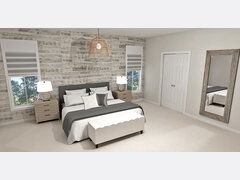 Need help with my master bedroom, sons' bedrooms, and guest room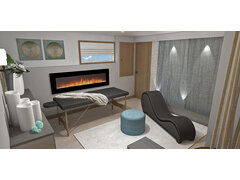 I'd like to convert our basement guest room (currently a craft room) into a spa retreat for my wife. I'd like to change out the finsihes + add in high end furniture. I'd like to incorporate a message table, up lighting and innovative changes that transform the space. Any furniture should be leat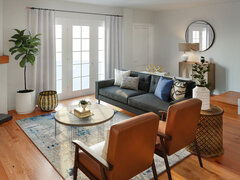 Looking to add some furniture to our currently empty space!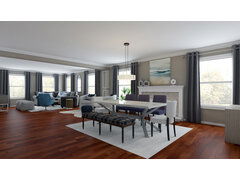 We recently closed on this house on July 20th. Therefore, the furniture in the pictures belong to the sellers. The only item staying is the grey sectional. The entire space doesn't get very much natural light even with the shades open, so I would love ideas on how we can bring in more light i.e. m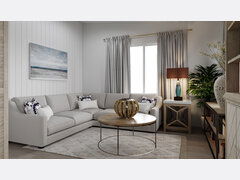 My landlord is willing to do new flooring, paint and a few accessories. I'd love to make the best use of my very small space, 400 square foot apartment. Thank you!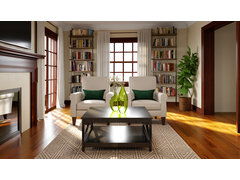 I have no idea of what i want to do and have an oddly shaped living room. We have a 1928 Colonial home with hardwood floors throughout. There are quite a few entry points and then windows that make this room a bit tough for us to design. - We have a couch and chair that we don't want to ke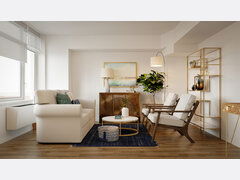 Moving to a new 1 bedroom apartment in the Upper East Side and would like professional help to decorate the living/dining room and the bedroom.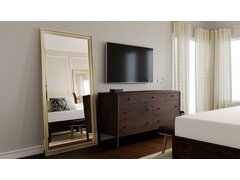 We have a large master bedroom with a sliding door and three large windows facing the pool. Tends to be a bit dark. Need help transforming it!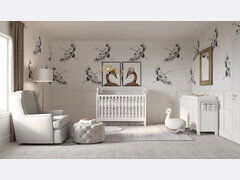 I have a baby boy due in December. I have some ideas and know what I like but I need someone with a better eye pulling it all together. I also just don't have time with my work to devote the time needed to make this room what I want it to be.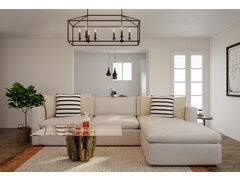 In need help with 800Sqft or less - 1 bed, 1 bath Dining area: 7 ft 7" length 8ft 11" width 7 ft 10.5" height Living room: 17ft 2" width 14 ft 2" length 7 ft 10.5" height Bedroom: 10 ft 4" Width 13 ft Length 7 ft 10.5" height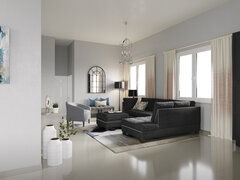 I would like to get help with my family room. I have been struggling with it for a year, and I dont want to keep buying furniture that doesnt work. It's large and kind of an awkward space that is open to the kitchen and to what's going to be the dining room (see plan.I will move the dining room you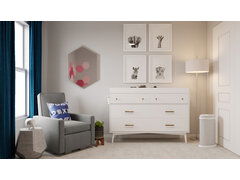 Looking for help with a nursery design. It's for a baby girl that we are expecting this winter. Vision - we think this will stay a nursery until we are done having kids and then it becomes a kid's room. Plans are to have two total; at the same time, we know life is life and plans are plans; s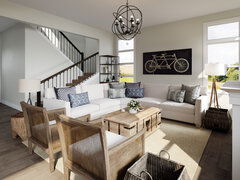 My wife and I just moved into a new house. It's an open floor plan, built in 2018, with a combined dining/living room. We're looking to start with the living room/dining design with you guys, and if all goes as planned, continue with the rest of the rooms in the house each month. Our budget is f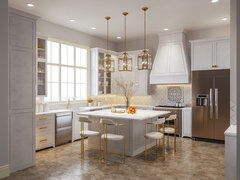 We recently bought a Tuscan/ Mediterranean home built in 2007. The house has lovely bones but I'm trying to lighten and remove the Tuscan feel. I really love light, traditional interiors. My last kitchen was so beautiful, subway tiles and marble and beautiful light and architecture. Thie new k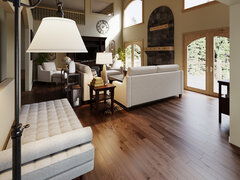 Living room needs a refresh. Her style goes well with the rest of her home, but some of the pieces are worn out, and the layout of the room could be more effective and efficient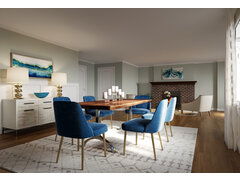 I have an L shaped living and dining room that badly needs updating.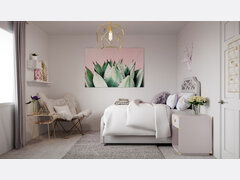 Hi, I am moving into a new home in a week and would like to use your services. I will be needing almost all new furniture because the lighting, colors, everything about this house is completely different than my old. I see the flat rates for each room. Do you offer discounted rates for multiple ro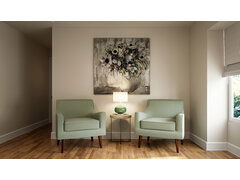 I need help with paint color , and accessorizing this large master bedroom. Some furniture already have need to work around. These new pieces. Need wall, trim ceiling paint, rug, mirror, lighting , artwork , posdibly another 2 pieces of accessory furniture, ex. Bench ,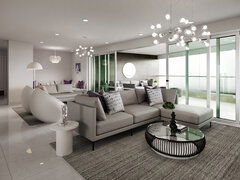 Decoration and prices and places to buy for multiple areas of brand new condo. Living room and dining table. I like the neutral colors. Please consider we are a family, I have a wife, 13yr son, 10yr daughter, and a small dog. Carpets and sofas must be cleanable.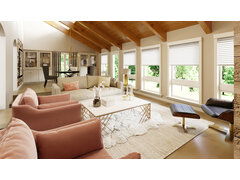 Living room decorating and plan ideas. Need new sofa and decorate the whole space. Will need fireplace re-done. Sofa can spend around 1,700 to 2,300. I like clean/comfortable. transitional. mid-century. little glam. Might get cats or dog, but don't need to design too much around that.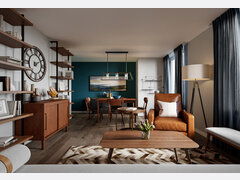 So I am moving into this really open studio layout and will be sleeping on a Japanese style futon that I'll fold and put in my closet. So my space is going to be living and dining, but really my entire home. Full Size: https://www.airweave.com/products/airweave-futon Here is my inspiration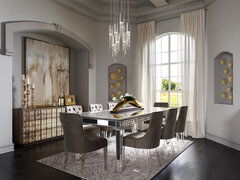 New fully designed home that is a complete blank slate. I want this home to look like a model home when walking through with neutral colors and touches of glam throughout. The home was completely remodeled before we moved in and its gorgeous! I don't mind adding accent walls, wallpaper in the ma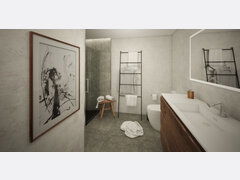 Looking to remodel a master bathroom in a city condo. Looking for something in a bold, clean, modern, and dramatic aesthetic that does not feel too dark and claustrophobic. Other likes: -- Large mirror -- Single handle faucets -- Bathroom vanity with small drawers for storage -- Small step s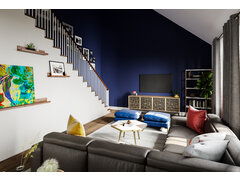 The chosen designer will need to be available for 3 phone calls (possibly video) with the Design Center in July as this is a new build. You would help with picking out colors and trim needed for the home. The home is being built at the moment so everything you are seeing from home images, furnit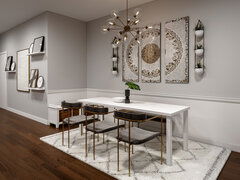 I am looking for a classy polished calming/natural decor look for my house. Mitchell Gold + Bob Williams is the type of classy look I like. I like West Elm for its natural feel. And Home Goods has great accessories. Crate and Barrel and CB2 are fresh. I would characterize my style as transitional wi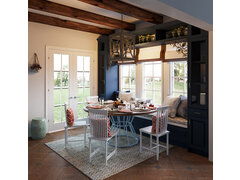 I need help updating a breakfast nook off my kitchen: 1. I'm looking for a new table that can fit more people - say 5-6 people, versus the 4 it does now. Therefore, I'll probably need a round table due to space issues. Possibly new chairs? 2. I'm also hoping to paint the built-ins around the table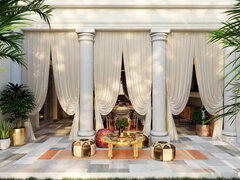 We used Decorilla in the past for a redesign of our patio and ended up not executing the plan because we didn't think the changes were cost-effective. We now have new inspiration for the space and want Decorilla to help us realize our new vision. Stylistically we are now leaning towards a bohemia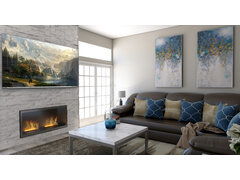 we are remodeling and we are in the process of having floors redone and we will be repainting. living area needs to be updated with furniture and decor. Looking to design a comfortable daily living space for our family. we are hoping for assistance in selection of paint colors. Additionally we wi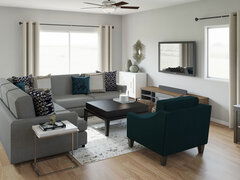 i need help in the whole house. I have 2 kids, 14 and 9 with one dog. We like to hang out at home and play together. There is lots of clutter, never enough storage. I need to be able to breathe and relax when I'm at home especially in my bedroom. i also want space to entertain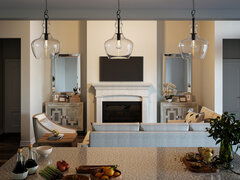 Our family is moving into a newly constructed home and we want to maximize the functionality of each space with beauty and style. Our current appeal is more toward clean, bright, modern and comfortable. Of course, we are open to all suggestions that incorporate certain traditional elements too.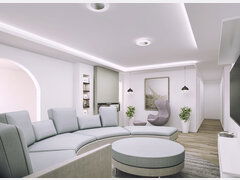 Help with living room and kitchen. The layout of the living room has been a challenge so we definitely need help with that. Also, there is almost no natural light into this room so it stays pretty dark. We would like to lighten it up with lighter walls and perhaps light colored furniture.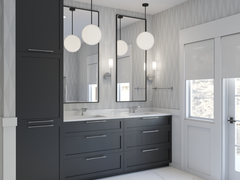 We are redoing our master bath. I'd also like to get plans for the master closets that my carpenter could build. The master bath is large and we have a fee limitations, we cannot move the door to the patio or the windows. I'd like to leave the toilet in the same vicinity and the vanity in the sam
I recently bought a new move in ready home and I would like to get interiors done for the same. It is 3400 sq ft on a 5500 sq ft lot and has a California room. Hope to move in December 21st. It has dark brown wooden flooring and a dark brown kitchen cabinets and an upgraded carpet on the 2nd flo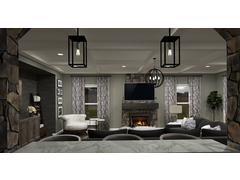 I am looking to redecorate or spruce up my family living room, bedrooms, hallway, and dining room. I am thinking of tackling each of these areas one by one but would still like a cohesive look throughout our home. I have been in a few model homes recently and would love the look of a functional mode
We would like to redesign our living room, top to bottom. We would like stylish, but sturdy furniture. My husband is 350 lbs and I am about 200, and we have 2 very active little boys (5 and 7) who have been know to hang upside down on the couch, chairs, have pillow fights with throw pillows, etc, s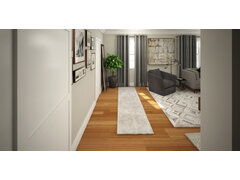 We'd like to redo our bedroom, (furniture, wall, window treatment, bedding, accessories, lamps, rugs...etc).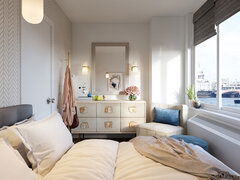 Looking to decorate room in a comfy and creative style:) ** This is a private project. Moodboard only. Open to painting wall white or another color or an accent wall behind bed. I like a mix of eclectic, beach and contemporary style like in the inspo pics for the bedroom. Neutral, but slightly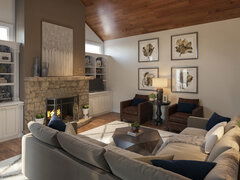 I have a living/dining room that has the potential to be great, but is in need of a refresh. I have a number of furniture pieces that were meant for a smaller space, so looking to either figure out best way to repurpose or replace with new pieces. I want the space to have element of "wow" factor, wh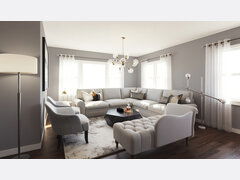 Purchased a new home-need design concepts for living room and bedroom but focusing on the living room for the moment. Budget: 5-10k For the living room, thinking that I'd like either an L-shaped sectional if it can fit or 2 sofas. It just depends on the layout and if the space can hold eithe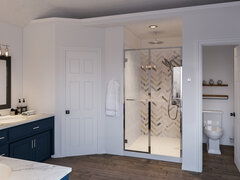 We are undergoing extensive master bathroom remodel. Within the confines of the existing walls and plumbed areas, we want a complete redo - flooring, lighting, remove huge 60x60 tub and replace with walk in shower, remove old (smaller) shower and replace with ??? Need help with ideas for what goes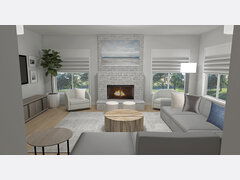 I want help with furnishing and painting my foyer and family room.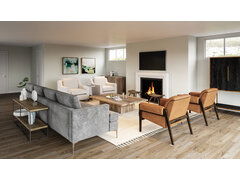 We are renovating our entire home so need ideas of furniture for the future space. So, I don't have existing photos of the space -- just the builder floor plans. We live in a lake community and have a pool in the backyard so are planning a coastal type vibe. The flooring is going to be Mill City Riv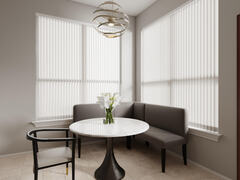 Moving into our new home and want to have a contemporary/modern feel done to the living area and dining and formal dining area, but we want to start with the living room. Need some help to get it done right.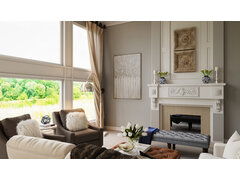 I'm back for more help. I moved to a new house in Carmel, IN. Could use help with the Living Room or the basement living area. I have a lot of furniture from my old house (some that Decorilla helped me buy). I want to try and keep as much as possible. I'm struggling with layouts, rug choices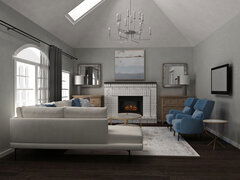 Just purchase a house; looking for ideas on multiple rooms. Living Room: 3D Dining Room: 3Ds Play Room: 2D Study: 2D Master Bedroom: 2D Bedroom: 2D Bedroom: 2D Guest Bath: 2D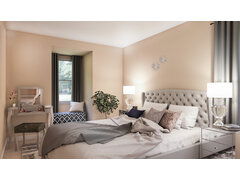 I need help with my guest bedroom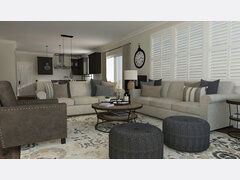 We built a house last year and moved to a house in the suburbs from a 2 bedroom condo in the city. We "fit" our existing condo furniture into our new home -- and need to really make it our own now. We need help with our combined living/dining room, as well as our foyer/entrance. Really looking fo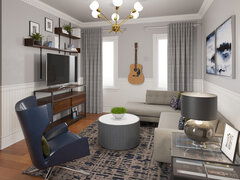 I moved into a new place and want help making it nice I have some beautiful books I'd like to show off and a guitar I'd like to display somewhere Also, I have a cat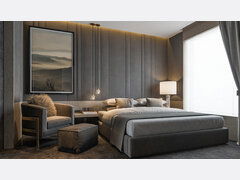 Bedroom - looking for a luxury, sexy and cozy bedroom. Living room Dining room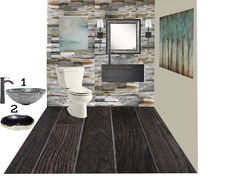 We have worked with Catz on two other projects and would like her help on this.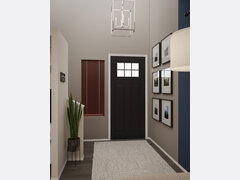 I would like help with my living room/dining area (open floor plan). I will also need help with paint, window treatments, and flooring choices.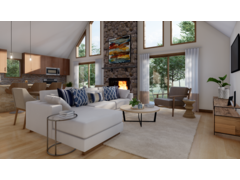 The combined living room/dining room space is in our vacation home. We are changing it from a rental house to our vacation house and want to make the space more cozy, comfortable, bright and modern. The house is in the mountains near a lake and we use it mostly in the winter but also some in the s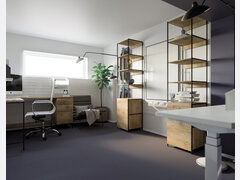 I need help with my home office.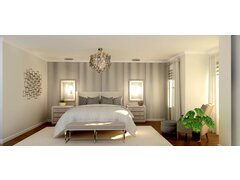 I want help with my design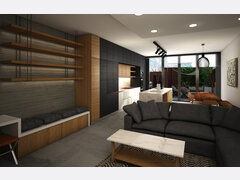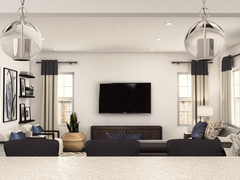 First Floor Includes - Great Room 3D - Kitchen 2D mood board (need barstools and pendants) - Entry 2D mood board Second Floor: Master Bedroom 3D Bathroom (2Ds moodboard) Kid's Bedroom (2D moodboard) - Have couch (bonus room maybe) and dining room table (needs chairs) - Kids picture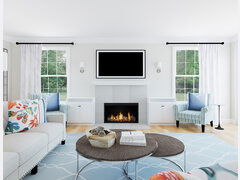 I need designs for the my family room. We have a new TV that we would like to mount over the fireplace. However, the mantle was too high so we have torn down the mantle and tiles around the fireplace and have lined up a contractor who will make a new mantle, tile the fireplace and hang the TV. I am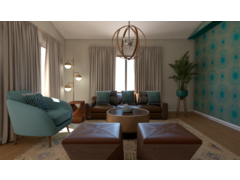 We need design assistance with our living and dinning room space from the drapes to carpeting and everything in between. We are world travelers and would like to reflect that in our design with a nod to our Latin & Caribbean roots. Our style is eclectic and we want to create a "lounge like" a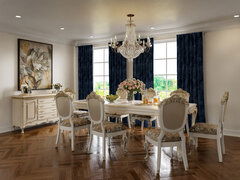 I need help with a 1200 sf space that currently houses the family room, kitchen and dining room. The layout currently has a kitchen in the middle awkwardly cutting up the space and need help figuring out how to re-design / reconfigure the space.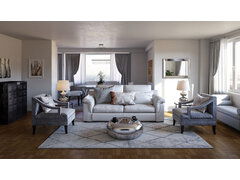 I need help with living room, attached dining room, master bedroom and a kids room (toddler and infant). We have some existing furniture from our current place that we'd like to use but looking for new and fresh ideas for the walls (paint and wallpaper options), some furniture for the living room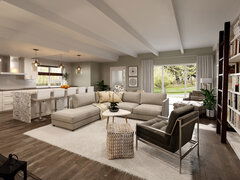 Hi! A house at San Marino is looking for interior designer. Need help with the kitchen, laundry room, storage and reading area. The owner prefer minimal style- ZEN JAPANESE. Thank you! 1. A place for her to write journals and write as she read. 2. An area for meditation 3. A space for Dad to wr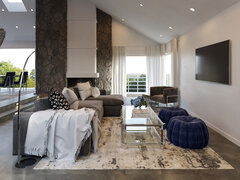 We are moving into a house that's furnished and we have lots of our own furniture. We need help choosing what stays and goes as well as what pieces we need to get.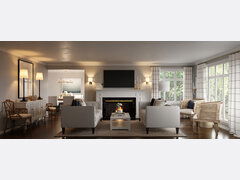 I need help completing/refining the look in my living and dining room. I have invested in a couple key pieces that I love (like my couches) but need help making the space feel more inviting. I want it to feel formal/sophisticated but still warm and welcoming. Mostly need help figuring out the flow o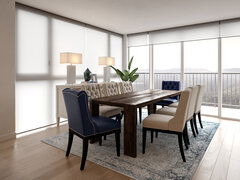 Moving from a 3 bedroom to a 2 bedroom. Open living room/dining room, 1 bedroom is the master and the other is a home office/guest bedroom. We also have a terrace. We'd like all of those designed. We have a large couch and coffee table from restoration hardware. And a few other pieces we will k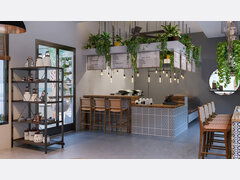 Private Project Request with Sonia Carlson I would like help re-vamping the look and layout of my coffee shop. This coffee shop was the second location we open in Tanzania in 2015 and needs a new look! Something similar to what we did with the branch in Arusha!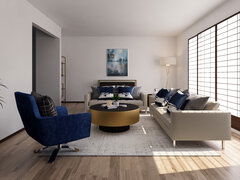 I am moving into a new apartment/home shortly, and would like to explore options in both furnishing, as well as decorating the place.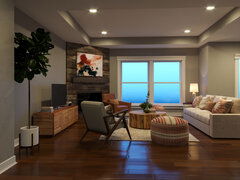 I haven't upgraded my furniture since moving into my new house 2 years ago. What I ultimately want is a look that is comfortable and very livable but also enhances the space--my current furniture just provides somewhere to sit. I have ideas of what I'd like, but am not sure how to pull all the piece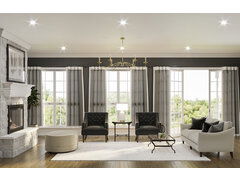 I need help with a large living room. I have a wall of windows, built in bookshelves, and a great fire place.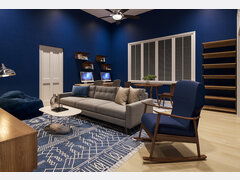 I need help with a teen boy hangout. I am looking for super stain and dirt resistant furniture. I want to create two areas in the room. 1) tv/gaming sitting area 2) a computer area for gaming and homework. I live in The Bahamas, the Zip code is for shipping. We intend to redo the tile floor and chan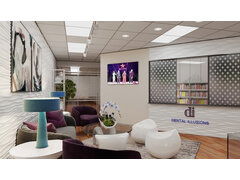 Hello, I am interested in remodeling my dental office space including the wall colors, operatories and waiting area. Is this something your website can help with? We're geared more toward millennials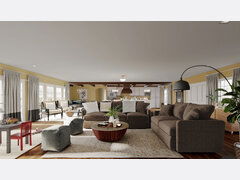 Need help decorating combined living, dining, kitchen space.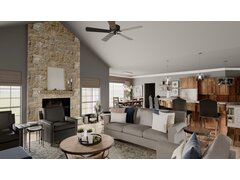 We need help with basically everything — creativity, design, furniture choices, layout, and anything else that can make our house look great. We do have some pieces we would do want to incorporate. We live in an area where interior design is scarce. Our style is a lot like what Chip and Joanna G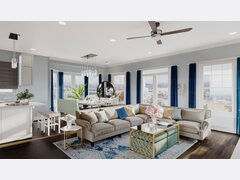 I need help with my living dining room. I have a very traditional style house but I'm looking to make it a combination of formal/eclectic. I'm a world traveler and a painter but have very limited wall space to put any artwork up because it's mostly windows. I also like more masculine looking furnitu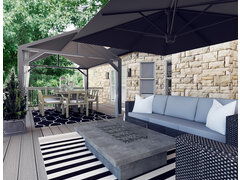 This is a deck that hangs off the house about 10 feet high. It gets a lot of direct sunlight in the summer. We already have furniture similar to the chairs and fire pit that's in the photo. We don't have an umbrella. We're looking for a gazebo type of structure, table, chairs and decoratio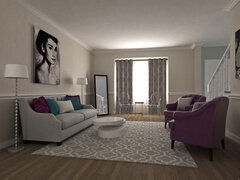 Hi! We are thrilled with Dragana's Great Room design, and our general contractor and kitchen designer will be starting work and ordering cabinets soon (and we are having them make custom cabinets for the Great Room, based on Dragana's design). I hope we will be close to complete with both of thos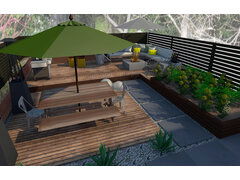 I need help designing a small front yard, landscape design and outdoor dining and lounge space. We already have dining table/chairs and lounge chairs but we are open to new options. We also have built in succulent garden that we'd like to keep if possible but also open to changing it.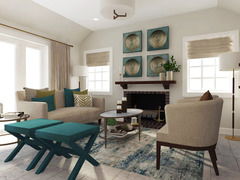 Would love to have both spaces completed by June! .... or earlier... we are ready to get this completed? Needs to be pet/ teen friendly :)........... (old teens...17 and 19)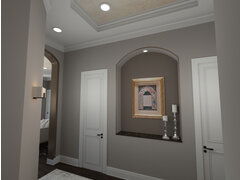 Redoing our downstairs: Master bedroom suite, master bath, entry, powder room, living room, dining room, family room and converting playroom to an exercise room. Also doing the patio/bbq area. Currently old world design and would like to shift to contemporary/transitional. Not sure if we're strict c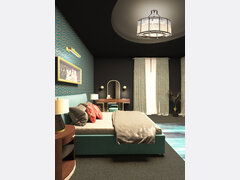 I need help to redecorate my bedroom, i prefer industrial theme inspired by 50's & 70's retro look. I will only purchase items from the shops mentioned below as my favorites because they have stores in Qatar. The only items I will order online are the curtains and wallpapers.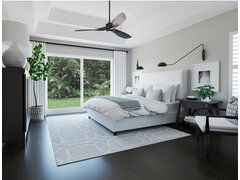 We worked with Mary Beth on our family / living room. Now that we're finally settled with all of that we're ready to start on the master bedroom. We really liked Mary Beth's design style and would like to use her again, if possible. We want to keep the paint color the same (recently repainted).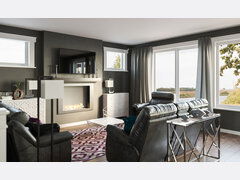 I am looking for a few areas. Dining, living and entry hall most likely. I have a preschooler and animals so lots of activity. I want something cozy and plush but stylish. I love black, white and grey with pops of color. I also love accent/mood lighting. My house is new construction. Thi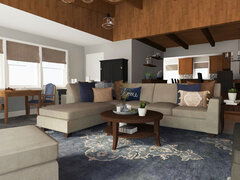 I am remodeling my main bathroom before putting my house up for sale. I am looking to upgrade the living room also.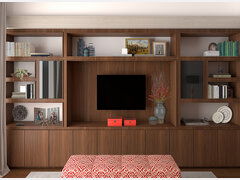 I started the room with the help of a designer but it went completely out of budget because every thing she picked was extremely expensive Curtains Buit ins Bed So when it was time to buy the next items we where out of budget so i bought some regular priced nightstands, bench and lamps that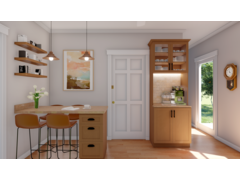 The help I need is very specific. I need to pull my kitchen together on a small budget. Cabinets and countertops stay, appliances stay. What I most desperately need is help changing the color scheme (walls are yellow) and freshening everything with new paint, lighting, window treatments, knobs, a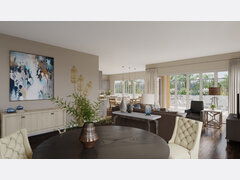 We are looking to decorate our great room: We'd like to zone the space into 4 parts: entry, formal eating, living room, and casual eating. Entry: We have a circular entry but are looking for shoe storage. Formal Eating: We'd like a big round table. Children wont be siting here Living: W