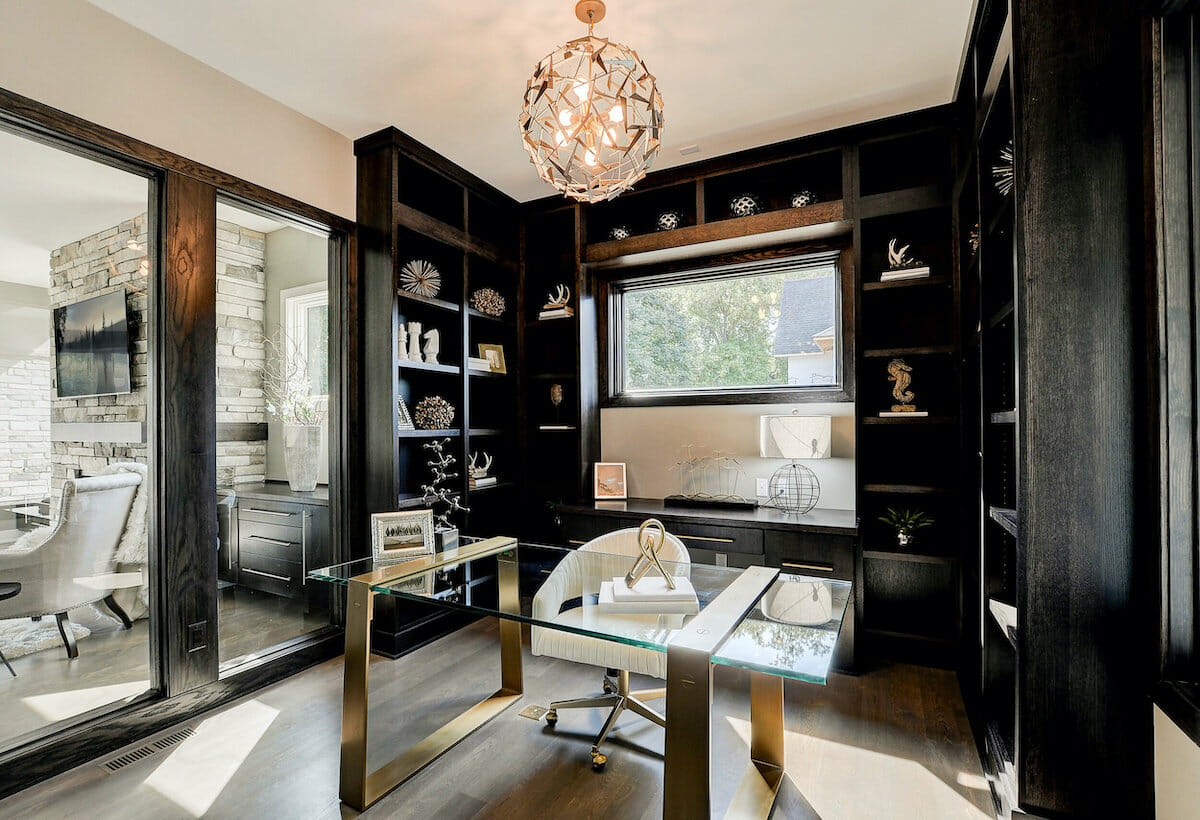 Home office inspiration is just what you need to create a space that will make you want to sit down and be productive. Whether you have a nook or an entire room, your design could certainly benefit from our favorite ideas. So, read on for our expert designer-approved home office inspo!
What to Look for in Home Office Inspiration
Your workspace must be comfortable and inviting, regardless of your work hours or location. While requirements differ according to size, a spacious room and small home office can be equally inviting. Here are four tips for creating a beautiful home office design that follows interior design principles.
Lighting & The View
When looking at home office design ideas, it's important to consider natural light and your room's view. With this in mind, your location and desk placement will play a role. A good option is positioning your desk to face a window and reducing screen glare with blinds. In addition, overhead lighting or a table lamp can be a great boost.
Storage & Shelving
Most designers vouch for ample storage space. And beautiful home office spaces are no different. What's more, shelves, filing cabinets, and cupboards promote productivity. A clutter-free design is the first step to creating a productive environment.
Not sure which home office inspiration suits your style? Then, take our quick Interior Design Style Quiz to find the right style for you!
The Correct Desk & Chair
Selecting the correct desk and chair for your home office space is imperative. Your neck and back will certainly thank you! So, choose a desk that can accommodate your computer and essential items. Moreover, invest in a quality ergonomic chair that is both comfortable and adjustable.
Accessories & Décor
The fantastic thing about working from home is you can dictate the look of your office. So when filling it with home office essentials, consider personal items too. Think of what inspires you and brightens up your day – they're sure to put you at ease!
Covetable Home Office Inspo
A home office allows an opportunity to showcase your favored design elements. Whether you use moody colors, gold finishes, sleek lighting, or marble – there are endless ways to arrange a functional setup. With this in mind, let's look at our favorite home office design inspiration!
1. Moody Hues
Any striking moody shade makes the perfect base for accents of gold and illuminated lighting. This interior shows how a few sleek pieces and an array of textures can form visual interest in an otherwise dark room. It's also perfect for a small home office design if you're low on space.
2. Vibrant Home Office Inspiration
These vibrant offices prove that you can incorporate bright colors into your workspace. With a focus on items that work well together, the result is an energizing environment.

3. Double Duty
No space for a desk? Your lounge area can quickly transform into a workspace. In fact, this solution is a win-win, with this space already decorated! After a few tweaks, it'll be time to bask in how easy it was to create a swoon-worthy home office aesthetic. 
4. Stylish Storage
Take a look at this office décor inspiration! Here, shelves are used to store items and as a display space for playful home décor. In this space, the dark desk complements the wood floors, while light walls, clever lighting, and greenery keep it feeling uplifting.
5. Small Home Office Inspiration
Here, the designers used small nooks to create functional office designs. Moreover, these updates maximize the potential of these interiors. They may have been unused corners but have become private areas of productivity.
6. Statement Chandelier
A classic glass chandelier is indicative of a golden era. That said, this aesthetic light also fits a modern home office design. Here, it provides ample lighting to this desk and a focal point.
7.
Wallpaper Wonder
Wallpaper can enhance your work-from-home situation. Here, wallpaper promotes a calm and clear mind with its repeated motif. In addition, it encourages an analytic approach to work through geometric shapes.
8. Home Office Inspo with a View
This desk setup is the perfect inspiration for those who love a good view while they put in a hard day's work. With a focus on dark wood in this space, not much else is required due to the spectacular cityscape!
9. Large-Scale Art
This contemporary-styled office comes to life with large-scale artwork. In addition, its soft form complements the rustic floors and modern white desk.
10.
Natural Light
By placing the desk near the window, you can create work-friendly office filled with natural light. Plus, the refreshing view will certainly foster work inspiration!
11. Green Home Office Aesthetic 
This home office design inspiration gives off a feeling of the great outdoors. A tree in the corner adds height and interest to the interior, while the artwork and furniture build on a connection to nature.
12. Calming Neutrals
A neutral color scheme often accompanies top home office inspo. With wooden and gold accents, this neutral haven shows just how stylish muted tones can be. The addition of two traditional-style linen chairs also makes it perfect for relaxed reading.
13. Tranquil Walls
Blue is a tranquil color. Not only does it reduce eye strain, but it improves work productivity. In addition to its calming effect, this blue-teal hue certainly makes this office space stand out in a home.
14. Balanced Contrast
The canvas layer of this home office is bright and light. In contrast, a dark wood desk with black metal legs, a black chair, and a plush charcoal carpet bring balance and depth.
15. Back in Time
You can include old-world aesthetics just like your favorite home office inspo. For instance, this mix of antique wood furniture, quirky décor, and vintage chairs will surely transport you to another time. All in all, there is a feeling of undeniable charm.
16.
Metallic Accents
Modernize your office space by including an array of gold accent pieces set against a monochromatic backdrop. For example, this space includes accents in the chairs, décor, and pendants against a dark gray theme.
17. Personal Home Office Inspo
This personalized space contains many items that show the homeowner's personality and interests. With clever placement, the items have formed an aesthetically pleasing interest in this office.
18. Organic Textures
In this amazing home office inspo, the rich grain of wood brings personality. In addition, the invigorating natural light lights up the space just right.
19. Marble Desk Set Up Inspiration 
This masculine and moody office interior contains a memorable marble desk. It is aesthetically pleasing and blends sophistication with functionality.
20. Boho Haven
Quirky with personal touches, this home office design inspiration is bohemian and wholesome. Every piece has a different texture or material, while the space has been set up uniquely for a creative workspace.
21. Clean & White
The crisp and non-distracting color of white will undoubtedly complement any home office. This beautiful home office design sees warming inspiration bring comfort. Plus, pale-colored objects, like a neutral rug, sandy-hued upholstery, and decor, layer the look.
22. Wall-Mounted Desk
If you don't have a designated room for your beautiful home office ideas, there are other solutions to look into. For instance, a foldaway wall-mounted desk can transform any nook into a productive space in no time.
Want your own home office interior design?
You can transform your home when you team up with top interior designers. Simply schedule a Free Interior Design Consultation to learn more today!

[images: 1, 2, 3, 4, 5, 6, 7, 8, 9, 10, 11, 12, 13, 14, 15, 16, 17, 18, 19, 20, 21, 22, 23, 24, 25, 26, 27, 28, 29]