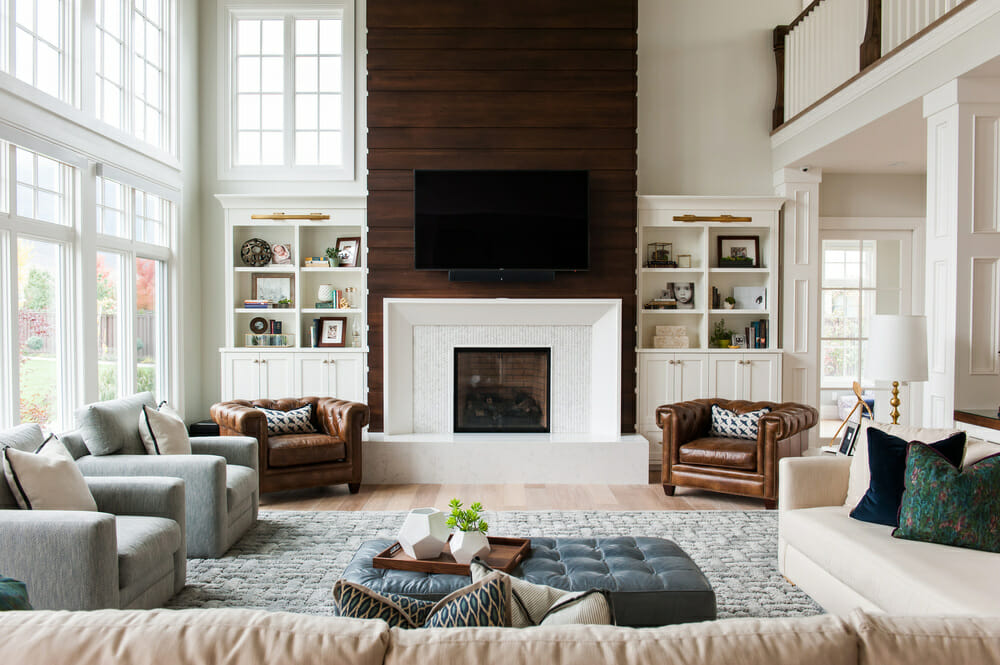 Choosing a style for your home can be difficult. After all, there are so many stunning options to consider! Transitional interior design, however, stands out for its versatility and enduring appeal. Since it's a blend of traditional and contemporary design, you can enjoy the best aspects of both. Read on for tasteful tips on how to make this look come alive at home in 2023.
Embrace Transitional Interior Design with Decor Style
Although a transitional style living room is refined elegance at its best, the look suits any space around the house. Whichever the room, achieving the desired result can be a surprisingly simple process. Take, for example, a before and after transitional great room design. In fact, you might only have to change the layout or add and remove a few core pieces.
Not sure if transitional interior design is the right look for you? Take our Free Interior Design Style Quiz to help discover your perfect style today!
All things considered: there's bound to be an ideal transitional style solution to suit your needs. Regardless of how much or little trouble you're willing to take on.
1. Non-Traditional Chandelier
Good lighting plays a significant role in a transitional interior, so opt to make it a feature. Include an alternative chandelier – something other than the expected dangling crystals. Due to its eye-catching and functional nature, it's certainly among our transitional interior design must-haves.
2. Prioritize Comfort & Functionality
Apart from being timeless, transitional interior design is equally comfortable and practical. While picking furnishings for such a space, keep these dual values in mind. Look for sleek yet usable and relaxed pieces like a spacious armchair or upholstered bed frame, for example.
3. Exquisite Area Rugs – Perfect for a Transitional Style Living Room
Anchor core furnishings in a room with a stunning area rug. Add a statement oriental area rug for some old-world flair in spaces featuring more modern furniture. And for interiors with traditional pieces, go for a contemporary geometric rug instead.
4. Tufted Headboards
Enjoy a similar charm to that of a Chesterfield couch in the bedroom with a tufted headboard. It suits the transitional décor style particularly well. Owing to its decorative nature, you may want to counteract its detail with plain yet plush bedding.
5. Shaker Kitchen Cabinets
An elegant way to enhance the visual appeal and add depth to a transitional interior design style is with shaker-style woodwork. It's a versatile feature that looks just as impressive on the walls as kitchen cabinetry.

6. Add Chic & Durable Curtains to a Transitional Style Interior Design
Whether creating a transitional lounge, nursery, or another space, frame the windows with curtains. They imbue rooms with class and their natural tones soften modern pieces.
7. Opt for a Neutral Color Scheme
Neutral color palettes are a staple of any transitional style living room, bathroom, home office, and beyond. It allows often overlooked design components, like clean lines, to shine instead.
8. Showcase Transitional Decorating Style Photos & Artwork
The transitional style represents the best of contemporary and traditional design. To express the look's heritage, turn to blended artwork. Showcase your favorite pieces that represent the old and the new.
9. Consider Wood Color
Light wooden accents manage to make a space feel casual yet refined. It's no wonder it's a popular choice for transitional house décor and furniture. On the other hand, dark wood gives a more traditional touch. So be sure to balance the look – think a light wood dining table and black luster chairs or a mahogany option paired with light upholstery.
10. Use Cozy Tones
A trait transitional interior design shares with traditional interior design is a feeling of warmth. Include elements in warm neutrals like off-white, beige, and cream. These shades also help to create an inviting atmosphere.
11. Incorporate Metallic Accents
Although the transitional décor style leans towards modest, there's still room for a hint of glamour. Metallic accents are a great way to add some luxury since they have a contemporary but classic feel. A simple yet practical way to use your favorite metal hue is through hardware like cabinet handles and faucets.
12. Pattern-Free Yet Textured Wallpaper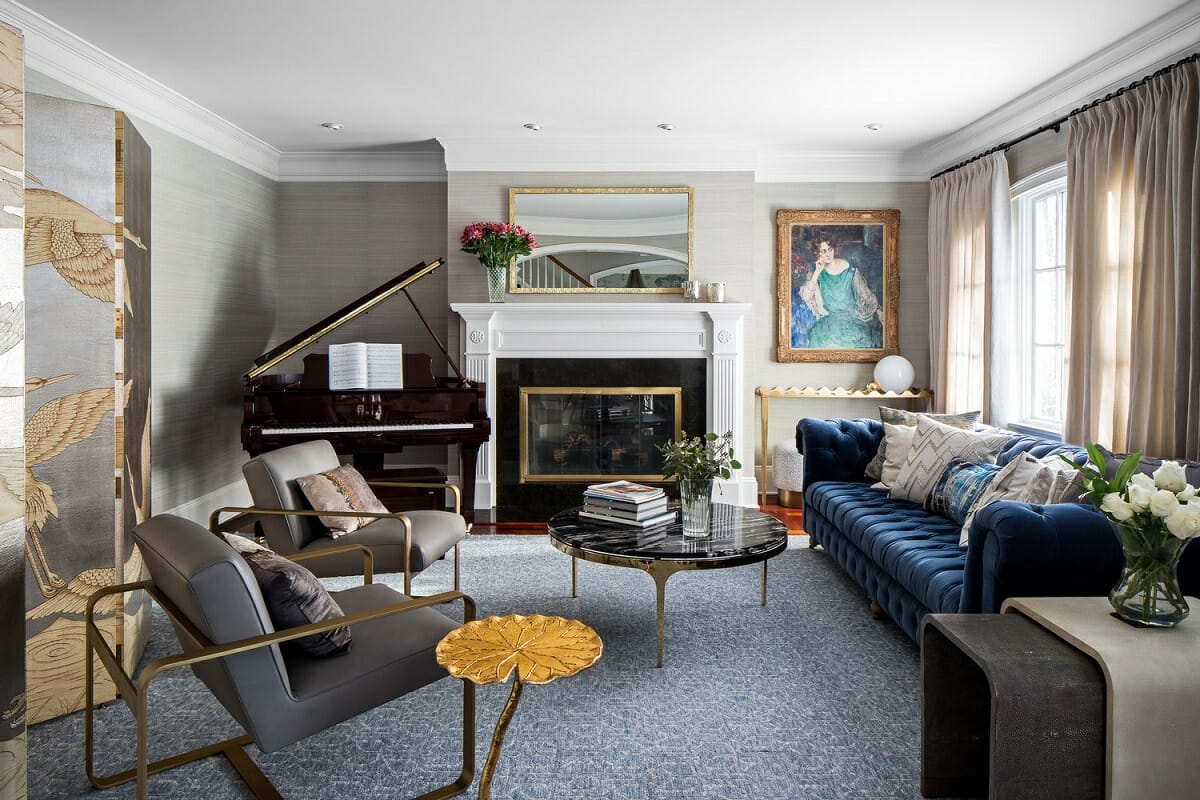 Interiors can have visual appeal even without boldly patterned surfaces. Since harmony is vital in a transitional style living room, bedroom, or whichever room, opt for textured over printed wallpaper. This will allow more ornate details elsewhere, like an antique cabinet. 
13. Pick Pieces with Clean Lines
Transitional furniture styles balance smooth, clean lines and romantic details. It gives such spaces a fresh atmosphere where the focus is on craftsmanship and a few embellishments. Recreate the look at home by picking furniture that meets these criteria.
14. Transitional Home Décor Style Keeps Accessories to a Minimum
All things considered: the transitional décor style is pretty neat and defined. You want to keep unnecessary, and especially non-practical, items to a minimum. Choose a handful of favorite pieces to showcase and avoid adding to the collection.
15. Create Transitional Interior Design Balance
Considering the nature of transitional interior design, maintaining visual balance is important, to be sure. Both contemporary and traditional and masculine and feminine traits should co-exist in harmony. In other words, none must outshine the others – for example, pair a leather couch with fluffy pillows.
16. Include a Pop of Blue
Even though neutrals may dominate in a transitional style living room, pops of color are welcome. Blue is a versatile option due to its broad spectrum of tones. With this in mind, include your favorite shade via accent pieces like throw pillows, lampshades, or painted cabinetry.
17. Recreate a 5-Star Hotel Ambiance
If you find creating a transitional décor style in the bedroom tricky, browse relaxed resort looks for inspiration. You can recreate the same plush yet refined ambiance. Of course, crisp, white linens, crown molding, and an abstract piece of art or two are great interior design starting points.
18. Built-in Bookcases as Practical Décor
Because a transitional style interior favors practicality, turn functional pieces into features. Bookshelves are ideal design décor pieces since they look great when lined with only books or interspersed with photos and mementos.
19. Purposeful Display Cabinets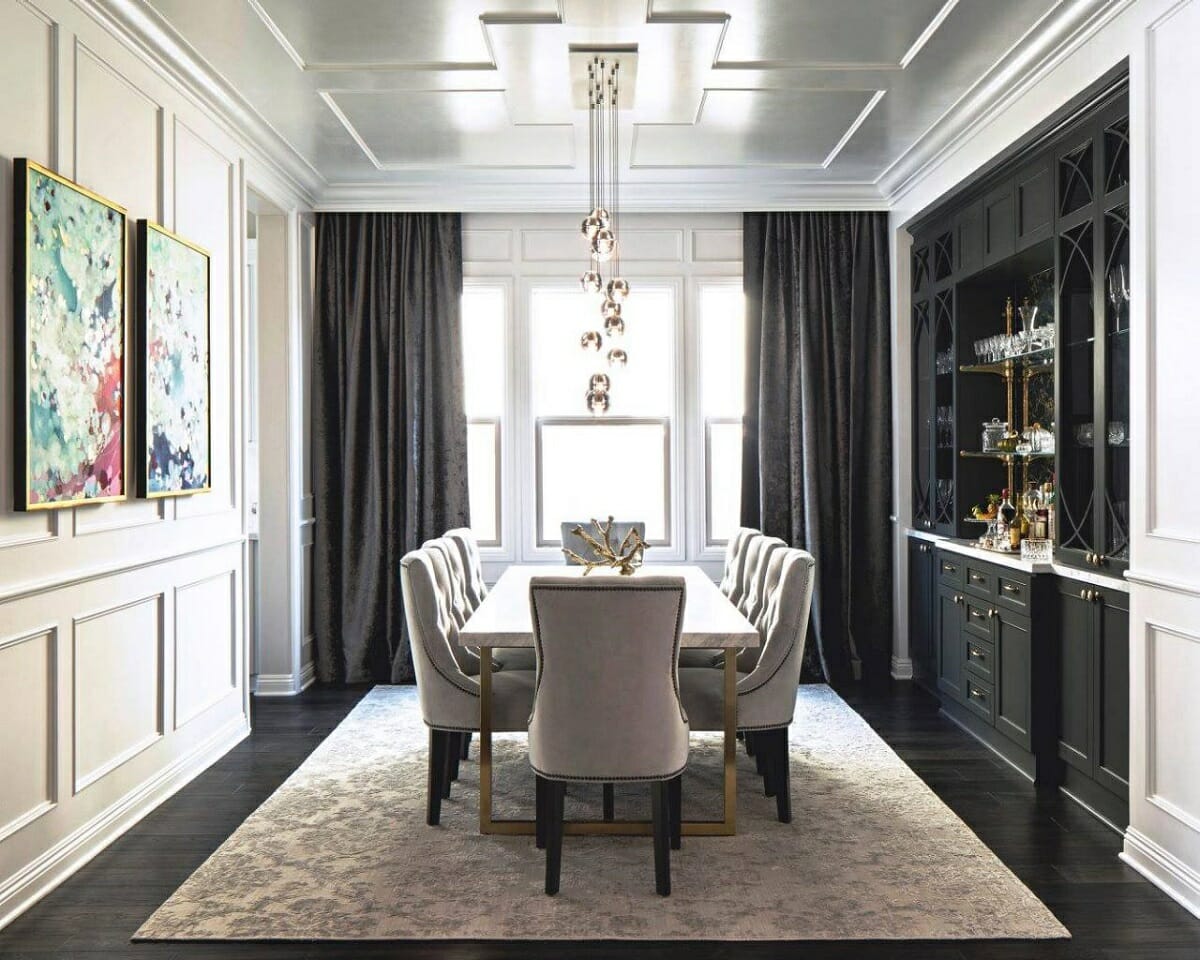 Like bookcases, display cases can serve an aesthetic and functional purpose. Use them for something other than showing off antique teacups in your transitional interior. Style 101 also states they make amazing bathroom cabinets for extra towels and cosmetics in chic containers. They're also a wonderful alternative for a home bar cabinet.
20. Monochromatic Gallery Walls
The transitional décor style is all about curating spaces that exude an air of simplistic beauty. Monochrome gallery walls allow you to showcase sentimental moments in a chic but low-key manner. Such arrangements also add a personal touch to any neutral-toned transitional interiors.
Need help with your transitional interior design?
If the ideas above have inspired you but figuring out where to start in your home can be tough. So, schedule a Free Interior Design Consultation to get started with a professional designer today!

[images: 1, 2, 3, 4, 5, 6, 7, 8, 9, 10, 11, 12, 13, 14, 15, 16, 17, 18, 19, 20, 21, 22, 23]