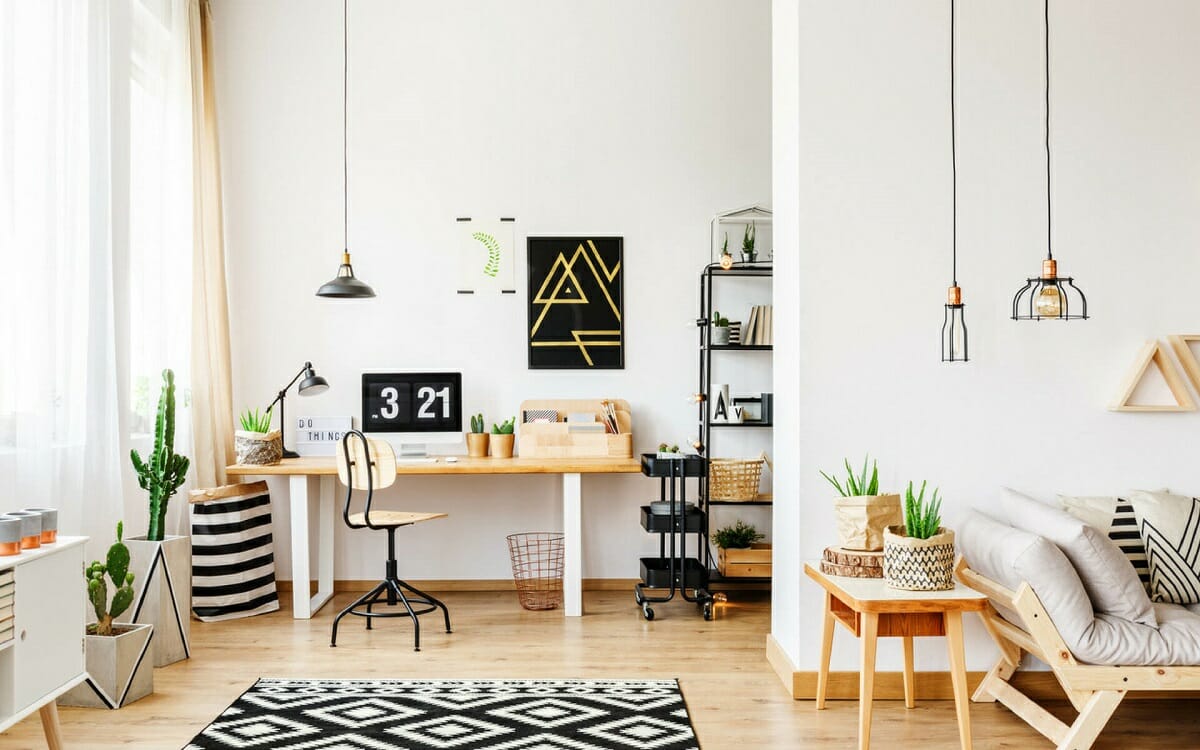 Many high school graduates' hopes of going off to college have been put on hold with on-campus classes being swapped for virtual learning. If this is your child, you're likely needing to create a study room in your home to foster effective learning and productivity. Simply put, a functional and beautiful workspace will encourage them to sit down and get things done. Read on for our best study room ideas to help your child take control of attending college from home.
1. Study Room Design Ideas for Placement 
The location of the workspace is fundamental to making the most of the study room design ideas. Ideally, your beautiful study will be in a quiet area or behind closed doors. A spare room, for instance, is great, but you can also put a cubbyhole or closet to good use. Spatial planning and useful feng shui principles that promote a positive energy flow can help you do so. 
Attending college from home? Schedule a

 

Free Interior Design Consultation

for help revamping your study room design with college flair!
Study Room Layout Tips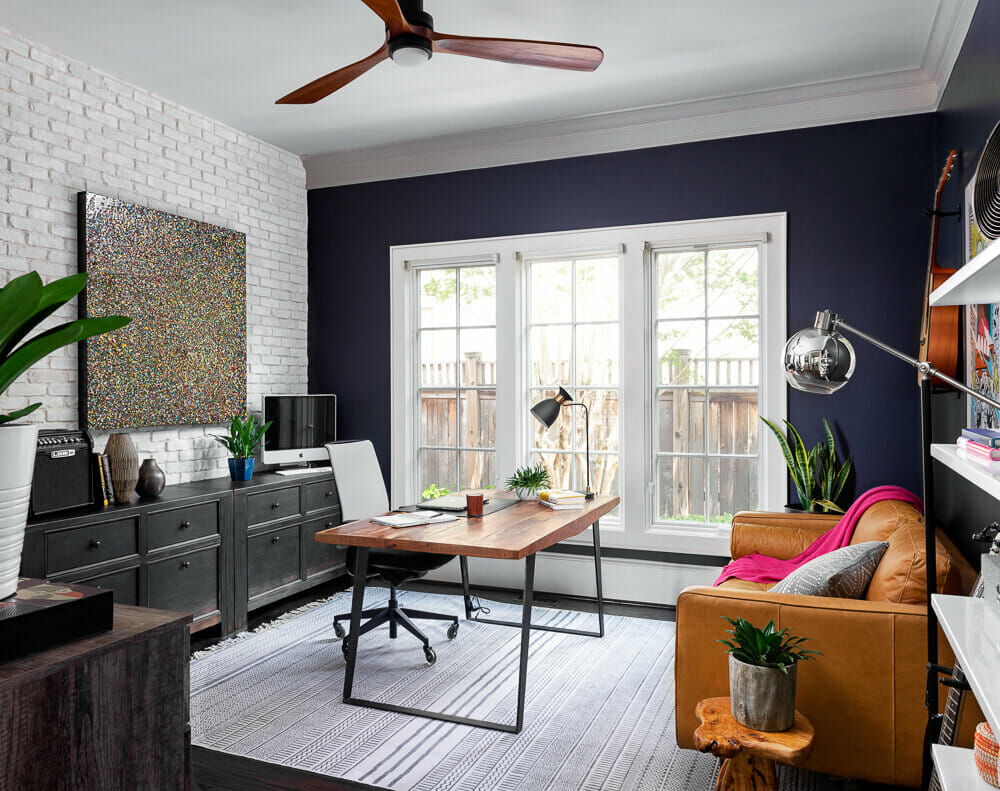 Be realistic about the placement of the study. Working in high traffic areas of your home often leads to distractions. So, choose a space that is isolated from commotion instead. A guest room, for instance, is ideal, but if you're low on space, you can even convert a closet with small study room ideas and decoration.
Ensure that there is enough breathing room at the desk. Your student needs to move about easily: sit, stand, pull out the chair, and open and close drawers and doors without a hitch. Also, keep in mind that furniture needs to fit the dimensions of the space – always check product sizes before you buy.
Perfect the Power Position 
The ideal sitting position is with the back to the wall and front-facing the door but not directly in line with the entrance. This position is also referred to as the "commanding position" in feng shui. There are a few reasons why seeing the entryway is best, but here the most important is to lessen anxiety and increase confidence.
It's important to set up the area according to the task. A graphic designer, for example, will need more than one monitor, whereas an art student will need an easel or an adjustable table. Ask yourself what is needed, and furnish your home office accordingly.
2. Comfortable & Ergonomic Study Room Furniture 
Study room design is nothing without a desk and chair, and it's these quintessential elements that can make or break your child's workspace. On the one hand, the work surface must be, solid and stable, large enough, and stand at the correct height. While on the other, the chair needs to be supportive, comfortable, and, of course, pretty. Get the best seat your pocket allows because perfectly fitting furniture can go a long way in aiding productivity.

Ergonomic Study Room Design Basics
The desk must be high enough for your child's legs to easily move underneath it, and low enough for you to sit comfortably with both your feet on the floor. Use your arms to see if the positioning is correct – they must be bent at a 90° angle when resting on the desk's surface.
A height-adjustable chair is ideal, but if that's not an option, ensure that your feet are flat on the floor when you sit down. A footrest can also help to delay muscle fatigue from sitting for most of the day.
Also, keep in mind that the monitor should be 15 to 30 inches from your eyes, and its midline should be just below eye level. Avoid looking up or down towards your screen because this will cause neck strain
3. Minimal Study Room Design
Keeping a study room neat and tidy is one of the surest ways to promote a positive work environment. Clutter not only busies an area and lowers its functionality, but it also overwhelms the mind. That's why it's good practice to stick to minimal study room ideas. In fact, study room decoration that is slim and minimal can enhance the area even more than bulky or ornate alternatives.
Let's be honest, teens and young adults may find it hard to keep their desks clean, so consider using the wall behind the desk. Put up hanging shelves, which can also double as a bookshelf just above the desk, leaving enough space to work freely. Encourage them to organize their work area daily – put everything where they need to be and remove what hinders productivity.  
4. Encouraging Study Room Decor 
Attending college at home can be a fun experience. You can let the space really reflect your personality, aspirations, and tastes. Although minimalism is ideal, you can get away with adding a few pretty touches, like arty storage, inspirational pieces, something sentimental, or cute plants. One or two items can make all the difference.
Productivity-Approved Decor Themes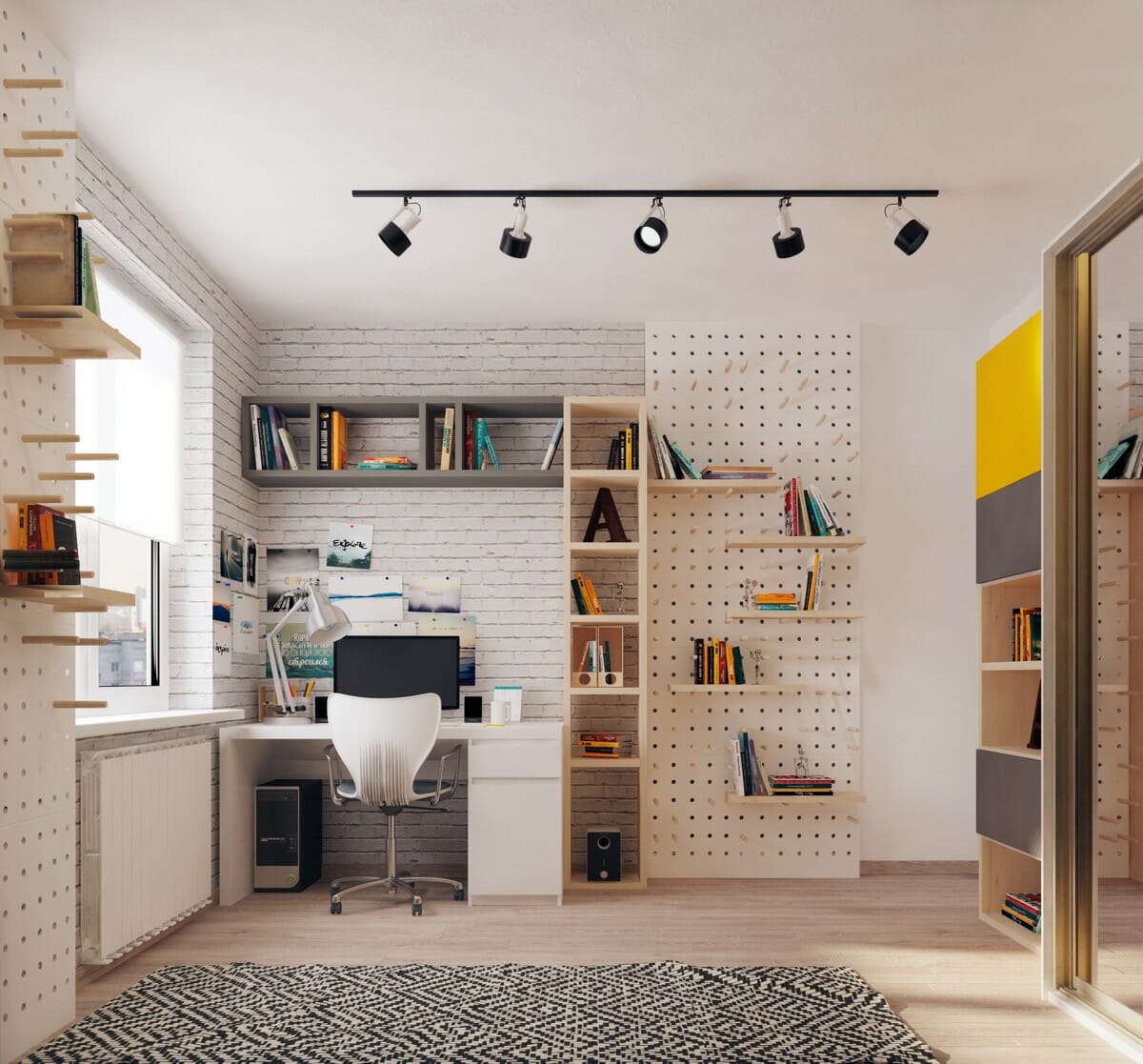 Working towards a specific goal? Then visualize it. Inspiration can come from a photo of a faraway land, a breathtaking artwork, an intricate craft, or a role model. Whatever it is, be sure to place it in a line of sight that's also out of the way, for instance, on a floating shelf or an unused corner of the desk.
A study often needs a little life and plants are just the thing for it. Any greenery can immediately liven up an area, give it a welcoming atmosphere, and make your student feel more optimistic. What's more, leafy plants can also improve air quality.
Necessary elements can be practical as well as good looking. So when choosing storage, carpets, or vision boards, select what will improve the look and feel of the study room design.
5. Study Room Colors
Color can have a profound impact on the human brain. For instance, it can make us feel energized, like red and bright yellow, and it can calm us down, grey and blue being the most serene. Hues best as study room colors are green (for concentration), blue (for calmness) and orange (for creativity).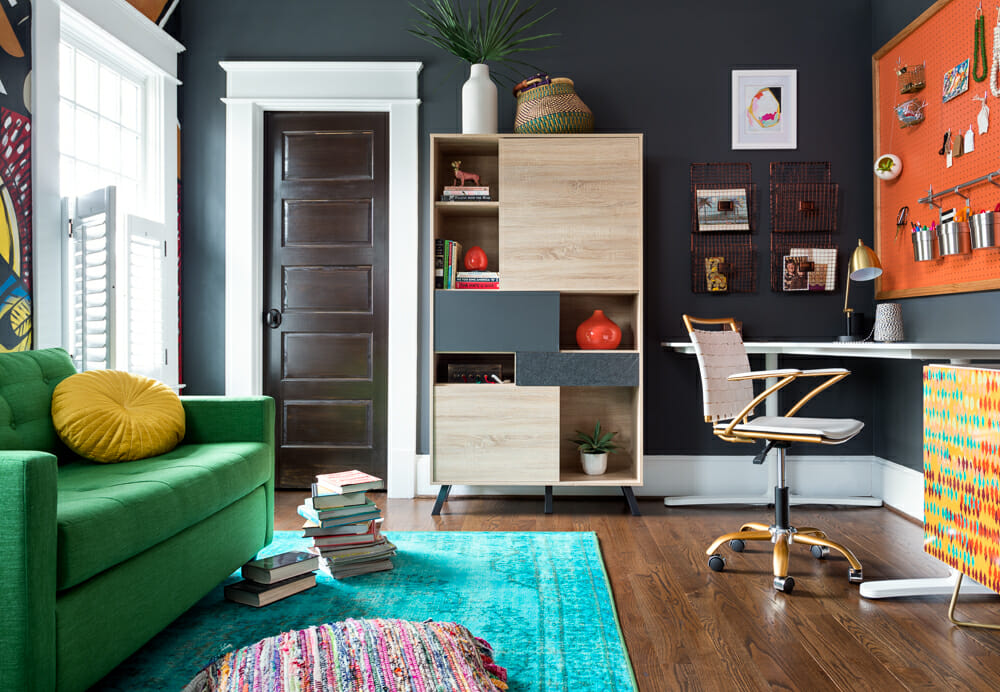 However, if anyone who will use the space is prone to stress, use subdued tones in the workspace instead. Earthy tones, like sandstone, mossy greens, and duck egg blue, are especially tranquil. 
6. Lighting for Learning 
Getting the light right for a study room design is vital. For one thing, good lighting will make your child feel more alert, whereas a dimly-lit home office is likely to make them feel groggy. So, set them up for success accordingly. Maximize natural light by using minimal window dressing and keeping the walls light. Also add task lighting, like an LED table lamp or pendant, to see clearly come night or day. 
7. Small Study Room Ideas & Solutions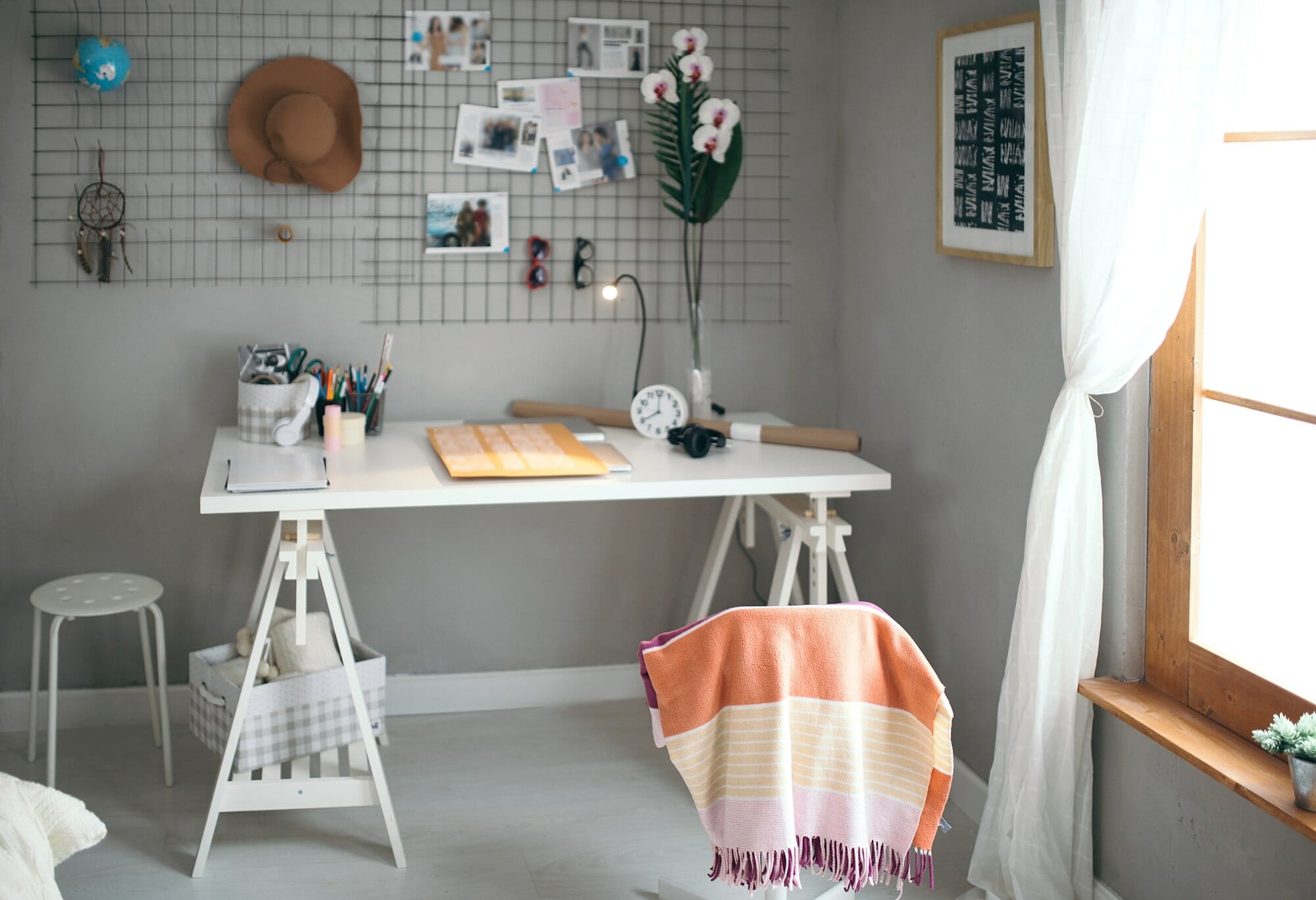 A little nook is all you need for your big study room dreams. With a few tricks, you can have everything needed at hand and help your child enjoy attending college from home.
Room-Maximizing Study Room Designs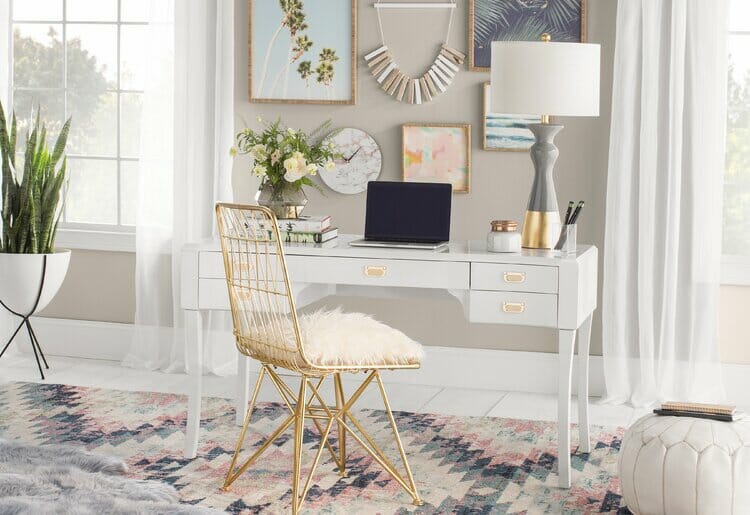 Install a pendant light or mounting a wall sconce above the work area. Not only will this create more desk space, but the study will also get an instant design lift.
Loads of storage is a necessity when completing college from home, but it's also important not to crowd a small space. Bulky drawers can often lead to clutter, so instead, incorporate transparent storage and neatly stow it on a shelf and not the floor. It'll also occupy less space visually.  
When you think you have absolutely no space for a desk, consider a wall-fixture. There are so many beautifully designed products, from minimal collapsible surfaces to mounted bookshelf desks, that save tons of space.  
You can make a study feel more spacious than it is by using transparent or slim furniture. A ghost chair and mid-century modern furniture are great for small study rooms.
8. Cute Study Area in the Bedroom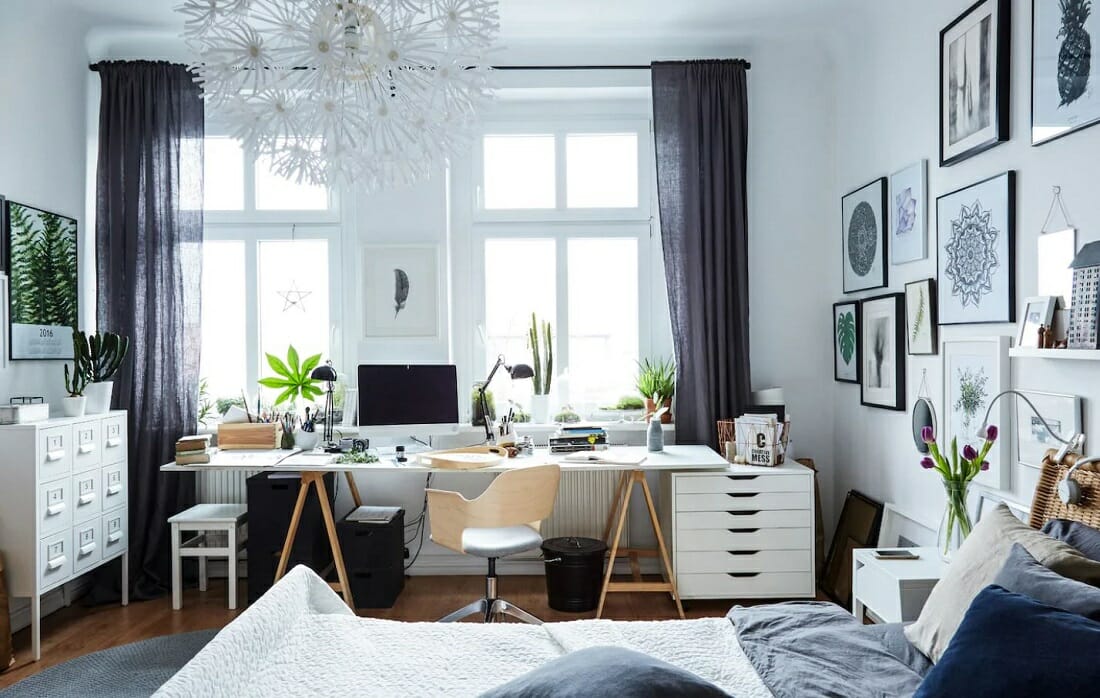 Having a study area in the bedroom comes with a few benefits. Firstly, bedrooms often have a good amount of natural light which will work in your child's favor. And secondly, the room is often already filled with beautiful things that make them feel good. All you need for the study area is a minimal desk, chair, and demarcation.
How to Design a Distinct Study Area in a Bedroom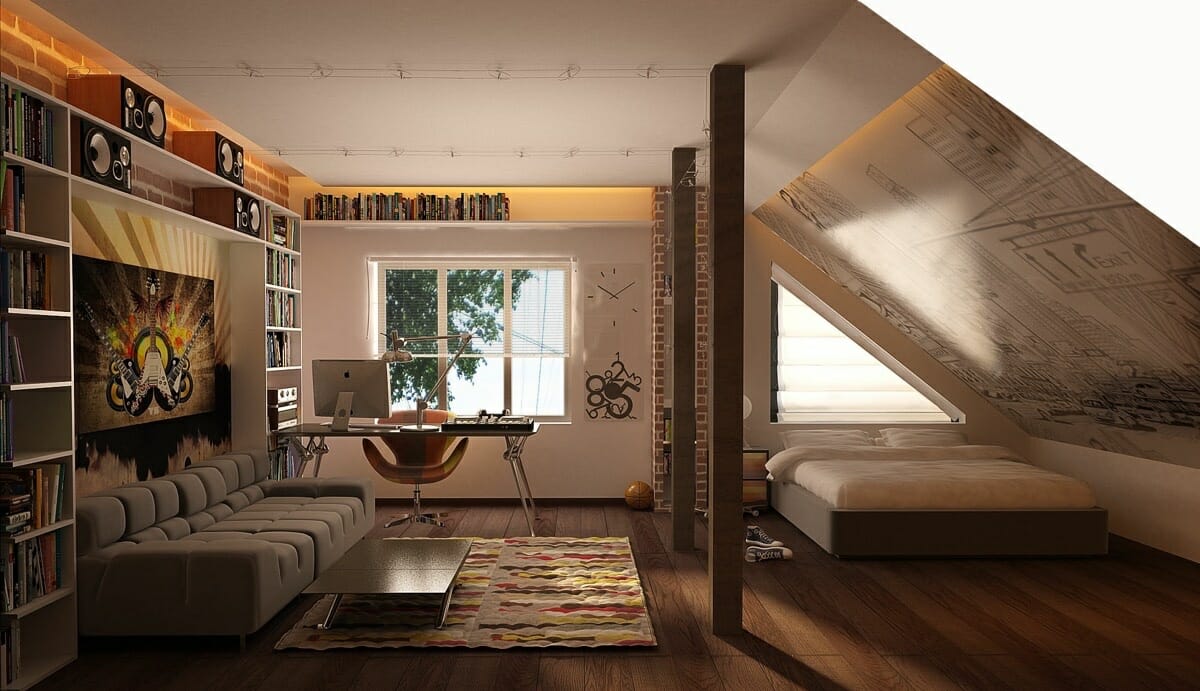 Create a distinct study zone by painting the section of the wall in a color that is only used as an accent elsewhere in the room. Alternatively, you can use a highlight tone in décor and furniture for the desk.
Place a large plant next to the desk and one or two smaller ones on the desk to distinguish it from the rest of the bedroom.
If space allows, you can make the study area in your child's bedroom feel more like a room by using a room divider. There are so many exquisite designs out there, it will certainly improve the look of the overall interior.
Want to provide your child with the best learning environment for college from home with these study room ideas, but need a little help? Then schedule a Free Online Interior Design Consultation for professional assistance getting started today!   

[images: 1, 2, 3, 4, 5, 6, 7, 8, 9, 10, 11, 12, 13, 14, 15, 16]