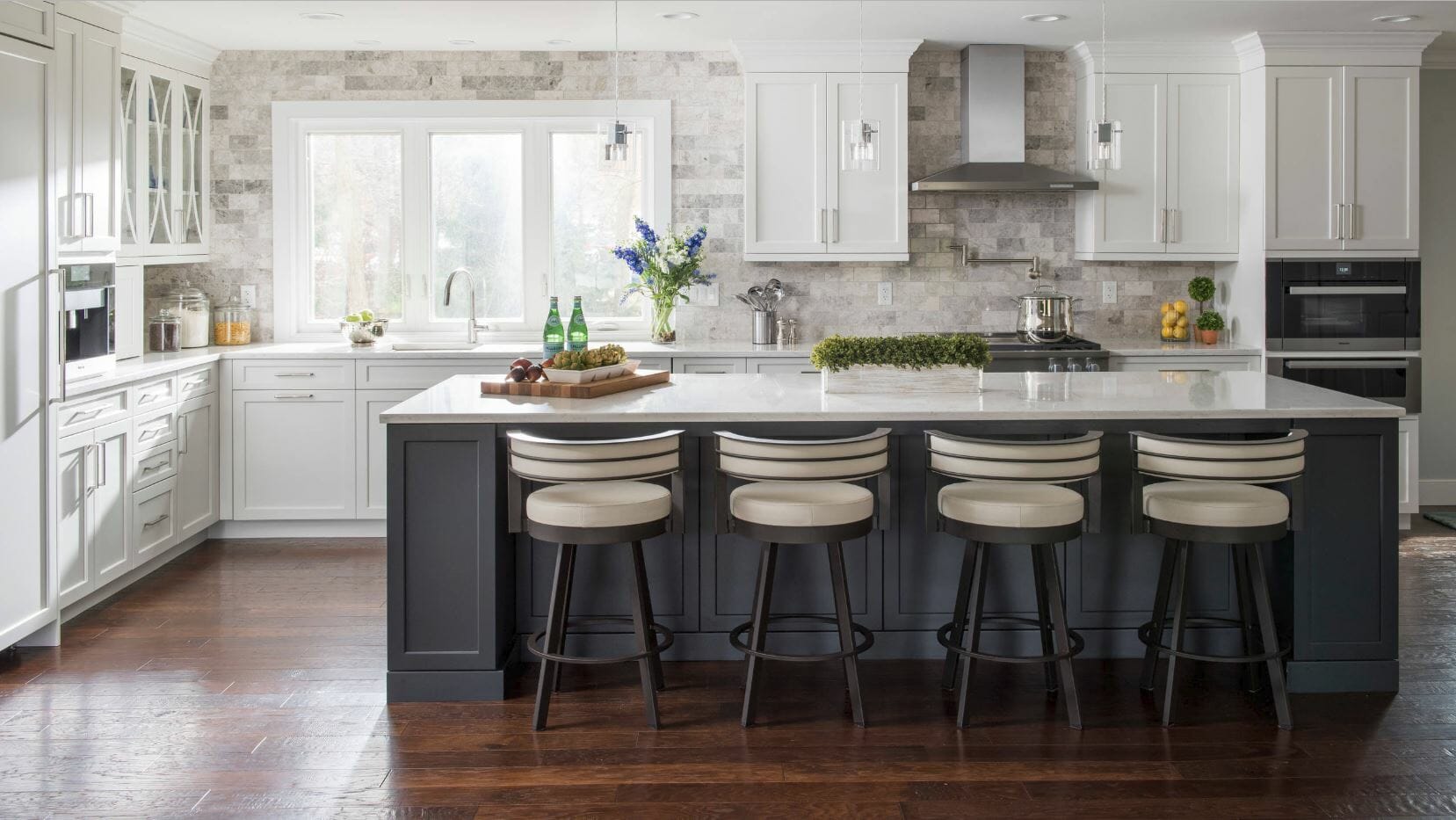 Whether your goal is a full makeover or simply sprucing up your space, when it's time for a kitchen makeover, you want to know what's in, what's out, and what's here to stay. However, some escape the mold and become timeless classics interior-lovers can't get enough of. We love the innovation of contemporary kitchen design ideas, but there are a few old favorites that won't be going anywhere soon. 2021 is a year filled with classic interior design trends we all love. Read on to discover the top kitchen design trends 2021 has to offer that are here to stay!
1. Layered Lighting Kitchen Design Ideas
One of the most exciting places to experiment with kitchen design trends: lighting. And our designers encourage you to keep going wild. Since the introduction of layered light not too long ago, we're not turning back. Working with different levels of light enables designers to create an atmosphere that they couldn't before. Regardless of your interior design style, task and accent lighting is woven into the kitchen's blueprint.
We can all be very thankful for this kitchen interior design idea. Now, dark nooks and crannies are a thing of the past and so is a stark over-lit kitchen.
Love these kitchen design trends 2021, but need a little help incorporating them into your home? Then, schedule a Free Interior Design Consultation to learn more about your options today!
2. Kitchen Design Trends 2021 Favorite: Open-Plan Kitchen Remodel
Kitchen design ideas have always been about balancing fashion with functionalism and a top requirement of home renovators have is an open-plan kitchen area. This one might involve hiring an interior designer and enlisting a contractor, but the results are worth it. Ever-evolving interior layouts have shifted from cubicle-like spaces in the early 20th century to wall-less living. Today, households rely on zoning through shelving and furniture to create distinct areas in a home. And staying true to 2021 interior design trends, multifunctional spaces are front and center.
Open-plan is still a priority and tops kitchen design trends 2021, as families are much more integrated than they were at the beginning of the century. Architects and interior designers alike are taking the best trends and continually reinventing the kitchen layout to incorporate storage, smart technology, and seamless flow into modern-day homes.
3. Open Shelving in Kitchen Design Ideas
Kitchen trends and styles of the past often get a revisit, and kitchen open shelving is one such golden-oldie. Open shelves were a necessity and not a kitchen cabinet trend. Before the arrival of the cabinets, 19th-century kitchens were basic with open shelves lining the walls.
Shelving took a back seat for a few decades until it re-emerged as an on-trend plate holder in the 1950s. Luckily, the contemporary counterpart is minimalist and functional. With open shelving homeowners and designers can customize a kitchen to truly put their style-stamp on it.

4. Classic Kitchen Design Trends 2021: Tile
Tiles are yet another great example of how a preloved trend got a makeover. In search of some creative inspiration? Lean into a global, old-world style. Colorful feature walls with Mexican tile, backsplashes with subway tile, and even checkered floor tiles were all hot kitchen trends. They continue to captivate the attention of trendsetters and homemakers alike.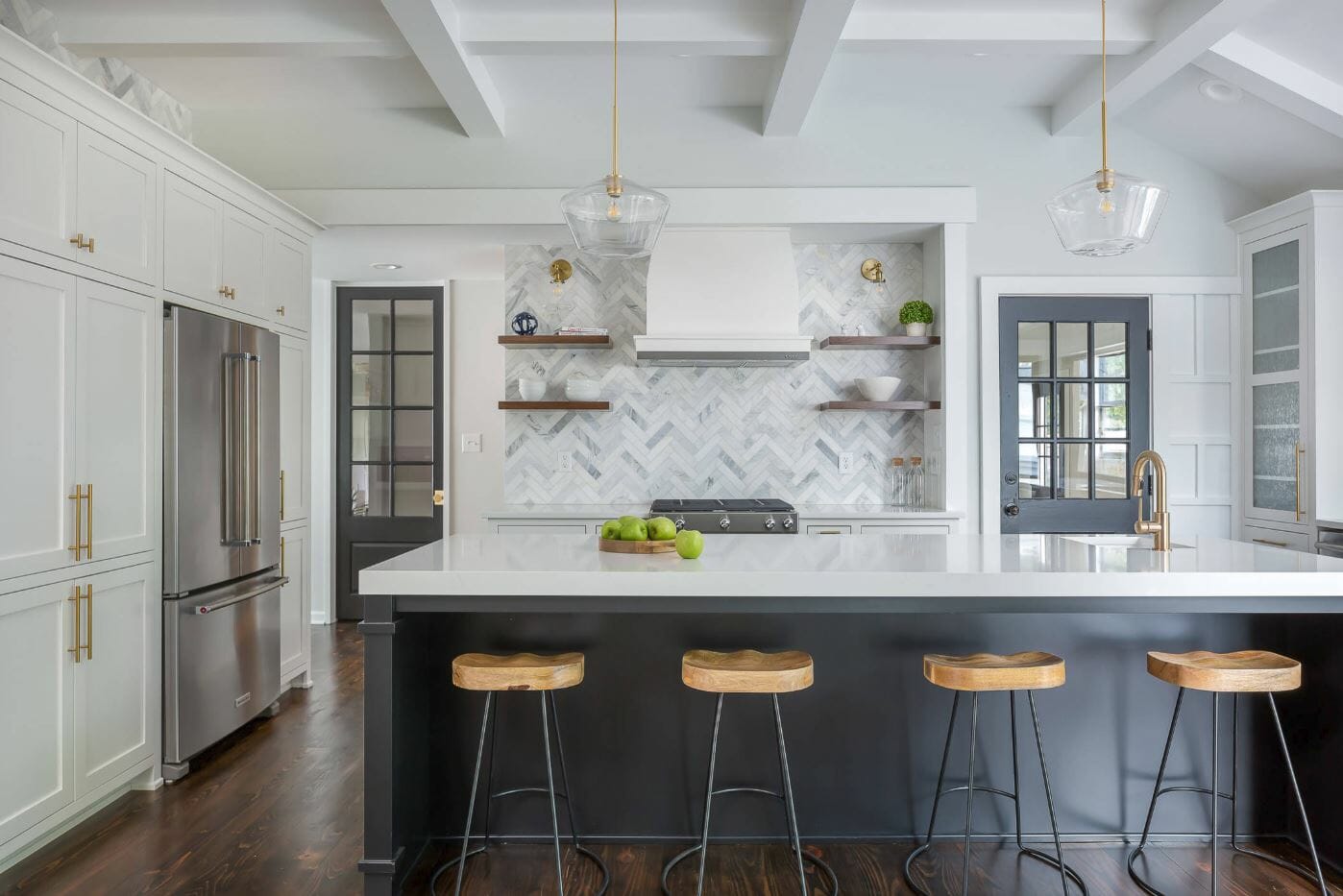 Tiles are practical, replaceable, and durable, which makes them a firm favorite among kitchen design ideas. Their ceramic, concrete, cork, or glass material base also makes them a greener alternative, which is a plus for the environmentally-friendly design community.
5. Essential Kitchen Design Ideas: The Breakfast Bar
Not only is the breakfast bar a great place to fill up on nutrition, but it is also the perfect place to add creature comforts into the kitchen. This kitchen trend was the culmination of the evolution of two furniture pieces: the dining table (later a breakfast nook) and the kitchen island.
The breakfast bar can house cabinets and also double as casual seating while you're entertaining, which is exactly why this 2021 kitchen design trend is so popular. Many contemporary homes have islands with seating and pendant lights that create a beautiful feature vignette in the kitchen.
6. Shaker Kitchen Cabinets Are Here To Stay
Kitchens cabinets that have door fronts are often in a five-panel shaker style. The term Shakers refers to a religious sect that believed in minimal living and making the furniture themselves. The Shakers created the shaker style and also the original shaker-style cabinet.
The shaker kitchen cabinets were made famous because of its practicality and modern aesthetic. Today we're so accustomed to this style of cabinetry that we might not notice how innovative this design was for its time.
7. Kitchen Design Trends 2021: Butcher's Block Counters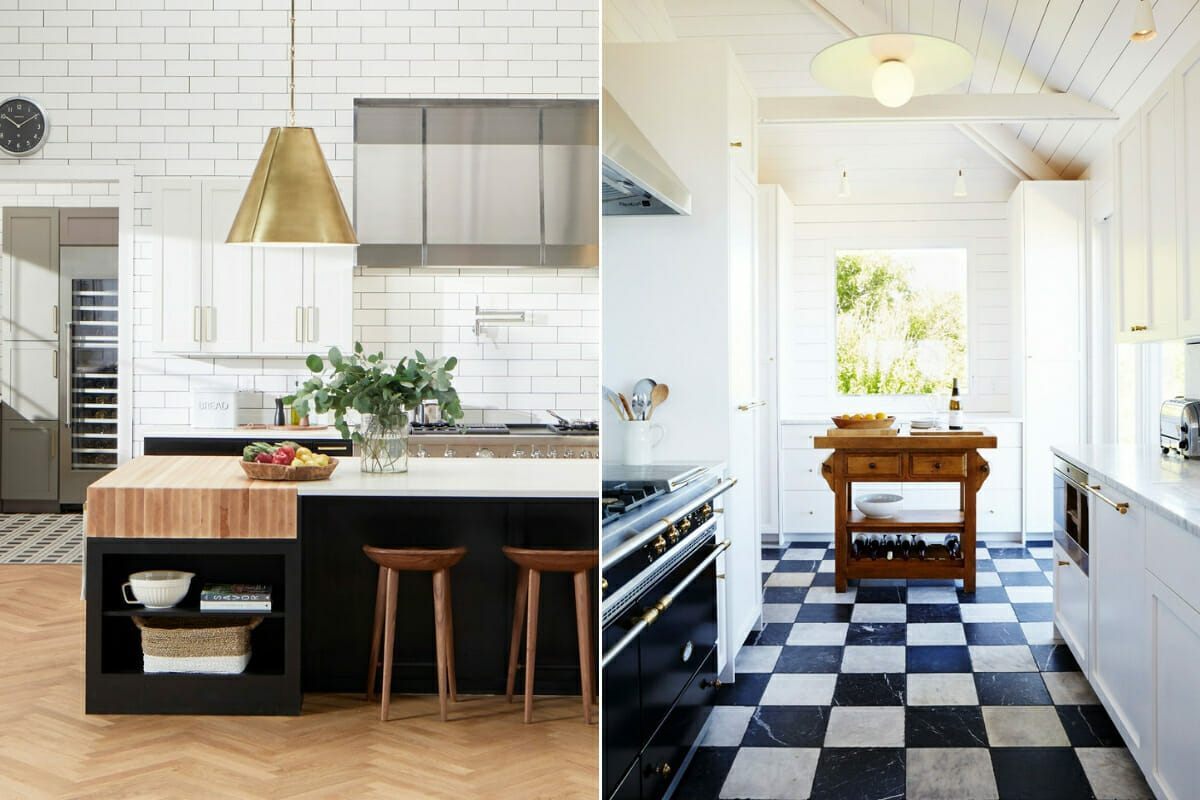 Butcher blocks have become a must-have in designer kitchens, but their origin is very humble. Blacksmiths used softwood as an anvil shock absorber, and butchers used hard timber as a surface for carving meat, hence the name "butcher block".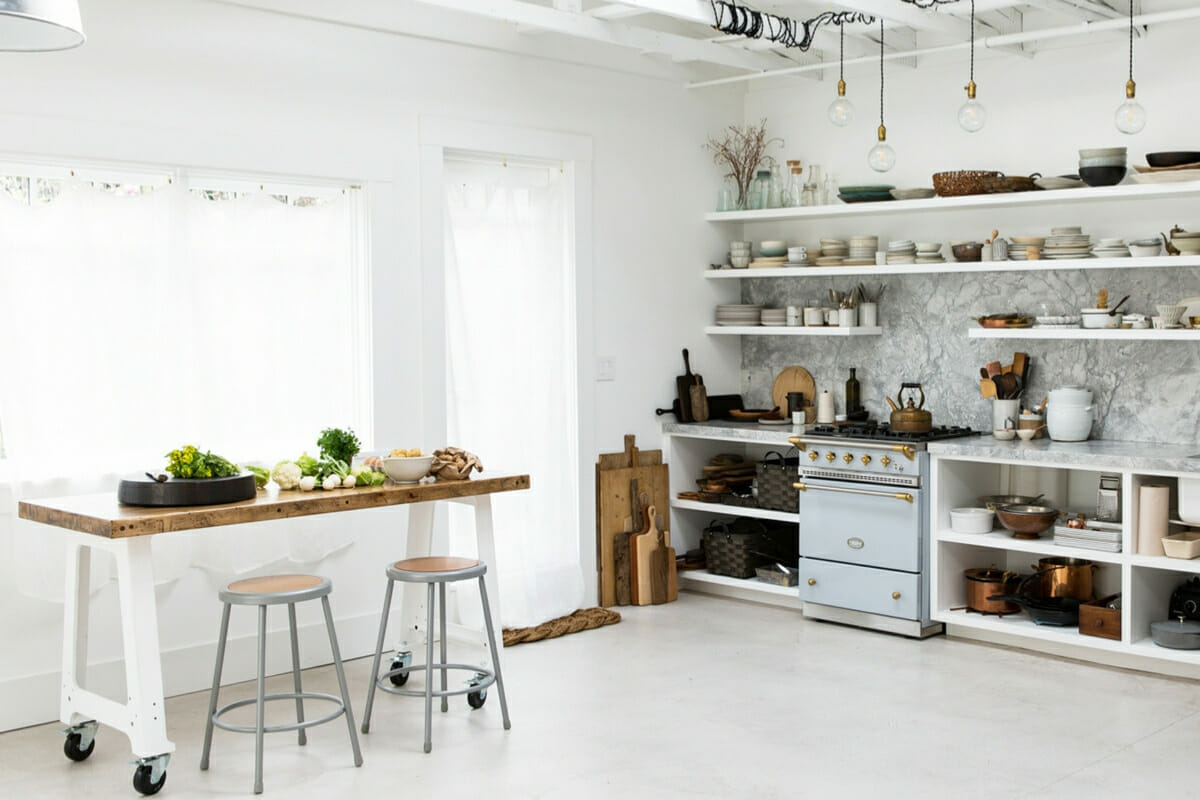 Today, thickly cut wood with a neutral finish can be as beautiful as it is functional. The modest butcher's block grew from an industrious worktop to a practical trend and has become a kitchen essential, alongside pots and pans. Whether you want a compact butcher block or a solid wood island, you won't go wrong by adding this piece of nature into your kitchen.
Looking to Add 2021 Kitchen Design Trends to Your Home?
Feeling inspired to add timeless kitchen design trends into your home, but not sure where to start? Schedule a Free Interior Design Consultation with an expert kitchen designer today!

[images: 1, 2, 3, 4, 5, 6, 7, 8, 9, 10, 11, 12, 13, 14, 15, 16