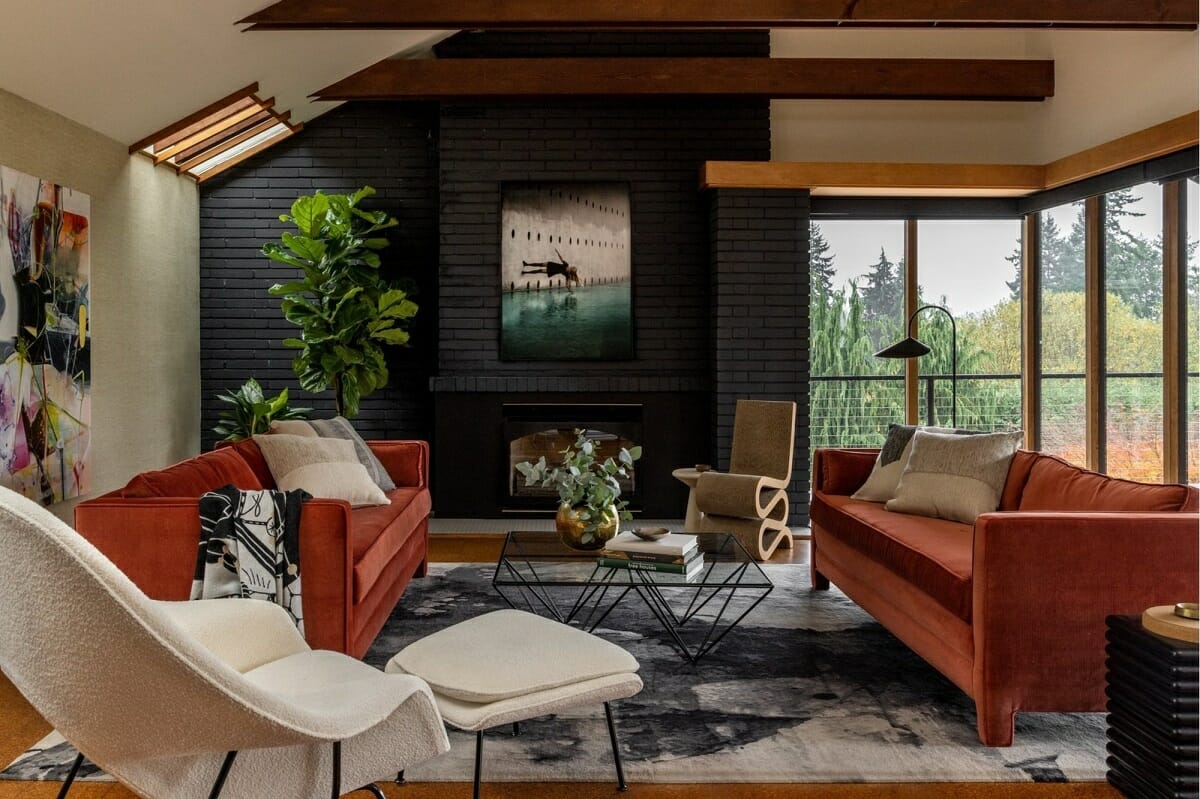 The secret behind an exceptional interior is more than talent and a good eye. It interweaves know-how and interior design elements to create something magical. Getting one step closer to making a beautiful space takes understanding. So, let's dive into the core of interior design. 
What are the 7 elements of interior design?
Interior design elements are the basics that build on interior design principles. Whether it's texture, line, or shape and form in interior design, these aspects are the physical parts that make up a room's whole. But before learning about these crucial aspects, take note of the principles that lead to a good arrangement. 
Need help mastering the interior design elements in your home? Then, schedule your

Free Interior Design Consultation

to get started with an expert today!
Basic Interior Design Principles 
Before considering shape and form, be mindful of the principles of interior design guiding a good composition. While the elements refer to physical aspects, principles form practical ways to create a pleasing space. 
The core interior design principles include the following: 
Balance 

comes down to the arrangement of objects (aka interior design elements) in a setting. It also relates to how it feels. A balanced space feels good, while an unbalanced room is uncomfortable.

Repetition 

of visual elements, like color and pattern, creates 

rhythm 

and lets the eye easily flow from one corner to the next.  

Emphasis 

relates to a highlighted aspect in a design. For instance, a feature wall or central point brings magnetism and centers the arrangement. Contrast can also aid emphasis. 

Proportion and scale, 

or the size of each object respective to others, lead to how we interpret a room. Big or small, each item interacts with the other in any given space. It also relates to negative and positive space in interior design. 

Unity 

occurs when similar and complementing elements connect to show the interior's style, function, and ambiance. Only then can a design be harmonious. 

Harmony

 brings about a sense that everything in the room belongs together. It's the ultimate goal in interior design.   
A Closer Look at Interior Design Elements
The key to discovering "what is interior design" is uncovering its base layers. These are the interior design elements, physical aspects making up the whole, and their guiding principles. 
Without further ado, here are the crucial 7 elements of interior design.
1. Texture in Interior Design
Rough or shiny, smooth or textured – every surface in a design has a sensory quality. Texture in interior design relates to anything you can feel or touch. But, of course, some surfaces might be out of reach, like a glossy crystal chandelier or lacquered ceiling. In these instances, they'll provide visual texture in an interior design. 
You can create contrast through texture or evoke a certain sense of style. For instance, a rustic wood slab coffee table set against a velvet sofa would cause a stark and magnetizing contrast. On the other hand, a space with similar qualities, like smooth, glossy surfaces and glass accents, will set a sleek contemporary vibe. 
Texture in interior design can also:
Absorb or enhance sound and increase or decrease the noise level in a room. 

Create a formal or casual look.

Dictate the style and set a design era. 

Add to balance and scale of the interior. 

2. Line in Interior Design
Straight and curved lines provide direction, distinction, and structure in an interior design. Lighting, architectural elements, and even finishes can strengthen the feeling or look of solid or soft lines. These interior design elements also impact the mood of a room. 
Lines in interior design can be:
Horizontal: Grounding, casual, and restful. Horizontal lines draw the eye across the room. In effect, it can lead your gaze to an object, visually widen the space and lower the ceiling.    
Vertical: Formal, elongating, and strong. Vertical lines often move beyond the viewing pane and draw the gaze up. This, in turn, can lead to a feeling of additional height in the room. 
Diagonal: Dynamic, freeing, and transformative. Diagonal lines bring a sense of movement and a lively ambiance. However, when done incorrectly, they create a sense of unease. 
Curved: Flowing, graceful, and soft. Curved lines also bring a feeling of movement (like diagonal lines) and rhythm. These typically take up more space but are versatile with freeform, arched, or circular curves. They also instill an organic, calming, and playful air. 
3. Light in Interior Design
Of all the interior design elements, light may be the most crucial. Without it, we won't be able to see the entire room. In addition, light can transform the look and feel of a space through adjustments in its intensity, hue, and positioning.
Natural light depends on the room's windows as well as the orientation of the windowed walls. Moreover, the sun's intensity depends on whether the windows face north, south, west, or east. You can increase (by using mirrors and light wall paint) or soften the light (with curtains and darker room accents). Whichever the case, the amount of natural light in a room is a starting point for planning a design. 
Artificial light is a valuable tool that can set the tone of an interior. For example, you can mimic bright daylight through cool lightbulbs or emulate the calm of sunset with soft, warm ones. Different light sources, like sconces, downlights, and pendants, can create a balanced and inviting air. 
4. Space in Interior Design
The definition of space in interior design is straightforward: it's the area within a set boundary or limit. It can be within the structure of a room or an outside area. Space refers not only to dimensions but also to the volume of a room. The ceiling height and shape will also contribute to how you perceive the space. 
By pinning what a space feels like and comparing it to how you'd like it to feel, you can determine how to change the interior. For instance, if you want a big, light-filled room to feel cozy and intimate, you can opt for darker hues and curtains.  
5. Form in Interior Design
Shape and form in interior design come about when lines are connected to enclose a space. These can be two- or three-dimensional. The structure of a room also has a specific form. Take the main shape – the room – into account first. Then you can consider others that'll complement the interior.  
Like the other interior design elements, form and shape communicate within a given design. As such, it's essential to consider how they relate and which style you want to create. For example, they could be similar or juxtaposed but create a pleasing composition. 
6. Color in Interior Design
As one of the most impactful 7 elements of interior design, color leaves a lasting impression. It also has the greatest influence on perceived negative and positive space in interior design. White, for instance, gives an impression of more negative (open and unoccupied) space. Dark tones, on the other hand, cultivate (filled) positive space. 
Yet, this powerful element is often used minimally in interiors. That said, it's among, if not the most, fun element in interior design. As a 3D design tool, color can evoke emotion, portray a particular character, or soften the feel of an interior. You can also use it to highlight objects or let them fade into the background. 
7. Pattern in Interior Design 
Patterns form when a motif or graphic repeats on a surface, like fabric or wallpaper. It affects how we perceive a surface. Moreover, you can strengthen a particular design style or theme by using era or style-appropriate motifs. 
Other interior design elements can also aid pattern. For example, installing tiles, bricks, or wood slabs in a herringbone pattern will add aesthetic value to the interior. Buttons on a deep-buttoned sofa will also create a motif. It's certainly a versatile and fun element. 
Want to make the interior design elements work for you? 
Let a vetted interior designer help create your perfect interior design element combination. Schedule a Free Interior Design Consultation to get started!

[images: 1, 2, 3, 4, 5, 6, 7, 8, 9, 10, 11, 12, 13, 14, 15, 16, 17, 18, 19, 20, 21, 22, 23]