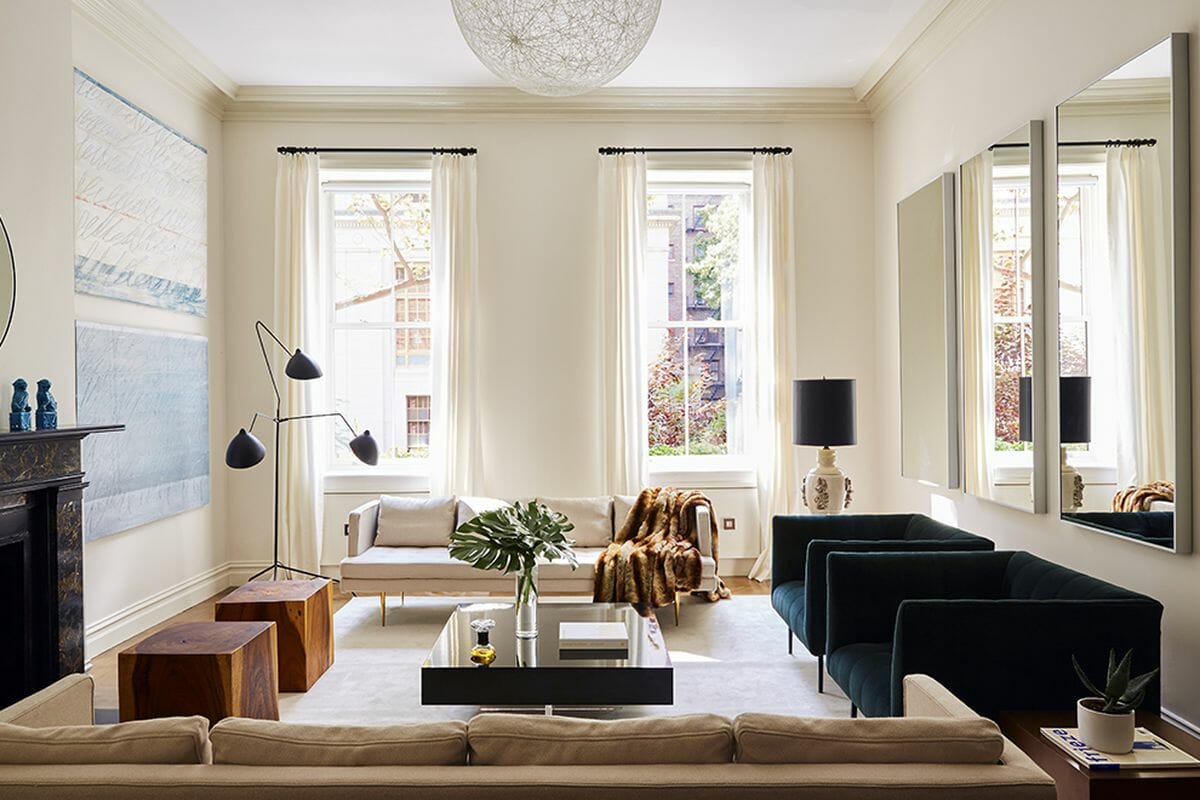 There is no way around it: space is a luxury. So much so, it's fast becoming a rare commodity – city dwellers can certainly attest. That's why we've put together interior designer insights on how to make a small room look bigger. With these tips and tricks, you can make the tiniest of rooms feel like a spacious, luxurious abode.
Easy Tips on How to Make a Small Room Look Bigger
It takes only a few easy tweaks to make the most of every inch of your home. Once implemented, you'll have a space you can be proud of, one that feels roomy and lush. To get started, try these steps before moving on to more substantial alternatives. You'll be surprised just how much difference interior design tips can make.
Not sure how to make your small room look bigger? Then, schedule your Free Online Interior Design Consultation to learn more about your design options today!
1. First, Declutter
Frankly, objects take up space. The more furniture and decor you have, the bigger the chance of cluttering the interior. Through planning and tidying up, you can ensure your home is clutter-free and highlight your beautiful small studio design. This practice not only keeps your home organized but also makes items easy to find and clean.
Set clear parameters for yourself in terms of what belongs in a room, and what doesn't. Implement restrictions for your cupboards, closets, shelves, and bookcases as well. Think of it as setting an intention for your space – be clear in what you want from your small room. It will also guide your decisions regarding color, furniture, and decor.
2. Play with Reflection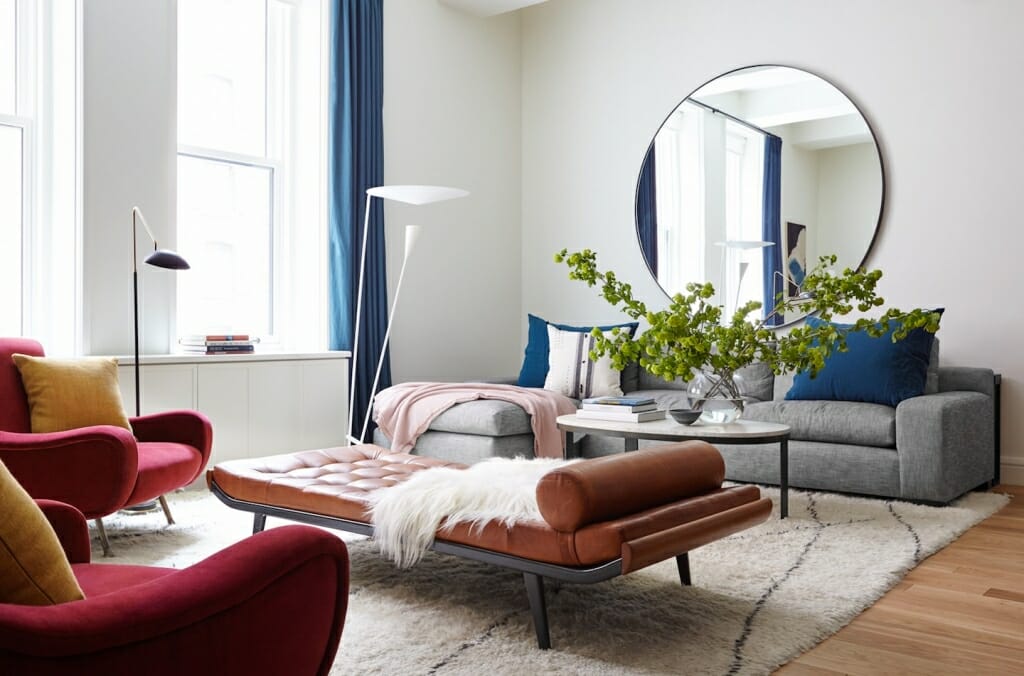 Mirrors are such versatile objects: they are practical, often beautiful and can visually double an interior. Not only do they reflect and bounce light across the room, but when placed strategically, they can also reflect some key colors and decor. With this in mind, add a mirror last so that you can highlight your proudest corners and direct the eye with light.
3. Float Your Shelves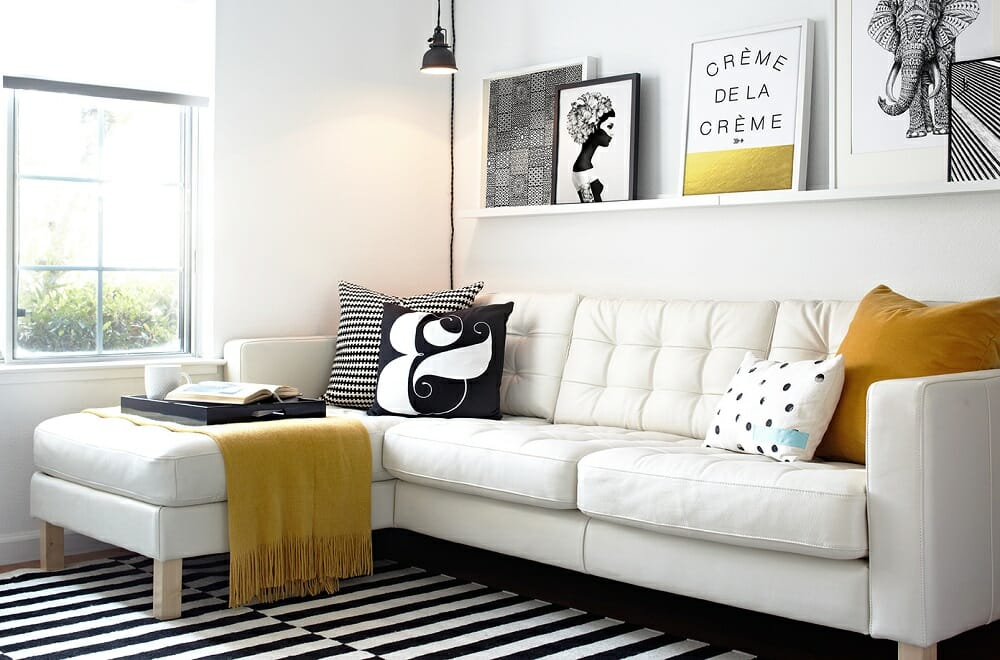 Floating shelves ultimately make the best use out of your wall space, providing valuable storage as well as decor opportunities. As far as the classic and simple solid wooden shelf goes, you can't go wrong. However, if you're feeling adventurous, or if your space needs to get in shape, consider adding something geometric to your wall. This is an excellent way to break even a suggestion of monotony, with the added advantage of adding some color contrast.

How to Make a Small Living Room Look Bigger
Creating a balanced interior is a great part of making a room feel spacious. These touches soften hard edges and bring comfort where bigger items could not. What's more, some items can create the illusion of a bigger, taller room as well as paint a pretty picture.
4. Focus on Curtains and Rugs
Dress vertical space in floor-to-ceiling curtains and add a complementary rug. The added texture may lend the eye some depth of field, especially if you have high ceilings. Whereas, a room with low ceilings can also benefit from an impressive window dressing as it makes the wall seem taller than it is.
When it comes to decorating with rugs in a small space, scaling it down is not the best idea. In fact, using a large rug in a small room can make the floor area feel bigger while teeny rugs have the opposite effect. That said, always keep one to two from the mat to the wall uncovered.
5. Furnish Wisely
There are a few key aspects to furniture that will affect how you make a room look bigger. Here are the top features to consider:
Scale: Opt for small-scale furniture or dive into minimalism with one large focal piece, like a three-seater mid-century modern sofa accompanied by a singular accent table.
Profile: Lean towards furniture with slender legs to keep your floor space as open as possible. Less bulky furniture will not only assist in a less cluttered look but will also keep walkways clear.
Color: Light and dark colors take up varying levels of visual space. Match the furniture color to the wall for a merged, blended look or add a contrasting color to uplift the space and designate a separate functional zone.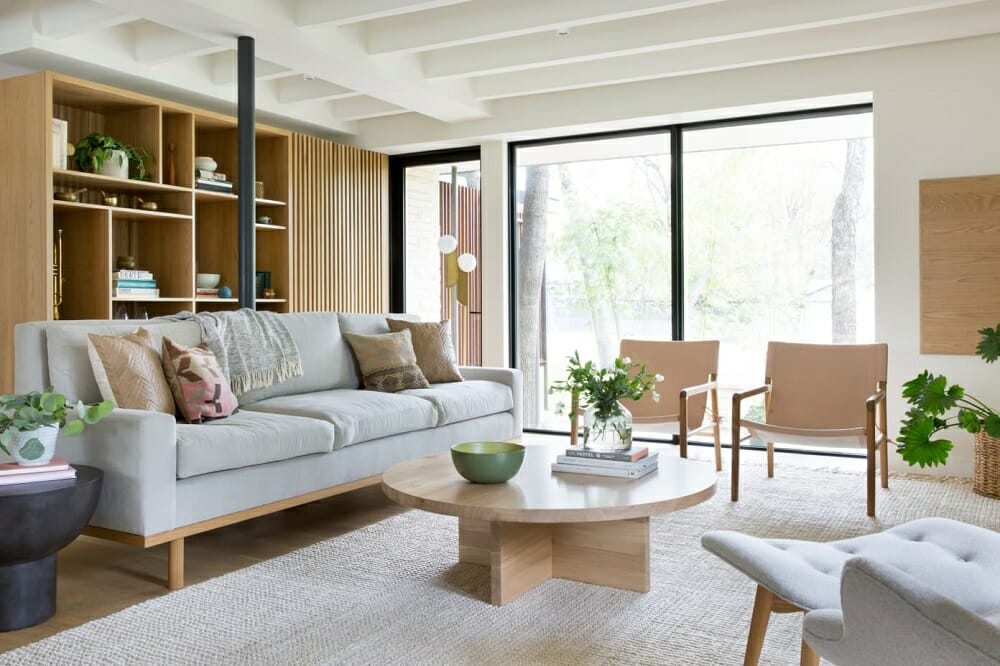 Height: In a compact room, every surface matters, from floor to ceilings. More open space, with a minimalistic style, can have a refined and expansive feel. Too much low furniture can make a room feel cropped and chunky every bit as much as a large and tall item can overwhelm an interior. Though, when there is a healthy mix of high and low pieces, the extremes can work in your favor.
Orientation: Whether an item is positioned horizontally or vertically matters. Keep in mind that horizontal objects can make a room seem wide while vertical pieces can make the same room feel tall.
6. Plant Your Small Room Bigger
Simply add pretty plants. Greenery can certainly work wonders in taking an interior from cramped to cozy. Plus, as one of the most affordable tips on making a small room look bigger, it works for every budget. Be mindful of keeping the floor as open as possible by lifting your favorite blooms off the floor. To liven up your home instantly, find a nook for a pretty pot plant to live in, or try our favorite no-floor displays below.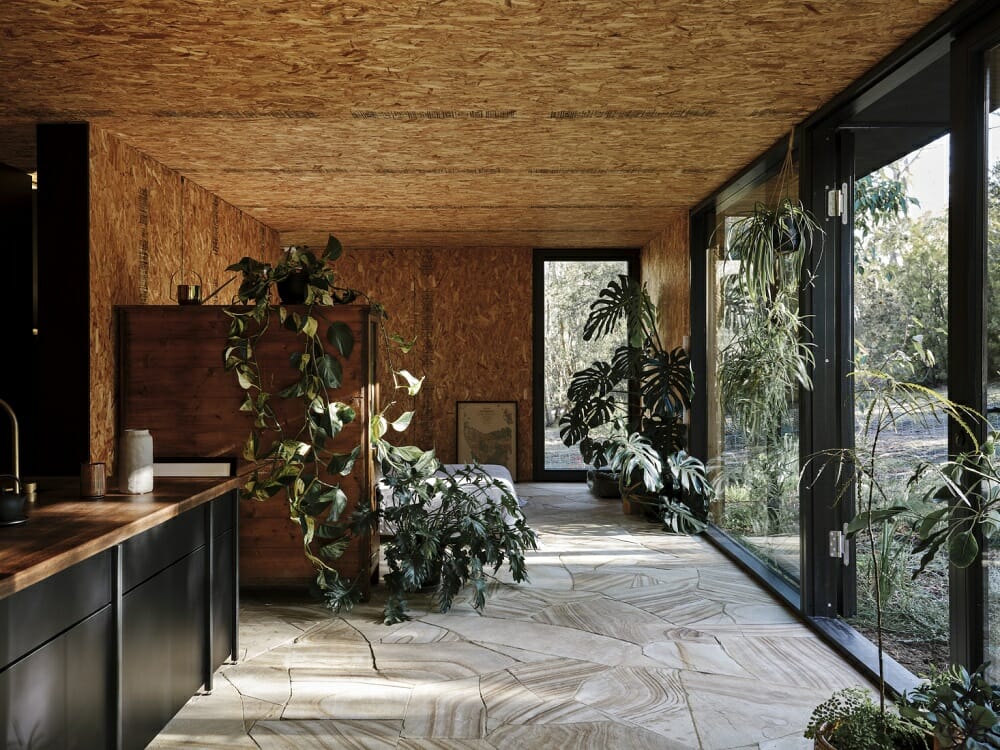 Delicately Dangling Flowers
Hang a kokedama, a flower basket, or a hanging planter from the ceiling. This is very easy to do if you have screw-in hooks and a ladder – or stable chair – for the installation. Hardy plants that don't need regular watering are perfect, but tropical plants will also be right at home in a bathroom.
We're spoilt for choice when it comes to wall decor. Nowadays, anything from a vertical garden to the most delicate designer planters can adorn a wall. Create an interesting feature wall with a selection of unique wall pockets or planters, or install a living – or faux – green wall.
How to Make a Small Bedroom Look Bigger with Savvy Storage
When it comes to small spaces, every square inch counts. Fortunately, the latest in furniture design addresses spatial constraints, the demand for storage, and aesthetic appeal. As much as we recognize the need to declutter, there are certain practical possessions that we simply cannot do without – these are living spaces after all. Thanks to beautiful and practical design, there is no need to ever sacrifice good taste.
7. Opt for an Off-the-Floor Closet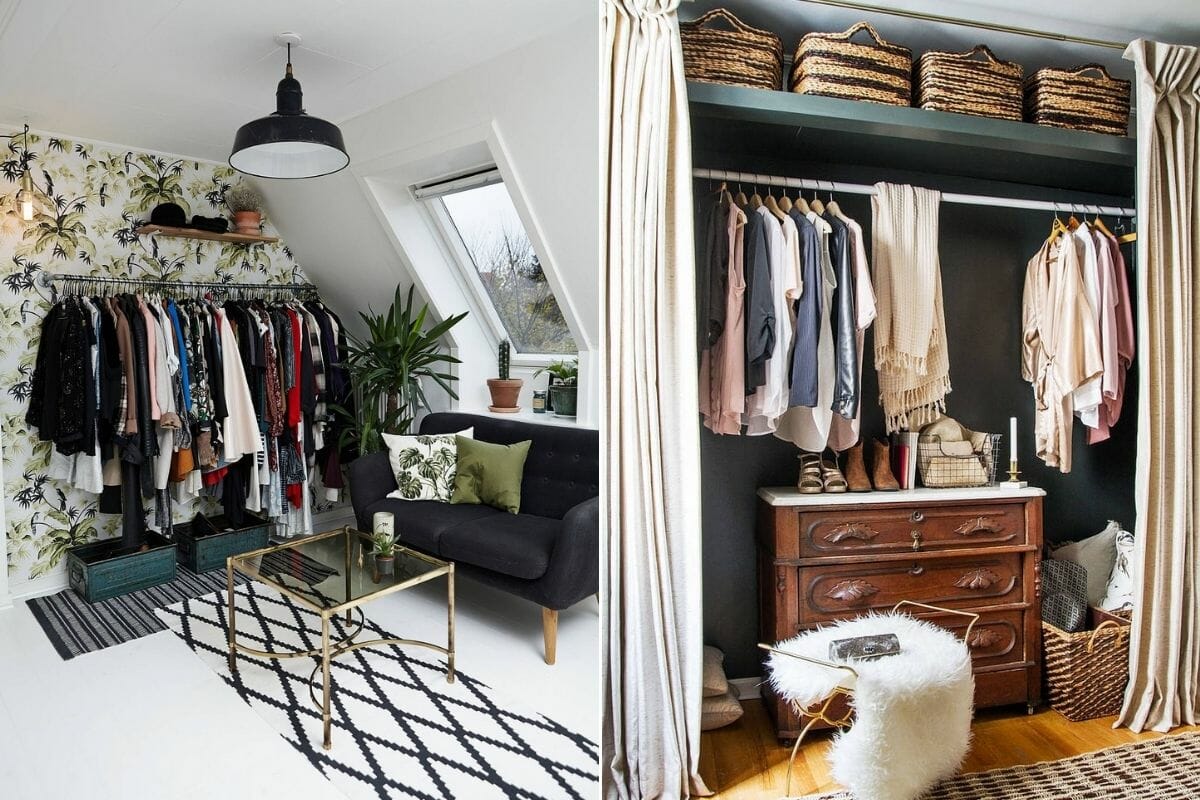 How to make a small bedroom look bigger? Instead of occupying valuable floor space with a closet, your favorite pieces of clothing can hang from a wall-mounted rail and double as decoration. To complete the picture, add a floating shelf overhead and shoe rack below for an elegant solution to saving space and personalizing your small bedroom.
8. Double-Up with Bed Frame Storage
A bed frame can do more than hold the mattress in place. The bed-base, for instance, can double as a linen drawer and the headboard can make a cute bookshelf. After a DIY update or clever use of boxes, the frame can stow almost the full size of the bed itself. Look into some neat box options or go all out by going for built-in drawers that slide out without a fuss.
9. Embrace Hooks, Baskets & Boxes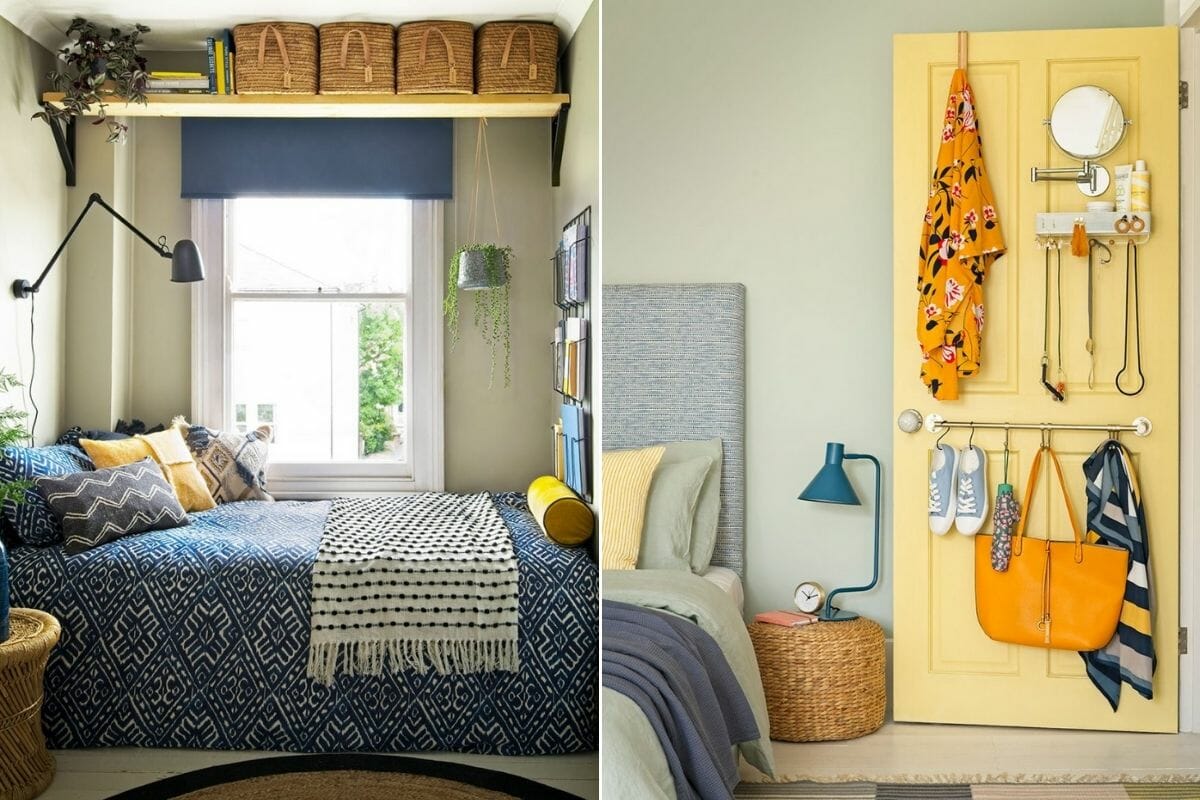 Woven baskets, pretty boxes, and unique hooks are your best bedroom friends. Hang hats, scarves, and everything in between while storing the less aesthetically pleasing items in baskets and boxes which in turn can add to your color scheme and accentuate certain corners of your room.
How to Make a Room Look Bigger with Paint
One of the most well-known and beloved interior design tips is to use color to your advantage. There are many ways to do just that, here are our favorites!
10. Stick to Extremes
Light tones can certainly make a room feel bigger but, surprisingly, a very dark hue can also have a similar effect. While whites and pastels reflect light to make a room feel airy, dark or inky tones create an infinity illusion, where boundaries are less defined. Done correctly, it can make a small room look and, surely, feel bigger than it is.
11. Block Colors
Although a classic never goes out of style, you might want to experiment with block colors, in rectangular, square or even rounded shapes. By color blocking areas you can add a dynamic range to your interior as well as create a visual indicator of another functional zone, like a study nook.
12. Add Lines
Lines, although slight, have a phenomenal effect on the overall look and feel of a room. As a matter of fact, lines unite an interior and can make a room seem wider (horizontal lines) or the ceiling seem higher (vertical lines) than what it is. If you're wondering how to make a small room look bigger with lines, ask yourself if the room feels short or narrow. Homes with low ceilings can benefit from vertical lines, while narrow walls can gain length visually with horizontal stripes.
Have a Small Room Needing Extra Attention?
Now that you know how to make a small room look bigger, are you ready for the first steps? If you need a little more assistance, get in touch. Schedule a Free Interior Design Consultation with the finest interior designers to make the most of your space today!

[images: 1, 2, 3, 4, 5, 6, 7, 8, 9, 10, 11, 12, 13, 14, 15, 16, 17, 18, 19, 20, 21, 22, 23]