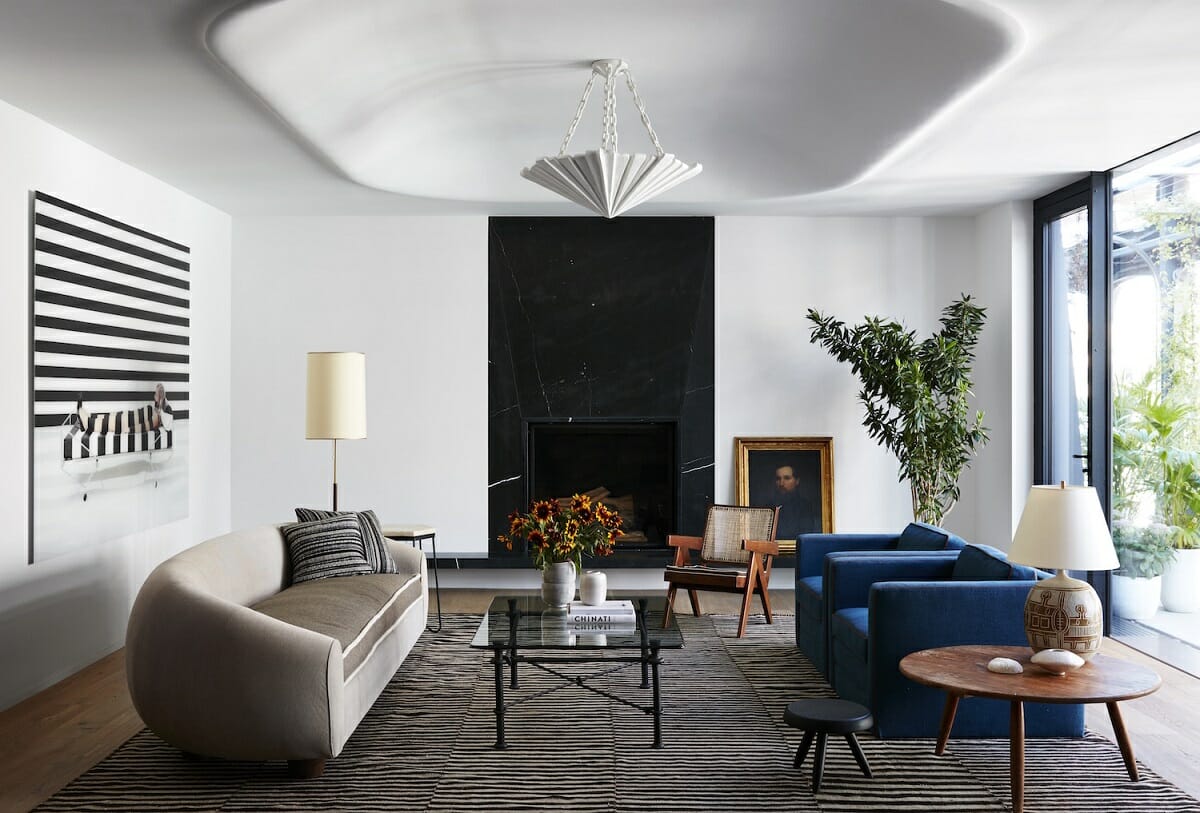 Since the internet boom, life has only become more convenient. Gone are the days of having to leave home to shop for groceries, décor, and more. Now, with the click of a button, you can inspect, order, and have items delivered to your door. Sometimes, however, what arrives falls short of expectations. Learn how to skip such hurdles with our top tips for buying furniture online.
How to Buy Furniture Online 101
A healthy online shopping experience starts with empowering yourself. Once you know what to look for and how to spot a good deal from a reputable store, you'll be all set. 
Pro Tip: Knowing your interior design style can help you find furniture that fits your preferences

? Take our

Free Interior Design Style Quiz

to discover your unique decorating style today!
1. Read Reviews Before Buying Furniture Online
Even when you're planning to buy from one of the 25 best online furniture stores, it's always a good idea to read reviews on the pieces you like. It's a simple yet effective way to get a better idea of the product's quality. Be on the lookout for reappearing comments indicating whether the investment is worth it.
2. Visualize Potential Pieces in Your Interior
Before fretting over the best time to buy furniture, find a piece you like and take note of its dimensions. You must picture it in its potential place. An easy way to do this is by grabbing a roll of painter's tape and lining out its shape on the spot you want it to go. Use a tape measure to get a sense of its height. Also, be sure to compare its dimensions to existing furnishings. Arrange your furniture around the taped-off area to see whether the space will remain functional. You can also draw a mockup floor plan according to the room and furniture dimensions. Either alternative should help you order furniture online that suits the intended space.
Another, more fool-proof method for visualizing your purchases is to hire an online interior design service with the benefit of photorealistic 3D renderings. These images remove all the doubt surrounding how new furniture and decor will look in your home. As a result, you can rest assured that you'll be avoiding any costly design mistakes. 
3. Do Online Furniture Shopping on Websites Matching Your Style
Although many virtual retailers offer a vast variety of designs (think Amazon), most specialize in a specific few styles. Some stores, for instance, only stock items from sustainably sourced materials with a minimalist look. Others may sell one-of-a-kind boho pieces with a handmade aesthetic. Not sure what your design style is? Take our interior design style quiz to discover your unique decorating style!
When online furniture shopping, first find those websites that suit your tastes. Then browse their catalogs for what you need. If you're not finding stores that sell your kind of products, try different search phrases. For example, use 'contemporary bedside table' or 'art deco headboard'. The results should lead you to websites that stock pieces in your preferred style.

4. Inspect Website Quality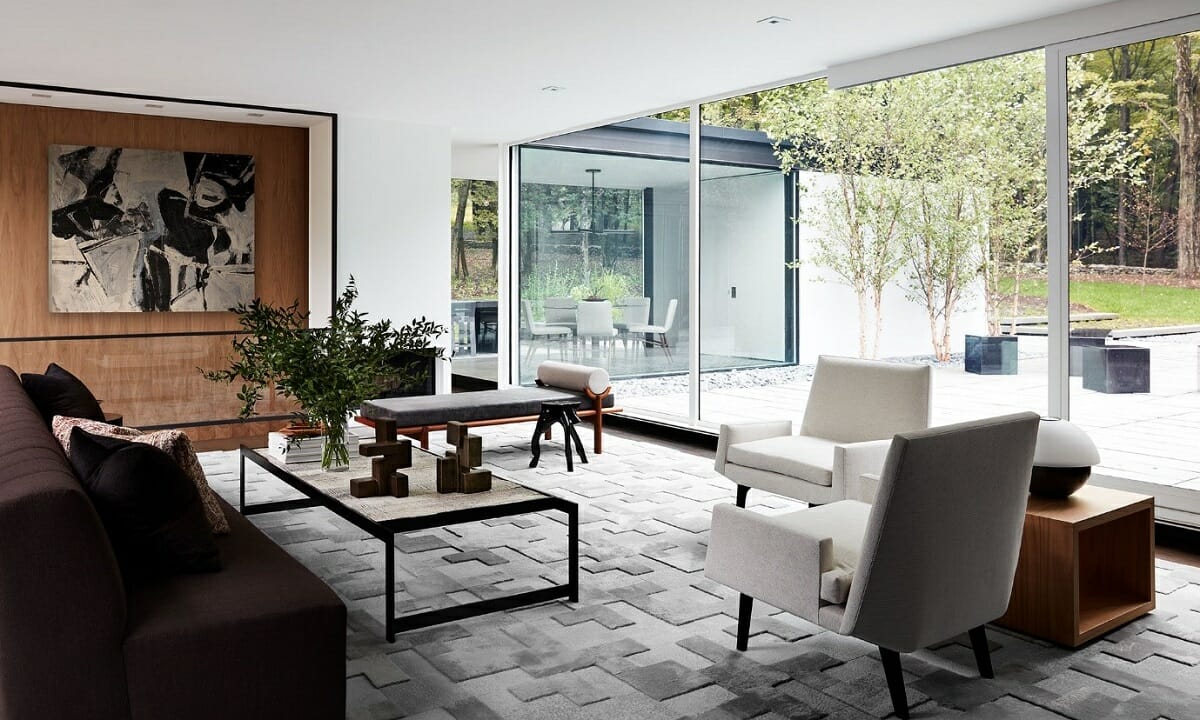 Making an online furniture purchase is certainly convenient. However, ensuring it's from a credible virtual retailer is vital to avoid scammers. One way to determine a seller's legitimacy is by closely inspecting their website. A padlock icon next to the web address indicates a secure, encrypted connection – safe for entering your banking details.
Contact details are another way to judge a website's trustworthiness. If, for instance, there's no live chat or phone number and only a contact form or email address, getting in touch might be difficult. Do further investigation into response times and look for general business reviews. Also, take note of bad grammar and spelling, especially in their 'about' section. It's often a sign of an unreliable retailer.
5. Order from Online Stores with Physical Locations
It's a good idea to order furniture online from a business with a physical presence. That's because you can go and get a better idea of what the desired piece is like before committing. After all, the online image can differ from the actual product quite a bit. It's also a great way to avoid shipping costs since many virtual sellers will deliver online purchases to your nearest store for free.
6. Carefully Scrutinize Photos & Product Descriptions
When you order furniture online, carefully inspect photos and read descriptions. Scrutinize the piece from every available angle. And if there are shopper-submitted photos in the comments, have a look at these too. The product description can also hold crucial information, like if it's made of solid or pressed wood, care tips, and whether it needs to be assembled.
7. Order Samples & Swatches 
If you can order samples and swatches for a product while online furniture shopping, do! It's a low-cost way to help determine whether what you're interested in will suit your aesthetic. You can feel the texture and hold the swatch up against existing furnishings to see how they pair before committing.
8. Keep Your Lifestyle in Mind While Online Furniture Shopping
Sometimes a great deal can sway our online furniture shopping decisions – even if the product is impractical for our lifestyle. To buy something online with zero regrets, you need to keep how you live in mind. If, for example, you have pets or young kids, a white couch might not be a wise choice. However, a durable performance fabric could be just the right thing.
9. Consider Furniture Assembly
For the ultimate convenience, you want to order furniture online that comes fully assembled. When furniture store websites mention 'assembly required', do further research. It could either mean putting the item together will be quick and easy or time-consuming and complicated. Reading through reviews can once again help you figure out which is the case.
10. Splurge on White Glove Online Furniture Delivery
All of the best places offer white glove delivery when buying furniture online. So be sure to treat yourself if it's an option. Ultimately it's worth the extra fee, especially if you lack help or aren't particularly handy. The service includes the delivery person bringing the box into your home, unpacking its contents, and setting it up for you.
11. Research the Return Policy When You Order Furniture Online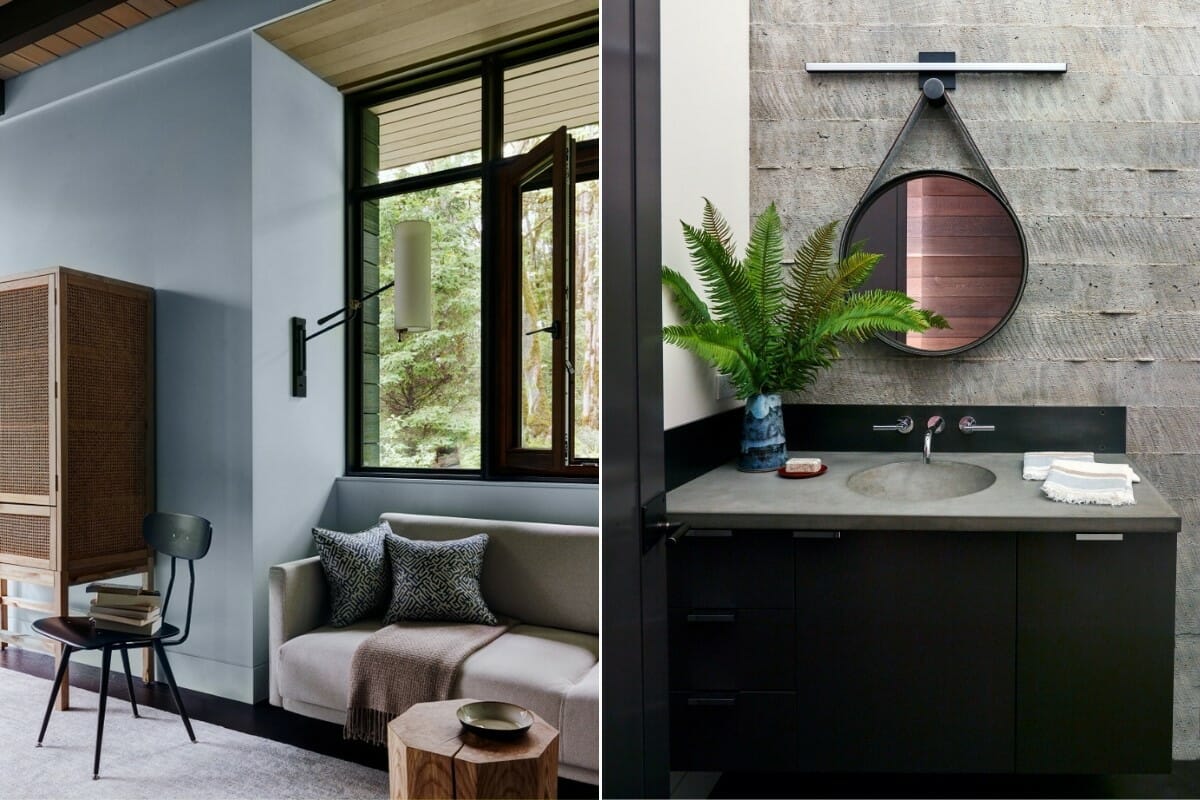 Although it's easy to hope your order will meet or exceed expectations, it's still vital to research their return policies. While policies may be reasonable in some cases, they can become costly in others. In the end, when buying online – furniture, décor, or other items – it's all about doing thorough research.
Need help with buying furniture online? 
All Decorilla design packages include 3D photorealistic renderings of how new furniture will look in your home – plus exclusive discounts of up to 45% off! Schedule a Free Interior Design Consultation to learn more today!

[images: 1, 2, 3, 4, 5, 6, 7, 8, 9, 10, 11, 12, 13, 14, 15, 16, 17, 18]