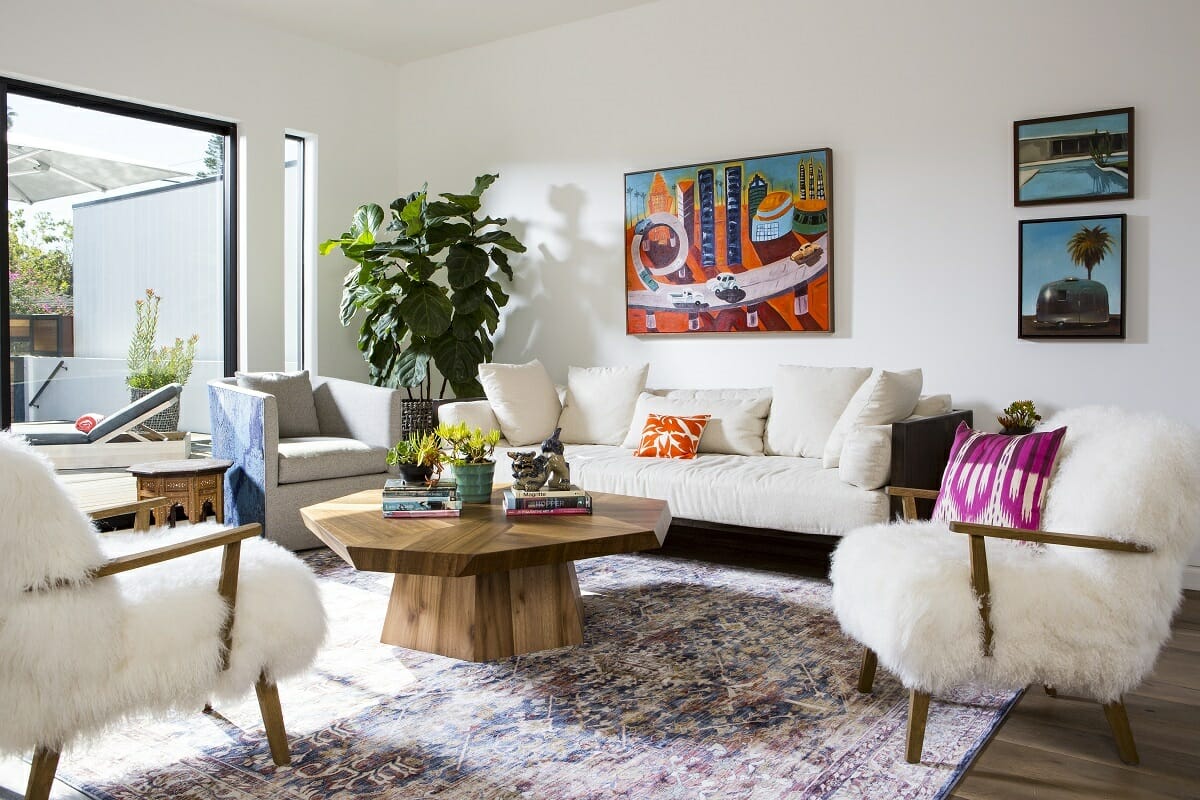 Seating is often one of the most important considerations when designing a living room. In fact, an accent chair is not only a functional addition but can also make a powerful style statement. From classic wingbacks to modern cocooning designs, chic living room decor chairs are an asset for every home. That's why we've compiled this list of the top accent chair living room ideas to help you maximize our space.
Living Room Decor Chair Guidelines
Accent chairs are the perfect way to add flair to your living room layout. They can fill empty spaces or provide a pop of color and pattern. And while there are many different ways to style them, some functional considerations should come first. Your furniture arrangement, proportion, and scale significantly affect the final outcome. So let's explore the most asked questions surrounding these feature pieces. 
Wondering which designs match your accent chair living room ideas? Then try our

 Free Interior Design Style Quiz

to discover your true style today!
How to place an accent chair in a living room?
Most importantly: your accent chair living room ideas should not block walkways or impede traffic. Apart from that, one of the most popular accent chair living room ideas is to place the accent chair by the window. This allows you to take advantage of the natural light and also unfurls a great view. Another good spot is in front of the fireplace. And if you are designing a large living room, you may want to consider placing two accent chairs symmetrically for a more structured appeal. 
Do accent chairs have to match in a living room?
This is one of the most common questions regarding home decor and accent chair living room ideas. And the answer depends on your style goals. If you're going for a more conventional, traditional look, matching your furniture is probably best. However, mismatched chairs can be a winning move if a modern or eclectic feel is your thing. Of course, there are no set rules when it comes to interior design. So, don't be afraid to experiment – it's half the fun!
Do you need one or two accent chairs?
The answer depends on your room's size, layout, and lifestyle. For instance, more accent chairs might help define the zone boundaries in an ample, open space. Having more than one chair is also beneficial if you host and entertain at home a lot. However, a single accent chair will probably work for a small living room or if you prefer a more minimalist look.
Top Accent Chairs Ideas for a Living Room 
Living room decor chairs are a great way to add color or make a bold statement. But how to know which one to buy? Use these functional accent chair living room ideas to guide you!
1. Include Comfort to Your Accent Chair Living Room Ideas 
When shopping for a new chair, comfort should be your top priority. After all, you might spend many hours sitting in it. But don't sacrifice style for comfort. So, look for a chic and comfy chair and pay attention to the materials used. High-quality materials will last longer and look better than inexpensive ones. Also, consider the chair's construction as well-made chairs will be sturdier and more ergonomic. 

2. Consider the Living Room Decor Chairs' Color and Style
You don't have to go all matchy-matchy, but a cohesive look is a must. If you have a modern home with clean lines and a minimal aesthetic, you will probably want to choose a chair that reflects the style. Similarly, if your home has a more traditional feel, selecting a chair with some classic features is best. Meanwhile, in terms of color, consider both the surrounding palette and your personal preferences. 
3. Use a Living Room Accent Chair as a Statement Piece
If you're looking for a statement piece, you may want to choose a boldly designed chair that will stand out in your space. For instance, if the room is primarily neutral, a daringly patterned chair will really pop. On the other hand, if the arrangement already boasts a lot of color and patterns, then a more subdued (or even translucent!) chair in an attractive shape or size will help tie everything together. 
4. Best Accent Chair Living Room Ideas Thrive on Strategic Positioning
When placed strategically, living room accent chairs can also elevate visual interest and break up large expanses of space. For example, an accent chair set in the corner of a room can provide a cozy nook, while one placed in front of a window can promote bringing the outside in. In addition, placing two chairs facing each other with a small table in between forms a stylish and functional conversation area.  
5. Use Specific Types of Living Room Decor Chairs for Unique Layouts
If you're looking for a way to add a unique style to your home, why not experiment with different types of chairs? Wingback chairs, for example, feature tall backs and winged sides and suit almost any space. Club chairs are usually more compact, making them ideal for smaller rooms. On the other hand, the remarkable silhouette of the Papasan chair will add a touch of whimsy to any arrangement with its circular frame and cushioned seats.
6. Mix and Match Accent Chair Living Room Ideas for an Eclectic Look
When it comes to living room decor chairs, one size does not necessarily fit all. In fact, decorating with different accent chairs can create an eclectic, dynamic effect. Select designs that share a common theme or style elements, such as a wood finish or upholstery fabric. But beyond that, feel free to experiment. For example, consider pairing a sleek, modern armchair with an antique side chair. Or you might combine a traditional wingback chair with a contemporary slipper seat. 
7. Use Living Room Accent Chairs to Add a Pop of Color
Accent chairs are a great way to add a pop of color or an interesting pattern, and can also be used to highlight other elements. When choosing a colorful accent chair, consider the overall scheme of the room. For example, in a black and white or neutral monochromatic scheme, a vibrant accent chair will really stand out. Pastel hues and jewel tones are also good choices to tie everything together, depending on the overall palette. 
8. Choose a Stylish Recliner or a Lounge Chair for Enhanced Functionality 
A well-designed recliner or lounge chair serves many purposes at once. It's decorative and can be used for relaxing or even serve as a daybed. Contrary to popular opinion, recliners are not bulky and unappealing. In fact, these cozy chairs come in many interesting shapes and styles, from traditional to contemporary. They are also available in a variety of sizes and materials.  
9. Armless Accent Chair Living Room Ideas for Small Spaces
Choosing furniture with clean lines is one way to make a small living room appear larger. An armless accent chair is a perfect example of this type. Not only does it take up less visual space, but it can also be easily moved around the room as needed. In general, look for a lightweight frame and simple design. A chair with a low back and exposed, slim legs will also help to create the illusion of more space. 
10. Maximize Corner Accent Chair Ideas
Corner chairs can help anchor a space and create a sense of balance. In addition to being a decorative asset, they make an excellent place for relaxing. Pair a stylish corner accent chair with a lamp, and you have a perfect spot to curl up with a good book. Additionally, you could consider various accent chair and table ideas to create a cozy work corner as an alternative to a conventional home office. 
Need help with your unique accent chair living room ideas?
Decorating with accent chairs can seriously make or break your style. So, schedule a Free Online Interior Design Consultation for professional assistance today!

[images: 1, 2, 3, 4, 5, 6, 7, 8, 9, 10, 11, 12, 13, 14, 15, 16]