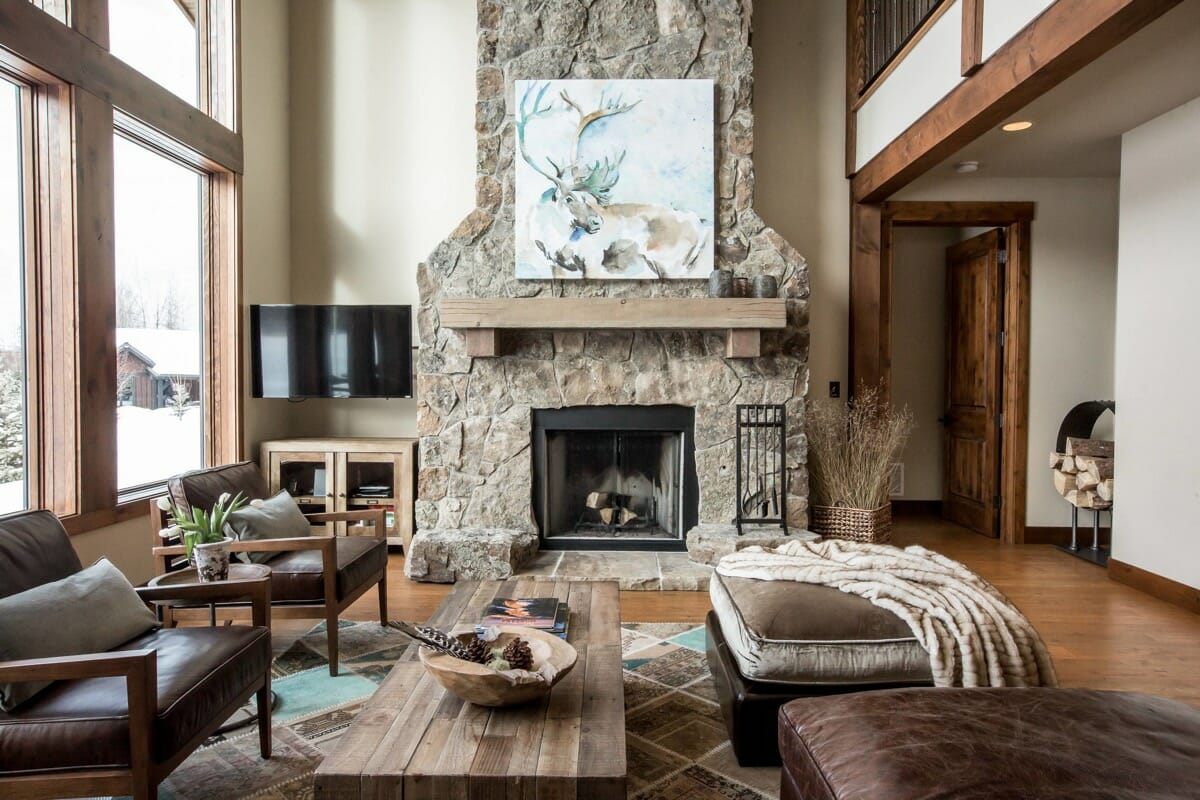 Rustic interior design has a way of feeling like a cozy embrace. And the wonderful thing about this versatile style is it can work with a plethora of other looks. Moreover, a little rustic touch can make it feel like home. Read on for our top designer-approved inspirational rustic interior design ideas!
Trending Rustic Interior Design Styles
Rustic interior design has a touch of tradition and a casual aesthetic. It underscores many other styles, like shabby chic, industrial, and cottage homes. That said, rustic elements can sit happily with modern or contemporary pieces. In fact, the contrast between new and old is pleasant to behold and results in a covetable modern rustic style. Let's dive into our favorites!
Not sure if rustic interior design is right for you? Then, take our quick Interior Design Style Quiz to uncover your true decorating style today!
1. Cozy Sofa
Any rustic home interior needs a super soft, inviting sofa at the center of their home, like this one! Stonewashed fabrics or soft leather make for the most beckoning furniture, especially when it's a family-sized couch.
2. Wood Feature Walls
Natural materials often feature heavily in rustic homes. This interior shows how a wood-like tile feature wall can put a contemporary spin on the beloved classic.
3. Antique Feel
Old-world aesthetics come with rustic interior design. Just like this mix of antique brass pendants, island, and quirky bar stools, typical rustic spaces have an undeniable charm.

4. Merged Modern & Rustic Interior Design
The refined shape of modern furniture suits a rustic industrial interior design so well. In this Japandi-inspired abode, neat modern pieces decorate an open living space that resembles an updated barn.
5. Connection to Nature 
Whether with artwork or plants, rustic interiors have a strong connection to the outdoors. This interior, for instance, uses an abstract painting, a stone fireplace, and some blooms to strengthen the natural feel.  
6. Round Chandelier
A classic iron chandelier is reminiscent of a bygone era. Yet, this beloved medieval light is right at home in a modern space with a subtle rustic interior design.
7. Organically-Shaped Mirrors
The natural-shaped mirrors and stone basins give this contemporary bathroom a rustic air. The big tree in the corner not only adds height and distinction to the interior but also builds a connection to nature.
8. Alcove Beds
Part quirky cottage, part eclectic desert, this rustic style interior design is fun and wholesome. It takes a traditional feature and brings it into the present day with a lively blue hue.
9. Arts & Crafts Style Décor 
Rustic house interiors would be lacking without a nod to the Arts and Crafts movement. Since this style showcases the inherent charm of natural materials, it aligns with the rustic style. Take inspiration from this interior and highlight craftsmanship too!
10. Iron Bedframe
A staple in many cottage homes, an iron bed certainly evokes a sense of nostalgia. Yet, it holds more than charm with its metallic frame as it can instantly give a rustic allure to any interior design.
11. Slate & Wood
Contemporary innovation makes mixing and matching, stylishly effortless. Now, if you prefer a neat take on a rustic style you can opt for sleek slate tiles and neat wood built-in shelves, like this living room.
12. Forest on the Wall 
You can allude to nature in more ways than one. In this modern rustic interior design, a trio of forest artwork complements the beautiful grain of the dining table. The chairs, with their unique silhouettes, also echo the shape of trees.  
13. Worn Leather
Lived-in and aged leather can bring a rustic element to a home interior. Here, a swivel chair is the highlight of the room and provides comfort during work hours.
14. Classic Tub
A clawfoot bathtub is rather versatile. It can look good in any home, from glam to cottage. And because of its traditional style, it also fits a rustic bathroom, like this one. Here, a white-washed brick wall and a weathered cabinet enhance the look too.
15. White Highlight
Match a log cabin interior and rustic style décor with white linen and accents. The contrast makes it easy to distinguish between elements while emphasizing the beauty of every element in the room.
16. Stone Fireplace
Stone, whether contemporary slate or from a riverbed, is a great choice for a fireplace. Moreover, its rustic style will give you that rugged touch to your interior design.
17. Cross-Leg Table
Typical in farmhouses, a cross-leg table is a benefit in a rustic dining interior design. Not only is it aesthetically pleasing, but it's also sturdy for young families.
18. Wood Mantel
A small accent can make a substantial difference. Take this moody bedroom, for instance, its floating wood mantel gives it a rustic touch while being among the most refined house interiors.
19. Quiet Spaces
With more of a connection to the outdoors than many styles, rustic homes often feature rooms or spaces for stillness. It can be a library, reading nook, or mindfulness corner. Here, a pair of Arts and Crafts style chairs and greenery decorate such a peaceful area.
20. Freestanding Fireplace
A built-in fireplace isn't always an option, but a freestanding option might be. They're not only compact but also evoke a small cottage atmosphere. Plus, their rustic industrial aesthetic boosts the look of the interior design.
21. Welcoming Rustic Style Décor 
You can create an inviting air, like that of your favorite rustic cabin interiors. A cozy bench or antique couch like the one above, a mirror, a rug, and fresh flowers are all you need.  
22. Tree Bench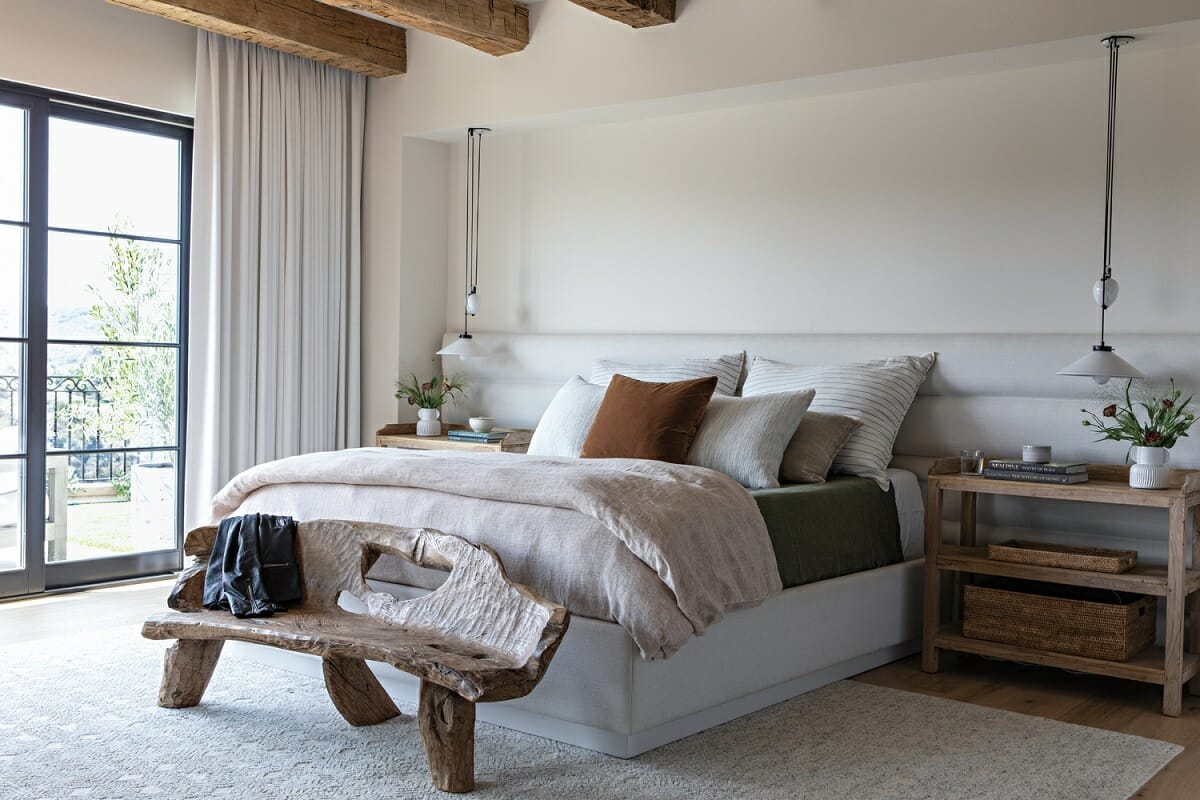 Rugged or unrefined elements have a way of emphasizing soft and sleek materials. We love how the raw bench adds a quirky touch to this clean modern design.
23. Drum Coffee Table
This drum-shaped coffee table is not only a rustic décor piece, but it also softens the straight line design. Its curvy shape ensures the space looks relaxed and also enables a pleasant visual flow.  
24. Come-to-Bed Linen
A rustic interior feels undeniably welcoming with décor creating a liveable and casual aesthetic. The overflowing bedding of this bedroom is perfect for a cozy interior.  
25. Deep & Plush Armchairs
Comfort is key in a rustic-style living room. Here a pair of black armchairs give a farmhouse feel with their deep seats and traditional design.
26. Shaker-Style Chairs
Another sure way to include a modern rustic look to interiors is with shaker furniture. This dining room features slender black shaker chairs that complement the chandelier's ironwork.
27. Industrial Rustic Artwork
Take a cue from this industrial rustic bedroom with its contemporary stone wall decor. Instead of a painting, framed rock slabs make a rugged statement.
28. Tribal Pattern Scatters
A pair of scatters can certainly uplift an interior and add a rustic touch. The modern lounge aligns with the rustic setting thanks to decorative pillows.
29. Baskets in the Bathroom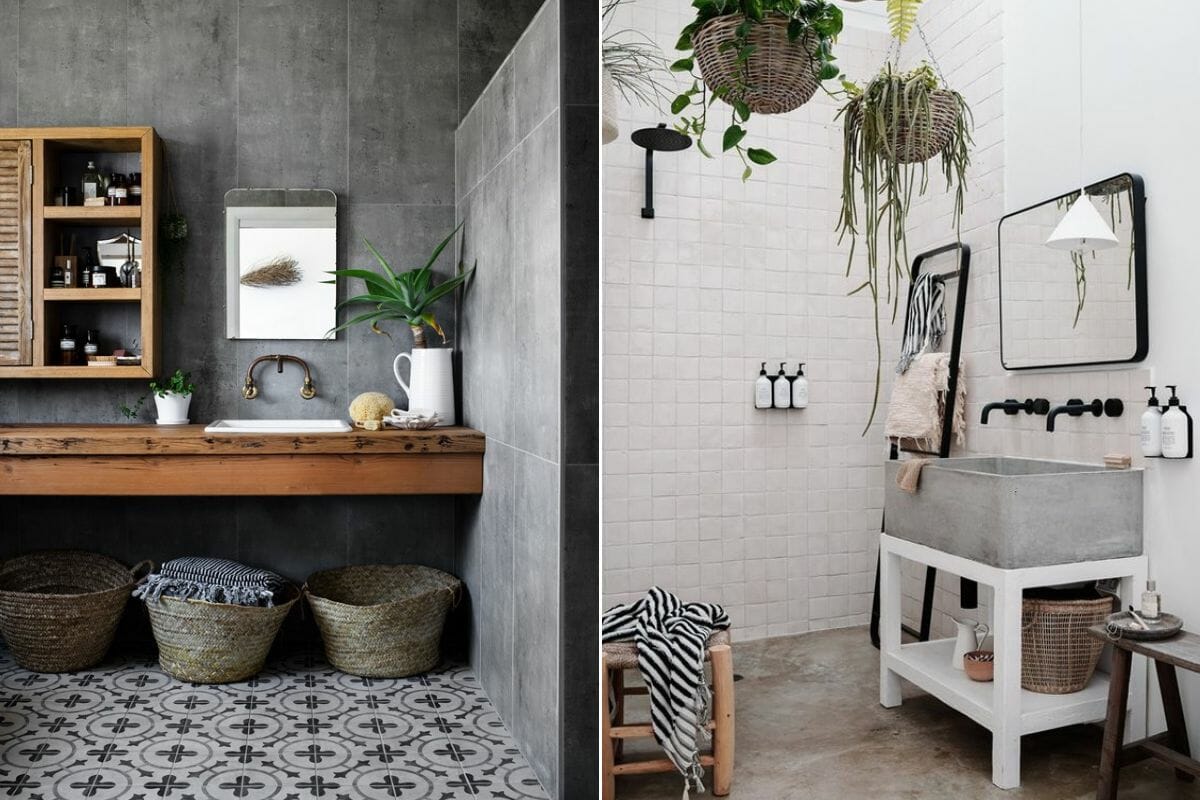 Woven baskets not only make rustic décor, but they are also practical. Moreover, they can add a natural touch to very cold areas, like bathrooms or laundry rooms.   
30. Limewashed Walls
Texture adds to a rustic design style. In this minimalist bedroom, limewashed walls do just that and bring interest to the calming interior.
31. Weathered Doors & Doorways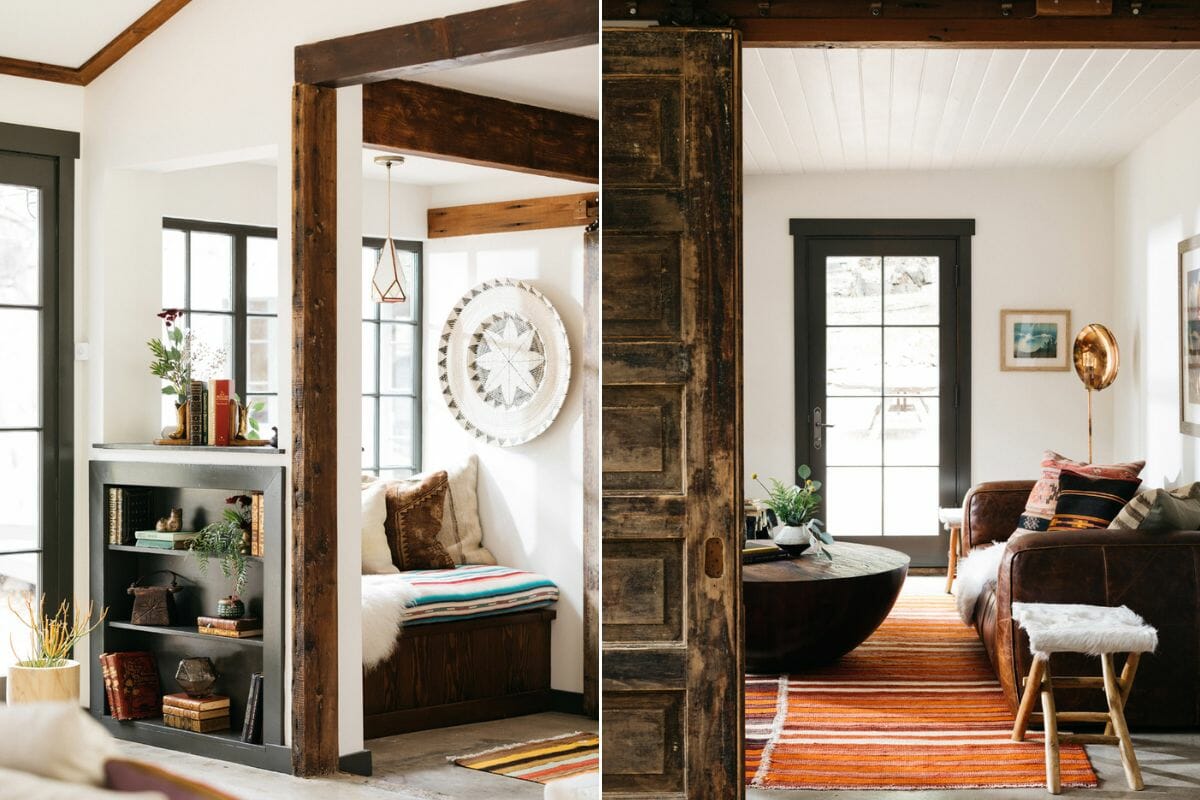 This modern ranch shows off the home's structure and embraces a rustic aesthetic with bare beams and weathered barn doors.
32. Contrast through Rustic Furniture 
In this airy kitchen and dining area, the rich grain of wood brings personality to the modern interior. The rustic dining set also offsets the bright white with its organic hue.
Spruce Up Your Home with Rustic Interior Design 
You can create your dream home when you team up with our top interior designers. Schedule a Free Interior Design Consultation to learn more!

[images: 1, 2, 3, 4, 5, 6, 7, 8, 9, 10, 11, 12, 13, 14, 15, 16, 17, 18, 19, 20, 21, 22, 23, 24, 25, 26, 27, 28, 29, 30, 31, 32, 33, 34, 35]