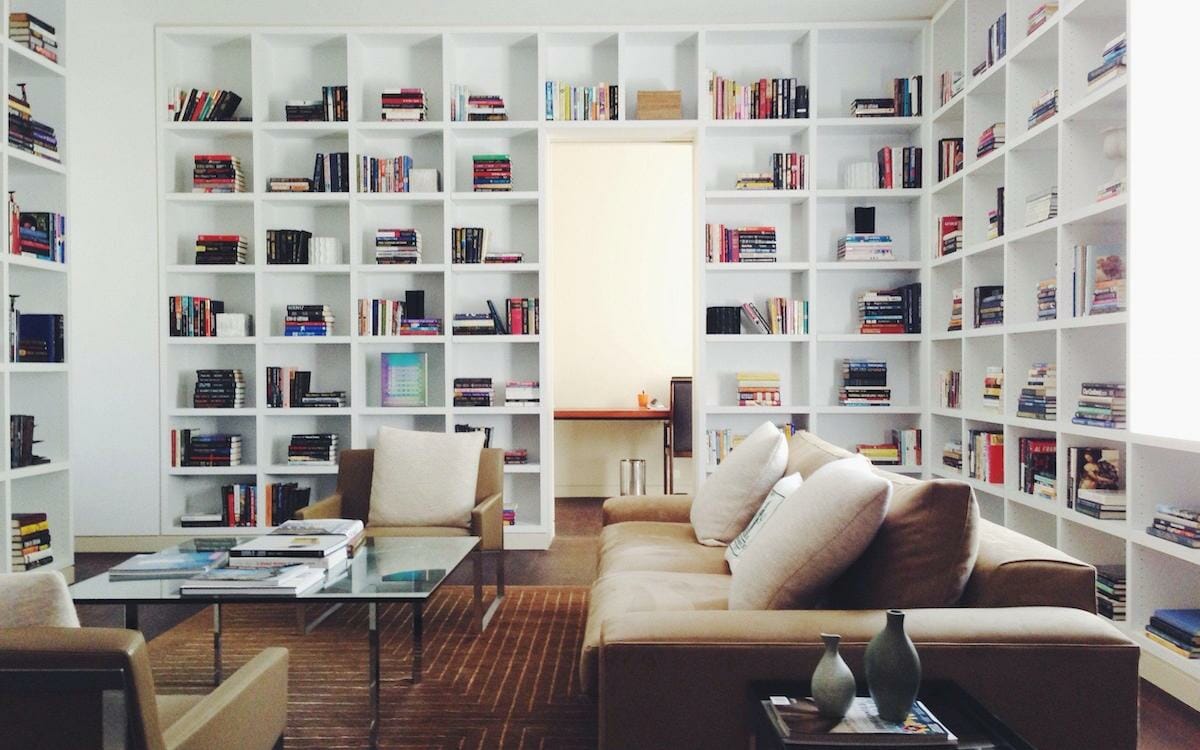 Few feelings compare to curling up with a good book and getting lost amongst the pages. Every bookworm certainly deserves a dedicated space to spend quality time with their literature and we're here to help make that happen. Learn how to create your own with our top cozy reading room ideas!
Reading Room Design 101
Elaborate home libraries, created by online library interior design services, are undeniably impressive. You can easily get the help you need to create a dreamy space, but if you prefer designing a cozy reading room or nook yourself, you can! After all, in the end, it's all about ambiance. You want to create a comfy space with good lighting, plus anything else that stimulates your need to read. To get started, consider the basic needs of a reading space before diving in:
Comfy seating or floor cushions
Ample lighting
Storage options for your books
Charging source for digital devices
Once you have these covered, get inspired with our reading room décor ideas and more below.
Cozy Reading Room Ideas
Reading spaces aren't limited to home libraries or studies. In fact, with a little work and some reorganizing, they can be part of existing living room layouts, bedrooms, and beyond. What matters is how your book nook feels. Here are our top tips to ensure a comfy, cozy reading room.
1.  Recreate a Rustic Cabin Atmosphere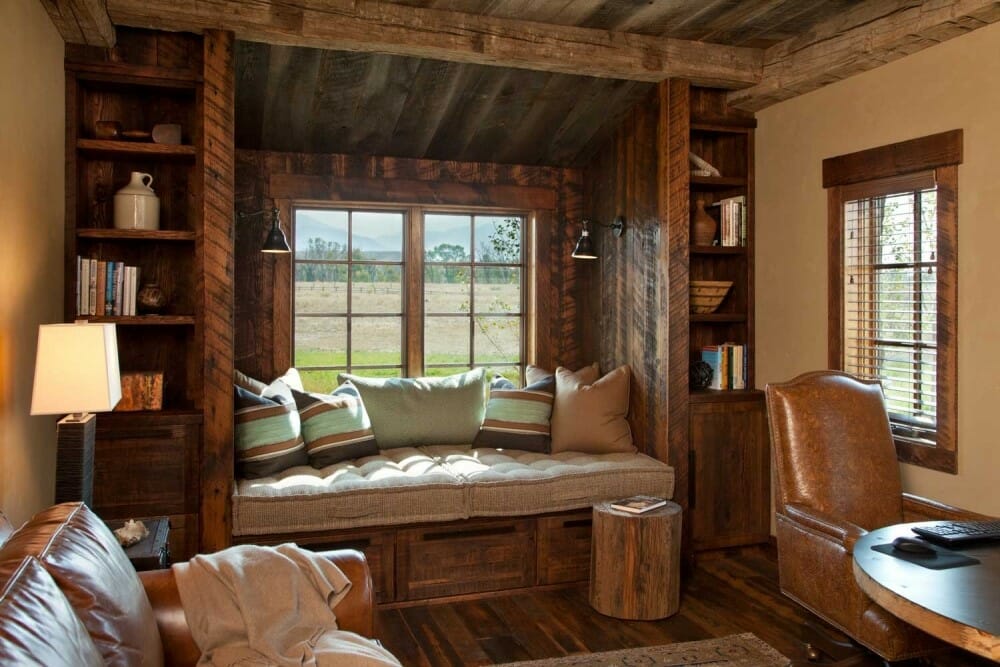 There's just something so warm and comforting about a rustic space. Make pieces such as a distressed leather or rocking chair part of your reading room décor. Also include vintage artwork, chunky knit throws, and natural linen pillows – anything that reminds you of a cozy cabin hideaway.
2.  Repurpose an Unused Space
Whether you have an empty corner or a cluttered storage room, repurpose a disused space by turning it into a book nook. In short, use what space you have to its full potential. Reading nooks for small spaces can be just as wonderful as entire reading rooms for large homes.
3.  Cozy Up by the Fireplace
Booklovers fortunate enough to own a home with a fireplace should claim the surrounding space as a designated reading zone. If the wall area is not an option, you can even use the mantel like a bookshelf in your reading room design.
Need some help pulling off cozy reading room ideas in your home? Schedule your Free Interior Design Consultation to get started with award-winning interior designers today!
Special Reading Room Décor
A reading room can be more than comfortable – it should be inviting and stylish as well. Discover which reading room décor ideas are right for you.
4.  Indoor Plants Make All the Difference
Plants not only literally breathe new life into an interior but also help to create a tranquil atmosphere. If you're unsure of what reading room décor to get, remember that you can't go wrong with some indoor greenery.
5.  Embrace Colorful Arrangements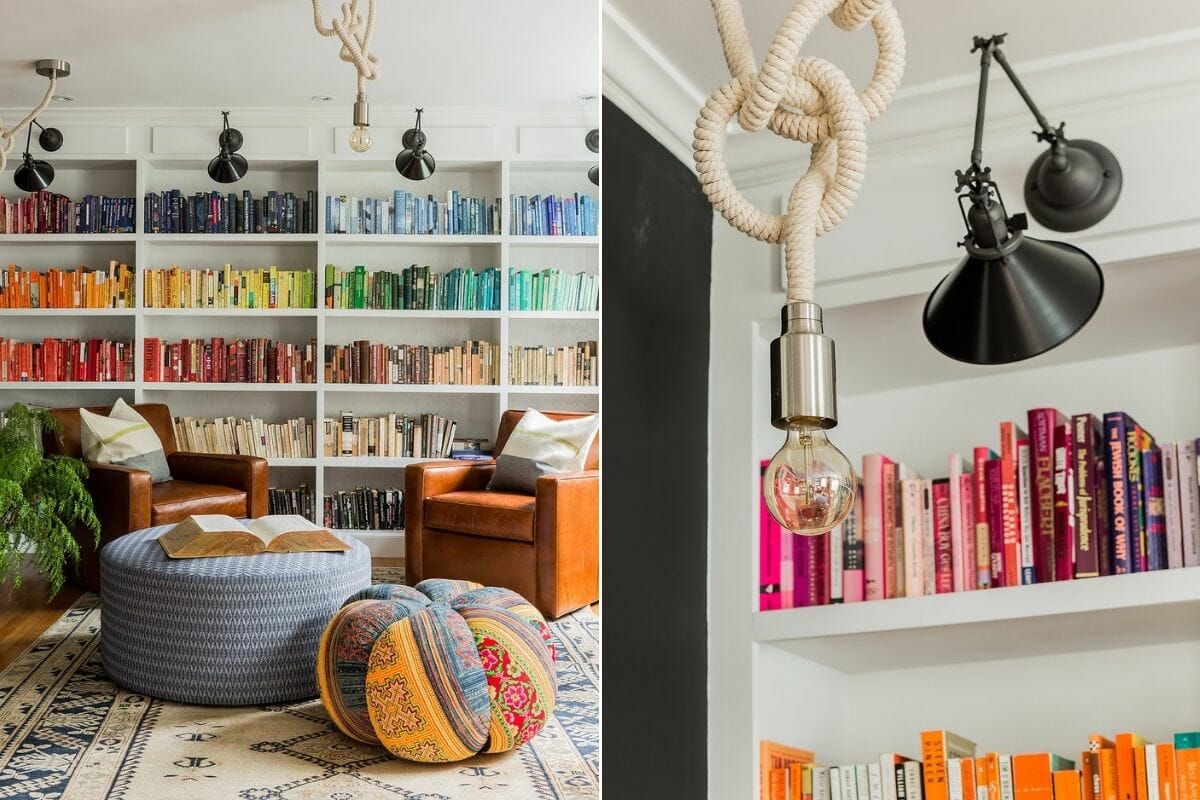 For a budget-friendly option, work with the reading room décor you already have – your book collection! Arrange them by color to turn your bookshelf into a striking focal point.
6.  Invest in Quality Essentials
You may be wondering, "what should a reading room have?" In this case, start by considering the essentials. Book storage, an end table, a bright lamp, and a comfy chair or couch are all you'll need. The best reading room furniture ideas include high-quality, timeless pieces you can enjoy for years to come. So ensure the necessities go beyond seasonal trends by opting for neutral colors and durable materials. 

Reading Nook Ideas for Small Spaces
Even with a limited amount of space at your disposal, you can still enjoy a serene book nook. All it takes is a little bit of creativity and a few small reading room ideas for inspiration. 
7.  Reading Room Ideas With a View
If your home has a broad windowsill or a built-in window seat, you already have a splendid reading nook! Should you only have a large window but no window seat, find a comfy bench or chaise lounge and position it in front of the window for a book nook with a view. Be sure to add plush pillows and a throw for added comfort.
8.  Multipurpose Cozy Reading Room Ideas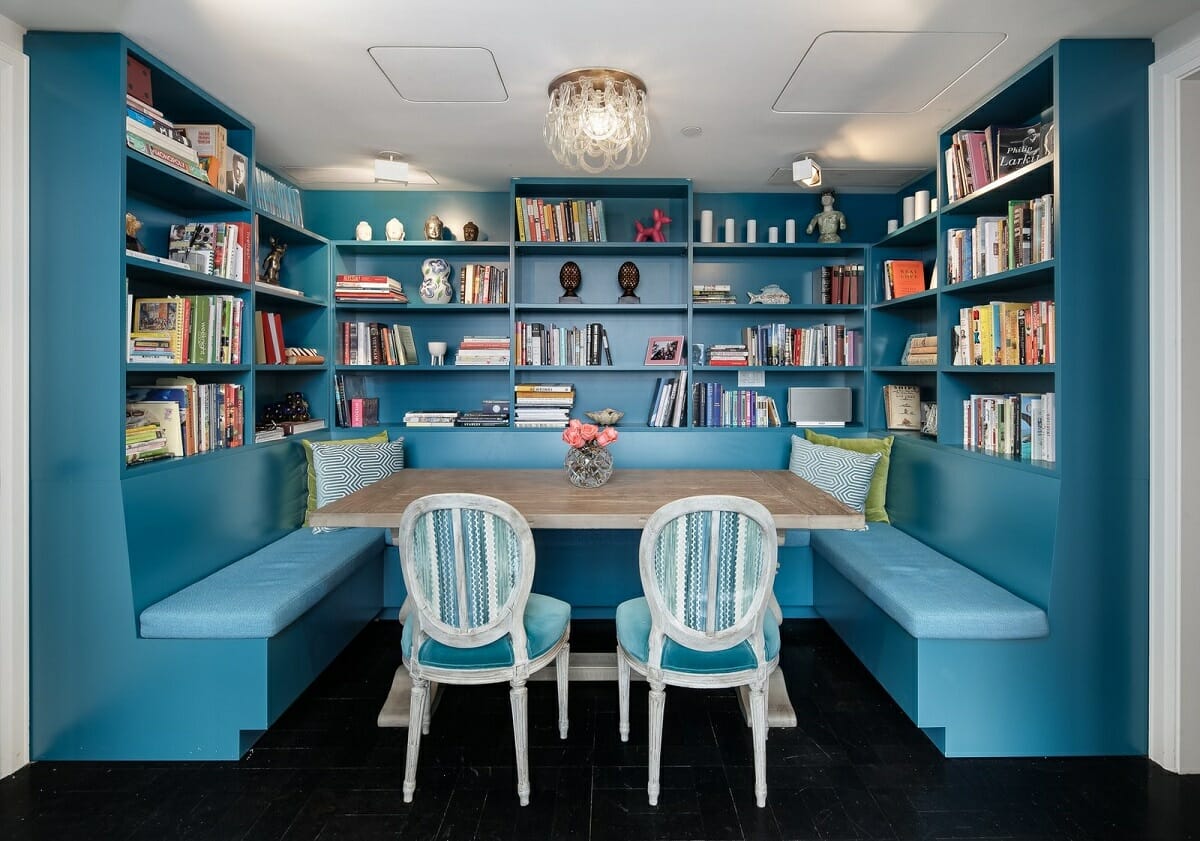 When living in a small home or apartment, you need spaces that serve multiple purposes. By adding a few wall shelves and some comfy pillows, a breakfast nook can easily double as a reading corner as well.
9.  Magical Reading Room Ideas Under the Stairs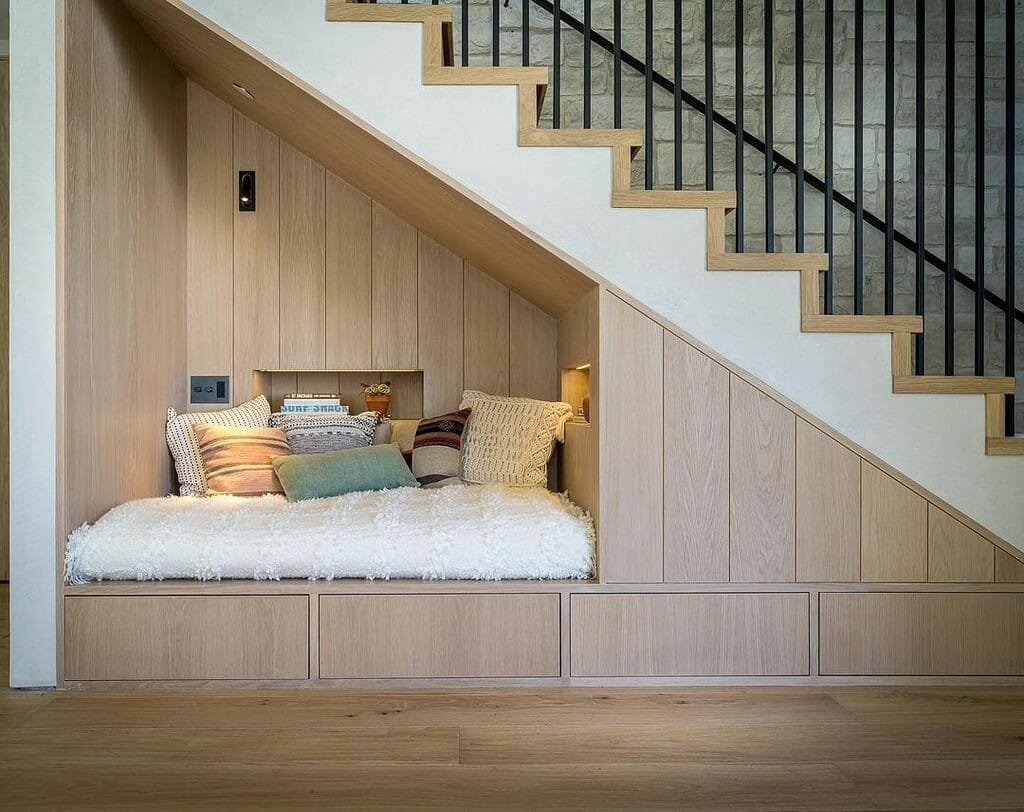 Transform any space you may have below your staircase into a booklover's retreat. Opt for a built-in bench or simply add a luxurious wingback chair and a small bookcase. Once that's complete, why not read (or re-read) something fitting, like the Harry Potter series, first? 
Bedroom Reading Corner Ideas
Reading in bed on a lazy weekend morning is heavenly, but you don't have to feel limited to bed. There are numerous other bedroom reading nook ideas out there too.
10.  Bedroom Book Nook Corner
There's no better way to fill an empty bedroom corner than with some essential reading room décor. A plush chair, floor lamp, and a side table or utility cart are all you need. With relaxation in mind, be sure to place the chair close enough to your bed or add an ottoman to kick up your feet.
11.  Go Vertical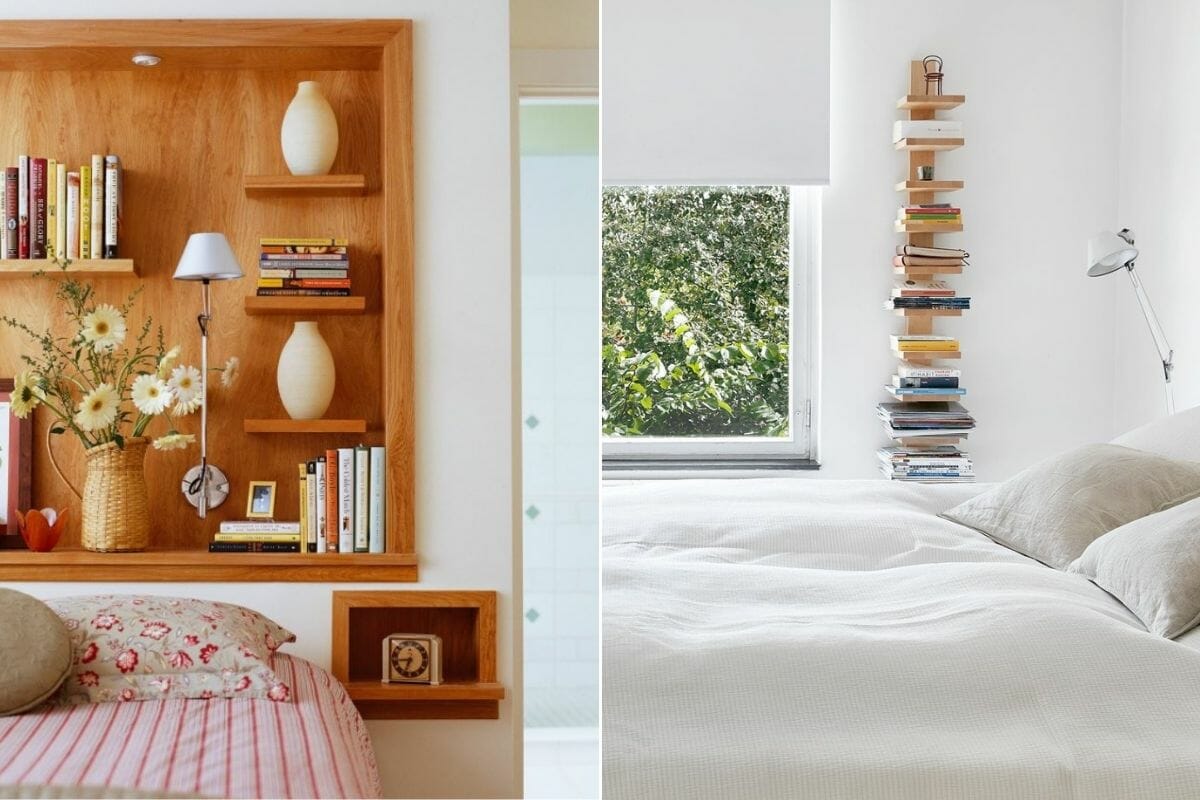 When your bedroom's size prevents you from implementing more extensive reading room ideas, make use of vertical space. Install some floating bookshelves, add your favorite novels and pretty art prints, snuggle up on your bed, and start reading.
12.  Add a Touch of Whimsy
Cozy reading room ideas can be playful too. Pick out a hanging chair for your bedroom instead of a regular reading chair. It's soothing, whimsical, and perfect for children and adult bookworms alike!
Stylish Office Reading Room Ideas
By implementing the right reading room ideas, your home office can be an equally productive and relaxing space.
13.  Opt for Elegance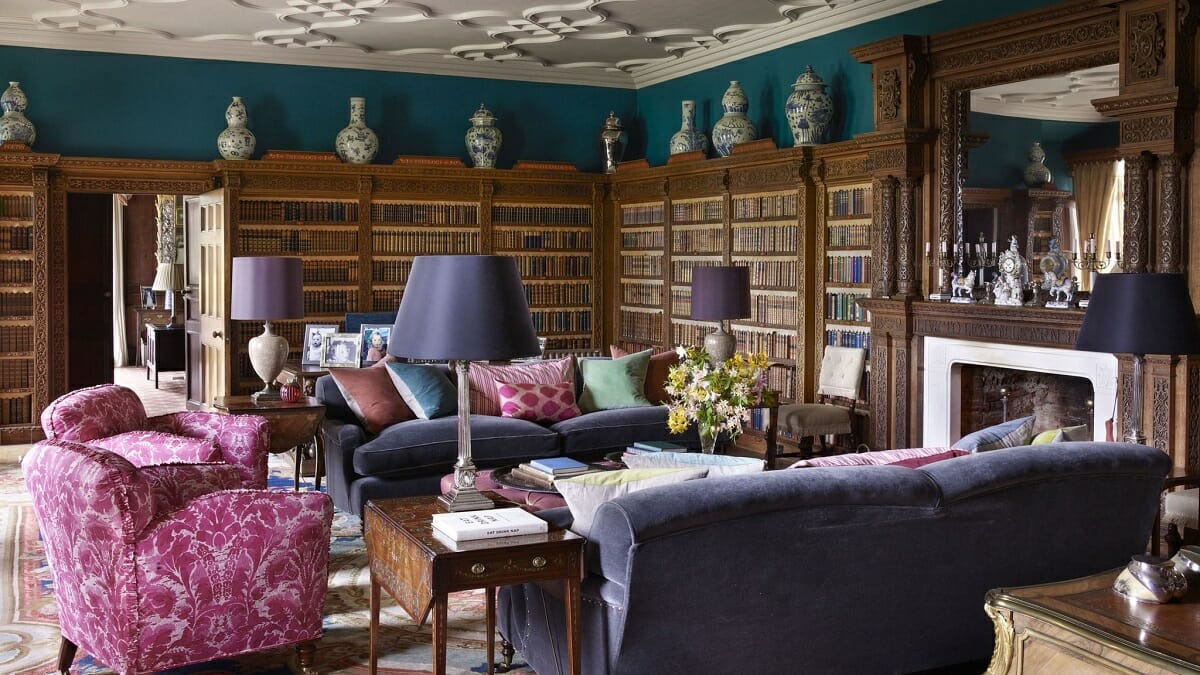 One of our favorite office reading room ideas is to turn the room into a luxurious home library. Consider elegant armchairs, a Persian area rug, velvet couch, and dark wooden shelves for a touch of indulgence. It's all about picking out pieces associated with high-class living.
14.  Include Artwork & Decorative Pieces
Perhaps your office bookshelves are looking a bit sparse. Fill in gaps with your favorite artwork or decorative pieces such as sketches or vases. This kind of reading room décor adds visual interest, as well as personality, to the space.
15.  Enhance Your Bookcases
Another of our favorite reading nook ideas for a living room, home office, and more is to paint your bookcases or to frame them in architectural detail. It's a simple way to turn your shelves into the room's focal point. Enhance the effects by decorating the space in either complementary or contrasting tones and shapes.
Playroom Reading Corner
Start the fascination young! Instill a love of reading in your kids by creating an exciting playroom reading corner they'll want to get lost in.
16.  Get Creative with Crates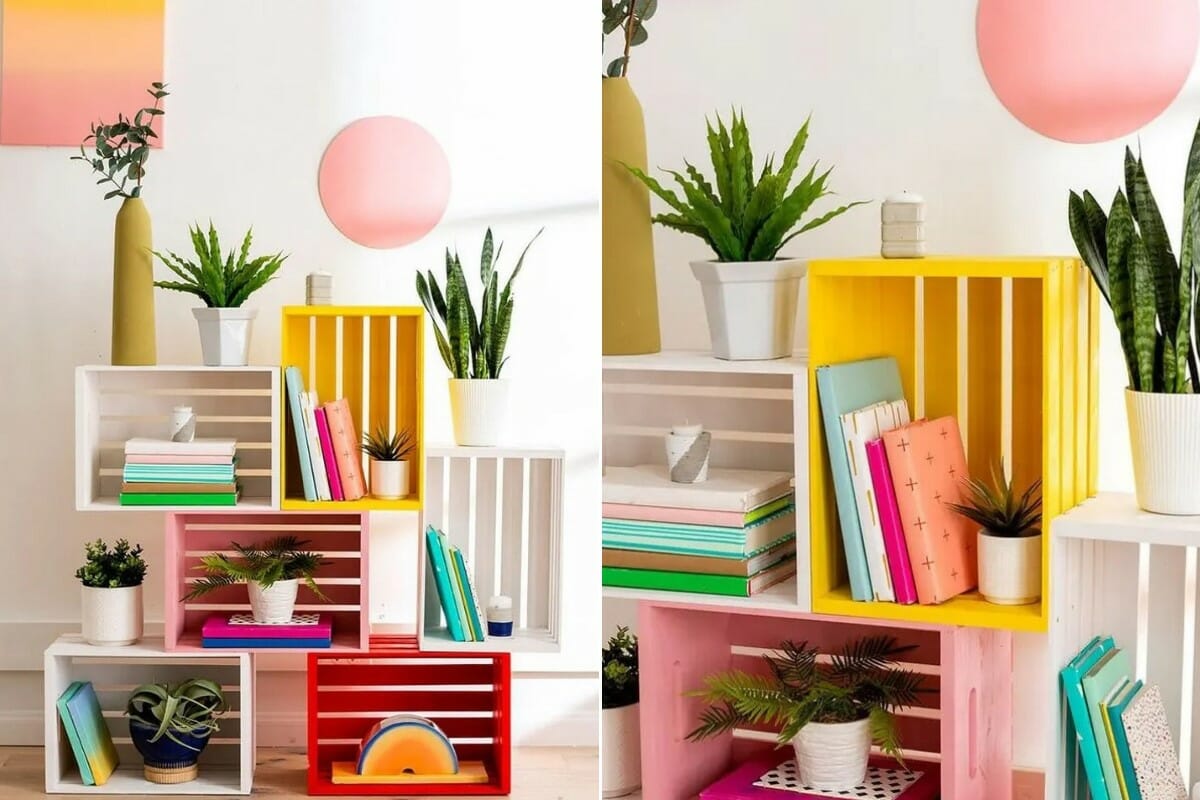 There are plenty of cute and cozy reading room ideas for kids out there. One of the more affordable ideas is to turn crates into DIY bookshelves. Simply grab your crates, paint them in vibrant colors, and stack them in a playful shape like a staircase or a bench. Now, all that's left is to stock them with books and greenery.
17.  Set Up a Reading Tent
Make reading an adventure for your little ones, either by building a reading fort from scratch or buying a kid's teepee. Not only does it make a great private storytime escape, but it's a fun playtime prop too.
18.  Bring On the Bean Bags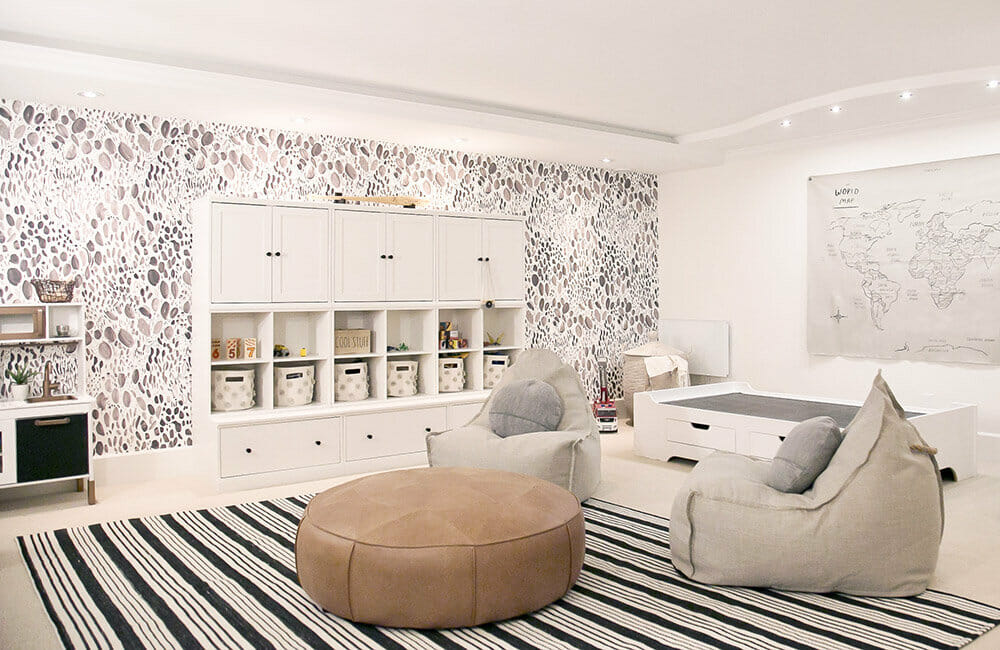 Show us the kid who doesn't enjoy plopping down in a bean bag chair. These seats are soft, squishy, and easy to get comfortable in, plus they're available in plenty of fun colors. Invest in child and adult-sized bean bags so you and your tots can enjoy their special reading room together. 
Need help making your reading room ideas a reality?
Expert help to create your cozy reading room is just a click away.  So, schedule a Free Interior Design Consultation to get started today!

[images: 1, 2, 3, 4, 5, 6, 7, 8, 9, 10, 11, 12, 13, 14, 15, 16, 17, 18, 19, 20, 21, 22, 23, 24, 25, 26, 27, 28, 29]