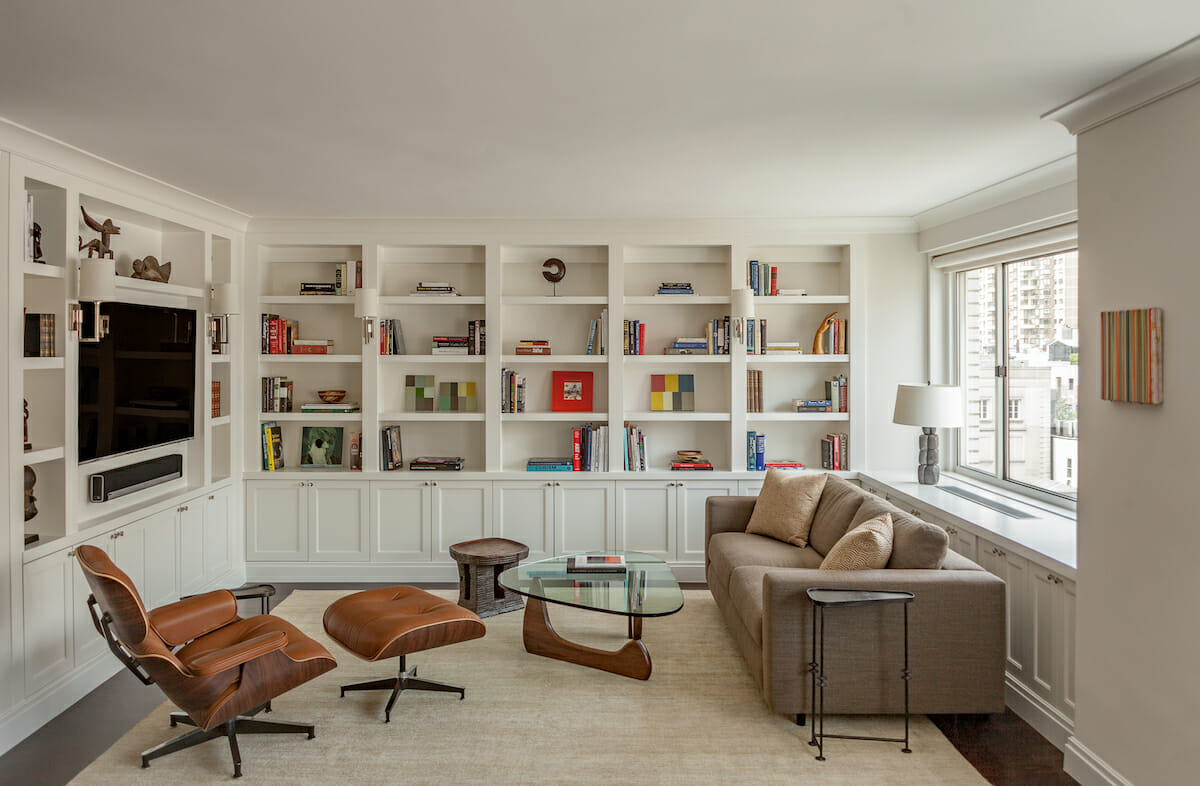 There are always new ways of making the most of your space. One of our favorite approaches includes custom built-ins that are beautifully made and highly functional. But the wide variety of built-in living room ideas can be seriously overwhelming. So, to help, we've compiled distinctive options to give your interior an instant aesthetic and performance boost. From modern shelving units to decorative wall art displays, these eye-catching additions will take your home from standard to stand-out!
Living Room Built-ins 101
Adding living room built-ins is a creative endeavor. However, there are many things to consider before embarking on this journey. First and foremost, since these built-ins remain a permanent fixture in the room, think about the ideal placement and size. Measuring the space accurately is also important to determine what type of built-in design best fits the existing layout. 
Wondering which style fits your living room built-in ideas? Then try our

 Free Interior Design Style Quiz

to find your perfect design match!
In addition, consider a customized look that will elevate your living room makeover. This can be done by selecting more unique materials, for instance, or by incorporating elaborate details and LED lighting. Finally, ensure the design ties together nicely with the rest of your decor with a thoughtful shelf styling scheme. 
Bespoke Living Room Built-in Ideas
Custom built-ins offer endless possibilities for bringing a unique designer touch to your living room. Whether you want to display books or create a stylish wet bar, these ideas will inspire you to get started!  
1. Install a Built-in Bookshelf with Custom Elements
A custom built-in home library is a great way to introduce practical storage and an eye-catching decorative element into your living room. Not only does it offer unlimited space for organizing books, but it's also excellent for showcasing decor on shelves. Create a feature wall or strategically include shelves around the room to add a modern touch. You can also maximize this opportunity by getting creative with textures and patterns. Colors or shades of wood stains will make the installation unique to your taste and style. 
2. Create a Home Cinema Built-in with Hidden Compartments  
A built-in bookcase around the TV or a fireplace can be a valuable addition to your living room. However, there are many more options. Think outside the box by adding open shelving, a pull-out TV stand, or using an artfully painted wall unit as a backdrop. Creative corner shelves that reach from floor to ceiling will make more efficient use of your space. Alternatively, consider X-shaped cabinets that split the walls into two distinct areas. You can also experiment with interesting elements, including stacking or floating drawers to keep your favorite items stored away.  

3. Incorporate a Built-in Wet Bar into the Living Room 
Built-in bars ooze a stylish and sophisticated flair. Utilizing custom built-ins for a wet bar has become increasingly popular because it promotes convenience and entertainment. Incorporate the custom unit into the living room design by taking advantage of unused space, like an empty wall nook or spandrel. Create different wine display areas and add built-in mini-fridges underneath countertops to store beers and spirits. Moreover, installing accent lighting to showcase the display will add another layer of sophistication, enhancing a distinct atmosphere. 
4. Construct a Multipurpose Built-in Bench with Storage 
Living room built-ins are a great way to maximize storage space and make the area more functional. For example, a multifunctional bench in a window nook provides extra seating, plus a storage area for blankets, pillows, and toys. Choose an attractive yet sturdy material to create a solid, reliable piece, and incorporate unique details for a touch of personality. Finally, round it off with decorative cushions to enhance its style and comfort. 
5. Spruce Up Your Living Room with Fireplace Built-ins
Built-in wall units are great for maximizing function in any living room without sacrificing style. This is especially true when it comes to fireplace built-ins. They not only provide more storage or display space, but also create a stunning feature. Plus, the style options are endless! From classic built-in wall shelves to contemporary units fitting the entire wall, these designs deliver a personalized living experience.
6. Add a Family Room Built-in Gaming Station with Storage
If you or other residents love gaming, consider setting aside a portion of the family room for a custom built-in gaming station. Outfit it with cabinets, shelves, and drawers to store gaming controllers, consoles, special equipment, and accessories. Furthermore, consider including a projector or sizeable flat-screen monitor that can be safely tucked away when not used. This will not only be an attractive, modern addition but also helps keep the space organized and clutter-free. 
7. Illuminate Built-in Bookshelves to Showcase Collections in the Living Room
Built-in display cabinets instantly add flare to any living room. These attractive features make an excellent spot for showing off memorable artifacts or your personal collections. Custom living room built-ins can come in any shape and size to fit anyone's space. Whether you opt for glass finishes that reflect light throughout the room or carved accents that create a timeless feel, they can easily become an effortless statement piece of the home. 
8. Embrace Floating

Living Room Built-in Ideas 
Floating built-in cabinets and shelves are an effective and eye-catching way to enhance storage space in your living room. Adding floating built-in elements works well for large walls with lots of space as well as tiny corners above the sofa or TV. For the best result, choose designs that will make a visual impact with their unique shape and style. They'll also be easy to decorate with plants, books, frames, artwork, or whatever fits the theme of your living room.  
Looking for custom living room built-in ideas for your home?
Our creative team of skilled professionals is ready to help. So schedule a Free Interior Design Consultation to get started today!