This luxurious neoclassical transformation elevates the living experience of a living and dining room. With sumptuous furnishings, intricate details, and a dining room with built-in cabinets, the space radiates timeless elegance. Read on as we explore this opulent blend of comfort and sophistication.
The Challenge: Neoclassical Interior Design
After a complete gut renovation, the client's home became a blank canvas. As a result, she asked Decorilla's interior designers to infuse it with new life. Armed with enthusiasm and expertise, our talented professional set out to transform each room into a cohesive masterpiece. Guided by the client's must-haves, the designers embarked on the mission to:
Create an updated neoclassical interior design that seamlessly complements the home's architecture

Maximize seating and develop the layout to its full potential

Design a stylish dining room with built-in cabinets and a living room with built-in shelves 

Make the solution functional and aesthetically pleasing
Not sure if neoclassical design is the right look for you? Then take our

Free Interior Design Style Quiz

to discover your personal decorating style today!
Inspiration for a Living & Dining Room With Built-in Cabinets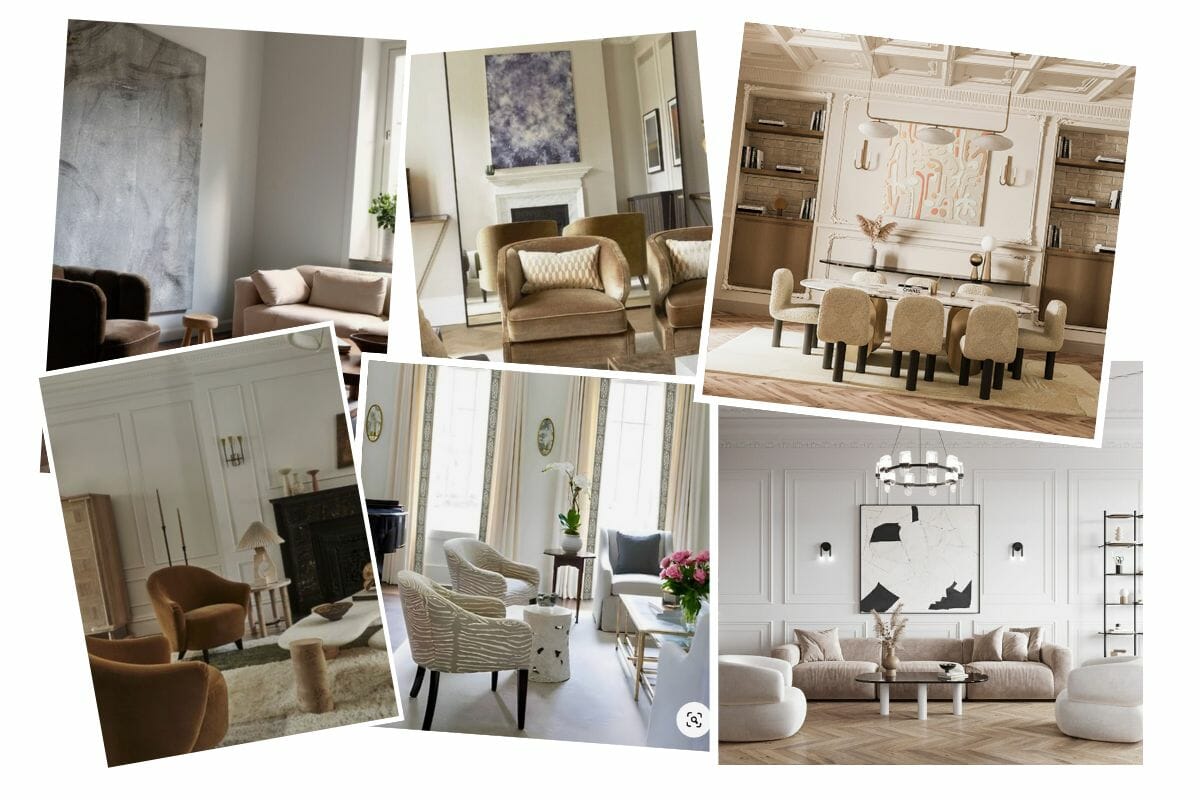 The client's compelling vision provided valuable guidance to the team, while their inspirational gallery showcased a genuine appreciation for combining vintage elements with contemporary decor. Each space oozed a harmonious balance between timelessness and elegance, emphasizing a neoclassical interior design with a modern touch. Additionally, many living & dining room images communicated the preference for neutral shades, sophisticated accents, and organic flair. 
Neoclassical Interior Design Ideas & Moodboard
When the client opted for Decorilla design services, they were greeted with a seamless experience. After completing a quick but elaborate questionnaire and enjoying a complimentary consultation, it was time to embark on the next step. Armed with valuable information, our professional design team matched them with two exceptional interior designers. Soon after, both of them presented creative visions in the shape of neoclassical interior moodboards. 
The decision was not easy, but finally, it was Selma A.'s refined concept that truly captured the client's heart. 
Selma meticulously adhered to the desired neutral, earthy color palette, weaving it seamlessly throughout the neoclassical living & dining room interior design. Moreover, she juxtaposed moody shaded accents with lighter tones strategically applied to walls, decor, and furnishings. The addition of streamlined metallic accents elevated the scheme with a style-appropriate touch of grace, while the design of living room built-ins increased the functionality. 

Neoclassical Living Room With Built-in Shelves
The result was evident. Neoclassical living room interior design featuring custom living room cabinets now exudes elegance, particularly emphasized by sculpturally designed details.  
When it comes to the overall style, Selma made sure to take all the clues from the client's brief. First of all, she aimed to complement the existing elements by incorporating pieces that stylishly blend in. She grew the design around the curvy contemporary sofas and coffee table, adding a touch of antique charm at the same time.
Considering the generous size of the neoclassical living room, the designer also had the freedom to rearrange the sofas and complement them with two extra poufs. In return, the new layout accommodates an additional conversation area with comfy swivel chairs placed around a stylish nesting table set. Such a solution allowed for seamless integration of etagere and a piano while simultaneously fulfilling the client's desire for enhanced seating.  
Carefully sourced wall art and decor elevate the visual appeal, while the patterned rug pulls all the elements together. At the same time, a small cowhide under the charming small table adds yet another touch of personality.
Neoclassical Dining Room Interior Design With Built-in Cabinets
Based on the client's preference for earth tones, the designer incorporated a range of gradient accents throughout the space. The neoclassical dining room is perceived as an extension of a living room; hence the same palette flows there coherently. Along with neutral brown tones, the design of this space explores a more organic approach to neoclassical interior design. 
The sculptural forms of the dining set, decor, and light fixtures take care of conveying visual dynamics. Layered patterns, textures, and elaborate finishes follow them in creating an alluring, memorable look. Brass details shine throughout, giving the space a touch of added elegance.
This neoclassical dining room with built-in cabinets also provided an excellent opportunity to distinguish the layout with wall decor, and the designer delivered. While the living room boasts beautiful abstract themes framed in captivating brass, the dining area displays some multidimensional art pieces.
A pair of two heavily textured 3d canvases gorgeously hangs above the arched sideboard creating a decorative vignette with a strong Wabi-Sabi character. At the same time, the bronze circular cluster forms its antipode on the opposite wall, amplifying depth and excitement.
Online Interior Design Shopping List
As part of Decorilla's service, the client received a bespoke configuration of a dining room with built-in cabinets. The design of custom living room cabinets and shelves was also included, but that's not all. In addition to those items made to measure, the comprehensive package comprised a handy interior design shopping list with exclusive trade discounts on other design elements. It maximized the practical benefits for the client, while the complementary concierge service truly made the most of their experience.
Neoclassical Interior Design Top Picks
With a thoughtful sampling of key pieces, you also have the power to completely transform an entire room. And if this neoclassical living and dining room with built-in cabinets have ignited your inspiration, explore our curated furnishing selection: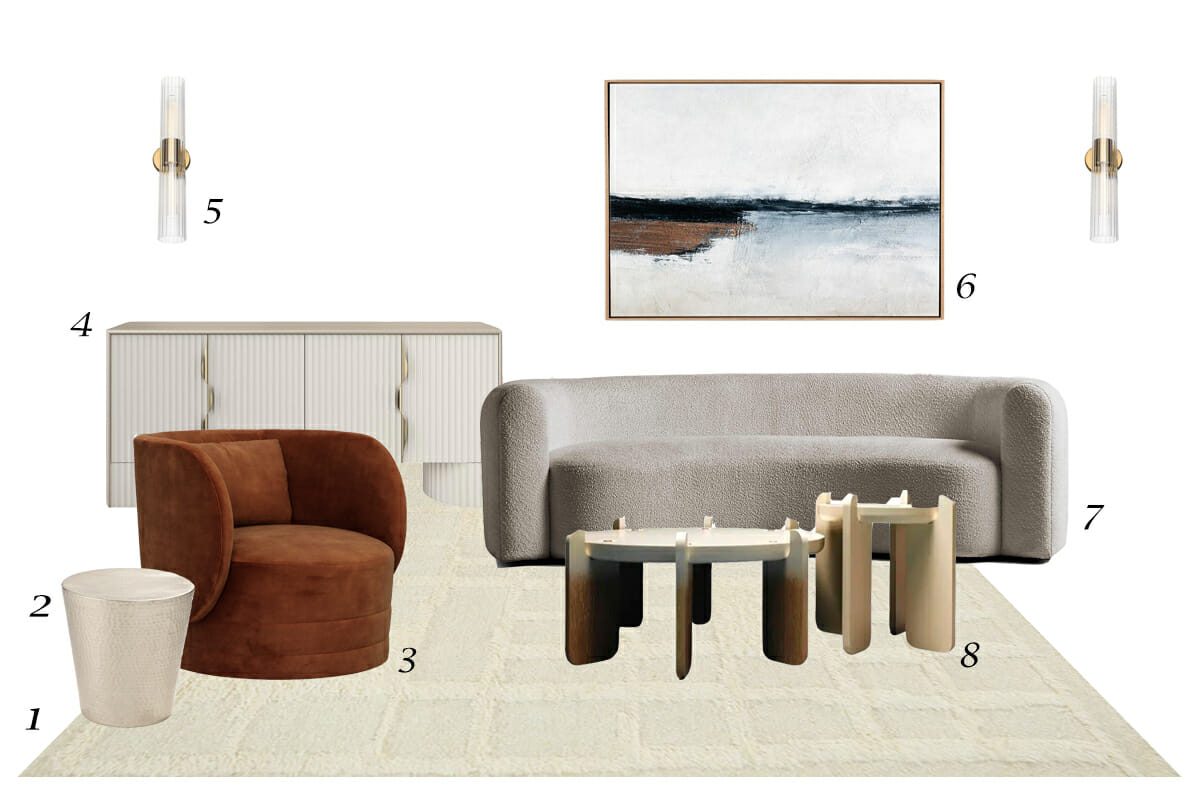 Start your own home transformation today!
Let's make your dream home a reality together. Schedule a Free Interior Design Consultation to explore your options today!