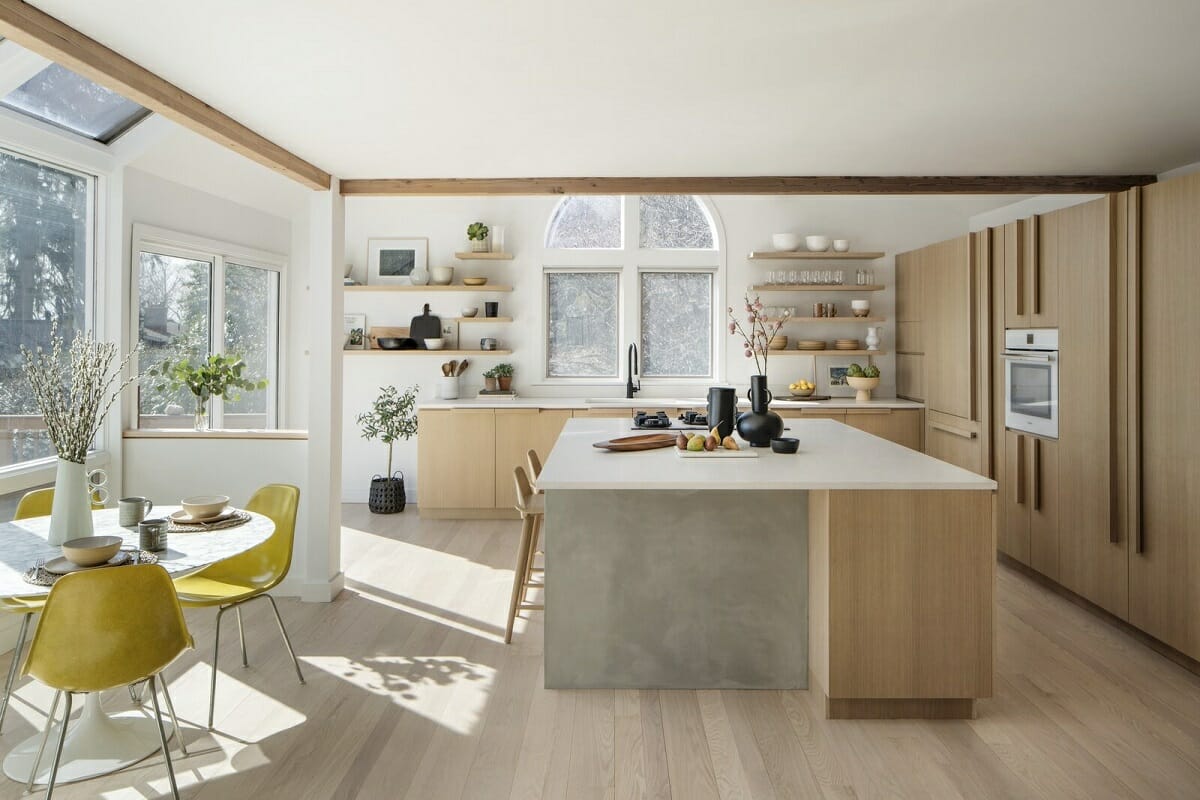 From the back rooms to the front-and-center in a home, kitchen design has come a long way. Now these spaces fuel beauty, ergonomics, and life itself! It's no wonder such a vital part of interiors is constantly seeing upgrades and revamps. And kitchen trends of 2022 promise to be even sleeker, greener, and more convenient. Let's see what the future has in store!
2022's Kitchen Trends Tips 
With dozens of trendy interior design looks and kitchen remodel ideas for 2022, it'll sure be easy to get swept up. That's why it's useful to be prepared and able to make sense of the waves of inspiration. Here are a few pointers to guide you in the right direction.
Be Bold with Materials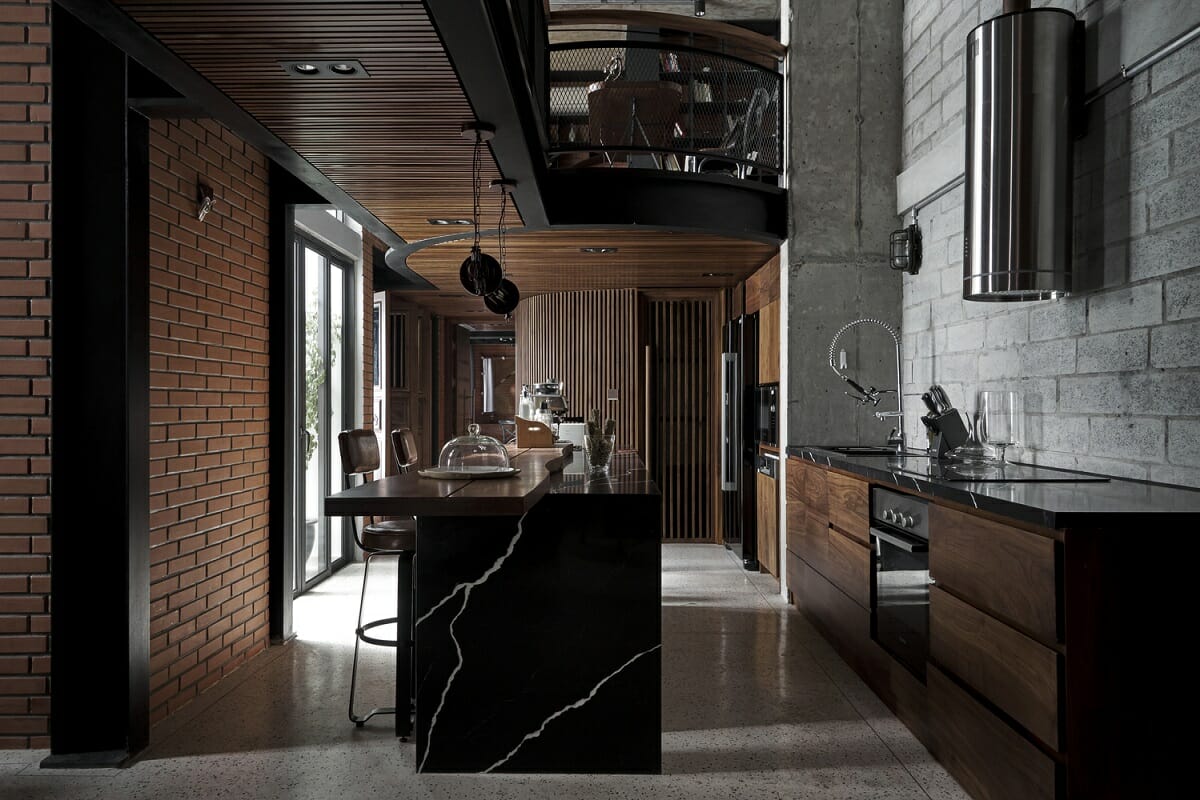 Explore the riches bare materials offer. Kitchen design and decor ideas for 2022 highlight the beauty and form structural elements bring. So, why not go on your own exploration to find the raw materials perfect for your kitchen? Use your existing structure as a guide or try reliable kitchen design for expert insights.
Ready to update your home with 2022 kitchen trends, but not sure where to begin? Schedule your Free Interior Design Consultation to get started with the finest kitchen interior designers today!
Stick to Your Theme
With so many stunning kitchen trends coming in 2022 and beyond, it's important to be mindful when incorporating them into your home. Choose a trend or two that fit your interior style. The look and feel must correlate with your current design for balance and harmony. For a full-scale renovation, remember to consult a kitchen renovation guide to ensure a great result.
Think Future Forward
Trends are moving toward sleeker and smarter kitchens. So when you feel unsure, pick cordless, handle-less, or touch-to-open style designs. These are likely to stick around for a long while as smart technology integrates with everyday living. 
Top Kitchen Paint Colors for 2022
Paint makes the interior world go 'round. Moreover, it's often one of the most cost-effective changes you can make in your home. For 2022's kitchen paint trends, nature-inspired hues and sophisticated shades take center stage.
1. Sunny Celebration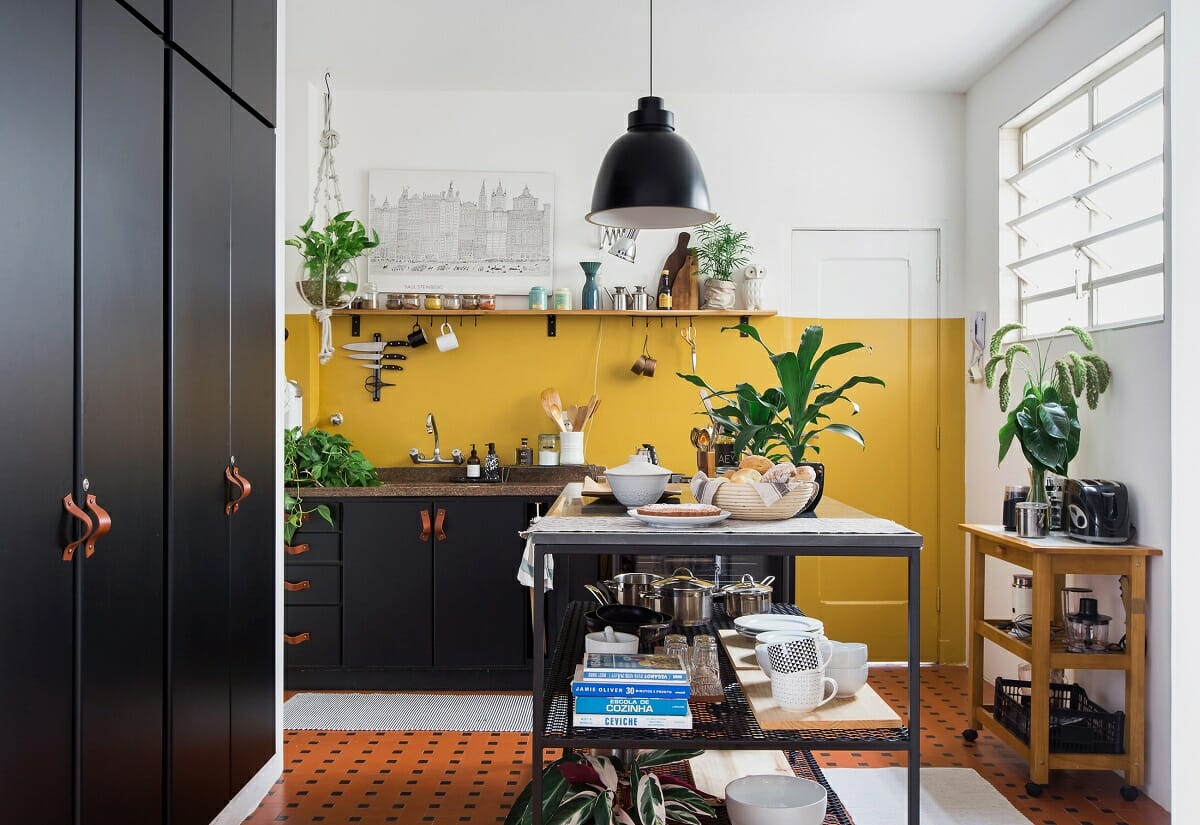 Yes to more color and brightness! We're seeing a spritely turn for the kitchen paint colors of 2022, and we couldn't be happier. Expect more yellows and burnt oranges set against moody blues or light whites. The contrast will make the hues pop even more! 
2. Two-Tone Upgrade
Known and loved for their versatility, two-tone kitchens open many avenues of exploration. That said, as design becomes more streamlined, complementary shades suit the look most. Different tones of one color, like grey, can create an impressive arrangement of light and dark surfaces.
3. Natural Pink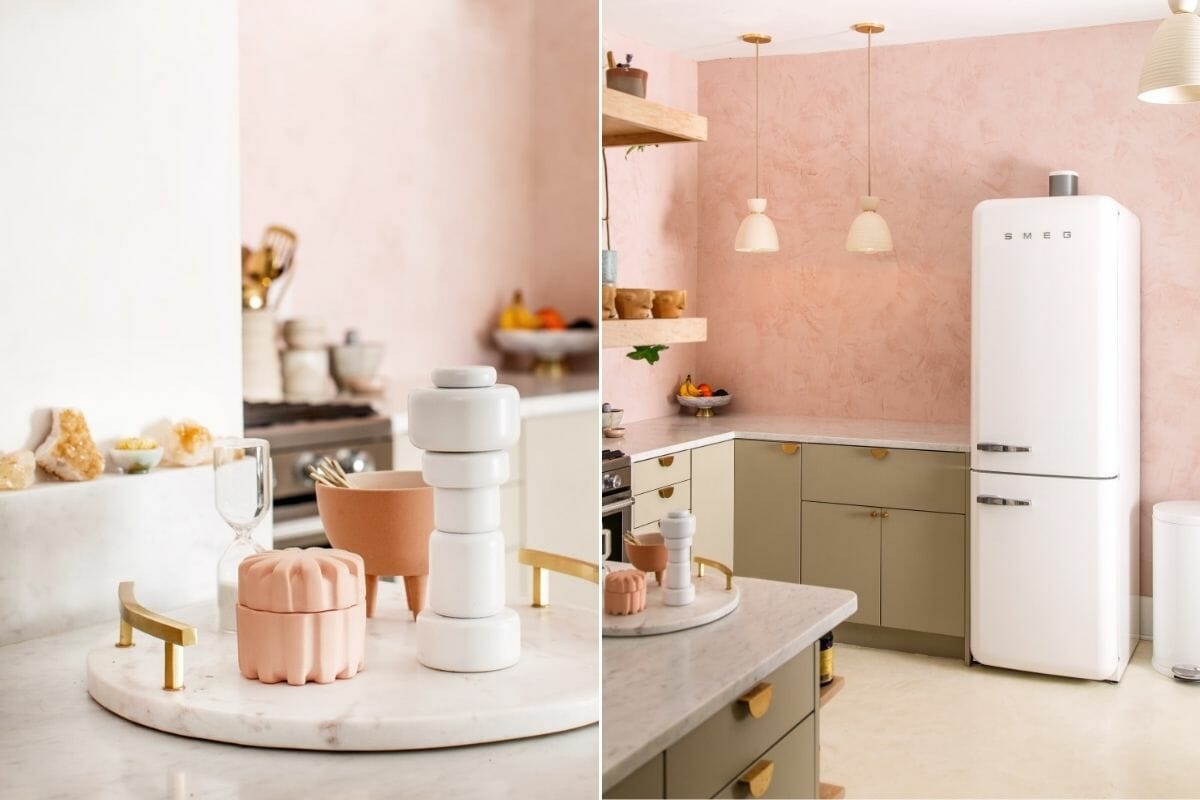 Pastels and bright contrasts make way for neutral and natural shades. And even pink falls under this kitchen trend. The rosy color is no longer exclusively feminine. Now it's also ideal for neutral and refreshing interiors.
4. Sands of Time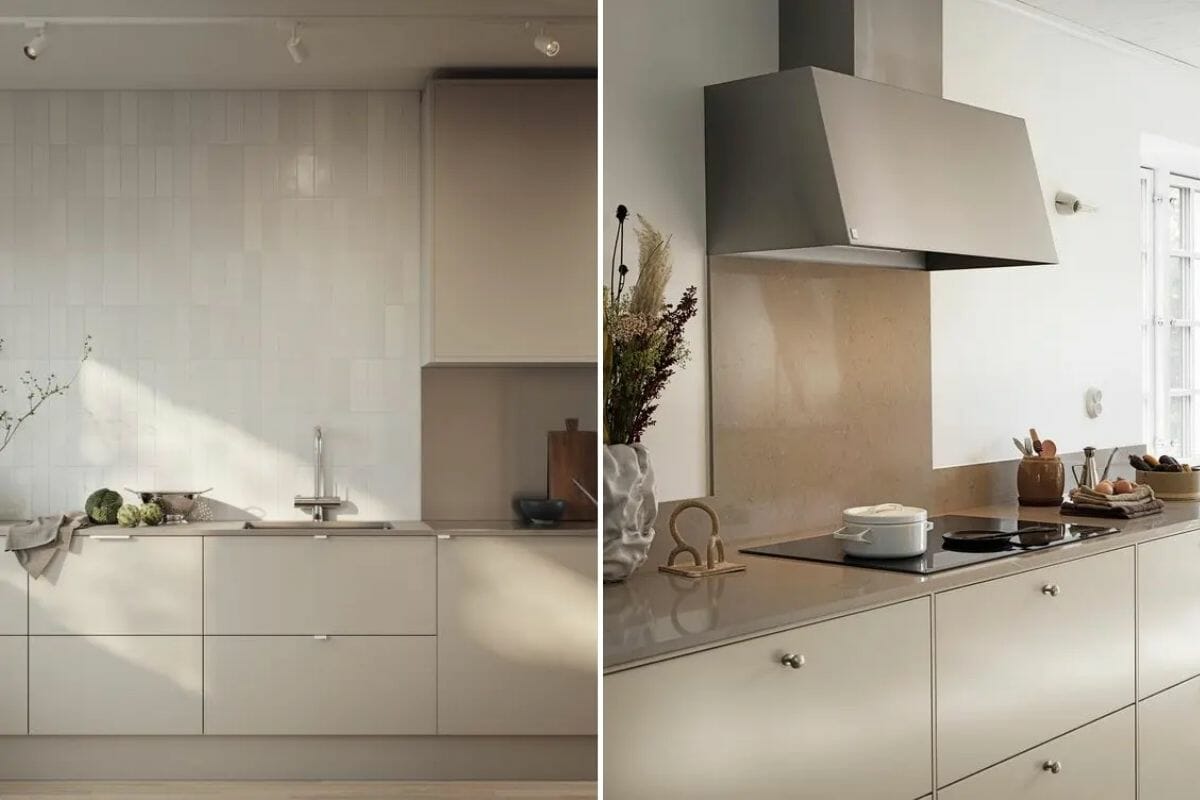 The future looks serene, especially with dune-colored kitchens on the horizon. Minimalism and Scandinavian designs pair up to show just how cozy and calm a monochromatic kitchen can be.

Kitchen Cabinet Color Trends for 2022 We Love
Updating a cupboard face is one of the easiest ways to add value to your home. Moreover, you can make the interior feel trendy almost instantaneously. And kitchen cabinet color trends coupled with one of the top countertop trends of 2022 can make a fantastic statement.
5. Matte Grey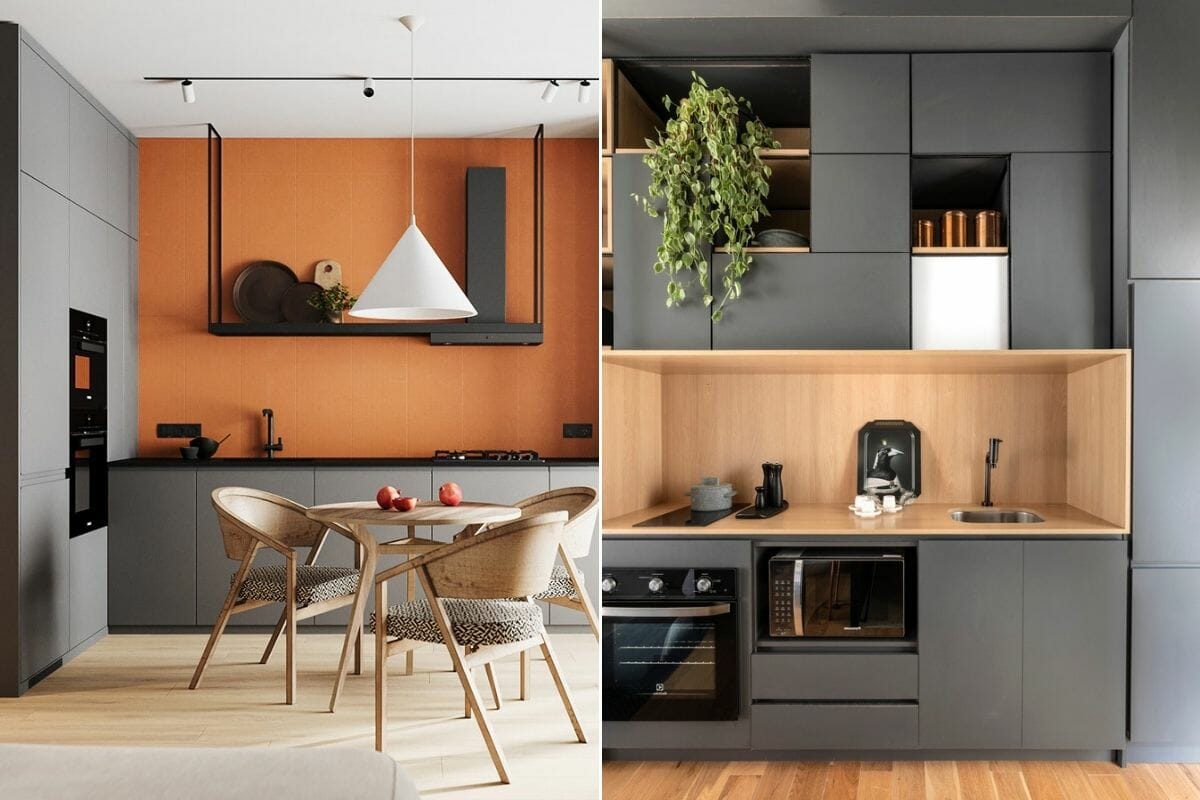 Touch-to-open cabinets in a matte grey look futuristic and stylish, without a doubt. Once these cabinets sit in a warm-toned interior with wood floors or a fiery backsplash, they'll be bold and memorable as well.
6. Nature-Inspired Green & Oak 
Whether living or faux, bringing greens into interiors is one of our favorite things to do. The design world agrees as kitchen cabinet colors of 2022 also lean toward woodland-inspired hues. Expect to see more brown and greens pairs next year. 
Dashing Kitchen Backsplash Trends of 2022
A little can go a long way. This is especially true when talking about kitchen backsplash trends of 2022. Yet, it looks like a lot can go a long way too. More or less – you get to choose in the new year!
7. All that Glitters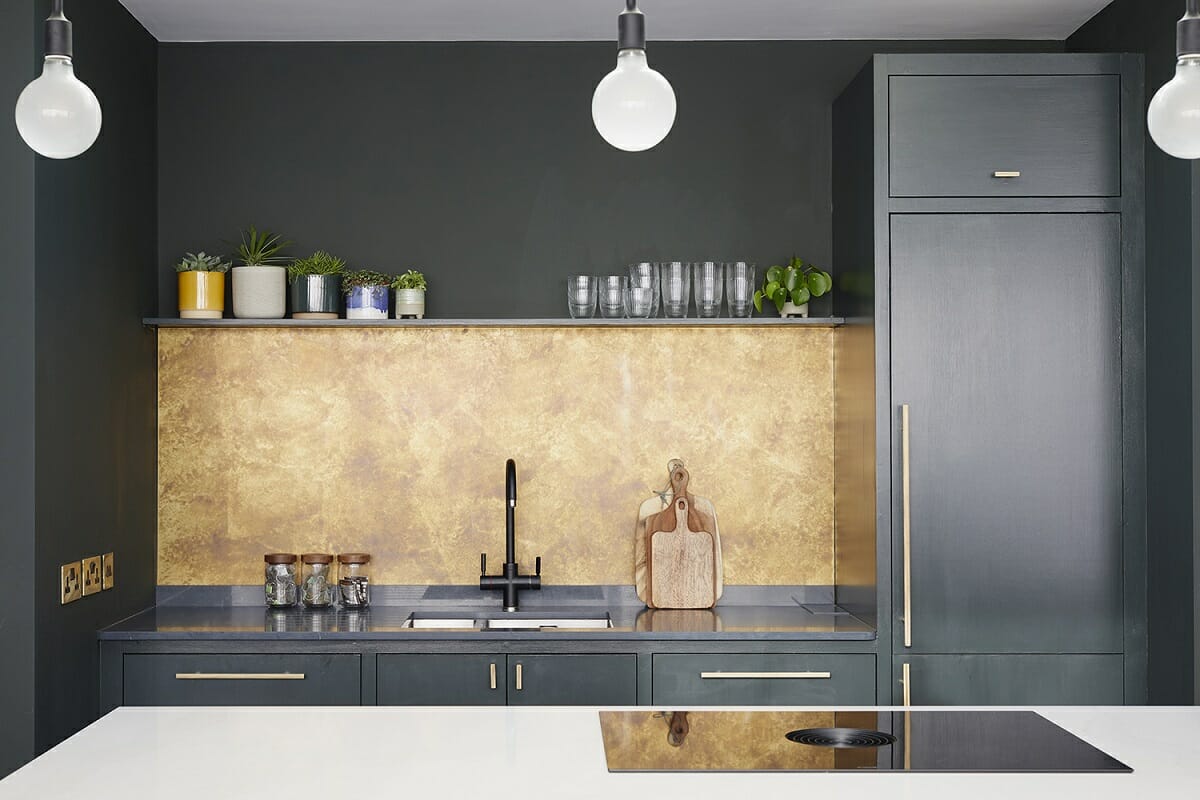 A metallic backsplash next to dark cabinets is one of the favorite kitchen trends of 2022. It not only adds a touch of luxury, but it also reflects light for more shimmer and brightness.
8. Countertop Continued
A beautiful countertop can look stunning from any angle if you include the walls. This look pairs so well with waterfall kitchen island tops. It creates a seamless and tasteful design. It's also one of the kitchen backsplash trends of 2022 that truly make a sophisticated statement.
9. Backsplash & Beyond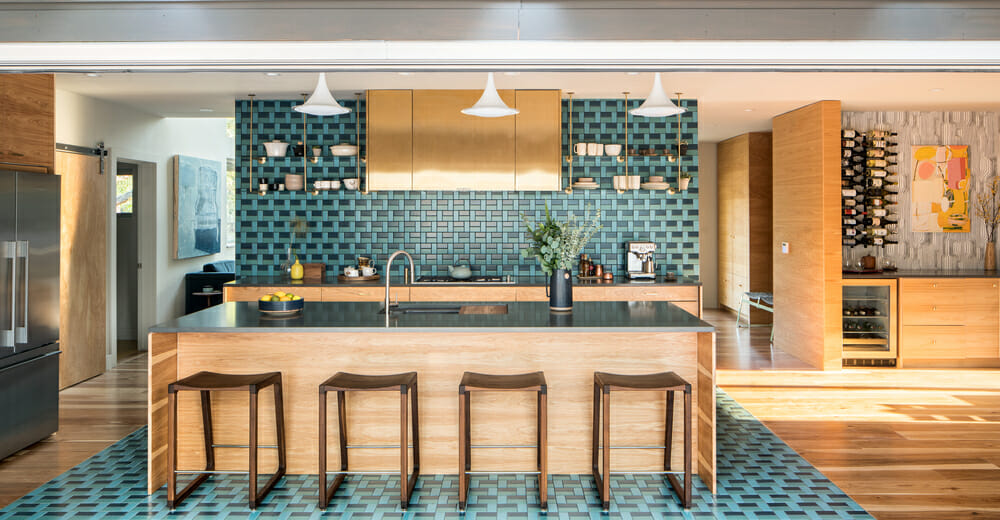 With so many stunning tile designs on the market, it's a pity to restrict your favorite to one backsplash. But, no more! Kitchen trends for 2022 include a wrap-around backsplash, reaching from behind the stovetop to the ceiling and onto the floor.
Practical Kitchen Remodel Ideas of 2022
Renovation is exciting. But more importantly, it can improve your everyday life. So, to match 2022's kitchen trends, the hottest looks also include awesome remodel ideas.
10. Practical Alternatives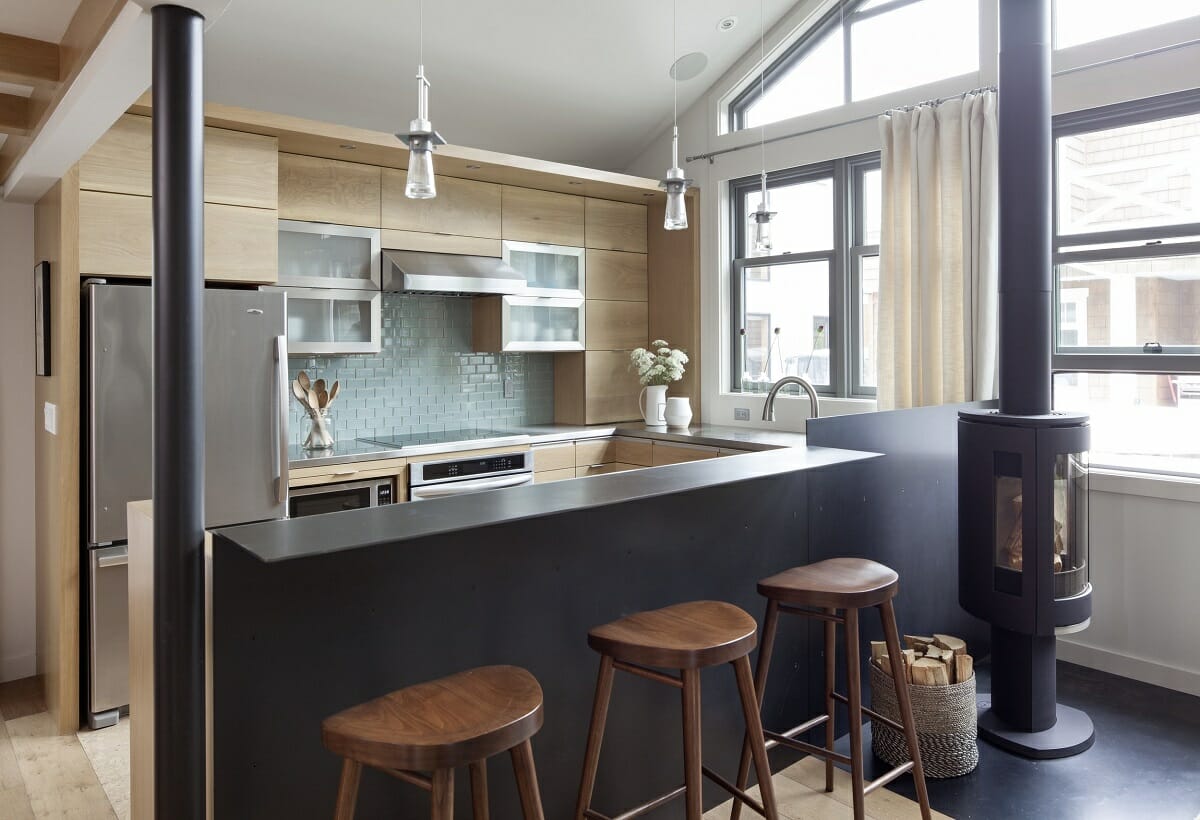 Structural materials are being used in greater ways and to a further extent. Here steel shines particularly brightly. Not only can it make a durable and hygienic countertop, but it can also form the base and be a divider too. By stretching the material to deliver on two or more requirements, designers are saving space and making a statement. It's beautifully minimalistic too! 
11. Fit to Size 
Big or small, 2022's kitchen trends can be fit to scale. With this in mind, stick to the practical side of design by focusing on function first. The form will follow. As long as you include a fridge, cooker, sink, work surface, and storage space, the design can be as trendy as you like. That said, your color scheme can impact how big a room feels. Light colors can make a space feel spacious while dark colors give an intimate and cozy air. 
12. Streamline
Giving your home a makeover can be a big task. Fortunately, one of our favorite trends of the new year is keeping things simple. So, when it comes to remodeling your hub, keep this in mind. Simplify your color scheme – one color can also work – and incorporate different finishes for primary surfaces.
For instance, your kitchen cabinet colors in 2022 can be white and perfectly balanced next to marbled countertops and a white ash floor. Round it off with minimal black lighting and sleek barstools. 
Designer Kitchen Lighting Trends for 2022
Lights can make a room look incredible. The same goes for a kitchen, and here the lighting is especially crucial. Various types of kitchen lighting can make trends of 2022 stand out or be trendy themselves.
13. Slimline Statement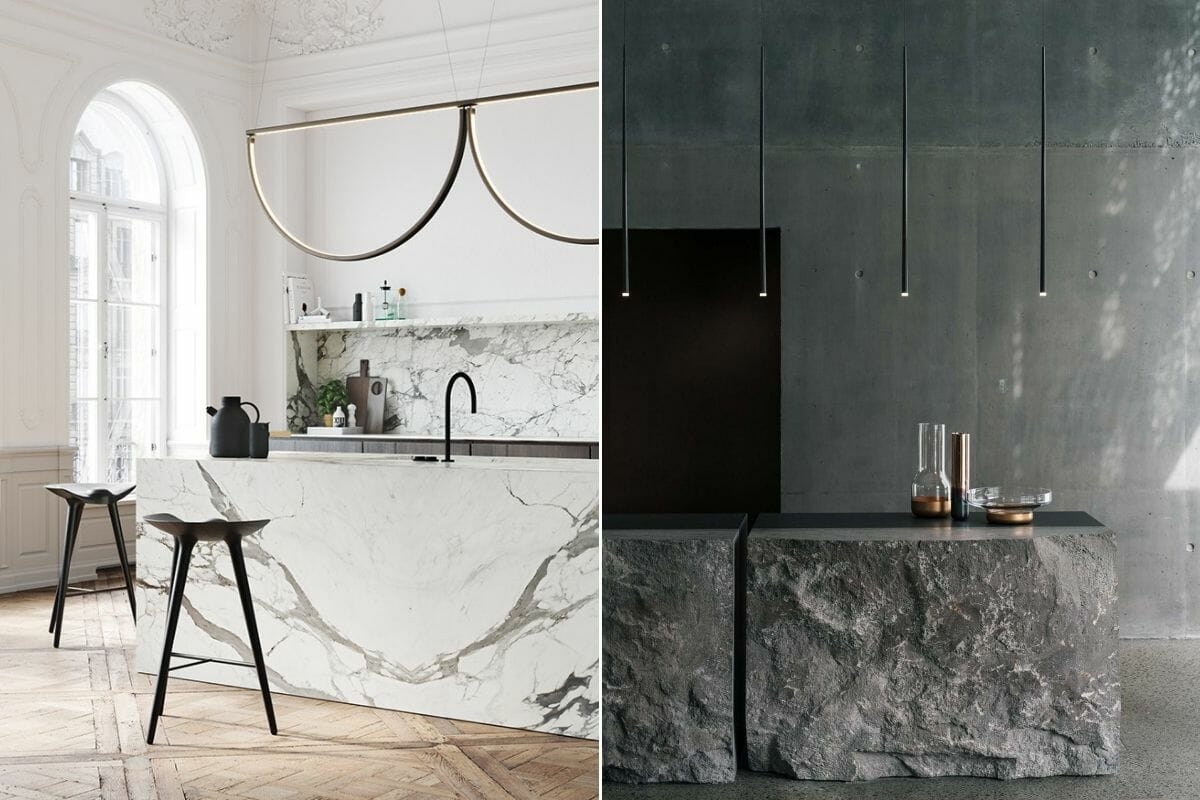 Some big and bold lighting trends still linger on, but for next year things turn to subtle shapes. Not only do these allow for the delicate designs to shine, but they also gently illuminate tranquil kitchen paint colors in 2022 and beyond. Expect teardrop-shaped pendants and line chandeliers in more interiors in the coming years.
14. Elevated Shelving
Kitchen lighting trends 2022 are sleek and refined. We're seeing modern and minimal principles merge into one to provide clean, purposeful lines and impactful design. Lighting is one such avenue. Under-cabinet lights, for example, now make a subtle but striking feature when paired with floating shelves.
Chic Kitchen Decor Ideas for 2022
Tasteful finishing touches can make a house feel like home. With kitchen décor ideas of 2022 as chic and classy as the main trends themselves, there is much to love. 
15. Large & Living Plants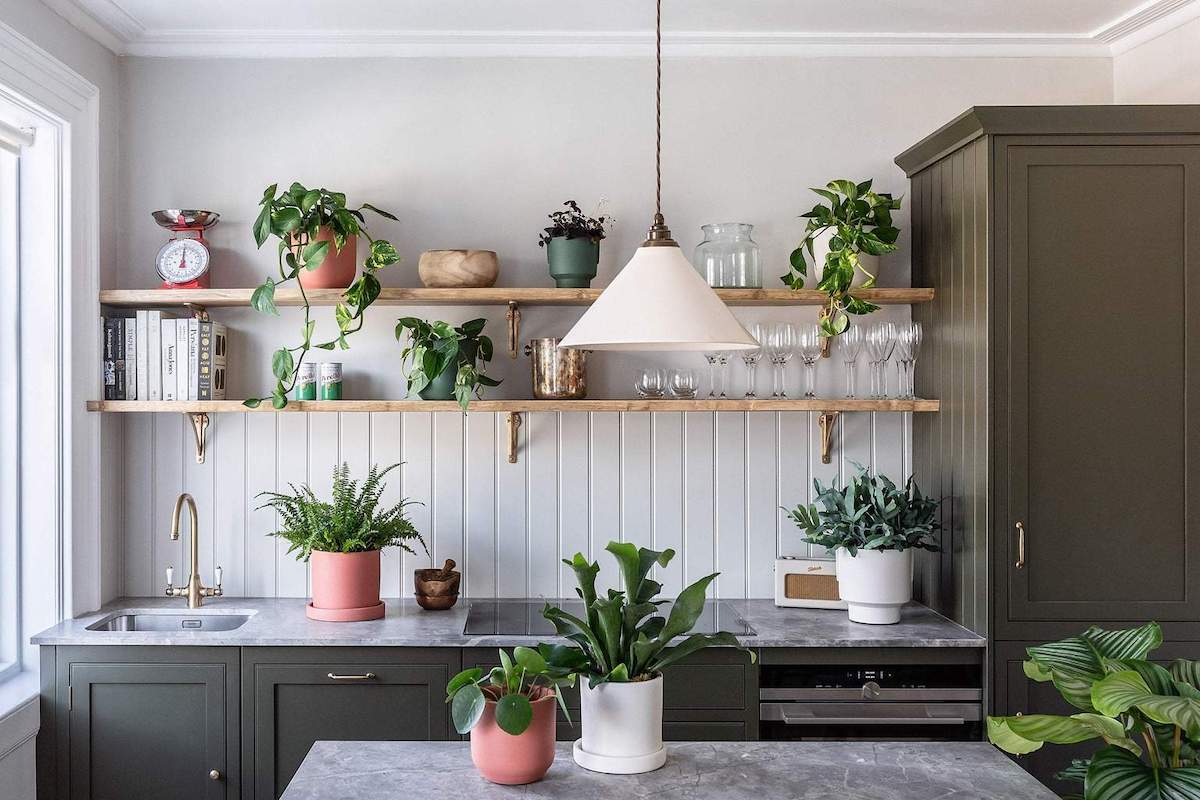 Plants invigorate a space instantly. Bring new life into your interior with a vase of lush foliage or include a few of your favorite houseplants. A few blooms in oversized vases can certainly make kitchen backsplash trends of 2022 shine.
16. Neutral & Nude
Greener, eco-friendly kitchens come with wiser and cleaner décor choices. Furniture and essential items often double as kitchen decor ideas for 2022. This will lead to less waste and more mindful designs. 
Durable Kitchen Countertop Trends 2022
Innovative materials and product design always lead to exciting new trends. Some of these also happen to make great kitchen remodel ideas for 2022.
17. Double Kitchen Islands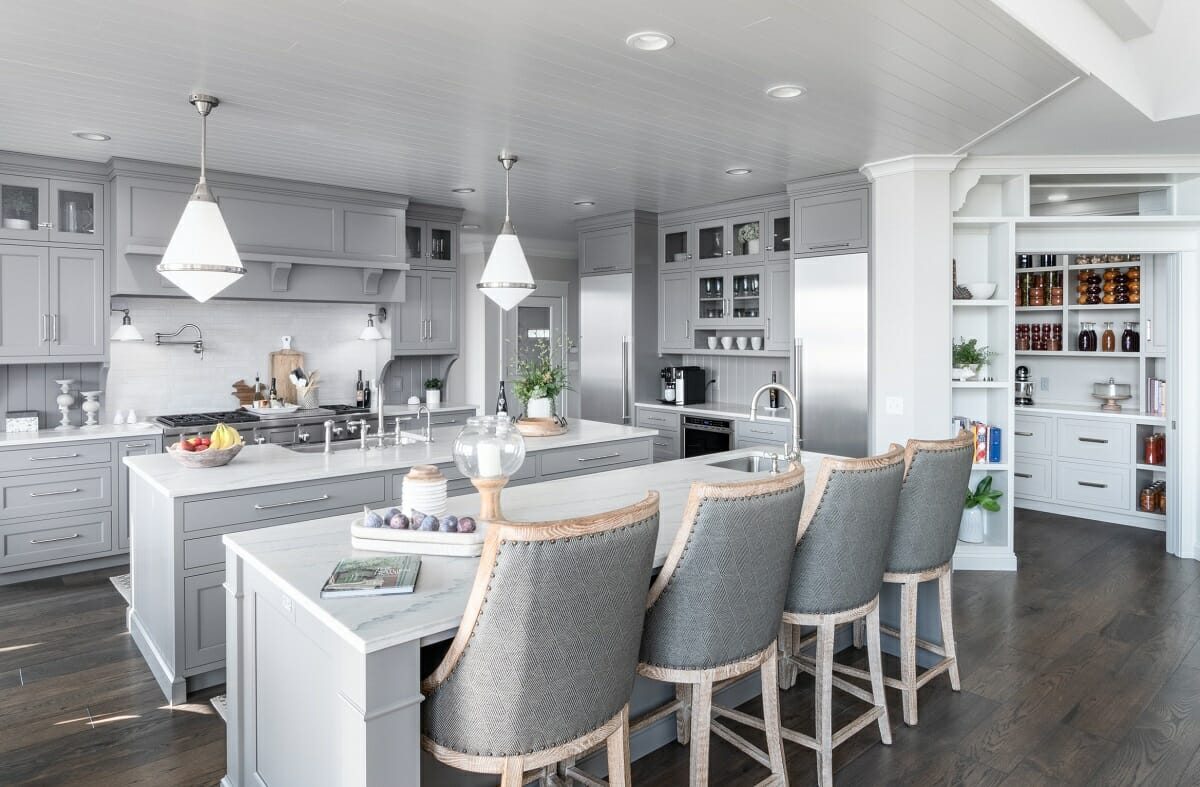 When one's not enough, get two! Kitchen countertop trends for 2022 are leaning towards spacious worktops and leisurely seating. With two kitchen islands, you can have both. Plus, you'll be able to work on a separate bench, keeping the other one for entertaining clean and free for mimosas or yummy snacks!
18. Copper Look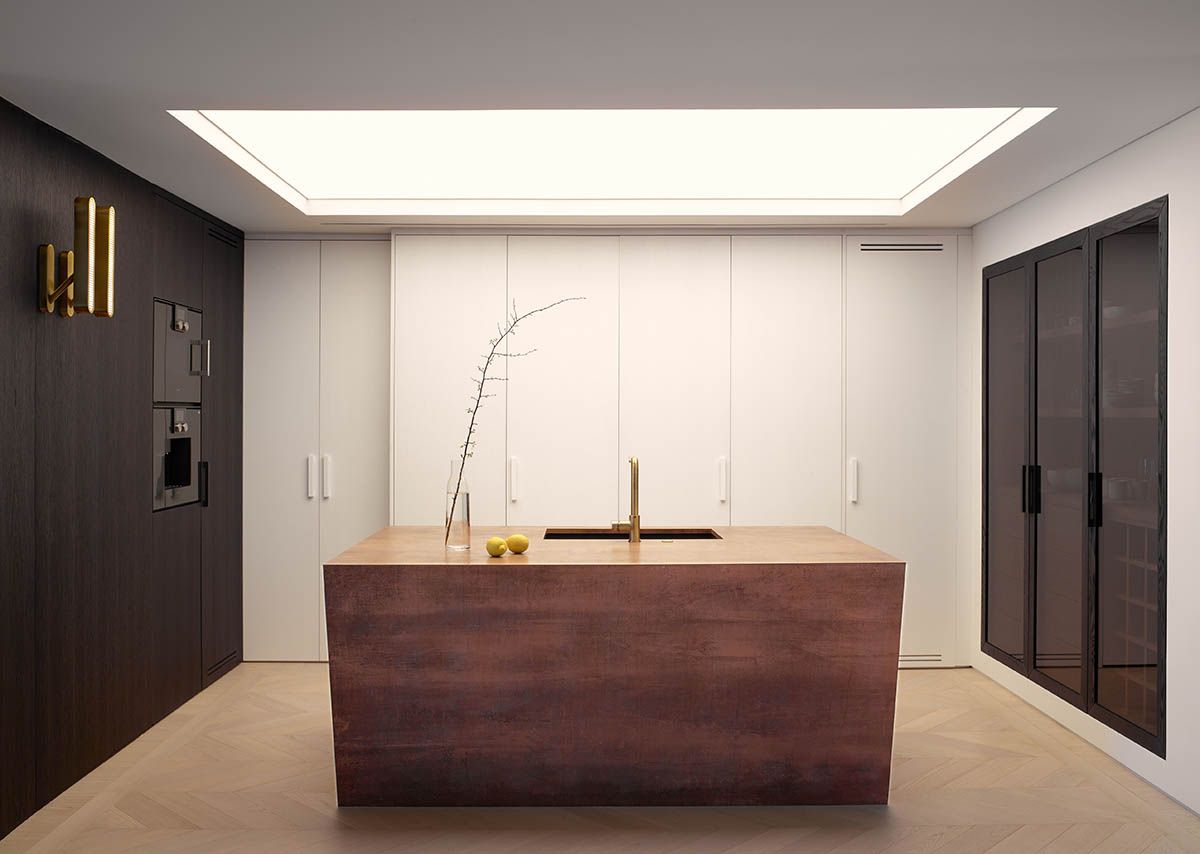 Few things make a statement quite as confidently as a complete copper-esque kitchen island. We're excited to see this robust element feature in elaborate and restrained styles alike. Its versatility comes from its earthy hue and organic shading. Copper can truly fit in anything from a Japandi to an eclectic interior.
More than Utilitarian Kitchen Sink Trends 2022
Design innovation touches every nook and cranny of a kitchen. It even reaches the humble kitchen sink, making it just as stunning as its fashionable shell. 
19. Sink with L-Shaped Faucet
From vintage to round to rectangular, faucet design can bring so much character to a kitchen. And 2022's kitchen trends see yet another change. We'll be moving into an era of L-shaped taps, and we can't help but feel excited. These slim fixtures are not only easy on the eye, but they're also practical. Thanks to their minimal form, there is no chance of pots or bowls catching on a tap's curve.
20. Farmhouse Metal
More industrial but still charming, the farmhouse sink gets a masculine makeover. As a recessed kitchen sink, these pieces stand out more in an interior, making them more of a focal point than covered alternatives. Sleek and striking, it's no wonder it's among 2022's kitchen trends.
Stately Kitchen Hardware Trends 2022
Kitchen hardware makes up the reliable parts we often overlook. In the coming year, design trends are so refined, they all but disappear for a trim and stylish interior. 
21. Barely There
A dominant theme for kitchen hardware trends of 2022 is allowing smoother surfaces with fewer visible pulls and handles. Touch-to-open cabinets and drawers ensure flush surfaces and bump-free walks in the kitchen. Less visible external hardware means other elements shine more. Without the visual clutter, fire-treated wood cabinets or accent lighting truly stand out.
22. Gentle Industrial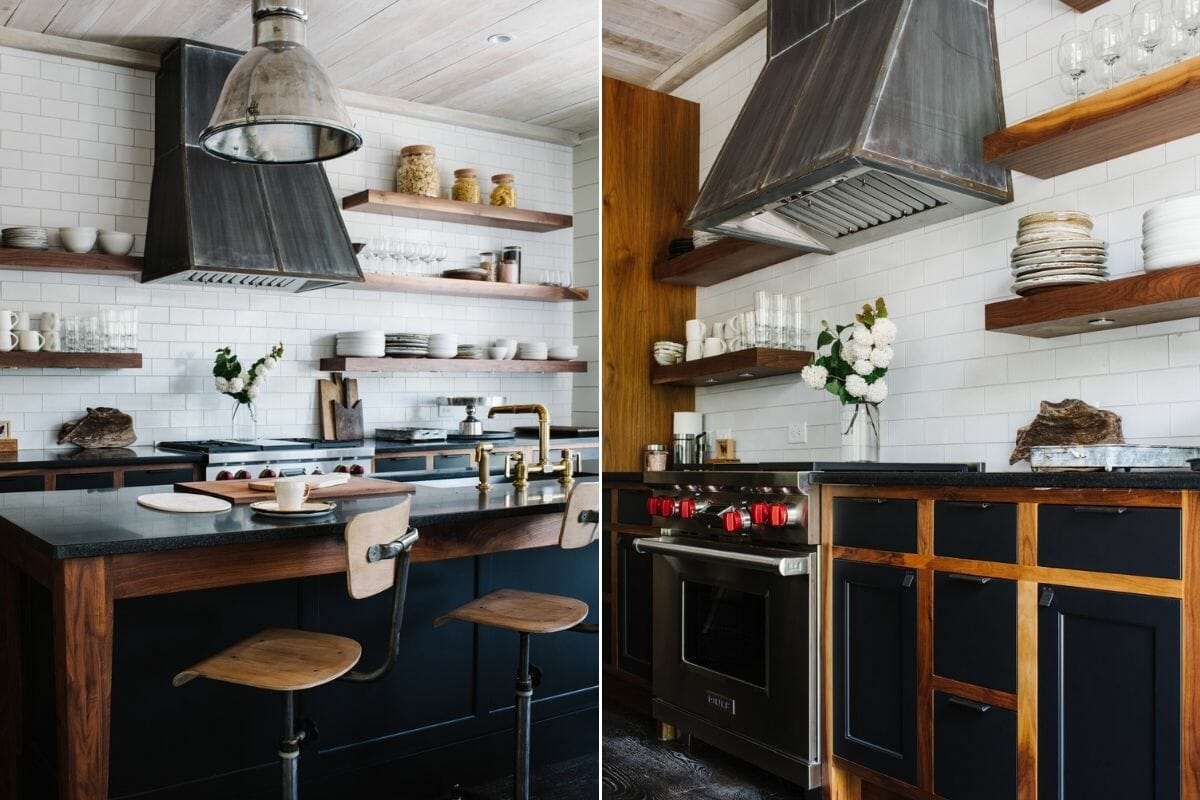 Steel handles and zinc hoods tell us the charm of an industrial style still lingers in present-day designs. This time, however, the rough elements become sleeker to suit a contemporary narrative. Door pulls may have aggressively sharp lines, but they are delicate in size to fit a clean design. So too range hoods may look vintage but are shapely and not excessive. 
Kitchen Appliance Trends that Amplify Convenience in 2022


Design 
trends
 move in unison towards streamlining and simplifying kitchens. And kitchen appliance trends sit at the forefront of what's hot in 2022. 
23. Hidden from View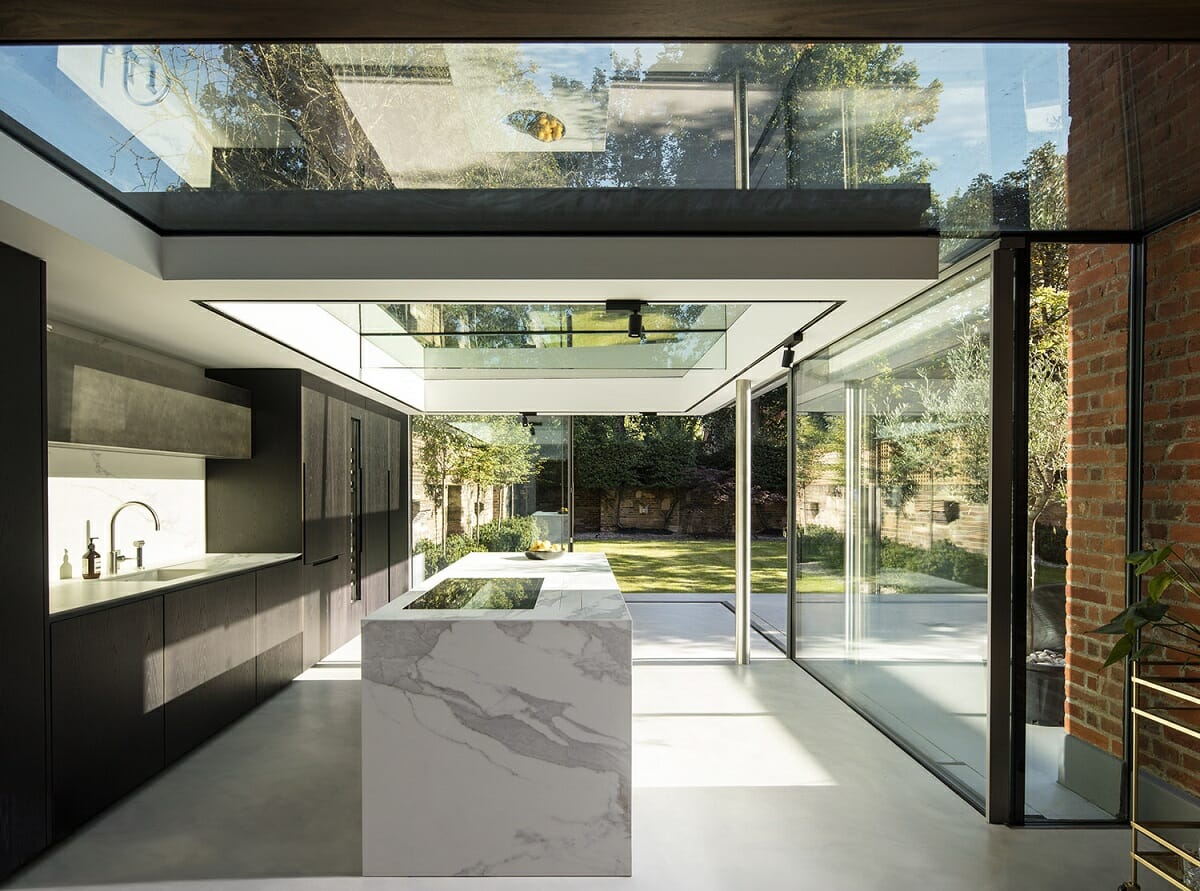 Thanks to the merger of product design and interior design, functional items can form part of a room's structure. Trendy fridges, for instance, come with cupboard door fronts and ovens sit behind bespoke sliding doors. All this results in the ultimate clutter-free kitchen.
24. Fully Integrated Smart Kitchens 
Smart technology allows for smaller, more conveniently shaped appliances in the kitchen. These products not only look high-end and impressive, but they can also make life a little easier. A smart fridge, for instance, can let you know when you're low on a particular grocery item, like milk, tell the time, and update your schedule in seconds. It's no wonder they make the list of 2022' kitchen trends!
Thinking about a kitchen update?
Your kitchen can be the highlight, bringing family and friends together through a stylish central hub of the home. If you want to spruce up your design, get in touch! Schedule a Free Interior Design Consultation now to get started today.

[images: 1, 2, 3, 4, 5, 6, 7, 8, 9, 10, 11 ,12, 13, 14, 15, 16, 17, 18, 19, 20, 21, 22, 23, 24, 25, 26, 27, 28, 29, 30, 31, 32, 33, 34, 35, 36, 37, 38, 39, 40, 41, 42, 43]