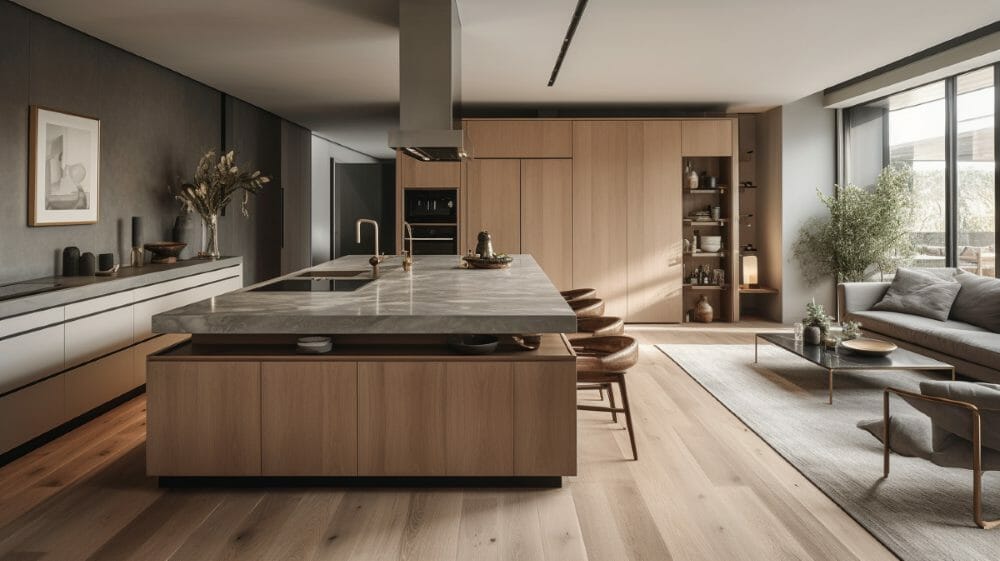 Today, a kitchen island can make or break the aesthetic and functionality of a kitchen. Gone are the days of an island simply adding more counter space. With the popularity of open concept layouts, islands have become a visual asset and often the kitchen's main focal point. Kitchen island design is now a matter of beauty as well as function, a social hub of the area suited for multiple uses. Read on to discover our favorite kitchen island ideas of the moment!
Trending Kitchen Island Ideas
Kitchen island ideas are about functionality, above all. They provide more work surfaces and extend available storage by housing hidden cabinets and drawers. Also, they can double as breakfast bars or add some casual seating spots for kitchen entertaining. But the best part is that you can use them to easily refresh the look of your kitchen with the latest trends by changing only chairs or a countertop.
Need help choosing the perfect kitchen island ideas for your home

? Then, schedule a

Free Interior Design Consultation

to get started with a top designer today!
Double Functionality Kitchen Island Design
The best kitchen designs require attention to functionality. And kitchen island sink ideas are a great way to deliver on added work and wash up space. If you like the idea of adding a sink, be sure your island is large enough to accommodate the fixture. You don't want to lose the entire counter space to the basin and facet. In addition, opt for a smaller undermount sink to keep the design streamlined.
Make a Statement
Your kitchen island design can also be the star of the show. Make a statement with luxury design choices like veined marble countertops, gold fixtures, or impactful island lighting ideas. As a result, this will make the perfect space for friends and family to gather around, while you show off your designer kitchen!

Small Kitchen Island Ideas
While it may seem that kitchen island ideas belong only to spacious rooms, the reality is quite different. Small kitchens often lack sufficient workspace. A cleverly designed island can bypass that issue, bringing several additional benefits to the table.
Moveable and Small Kitchen Island
In a narrow kitchen, a galley layout with an island can work beautifully. However, a stationary builtin island might not be the best option. For small kitchens, consider a moveable cart on wheels that can be tucked out of the way or a counter-height table. Moreover, a table with an open bottom will keep the space feeling airy and unobstructed.
Open-Concept Kitchen Island Design
Small kitchen island ideas can perfectly separate the kitchen from the living room, both visually and functionally. That is a valuable asset for saving a few precious square feet. When tight on space you can also skip a dedicated dining table and have your meals at the island bar.
Kitchen Island Lighting Ideas
There's a good reason why kitchen island pendant lighting ideas are found everywhere nowadays. These fixtures provide good light dispersion and help establish a good visual balance. They are also available in a range of styles and materials, easy to fit in different interiors. However, if you are looking for something with a stronger character, there are plenty of other solutions to consider.
Statement Kitchen Island Lighting Ideas
For a serious "wow" factor, consider replacing the standard kitchen island pendant lighting with a gorgeous statement crystal chandelier. Alternatively, you can also go for a pair of smaller chandeliers over the island, or use one over the dining table. It's best to keep the other features low-key to maximize the fixture's visual impact and avoid the space looking overdone.
Alternatives to Pendant Lighting 
Pendants aren't the only kitchen island lighting idea. There's a lighting style available to match anyone's preferences. Task lights and track lighting are a great alternative. Especially since they can be adjusted to shine wherever the light is needed the most. In addition, they're modern, and very design-friendly with a variety of metal finishes, like polished nickel, chrome, or antique brass.
Kitchen Island Ideas with Seating
Not everyone is a fan of using seating with a standard kitchen island design, mostly due to its linear arrangement. While it's true that most kitchen islands come in a long, rectangular form, exceptions are both possible and desirable. Have you ever thought of a square, abstract, or even round base as a kitchen island idea?
Hybrid Kitchen Island Seating Design
Traditional rules are clear – a kitchen island is a large feature in the middle of the kitchen, and a dining table is a separate, independent setting. Still, the modern lifestyle often requires compromise. Creative crossovers are a thing, and they can find a place in your kitchen, too. Merge an island with a dining table and use the best of both worlds at all times.
Kitchen Island Ideas With Bar Stools
Dining chairs mainly provide the most comfortable seating, but counter stools have a couple of other advantages. For instance, they are more space-savvy and easy to tuck – or stack -neatly away. Depending on the design, it's possible to even disappear them entirely under the island and free the floor for traffic. In addition, counter stools can be quite a stylish addition to your space.
Large Kitchen Island Ideas  
A long or extra-large kitchen island design may seem overwhelming at first. But, when the floor space is not an issue, it does bear functional benefits – starting from the ample storage. Large kitchen island ideas allow a lot of creative freedom and solutions that turn this utilitarian amenity into a striking focal feature.
Double Island Kitchen Layout
The rise in popularity of the two-island design emerged from the open concept floor plans, above all. The idea is to use one island for food preparation and the other as a kitchen social hub. Topped with a lavish stone, they certainly make a catchy focal point, not to mention extra storage and seating. In fact, many enthusiasts compare the experience to sitting at a chef's table in a fine restaurant.
Oversized Kitchen Island Design
When space allows, your kitchen island design is able to help fill space. More importantly, an overly large kitchen island is able to house additional seating, storage, and cooking space. So don't shy away from an oversized design. But remember, it is important for the size of an island to fit the footprint of the overall kitchen. And those blessed with square footage are able to go big.
Kitchen Island Countertop Ideas
Granite and quartz are mainstream choices for a reason – they are durable, attractive, and easy to maintain. However, there are a plethora of beautiful kitchen islands made from other materials that you may also find interesting.
Accent Pattern Kitchen Island Countertops
The kitchen island countertop can serve as an excellent anchor and focal point in a monochrome palette design. Natural textures of granite and marble work well here, but you can also play with metallic surfaces or acrylic variations for a pop of single-accent color.
Unique Kitchen Island Designs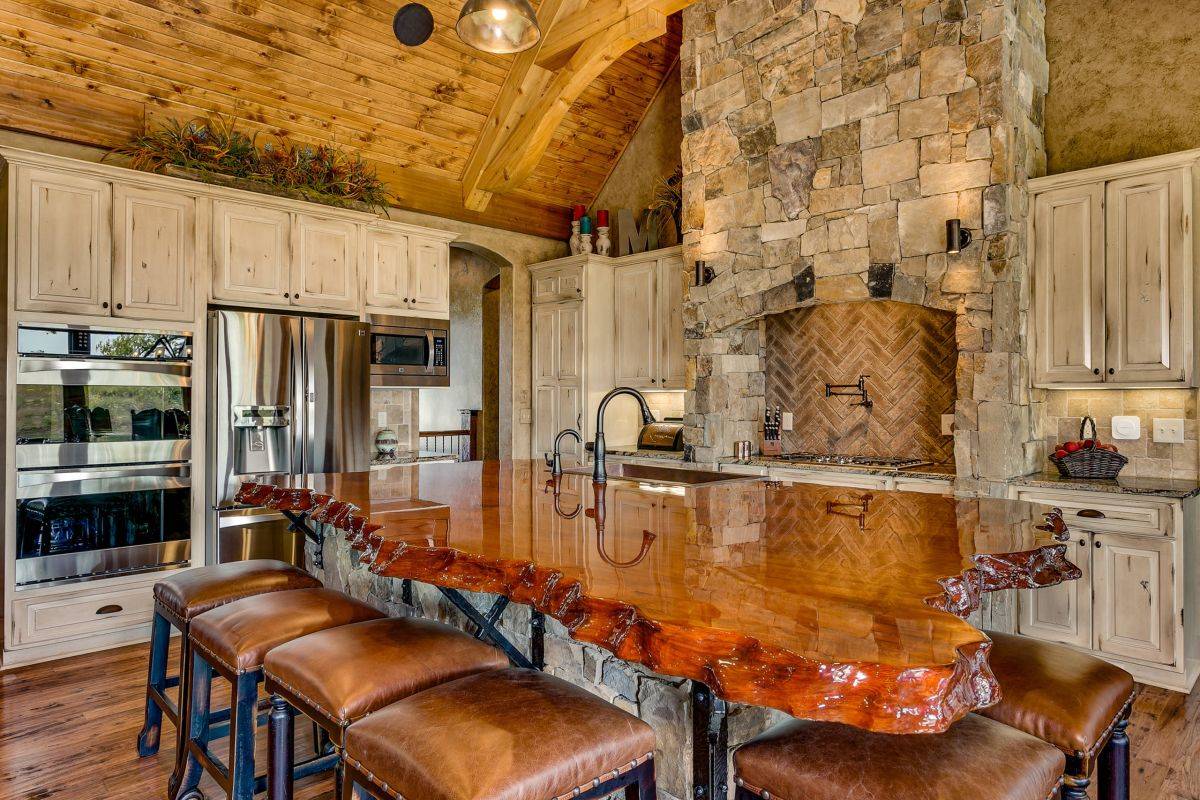 Rustic kitchen island designs are ideal for using organic materials and shapes as countertops. Slabs of genuine wood with rough edges and natural shapes also carry a driftwood flair which can work beautifully in most coastal-style designs, whether natural, stained, whitewashed, or colored.
Need help adding the best kitchen island ideas into your home?
Our team of award-winning designers can help! Simply schedule a Free Interior Design Consultation to get started with a professional kitchen designer today!

Image Credits [ 2, 3, 4, 5, 6, 7, 8, 9, 10, 11, 12, 13, 14,  15, 16, 17, 18, 19]