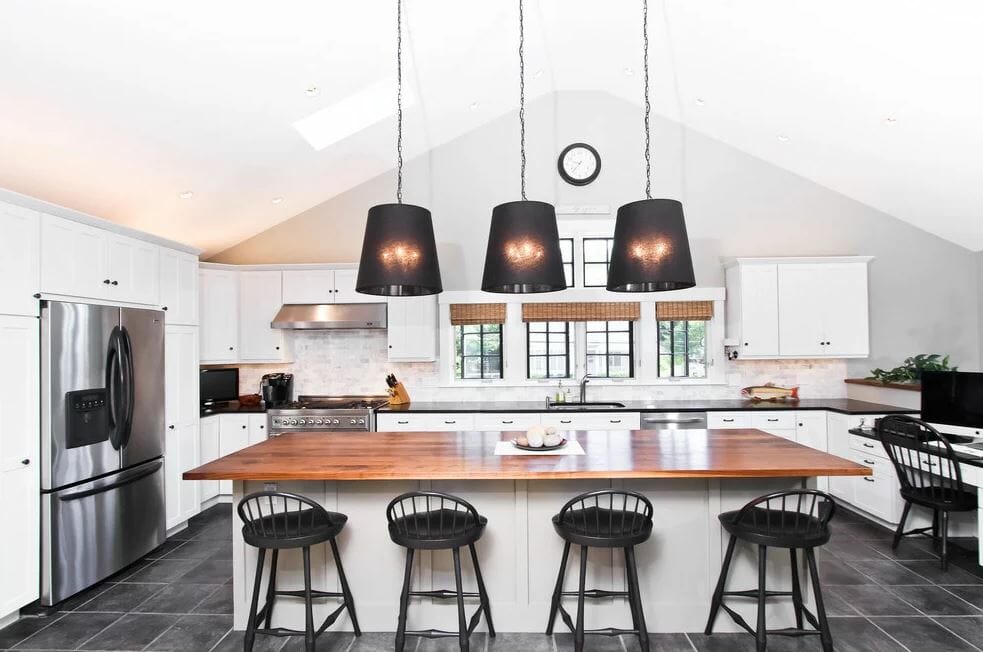 The kitchen is the most popular choice when it comes to upgrading a house. This hardworking space is not only functional, but it is also the social hub of the home. So, when it comes to your kitchen remodel, it's important to get it right the first time. Read on to see the ultimate kitchen remodel guide and check out some timeless kitchen interior design trends here to ensure your kitchen is beautiful and built to last.
1. Set Up A Kitchen Interior Design Budget
Setting up a budget is the most important part of a kitchen remodel. Without it, you might spend more than you should, not finish the remodel or end up taking risky shortcuts that lower the quality of your kitchen.
Be realistic about what you can afford. When you stay within budget, an updated kitchen interior design can increase the value of your property. Renovations regularly have hidden expenses and may end up taking longer than you initially planned. Generally, the longer a renovation takes, the higher the cost.
If you're not looking to invest in a total kitchen renovation right now, minor cosmetic updates can make a stunning impact while saving you some money. Are few of the biggest impact kitchen design cosmetic updates are:
Update the countertop
Paint or reface the cabinets
Add a backsplash
Update fixtures and faucets
2. Research and Create a Rough Plan Before Starting Your Kitchen Remodel
Once the budget is set, create a rough plan of your ideal kitchen interior design. Create a Pinterest board with the kitchen design ideas that you can't get enough of. Also, explore different layouts to find what will work for your home. Your initial plan won't make the final cut, but it does help to identify the kitchen style you want, and it'll make the next step easier.
3. Kitchen Remodel Cost: Get Quotes & Finalize Your Kitchen Interior Design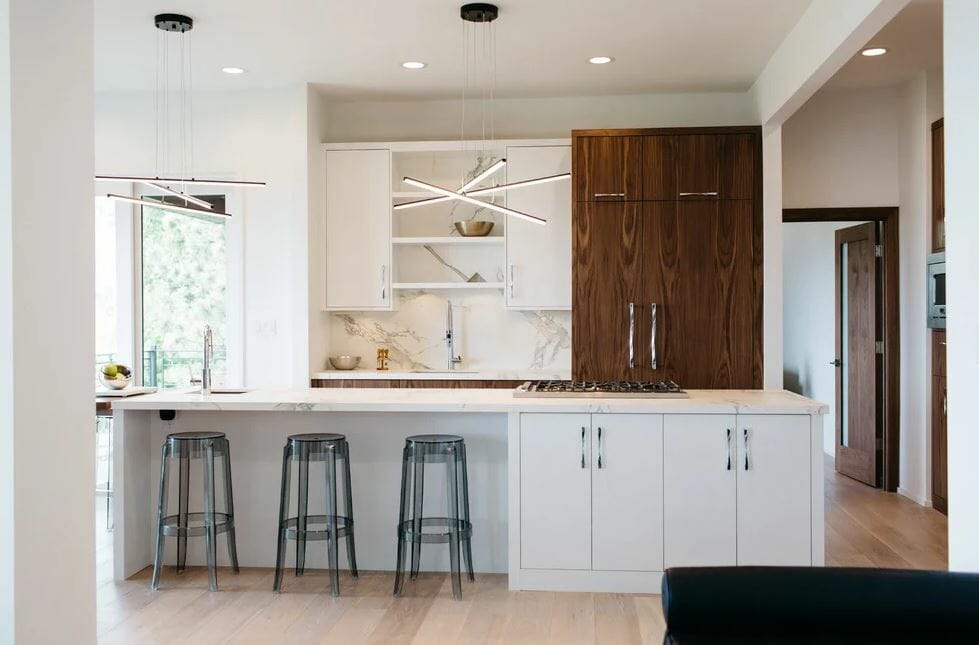 It's always good to research different kitchen design services and options. You can investigate great local designers, but don't forget to research online kitchen interior design options as well because $1,000s can be saved that way (not to mention the price of costly mistakes). Typically, the cost for kitchen design online ranges from $599 to $1,499, but customized hourly packages can start at only $75 /hour.
Depending on your project scope, you can also contact local contractors for quotes to get a better feel of the full project. It's great to look at online reviews on websites such as Yelp and Angie's List to get multiple quotes or get recommendations from your interior designer or friends.
Once you've accepted a quote, you can move on to finalizing your kitchen design ideas and the additional services you'll need. Possible professional services that may be included in your kitchen interior design include:
Demolition crew
Drywaller
Floor and tile installer
Painter
Electrician
Plumber
HVAC contractor
4. Set Up a Timeline For Your Kitchen Remodel
Even small kitchens require time and patience. Setting up a time frame is undoubtedly one of the most important steps to a kitchen remodel. Start by considering the following: delivery times of supplies, your availability, and drying or setting times.
Also, consider everyday use and accessibility. A household that uses the whole kitchen frequently throughout the day, will need to remodel the kitchen in phases or create a temporary kitchen (microwave, fridge, plates, washing area) in another area of your home.
5. Take Your Time With Your Kitchen Remodel and Demolish With Care
Demolition is the first physical step in a kitchen remodel. But before deconstruction begins, get a contractor to map the plumbing and electrical wires, and remove all the cupboard and drawer contents. If you are planning on breaking down walls, unscrew and remove cabinet fronts and remove tiles first.
6. Kitchen Remodel Ideas: Adjust Infrastructure
Most importantly, enlist the services of a qualified electrician and a plumber to help make your kitchen design ideas a reality. An electrician can replace damaged or worn wiring and add electrical sockets to cabinets, adjust outlets for appliances, and add infrastructure for new lights.
Similarly, a plumber can replace damaged plumbing and adjust the faucet position if necessary. If you need to restructure or add a wall, now is the time to form the structure according to your kitchen design idea.
7. Kitchen Interior Design Ideas: Choosing Paint
Fill any holes and ensure that all surfaces are clean and dry before you start to paint. Make sure that you and your team use a fire and water retardant paint on walls, and a primer and bonding sealer to protect the painted finish on cabinets. The remaining paint can give kitchen furniture ideas life and add another updated layer to your new interior.
8. Install Floors, Countertop & Backsplashes
Once the paint is dry, you can install the kitchen countertop, the backsplash, and then the new floor. Cover adjoining areas to avoid spills and wait for countertops like cement to set before moving on to the tiling. Clay tiles are best for a heat resistant backsplash, and for flooring, a durable material (like stone or cork) that cleans easily will last longer.
9. Install Cabinets, Lighting & Fixtures
At this stage, your interior kitchen design is taking shape, which makes installing cabinets, lighting, and fixtures an exciting part of the makeover. Now, at long last, your cabinets get their fronts and drawers back, fixtures and faucets go on, and lighting comes into play.
Ensure your kitchen design incorporates three levels of light:
Task lighting that fits underneath top cabinets to cast a spotlight on countertop and preparation surfaces.
General lighting like recessed ceiling lights brightens the whole kitchen area.
Accent lighting like a feature light that hovers above a kitchen island, or casts a warm glow within a display shelf.
10. Finishing Up The Kitchen Remodel: Add Appliances
The final step includes all the finishing touches. Now you can install your appliances and organize your cutlery, crockery, pots, and pantry contents. Add potted herbs near the kitchen window and incorporate your furniture ideas like breakfast bar stools or veggie baskets for a welcoming atmosphere.

Do you need help conquering your kitchen remodel? Contact our professional team for a Free Interior Design Consultation today!