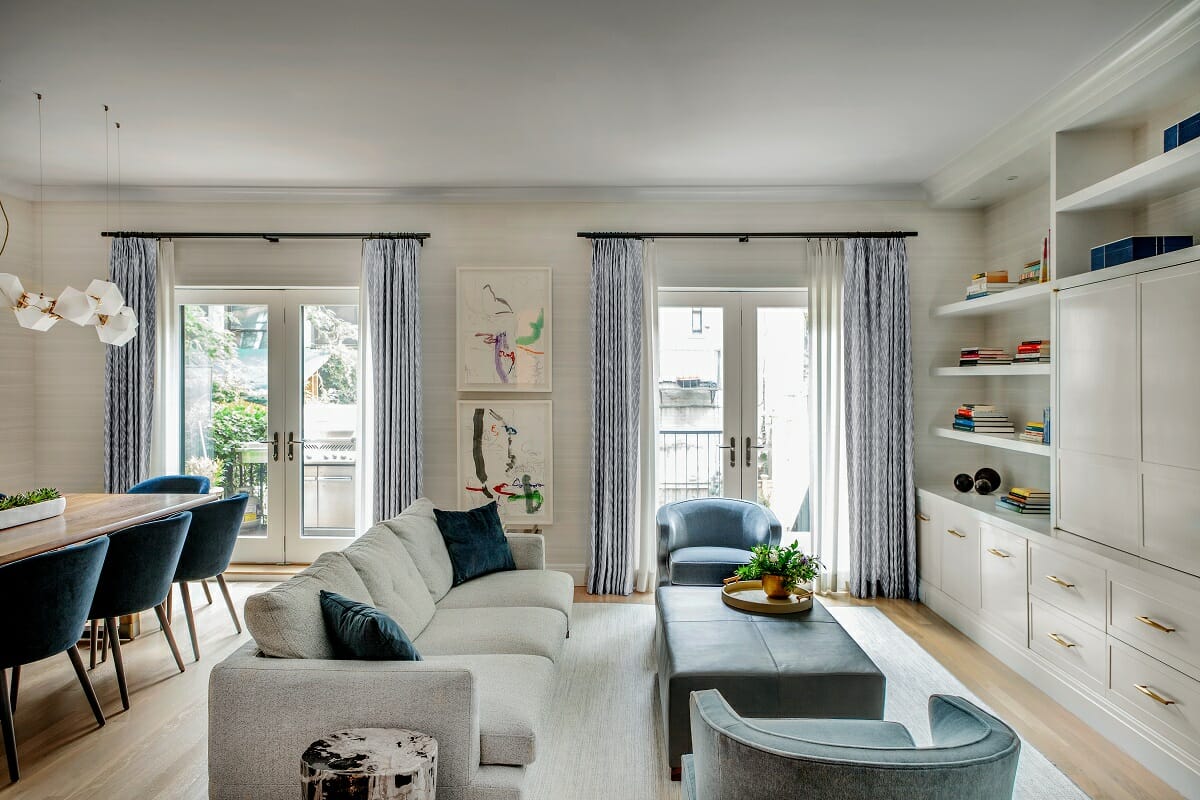 Are you looking for a new, exciting addition to your home, or just feel tired of those omnipresent neutral schemes? We have good news: jewel tone colors are here to spice up interiors! These vibrant palettes are elegant, rich, and passionate, and they can really make any space pop. Even better, incorporating them into a decor scheme is painless! So read on for versatile ideas you can apply to your next creative project.
What colors are the jewel tones?
Jewel tones refer to a group of colors often associated with precious stones and metals. They include deep, saturated shades like ruby red, sapphire blue, emerald green, amethyst purple, and golden yellow. These flamboyant hues offer a design shortcut for creating a bold statement in your home. 
Unsure which style will fit your favorite jewel tone colors? Then try our

 Free Interior Design Style Quiz

to find your perfect design match!
How to Use Jewel Tone Colors in Interior Design
Whether dark, muted, or vibrant – jewel tones can be used in various ways. One of the most popular interior design options includes pairing them with neutrals like black, white, or gray. Creating vivid contrasts can really make these bold hues pop.
That said, the easiest application is through decorative accessories. Jewel tone throw pillows, rugs, lamps, and picture frames are all great places to start. Whatever you choose, a layer of saturated color can quickly transform a space, making it feel warmer and more inviting.
15 Ideas for Jewel Tone Colors in Your Home
Ready to jump on the jewel tones trend? Here are some colorful interior design suggestions to get you started!
1. Pop with Deep Citrine Window Treatments
Mustard yellow has been a favorite in design for decades. Similarly, a rich citrine yellow is also set to linger for a long time. Since it's such a bold color, it's sure to add an extra oomph to your decor scheme. Whether you choose curtains, blinds, or shades, you can't go wrong with vibrant, deep yellow window treatments.
2. Bring the Outdoors in with Emerald Green Jewel-Tone Walls
Emerald green is a lovely color for any space, but it's incredibly gorgeous in a nature-inspired setting. Use it to enhance your home with a taste of the outdoors or liven up rooms with a restricted view.

3. Make a Statement with a Blue Sapphire Sofa
A cobalt blue sofa is a perfect way to add a pop of color to your den. It creates an inviting and dramatic look, impossible to ignore. Moreover, this hue is versatile enough to easily pair with eclectic colors and styles. 
4. Juxtapose Jewel Tone Colors with Black & White for Extra Drama
Jewel tones are audacious, commanding, and unforgettable, making a big impact as statement hues. However, if you prefer something more subdued, pair them with black and white. The stark contrast will exude a refined, eye-catching effect as a result. 
5. Go for a Jewel-Tone Accent Wall
An accent wall is an effortless yet powerful way to spruce up any decor scheme. Consider using jewel-tone paint colors or bold wallpaper to make a striking style statement in your living room, dining room, or bedroom.
6. Go Wild with Animal Print Details

Animal print is a fun and trendy way to infuse a room with a distinctive character. And because jewel tones vary so widely in hue, you can experiment with different pattern combinations to find the perfect setup for your space. Remember, less is best because animal print is especially visible next to rich hues.  
7. Ground Jewel Tone Colors with an Earthy Scheme
At times, jewel tones can be overwhelming on their own, but combining them with shades of wood and stone softens their effect. They also work excellently with neutrals, like cream or grey. With the right combination, you can create a beautiful scheme that feels both elaborate and well-balanced. 
8. Add Jewel-Tone Purple Pizazz with Amethyst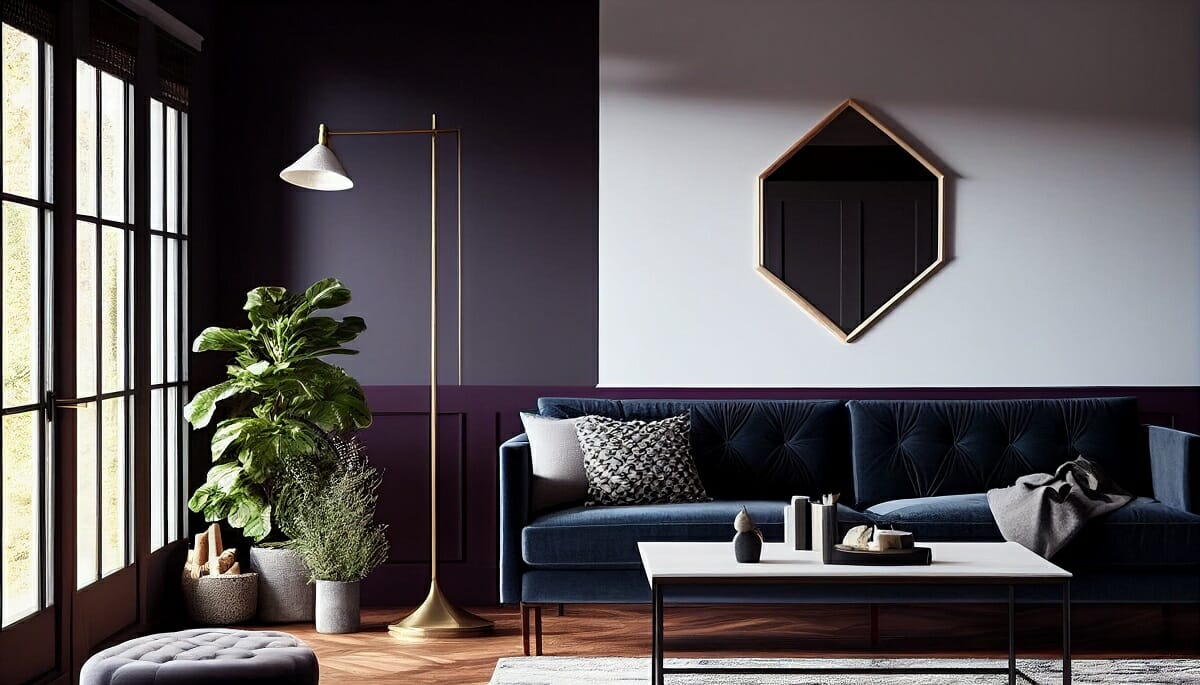 Amethyst is a beautiful, warm jewel-tone purple with a unique flair, suitable for applying virtually anywhere. Use amethyst blackout curtains to make your windows stand out, or paint the living room or bedroom walls for an elegant look.
9. Create Coziness with Analogous Jewel-Toned Colors
A jewel-tone scheme is a great way to add depth and interest to any space. These rich and saturated hues allow you to achieve a stunning effect even with a gradient monochrome or analogous layout. Used sparingly, jewel tones can make a space feel more sophisticated and elegant, oozing a touch of luxury as a result.
10. Get Noticed with Topaz Blue Doors or Cabinets
Sapphire blue is an eye-catching color that leaves a lasting impression. Paint it on your doors or use it as an accent color on your furniture for maximum impact.
11. Spice up Your Kitchen with a Glossy Jewel Toned Backsplash
Color psychology considers jewel-toned colors, like a tangerine-tinted Mexican fire opal, invigorating and appetizing. In other words, it's an excellent choice for a kitchen. Depending on the desired style, you can opt for a range of decorative tiles and patterns. Meanwhile, an attractive, glossy backsplash makes a powerful decorative addition to any modern minimalist kitchen layout.
12. Try an All-Jewel-Tone Interior Design
If you think that jewel tones work well only sparingly and each on its own, think again. In fact, blending different vibrant shades can create a stunning, well-designed effect. However, keep in mind that matching jewel tones with a similar visual weight and saturation produces the best results. 
13. Opt for a Single Decor Statement
If you prefer the "less is more" philosophy in interior design, look for a prominent piece in jewel-tone colors. It can be an accent chair, an area rug, or a kaleidoscopic chandelier. Whatever you choose, one thing is certain—it will not go unnoticed. 
14. Balance the Visual Weight with Wood and Metallic Finishes
Jewel tones work well with many different materials and textures. Balance their intensity with metallics for a glamorous look, or tone them down for an organic feel with wood and stone. Jewel tone schemes also look great with gentle off-white and gray.
15. Decorate with Jewel-Tone Throw Pillows & Art
Jewel tones are rich, deep, and full of life. If you enjoy browsing images of jewel-tone living rooms but are not ready to commit, then decor is the key. Incorporating the hues in your interior through wall art, throws, and cushions will help you decide if this trend works for you.
Want to invigorate your home with jewel-tone colors?
It seems that you are ready to jump on the jewel-tone wagon. So, schedule a Free Interior Design Consultation for a more luxurious, sophisticated, and unique new look!

[images: 1, 2, 3, 4, 5, 6, 7, 8, 9, 10, 11, 13, 14, 15, 16, 17, 18, 19, 20]