Alissa A.
Alissa is a designer who infuses peace and beauty into each space she creates. She specializes in coastal, farmhouse, Scandinavian, modern, and glam design. A big fan of bold blues, monochromatic colors, and metallics, she brings together textures and objects from a multitude of styles to create rooms that are beautiful and cohesive to each of her clients. As a designer, Alissa believes that every space is an opportunity to create order and beauty while still being functional for everyday life. She loves being a part of that creation with her clients. Whether you want a transitional living room, a glam home office, or a peaceful bedroom oasis, Alissa's eye for detail and swift ability to understand her clients' unique design aesthetic makes her stand out from the bunch.
Describe your go-to style:
Unlike a lot of designers who have a certain brand or aesthetic, I really take my 'p's" and "q's" from my client. I'm also not afraid to make recommendations if certain existing furniture pieces or wall paint need to stay, which style is going to be the most complimentary. So I let those 'inputs' if you will guide the design. Don't get me wrong, I don't design EVERY style but contemporary, farmhouse, coastal are all well within my wheelhouse.
What drives you to design?
Personally, I've been very affected by the environment that I'm in. If I'm in a clean, beautiful space I feel calm, relaxed at peace. Conversely, if I'm in a messy or chaotic environment I experience certain anxiety. I think many of us are like this, perhaps we don't even know it. We are familiar with lots of kinds of therapy- pet, talk, aroma, retail, message, etc I'm a firm believer in design therapy- that spaces can and do impact our internal or emotional well-being. And that's why I do what I do- to help people experience peace in the environment that I design.
From where do you draw most of your inspiration?
Unlike many of my colleagues, I am not formally trained in design and I'm proud of that. Just as a talented singer or musician doesn't need to go to music school to produce beautiful-sounding music, I've been given a natural innate ability to create beautiful environments. I don't look to magazines or even other designers for inspiration, rather it comes from within. Don't get me wrong if I happen to see a unique floor plan or a really cool alternative for bedroom lighting I will take note and apply it to my designs. But I don't start from that place.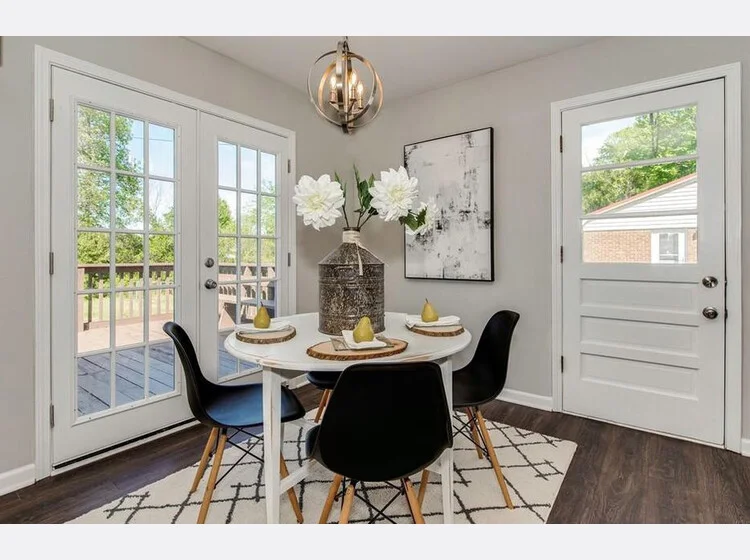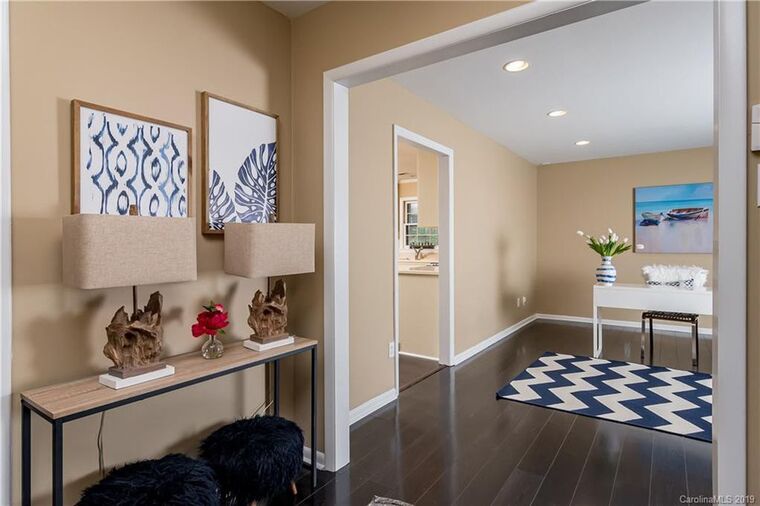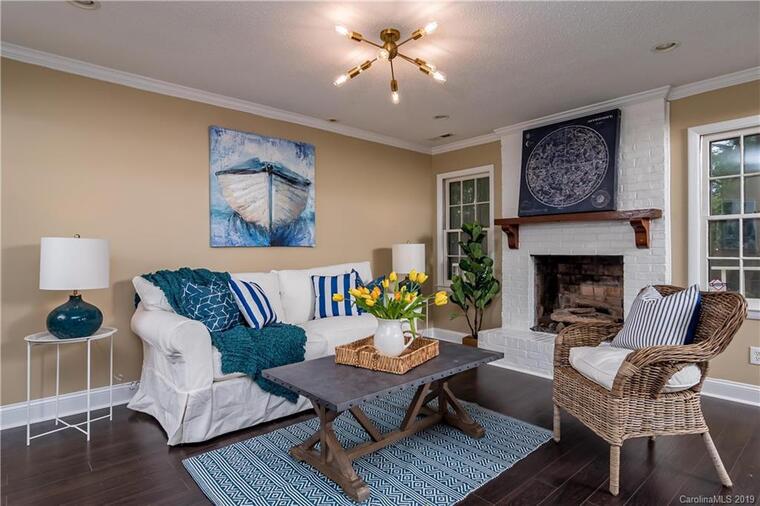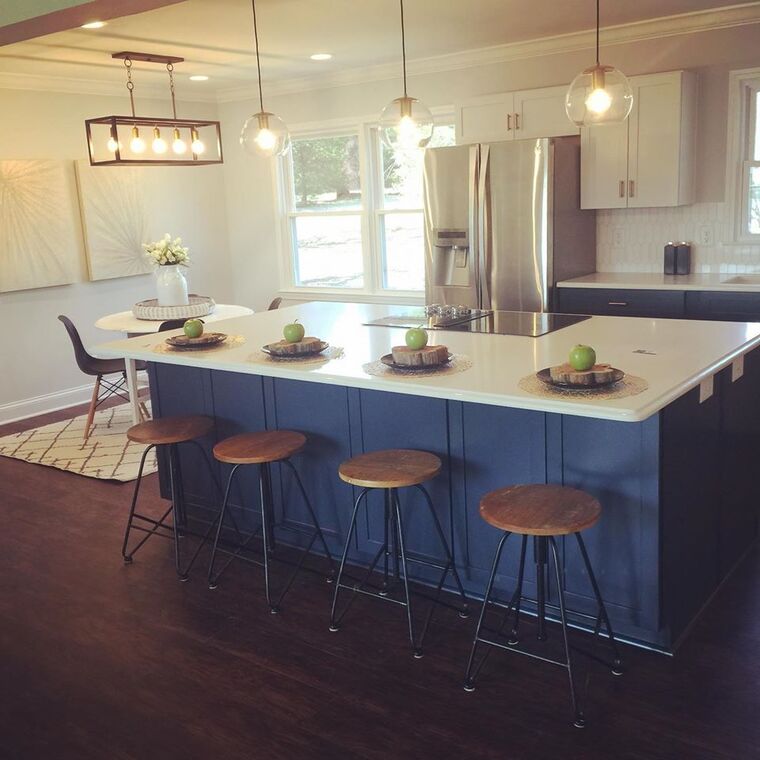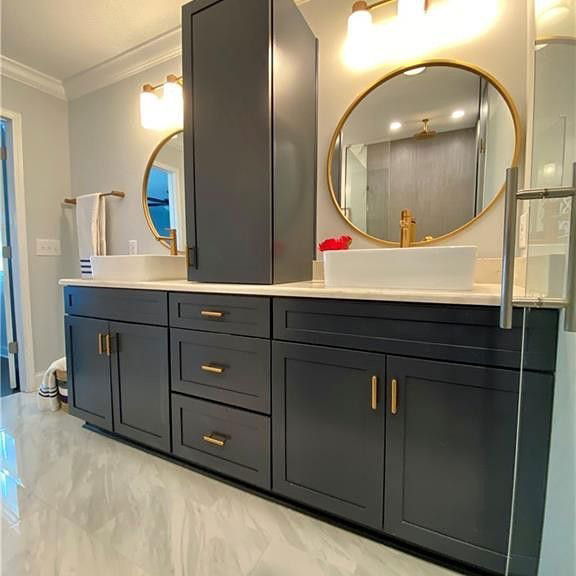 Contemporary Navy/Brass Bath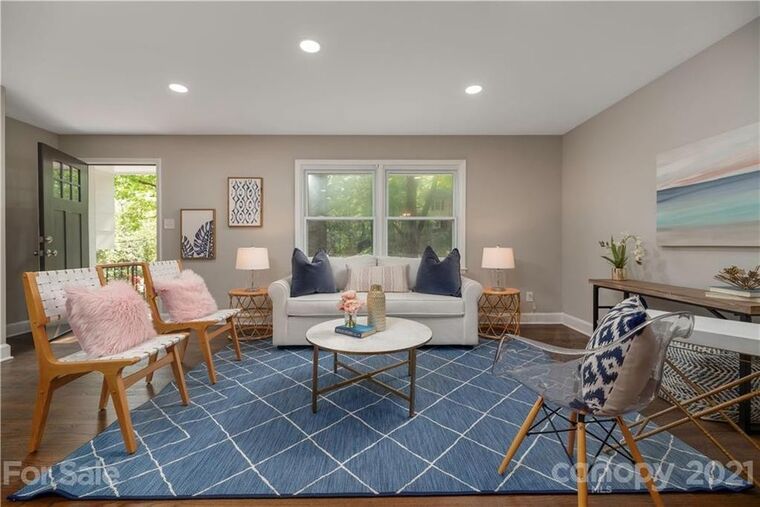 Contemporary Coastal Living