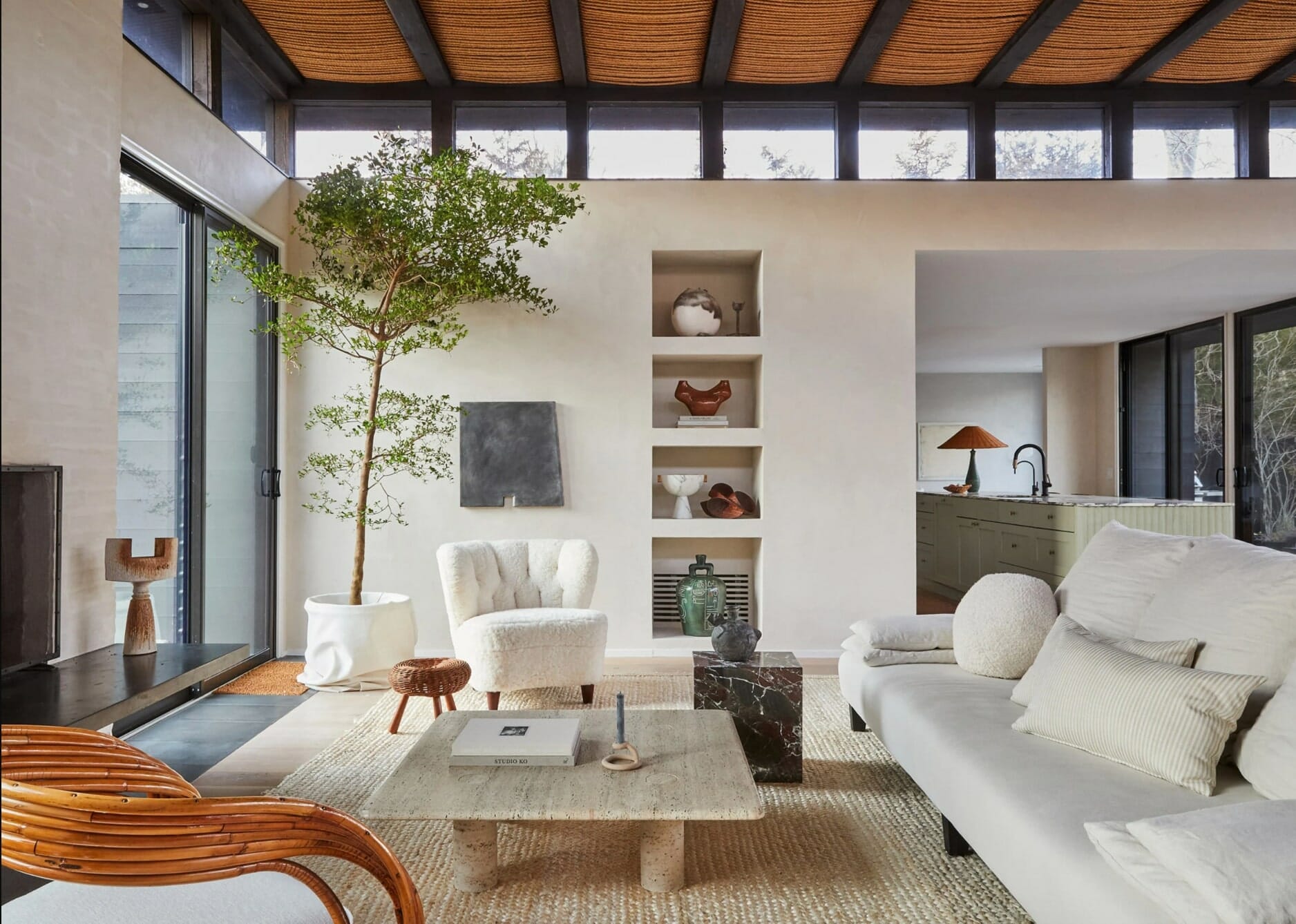 Interior design trends 2022 are proving to be Instagram-worthy looks you'll certainly want to replicate in your home. This year, design is getting comfortable with current vogues that'll go the distance, a few oldies making a comeback, and timeless classics holding strong. Given this variety, you'll be not only be able to create a home that's on trend, but will also remain in style for time to come. Read on for our design experts' curated picks of the top 2022 home decor and interior design trends we're sure you'll love!
All Types of 2022 Interior Design Trends
Every year there are trends for every part of the the home. Here we bring you the hottest ideas for general interior design:
If you're looking for the latest trends for a specific room of your home, then you'll also want to check out the following:
Looking for latest interior design trends? Check out Interior Design Trends 2023 to see what looks are emerging onto the scene!
Main Interior Design Trends 2022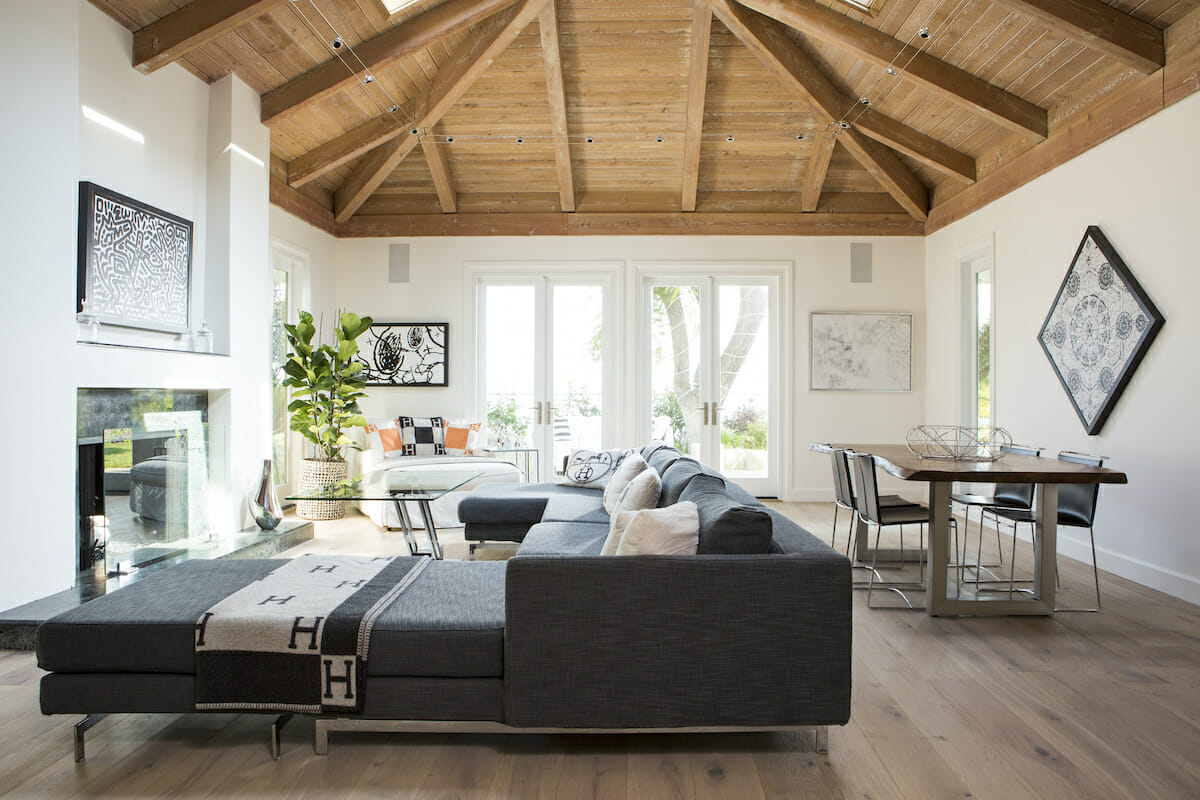 The emphasis on natural and sustainability continues to grow from interior trends from previous years. It's no wonder that their aesthetics are becoming even more refined and covetable. Moreover, we're seeing a subtle merge of retro, natural, and zen elements in 2022 interior design trends. In addition, the importance of setting up home offices and keeping clean spaces play a substantial role in favored looks.
Tip: It's important to know that interior design trends 2022 come in many different styles. Taking

interior design style quizzes

like this one or providing inspiration photos can help designers really pinpoint the client's aesthetics so that you can find out which trend matches your personal style! 
1. 70's Retro Kickback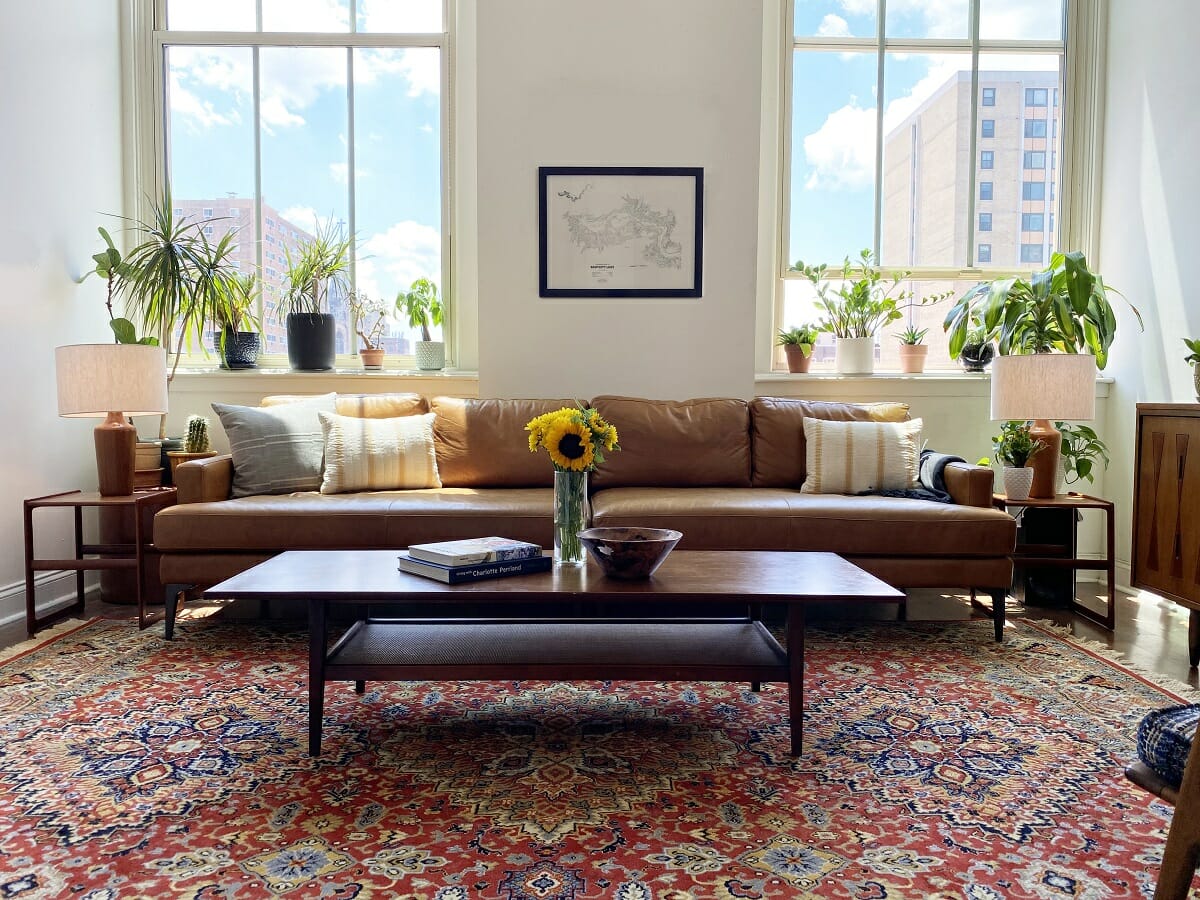 A touch of retro is more than enough to spruce up a home. Gentle suggestions of burnt orange, moss greens, and other warm neutrals brighten up-and-coming interiors. Shop local at flea markets or boutique stores for these pops of color and patterns, or reupholster a vintage couch.
How to Find and Save on Vintage Furniture & Home Decor Trends 2022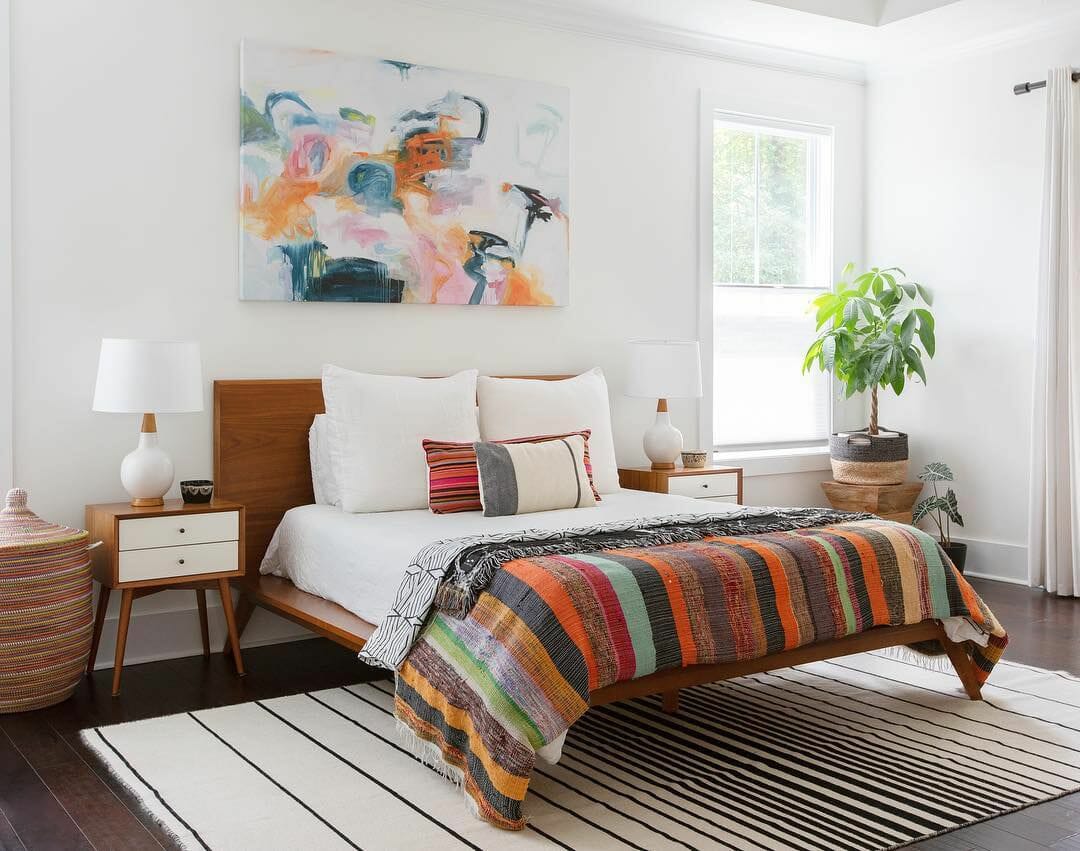 Loving the retro interior design trend is one thing, but finding the piece perfect for your place is another. Here are quick tips on securing a vintage touch before the year is out.
Routinely visit local antique stores, fairs, and markets. Perseverance is key to finding what you're looking for at the price that suits you.
Look for lesser-known brands. Popular names tend to cost more and be harder to acquire. Get to know alternatives by researching the style or item you want.
Buy vintage furniture online. That said, stick to trusted websites, like 1st Dibs or Chairish, to avoid the risk that comes with online shopping.
Attend an estate sale or antique auction with a friend. You'll need to visit more than one event to make sure you can spot swollen prices.
2. Nature Inspired 2022 Interior Design Trends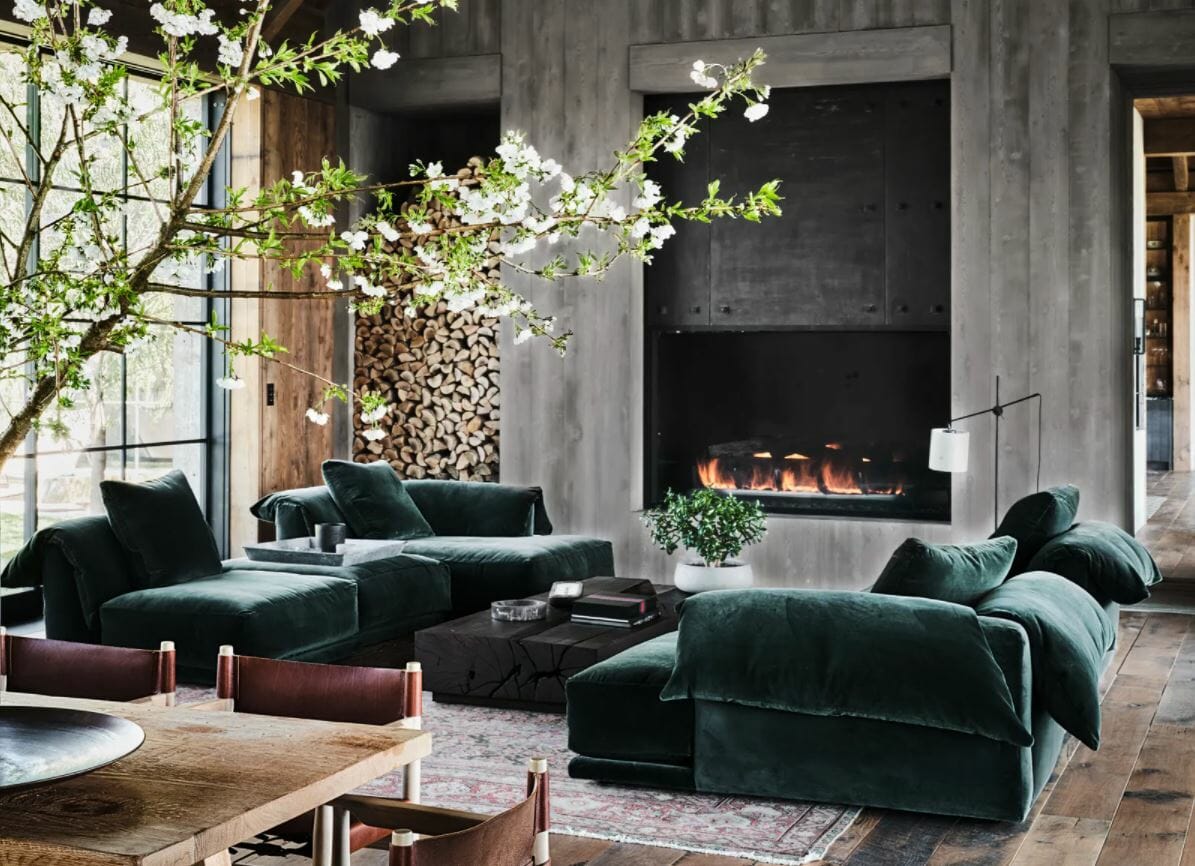 Go the extra mile with your nature-inspired design next year and bring authentic greenery into your home. Plants will not only complement your natural woods and warm browns, but they will also purify the air. Besides, seeing your blooms grow brings a deep sense of fulfillment and joy.
Best Plants for Pulling Off the Green Interior Design Trend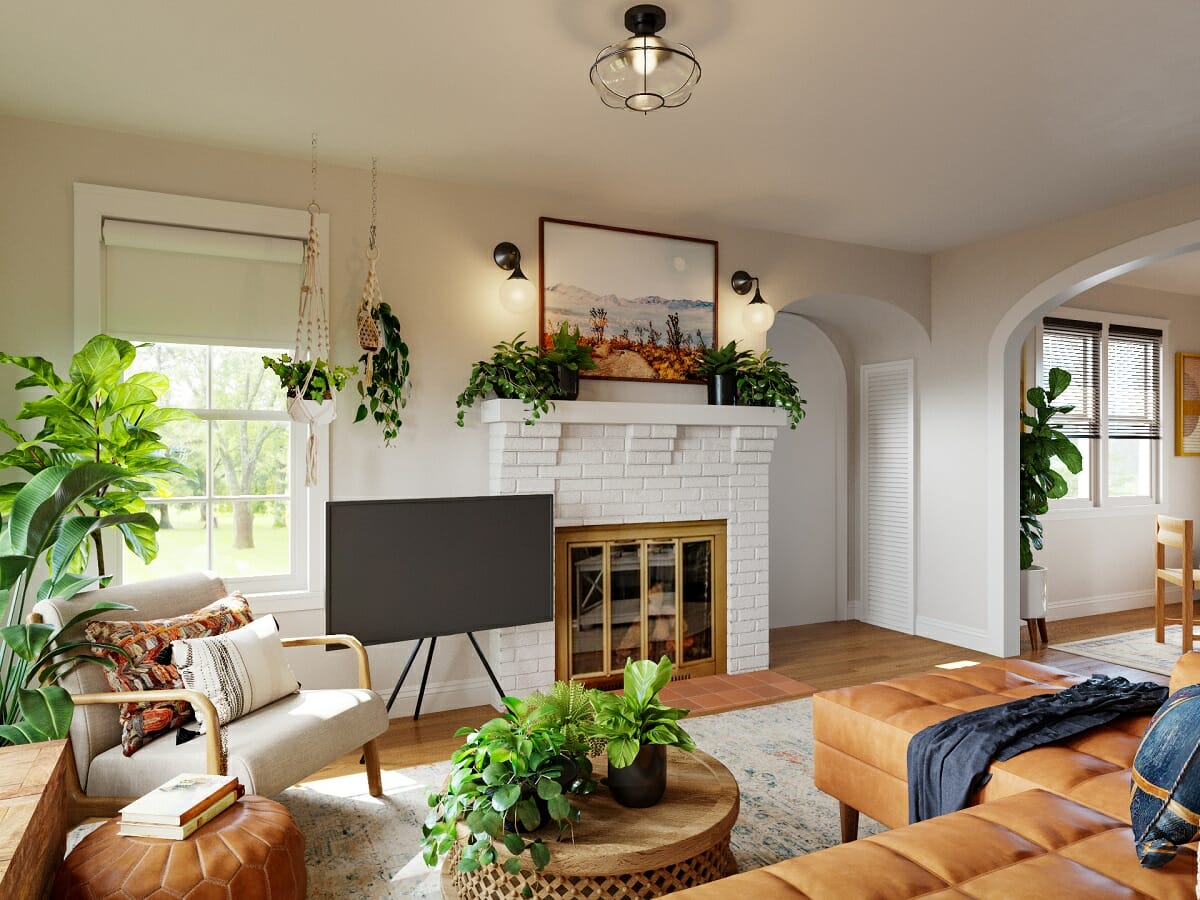 Remember to do your research before buying your favorite plants. Some will simply do better and are easier to care for than others. Here is the best greenery for interior design:
Sweetheart Plant: A versatile climber that is happy in semi to full-shaded rooms.
Fiddle Leaf Fig Tree: Hardy and beautiful bushy trees that need sunny rooms and weekly watering.
Monstera: A large family of plants with unique cut-out-shaped leaves that thrive in low-light interiors.
Palm: Another family with a wide variety of big and small plants that flourish in partial sun.
Snake Plant: Rumored to absorb negativity, this plant prospers in indirect sunlight and with infrequent watering.
3. Multifunctional Spaces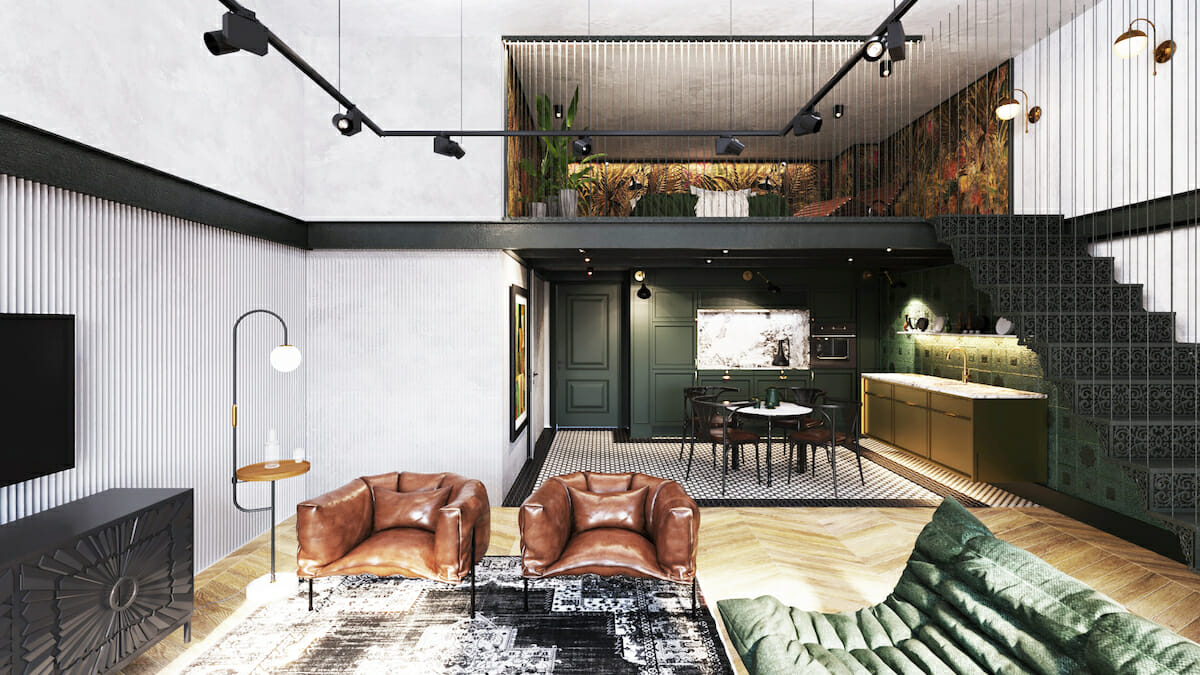 Single-use spaces seem to be a thing of the past. In the light of architectural strides and design, we expect interior design trends in 2022 to feature nifty ideas on multifunctional rooms. Make the most of every nook and cranny with clean and innovative room-dividing tactics.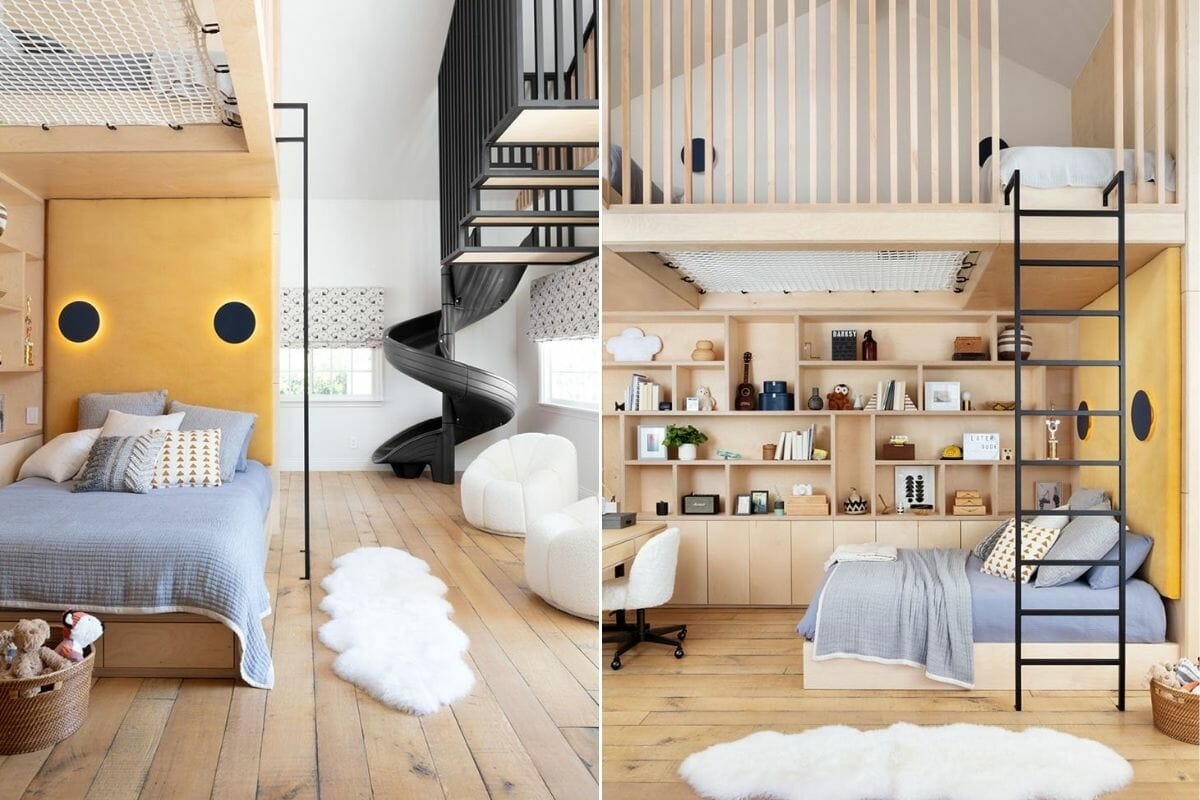 There is a multitude of opportunities within any given room. Often many miss these by forgetting about the vertical space your room offers. Shelving, ladders, and platforms can open various doors and even function as room dividers.
4. Mindful Zen Interiors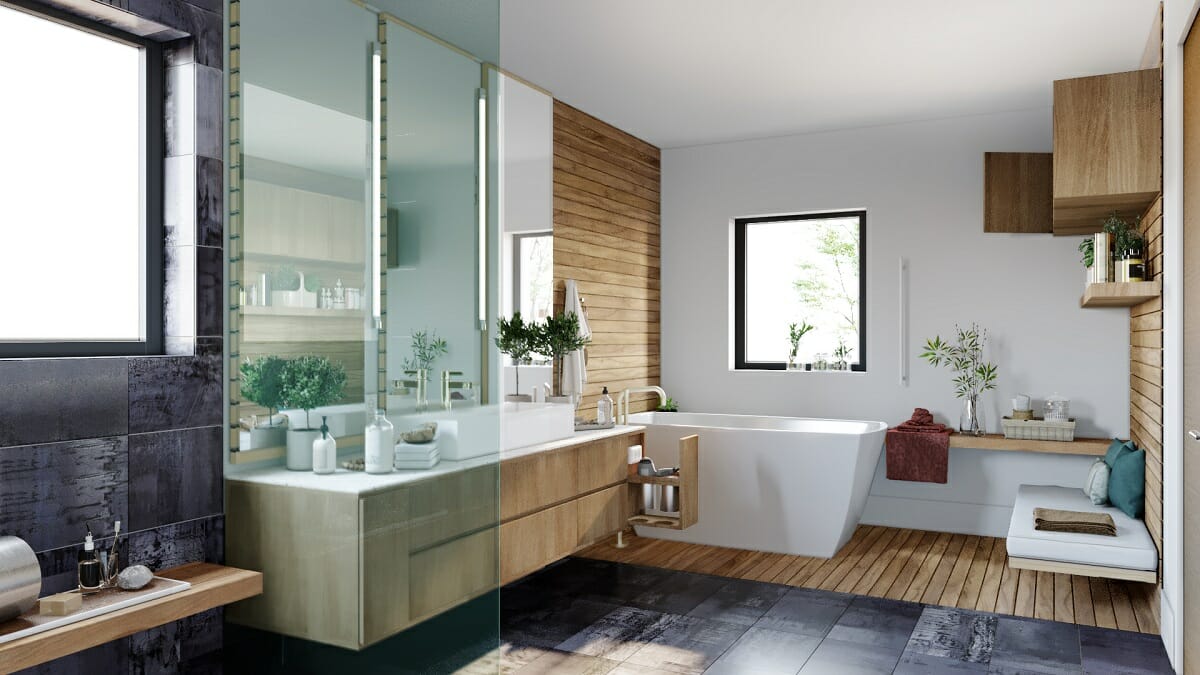 Showcasing sustainable living in interiors serves a dual purpose. On the one hand, it elevates the ingenious and environmentally-friendly design. This can encourage others to look to eco alternatives for their own homes. On the other, it's a reflection of a clear and undistracted mind.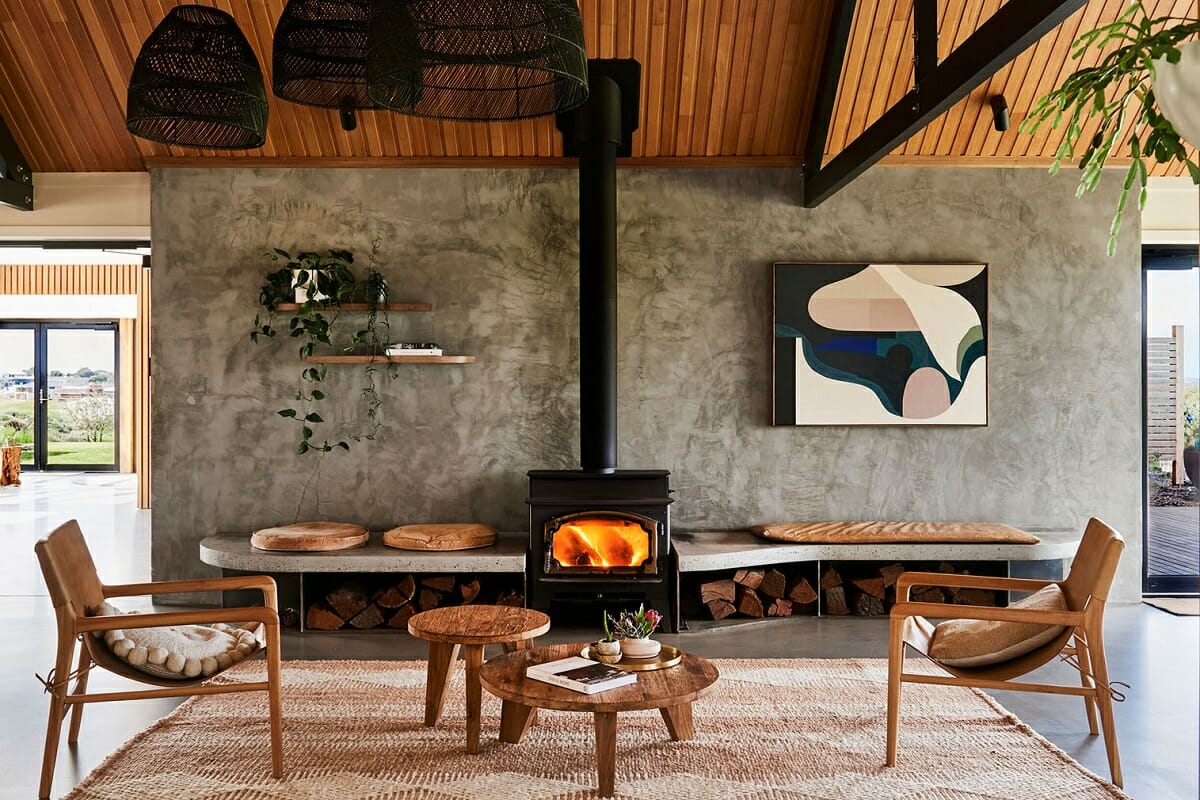 Light wood, clean lines, and floating surfaces set the tone for zen-living. These spaces lean toward a less-is-more approach while keeping decor organic and natural. The emphasis here is being conscious of how a space, as well as the furniture and decor will affect emotions and overall wellbeing. Personalized interiors will dominate with spaces that encourage the best versions of ourselves.
5. High Tech Homes and Furniture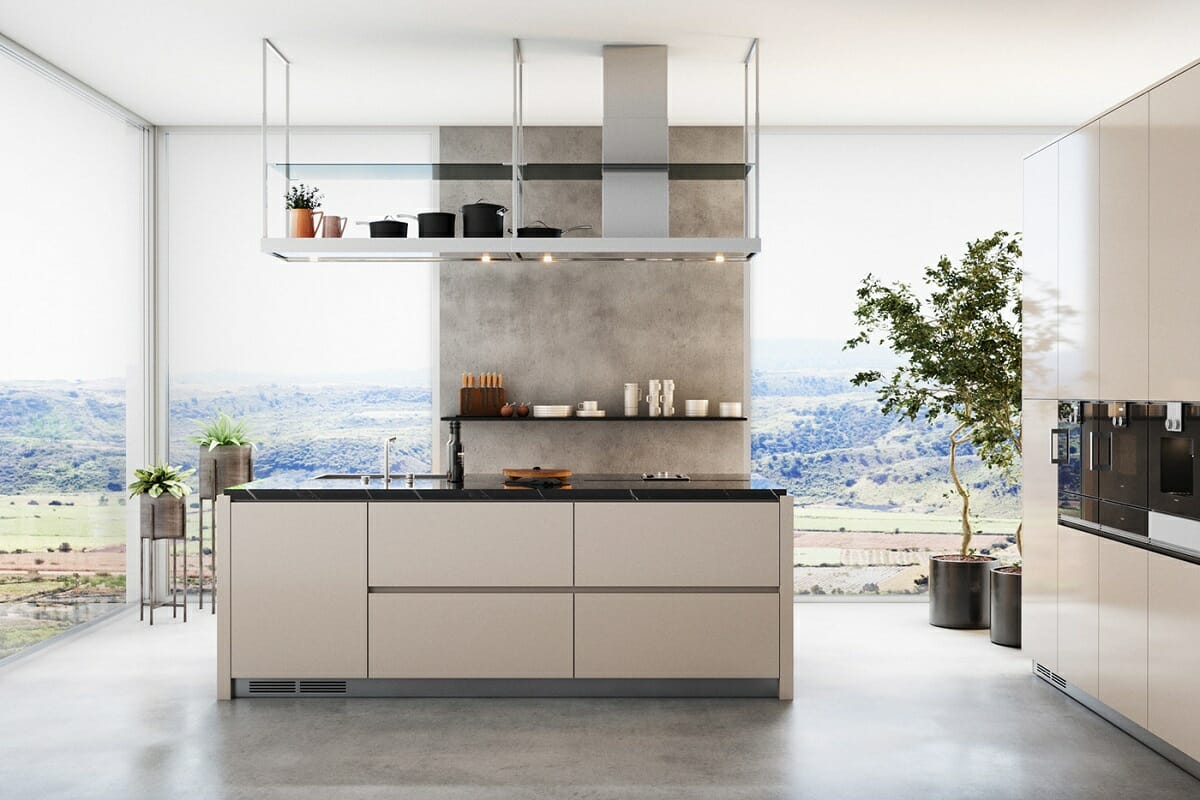 Technology is becoming front and center in home and furniture design. And an up-to-date home would be remiss without either. Homeowner's today are looking for the convenience and peace of mind to control the likes of security, temperature, and music all from their smart phones. Other high-end tech gadgets might include self-shading windows, induction cooktops, or heated flooring.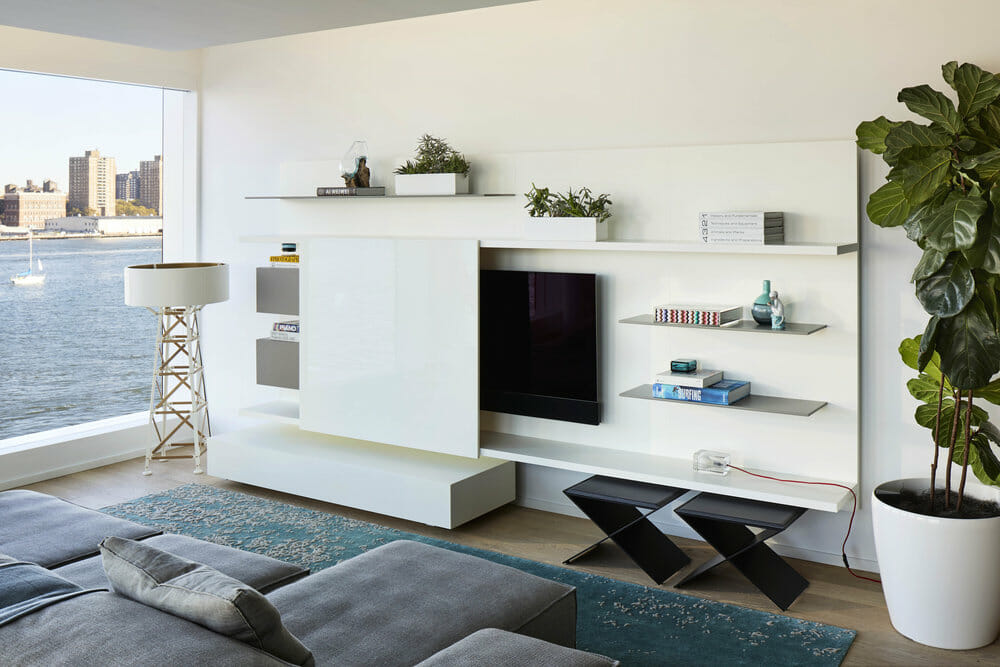 Smart furniture inevitably also includes pieces with integrated technology or design with function in mind. For instance, accent tables can also house speakers and controls, while remote-controlled shelving could slide open to reveal a television. Other popular items include multi-cornered couches, sculptural storage and surfaces, and speakers that double as decor.
6. Home Office Interior Design Trends 2022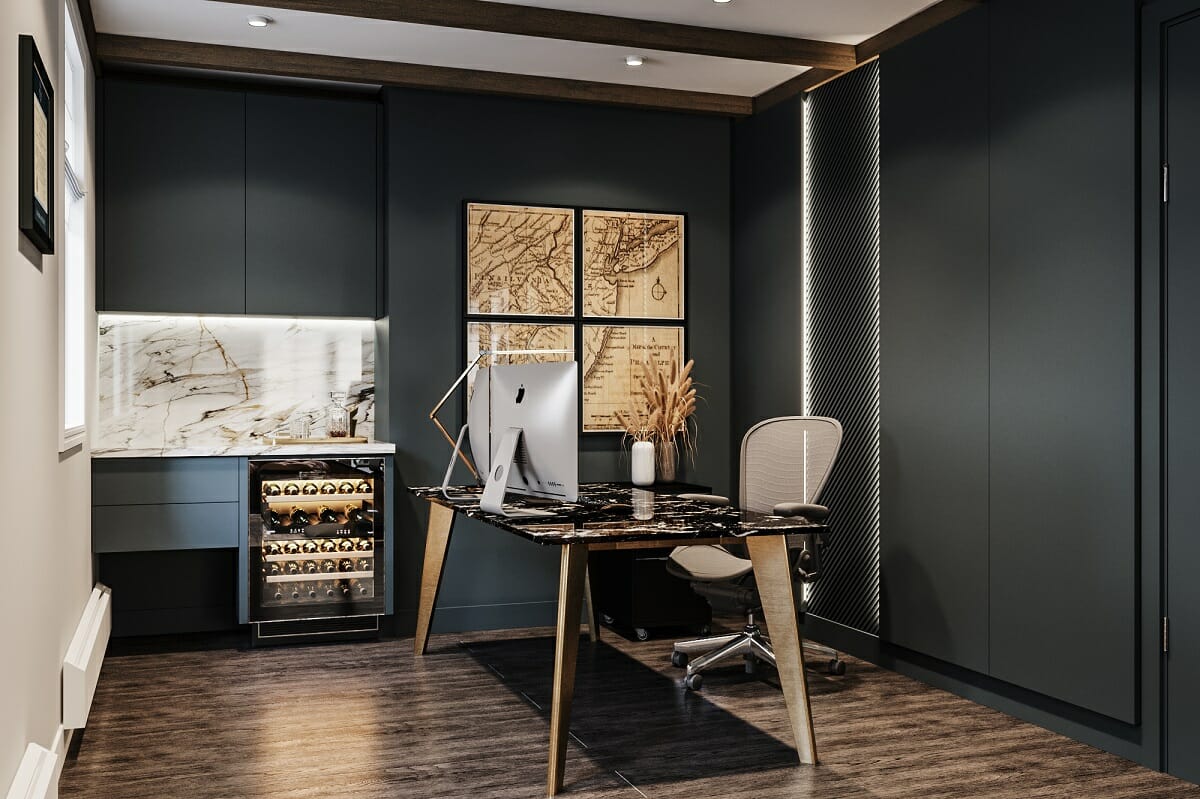 ​​There is a heightened interest in creating the ideal home office. From a roomy space with everything you need to a fold-away desk in a living room, home offices come in all shapes and sizes. But whatever the look, the aim is to make your space work for you. So when designing your own office, keep in mind that functionality, practicality, and aesthetics are equally important.
5 Things to Consider for a Home Office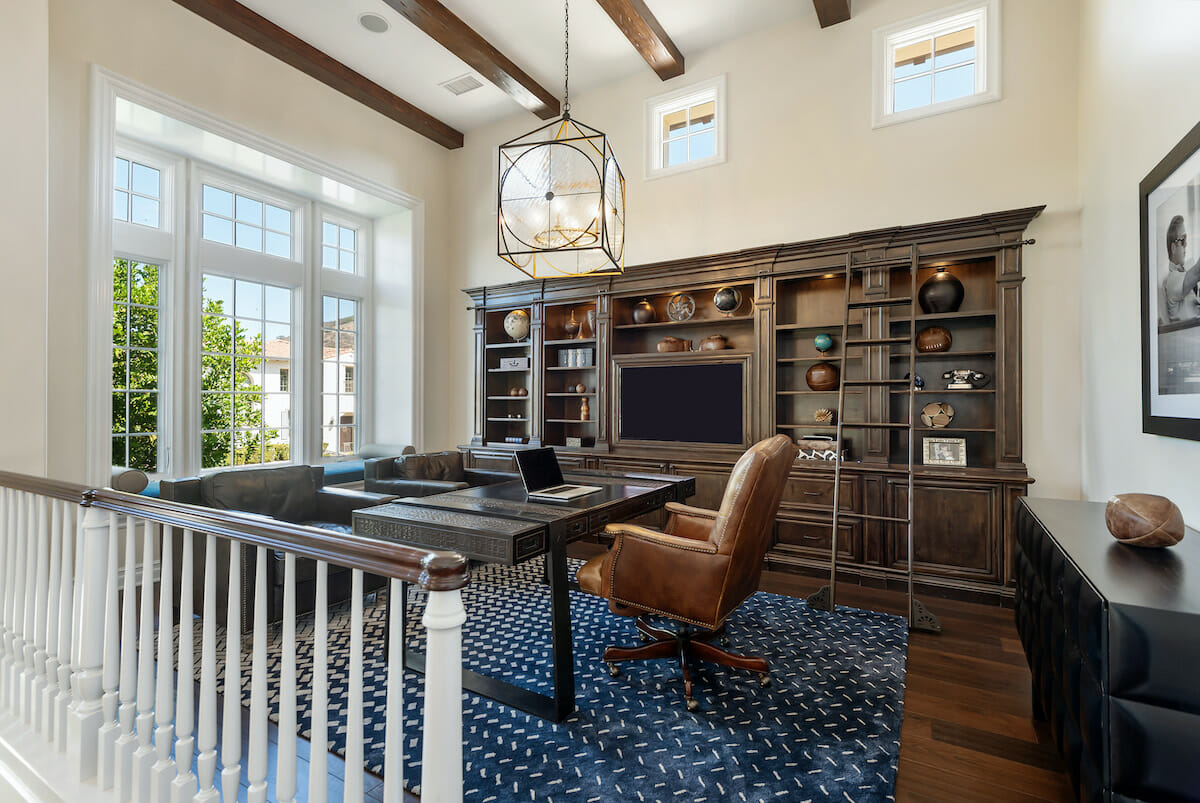 Whatever the style, shape, and size, your home office will need a few basics to be a productive space. So when you incorporating the office trend into your design, also be mindful of the following points.
Location: Ideally, a workspace should be in a quiet area of your home. If a whole room is not an option, a foldaway desk in a guestroom can work just as well.
Equipment: Be sure to include everything you need to work efficiently without indulging in things that'll only clutter your space.
Storage: A home office needs to be organized and sufficient storage will help keep things neat and in their place. Choose pretty containers that can double as decor.
Color: Opt for colors that calm and focus the mind, like subtle blues, greens, and neutrals. And avoid very bright hues that are energizing as they can lead to restlessness.
Decor: Keep decoration to a minimum to stay focused. You can include wall art, striking shelving, plants, and fun rugs to save space.

2022 Home Decor Trends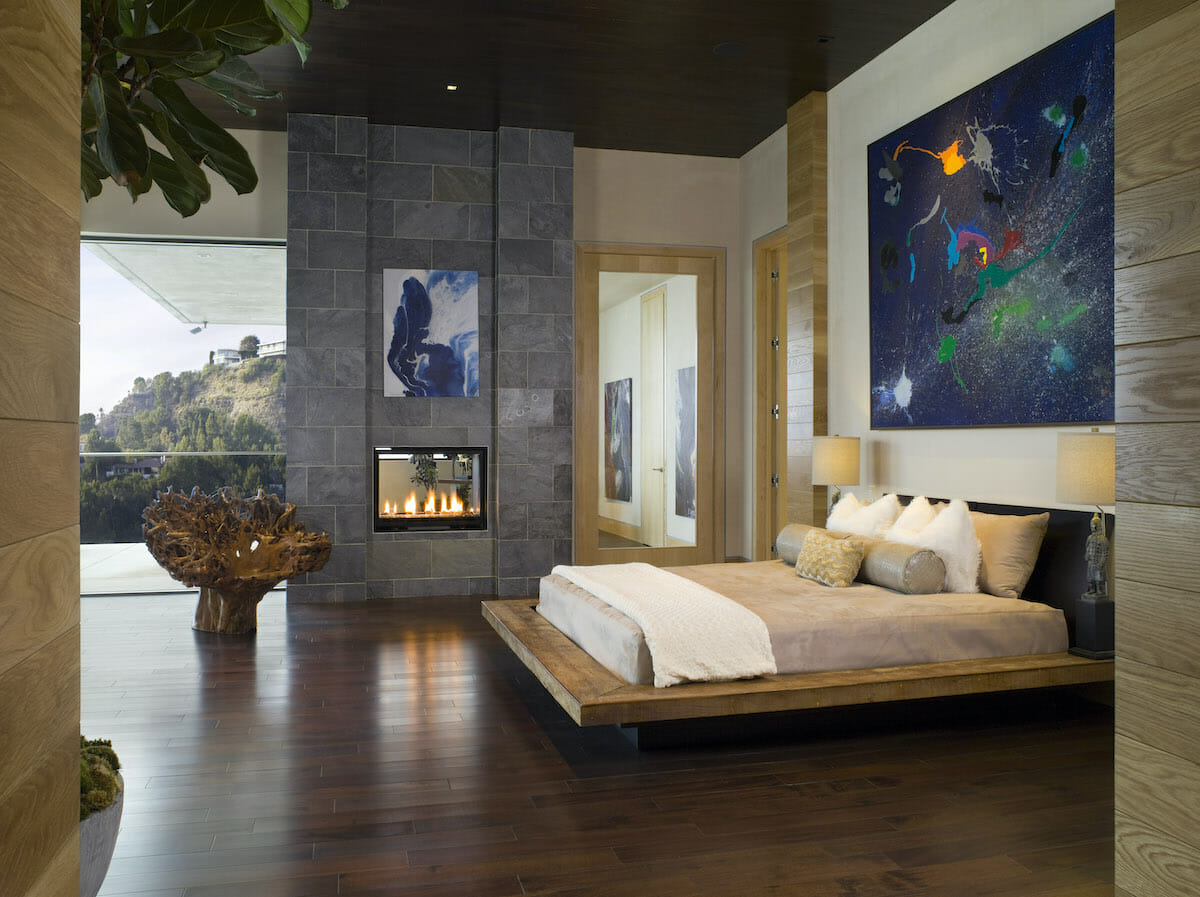 As new forms of design take flight, organic shapes and tactile surfaces are becoming more popular. Again, we see home decor trends in 2022 will have sustainability at their core.
7. Sustainable & Organic Materials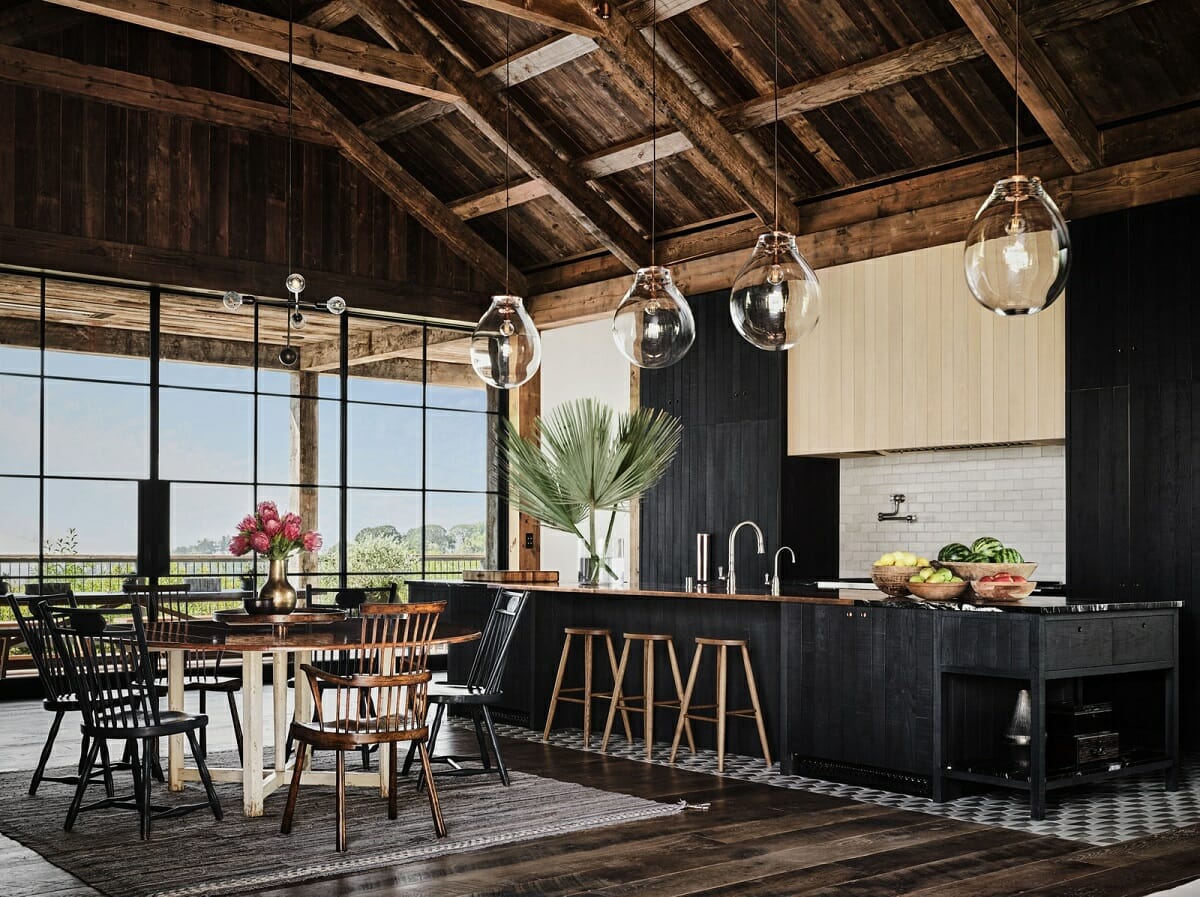 Home decor trends in 2022 see a movement towards maximizing glass. For instance, walls and oversized pendants are among the many ways to celebrate glass. With this in mind, mirror nature and do away with plastic as much as possible.
Create Eco-Friendly Interior Design Trends 2022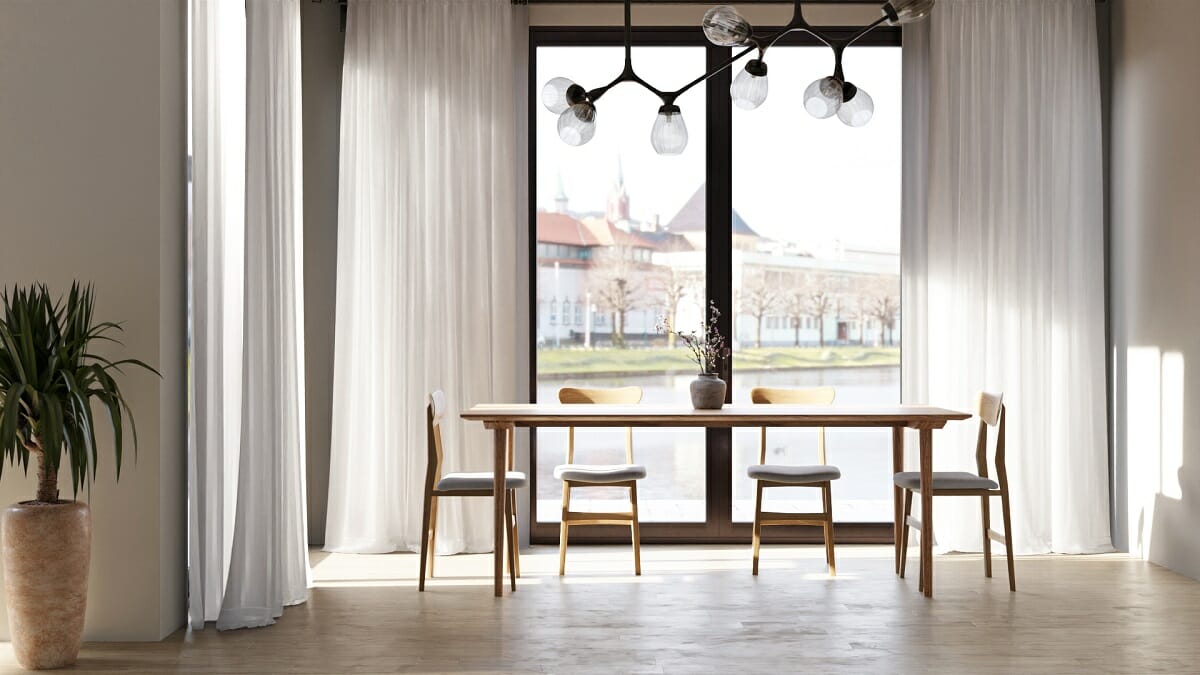 Sustainability is trending but it is a decidedly long-term approach to greener design. Here is what you can do and include in your home to make it more eco-friendly:
Opt for energy-efficient design that reduces the need for appliances, heating, and lighting.
Choose eco-friendly materials, which are either recycled, reused, or from certified sustainable sources. This category is vast and includes reclaimed wood, bio-glass, recycled metal, and jute.
Stick to green finishes. To minimize your ecological footprint choose paints with "non-toxic", "low-biocide", or "milk" tags.
8. Rounded Edges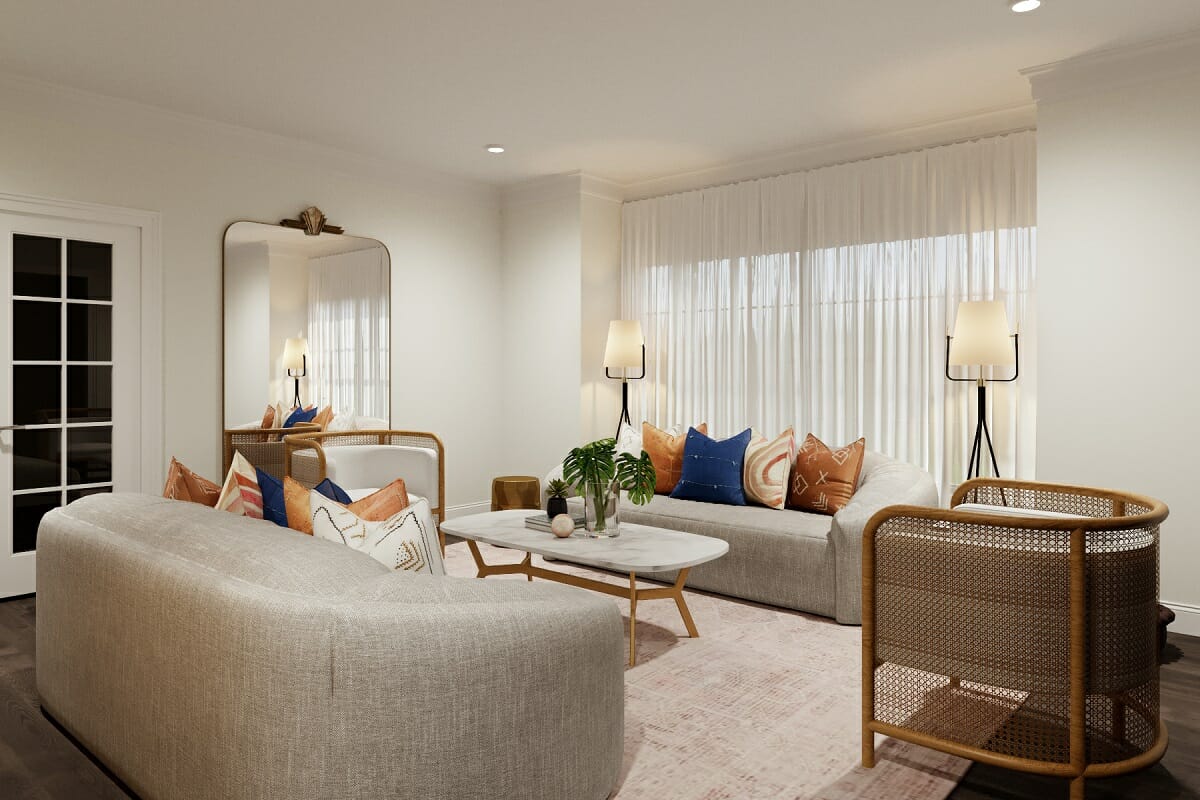 The curvy furniture design trend 2022 is one that has more than survived the pandemic, it thrived. Furniture and decor with softer edges are both feminine and forgiving. The first can complement angled pieces more, while giving a romantic feel to a room.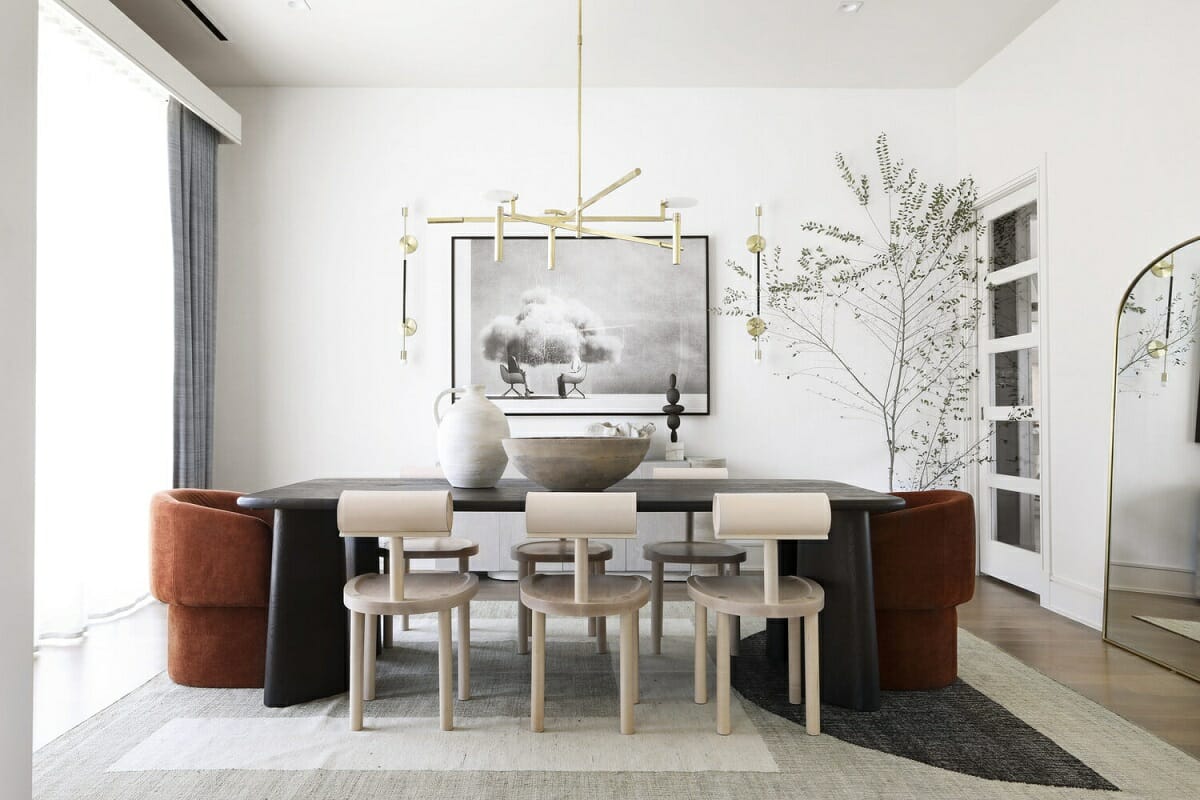 Rounded furniture is also another heirloom from the modern era making a comeback. However, this time around the curve extends beyond sumptuous C-shape sofas to include anything from soft-edge tables to reimagined contemporary chairs. These softened forms bring lightness and romance into interiors.
9. 2022 Interior Trends: Leather Furniture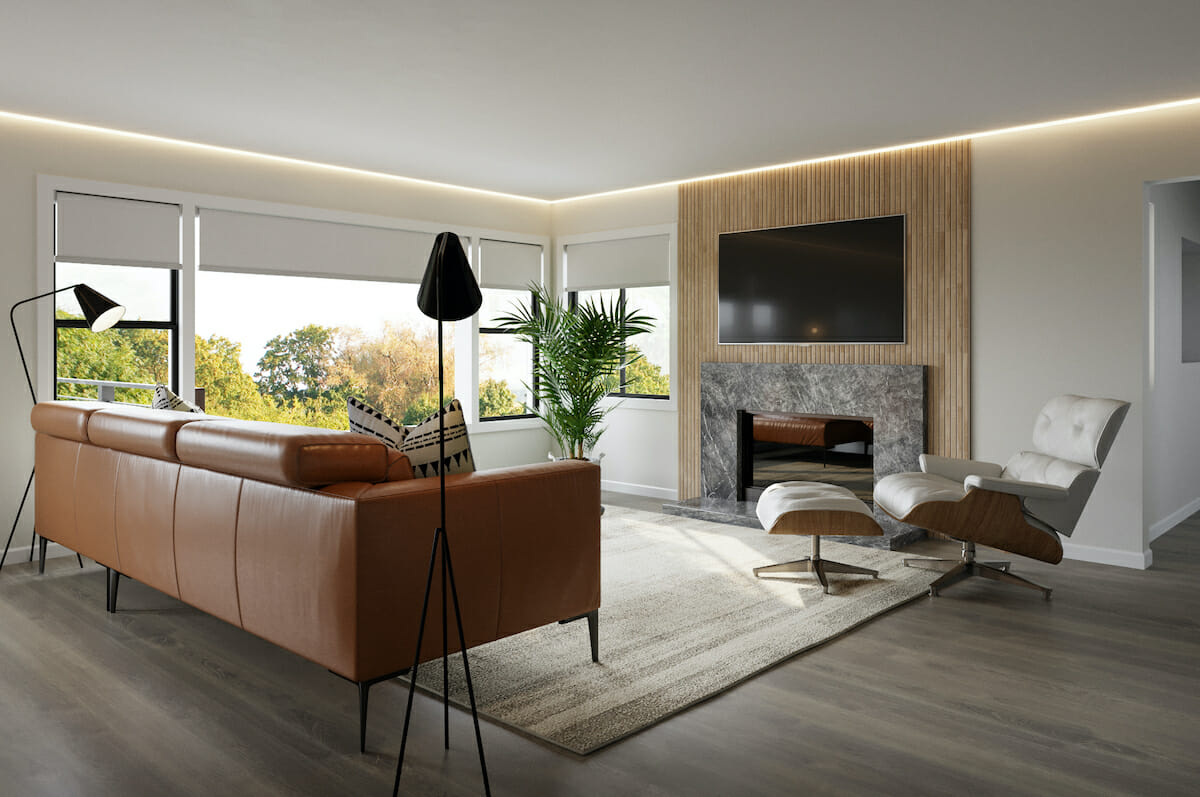 Textiles are returning to a classic in 2022. Leather, whether faux or real is a material that can instantly elevate an interior. It is certainly an inviting fabric for living spaces and bedroom trends. Either let your leather be showcased in a natural color or really make a statement with a bold color. Feel free to contrast the material with soft accents or textured scatter pillows.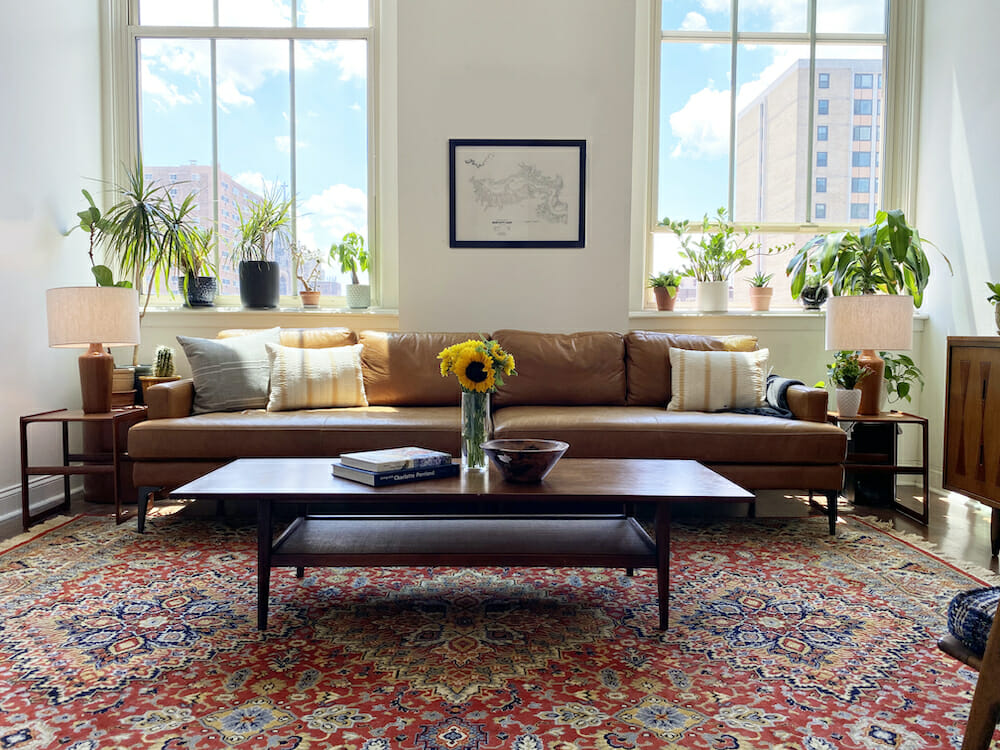 Stepping away from maximalist styles, leather will bring a luxurious touch to refined and restrained interiors. It's likely this natural material will be equally at home in minimal and organic spaces. In turn, this addition will add warmth to styles that could feel cold or unwelcoming.
10. Fine Outdoor Furniture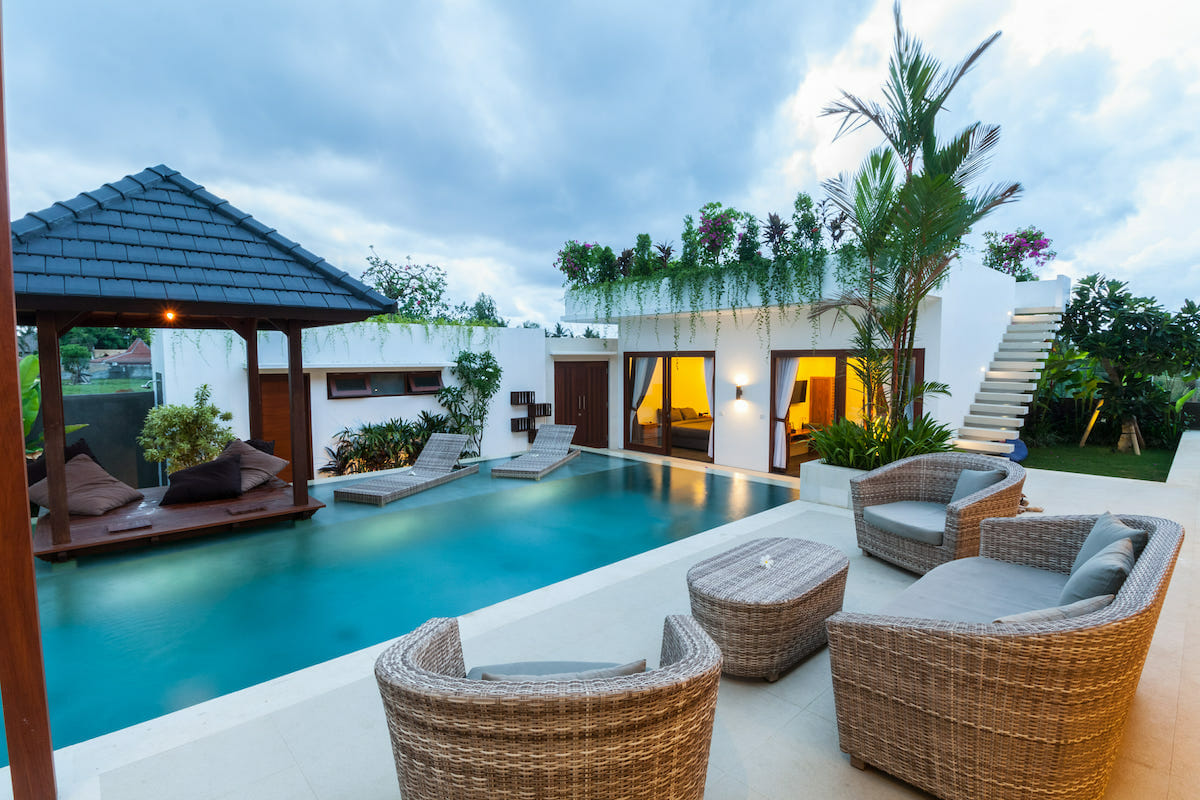 Interior design trends 2022 aren't limited to just the inside of our homes. As people seek to escape their homes, outdoor furniture and decor will be elevated to a whole new level. Expect to see quality arrangements that could rival the best designed interior selections.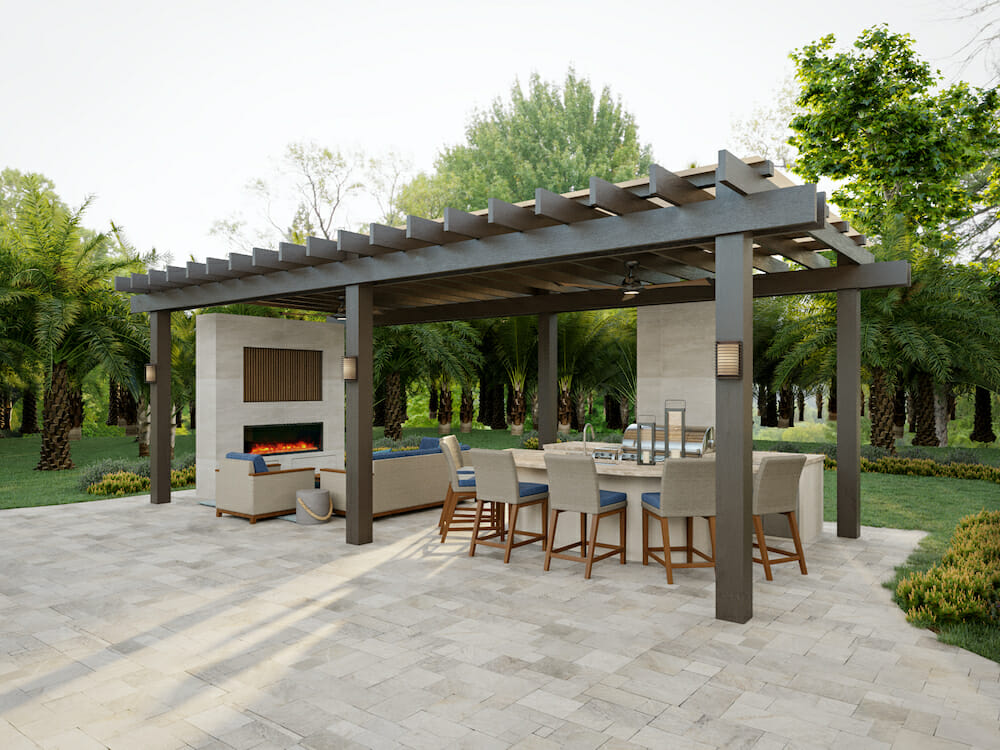 Comfort, relaxation, and entertainment will be the emphasis of these high-end outdoor oases. Along with lounging in the sun, outdoor kitchens and dining will play a significant role in upgraded exteriors. Fresh air and luxury living have never before gone so well together.
11. Global Inspired Home Decor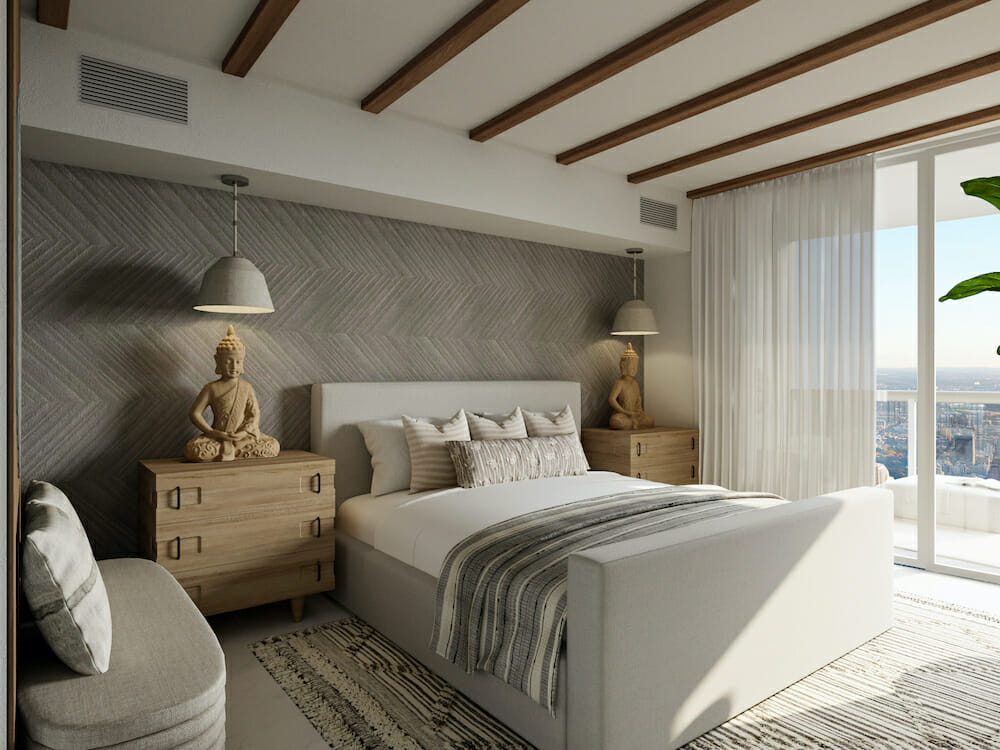 With a return to traveling, interiors will be influenced by these treks to other parts of the world. With no set destination as the main source of inspiration these spaces will be as unique as their owner's interpretation of their travels. However, if this is a trend you'd like to imitate, be cautious to not overdo it. There's a fine line between tasteful and tacky.
12. Timeless Style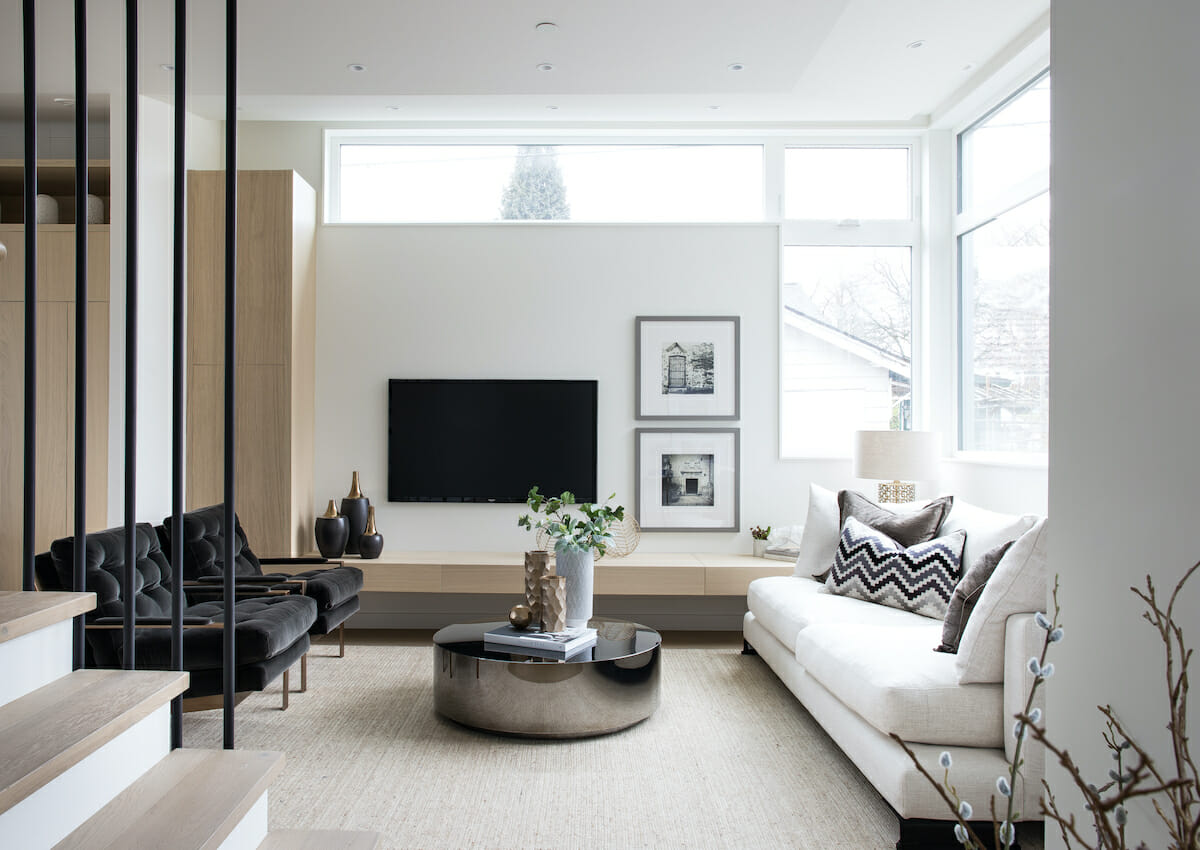 Some trends are just a fad while others withstand the test of time. And in 2022, those that will be around for the long haul are taking precedence. The previous mentioned trend of sustainability plays a part here. Consumers are becoming more conscious, therefore, choosing furniture and decor that won't be traded or upgraded year-by-year will become more popular.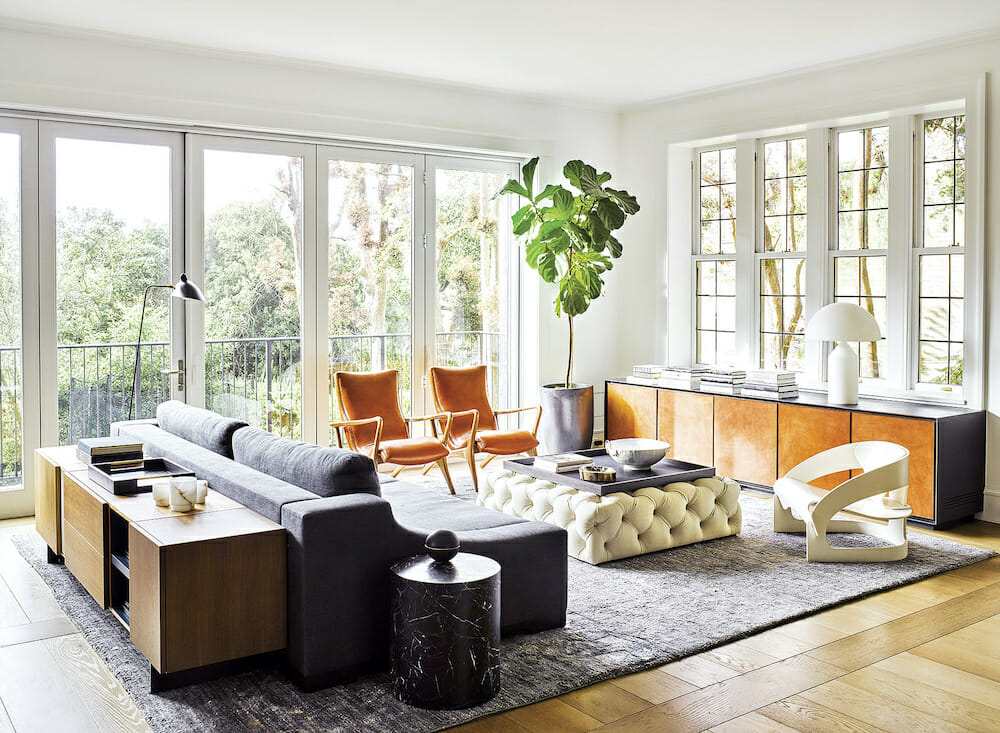 Furthermore, making selections built well enough to last throughout the years will also be key. So, splurge on quality key items such as sofas, credenzas, and accent chairs. Small decor is more likely to go out of style, so you can choose more affordable pieces here and swap them out if necessary.

Interior Design Color Trends 2022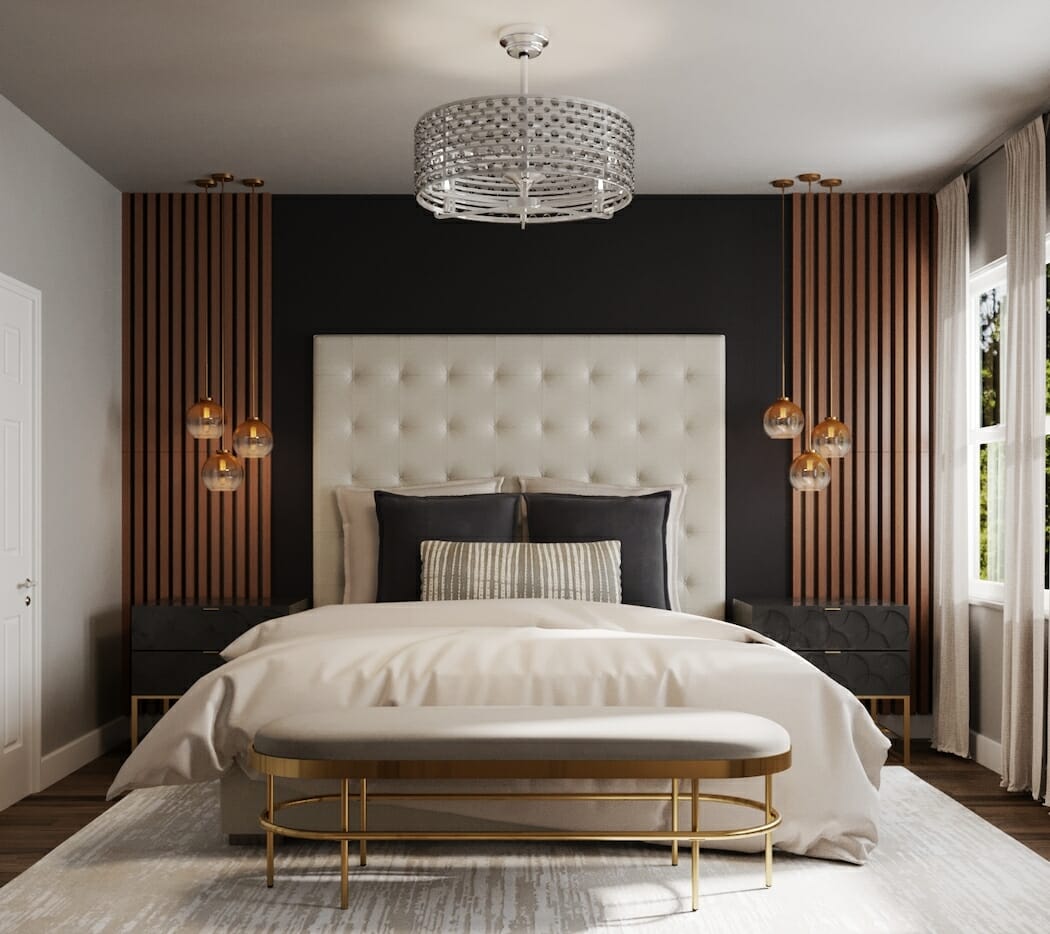 While it's easy to fall in love with trendy colors, be mindful of creating a cohesive scheme. Everything from large accents, all the way down to the smallest finish needs a curated touch. And the 2022 color trends are sure to have a choice for whichever end of the color spectrum you're on.
13. Earth Tones & Browns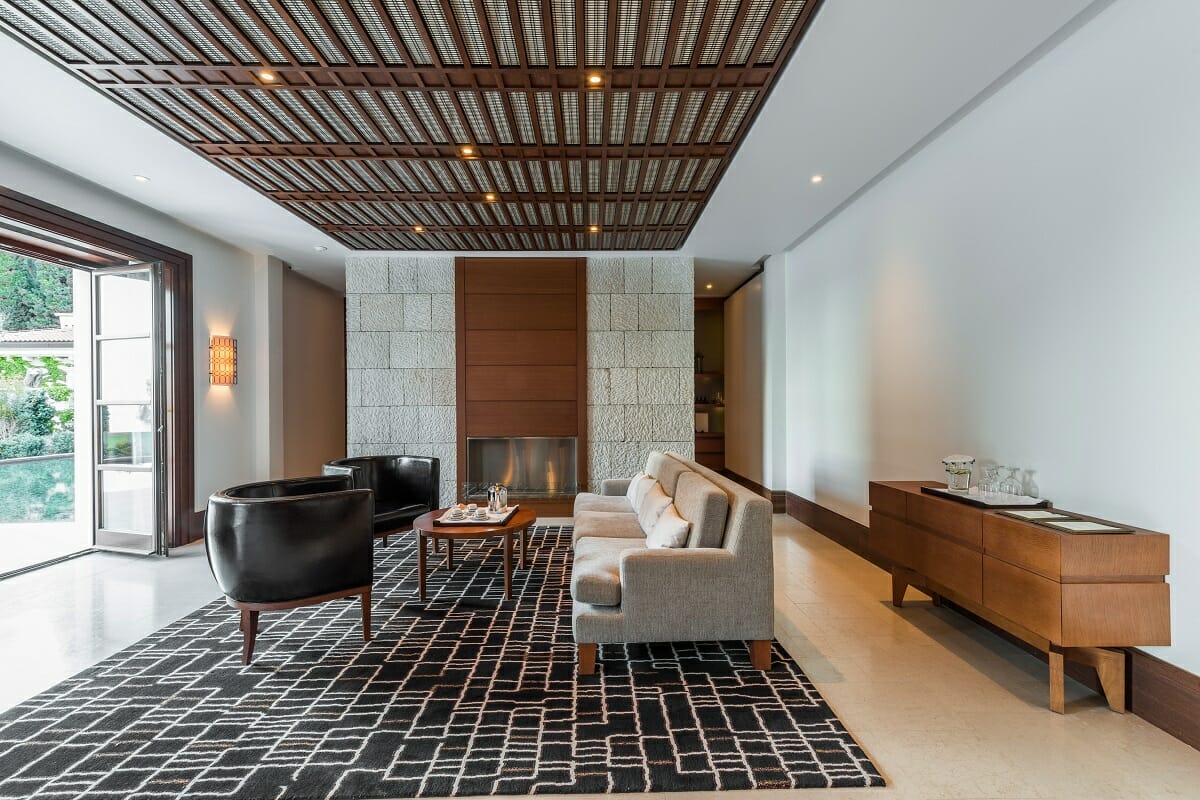 Browns and the colors of the earth open up an array of possibilities for your home. In fact, by sticking to natural hues, you always have a forgiving canvas. Choose paint colors that make your raw materials feel right at home. Think stone greys, tinted blacks, and warm chocolates.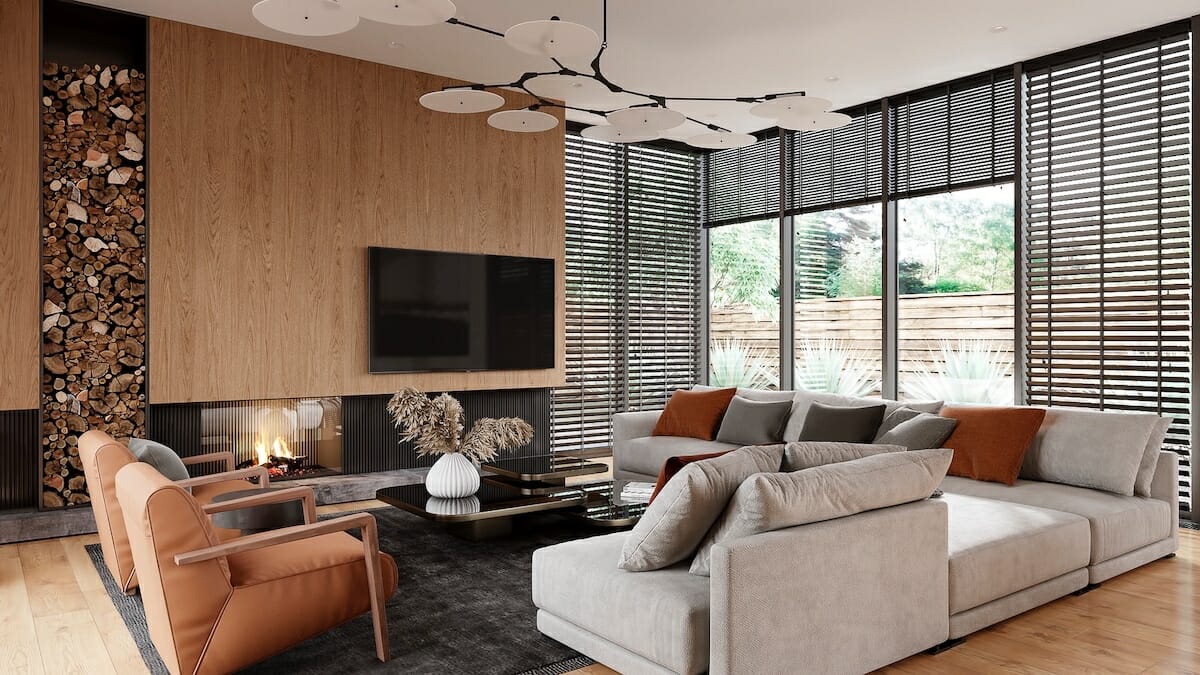 If you prefer a little more color, opt for hues like terracotta, rust, sage, or navy. If you're having a hard time choosing, use a photo of your favorite landscape for ideas. Nature always provides endless inspiration.
14. Bold Patterns & Colors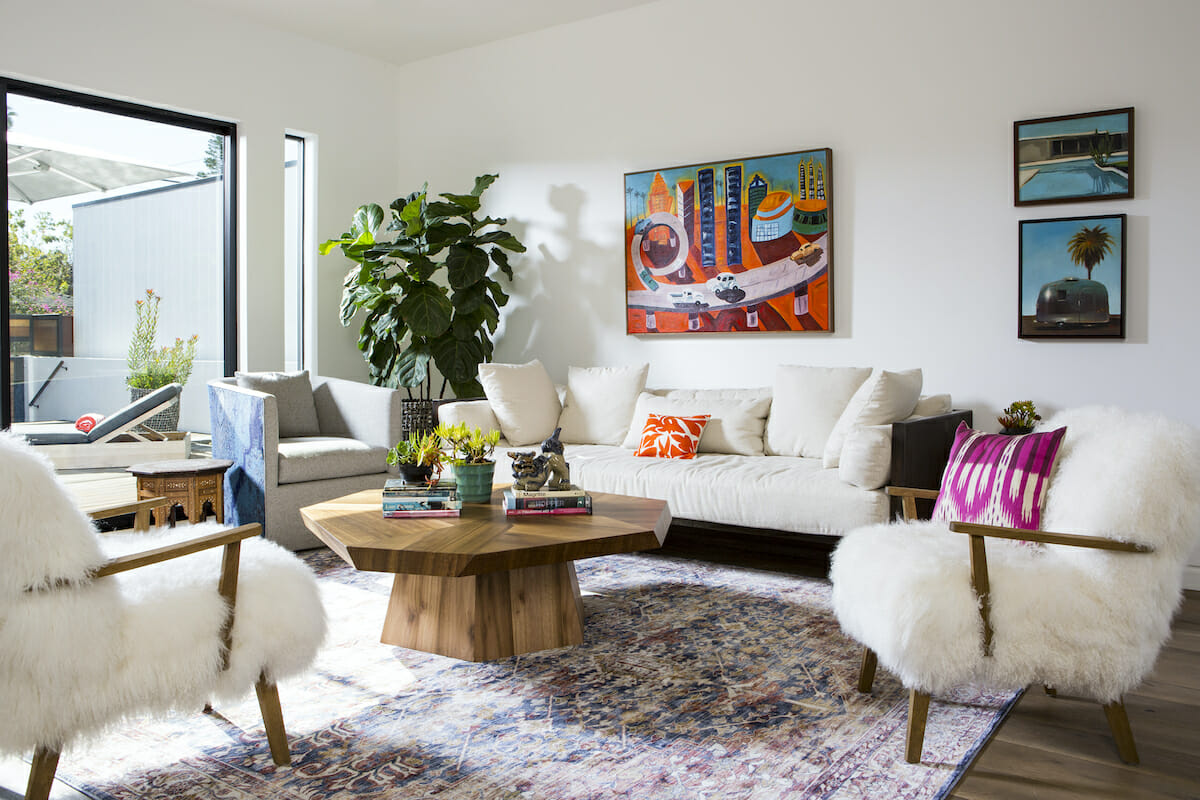 2022 is the year to let color and pattern shine in your home. The great part is you get to decide how much or how little of each you use. If this is your first time venturing into the world of bold colors, start with adding playful accents like throw pillows, wall art, or a rug against a neutral background.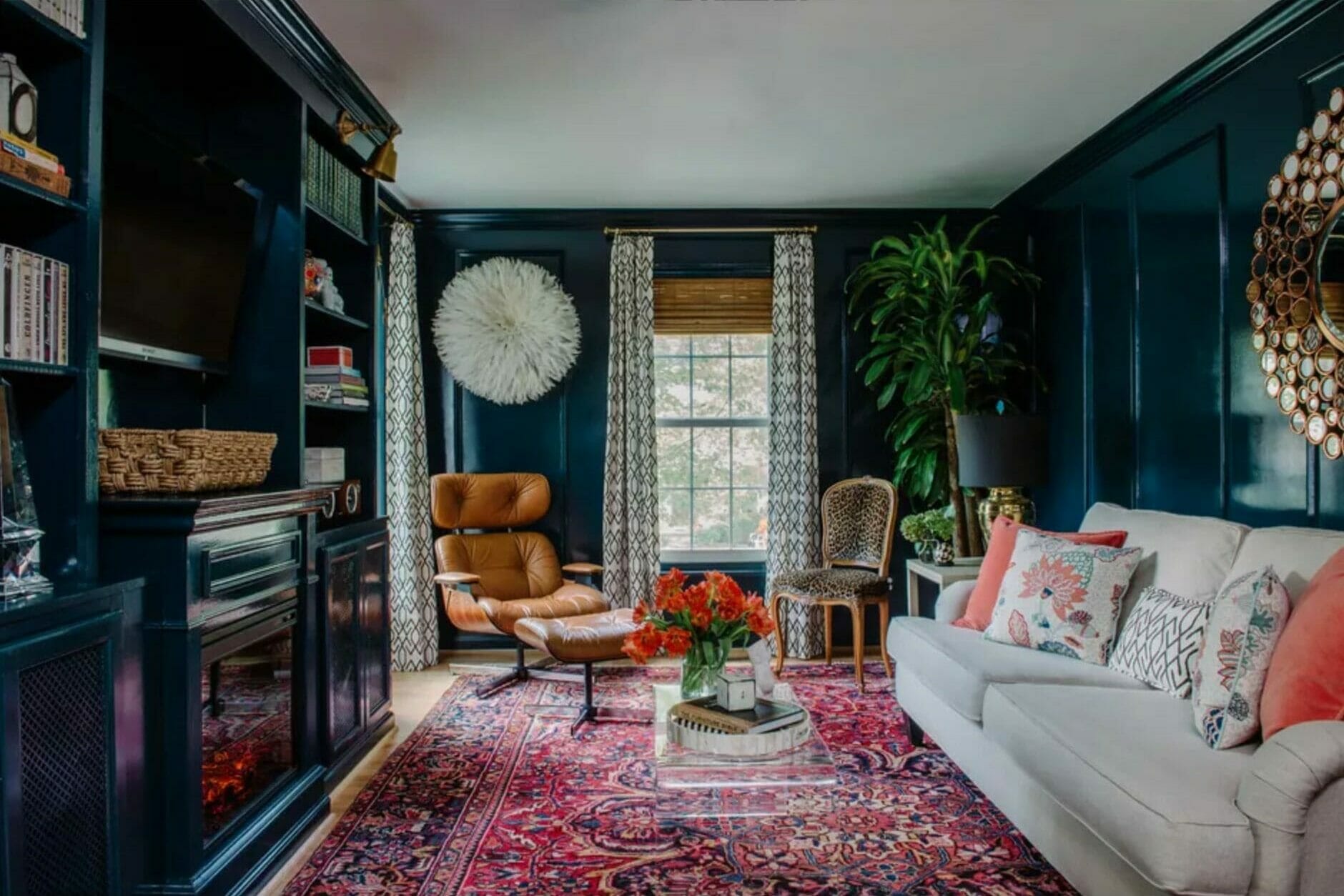 On the other hand, if you're all in, get creative and mix and match colors and patterns against each other. Printed and textured wallpapers will also find a home in this trend. And this style ties in well with the 70's retro trend we mentioned earlier – so give your space a fun vintage feel.
15. Colors of the Year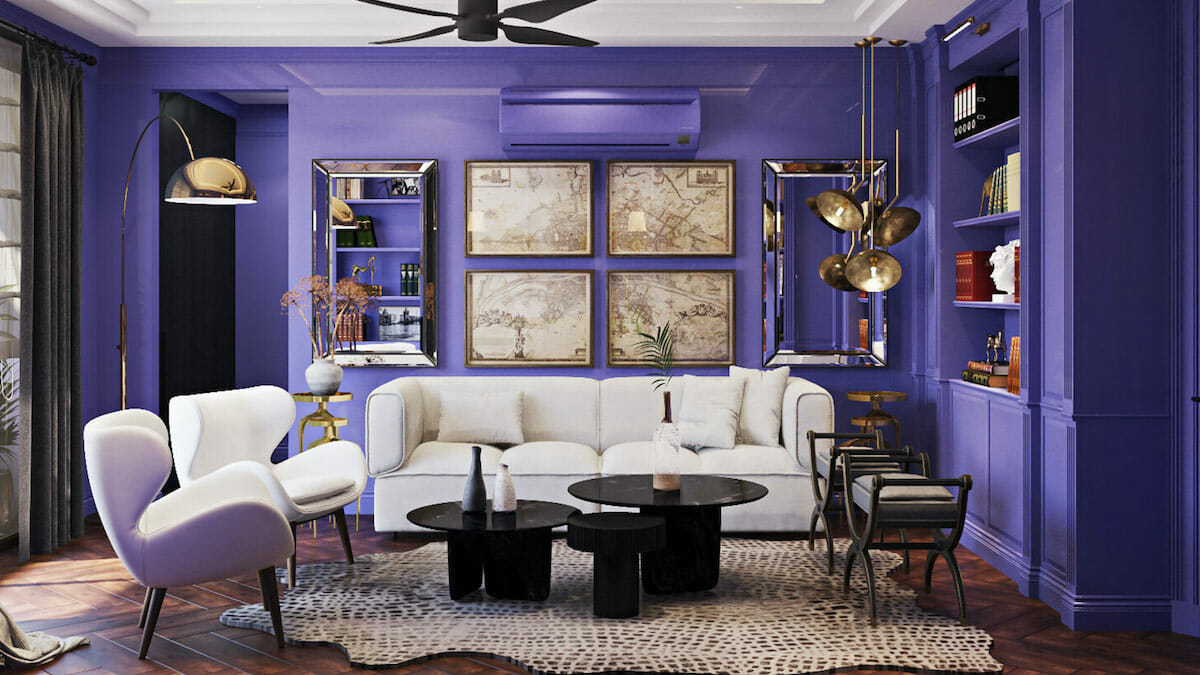 Color trends wouldn't be complete without incorporating the Colors of the Year. From Pantone's light purple inspired Very Peri, to the wide selection of colors nominated by various paint brands, you're sure to find one that fits your taste. As with any color or trend, feel free to start by incorporating it in a small way, before covering an entire room.
16. Painted Doors & Trims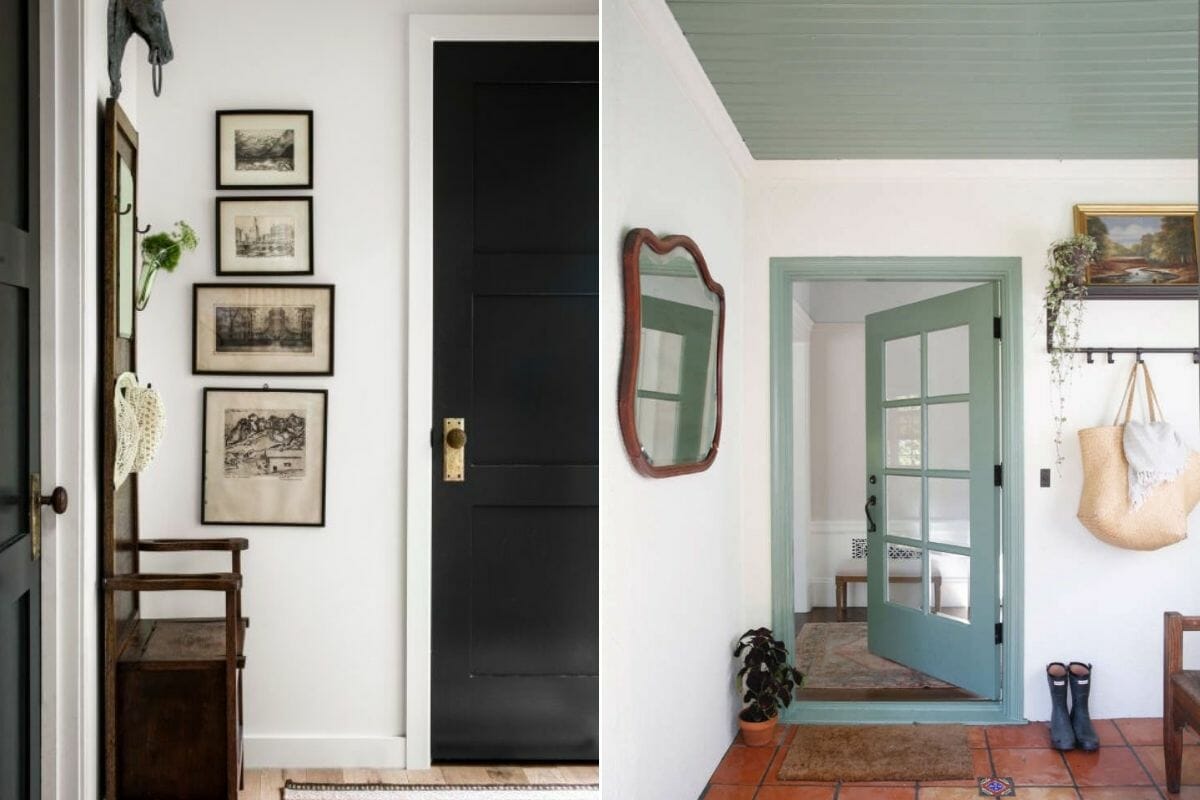 Punctuate blank spaces with statement doors and trims. You don't need much. In fact, leftover paint could be enough to create a feature doorway. With no need to introduce any new colors, this is an elegant way to bring colors into your interiors and exteriors.
17. Colorful Curtains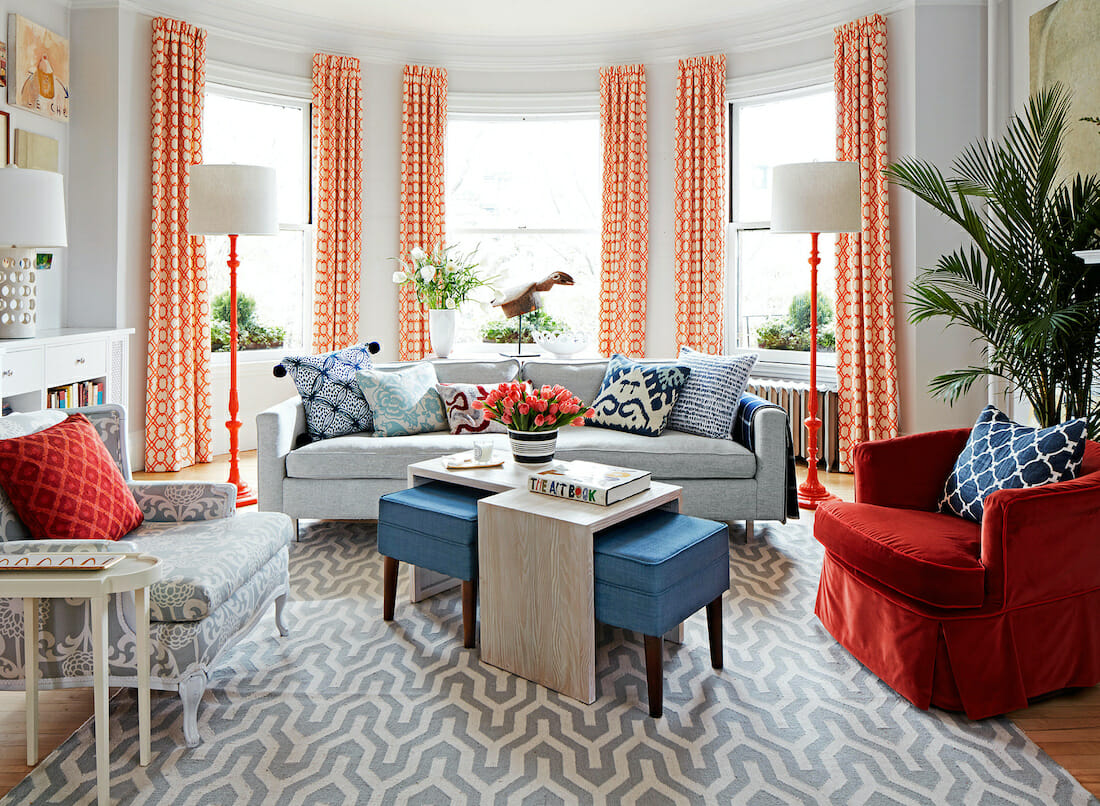 Color won't be reserved for just the walls this year. We're seeing an increase in window treatments doused in color. Solid panels will remain a classic, however patterns of all types are likely to be the favorite. And since curtains are easily interchangeable, this is the perfect place to experiment with a new shade or pattern.
18. All Over Color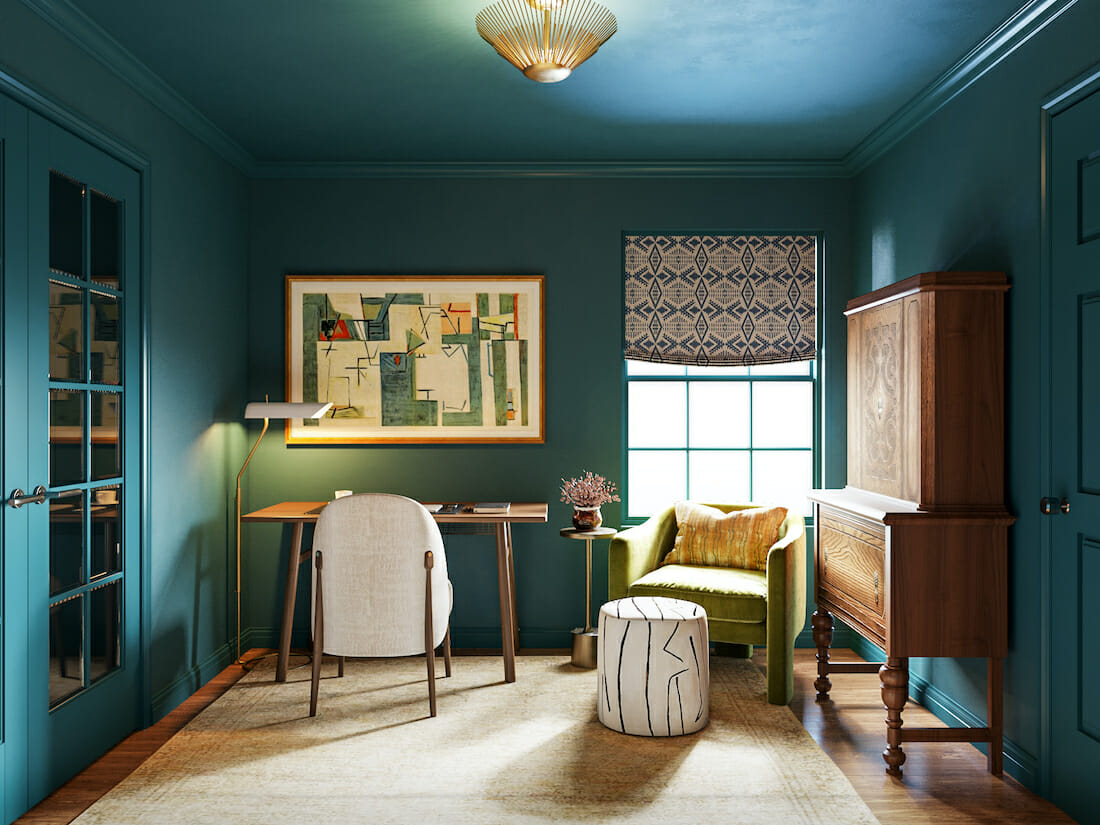 This one isn't for the faint of heart, but the all over color trend really packs a punch when done correctly. With this trend, the trim, doors, walls, and ceiling all get splashed with the same paint color. This is also a handy trick for making small rooms look larger or lower ceilings appear higher.
Get Your Home on Trend for 2022 
Feeling inspired to create the home of your dreams with 2022 interior design trends, but not sure how to pull off the looks on your own? Then, schedule your Free Interior Design Consultation to get started with the finest interior designers today!

[images: 1, 2, 3, 4, 5, 6, 7, 8, 9, 10, 11, 12, 13, 14, 15, 16, 17, 18, 19, 20, 21, 22, 23, 24, 25, 26, 27, 28, 29, 30, 31, 32, 33, 34, 35, 36, 37 ]