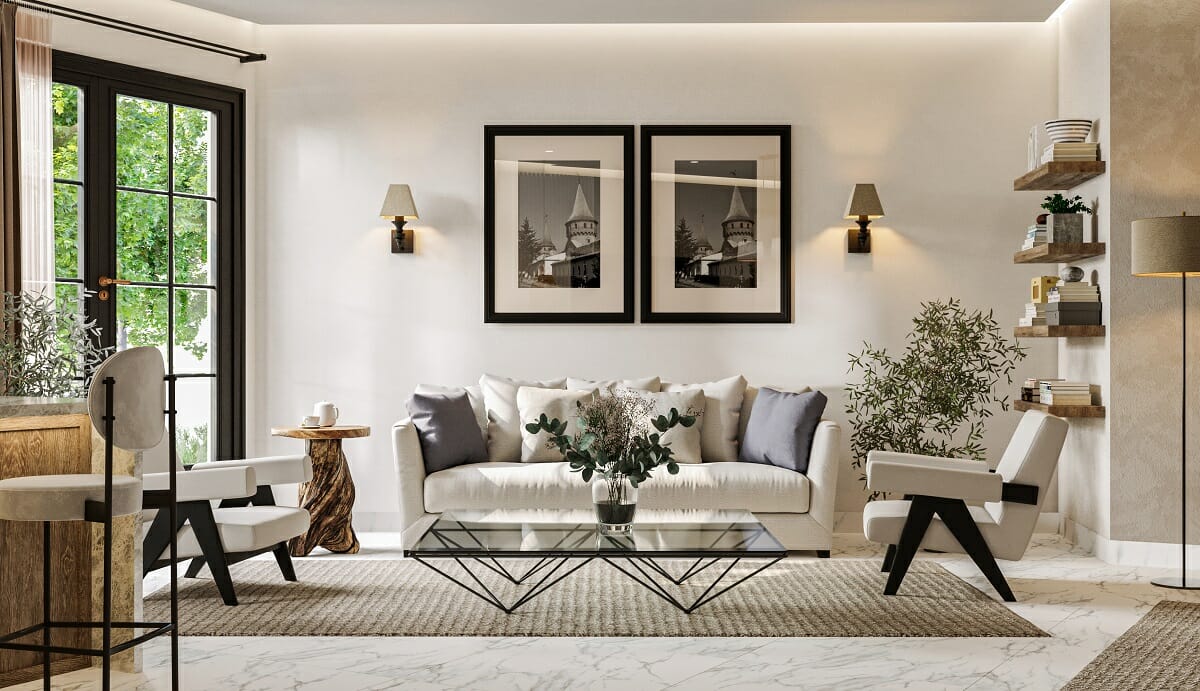 Interior design renderings have become vital in enhancing the design experience. As an indispensable tool, designers can clearly showcase their concepts to you visually. As a result, these glimpses of the potential final product bridge the gap between imagination and reality. But what exactly are interior renderings, and why do we need them? Let's uncover this topic below!
What are Interior Design Renderings?
Simply put, an interior design rendering is a digital image showing an interior space's layout and design. Also known as a 3D interior rendering, these photorealistic images depict a designer's interior design ideas. The visualization can show different angles and elements, including colors, materials, lighting, etc. 
Overall, this form of communication is beneficial as designs can be refined before the makeover begins. Plus, with virtual online interior design, you're able to better understand your space through 3D images. 
Wondering what your style would look like in interior design renderings? Then, take our quick Interior Design Style Quiz to find your style and a dreamy design!
Benefits of Interior Design Renderings
Designers can create visual room renderings through computer software and other expert tools. From there, you're able opt for design tweaks, or the designer can start to work on the physical transformation. Interior renderings certainly have many benefits. Let's discuss four reasons below. 
1. Saves Time & Money
Not having to create a space physically is cost-effective. It allows for making changes before putting together the final interior. This flexibility ensures everything is just right for a successful project result.  
2. Improves Communication
Between Client & Designer
Having everyone on the same page throughout a project is essential. 3D interior visualization allows designers and clients to communicate effectively. These designs can transcend any language barriers and ensure clarity. Here, interior rendering allows virtual imaginary interiors to do all the talking. 
3. Useful for Engagement
A 3D room render enhances the design experience by depicting every little detail of an interior design. In addition, it helps prospective buyers visualize the potential of a space. Lastly, 3D renderings create excitement and engagement – helping to bring your dream interior to life!
4. Allows for
Visualization of an Interior
Before any transformation begins, interior design renderings enable you to visualize your space. As a result, you are able to experiment with various design options until your goals are met. In this way, costly mistakes can be avoided. 
3D Rendering Interior Design Examples
With modern technology, 3D rendering interior design has become progressively more detailed. As a virtual interior design service, Decorilla utilizes this powerful tool. This helpful tool also lets you and your designer build rapport while achieving the best results possible. In addition, there is a conveying of ideas and finding solutions with interior design rendering services. 

Contemporary Living Room Render
This striking 3D rendering interior design of a modern living room shouts sophistication. The designer has created the perfect balance of contemporary pieces and comfortable furnishings. A neutral color palette sets a calm tone, while a gray accent wall ties in with the artwork. A plush rug grounds the space. In addition, the unique wine display adds a touch of class to the room.  
Glamorous Living Room Render
Here, 3D interior design services have brought a client's vision to life. The result is a glamorous living room with tons of visual interest. The warm color palette ensures a welcoming feel. In addition, the brass finishes and glass chandelier contribute to a luxurious impression. Nothing is left to chance in this rendering, with aspects such as a textured chair and pillow adding dimension. 
Neoclassical Living Room Render
This transitional living room rendering balances trends with timelessness. Overall, its appeal lies in the combination of classic and contemporary elements. The designer has made this space liveable and stylish, with ample seating. Plus, she has tied the room together with a scattering of burnt orange items. 
Contemporary Kitchen Interior Rendering 
Kitchens are said to be the heart of a home. Here, meals are prepared and families gather. This Decorilla designer has put together a stunning contemporary kitchen rendering. The chairs and cupboards expose sleek, clean lines. In addition, there is an emphasis on lighting, with three modern pendants hanging from the ceiling. 
Modern Rustic Bathroom Rendering
With a sense of tranquillity, this modern rustic bathroom interior rendering connects to the outdoors. For instance, the wooden textures and the pops of green portray nature. At the same time, the designer has combined traditional and contemporary elements to be chic and cozy. Moreover, the designer has added black metal finishes to an otherwise neutral space to include depth. 
Home Office Space Interior Architecture Rendering
A home office space needs to be both comfortable and sophisticated. And when it ticks all the boxes, an office can inspire creativity and workflow. This glamorous interior rendering has precisely that. For one, it contains statement chandelier lighting and elegant décor. Furthermore, the bold and opulent materials, like the silver finishes, create a sense of luxury. Lastly, the artwork, desk lamp, and deep blue accents enhance its visual appeal for a refined ambiance. 
Refined 3D Bedroom Render
This master suite bedroom's 3D rendering features clean lines, minimalist décor, and a gentle color palette. Two modern lamps bring drama with their statement design, while a plush burnt-orange chair adds interest. Furthermore, the window treatments are simple to allow natural light flow. Lastly, the green feature wall adds a pop of color and alludes to the client's personal style. 
Want your own 3D rendering interior design?
Knowing where to begin your home makeover can take time and effort. Fortunately, our team of interior design experts can assist. Simply schedule a Free Interior Design Consultation to get started today!