Underfoot but not out of sight, a rug can make a room. Coupled with sound design choices, floor covering is the anchor that brings a room together. But to get there, you need to pick the right one. Read on to learn how to choose a rug size, color, and style perfect for every room. 
Basics on How to Choose a Rug
Whether you want to add finishing touches to a living room or zone the living room, a rug can make all the difference. That said, an ill-fitting mat can do more harm than good. So, get to know the basics to choosing a rug and ensure the best result and avoid regret-buys. 
Be Generous with Sizing
First things first, the size of a rug matters almost more than its design. With an inappropriately sized mat, a room can look awkward or ill-furnished. How to choose a rug size depends on your layout and the size of the zone and room. Keep in mind that it's better to err on the side of too large than too small. Scroll down for tips on choosing the perfect rug size. 
Looking for more helpful interior design tips? Then simply

Sign Up

to receive the latest trends and tips directly to your inbox!
Consider Layering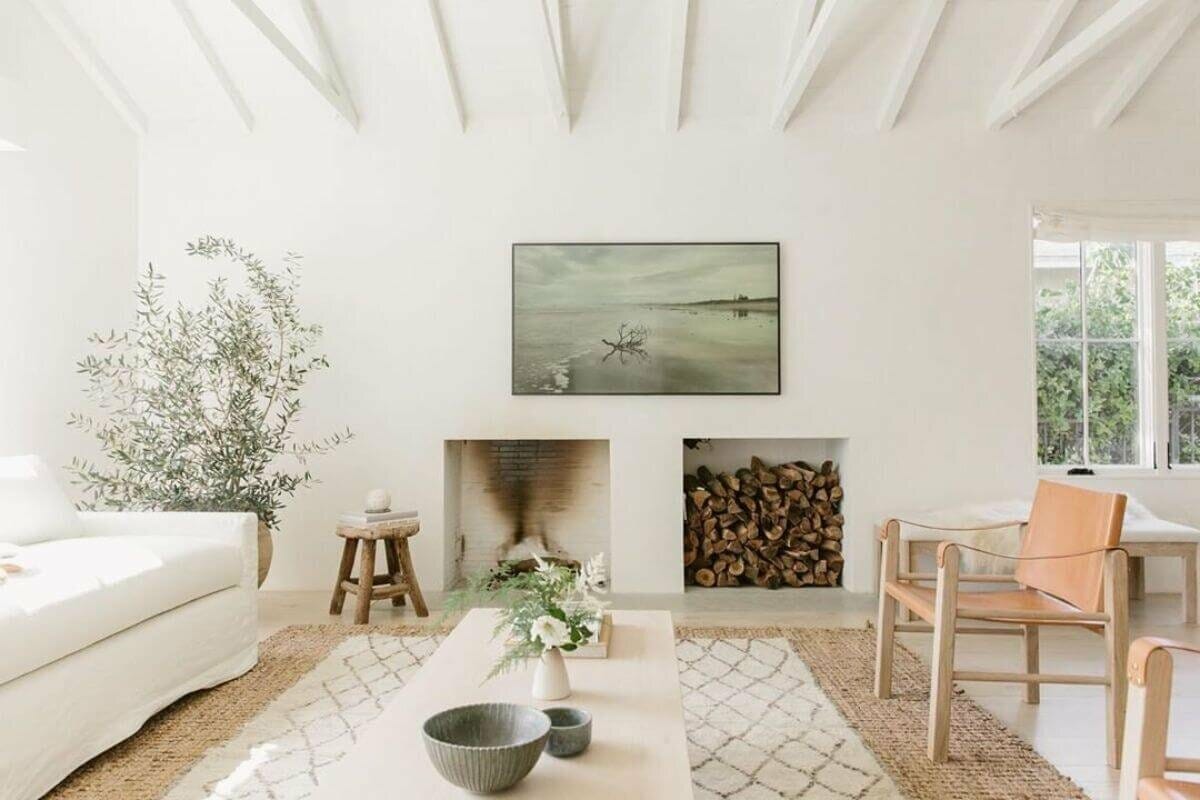 At times, you may be unsure about making a room feel cozy or what to do with a small but beautiful rug. Skillfully layering rugs could be the answer. Not only will a pair or trio of rugs provide more cushioning underfoot, but they also bring visual depth. They do this through different patterns, textures, and pile variations.   
Get to Know Materials & Durability 
From wool to viscose to polyester, rug material selections are diverse and vast. The composition also matters as it dictates the rug's durability, softness, and chances of shredding. Rug materials include wool, cotton, silk, natural grasses (e.g., jute and sisal), hide, viscose, and synthetics (e.g., polypropylene).
Above that, the manufacturing process also makes an impact. For instance, handmade (tufted, knotted, or woven) and machine-made result in very different style rugs and price ranges. 
Think About Traffic
The more traffic, the more durable an area rug should be. So, when making your choice, always be mindful of how often you'll be treading on it. A bedroom, for instance, is a low-traffic area that can get away with a delicate rug. A family lounge, on the other hand, sees a lot of action and spills. So it'll need a durable, comforting carpet instead. 

Picking a Rug Per Room
With the basics in mind, you can use this rough guide to choosing an area rug according to the room type. 
Living Room
Since the living room is one of the areas that sees the most activity, it's best to select a hardy rug that's easy to clean. The latter is especially vital when there are children or pets in the household. So how to choose a rug for the living room boils down to picking a durable material, like wool or synthetics.
Bedroom
Unlike for the lounge, how to choose a rug for the bedroom hinges on your style preference. Bedrooms tend to be quiet, low-traffic spaces. This means you can try delicate and thin materials, like silk or viscose, or something with a plush, high-pile finish. Cotton is also a great option for kids' bedrooms as they are affordable and easy to clean. 
Dining Room
A dining room is ideal for a formal rug. Moreover, it's also a great way to separate the area in an open concept interior. But as it's another high-traffic space, how to choose a rug for the dining room rests on your budget and style. It will require a durable material, like wool. However, a less luxurious rug made from jute or synthetics can work just as well. 
Kitchen, Hallway & Foyer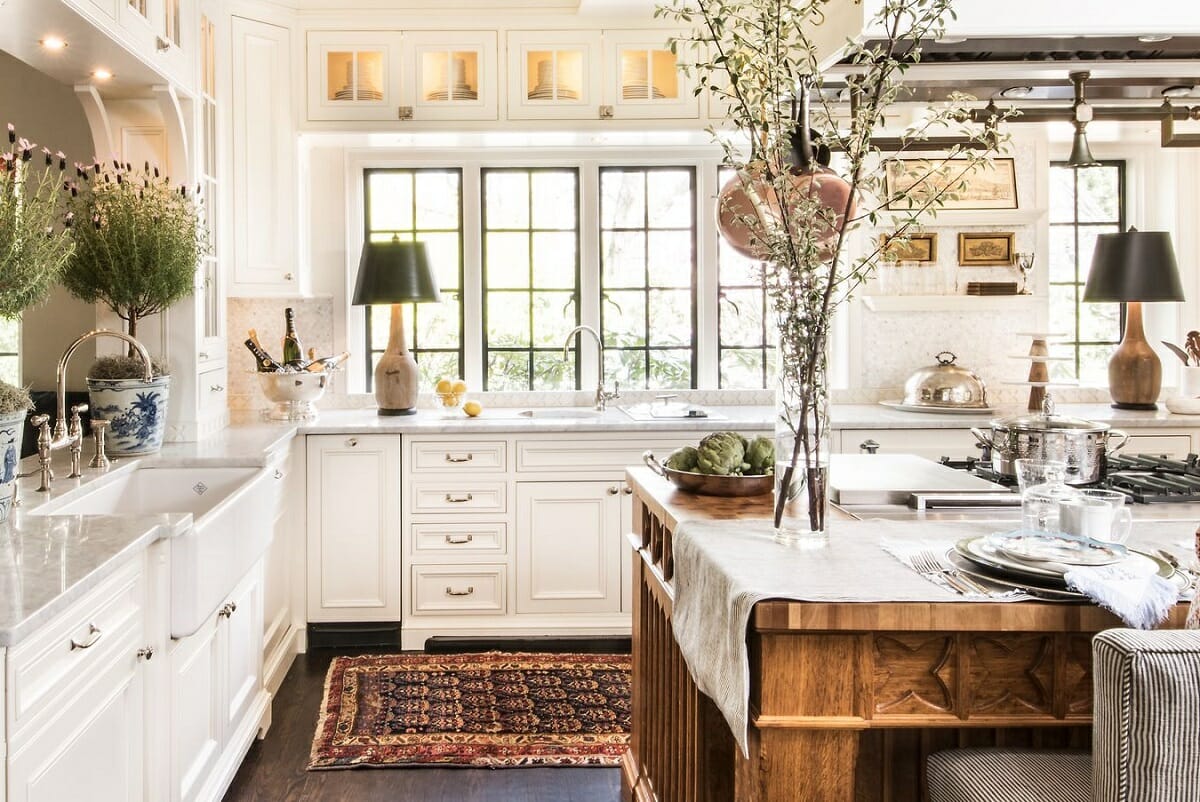 Owing to restricted floor space, kitchens, hallways, and foyers are often better suited to rug runners. These come in various sizes but mostly feature an extended rectangular shape. As these spaces see a lot of foot traffic, opt for durable makes. Also, add a rug pad as some hardy materials, like cotton and seagrass, are prone to slipping.  
Expert Advice on How to Choose a Rug Size (and Rug Pad)
Choosing an area rug size comes down to the room and its furniture layout. So, before you select your favorite underfoot design, consider these tips. 
Keep front furniture legs on the rug

 to anchor the items and balance the layout.

Choose a rug that is longer than the couch

. Allow 8 to 10 inches of excess material on either side of a sofa. 

Unify a large room with an oversized rug

, but keep 18 inches of the floor exposed to create a border. 

Ensure the rug pad is roughly an inch shorter

 than your rug in length and width.

Round and 

organic shaped rugs, like animal hide, work well in smaller settings

. This can include a dining room or form part of a layered look in a living room. 
How to Choose a Rug Color the Easy Way
Now that you know how to choose a rug size, it's time to select the color. As it's on the floor, a rug should not steal the show. Instead, it balances and anchors furniture and décor to form a unified look. It will also dictate the mood of the room.
Complement your color scheme.

 You can use two to three colors from your interior palette to guide you. 

Light or Dark?

 Light-colored rugs can make a room seem large and bright, while a dark hue will define the interior, making it feel more intimate. 

Pick a pattern or a solid color. 

A pattern works well with solid-colored furniture, whereas a monochromatic rug complements motifs.   

 

Cool down or warm up an interior.

 Cool shades, like blues and greens, can create calm in a sunlit room, and warmer tones, like yellow and orange, will add coziness to a room. 
Pro Tips on Rug Placement
Keep things simple with tips from professionals. 
Area Rug Placement for a Living Room
Ensure your rug accommodates all the legs of your coffee table and the front legs of chairs and sofas. 

If the rug is big enough to fit all the furniture in the section, allow an equal amount of rug access around the furniture's perimeter.

For smaller rugs or large rooms, leave a small section of floor space open between the mat and the furniture.  

Balance the layout by leaving an equal amount of rug around or underneath chairs and sofas. 

Allow a uniform section of exposed flooring around the mat.
How to Place a Rug in a Bedroom
Pick one large rug underneath or two identical area rugs on either side of the bed.

A large mat can either fit under at least half the bed or take up the entire space below the bed and the nightstands. 

If the rug is on the smaller side, ensure an equal amount of mat surrounding the side and foot of the bed.

For a larger rug, position it two-thirds of the way under the bed or 18 inches from the wall or head of the bed.   
Dining Room Rug Placement
Leave 24 inches excess rug between its border and the side of the tables to ensure chairs remain in the mat when they are pushed away. 

An organically shaped rug can add an interesting feature and does not have to adhere to general rug guidelines apart from fitting the table. 

Allow 18 inches between the rug and the walls of the dining room. 

Use rectangular rugs for round extension tables. 
Need more help creating your dream interior? 
If you want the perfect rug and a dreamy interior, get a professional touch. Schedule a Free Interior Design Consultation to learn more about your design options today!  

[images: 1, 2, 3, 4, 5, 6, 7, 8, 9, 10, 11, 12, 13 ,14, 15, 16, 17, 18]