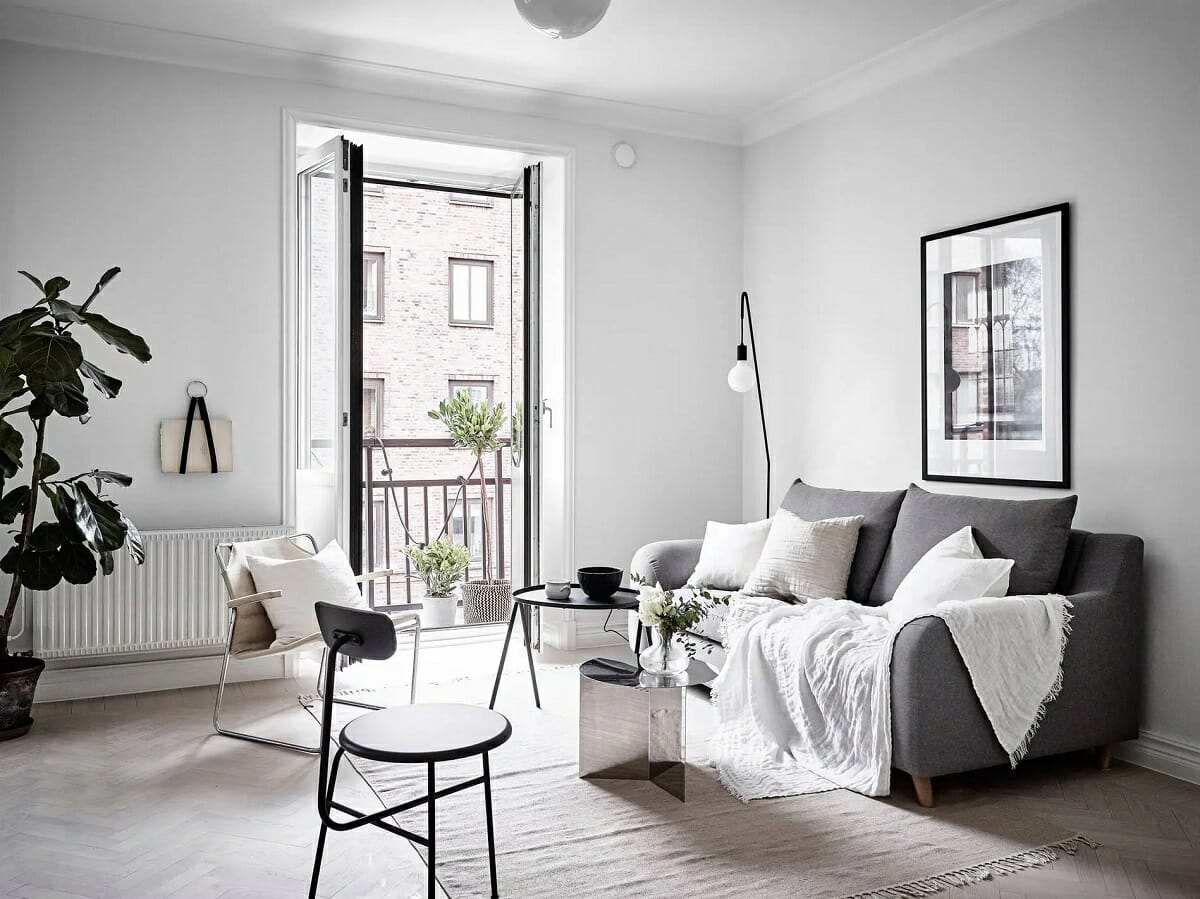 A light-filled room is naturally uplifting. Not to mention its pleasing glow can be captivating. But finding the right ideas on how to brighten a dark room can be a real challenge. Fortunately, all can be smooth sailing with a few design expert tips – which we have! Read on to discover how to create a light and airy interior. 
Easy Tips on How to Brighten a Dark Room
Even the dimmest, darkest room has potential. The reason lies in the plethora of ways to lighten a room. Some are quick, while others may take a bit more time. Plus, illuminating interior design can benefit from color psychology and paint colors to brighten a dark room. But in the end, they all make spaces feel brighter and more welcoming. 
Pro Tip: Brighten your room with your favorite decor style.

Take our

Free Interior Design Style Quiz

to discover your unique decorating style today!
1. Make Mirrors Do the Work
Adding a mirror is a surefire way to illuminate your space, especially when combined with lighting interior design. In fact, any reflective surface can help lighten your home. A large, frameless mirror can do wonders. By reflecting light and creating depth, it's a swift solution for how to brighten up a dark room. 
If your space has natural light coming from a window, place a mirror or reflective decor on the opposite wall to double the sunny glow. You can also cover a wall with a full mirror for a striking visual effect. Mirrors are not only sources of light reflection but also statement pieces. 
2. Feature a Glass Door 
A glass door invites natural light, lessening your need for additional light sources. When you want a more permanent solution for how to brighten up a dark room, swap out a solid door for a transparent one. Not only will this increase light in a room, but a glass door is also an excellent noise blocker. 
3. Bring in Bright Accessories
Bright accessories are a great trick – think funky artwork or a colorful rug. These accessories can do wonders when considering how to lighten a room with no natural light. Decorative pieces can lift the mood, particularly if placed under a spotlight. This spotlight, in turn, creates an enthralling focal feature in the room.

4. Lighten Your Floor
To create the feel of a light and open space, look to your flooring for change. White floors reflect light, creating a sense of roominess. Dark floors absorb light, which isn't ideal if you are wondering how to brighten up a dark room. There are options when it comes to lighter-colored flooring. Exceptional examples include; marble, light wood, tiles, and natural stone. However, if you're unable to make a permanent change, bringing in a light rug will certainly do the trick too. 
5. Rethink the Curtains
If you don't need (or particularly want) curtains or blinds, it's time to get rid of them! As soon as you do, natural light will be the first prize. If you do need curtains for privacy, consider hanging them in a high and wide layout.
This stance will help your quest on how to make a room brighter through the appearance of larger windows. Not only will it let more light into your room, but it also gives off an aesthetically pleasing style. 
6. Opt for Slim-Frame Furniture
In choosing your furniture, consider how to make a dark room brighter through form. This happens by encouraging a sense of spaciousness. With this in mind, avoid bulky furniture or pieces that give off a heavy feel. Rather add slim or transparent items such as a transparent table or an ivory sofa. Besides, small additions of the correct furniture can assist with a positive light flow. 
7. Be Strategic with Lighting for Dark Rooms
How to brighten a dark room comes down to both natural and artificial light. Although many tricks help lighten a space, lighting itself is vital. This becomes especially important when you're asking how to lighten a room with no natural light. 
First, consider your light bulbs. The type of light they emit greatly impacts the atmosphere. Bright white best echoes daylight, while warm white is best for cozy, livable spaces. By layering light, you'll control the look and feel of the interior.
8. Add Some Shimmer
Paint your walls with a semi-gloss or satin finish to add an illuminating dimension to your space. Unlike shimmery finishes, matte paintwork doesn't reflect light and can add a dull appearance to an already dim interior. How to brighten up a dark room is easier when adding elements that bounce and double light.  
9. Paint a Cool Color Scheme
Brighten an interior with cool tones. It can be helpful when looking at how to lighten a room with no natural light. Keeping ceilings pale and cool will help make a room appear bigger and brighter. Similarly, a cooler color scheme will draw back walls, creating a more spacious, airy feel.
These techniques allow for light to scatter around the room. This works particularly well if your paint has a gloss or satin finish, as mentioned in the tip above. 
10. Keep Windows Spotless
Now it's on to the easiest practice of all. How to brighten a dark room can come down to window cleaning! A regular spruce-up of your windows will reap the rewards of sunlight streaming in. Remember to clean both inside and outside your windows, ensuring no build-up of dirt on either side. 
Need help lightening your home?
If you need an expert to help show you how to brighten a dark room, our talented design team can assist. Schedule a Free Interior Design Consultation to find your lightened way forward!