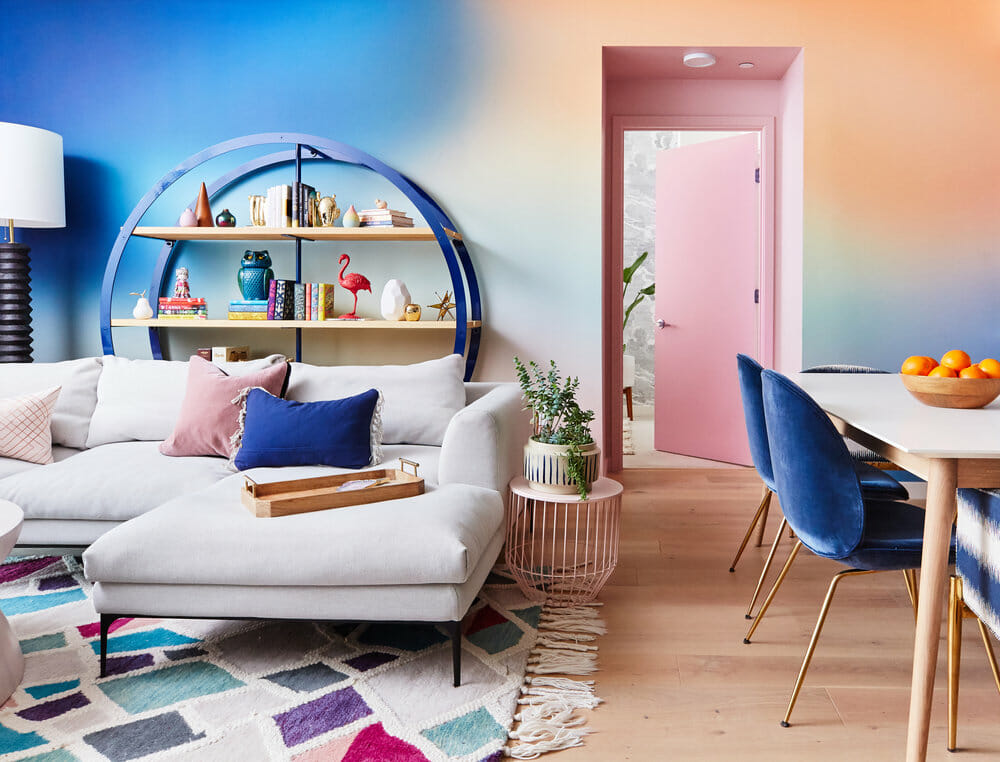 Yes, neutral tones are oh-so-alluring. They are, after all, a classic choice. However, incorporating bold pops of color into a space can lead to equally chic results. When used well, these hues also make quite a statement. Bring life to any dull space by embracing colorful interior design. Read on to discover the various ways in which splashes of color can enhance your abode!
Guidelines for a Colorful Interior
Creating colorful interiors may seem daunting to anyone unfamiliar with the basic rules. How do you decide which colors of the year have timeless appeal or what hues create a harmonious vibe? Once you know these principles, it's a breeze to identify and choose the best shades for every room.
Stick to the advice below to create brilliant spaces that pack a punch:
Consider the effects of 

interior design color psychology

:

 Colors have the power to influence your mood. Think about the desired feeling of a room, then paint and decorate it accordingly.

Follow the 60-30-10 rule:

 It's simple, really. Paint 60% of a room the most desired color. The next 30% of the room should feature a color complementary to the first. Finally, the remaining 10% should be in another unique color, contrasting the other two.

Play around with patterns and textures:

 Show off the same tone in different ways with patterns and textures. It'll not only create visual interest but add depth to the interior.

Be at peace with imperfection:

 Don't let finding elements in the same tone become an obsession. Variation and contrast are good! They add character and warmth. Spaces, where everything is perfectly matched, may look beautiful but often feel unwelcoming.

Use contrasting tones:

 People often fear contrasting tones will clash. Yet they do, in fact, create striking yet harmonious spaces. A great way to identify contrasting colors is by looking at a color wheel. Those shades opposite one another are a good match. 
Need help pulling off colorful interior design in your home

? Then, schedule a

Free Interior Design Consultation

to learn more about your design options today!
Colorful Interior Design Ideas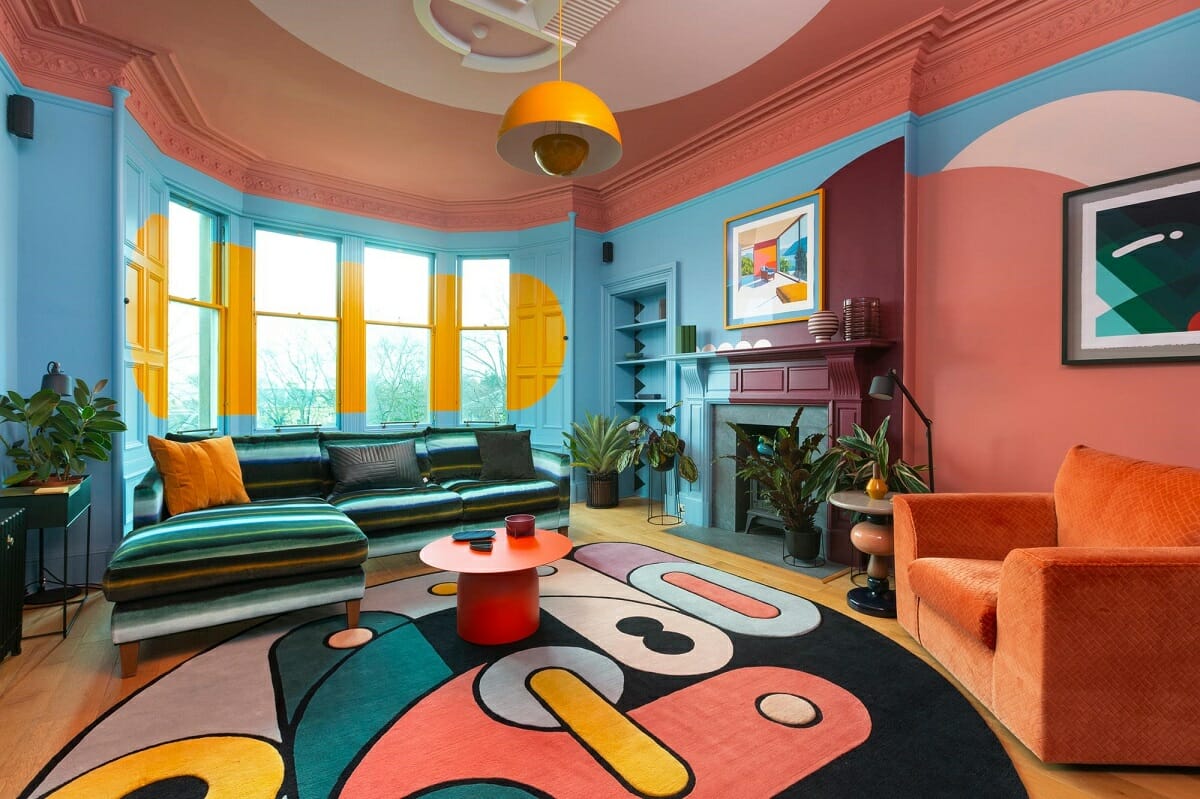 From trendy interior paint ideas to fun accent pieces – there are various ways to create a space that's both colorful and tasteful. Gather inspiration below to find out which solutions are best suited to your home. There's an ideal way to add color to any room!
1. Explore Mural Wall Interior Paint Ideas
When considering ideas for interior paint colors, don't feel limited to one or two. Paint a mural using several complementary and contrasting tones. It can be elaborate, like in a children's bedroom, or more sophisticated and grown-up. Think of geometric or abstract patterns in spaces like the living room.
2. Opt for a Moody Look with Jewel Tones
What's great about colorful interiors in jewel tones is the surprising versatility. Depending on the furniture and décor, a space can appear glamorous or bohemian. One thing about jewel tones, however, remains constant: the moodiness. They're atmospheric and rich, adding depth to any room.

3. Create a Colorful Interior Design Style Using Tiles
Floors and walls can indeed benefit from colorful paint ideas, but tiles have similarly beautiful results. Bathrooms and kitchens are ideal places to use them. Nowadays, there are various stunning shapes and styles available too. Be sure to experiment with the layout to find the perfect pattern.
4. Be Bold with Bedding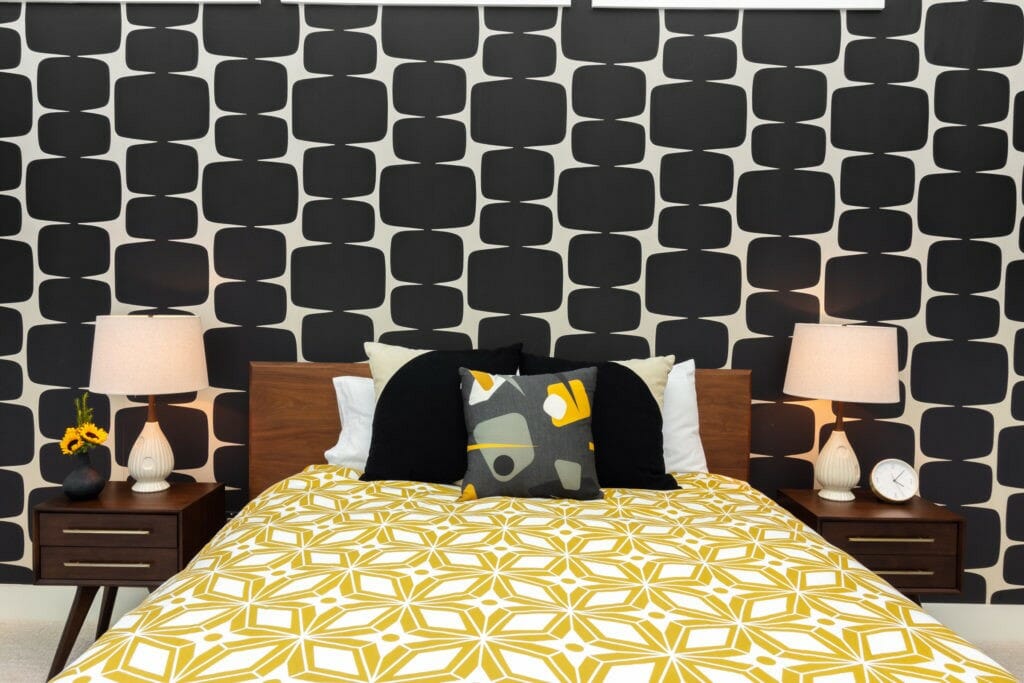 Bedding is a great way to experiment with colorful interior design. Not only is it easy to change, but makes a big impact since the bed is ultimately the room's focal point. It can also be as bold or simple as desired. We recommend a layered look for added plushness.
5. Unify a Space with Different Shades of the Same Color
Colorful interiors can consist of various hues of a single color too. Make an unassuming room come alive by decorating it with a few pieces of furniture and décor in shades of your favorite color. These elements also end up tying the space together, creating a cohesive look.
6. Show Rich Home Décor Colors with an Oriental Rug
There's something special about oriental area rugs. They add an undeniable sense of sophistication to any room. It's especially true of those rugs featuring deep, rich hues. Whether used as colorful living room décor or to add interest to an empty hallway, they're a fabulous aesthetic addition.
7. Interior Paint Ideas: Add Color to Cabinets
Cabinets are a staple of many homes, found in bathrooms, bedrooms, and kitchens. One simple yet effective way to transform a space is by covering its cabinets with a fresh coat of paint. Dark colors tend to have a dramatic effect, while light, bright colors are good at creating a cheery atmosphere.
8. Add Color to a Neutral Room Using Curtains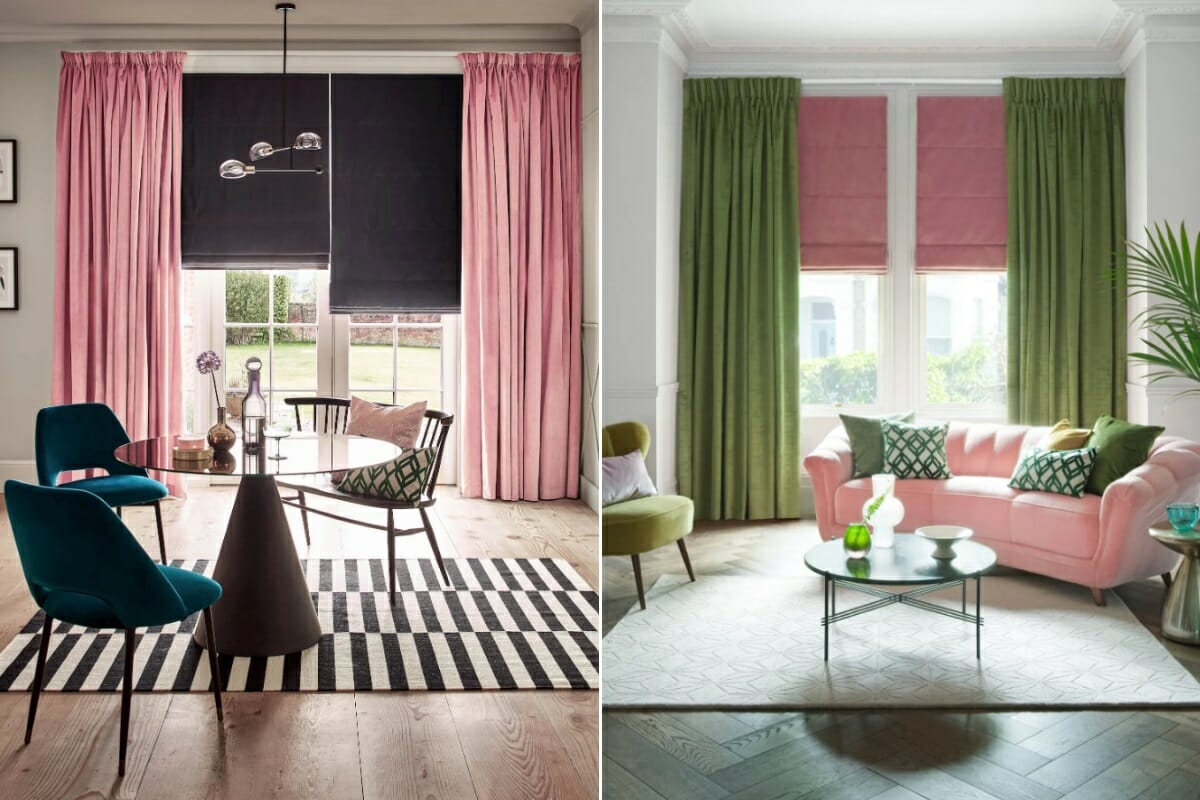 The best colorful interior design ideas are quick and easy to implement. Immediately brighten up a mostly neutral space by hanging up some funky patterned curtains or ones in a chic solid color.
9. Put Up Some Vivid Artwork
Filling bare walls with vibrant artwork helps to create colorful interiors. Not only will the room benefit from this extra attention to detail, but it'll also appear brighter, bolder, and more personal. If a space features plenty of neutral furniture, be sure to pick out décor, such as throw pillows, in colors inspired by the artwork. 
10. Invest in Colorful Appliances for Colorful Interiors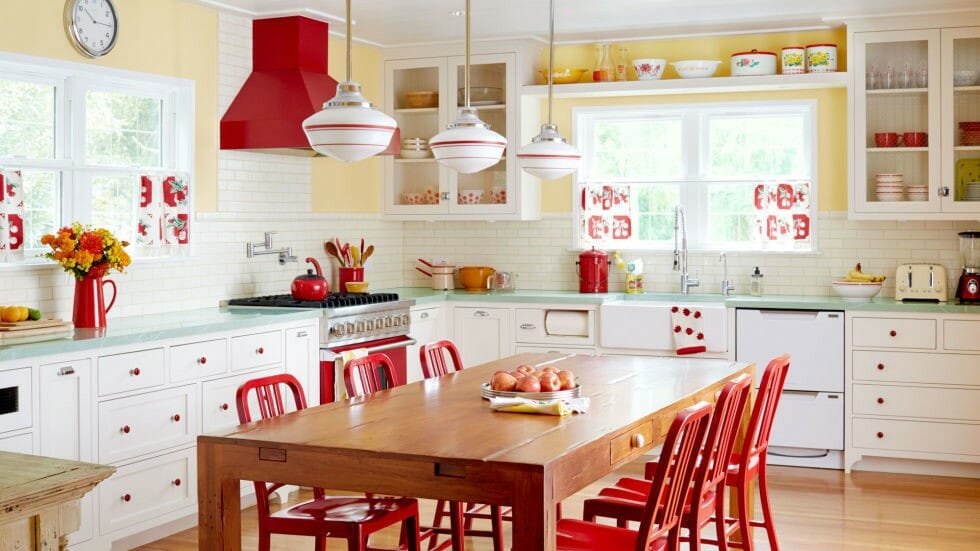 Retro-inspired looks have made quite a comeback. It's especially obvious when considering the host of colorful appliances available today. There's something to suit everyone's preferences: from candy apple reds to pretty pastels, and beyond. Transform a plain old kitchen into a vintage-style diner by investing in a few of these large and small appliances.
11. Colorful Touches in Unexpected Places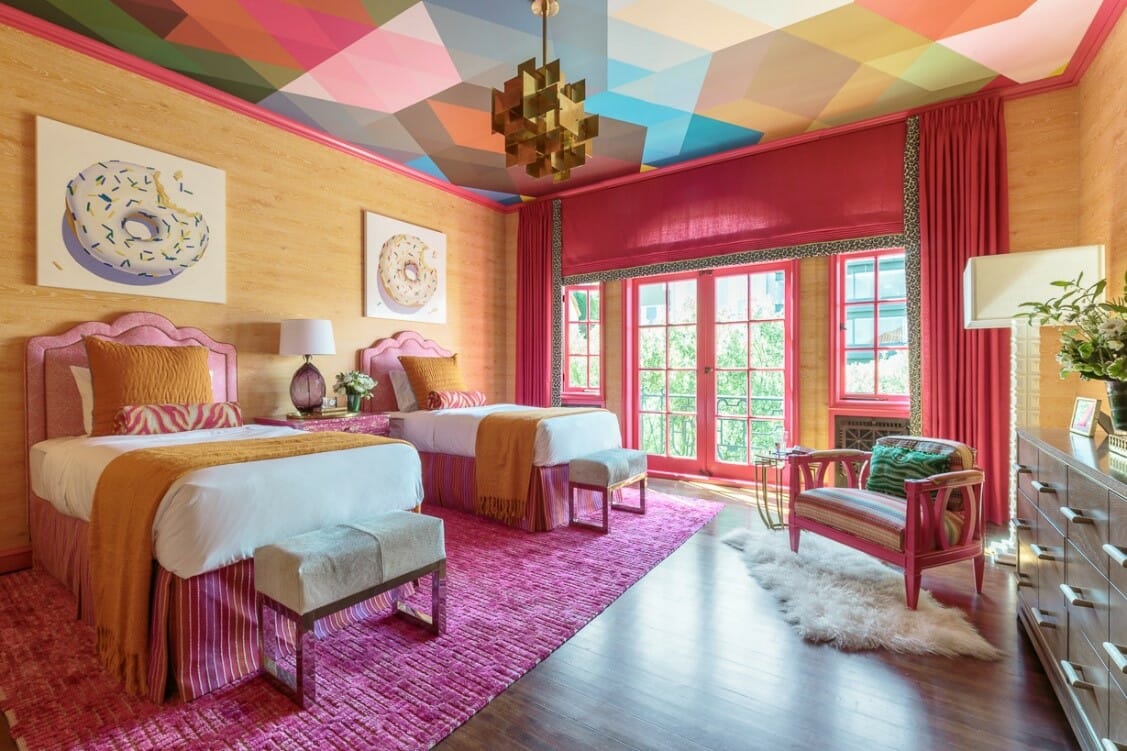 Ceilings are usually left plain white. Although these blank canvases are often out of sight and out of mind, they have a lot of promise. One of the interior paint ideas growing in popularity is coating ceilings in unexpected hues. Decorating a room like this sets it apart and helps establish the desired mood.
12. Say It with a Neon Sign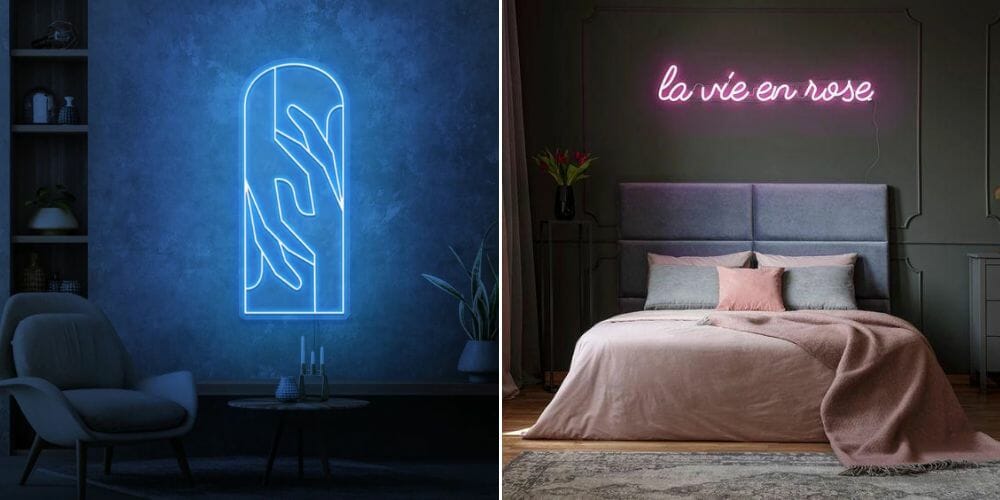 Add a funky twist to any room in a home with a neon sign. It's a great decorative piece, comes in various designs, and provides light. These fun and functional pieces can be colorful interior design must-haves.
Need help with colorful interior design?
Incorporating colors into your home can be tricky. So if you need some help, schedule a Free Interior Design Consultation to get started with a design pro today!

[images: 1, 2, 3, 4, 5, 6, 7, 8, 9, 10, 11, 12, 13, 14, 15, 16, 17, 18, 19]