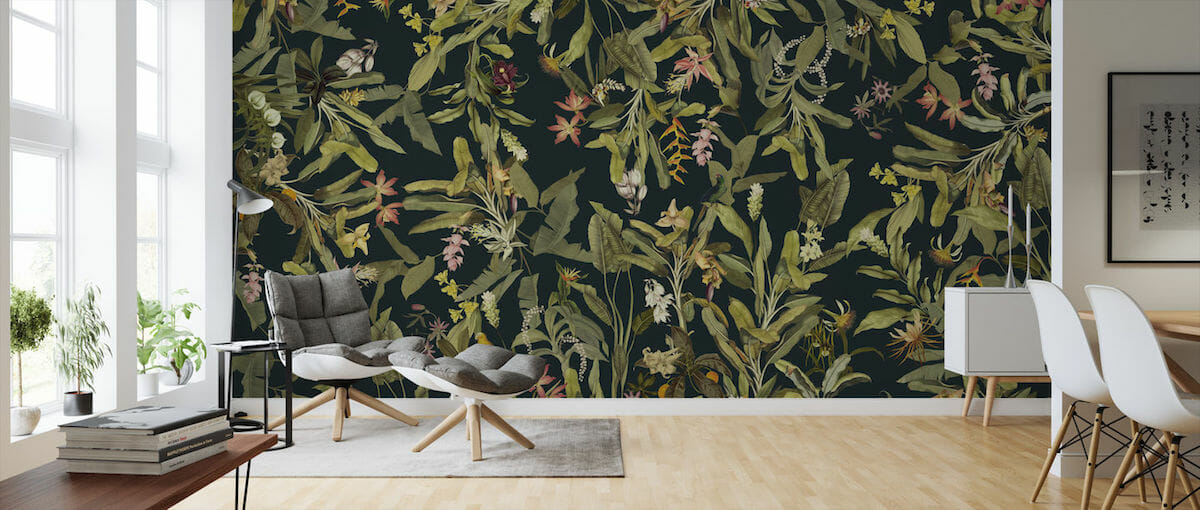 Wallpapers are no longer a design trend of the past! With a plethora of prints, textures, and applications wallpapers have come a long way from grandma's frumpy florals. Today these coverings are all about adding depth, movement, and personality to interior designs. Understandably, selecting the right wallpaper to accentuate your space can be a daunting task. To help you get started, we have rounded up our favorite wallpaper ideas and inspiration for every room of your house!
Bedroom Wallpaper Ideas
1. Monochromatic Forest 
Bring a whole new meaning to "sleep like a log" with forest themed wallpaper. Above all, opt for a monochromatic pattern to keep a restful and relaxing vibe to the room.  
2. Paradise At Home
Ready for a vacation? Bring a touch of your favorite getaway to your bedroom with tropical print wallpaper. As a result, you'll feel like you're lounging at your own personal retreat in no time. 
In love with today's wallpaper ideas, but need help selecting the right one for your home? Then, schedule a

free interior design consultation

for professional assistance getting started today!
3. Subtle Prints
Not all wallpaper ideas need to be bold and in your face. Especially for the bedroom, consider soft patterns in calming tones. Too much visual stimulation could make it hard to fall asleep. 
4. Add Charm to the Ceilings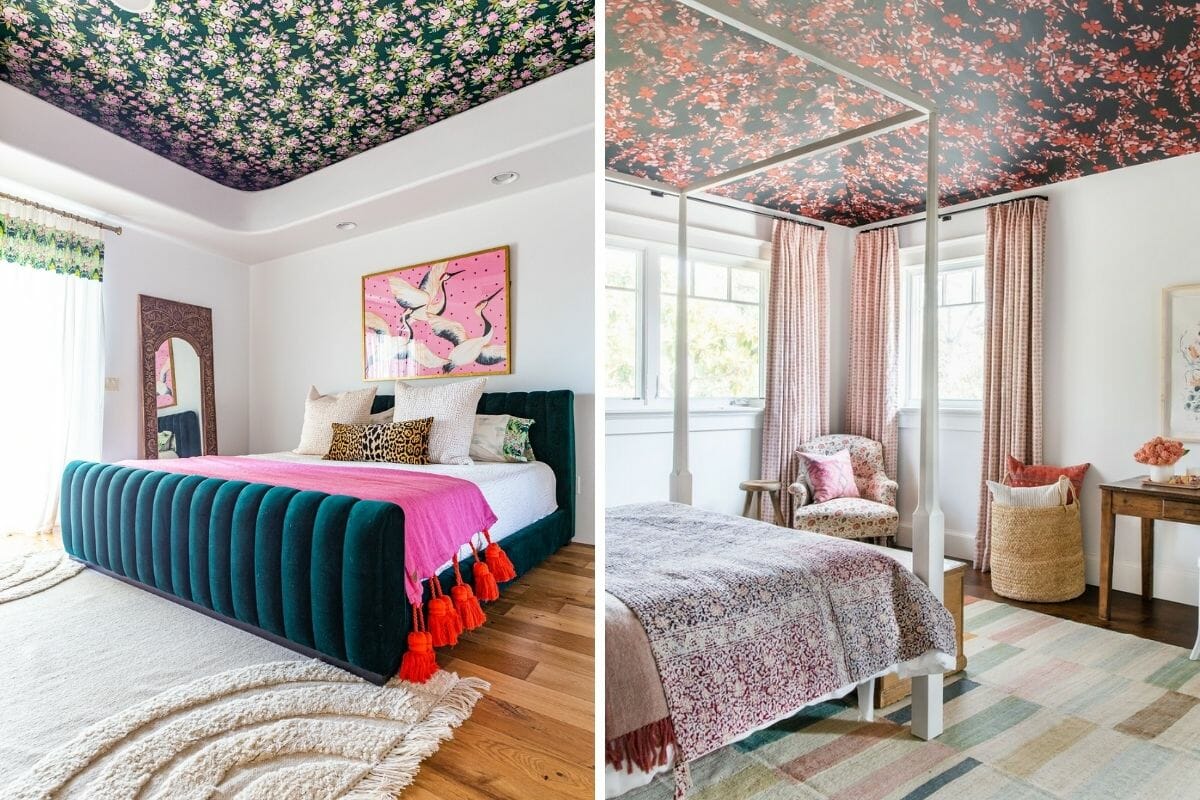 Remember how the Renaissance had extravagant ceilings? Take inspiration from history and give it a modern twist by incorporating tropical accents on the fifth wall. 
5. Masculine Appeal
Feminine florals and bold designs aren't for everyone. Bring a masculine vibe into your bedroom design with dark wallpaper ideas in colors like charcoal, navy blue, or forest green, for example.

Bathroom Wallpaper Ideas
6. Accentened Bathtub Nook
Surround your soaking tub with your favorite patterned wallpaper. Think banana leaf and palm fronds for a relaxing tropical vibe or perhaps a textured grasscloth wallpaper for an air of spa-like sophistication.
7. Floral Bathroom Wallpaper Ideas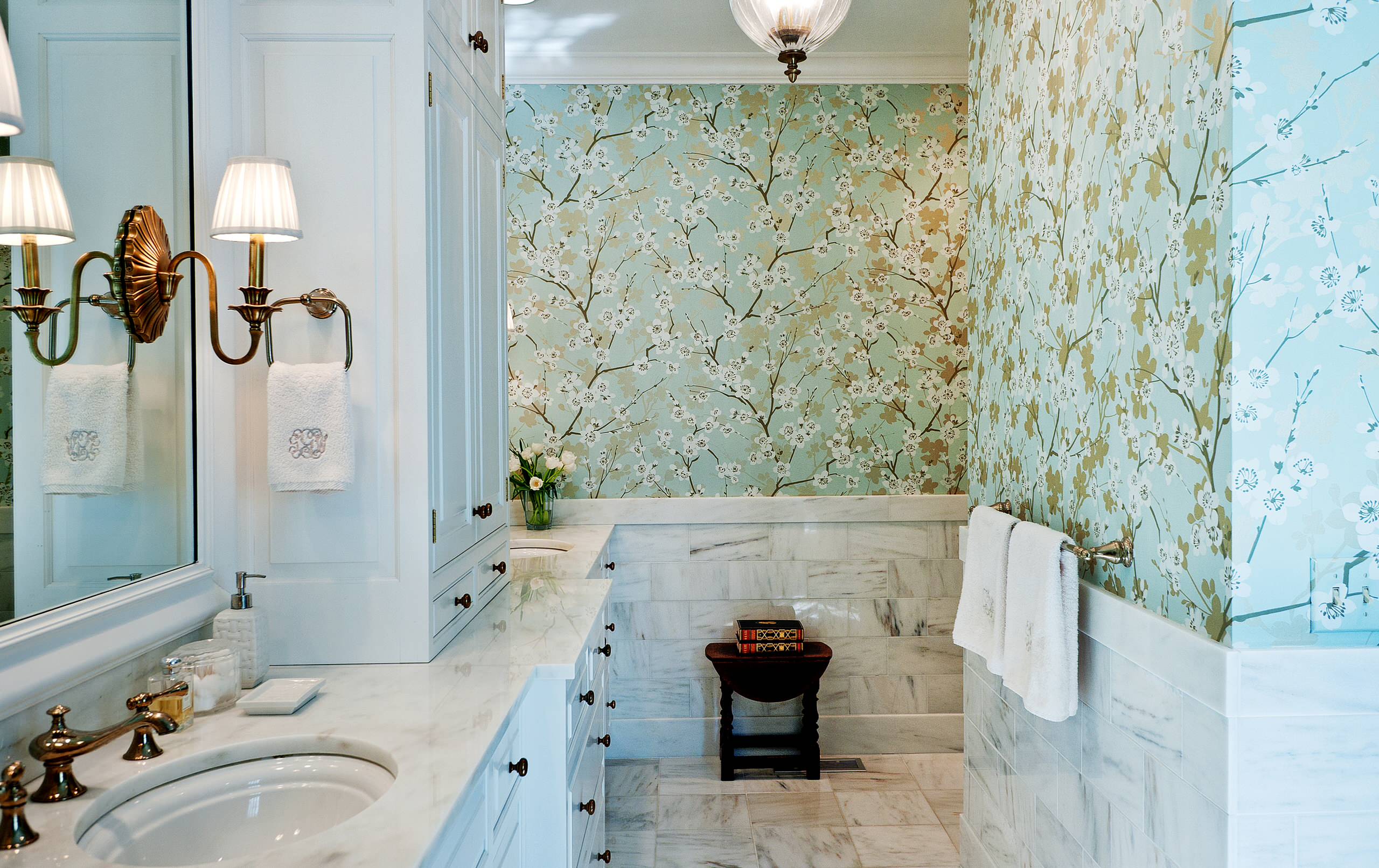 Repetitive bathroom wallpaper ideas in a floral theme bring rhythm and movement to the room. Just by creating a feature wall with such wallpapers, you can achieve rich and zen-like vibes in the bathroom. 
8. Abstract Animal Printed Wallpapers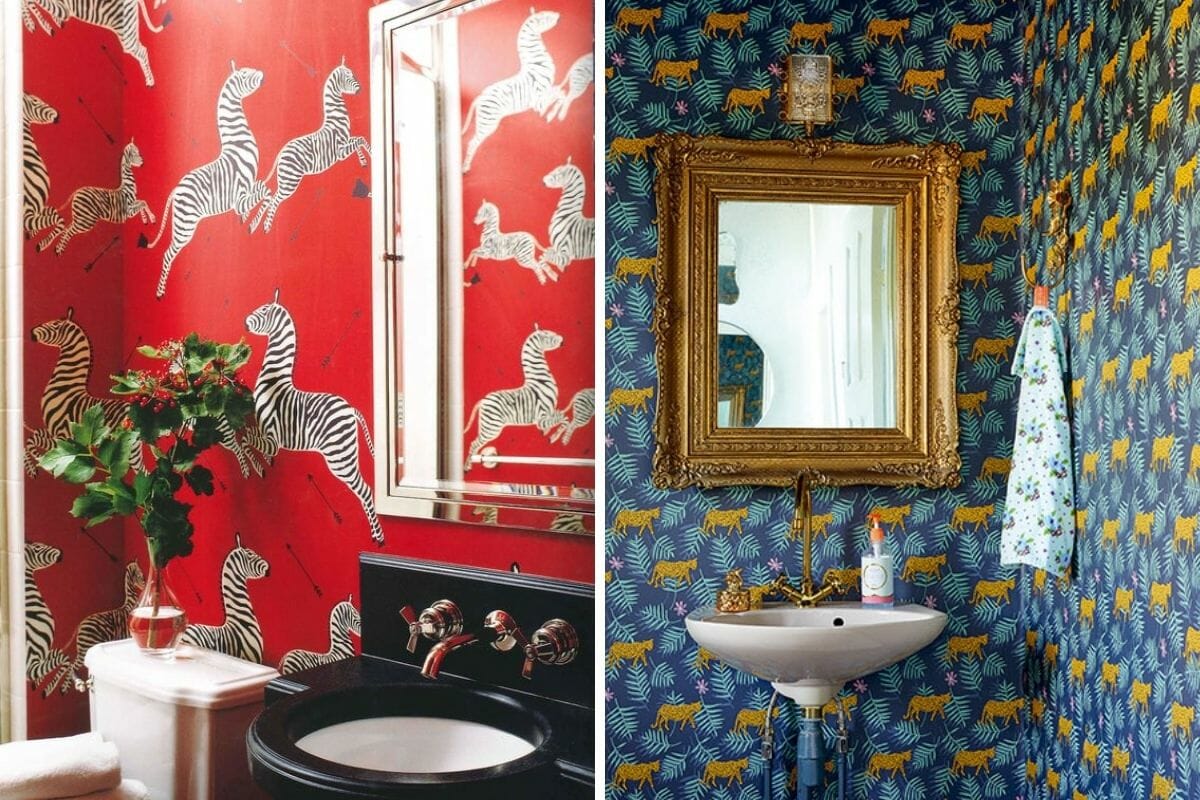 For all animal lovers, this bathroom wallpaper idea will take your hearts away. Let your creativity run wild – literally. Whimsical animal prints are totally on vogue, and they also look super chic. 
9. Half-Wall Bathroom Wallpaper Ideas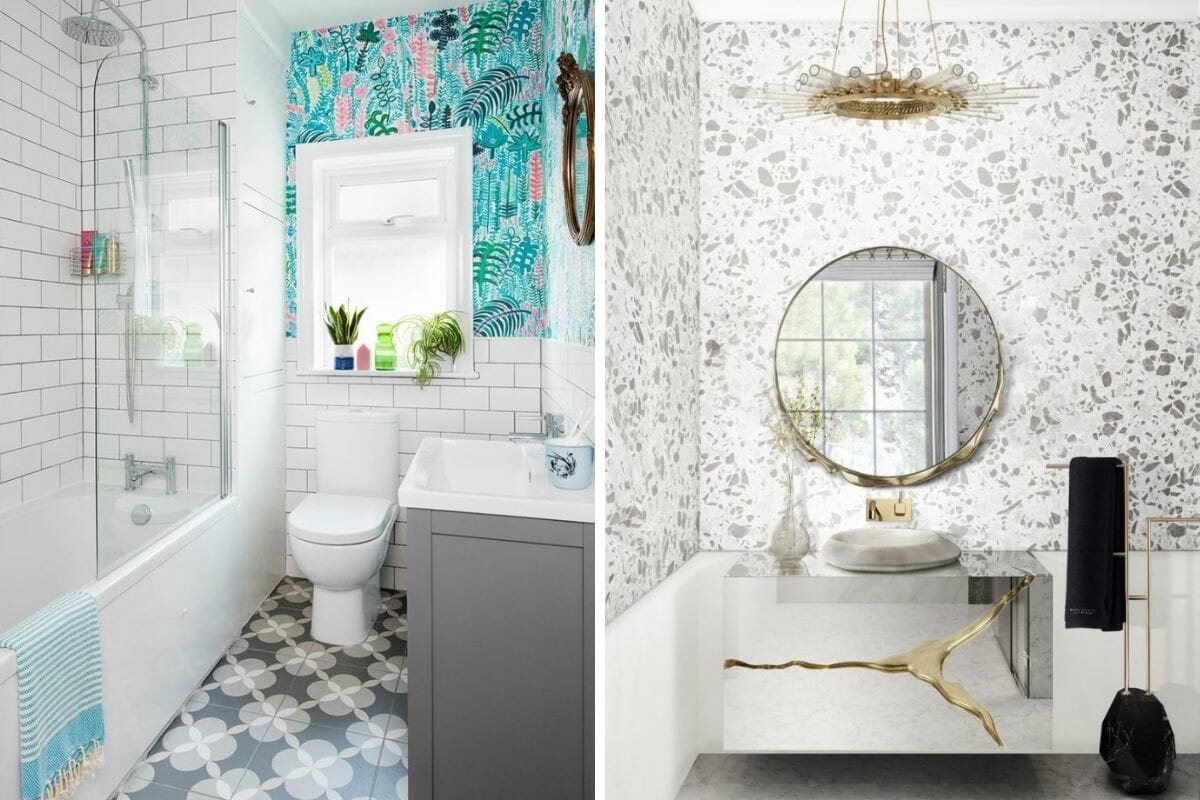 Draw the eyes up and install wallpapers at higher levels to create a visually heightening effect. For instance, you can lay wall panels or tiles near the floor and stick the wallpaper on the upper half of the wall. 
10. Dark and Dramatic Bathroom Wallpaper
Don't shy away from going dark, especially if your lavatory already has great natural light. Add contrast to the space with stark white finishings for a classic black and white look.
Dining & Kitchen Wallpaper Ideas
11. Banana Leaf Wallpaper Feature
Banana leaf print has become a favorite among designer wallpapers and the kitchen embraces this trend easily. Choose a wall or space large enough to allow the entire print to be showcased.
12. Bold Backsplash Wallpapers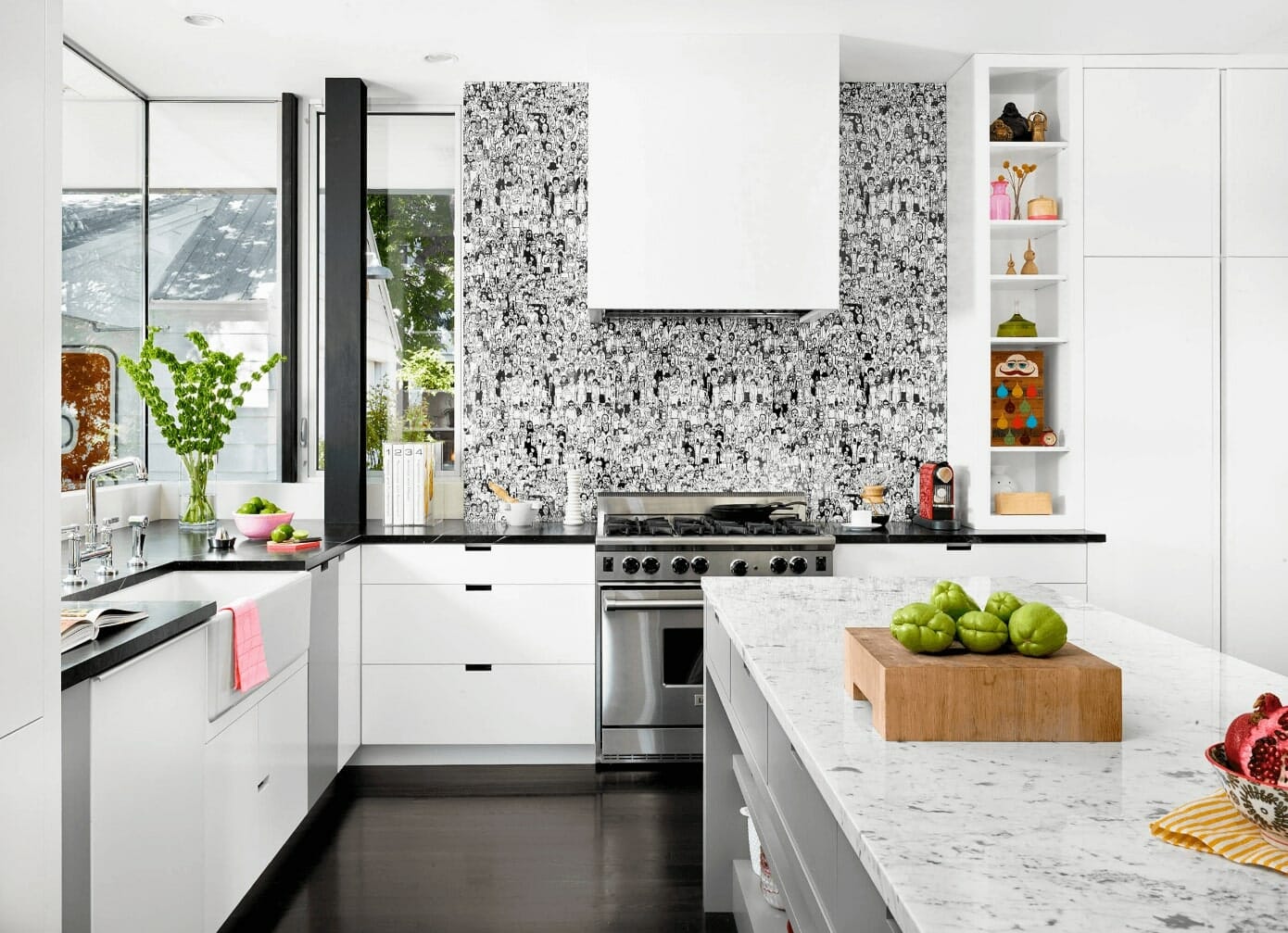 Move over tiles. A bold patterned wallpaper can certainly make a backsplash pop. However, just be sure to select a performance wallpaper that can withstand the elements from cooking and washing up. 
13. A Zesty Affair with Fruits and Flowers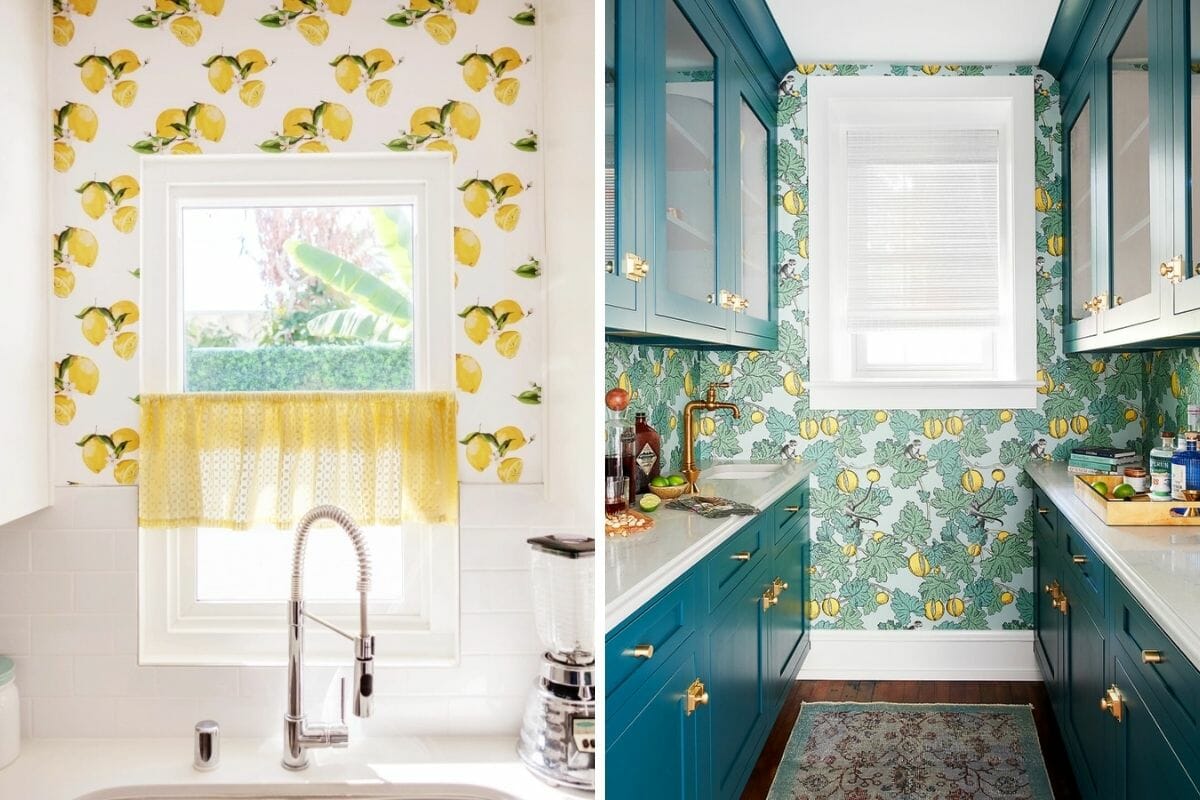 Modern kitchen wallpaper ideas with fruity patterns offer an enticing look to the kitchen. Moreover, incorporating large scale prints will give your kitchen design an upbeat look.
14. Botanical Wallpaper Ideas

Including botanical wallpaper in your kitchen, like a breakfast nook, for example, is a creative way to enhance the spirit of the space. Over-sized botanical prints help in bringing the outdoors inside, thus providing a lot of warmth and positivity. 
15. Spice up Unexpected Spaces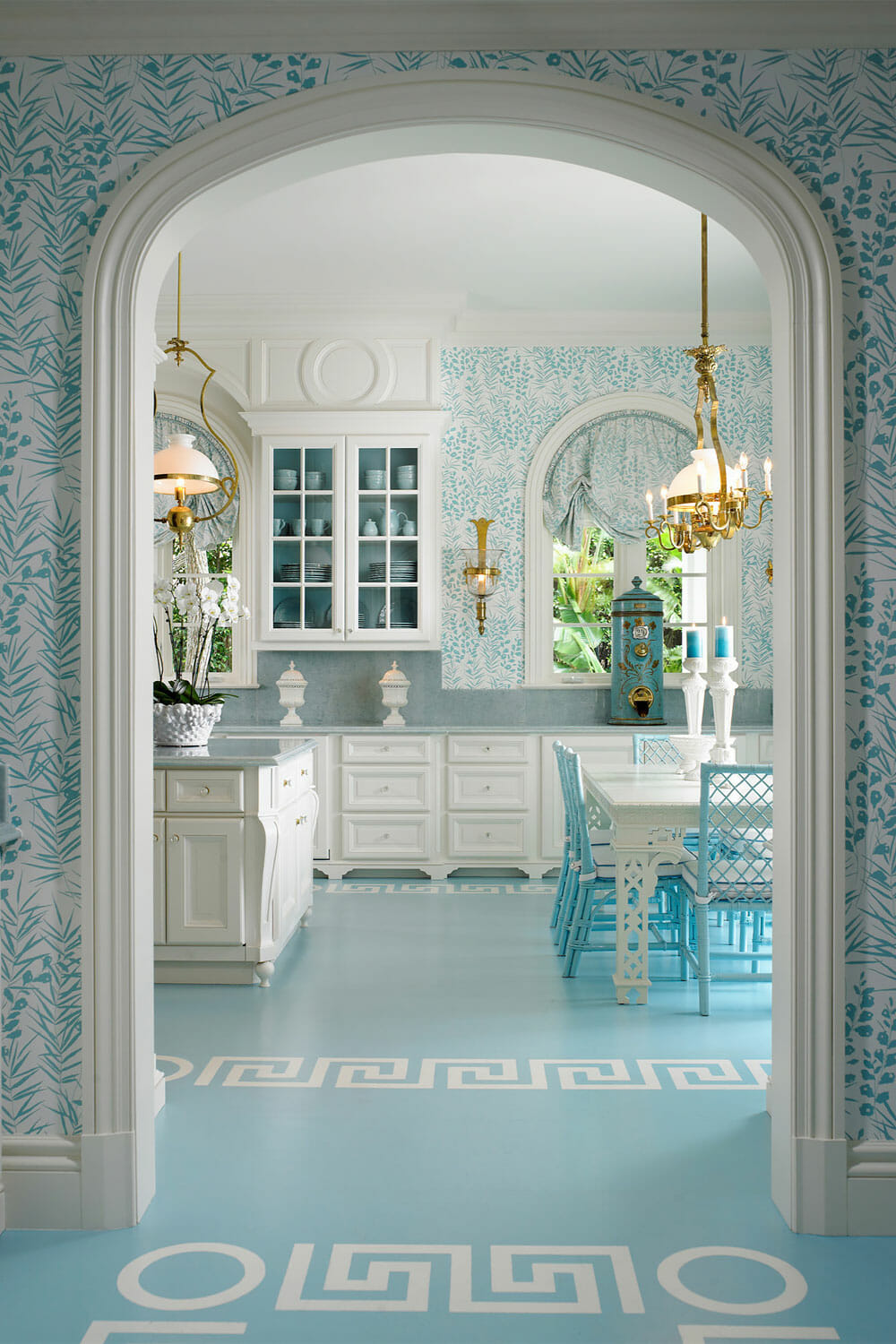 Hands down, this is one of the most innovative kitchen wallpaper ideas. Be imaginative and think of avant-garde ways to upgrade your kitchen décor. Be it unappealing appliances or a boring island, for instance, you can jazz up almost any nook using stellar wallpapers to get a modern look. 
Living Room Wallpaper Ideas
16. Dramatic Dividers
Create a clear definition of space by applying a bold living room wallpaper to dividing walls between open spaces. For instance, this dramatic black and white pattern offers a stunning visual element while also providing a clear division between the living room and kitchen bar space. 
17. Best Wallpapers for the Living Room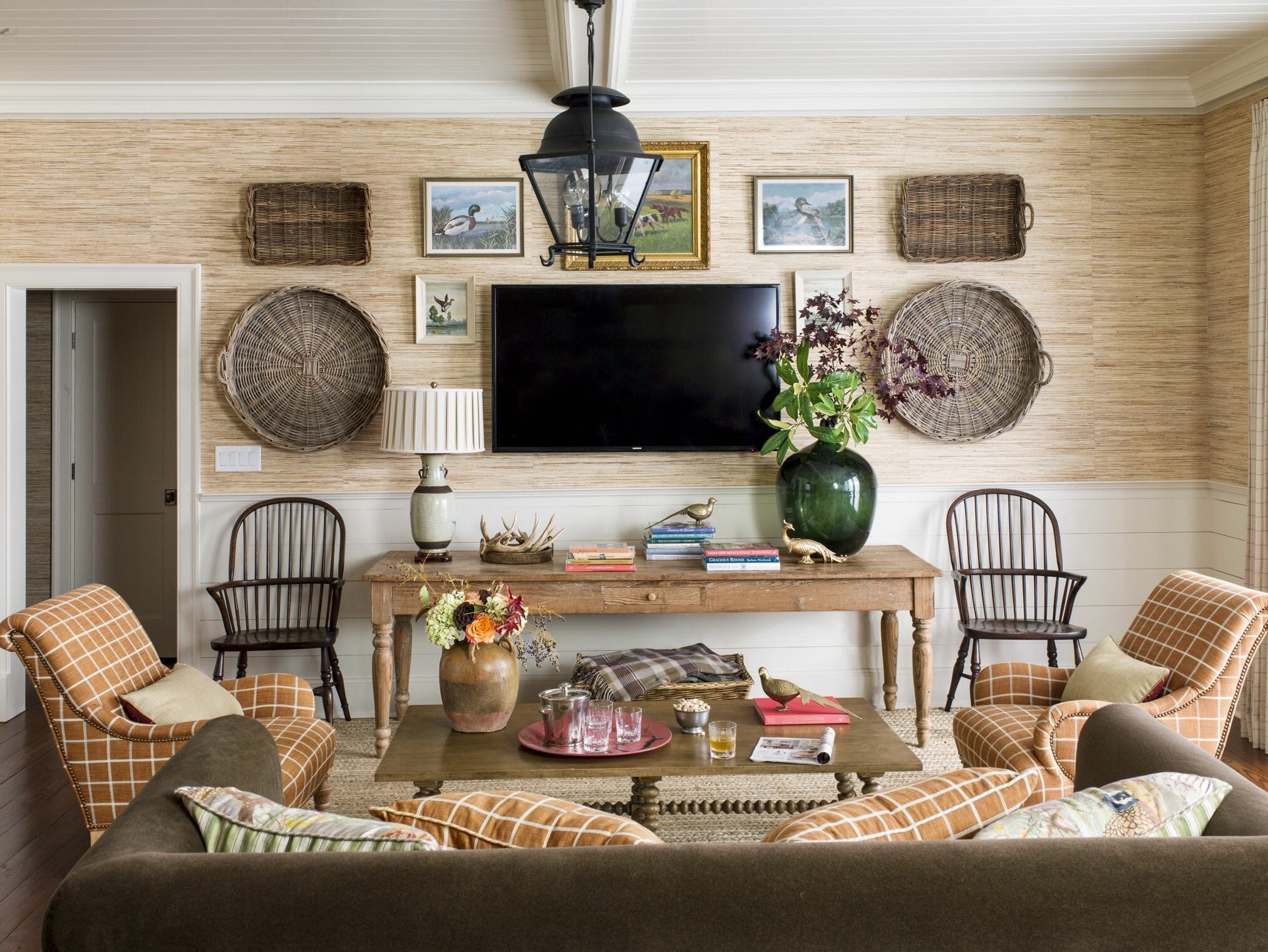 While there are no hard and fast rules for living room wallpaper, it's always good to keep up with trends and opt for stylish wallpapers. One of our favorites is grasscloth wallpaper. They are textural and provide a visual depth to the room without creating unnecessary drama. But, regardless of what wallpaper you choose, make sure it matches your personality.
18. Pretty Panoramas  
Instead of repetitive prints, a stunning alternative is a living room wallpaper idea that showcases an entire scene. Think a lush landscape print, a fantasy forest, or even a cityscape. As a result, your living room will have a story to tell.
19. Eco-friendly Alternatives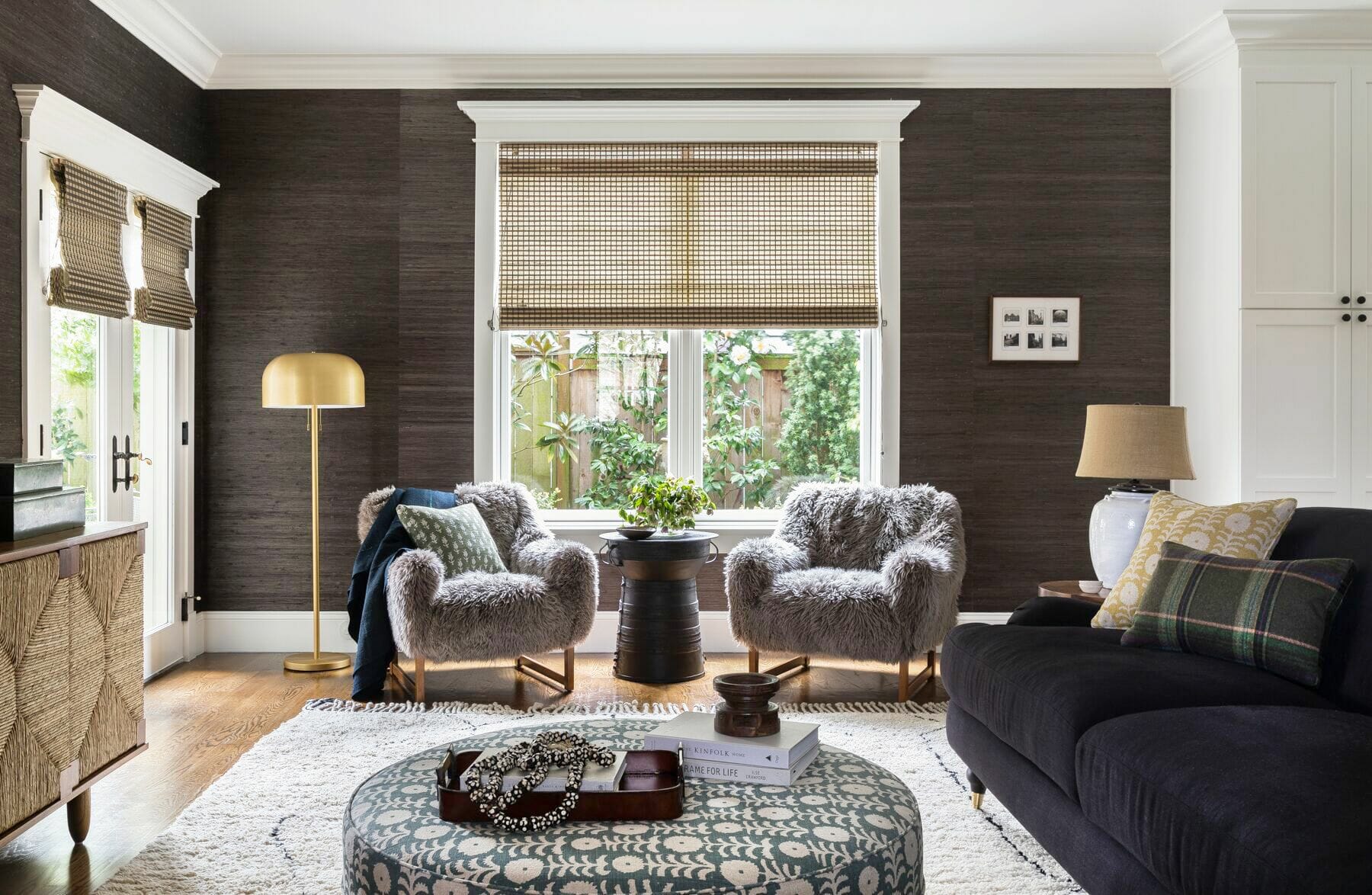 If you are looking for conscious ways of redesigning your home, opt for sustainable wallpapers. Ideally, these wallpapers should not contain VOCs and PVCs. Select materials like reused paper, bamboo, and jute, for example, to get a natural and earthy vibe. 
20. Wallpaper Art Pieces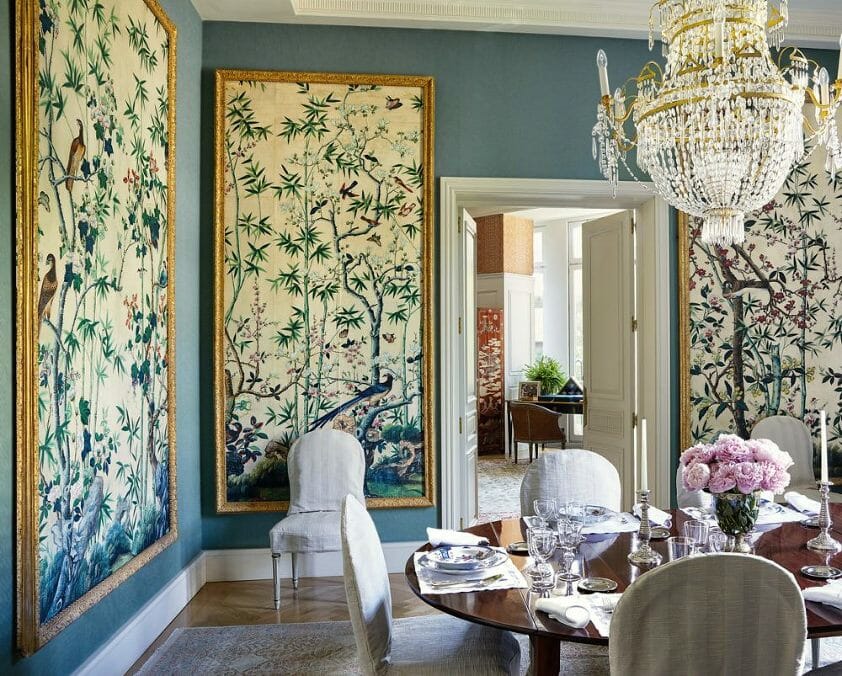 Too scared to commit to full-blown wallpapers? Here is a great wallpaper idea that will save your day! Get a roll of your favorite wallcovering, then frame it, and install on the living room walls. This hack is super versatile and certainly less labor-intensive.
Entry & Hallway Wallpaper Ideas
21. Black and White
Whether combined or done separately, black and white are timeless color classics. A smooth all-over white wallpaper can be just as dramatic as a black on black print. First, choose the color that fits the mood you'd like to set for your entry. Then select a print you love.
22. Fifth Wall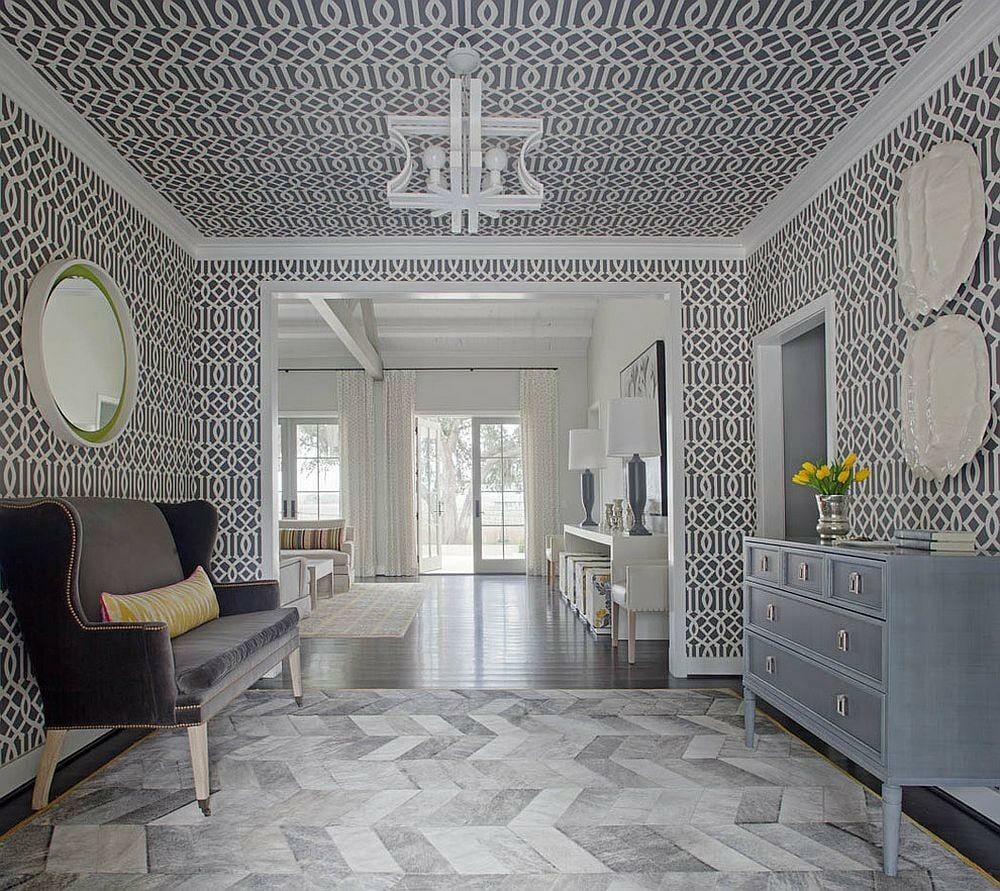 Not afraid of a little drama? Then go over the top with your wallpaper, literally, and add it to the ceiling as well as the walls. Every guest will certainly be wowed upon entrance.
23. Geometric Gorgeousness
You can never go wrong with geometric patterns on the wall! Such wallpapers look rhythmic and allow visual maneuvering. 
24. Floral Welcoming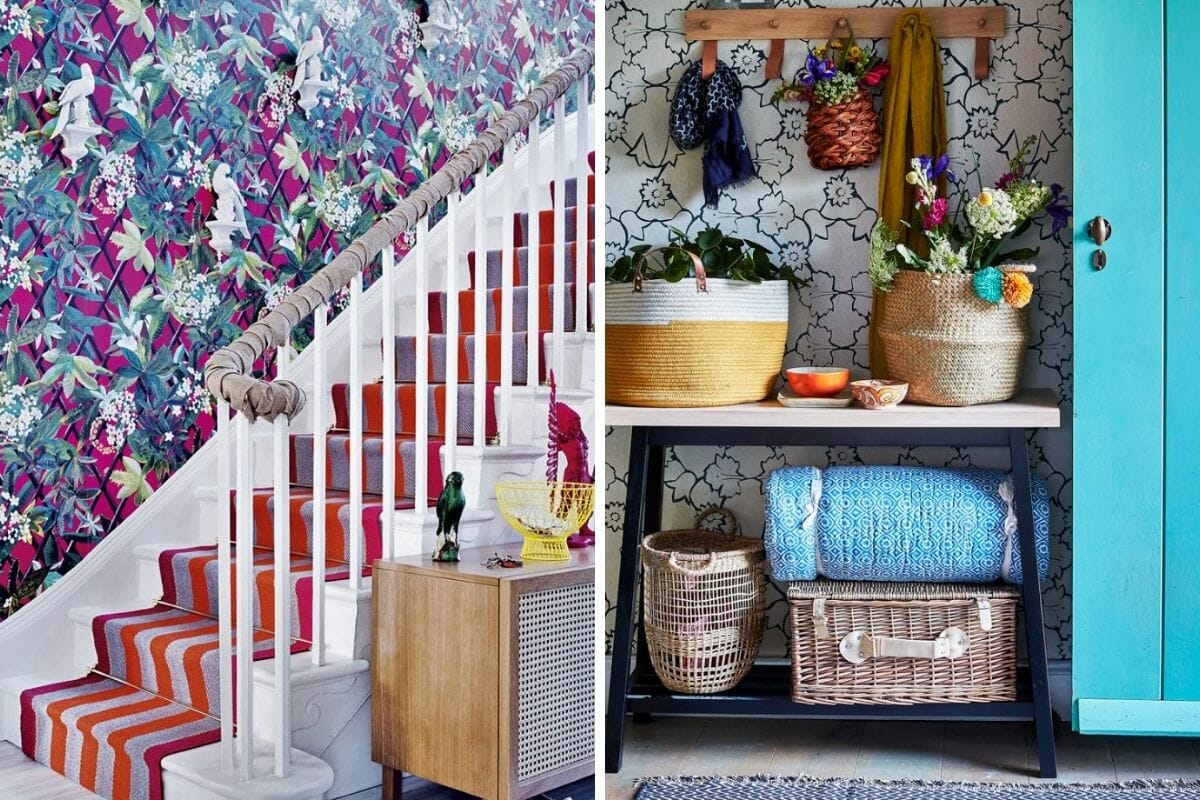 Welcome guests with a floral bouquet on your walls. Graphical interpretations of classic floral wallpapers certainly make for the perfect modern accents. There are a plethora of patterns available today whether you like a burst of color or a more subdued monochrome. 
25. Marbled Effect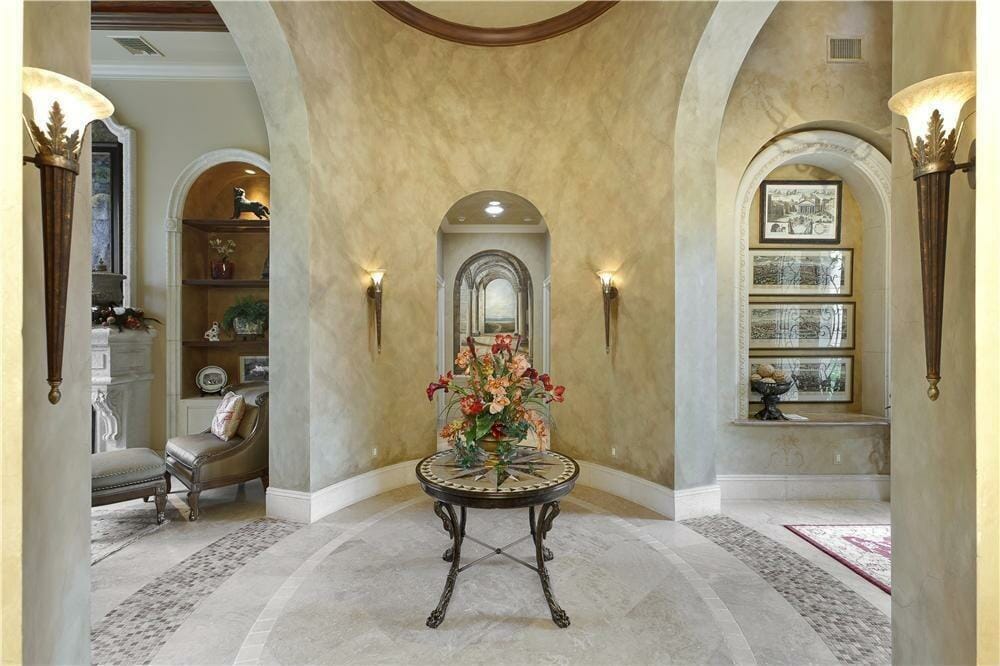 Add an air of sophistication and elegance with marbled wallpaper. Choose natural tones for a subtle effect that exudes traditional luxury.
Children's Bedroom Wallpaper Ideas
26. Mixed Patterns
Looking for an extra funky design for your child's bedroom? Then, apply different patterned wallpapers in the same color scheme for a fun mixed and matched look. And don't be afraid to plaster paper on the ceiling too.
27. Jungle Book Children's Wallpaper Ideas
The best way to make learning fun for kids is by introducing wallpapers in their room. For example, subtle hued wallpapers not only provide a calming environment but can also be a joyful artwork for children. 
28. Pattern Play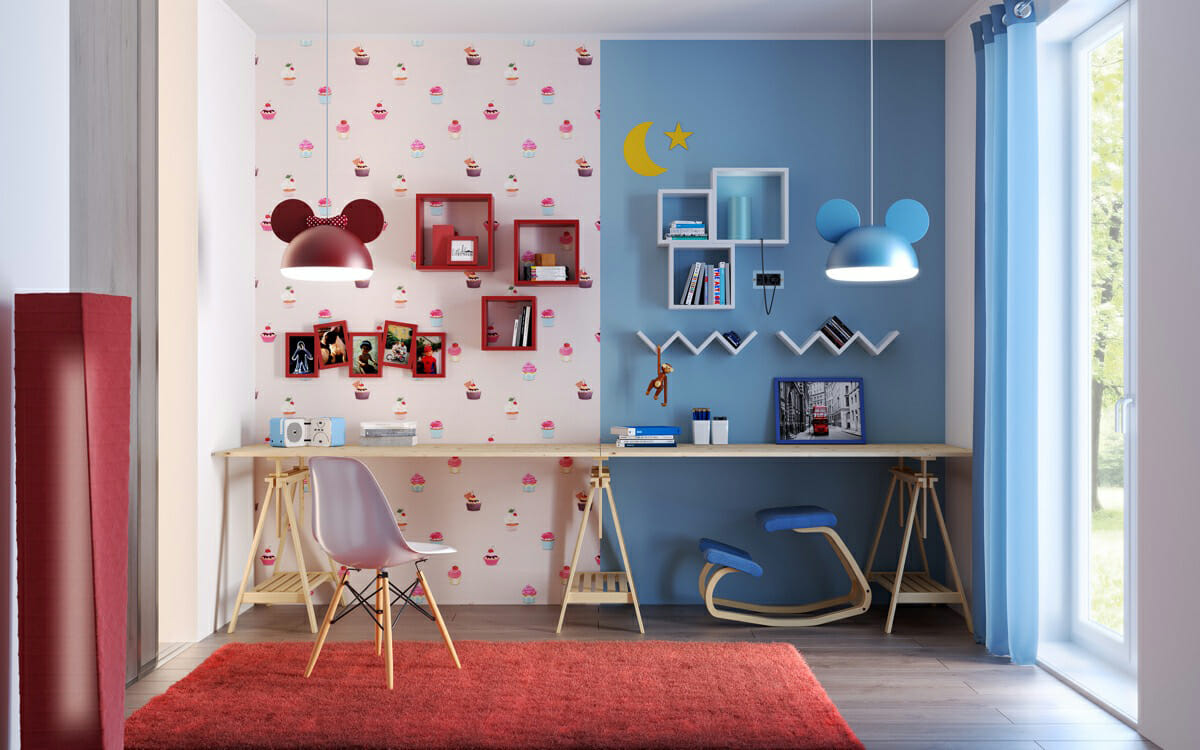 Contemporary wallpapers certainly offer a wide array of prints and patterns that look hyper-realistic. Select your child's beloved cartoon character or even a favorite food and then get to work plastering the room with them.  
29. All About Ombre
An ombre wallpaper is a great way to introduce color into a child's bedroom, but not go over the top. Feel free to bring in several colors from the room's design. For instance, pair different colors on opposing walls for a stunning visual contrast.
30. Shared Space Split
If your children share a room, a split wallpaper design is a brilliant hack to define their spaces. In addition, each child's personality can be captured with their own personal wallpaper choice.
Looking to enhance your home with amazing wallpaper ideas, but need a little help getting started? Then, schedule a Free Interior Design Consultation to work with the finest interior designers today!

[Images 1, 2, 3, 4, 5, 6, 7, 8, 9, 10, 11, 12, 13, 14, 15, 16, 17, 18, 19, 2, 21, 22, 23, 24, 25, 26, 27, 28, 29, 30, 31, 32, 33, 34, 35, 36,]