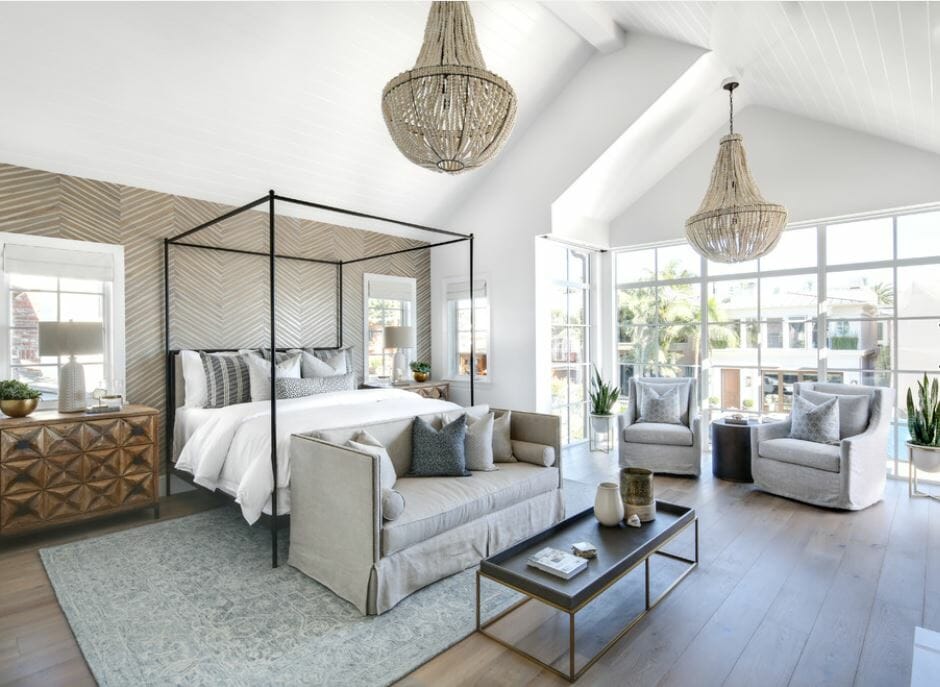 The thought of welcoming a new year is so refreshing. It's time to wash away the worries and woes of the past year, and reflect on all that you are grateful for. The design world has seen some big changes and new home decor trends throughout 2018. Some stuck around to play in 2019 and other faded out as quickly as the year went by. This year it's time to make some New Year's resolutions for your home. Let 2019 be a year for your home to shine and keep reading to find out Decorilla interior designer's favorite home decor trends to try in the New Year.
1. Bold backsplash
It's safe to say that 2019 will not be a year for all white everything. Some of the biggest home décor trends that have been coming out of the woodwork are big, bold, and beautiful. Give the heart of the home some personality with a bold backsplash.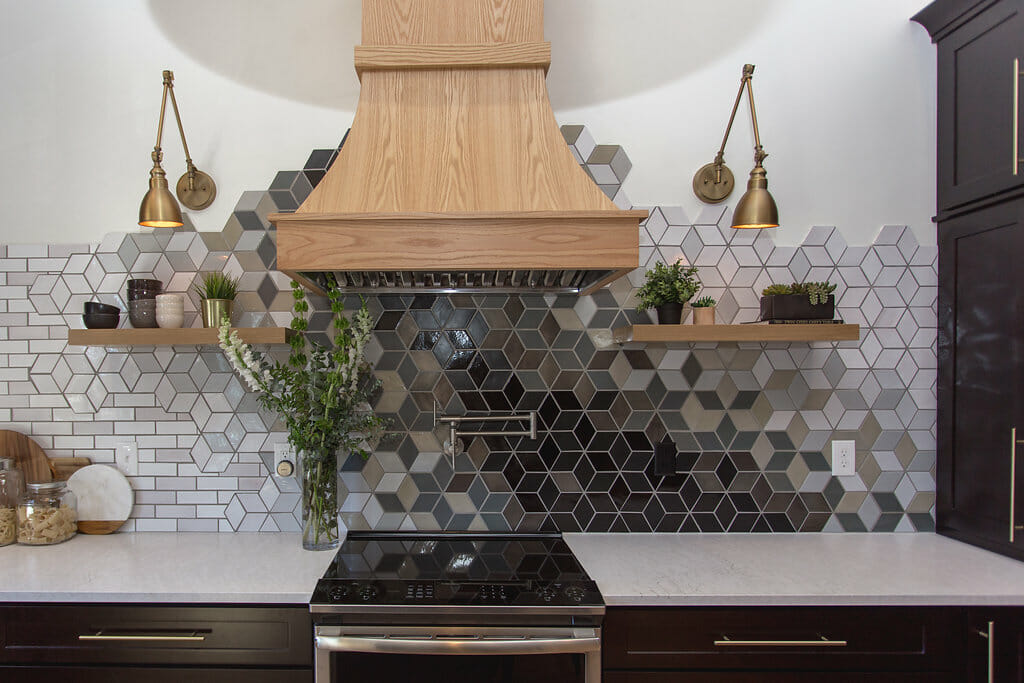 This doesn't necessarily mean it needs to be colorful. If you're into the more monochromatic look choose a bold pattern or get really crafty and create your own. Keep it timeless by using white tile and black grout to get that show stopping look and to really make that pattern pop.
2. Four-poster bed
The average person spends a great deal of time in their bedroom during their lifetime, so why not have a room fit for a king. There is something so regal and sophisticated about a four-poster bed which is why we're seeing it top our favorite trends of the New Year.
Whether you're looking for a sleek and minimal feel or a rustic and bold feel, they make a four-poster bed for that. Think about it as a sculptural piece of art for the bedroom. Our designers especially love four-poster beds with upholstered headboards.
3. 90% white, 10% color
The all white craze has been going on for a while now, and while we still love it, in 2019 we'll be seeing pops of color added to the once white space. Using a 90/10 rule is a flawless way to use this trend in your own home.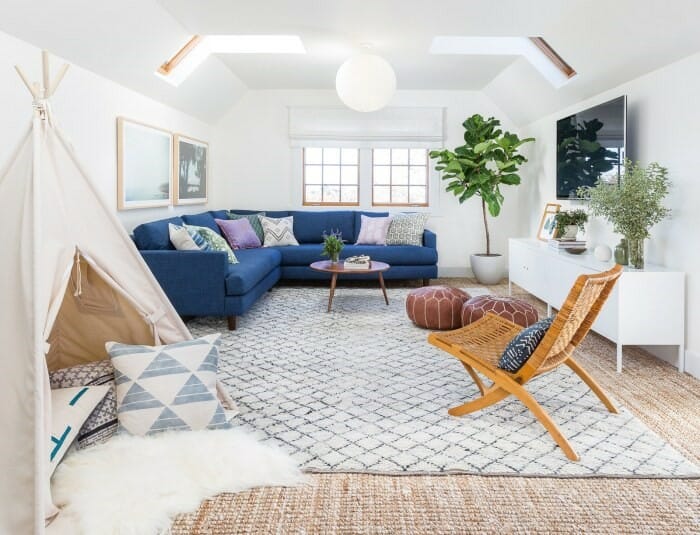 It's easy, start off with a room that's 90% white and take 10% of that room and add color! Color pops can come in the form of art, décor, or a few key pieces of furniture. Keep in mind that whatever color elements are chosen, those will quickly become the focal point of the space.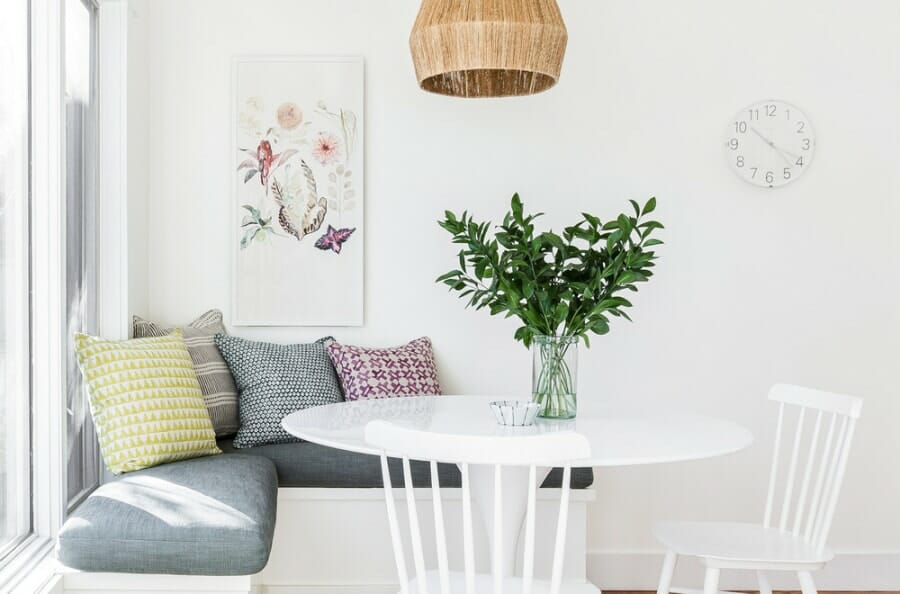 4. Modern Boho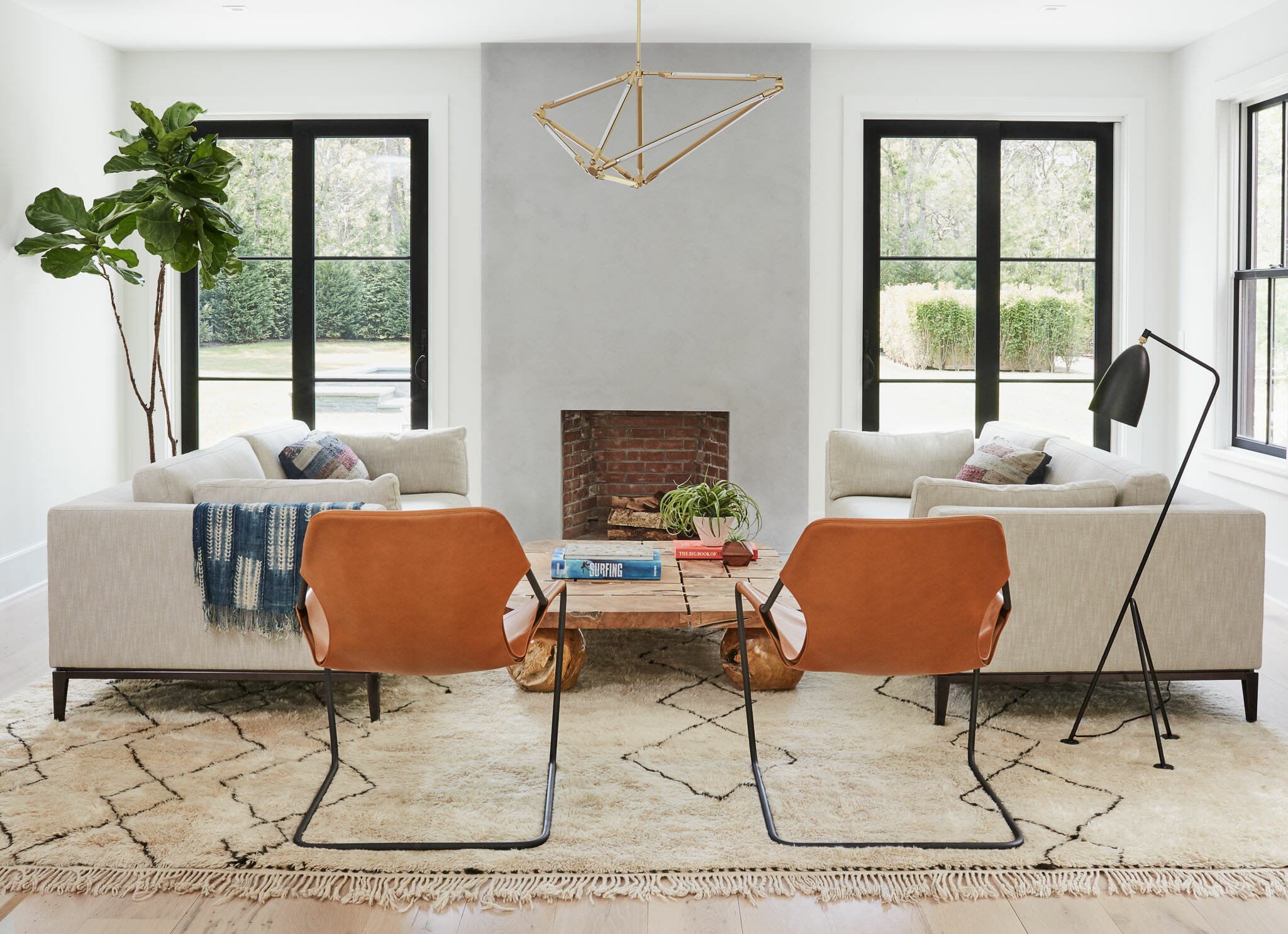 The Boho trend has been going strong for years, and we're not seeing that change anytime in the near future. 2019 takes on the Boho craze with a new and fresh modern twist. Boho can be too overpowering and eclectic for everyone's taste so using subtle elements like a Moroccan rug adds the perfect touch.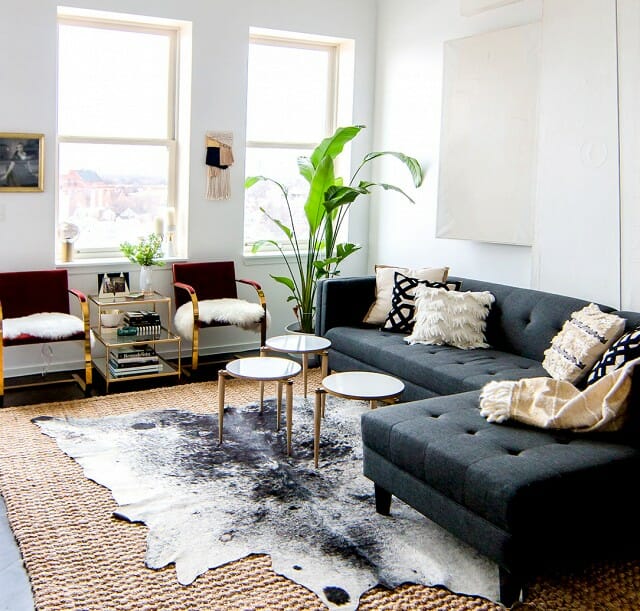 Patterns and textures are a great way to easily incorporate the Boho vibe without being too literal. Modern furniture choices paired with collected accessories and décor makes for the perfect design pair. To seal the deal on the perfect modern Boho room don't forget to add some greenery!
5. Treat that ceiling
Arguably one of the most overlooked aspects of design, 2019 is making sure that ceiling doesn't go unnoticed like it has in the past. The ceiling typically becomes a missed design opportunity as it's easy to just leave it blank. Look how much the simple addition of a monochrome wallpaper completely changes the whole feel of the space.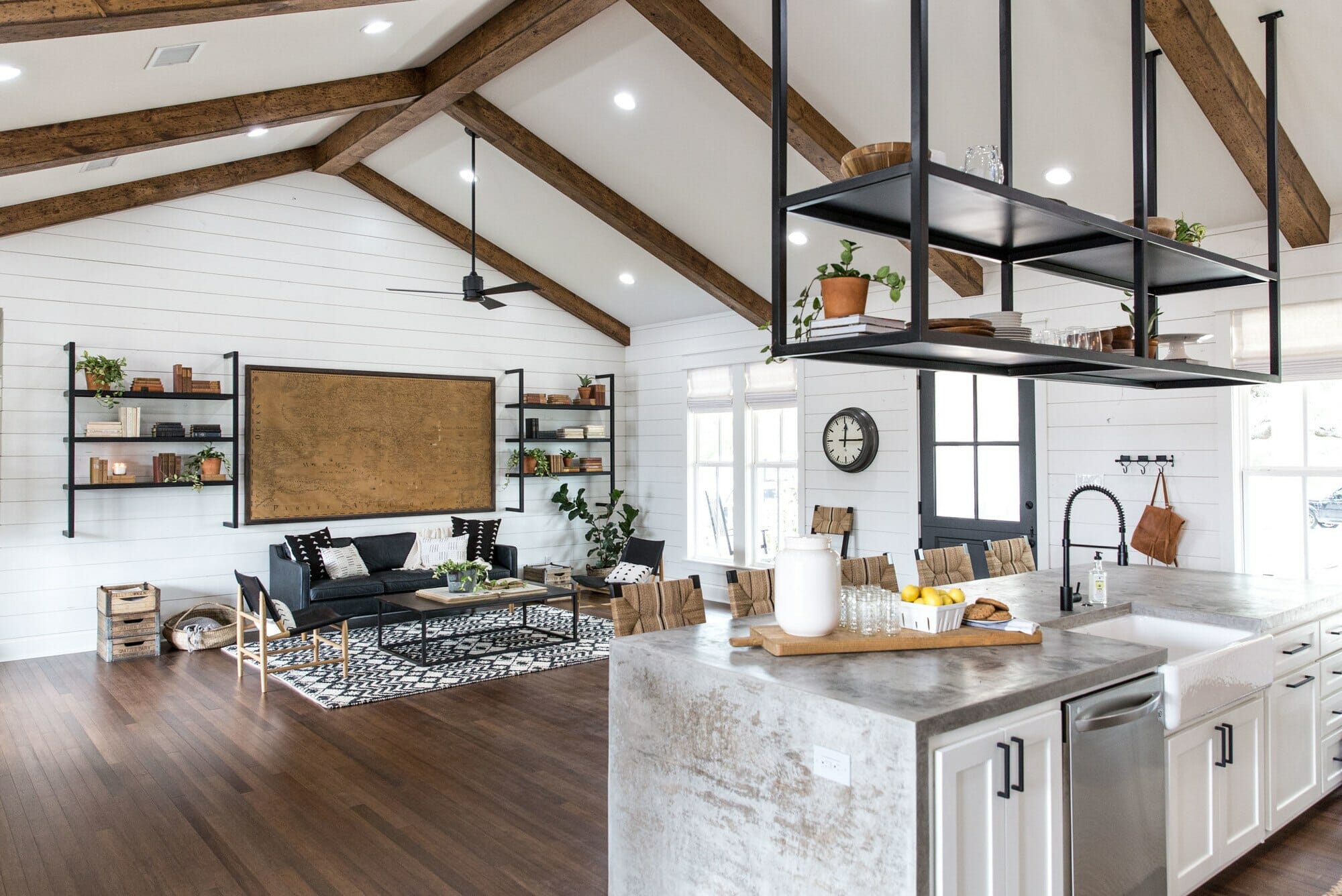 While pattern and color aren't for everyone, make the ceiling speak for itself by adding faux beams, paneling, trim details, etc. 2019 is the year to look up and get creative! We promise the changes won't go unnoticed.
6. Jewel tones
Jewel tones are back and our designers couldn't be happier about it! The rich and luxurious colors found in the jewel tone family could be exactly what your space has been craving. This 2019 interior design trend can be accomplished in a few different ways; choose one color and incorporate that subtly to blend with existing pieces and décor, or go all out and mix your favorite jewel tones together for a colorful yet moody design.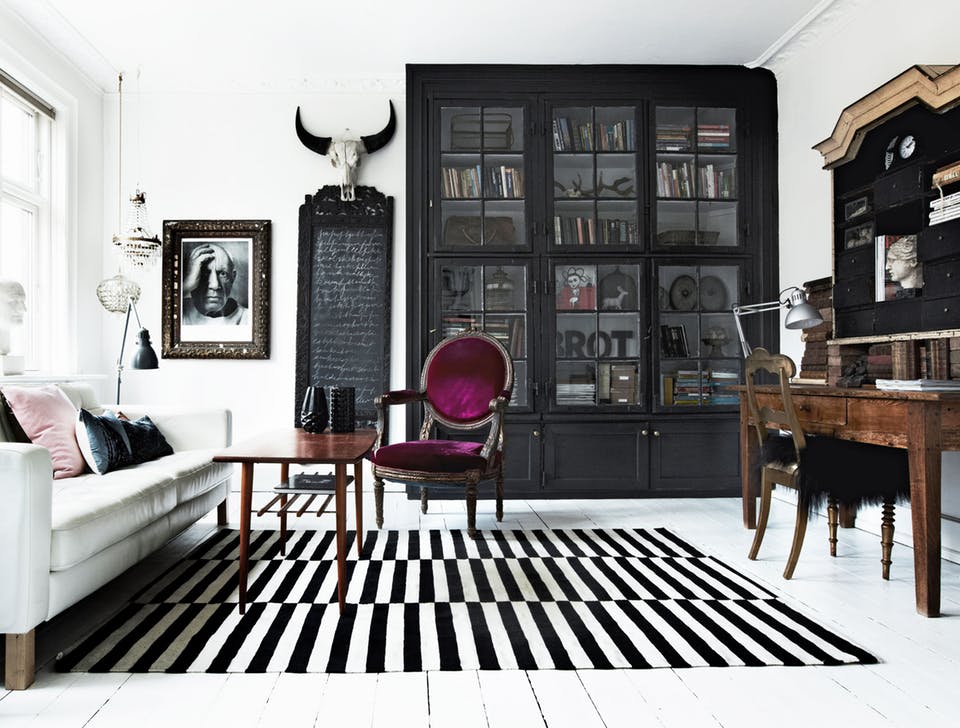 Not quite ready to commit to a colorful space? Add in an accent or two to see how you like it. It's clear to see that once the rich and vibrant colors are added to what was once a neutral space, it quickly gives the room a focal point.
7. Wallpaper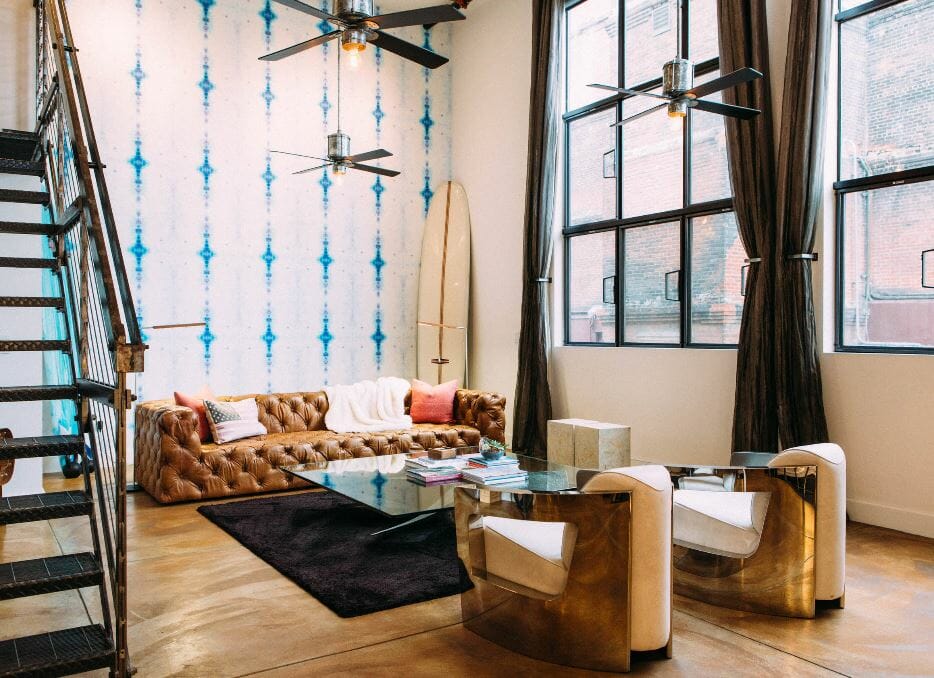 Our final home décor trend that we can't get enough of is the comeback of wallpaper! Whether that means the whole room in wallpaper or just an accent wall, we're so glad to see it back on the trends list. What we love is the fact that wallpaper can be utilized in any room of the home.
Don't shy away from using it in small spaces either! Small spaces with a bold pop are sure not to be forgotten. If you're unsure try starting with one accent wall and see how you like it!
It's safe to say 2019 will be a great year for design! If you're looking for some interior design help in the New Year schedule a free consultation with one of Decorilla's online interior designers today!
Written by Decorilla designer, Brittany J.
[images: 1, 2, 3, 4, 5, 6, 7, 8, 9, 10, 11, 12, 13, 14, 15, 16, 17, 18