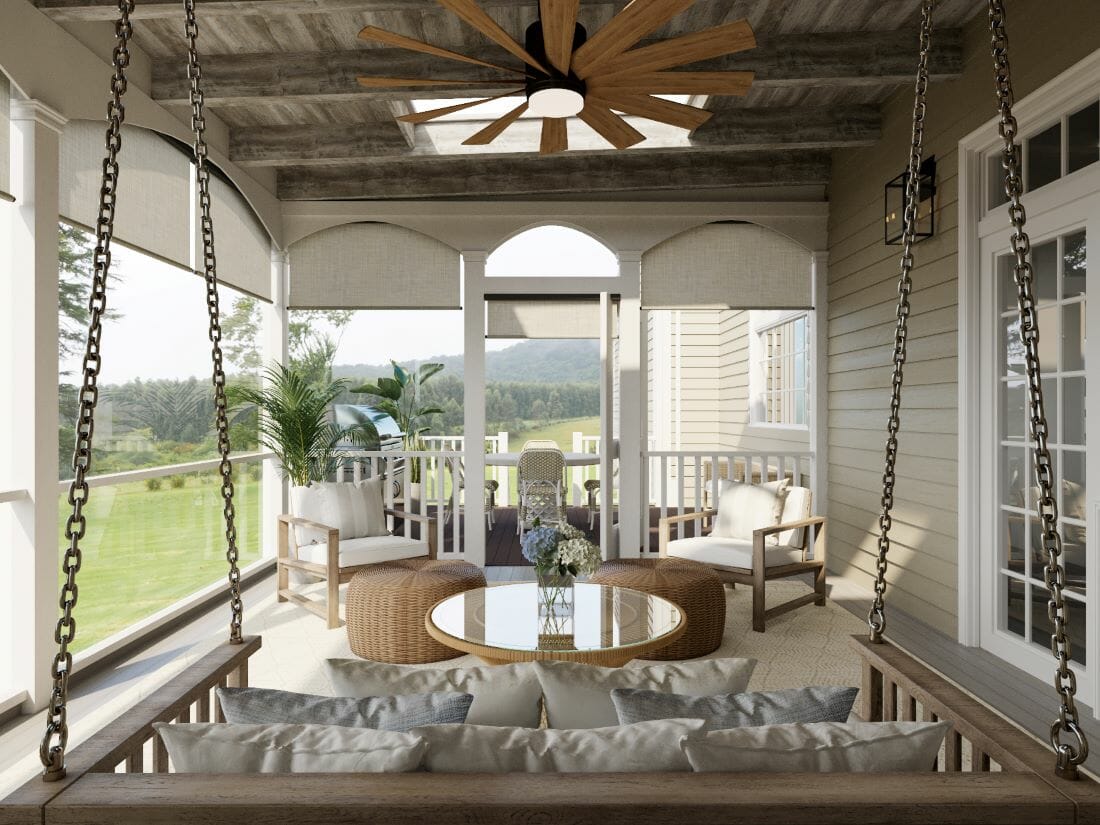 An outdoor living room is the pinnacle of luxury exteriors. It's a design that balances the comfort of an indoor living area with outdoor tranquility. Perfect for relaxing and entertaining, a chic outdoor living space has become a must-have in contemporary homes. Here's how to embrace the joy of outdoor living with design tips!
What is indoor-outdoor living?
Indoor-outdoor living refers to the seamless incorporation of indoor design into outdoor patio areas. Simply put, it's about bringing the luxuries of interiors to exteriors. This merger sees open-air patios with luxurious seating and indoor comforts we love so much. These spaces blur the line between the two worlds, making outdoor living more fun and inviting. 
Wondering which look will fit your outdoor living room? Then try our

 Free Interior Design Style Quiz

to find your true exterior design style!
The benefits of indoor-outdoor living are vast – from a renewed connection with nature to promoting a healthy lifestyle. And now you can expand your greatest living room ideas to your outdoors! A designer outdoor space also improves the aesthetics of your home overall. Not to mention, it provides an enjoyable and functional space to spend time with family and friends. 
Outdoor Living Room Design Must-Haves 
An outdoor living room can transform your backyard into a comfy haven. That said, it's essential to take note of all elements required, like outdoor furniture design. Furniture and finishes can undoubtedly elevate your design and enhance your outdoor living experience. So, read on to learn more and find outdoor oasis inspiration!
1. A Defined Outdoor Living Space
When creating outdoor living spaces, define the boundaries before decorating. First, set aside the area for your outdoor lounge, then refine it with furniture and plants. An outdoor rug, for instance, can anchor the space, while hedges or screens can create the boundary line. By designating the area, you'll make decorating a much simpler task and create a welcoming atmosphere. 
2. Comfy Seating
The key to a luxurious outdoor living space is comfortable seating where you and your guests can unwind. To ensure this, invest in durable and weather-resistant materials that will see your seating stand the test of time! Also include plush pillows, made from quick-drying or water-resistant fabric, and a coffee table to add a sense of luxury and a comfy feel. 
3. A Warming Firepit or Fireplace 
A focal point for warmth and entertaining can add a sense of luxuriousness to your patio living area. The key is choosing a well-ventilated location that prevents smoke from blowing into your outdoor lounge. You can also consider an electric fireplace to keep it eco-friendly, space-efficient, and smoke-free. Lastly, ensure your fireplace design and materials complement your overall outdoor living space. This results in a luxurious and cohesive design. 

4. Privacy for a Serene Environment 
A luxurious outdoor living area should be secluded and intimate, and there are many ways in which you can ensure this. Contemporary bamboo screens around an outdoor pool and patio are among the favorites. They can create a natural and tropical atmosphere for your outdoor living space. Available in various shapes and sizes, beautiful screens can form a private and striking base for backyard living. 
5. Inviting Lighting
When creating outdoor living spaces, it's important to include proper lighting for an enchanting ambiance. Adjustable fixtures, like light dimmers, let you change the light intensity based on the time of day or the atmosphere you want. They can also conserve energy, making them a greener alternative. What's more, incorporating various light sources can create a multi-layered ambiance in your space. 
6. Greenery to Enhance the Outdoor Living Room
Outdoor living space designs are all about connecting with nature. And there is no better way to connect with nature than by incorporating lush greenery into your space. Giant potted trees in beautiful clay pots or long stylish planters can truly distinguish your design. But first, consider which plants best suit your climate and how to care for them. Lastly, highlight the beauty of your greenery at night with spotlights or low-level garden lanterns. 
7. Chic Outdoor Storage Solutions
Storage is central to keeping your indoor-outdoor living room clutter-free and organized. Besides, stylish solutions – from cabinets to benches – can enhance the design. And the good news is many outdoor furniture items come with built-in storage. This means you can double up on space-saving and designer aesthetics simultaneously! But be sure to invest in weatherproof options as they will be exposed to the elements. 
8. Backyard Living Shelter & Shade
A practical and comfortable outside living room requires ample shelter from the sun. Think large parasols, outdoor curtains, and pergolas. Whichever you choose, opt for durable materials and be mindful of their maintenance requirements. Also, consider the location of your shading based on your outdoor living room layout. It should shield you from the sun when you're most outside. 
9. Creature Comforts & Personal Touches
Be creative with your outdoor living room by adding unique, personalized touches. In this way, your space will reflect your personality and act as an extension of your home. Plus, the options are endless! So, pick what you love best – from water features for a calming atmosphere to string lights for warmth and patterned throw pillows for plush comfort – the choice is yours. 
10. Maximized Small Outdoor Living Spaces
With creativity and clever design choices, your smaller outdoor spaces can be just as inviting as larger ones. So, make the most of the area by choosing appropriately sized furniture with flexible storage. This can be as simple as including a bench with a hidden drawer beneath. Also remember to use texture, color, and lighting to add depth and dimension to an otherwise modest space. 
Want your own indoor-outdoor living space? 
You too can make your dream outdoor living space a reality! All you need to do is schedule a Free Online Interior Design Consultation to start today!