Venture into the realm of versatility and style with a natural bedroom design that would soon morph into a neutral nursery. With clever choices of furniture and decor, the designs were able to fit several rooms within the house. Come along with us into this design story of transforming a tranquil haven adaptable to life's beautiful changes.
The Challenge: Natural Bedroom & Gender-Neutral Nursery
Guided by satisfaction with a previous project, a return Decorilla client asked for further assistance in setting up their new home. This time, they tackled the issue of unfinished bedrooms requiring flexible design.
The front bedroom was designated to serve as a primary guest bedroom until the owners would become parents. The whole setup should then be able to move upstairs and comfortably fill another unfurnished room. With such a plan in mind, the clients asked for two creative solutions for the bedroom. The designer's tasks were to: 
Come up with two cohesive layouts: one for an organic guest bedroom and one for a gender-neutral nursery

Consider a neutral boho theme for a nursery to convey a calming atmosphere for both parents and baby alike

Stick to organic yet minimalistic decor and nature-inspired accents

Assemble a similar design for the side bedroom that would permanently serve as a secondary guest bedroom
Pro Tip: Create your natural bedroom design in your preferred style. Not sure what that is? Then take our

Free Interior Design Style Quiz

to find out today!
Organic Bedroom and Neutral Boho Nursery Inspiration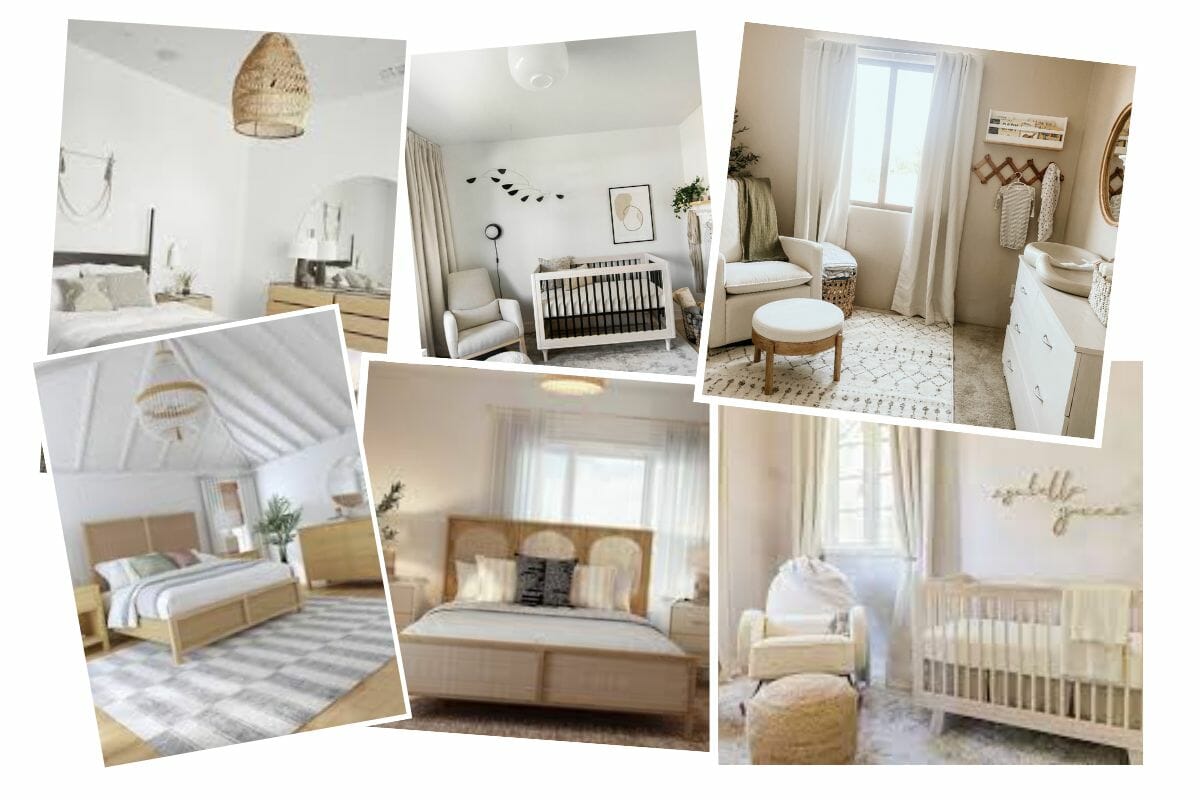 Natural home decor ideas offer a sanctuary where you can escape from the stresses of daily life. Expectedly, that was a key asset found all over the client's gallery of organic bedrooms and neutral boho nursery samples. The collection showcased some striking blends of natural materials, soothing color palettes, and minimalist designs. At the same time, serene, eco-friendly spaces embodied the essence of nature, tranquility, and simplicity.
Nature Themed Bedroom Ideas & Neutral Nursery Moodboard
Having access to such an inspirational gallery of images was a valuable resource for the Decorilla team. Meanwhile, the design questionnaire helped them better understand the client's requirements and identify the professionals ideal for the project in return.
Two experienced bedroom designers offered their visions for a nature-themed bedroom and gender-neutral nursery. Unsurprisingly, both moodboards captured the desired flair in every detail, making a final decision challenging. In the end, the client decided to proceed with their previous designer, Liana S. 
Liana's goal was to create harmonious spaces able to nurture both body and soul. Her gender-neutral nursery and nature-themed bedroom moodboards oozed creativity while maintaining a sense of peace. The beauty of nature brought indoors was also clearly communicated. Soft earthy tones combined with natural textures defined these inviting layouts dedicated to restful sleep and imaginative play. 

Nature-Inspired Bedroom Design Results
This invigorating bedroom design effortlessly combines organic elements with boho influences and global accents. From cozy organic cotton accessories to a woven bed frame, every aspect of the layout has been sourced with style and sustainability in mind. As a result, the overall vibe is reminiscent of a minimalist Scandinavian-inspired look blended with mid-century aesthetics.
At the heart of the natural bedroom arrangement is a rattan bed. Its intricate weaving boasts tropical charm while providing a cozy spot to rest and rejuvenate. A round decor piece adorns the wall above, adding an ethnic-inspired touch to the retreat. It serves as a captivating accent that brings depth and character to the room while paying homage to different artistic traditions.
At the bed's bottom, a tall arched cabinet provides a functional yet stylish focal point, organically shaped to mimic the curves found in nature. Crafted from sustainable materials, it not only adds functionality but also contributes to the overall eco-consciousness of the room.
The dominant colors in this organic haven are white and pine, making a base for an inherently airy ambiance. Such a soothing backdrop allows the light to dance throughout the space, illuminating even the furthest corners.
Neutral Boho Nursery Makeover
Moving on to the gender neutral nursery design, we find a kingdom of cordial peace. The layout showcases a perfect blend of bohemian charm and soothing neutrality. Soft accessories, textured fabrics, and whimsical decor elements create an inviting space where a little one can grow and explore. With a focus on a gender-neutral color palette and natural materials like rattan and wool, the design also provides a restful environment for the parents.
A white wooden crib stands as the centerpiece of the room. Its clean lines and soft, gender-neutral shades blend seamlessly into the overall aesthetic. Right on its side, a large, golden-framed arched mirror elevates the setup with a dash of elegance. The mirror not only serves as a functional piece but also reflects light, making the room feel brighter and more spacious.
Above the crib, a wooden wall decor boasts a delicate script font personalized to the baby's name. This bespoke decor element adds a touch of warmth and intimacy to the space, making it feel truly special.
Mom's nursing corner offers sophisticated coziness, surrounded by two lamps for task and ambient lighting. A curvy channeled armchair and pouf can comfortably cocoon both mother and baby for hours. Taking a focal point position in the room, such a setup exudes timeless elegance while embracing modern organic neutrality. At the same time, the convenient cabinet/changing table saves valuable floor space while providing handy storage for all necessities.
How the Designer Transformed a Space
A double-function room puts a specific set of challenges on a designer's path toward creating a functionally beautiful space. In this project, the key to success lies in carefully scaled furnishings in soft shades of white, cream, and gray, conveying a fresh atmosphere devoted to relaxation.
As a result, a stylish natural bedroom can quickly transform into a gender-neutral nursery without causing headaches for parents-to-be. It allows them to create a peaceful and harmonious space that can be enjoyed by more than one child.
Nature-Inspired Bedroom & Neutral Boho Nursery Shopping List
Decorilla's clever interior design process allowed this family to achieve their dream bedroom effortlessly. The furniture and decor options were meticulously selected to fit the clients' ideas, lifestyles, and budgets. Meanwhile, realistic visualizations brought those choices to life, helping the soon-to-be parents envision each space.
The renderings also came in handy when selecting which items to purchase from the personalized shopping list. Knowing how each item would look in their home removed the chance of any doubt. With a baby on the way, pricing was also of utmost importance. However, the exclusive trade discounts ensured the family was able to stay within budget. And as the couple was busy nesting, the white glove shopping concierge service handled all the logistics of ordering, tracking and delivery. 
Neutral Organic Bedroom & Nursery Top Picks
If you're searching for inspiration for your home or simply enjoy cleverly designed spaces, check out our favorite picks. They might boost an array of new bedroom and nursery ideas.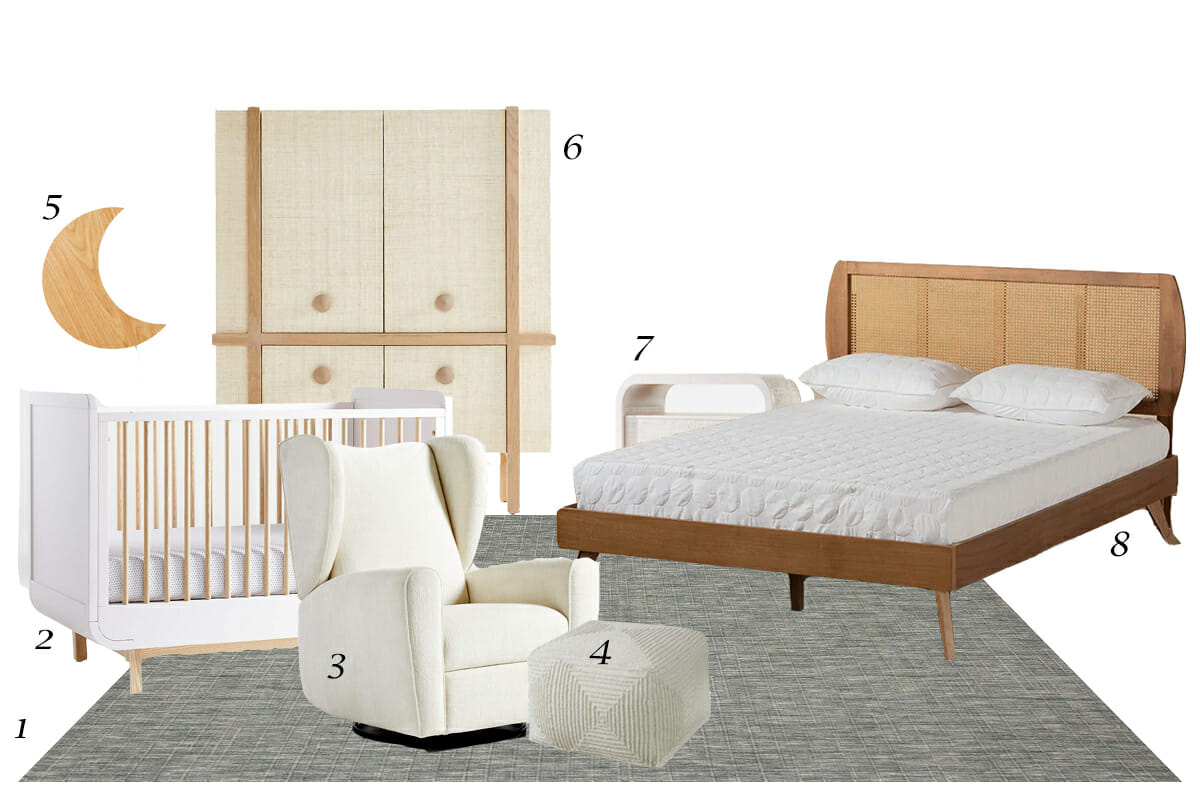 Looking for the best nature-themed design ideas?
No matter which room you want to give a peaceful natural touch, our professional designers are ready help. So, schedule a Free Interior Design Consultation to start your project today!