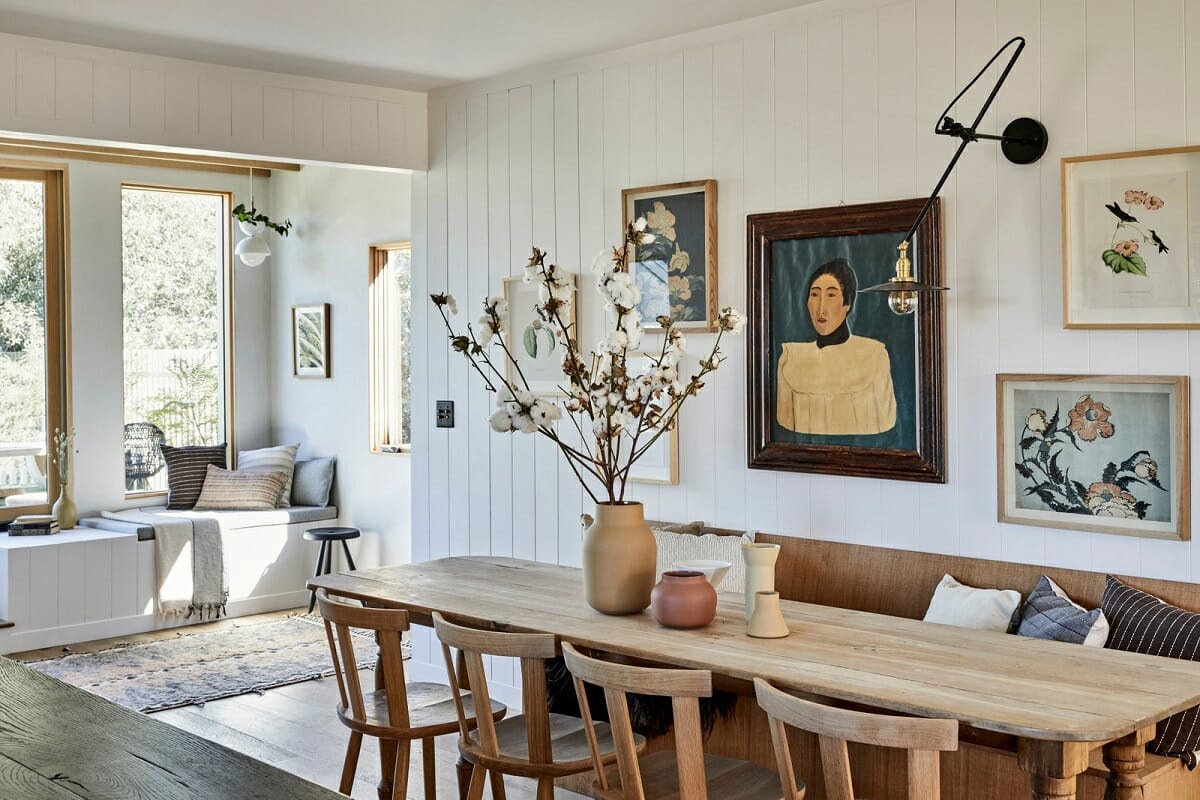 Tranquil Japanese design meets cozy Scandinavian decor in one of the best-loved style combinations of the decade – Japandi! The hybrid is a remarkable show of mastery and warm minimalism. Here is all you need to try Japandi interior design at home.
What is a Japandi Style?
Japandi comes from the merger of two distinct styles: Scandinavian and Japanese design. Coincidentally, the design styles have many features in common, which makes combining them simple. Apart from physical elements, Japandi also embodies key ideas behind Scandi design and Japanese design. On the one hand, Scandinavian hygge brings a sense of cozy contentment. While Japanese wabi-sabi highlights the imperfect, impermanent and incomplete. 
Although the styles are from different continents, paired they are not only aesthetically pleasing but also sensible. Japandi interior design is intentional above all else. Each part has meaning and purpose. 
Not sure if Japandi interior design is right for you? Take our Free Interior Design Style Quiz to help discover your perfect style today!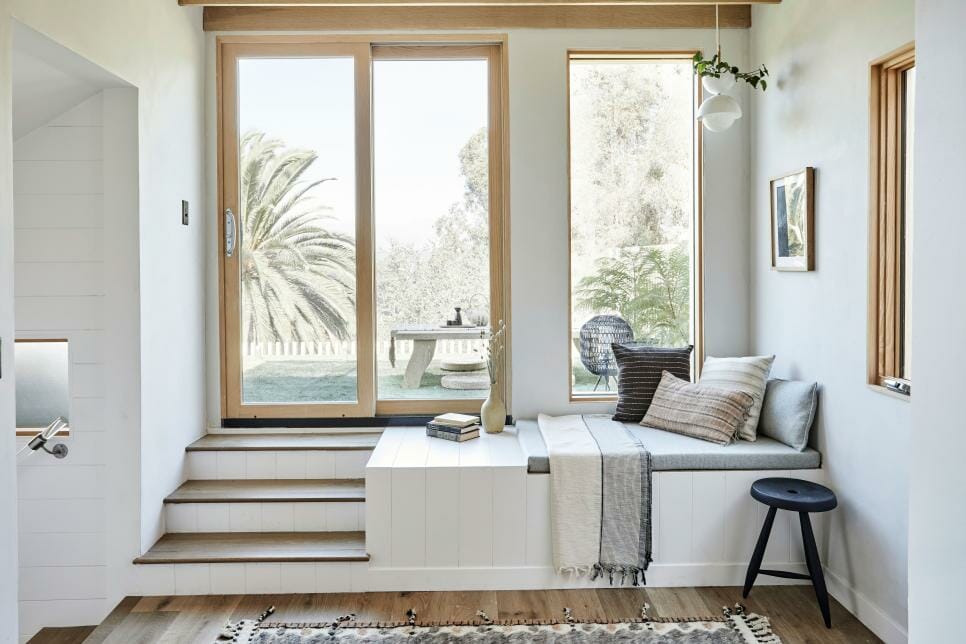 The Japandi style honors principles of minimalism while being warm and livable. It says "goodbye" to clutter and "hello" to cozy zen. These spaces are often open concept, filled with plants, and appreciate timeless furniture. In a word, Japandi is peaceful, functional living at its best. 
Airy Japandi Living Room Design
A Japandi living room is often open plan, featuring a dining room or kitchen. But whatever the layout, these spaces encourage repose and connection. Form follows function while being immensely soothing. In the end, Scandi decoration and Japanese restraint ultimately guide Japandi living room design. 
1. Show Sustainability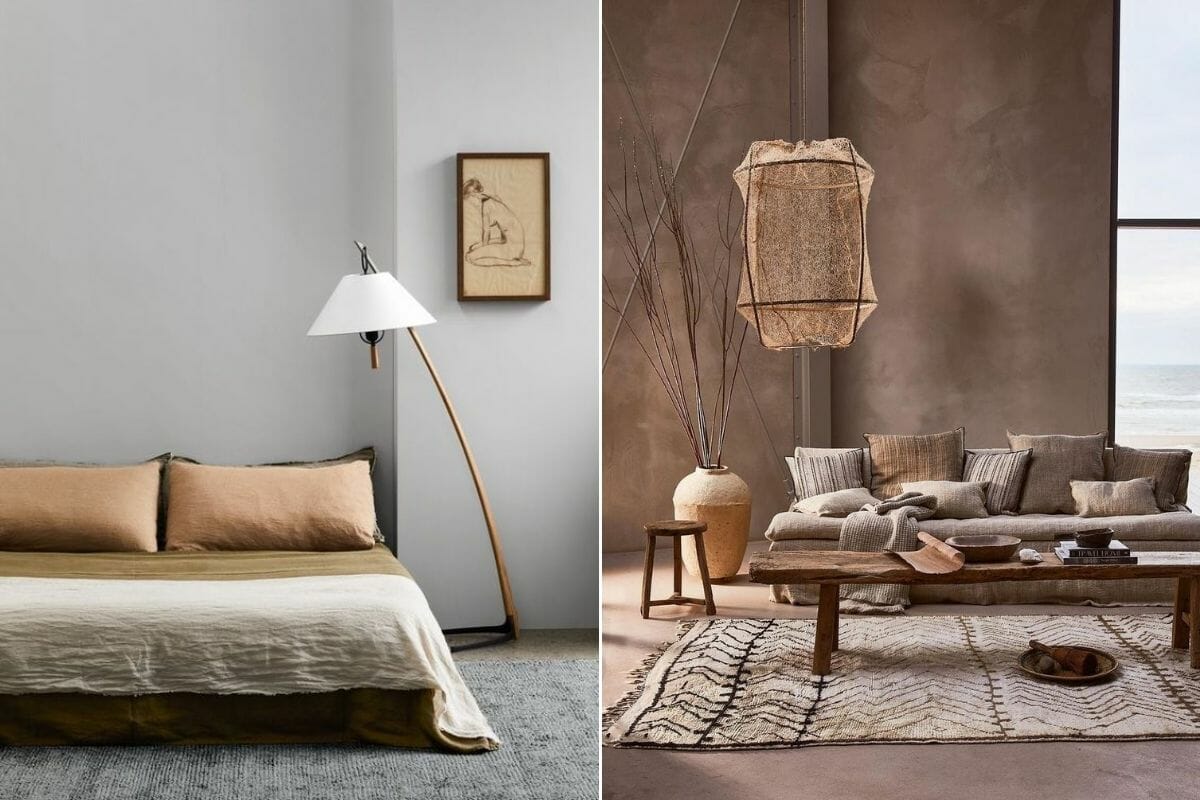 Japandi living room design is rooted in sustainability. First, using natural materials and reusing or repurposing others make the style a tip-top green option. Above eco-friendly sources, Japandi furniture is of high quality. Through its durability, you can spend on a few pieces that'll last a lifetime rather than replacing things yearly. Together, the sustainable aspects of Japandi give the style a timeless look and feel. 
2. Pick a Peaceful but Warm Palette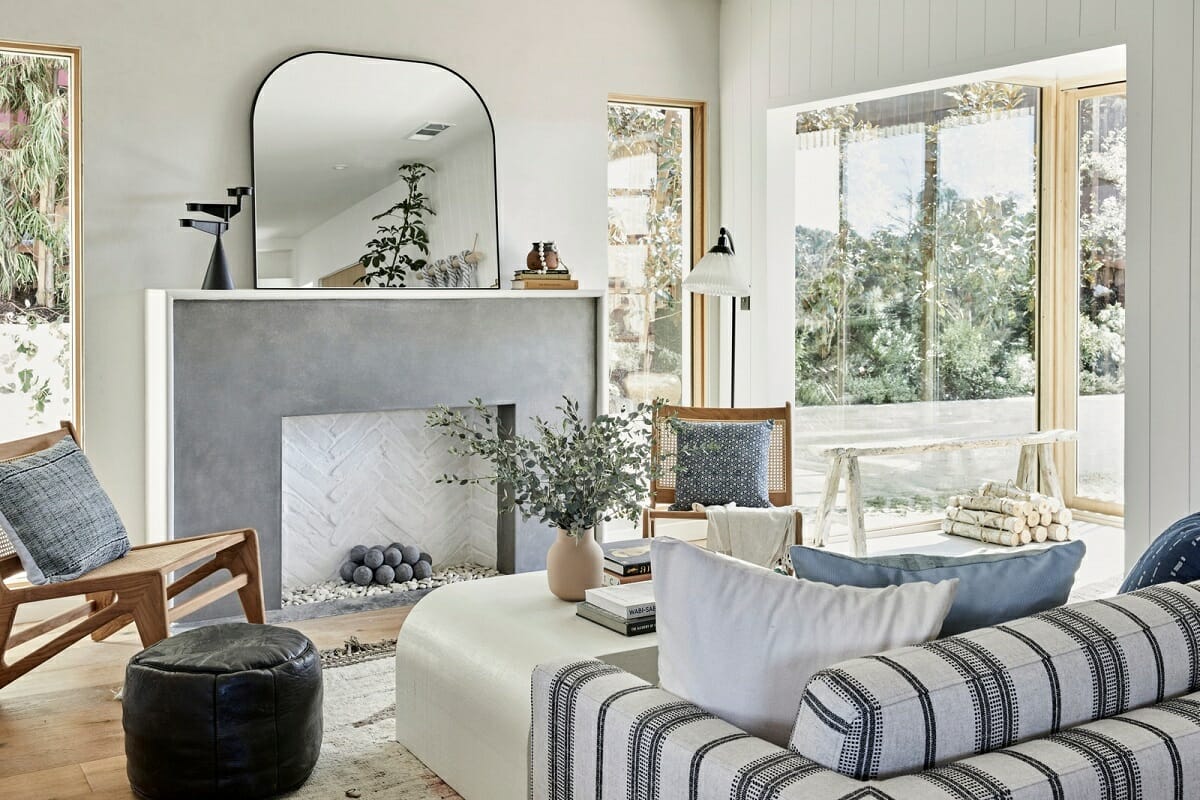 Scandinavian and Japanese designs incorporate hues from their natural surroundings. For Scandi this means grey, white, and browns, whereas Japan features pastels of autumn foliage, blossoms, sky, and earth. Both also feature stark contrasts at times. As a result, the hybrid Japandi style has mostly neutral tones that are calming and tranquil. In living rooms, especially, these hues are layered to mimic a natural landscape. 

Stripped Japandi Style Furniture
Furniture is arguably the most important facet of Japandi interior design. With this in mind, shape is incredibly important in the simplicity of these interiors. Where colors may be subdued and décor few and far between, furniture is bold in a display of minimalism's finesse. 
3. Emphasize Craftsmanship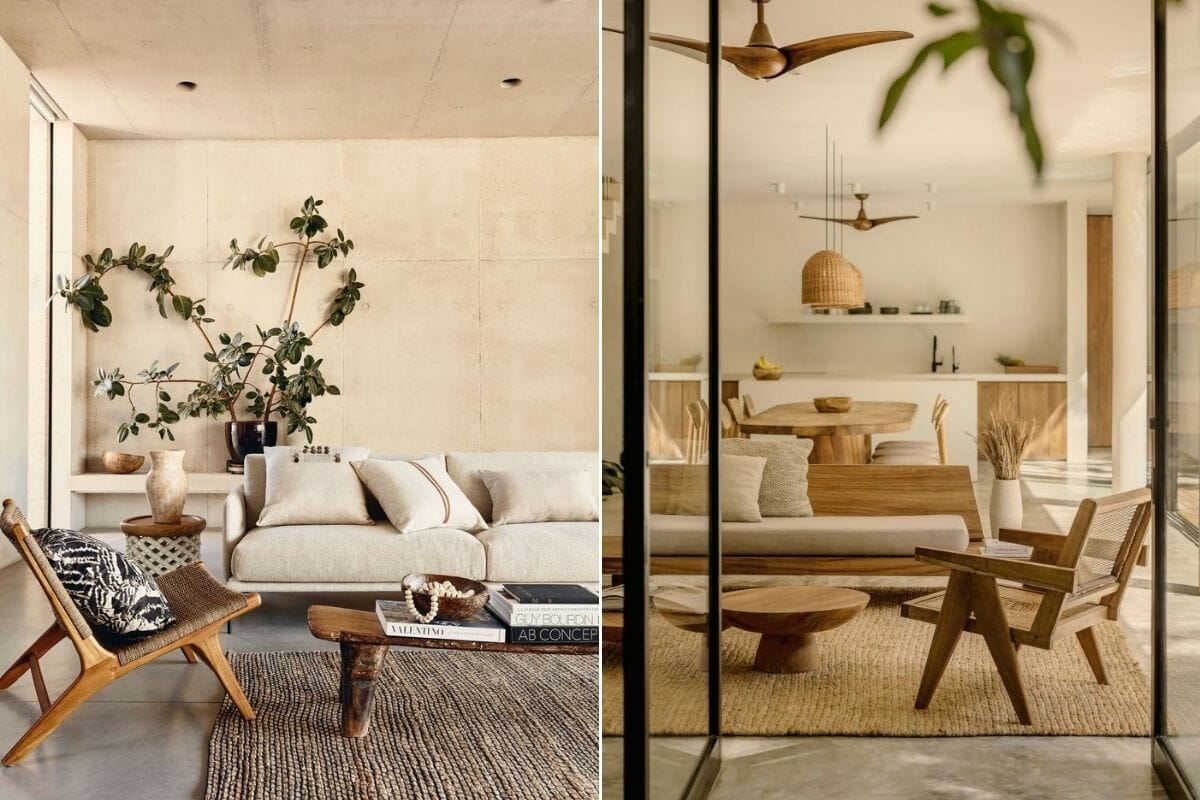 Japandi furniture has a distinctly artisanal feel. The reason lies in its handmade process. It's no wonder, as Japan is known for its mastery of timber. With wood so easily available and versatile, it's a favorite medium for anything from architecture to furniture to décor.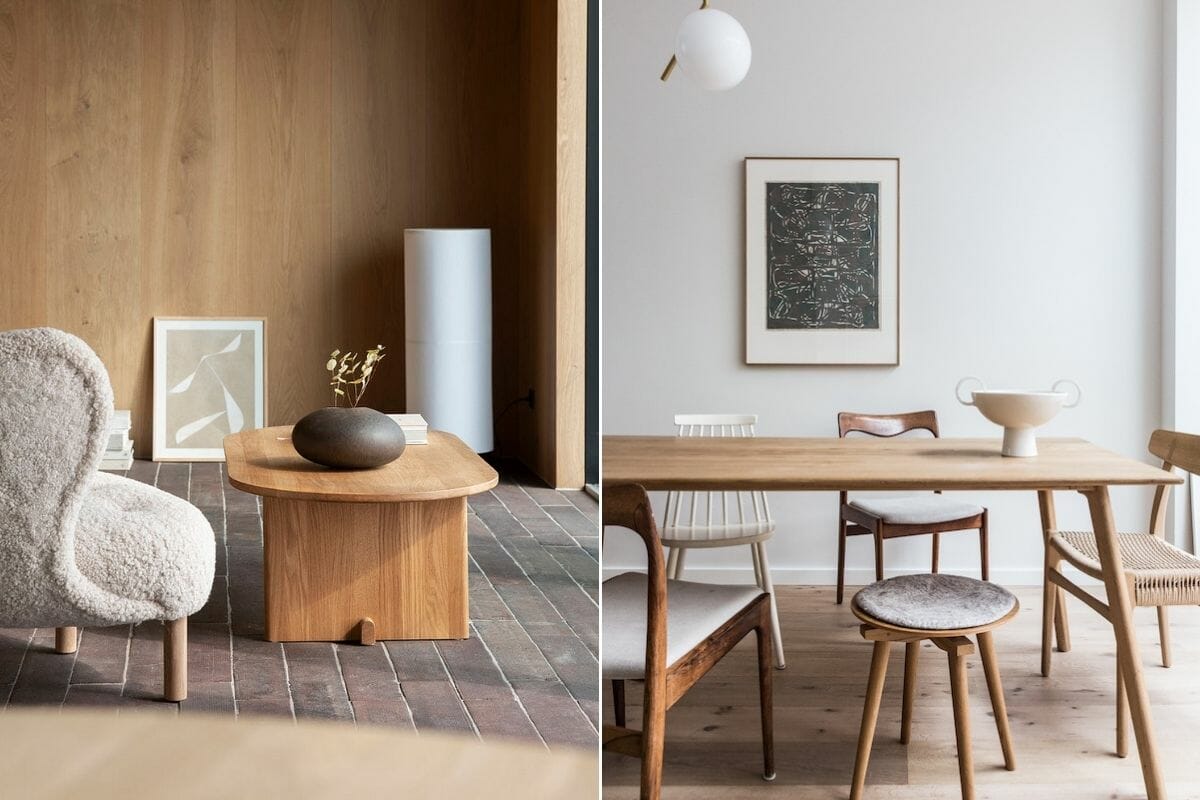 Similarly, Scandinavian design also favors wood. However, while Japanese design can be intricate, Scandi focuses on comfort and simplicity. Combined, Japandi brings the best of both. Japandi furniture, as a result, is exquisitely made yet modest and comfy. 
4. Opt for Minimal & Natural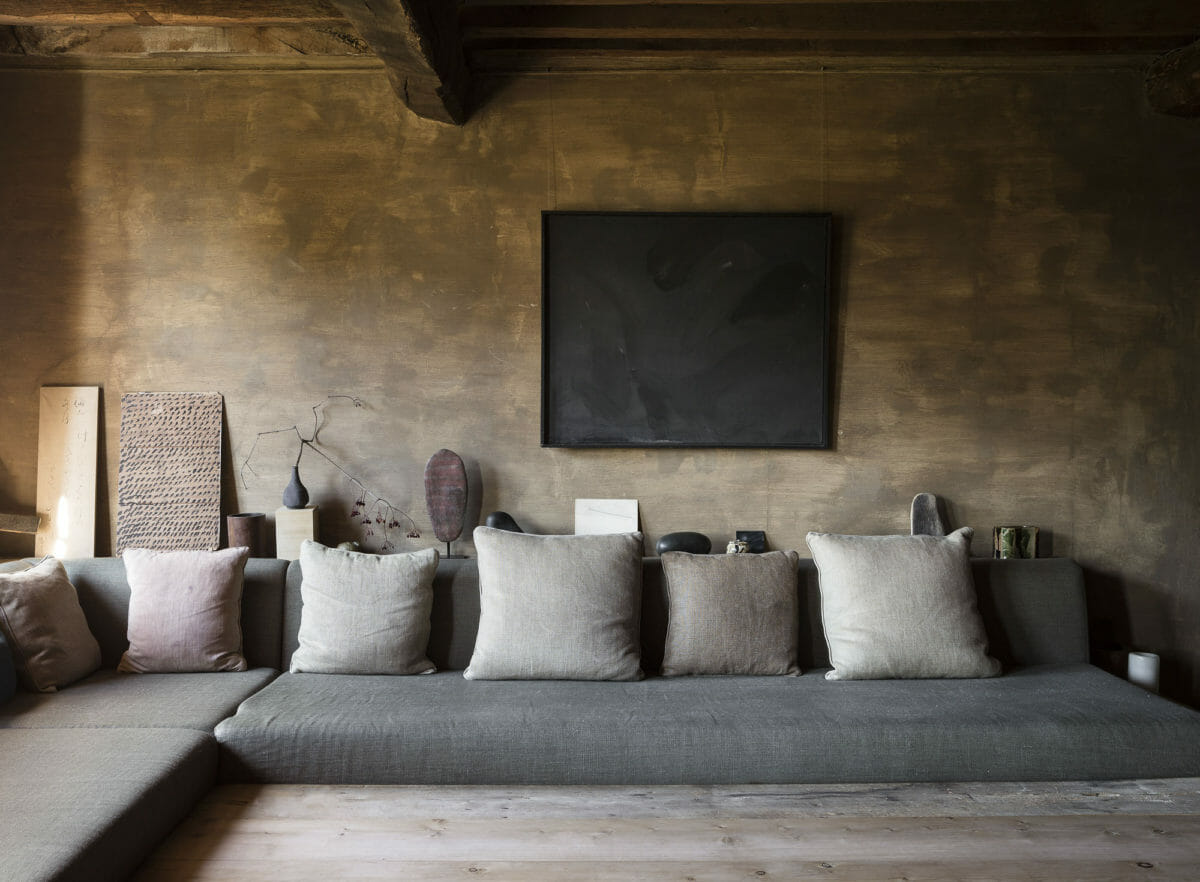 Both Scandi and Japanese designs use natural materials before turning to alternatives. For this reason, the hybrid Japandi style feels distinctly organic. While using raw materials, the style is minimal to accentuate the material even more. You can expect clean lines and solid forms in any Japandi space, from the dining room to the bathrooms.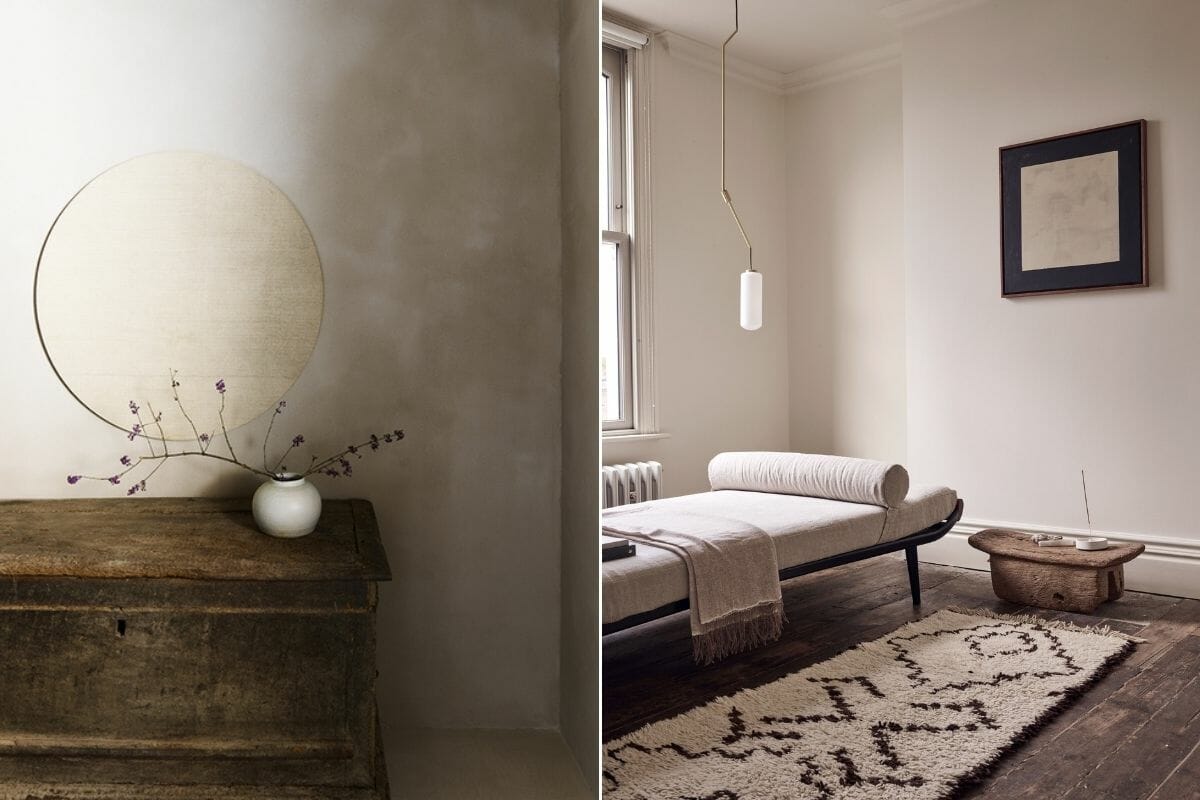 As natural materials are a must, Japandi furniture design often includes rattan, cane, wicker, wood, and bamboo. For textiles, you can expect organic fabrics like linen, cotton, and muslin. 
Inviting Japandi Bedroom
A Japandi bedroom is tech-free and supports rest above all else. As such, the design stocks up on things that encourage relaxation without cluttering a room. And although these interiors favor functionality over frills, they still feature superior aesthetics. Plus, soft furnishings are a must and so is texture. 
5. Tone Back to Comfort
Zoning in on comfort is a top priority in a Japandi bedroom. Resting is the room's primary function after all. So minimizing distraction and encouraging sleep is the main aim. That's why Japandi bedroom interior design can be very minimalist with the bedding and throws the main decorative elements. Stick to no or minimal window dressing and a few pieces of art. 
6. Mix & Contrast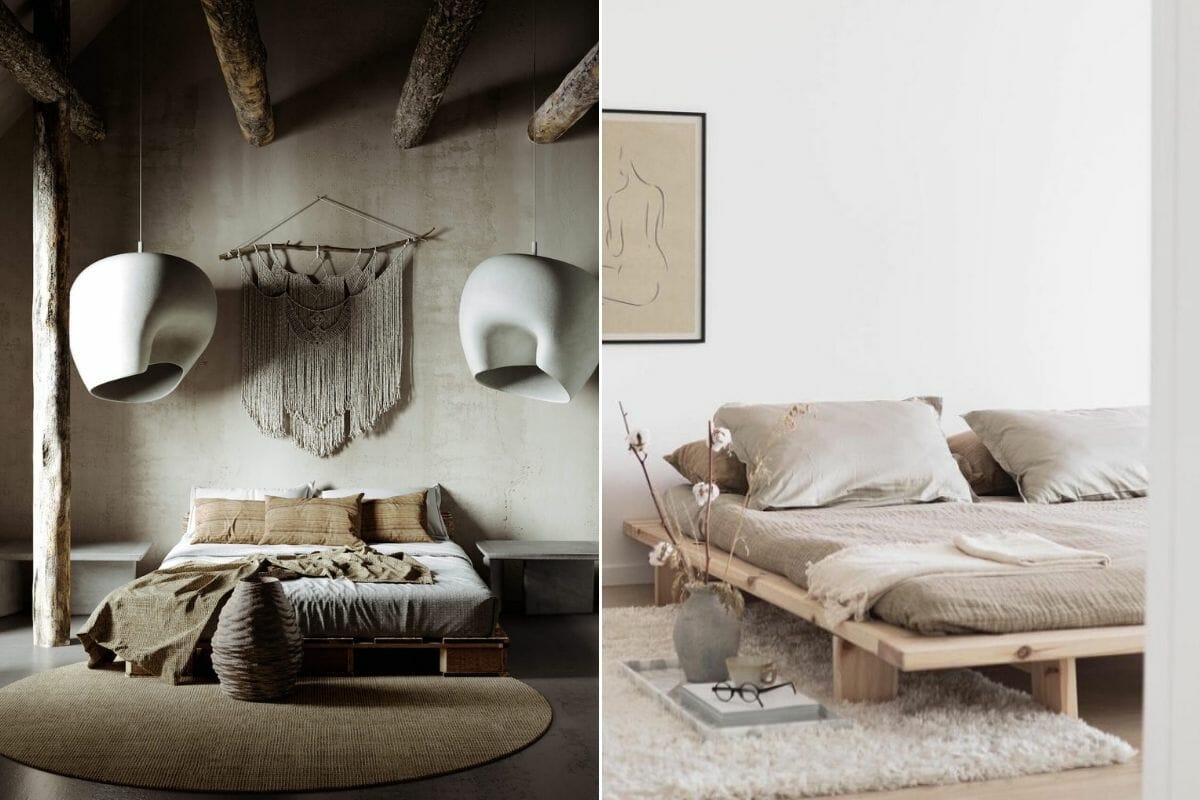 Symmetry is not a top priority in a Japandi interior design. Instead, mix different furniture to create a more organic look. Be mindful of the visual weight of each item and focus on balance above over-decorating. When in doubt, remember less is best! 
In addition to organic furniture arrangements, bedrooms often feature contrast. White, brown, and black, for one, can create a natural, artistic look that complements Japandi furniture. 
Refined Japandi Style Décor
Decoration in these clean, zen Japandi style interiors is minimal at most. It's to keep the ambiance tranquil. Besides, Japandi furniture can be of such stature it makes a statement without adornment. Nevertheless, beautiful décor dot interiors at times. 
7. Choose Handmade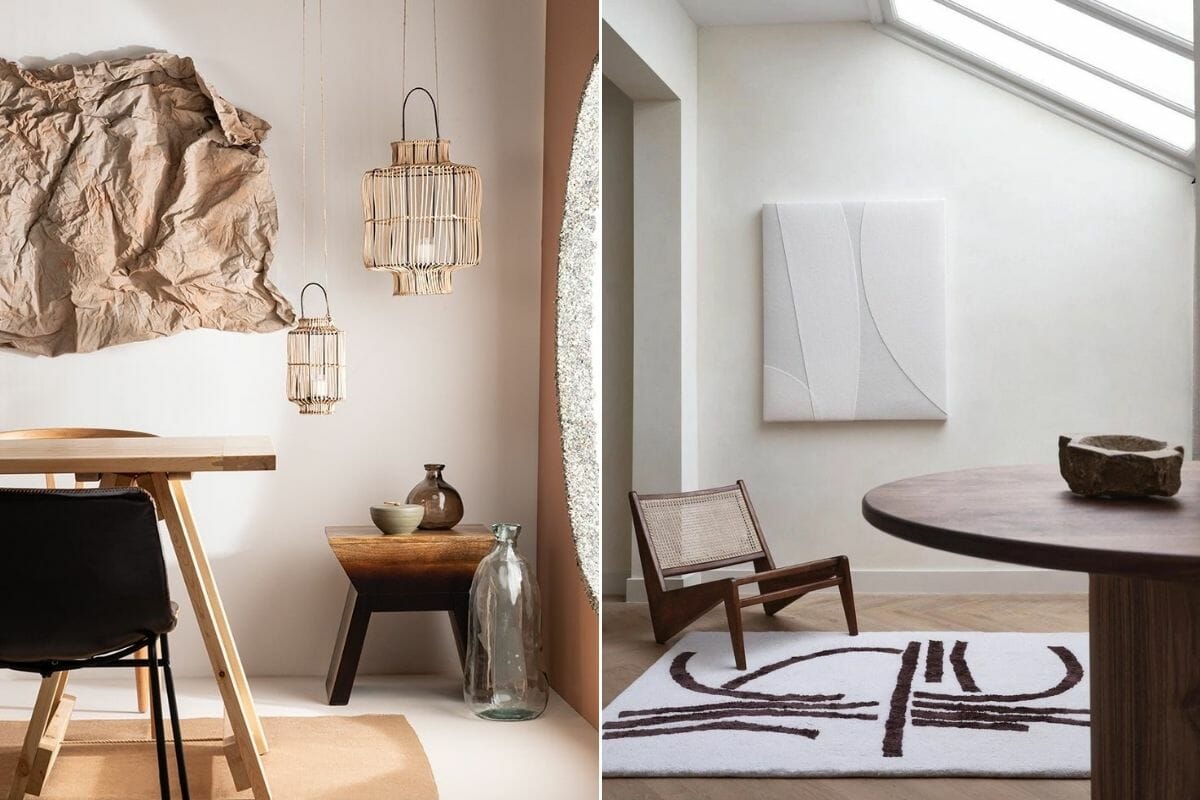 Japandi design relies on artisans for everything from furniture to décor. When possible, pieces are handmade. As a result, no two interiors are the same. For decoration, clay, glass, wood, and stone fit the aesthetic exceptionally well. Ceramics, bowls, and even large feature lighting can consist of natural materials. A soft shaggy rug is also a great addition that could warm the possible coolness of minimalism.  
8. Nod to Nature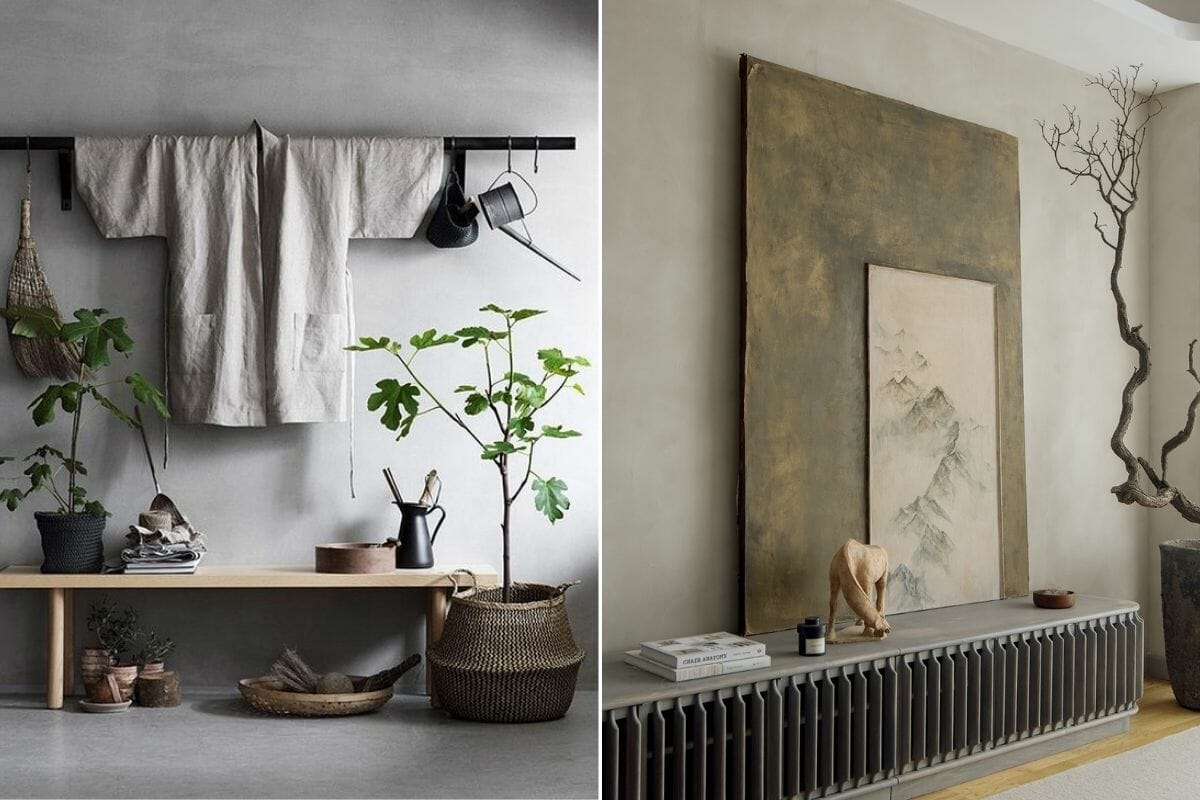 Whether an indoor tree, a drawing of a bloom, or hilly shapes on a canvas, Japandi style spaces feature natural or nature-inspired décor. Abstract décor, from Scandinavian design, also forms a good base for simplifying natural landscapes to fit the minimalist look. A block sand-colored canvas or simple line art could do the trick as well.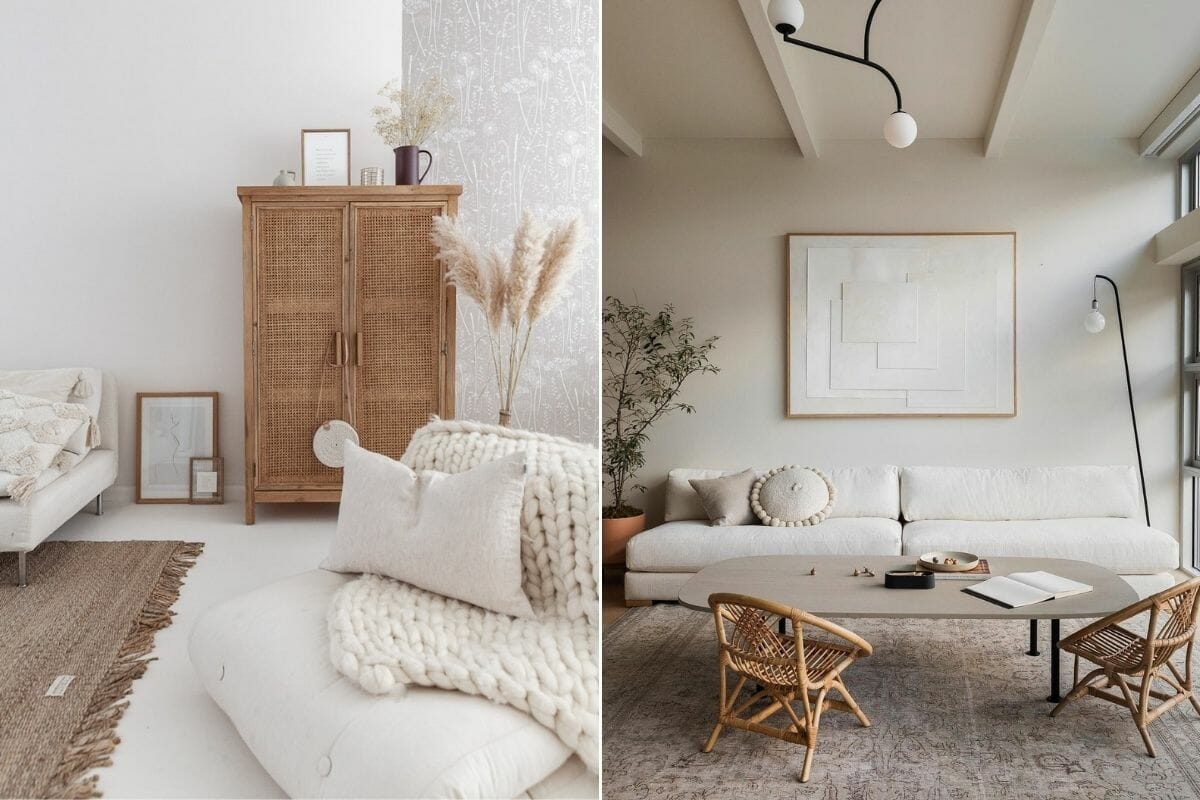 When it comes to greenery, both Scandi and Japanese interiors have plants. However, a Japandi style leans towards fewer but bigger plants as in Japanese design. Delicate branches in large ceramics also make gorgeous vignettes. 
Japandi Bathroom Design
Muted colors, clarity, and texture give Japandi bathroom design its spa-like quality. These spaces are made for rejuvenation and reflection above all else.
9. Layer Neutrals 
Solid forms and soft textiles elevate the Japandi style, even more so when they're within a tonal color scheme. for your own interior, let seafoam, a cloudless sky, and icy woodland inspire you. Combined, they can create a dream-like setting where you can unwind completely. 
10. Let the Tub Take Centerstage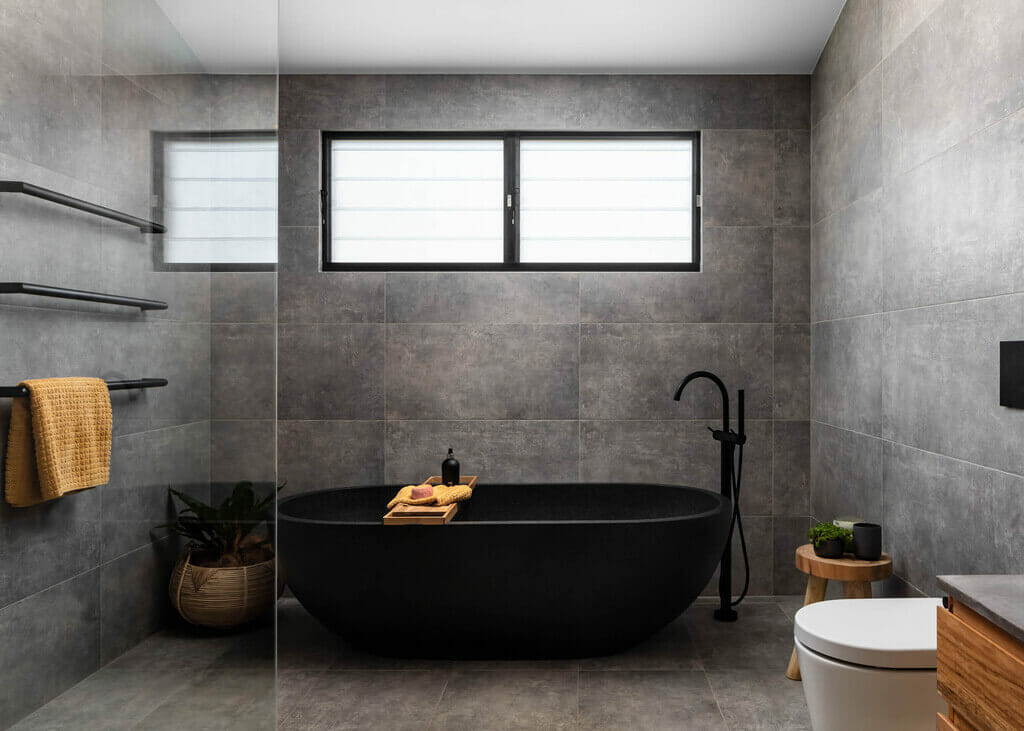 The focal point in Japandi bathroom design is the main water feature. With a freestanding bath or an open shower, you can set an air of tranquility. Soften the look with plants that thrive in a humid environment, like a fern or a monstera. Also be sure to add Japandi décor, like a decorative stool or bath caddy and organic towels. 
Create Your Own Japandi Interior Design 
Whether you love Scandi, Japanese or traditional interiors, you can create your favorite look at home. So, schedule a Free Interior Design Consultation to learn more about your design options today! 

[images: 1, 2, 3, 4, 5, 6, 7, 8, 9, 10, 11, 12, 13, 14, 15, 16, 17, 18, 19, 20, 21, 22, 23, 24, 25, 26, 27, 28, 29, 30, 31, 32, 33, 34]