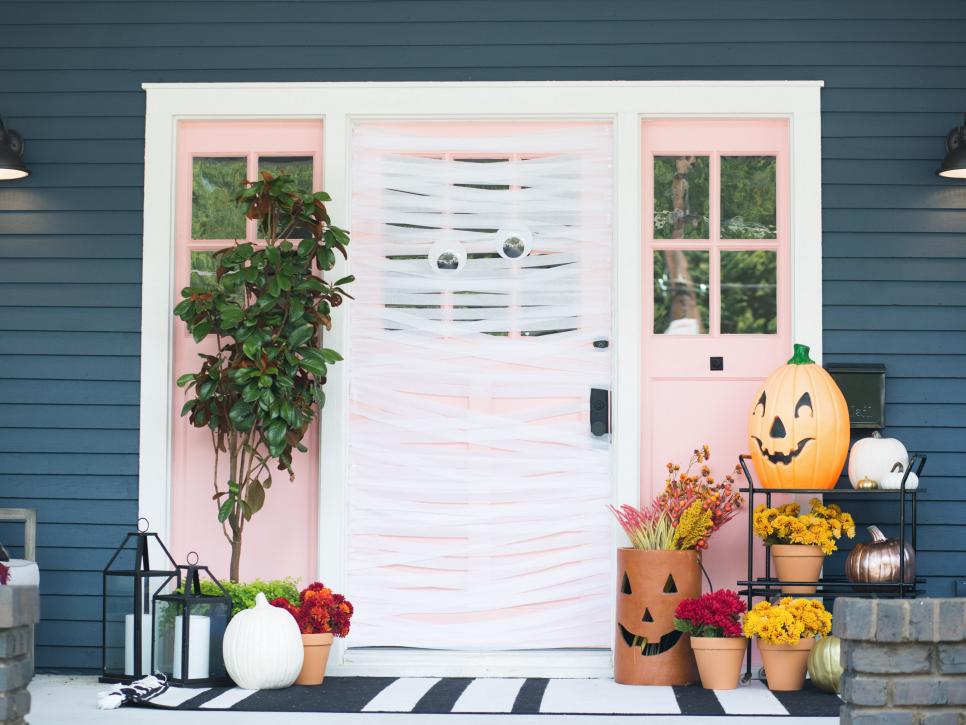 Fall is here, which means it's nearly time for Halloween! Pumpkins, bats, and skulls may be the first thing that comes to mind when you think of Halloween decorations, but we're here to tell you to think outside the box. This year specters and grinning vegetables have had a delightful makeover. As a result, Halloween home decor 2019 is not scary at all. Recent interior trends see caricature go big in what's famous for being the creepiest time of year. Plus, knowing which Halloween decor designers love is bound to give your festive interior a boost.
Did you know that the traditional Mexican holiday, Day of the Dead, falls near Halloween? Yet the two occasions differ significantly; the Day of the Dead celebrates loved ones who have passed away. However, Halloween is derived from the British Samhain festival. It was believed the dead were able to return to earth on October 31st. Luckily, modern-day Halloween has fun at its core.
Choose a Color Scheme for Your Halloween Decorations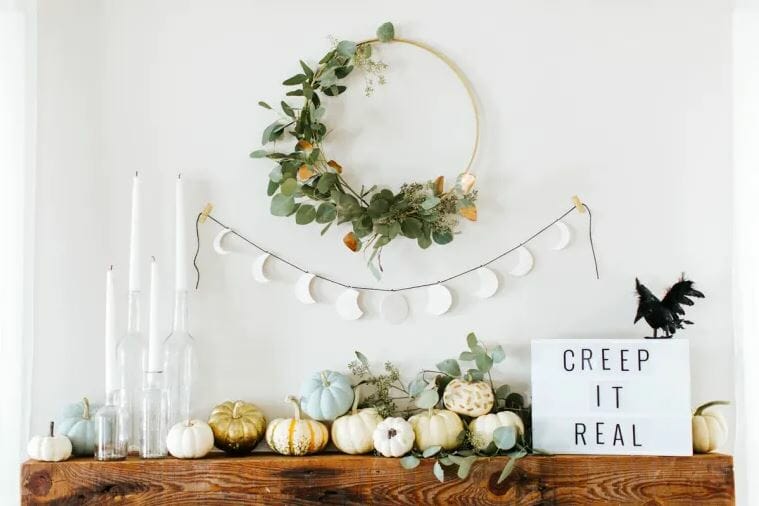 Before transforming your home into a wonderland, set up a color scheme. This will guide all your decor decisions and make the process all the easier! Popular contemporary themes include bright and bold color, neutrals and monochromatic.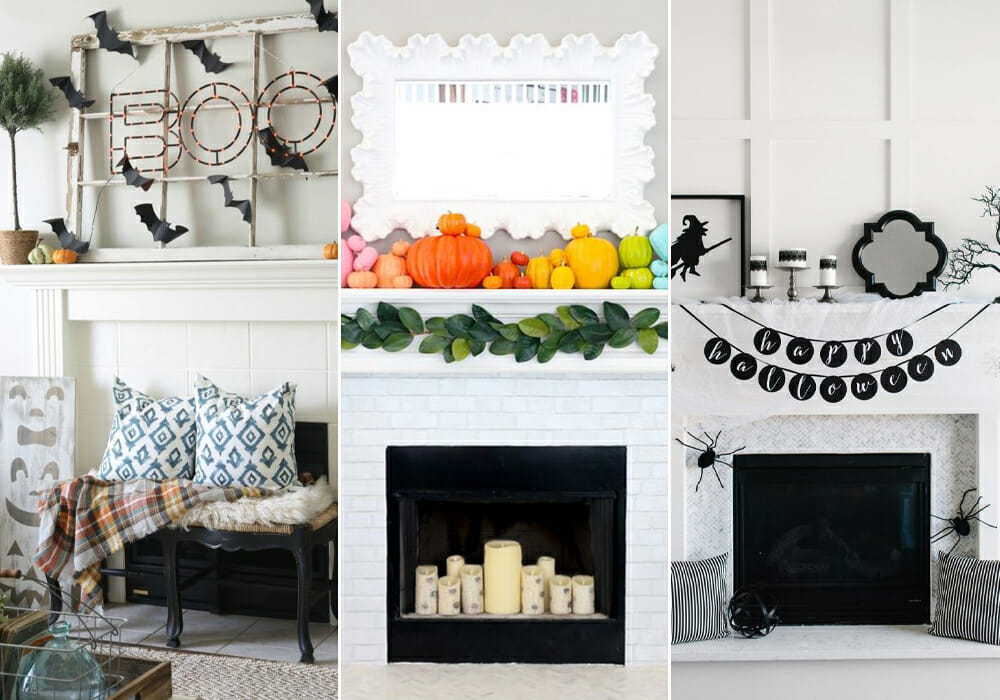 Neutral
A neutral scheme is low-key and subtle. Choose natural and earthy tones that suit your interior and add cheap Halloween decoration that has texture.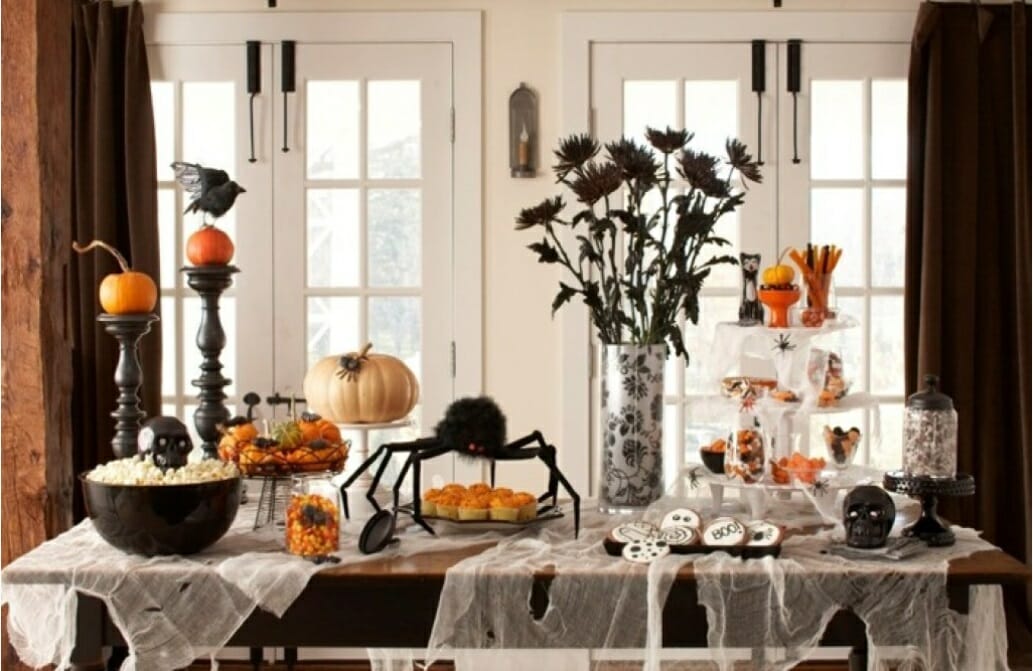 Colorful
Modern Halloween is happy and bright; a celebration of color replaces traditional glum and dreary decor. If your home is neutral or monochromatic, colorful Halloween decor will be a beautiful complement. However, remember that less is more – keep it simple and stick to three colors or less.
Monochromatic Black
An all-black scheme can fit any interior, but if a home predominantly white or pastel, a dark and moody scheme would be extra dramatic.
1. Transform the Ordinary into Halloween Decorations with Tulle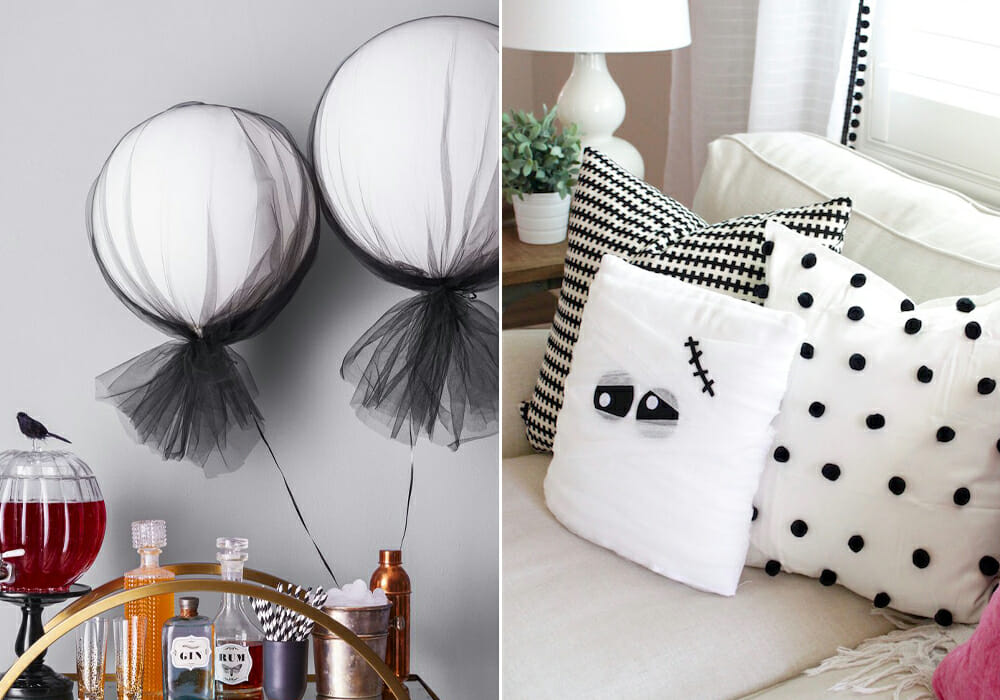 Who said Halloween must cost a fortune? Pick up inexpensive tulle, or material of your choice, from a fabric store and transform plain pillows, balloons, and even pumpkins into something special befit of the season. The black fabric will add a gloomier and more sophisticated look to your interior, while white is an excellent way to create mummies and ghosts without much effort. To make your clever Halloween decoration ideas stand out, choose the hue that contrasts most to your existing interior. For example, if you have a mostly white home, choose black, and for dark homes, choose white.
2.  Bring in Blooming Pumpkins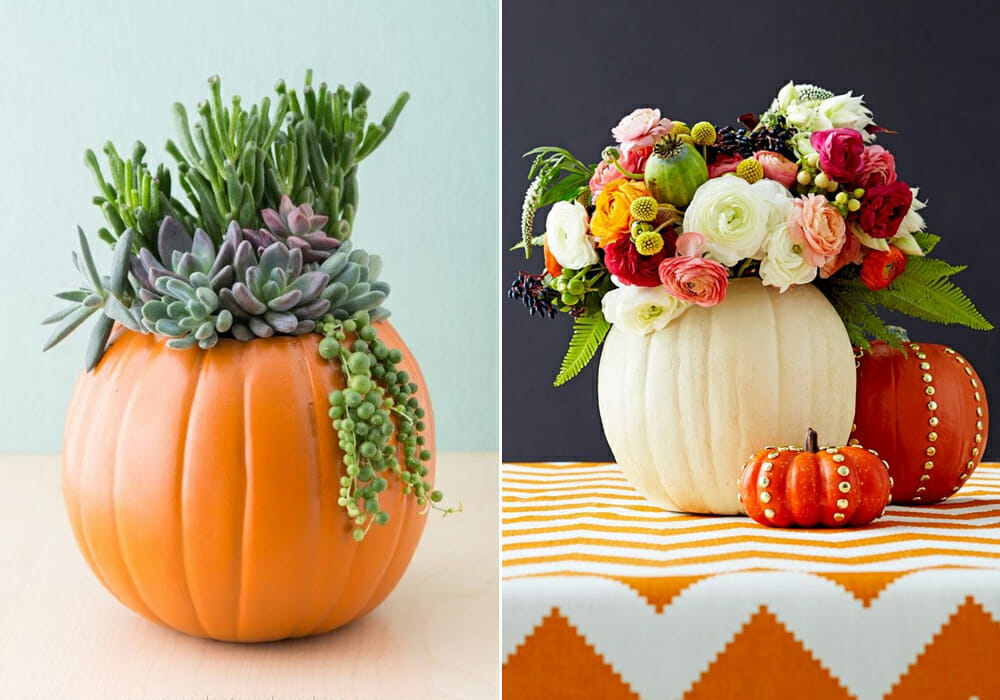 Go flowery this Halloween with a unique decoration idea – pumpkin vases! This is perfect for those who want festive cheer without disrupting their interior with cheap Halloween decorations. You can fill pumpkins with succulents, flowers or even branches. Find a suitable pumpkin, scrape out its contents, line the interior with plastic and voila – a perfectly natural vase for fall. Remember to paint the outside of the pumpkin to fit your color scheme!
3. Family Fun with Cheap Halloween Decoration Ideas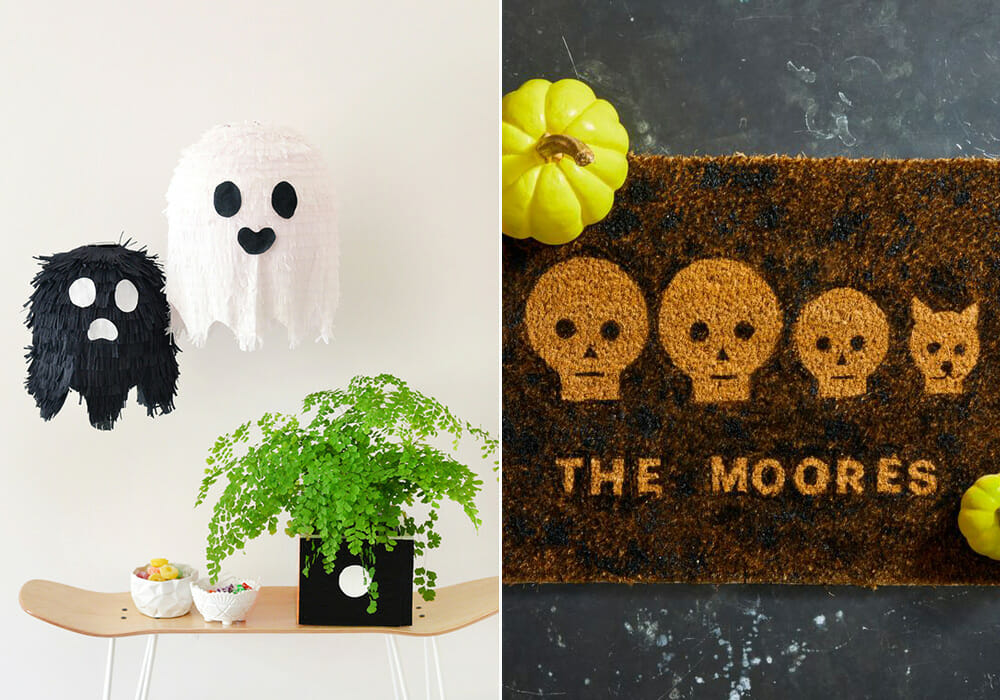 The festivity starts at home, especially if you have children. Add functional yet fun pieces to your interior to get your kids into the spirit of the season. Cute ceramic snack bowls, smiley ghost pinatas, and a personalized cartoonish doormat are some of your many options.
4. Spookiness from the Kitchen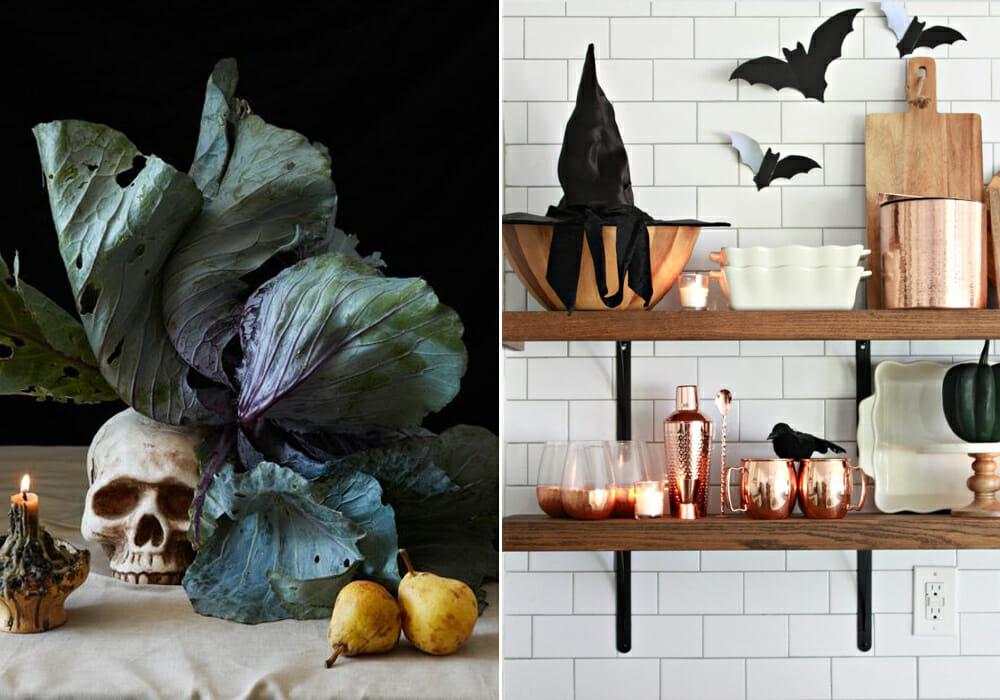 As one of the most frequented areas in a home, your kitchen must be included in the fun! And, you might not know it, but your kitchen might have promising decor props waiting to be discovered. Use your open shelves and free counter space to create a beautiful focal with one or two faux critters (or stick-on decals) and a witch's hat, pumpkins, or cobwebs. Next, scour your pantry and veggie patch. Bruised fruit, like apples and pears, and insect-nibbled leafy vegetables may be unappealing but can make a lovely addition to Halloween home decor for 2019.
5. Set the Mood with Dramatic Ferns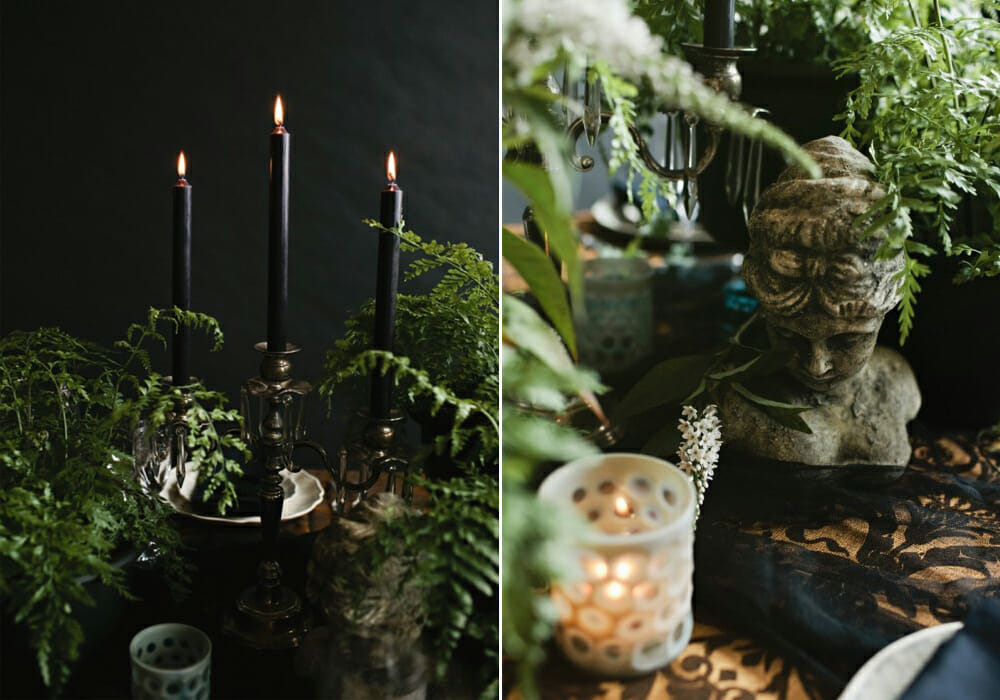 Greenery is a must for any occasion. Ferns and dark greens can create an air of mystery – like a haunted forest. Add faux smoke (with dry ice) and bubbling liquid to amp up the spookiness! Complement the freshness of green with black decor and antique items like a model statue or candelabra.
5. Color-Up Bar Carts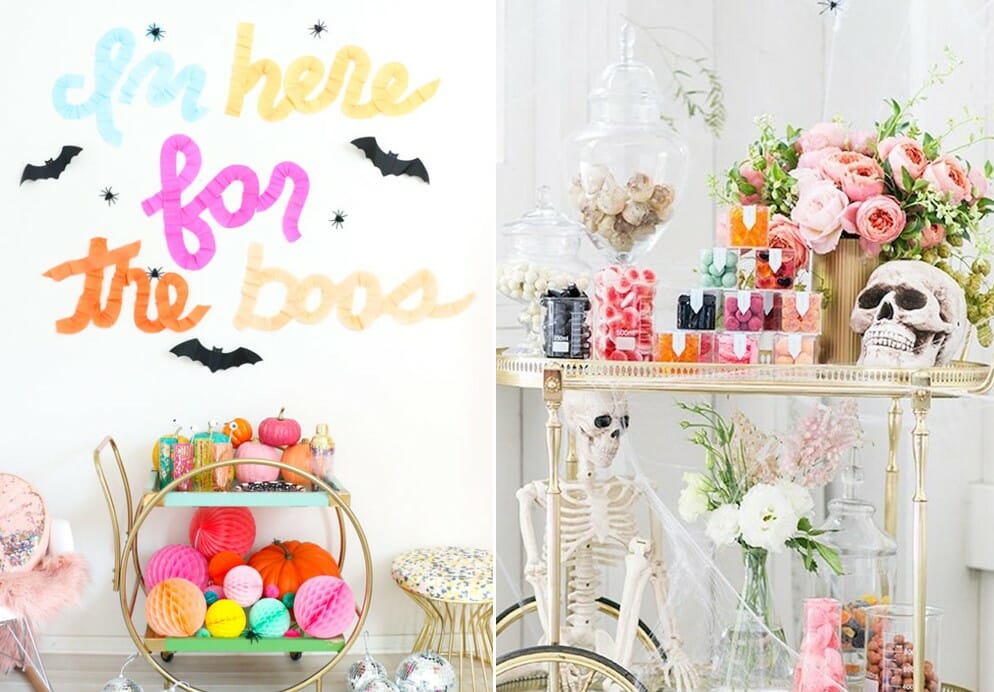 Love color and Halloween? Have the best of both with a colorful bar cart! Create a display with multicolored snacks, glasses, mixers, and, of course, cobwebs and skeletons. The fun of sprucing up a small space like a bar cart is that you can go as far as you like and play with Halloween decor that shows off your style. Make this display the center of attention with a large banner like the witty "I'm here for the boos" pictured above.
6. Go Dark & Mysterious with Black-On-Black Halloween Decoration Ideas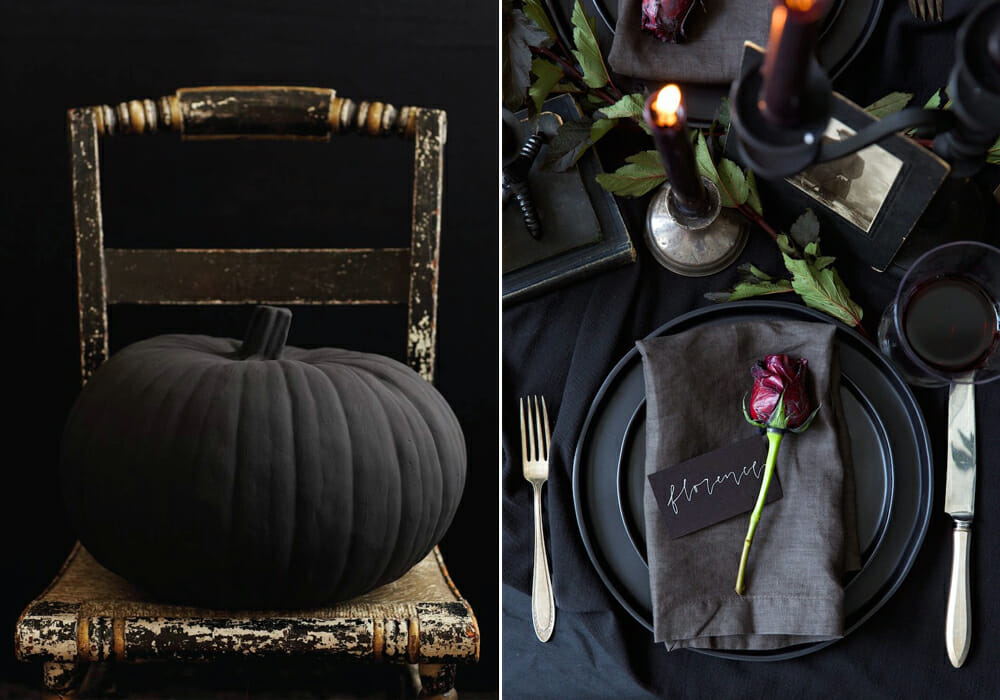 Black on black is not only perfect for Halloween, but it's also perfectly elegant. Collect all your decorations in black and add inky details with flowers like red roses for a dramatic, vampire-like atmosphere. When you choose all-black, table decorating ideas become ridiculously easy to pull off!
7. Add Antique Apothecary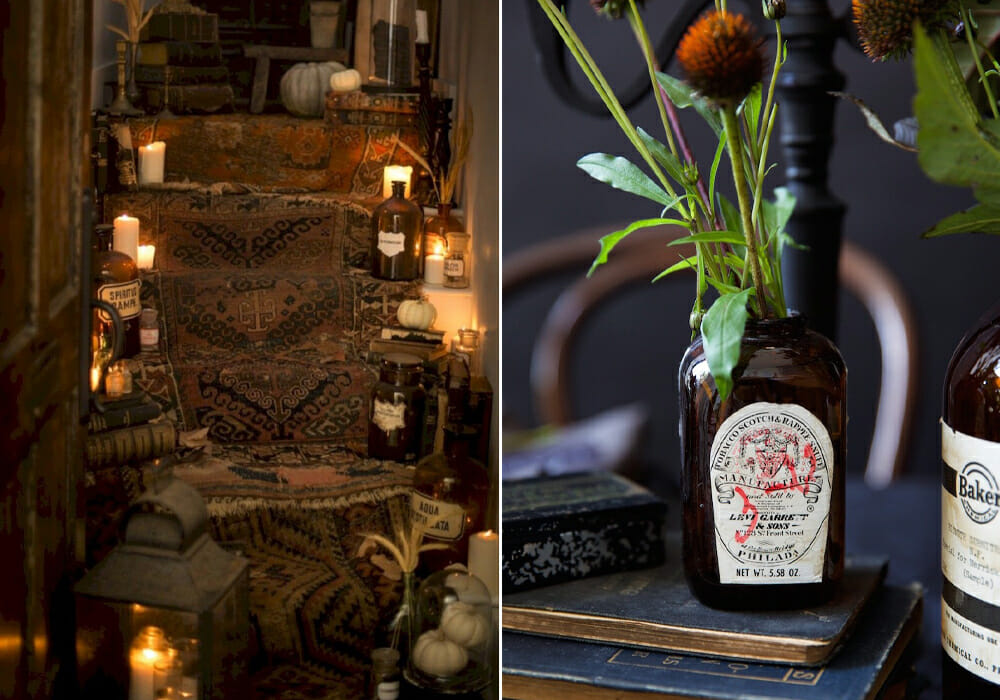 Apothecary bottles conjure images of forgotten medicines, and old medical practices; it's enough to send shivers down your spine. Coincidentally, these spooky decor items are pretty and make lovely flower holders. Arrange apothecary bottles in the center of the table, leading up the staircase or wherever you have a space for them. You can fill these with flowers, greenery, candlesticks or keep them as they are!
8. Contrast Life & Death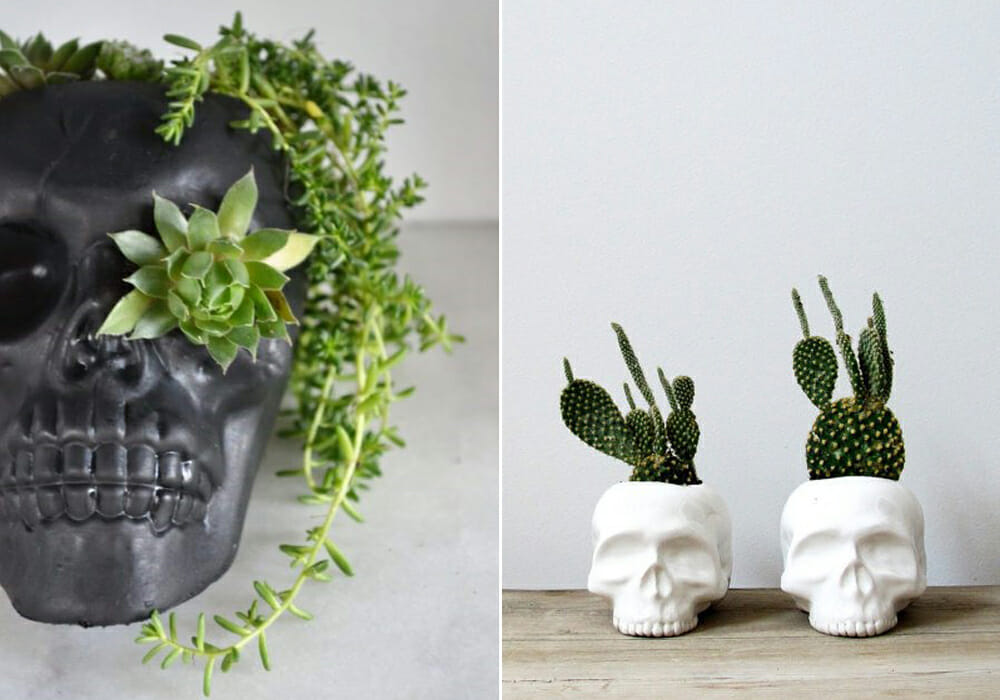 Contrast is a beautiful thing; two seemingly average items can become stunning when put together. Skulls, with its connotation of death, and succulents, with the connotation of life, are remarkedly beautiful when placed side by side. This is one of the many Halloween trends that is appealing throughout the year.

Try something new this year. Play with opposites in your Halloween decoration ideas and discover a world of interior possibilities. If you're having difficulty envisioning a room design, get help from an interior design professional. Contact Decorilla and Schedule A Free Interior Design Consultation today!
[images: 1, 2, 3, 4, 5, 6, 7, 8, 9, 10, 11, 12, 13, 14, 15, 16, 17, 18, 19, 20, 21, 22, 23]