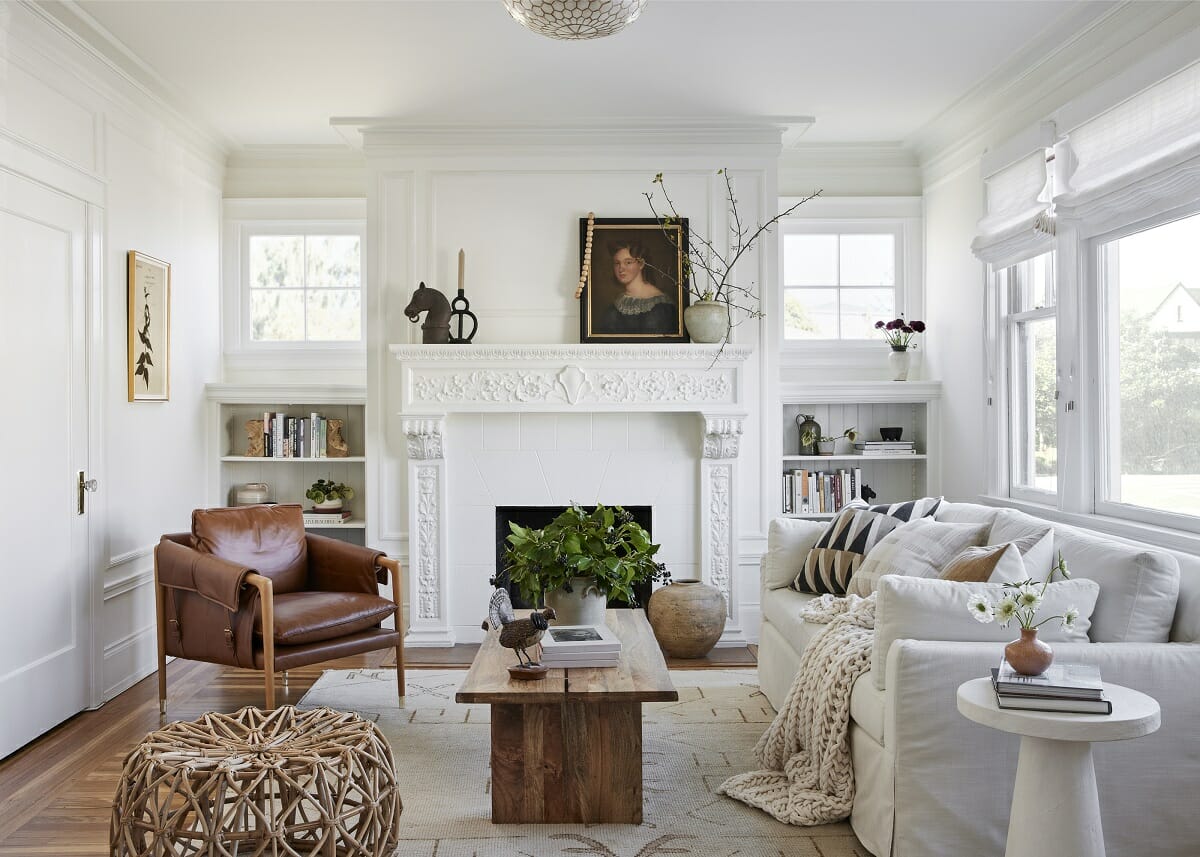 Cooler weather undoubtedly calls for coziness and comfort. And with a few minor tweaks, your home could be an inviting hideaway, an oasis from the cold. So, let's cozy up! Here are the top fall decor ideas to heat up the season!
Fall Home Decor Dos and Don'ts 
Seasonal decorations are always fun. They can spruce up an interior and give it a fresh glow. However, there are a few things to remember for a tasteful result instead of a tacky mishmash.
Do
Consider your 

fall color scheme

and pick décor that'll fit your interior's look.

Opt for things that you can use again – think blankets, pillow covers, and lamp shades.
Don't
Pick something impractical. If you choose a bigger element, like furniture, it must be easy to move around, set up, or work all year round.

Go too far from your design theme. For instance, choose fall home décor and outdoor wreath ideas that match the look and feel of your home's interior.
Pro Tip: It is best to match your fall decor to the look of your home. Take our Free Interior Design Style Quiz to help discover your unique decorating style today!
Is it time to add fall home decor to your abode? 
If you're asking yourself, "how do I make my house feel autumnal?" it's time to think about autumn decor. That said, exactly when depends on your location and the weather. 
The fall equinox lands on 22 September in the Northern hemisphere, but it may be too soon if you're still donning summer wear. As a rule of thumb, start adding fall home decor when the weather cools down enough. Then you can happily experiment with fall interior design trends to make your home cozy. 
Make Your House Feel Cozy with Fall Decor Ideas
Decorating for autumn can be as simple as swapping linen throws for chunky wool blankets. However, consider the color of your new decor. Mustard, ochre, and warm gray are great neutrals. Deep jewel tones also suit the season because they create an intimate, cozy atmosphere. You can also take a cue from interior design color psychology to warm up your home. 
So, explore fall decorating ideas that invite seasonal colors and bring darker contrasts. More predominant textures can increase a sense of coziness as well. Switch glossy ceramics for matte clay pottery and sleek lamp shades for rough, tactile ones. The same goes for accent pillows and rugs. When in doubt, opt for shaggy and woolly options in a warming hue. 

Best Ways to Include Fall House Decor Ideas
Whether you want a full-scale update or mini changes for the season, fall room décor is the way to go. Either way, autumn decorations should be tasteful and refined. Here are our favorites for a stylish update!
1. Blankets & Pillows
Blankets and pillows can make a world of change. In fact, they can make an interior go from bouncy summer to serene autumn in moments. You can coordinate the colors of plush fall home décor with your existing color scheme or be inspired by the outdoors. Deep and rich yellows, orange, purple, red, and brown will certainly inject a healthy dose of the seasonal spirit. 
2. Fall Home Decor Plumes
Certainly the easiest and most cost-effective way to create an autumnal vibe is with nature. After all, the great outdoors inspire many fall decor ideas – plus they're versatile. Plumes of fountain, flame, or fire grasses, for instance, are perfect for neutral interiors. Pop a few sprigs into a handcrafted vase and you'll be all set. 
If a fluffy grass arrangement isn't for you, you can opt for ornamental branches or fall flowering pot plants. One or two great branches are enough to make a beautiful feature. Just be sure to place them in a heavy vessel that will balance the weight. And when it comes to picking autumn blooms, consider Helenium, perennial sunflowers, or golden rod flowers.  
Spruce up Your Fireplace with Fall Mantle Decor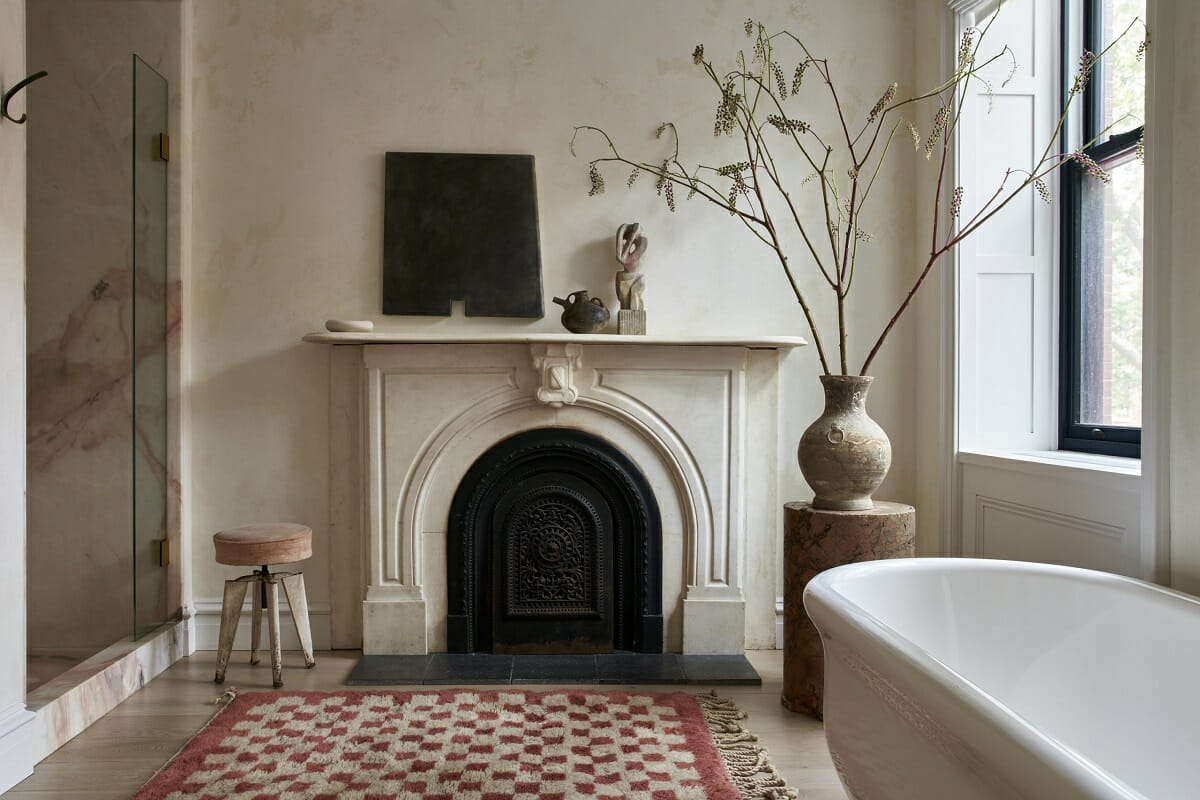 A fireplace holds so much potential. Not only is it a stunning architectural feature, but it also provides a mini shelf to show off your favorite pieces. Wherever your fall fireplace – living room, bathroom, or anywhere else – décor is sure to make it pop a little more.
3. Curated Glass Collection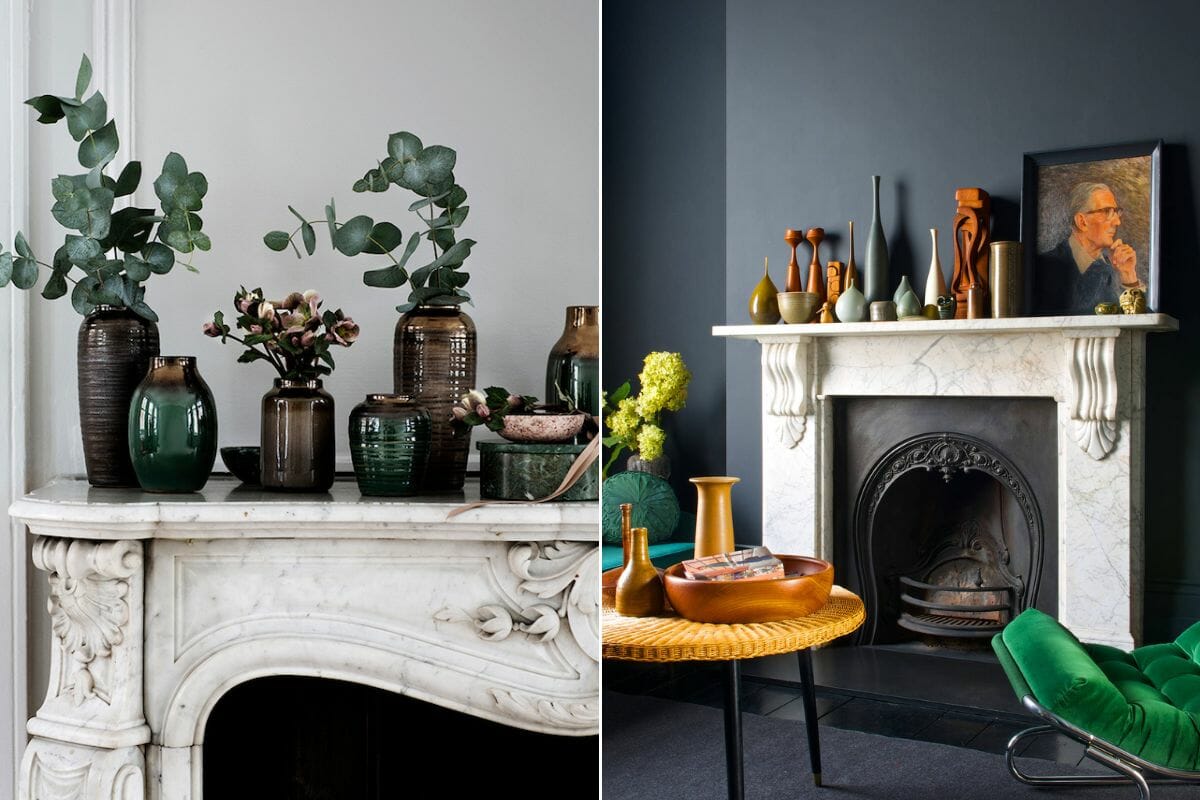 Swap vases for a curated collection of fall-inspired glassware and ceramics. Be sure to complement your interior with apt hues that say autumn. Also be mindful that different sizes and lengths work best to create a balanced look. So, group your autumn glass decor together and arrange them in uneven numbers. 
4. Vintage-Inspired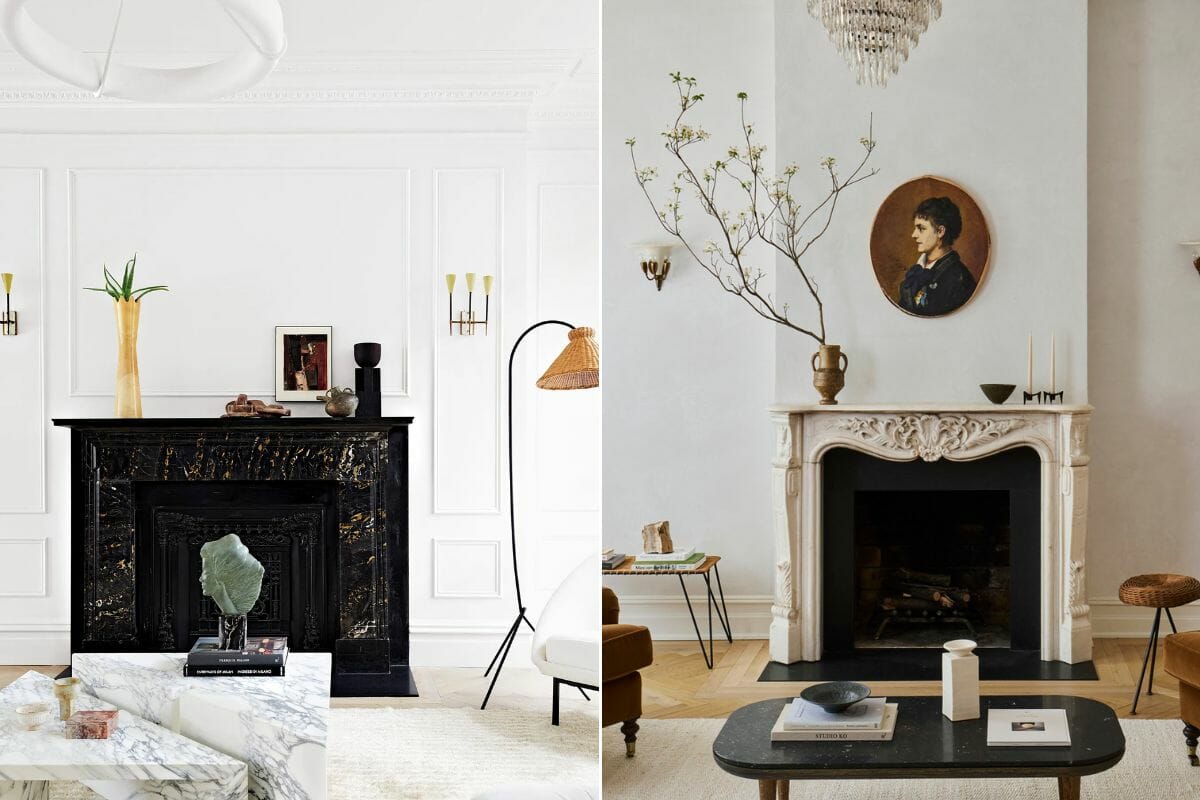 There's something nostalgic about the cooler months. It may have to do with autumnal colors were also popular in art and interiors in the days of old. So, cozy up to fall mantel décor that has a story to tell. Pick your favorite antique – painting or sculpture – and make it the focal point. To give it contemporary relevance, keep the setup minimal or pair it with trendy ornaments. 
Fall Bedroom Decor Ideas for Welcoming Guests
If any place needs warming for the season, it's the bedroom. In a word, make it cozy. Amplify warmth and appeal for visitors with a few easy tricks and fall bedroom décor ideas. 
5. Upholstered Headboard & Bed Base
As the weather cools, we want snug and soft things that make us feel welcome. With this in mind, swap hard headboards for upholstered alternatives. If a plush built-in headboard isn't an option, consider stable upholstered panels that you can easily slide in behind the bed. 
You can also opt for an assortment of decorative pillows to provide softness. Euro pillows are best to allow guests to sit up in bed, while other deco pillows add beautiful, comfy layers. 
6. Coziness Underfoot
Say goodbye to cold feet with fall decorating ideas that keep the floor toasty. Add a sizable rug extending beyond at least three sides of the bed. It's sure to make crisp mornings much more inviting. Pick shaggy or heavily tactile rugs, like rattan or wool. It'll undoubtedly make your guests feel like luxury and give them a little oomph for the day. 
Cozy Fall Decor Ideas for the Living Room
Since spending more time indoors is imminent in the fall, your home décor should brighten all the main rooms. Living rooms are among the primary spaces that need a touch of coziness. 
7. Warming Materials
Fall living room decor ideas bring beautiful layers to an interior. One such element boosting depth is warming materials – think warm metals, leather, velvet, and wood. Simulate the sun's hot glow with a metallic (think copper, gold, and bronze) accent table, leather or velvet stool, or ornate wood. 
8. Gentle Glowing Light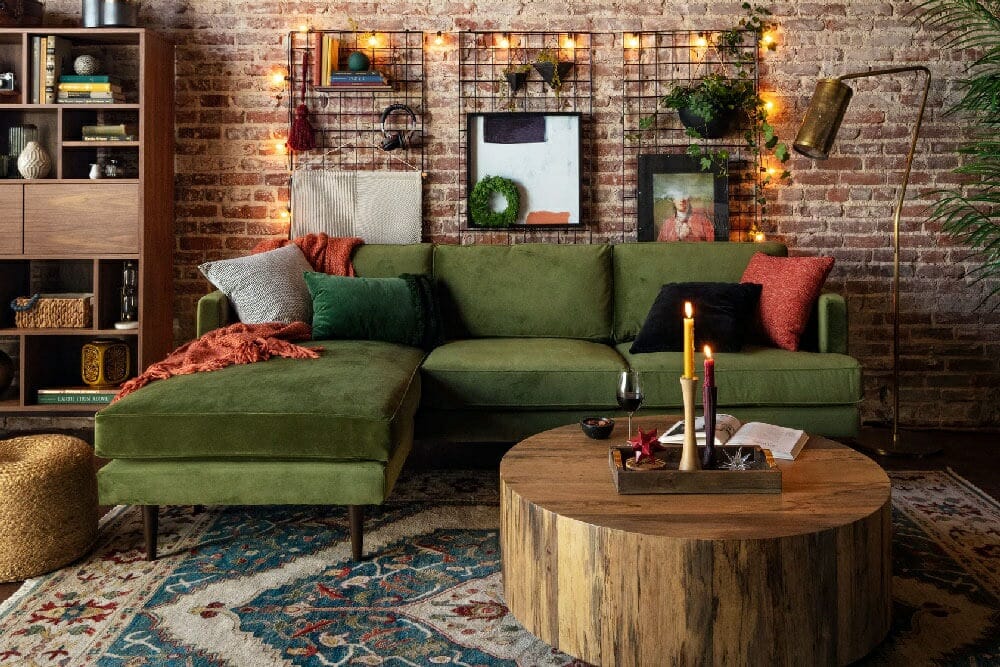 Bring softness to your living room with warm light. Small globe or fairy lights make great fall decorating ideas for a living room. Not only do they illuminate dim nights, but they're also easy to set up and pack away. Use them with another feature, like a mirror or sculptural fall wall decoration. 
Inviting Fall Kitchen Décor
Kitchens need an extra boost during the cooler months, especially since they typically have much more cold than warm surface area. Fortunately, it's simple to warm up these spaces with fall kitchen décor ideas.
9. Leather Breakfast Nook
Add an inviting nook to your kitchen area with a casual dining area. Take your cozy fall room decor a step further with contemporary leather chairs that are both super comfy and stylish. A cozy seating space near the kitchen will make dinners intimate and effortless. Plus, it will also add a trendy touch to your autumnal interior. 
10. Welcoming Candles
Try something different this fall. Add candles (and their trendy candle holders) to your kitchen interior. Light them when you start preparing dinner and feel the inviting glow create a lively atmosphere. Also, be sure to pick your favorite subtle scent that suits a kitchen environment. Woody and earthy notes work especially well since they are very neutral. 
Want to try modern fall decor ideas? 
If you're looking for an interior refresh, Decorilla's team of vetted interior designers can help. Schedule a Free Interior Design Consultation to get started now! 

[images: 1, 2, 3, 4, 5, 6, 7, 8, 9, 10, 11, 12, 13, 14, 15, 16, 17, 18, 19, 20, 21, 22, 23, 24]