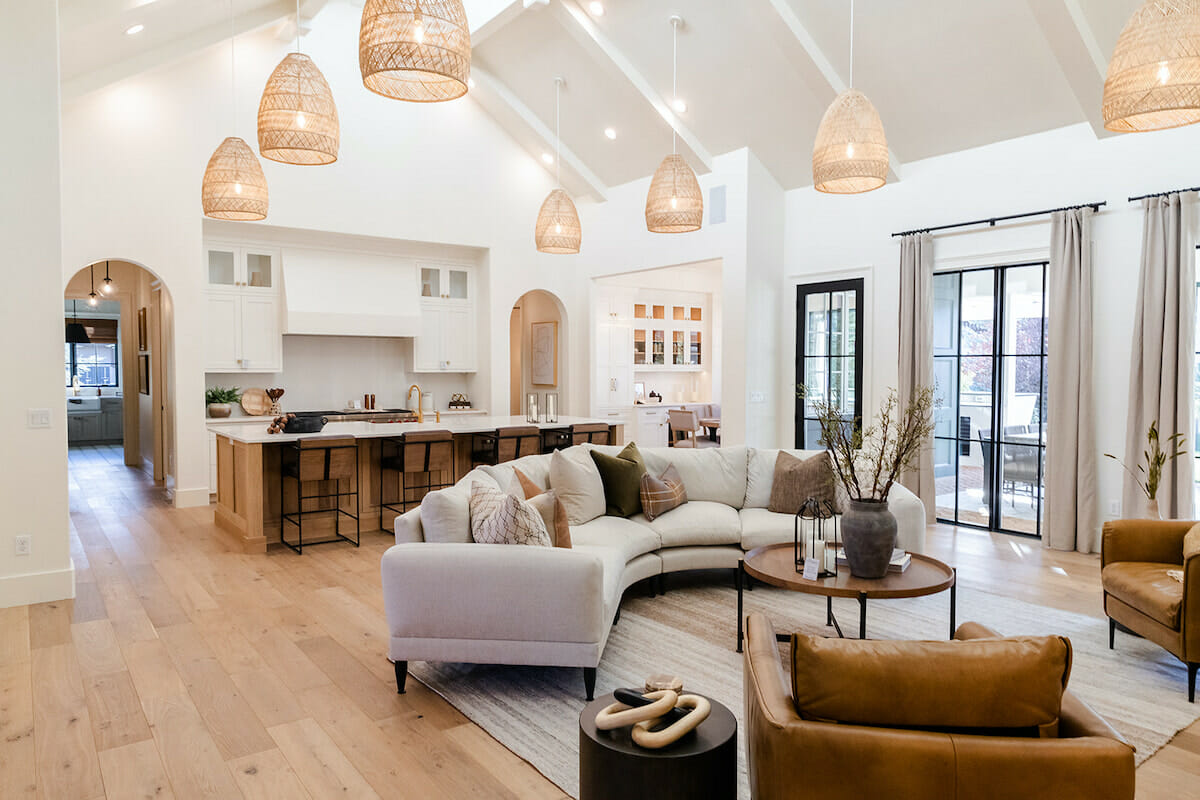 Beachy, striking and luxurious – California style interior design is adored by more than just those who reside by the ocean. With their earthy tones and natural textures, these spaces are almost always light, airy, and welcoming. So, even if you're nowhere near the beach, you can take inspiration from this Cali Cool aesthetic. Read on as we discover California-style interiors below!
What is California Style Interior Design?
With a focus on comfort and relaxation, California interior design ideas are for those who love a cozy and inviting ambiance. This style is a fusion of coastal, bohemian, and mid-century design. It has a touch of Scandinavian influence too. With various combined styles, you can express your personal taste through California-style design. 
Typical color palettes include neutral tones, with pops of soft color through accent pieces. Through a combination of casual furniture and earthy materials, this style has a "less is more" approach. As a result, most spaces are uncluttered and simple with a laid-back look. 
Not sure California style interior design is for you? Then try our

 Free Interior Design Style Quiz

to discover your true decorating style today!
12 Best Tips for California-Style Interiors
One of the top Los Angeles interior designers would certainly be able to create this California chic interior design style. But there are many ways in which you can recreate this look at home. So, let's dive into our top tips for a California modern interior design. 
1. White Walls
Paint your walls white for a light and airy feel in your home. White walls also reflect light and, as a result, make your home feel open and expansive. Moreover, the blank canvas provides the perfect basis for personalized art pieces and other accessories to pop. The perfect shade of white paint is crisp and cool with a matte finish. Consequently, your home will feel serene and calm. 
2. Black or Caramel Furniture
Effortlessly cool, black or caramel leather furniture boasts a California casual decorating style. Easy to care for with a timeless appeal, these items can pair with almost any other décor. But when it comes down to choosing between the two, it's almost always a personal preference. On the one hand, caramel is warm and cozy. But on the other, black is sleek and perfect for a California modern interior design. 

3. A Medley of Textures
With the California modern interior design style being so neutral, it's great to amp up the texture. For instance, the top San Francisco designers showcase their interiors with a play on soft and hard surfaces. Timber, leather, and ceramics can sit alongside soft textures such as wool and linen. As a result, each interior has visual interest. 
4. California-Style Coastal Accents in Interior Design
A focus on natural materials captures the Californian dream through subtle coastal accents. For instance, simple textures and colors reminiscent of the ocean are perfect. This can mean weather light wood, rugged woven textiles, and smooth stone. In addition, you can utilize California-style décor with a laid-back, coastline touch. As a result, your interior will evoke a beach lifestyle and a tranquil ambiance. 
5. Modern & Rustic Elements
The right balance of modern and rustic elements is a hallmark of a southern California interior design style. Overall, this combo makes a home feel dynamic and visually engaging. Modern features include clean lines, while rustic pieces are more natural in appearance. Add rough elements that complement a contemporary item you love to achieve this style. A modern sofa paired with a rustic coffee table is an easy duo to pull off!
6. Bring the Outdoors In
By bringing elements of the outdoors inside, you emphasize the natural beauty of your surroundings. So, incorporate pieces of nature into your California modern interior design. Plus, you can include natural aesthetics through artwork and organic textiles. As a result, your interior will feel peaceful and organic. Plants are very welcome, too – and you can play with their placement to add height or scale. 
7. Linen Bedding
Organic linen is an excellent option for a modern California-style interior design. It offers a relaxed and effortless aesthetic synonymous with the coast. In addition, it has a comfortable and luxurious feel. For a lived-in look that is ideal for casual spaces, white or off-white linen adds charm through its slightly wrinkled texture.
8. California Style Home Décor
California-style décor often depicts the homeowner's personality through a few personal touches. For example, adding artwork with a pop of color can shine character into a space. Moreover, textiles like throw pillows and rugs create a comfortable feel. Lastly, decorative objects like vases and sculptures can add a playful touch with unique colors and shapes. 
9. Warm Wood Tones
Enhance your California mission style interior design with warm, rich wood tones. Both light and mid-tone woods are suitable for all of your hard furnishings. This can include structural beams, cabinetry, and flooring. By incorporating sandy wood tones into your design, you create an easy-going space reflective of the West Coast. 
10. Comfortable & Casual Furniture
Selecting the right furniture is an essential part of creating a California interior. Overall, your furniture should reflect the laid-back and comfortable lifestyle of the coast. For example, plush armchairs and deep-seated sectional sofas could be just what your space needs. But remember to keep it simple with clean lines and minimalistic designs. Consequently, you will create a sense of calm in your space where you can unwind. 
11. A Neutral Color Scheme with Accents
Neutrals create a tranquil environment and serve as a backdrop to California-style décor. In addition, this type of color palette creates a bright and airy feel, where a sprinkling of an accent color can make an impression. White, cream, and earthy tones certainly set the stage for contrasting decorative objects. However, be sure to use your accented pieces purposefully and sparingly. 
12. Liveable Luxury
Creating a liveable and luxurious space is key to incorporating California-style decor. So, invest in high-quality items to ensure durability for everyday use while creating a welcoming space. In addition, balance your statement pieces, like a chandelier, with toned-down practical elements. This can include a vintage rug that can withstand loads of guests and easy-to-clean wooden floors. 
Need help with your California-style interior design?
If you're looking for assistance in creating your own interior design, our designers can help! Simply schedule a Free Interior Design Consultation to get started today!