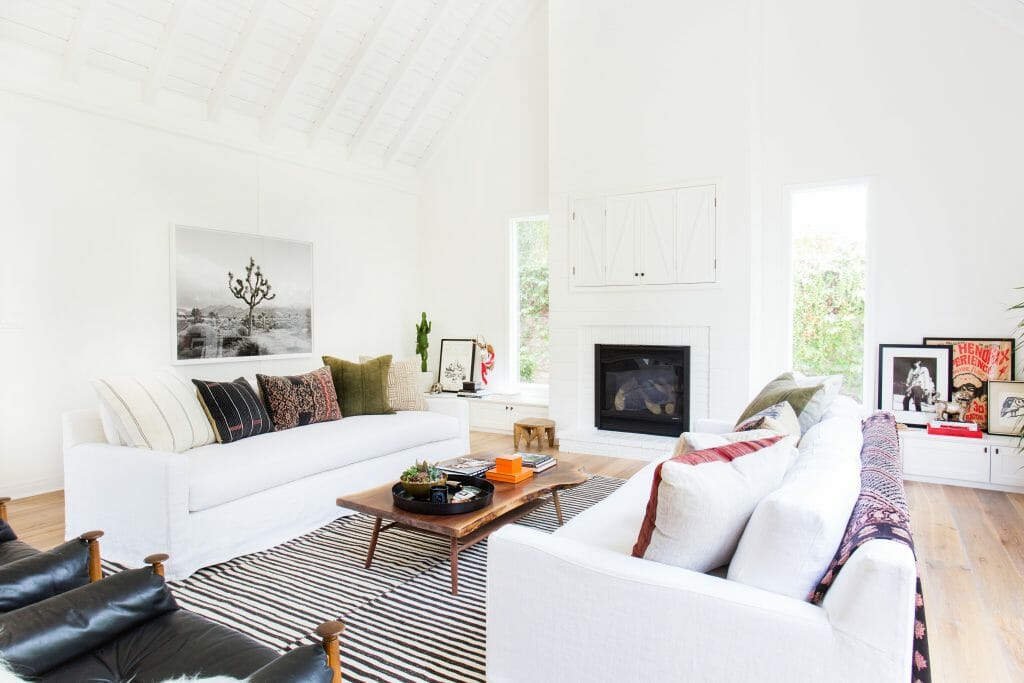 Living in California can mean living in a wide variety of environments. From the many beach towns along the entire coast, to the dry desert, to historical towns influences by the Spanish, California has a wide range of climates, architectural styles, and cultural influences. We love that modern California home design can include a variety of eclectic touches that all translate to the common Californian theme: cool, casual, and comfortable. Here, we're exploring some modern home design, with a Californian twist.
A California style house, with modern, eclectic flair, can include a few consistent design elements. Bold touches, like one-of-a-kind patterned rugs, and abstract art, add modern style. An abundance of greenery and natural materials create a bohemian vibe. A palette inspired by the home's environment, whether it be the ocean or the desert, pulls influences from the local culture and style. Popped against bright white walls, these spaces feel bright, light, and airy. 
Living Room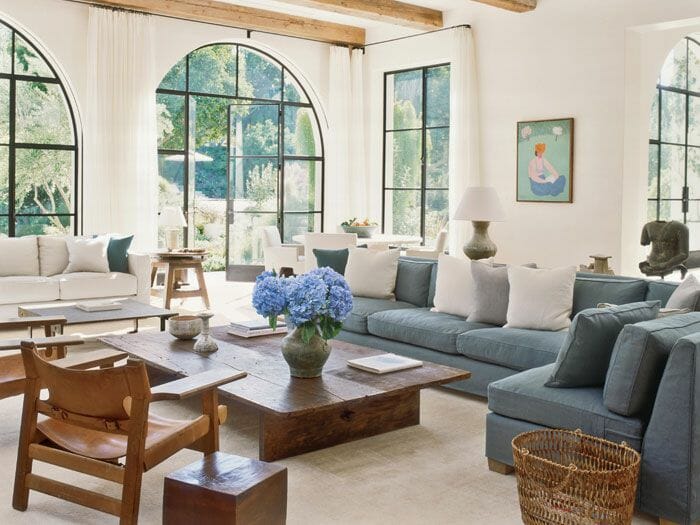 This living space pulls soft beachy blues, raw woods, and natural light to create a soft, airy space. Modern elements like the art and chairs add a bit of edge to an otherwise transitional space.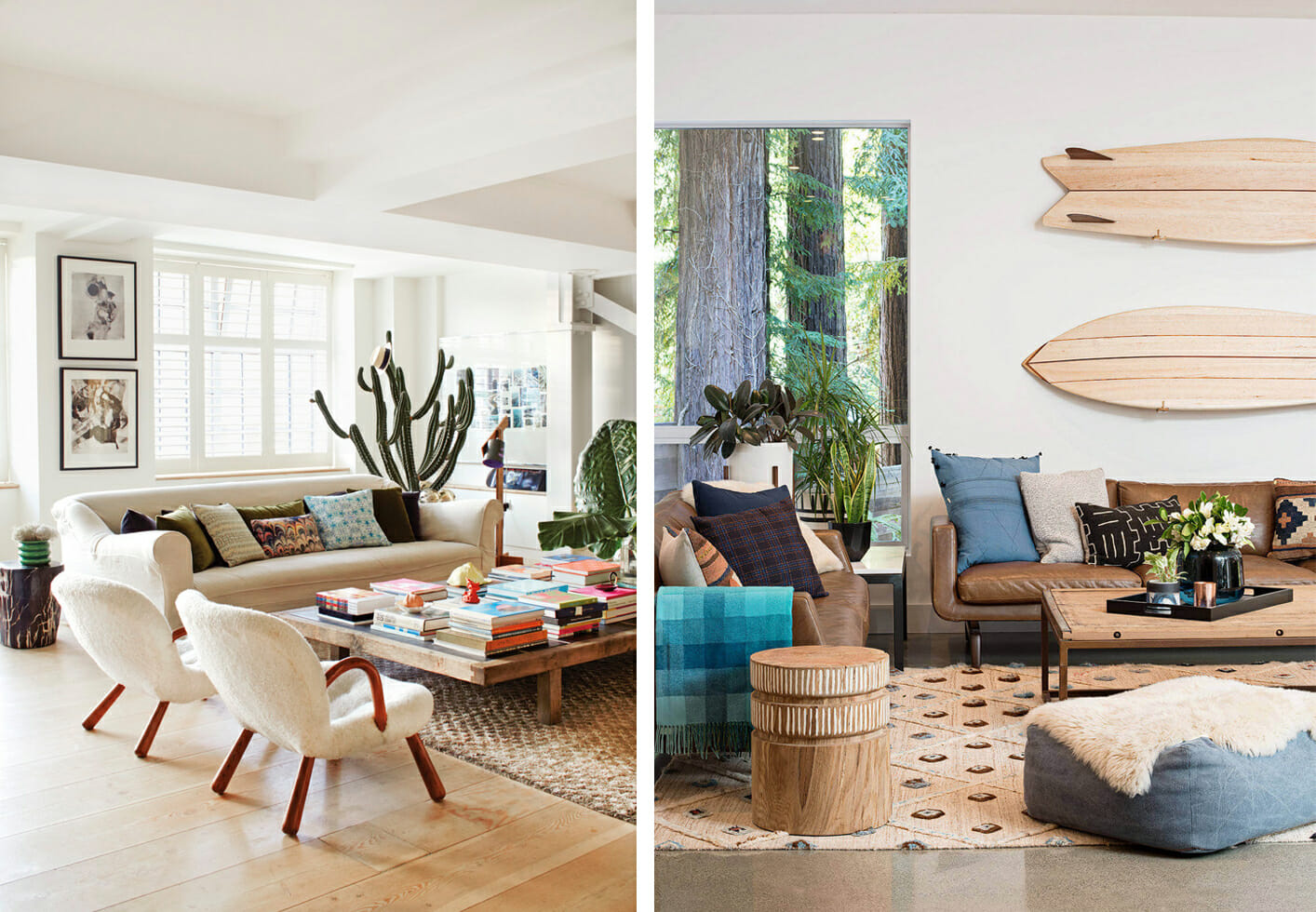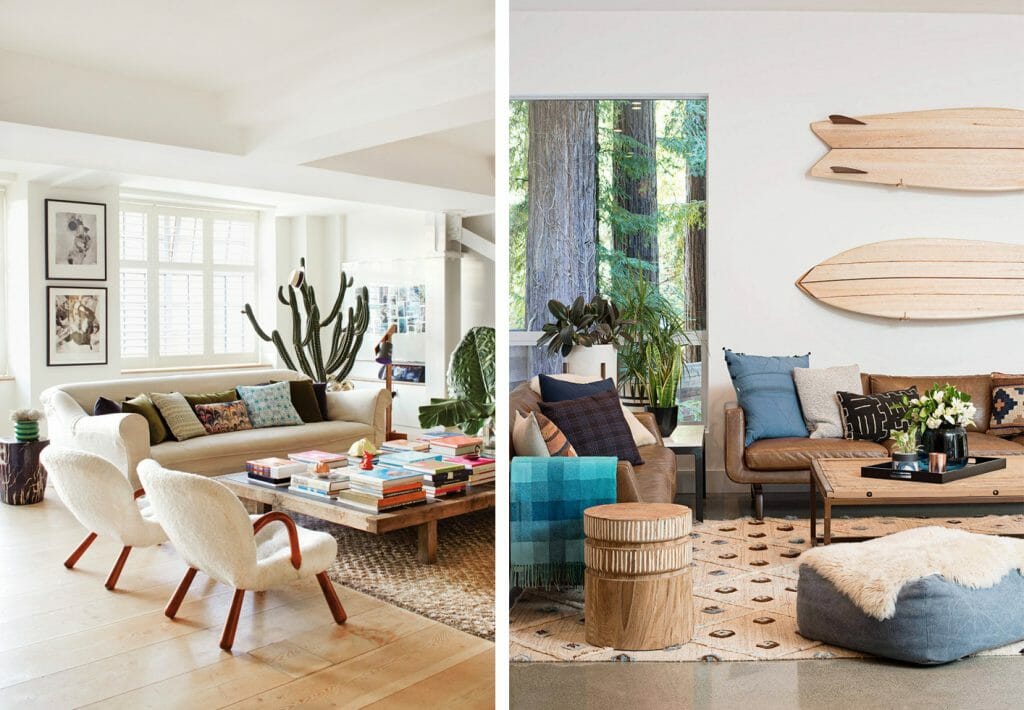 These two spaces dial up the mid-century modern vibes, with clean lines, funky patterns, and a vintage-inspired color palette. Both showcase plants, natural textures, and California touches like the desert cacti and wooden surfboards.
Dining Room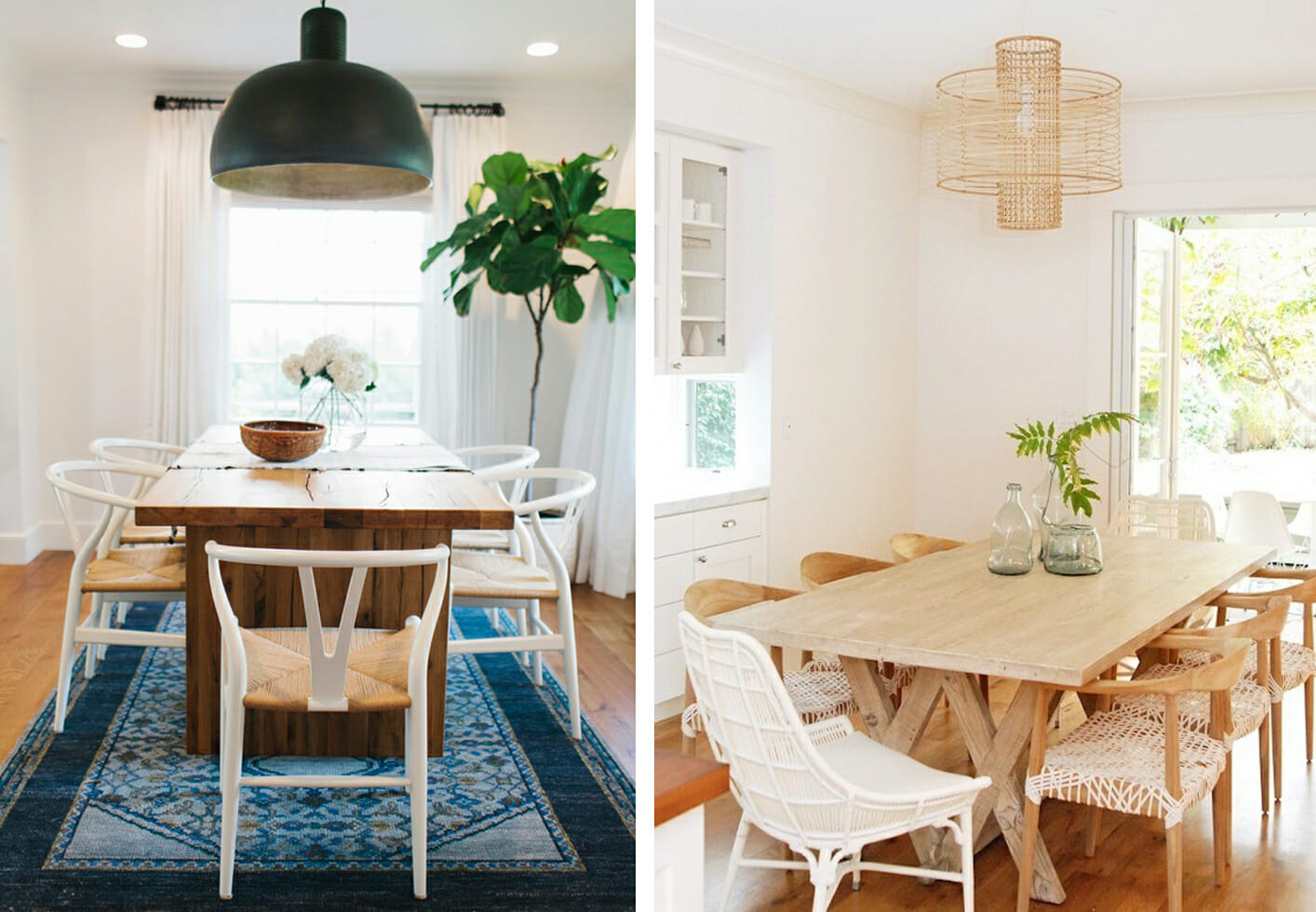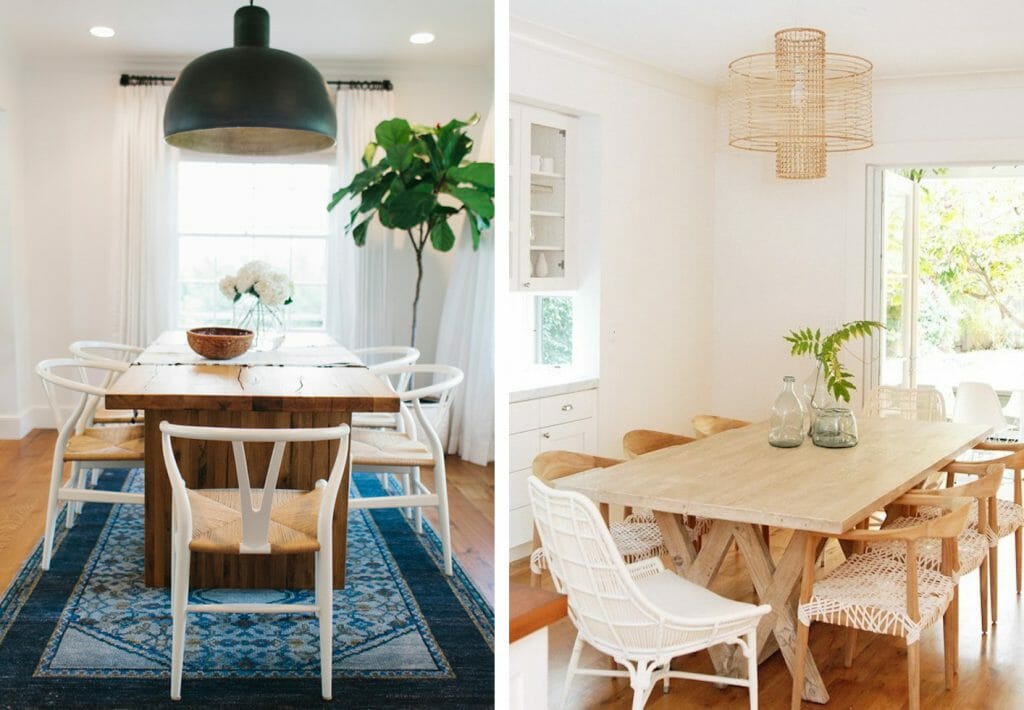 Dining rooms in this style tend to be minimalist with bold punches of color and/or statement pieces. On the left, a richly hued blue rug contrasts against a simple raw wood table and wishbone chairs. On the right, a neutral palette has plenty of texture and interest with the rattan and woven pendant and chairs. Warm white walls and greenery add brightness and life to these clean rooms.
This dining room design from Decorilla designer Laura A. is fun and colorful and perfect for a modern Californian home. The mid-century silhouettes, bright abstract art, oversized palm and statement chandelier create an eclectic and vibrant look.
Bedroom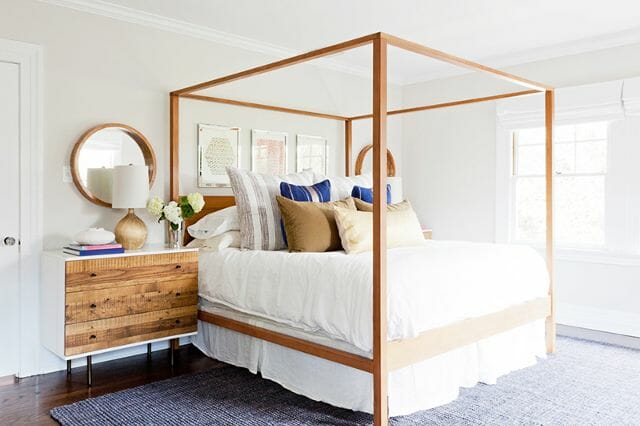 Light, raw woods and a dyed jute rug create an incredibly natural look here. The simple lines of furniture pieces feel clean and modern, especially accented against the white walls and bedding. Pops of blue add a West Coast touch, inspired by the nearby Pacific Ocean.
We absolutely adore how this design by Decorilla designer Eleni P. feels fresh and modern with Californian style. A bohemian-style rug and patterned pillows mixed with modern lighting, walnut furniture, and brass accents feels bright and eclectic.
Entry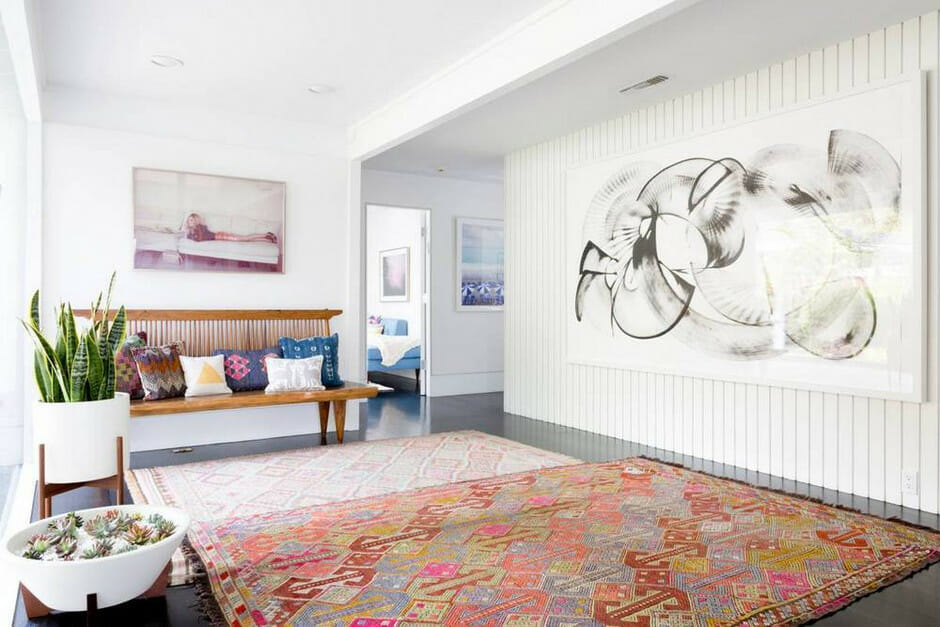 This bright, layered look stands out with oversized modern artwork and a colorful mix of rugs and pillows. A bench feels casual and inviting, and plants add some life to the large entryway.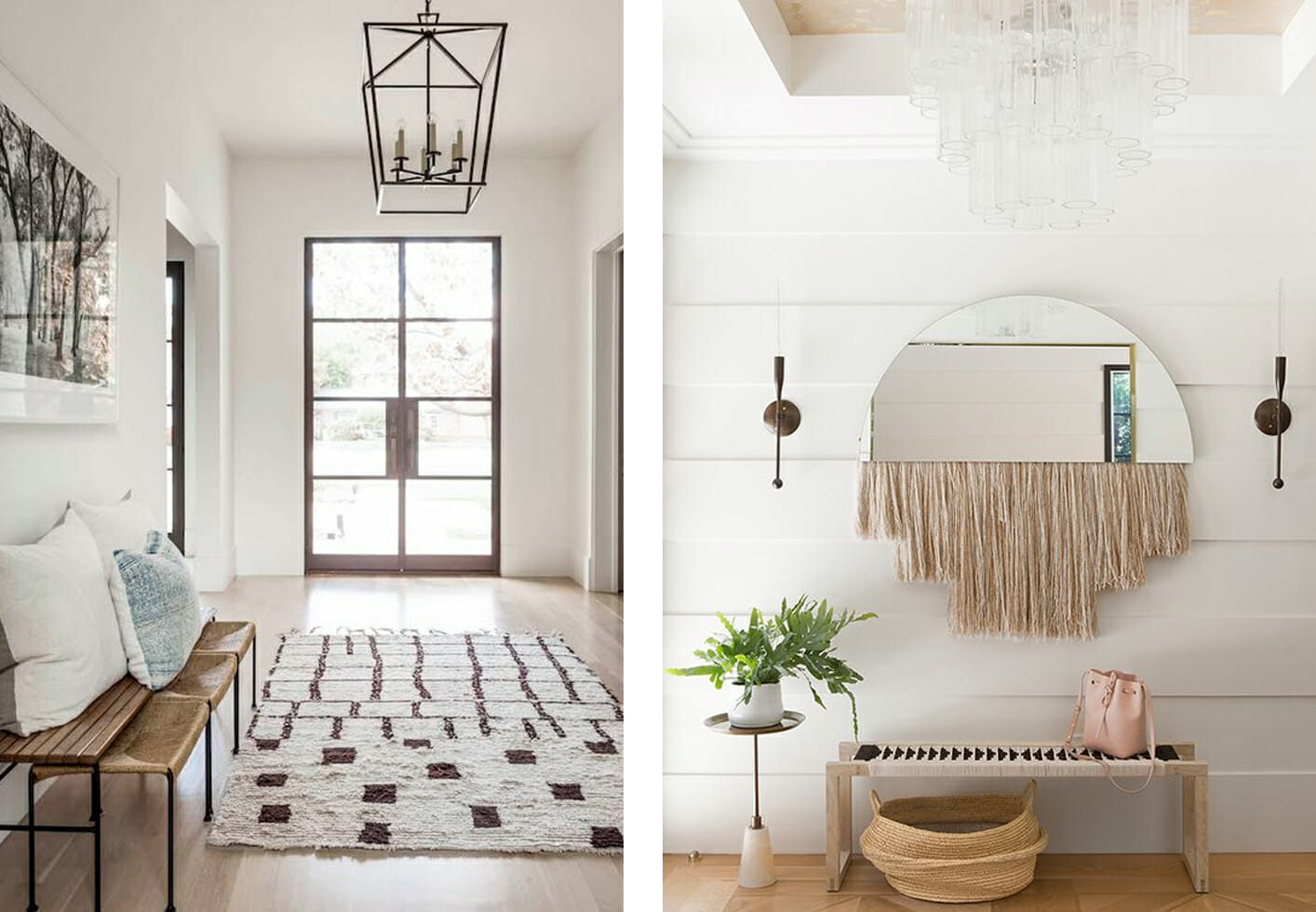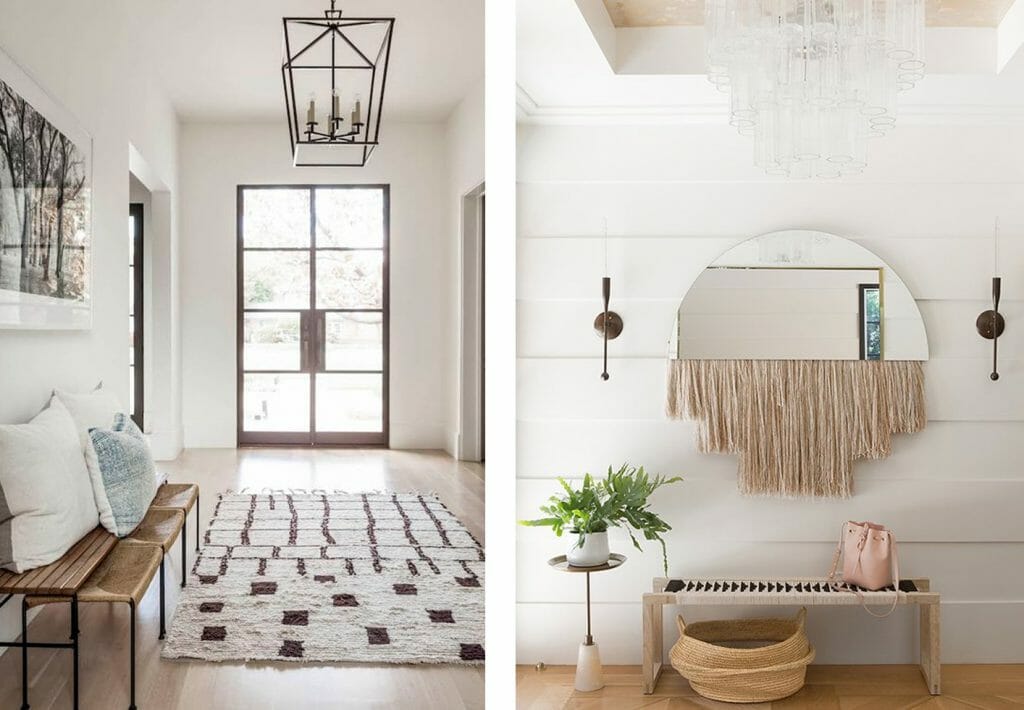 Both these spaces have tons of impact as you enter the home. Woven benches, soft textures in the rugs and pillows, and statement art and lighting are bold and beautiful. Keeping the palette neutral in these smaller vignettes helps to create an airy, calming entrance.
We are so inspired by these eclectic, uniquely Californian spaces. For even more ideas and a deeper look at Californian home design, check out this feature on homes that will make you consider West Coast living.
Outdoor Space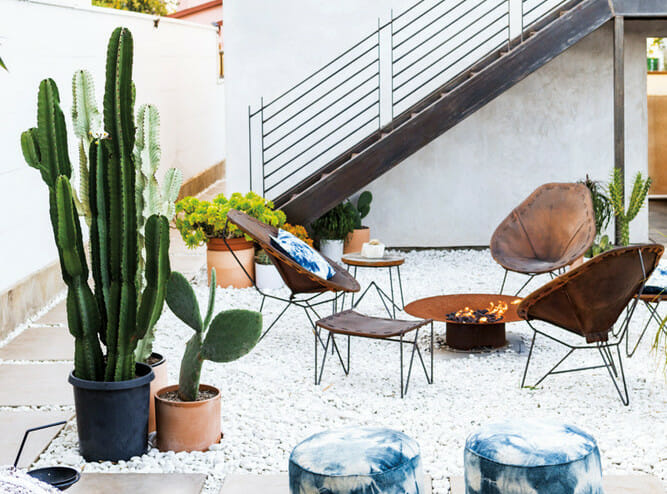 You can't talk about California without celebrating the beauty of the outdoors. In the above outdoor living space, the modern fire pit and architectural elements are balanced with colorful textiles, large potted plants, and uniquely casual seating for a space that is both hip and inviting.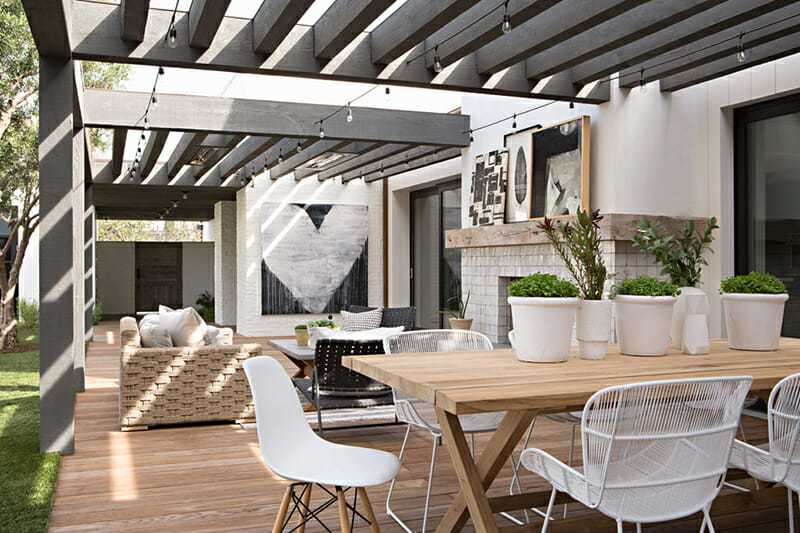 This space is bold with a black and white palette against light woods and natural woven seating. Abstract art and greenery keep the design in line with a California modern aesthetic.
If you're loving the modern look, our recent post on low maintenance house plants is a great place to start and add a bit of Californian flair. Still not sure how to achieve that modern California home design look? Schedule a free interior design consultation with one of Decorilla's top interior designers today!
Written by Decorilla interior designer Angela S.
[images: 1, 2, 3, 4, 5, 6, 7, 8, 9, 10, 11, 12, 13, 14, 15, 16]