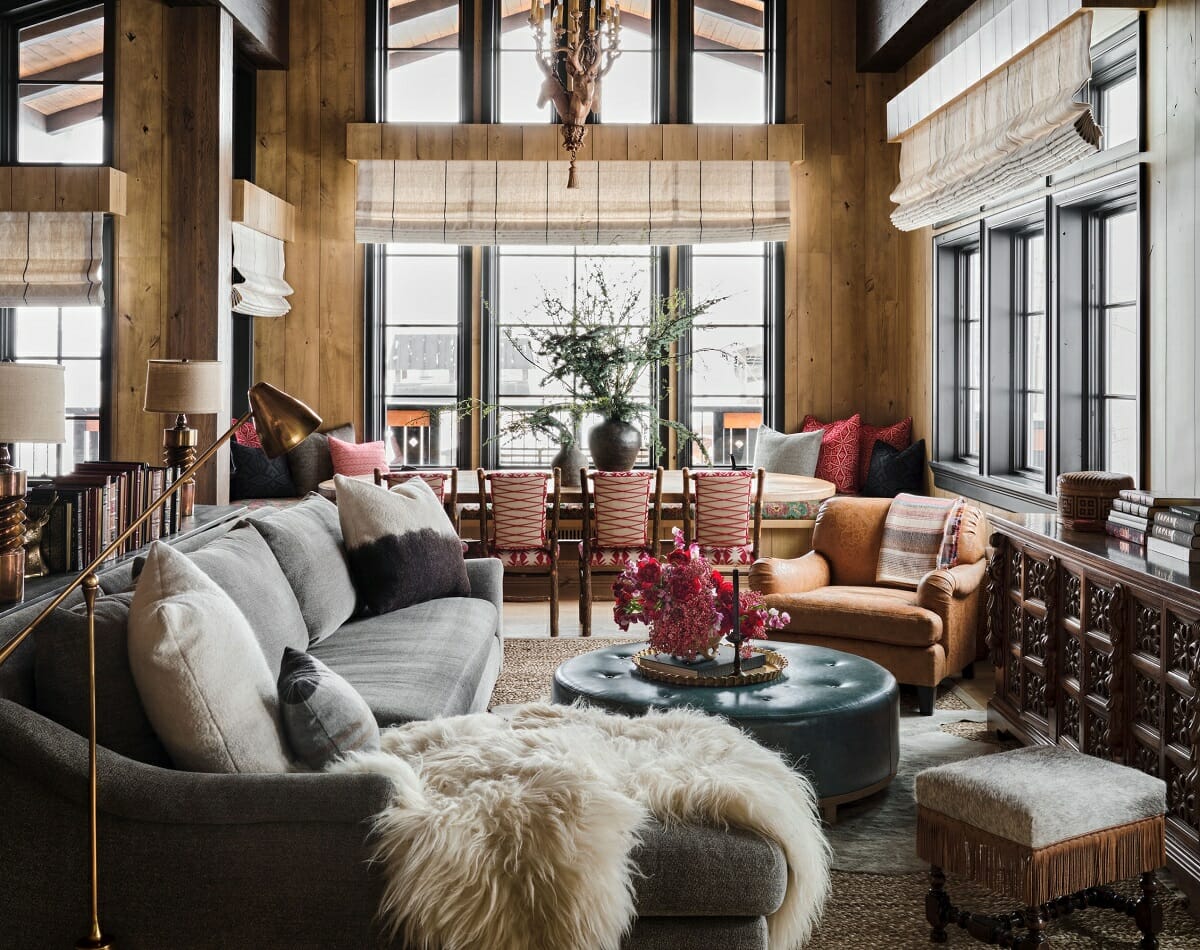 Southern interior design is renowned for its charming and hospitable ambiance. It encapsulates the essence of Southern living. Simply put, these spaces are inviting, comfortable, and timeless. If you want to infuse your home with Southern charm, you're in the right place! We have gathered inspiring ideas embodying the Southern decorating style. So, get ready to transform your space into a welcoming abode!
What is Southern Interior Design?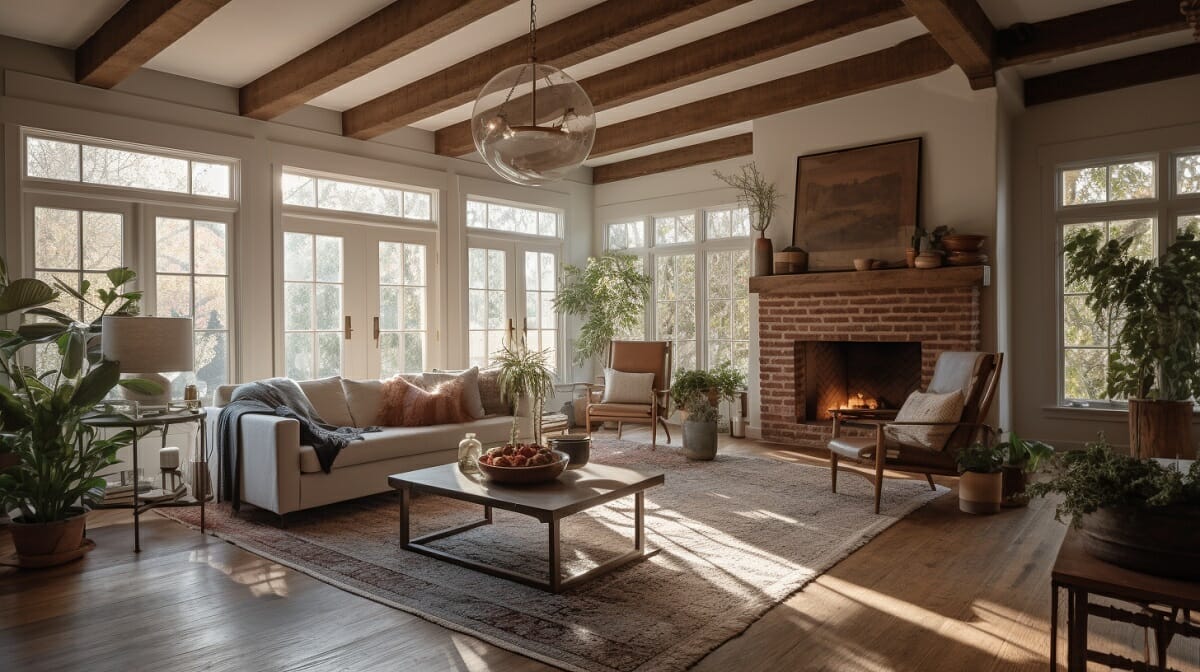 The Southern decorating style embraces the American South's rich heritage and cultural influences. In addition, it blends traditional elements with a relaxed and inviting ambiance. As a result, the spaces feel like an extension of family and hospitality. From Nashville to Atlanta interior design, the cozy look is perfect for those who appreciate a welcoming atmosphere. 
Wondering if Southern interior design suits your home? Then try our

 Free Interior Design Style Quiz

to pinpoint your true style!
Irresistible Southern Decorating Style Ideas
Traditional Southern interior design emphasizes comfort, elegance, and a sense of history. As a result, it is the perfect match for those who appreciate the classic charm and an inviting environment. Moving away from common interior design mistakes, this style is both memorable and versatile. Let's dive into 12 great ideas to inspire your Southern-style interior design!
1. Add Warmth and Grace with Cozy Textures
Create a cozy and elegant Southern-style living room that embodies the essence of the South. Opt for plush upholstered furniture in neutral tones, like creamy whites or soft beiges. In addition, incorporate pops of color through accent pillows and throws. Lastly, traditional elements like a crafted wooden coffee table or a fireplace mantel can enhance the warm and gracious glow.
2. Blend Old and New with a Southern Decorating Style
Embrace a fresh take on modern southern interior design by infusing new elements into your space. Combine sleek furniture with traditional accents to create a harmonious balance. For example, pair a contemporary sofa with vintage-inspired accessories like antique chandeliers. As a result, this fusion of old and new will give your home a unique and eclectic charm.
3. Craft a Welcoming Entryway
Make a lasting impression with a welcoming entryway that sets the tone for your home. Consider a grand wooden front door adorned with ornate details and complement it with a vintage console table. Furthermore, decorate the table with family photographs and fresh flowers. A curated collection of cherished heirlooms are sure to impress too. Consequently, your warm and inviting entryway will make guests feel at home.

4. Arrange a Classic Dining Space
Incorporate elegance into your dining space with traditional Southern interior design elements. Opt for a sturdy wooden dining table. In addition, you can pair it with comfortable chairs. Adorn the table with fine china, crystal glassware, and a statement centerpiece, such as a beautiful floral arrangement. Finally, gather around this classic setting to enjoy memorable meals with loved ones!
5. Transform the Bedroom into a Southern-Style Retreat
Transform your bedroom into a cozy retreat inspired by Southern-style home decor. Choose a plush, upholstered bed in a neutral color and layer it with soft bedding and decorative scatter pillows. Furthermore, add natural materials like rustic wood or wicker accents to add warmth and texture. As a final touch, hang flowing curtains and place a comfortable reading chair in a corner for a peaceful oasis within your home.
6. Opt for a Charming Kitchen Design
Create a charming kitchen that celebrates Southern hospitality and culinary traditions. Opt for white or light-colored cabinetry paired with vintage-inspired hardware. Moreover, incorporate a farmhouse sink and open shelving to display antique crockery. Lastly, add warmth with lighting and stone countertops for the Southern-style interiors feel.
7. Go Rustic for Your Southern Home Office Interior Design
Design a home office that reflects the sophistication of traditional Southern interior design. Select a rich wooden desk complemented by a comfortable chair. Pair this with a vintage lamp, and you are on your way! Enhance the ambiance with warm lighting and elegant window treatments. As a result, you can create a serene space that encourages productivity and creativity.
8. Make a Gallery Wall Statement
A gallery wall can become a canvas for storytelling and personal expression. Therefore, create a composition of framed art or objects to add depth to your Southern-decorating style. In turn, these groupings fill your home with warmth and charm. And you'll have a focal point for your interior – while encapsulating Southern interior design style!
9. Embrace Porches and Outdoor Spaces
Traditional Southern interior design is synonymous with beautiful and inviting outdoor spaces. So, design a porch that serves as an extension of your home. Here, you can feature comfortable seating arrangements – think rocking chairs, porch swings, or cozy outdoor sofas. In addition, welcome some potted plants and hanging baskets of colorful flowers. Lastly, add soft lighting to create a relaxed and welcoming atmosphere for enjoying the outdoors.
10. Set a Timeless Color Palette as Your Base
When selecting colors for your Southern-inspired interior, opt for a timeless palette. Classic hues like soft blues, pale yellows, muted greens, and warm neutrals create a serene backdrop for your space. These colors can be incorporated through wall paint, furniture upholstery, and other decor. Consequently, they evoke a sense of tranquillity that Southern interior designers are after. 
11. Pick Natural Materials and Textures
Bring the natural beauty of the South indoors by incorporating organic materials and textures into your design. Choose hardwood flooring or rustic tile with a distressed finish to add character and charm. Furthermore, introduce natural fibers through area rugs or woven baskets. In addition, enhance the overall ambiance with touches of raw wood, stone, or rattan furniture pieces in your home.
12. Highlight Personal Touches and Sentimental Pieces
To embrace Southern interior design, infuse your space with personal touches and sentimental pieces that tell a story. Here, you can display family heirlooms, collectibles, or treasured artwork on shelves, mantels, or walls. In addition, incorporate elements that reflect your personal history. For instance, your framed photographs or maps of your favorite Southern destinations!
Need help with your Southern interior design? 
You too can make your dream home a reality with exceptional interior designers on your team. All you need to do is schedule a Free Online Interior Design Consultation to get started today!