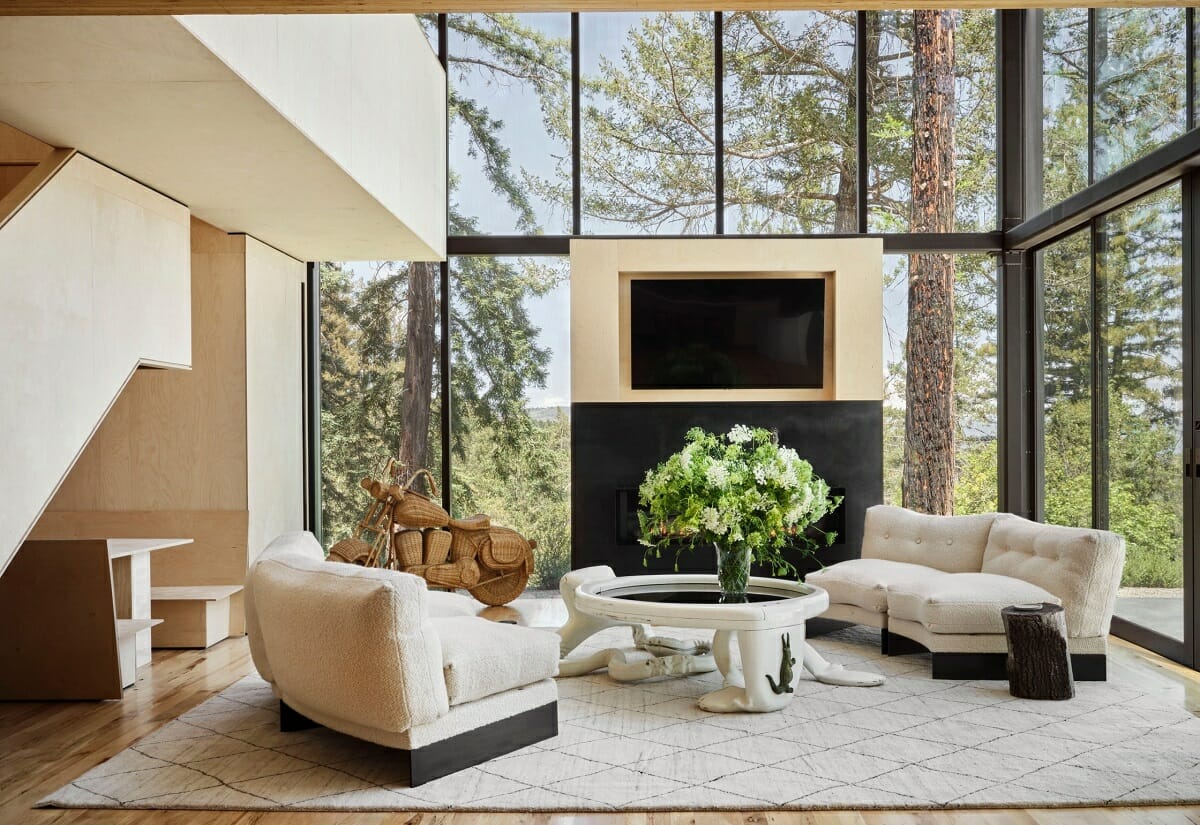 Flooring is the bottom line of interior design. Open doors, hallways, and arches offer glimpses of shared adventures and the making of memories. Flooring is the pathway to those destinations and a crucial part of your interior. So, let's dive into the best flooring types and the rooms that suit them best!  
Flooring Types 101
Get to know the types of flooring materials before picking the best ones per room. Each option has its attributes and care requirements and is more fitting to certain households and lifestyles. They're also versatile in terms of design and use. 
Wondering which floors suit your style? Then, take our quick Interior Design Style Quiz to find your true style today!
Resilient Hard Flooring Types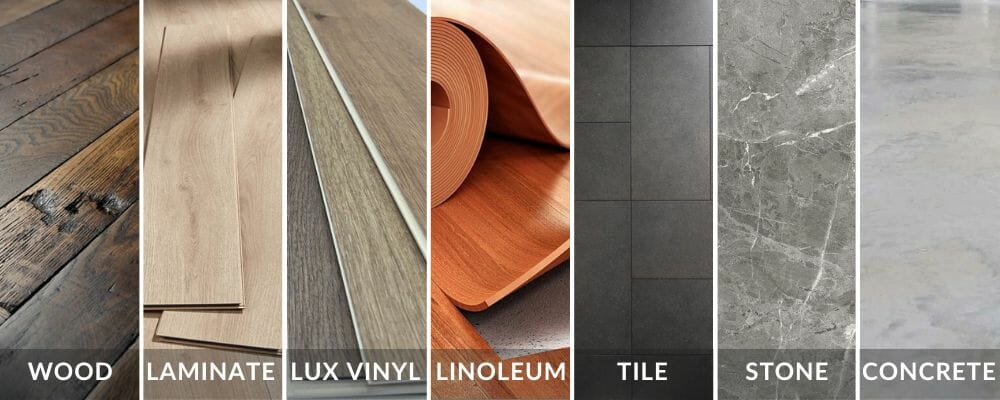 The best types of wood and alternative flooring are striking and hard-wearing. They're even better when used with area rugs. If you opt for cold floors, like wood or stone, you can have comfort underfoot too. All you need is to know how to choose a rug and your preferred style.
Wood Flooring
1. Hardwood Flooring  
Planks milled from a single timber plank

Robust and hard-wearing but expensive

Reusing the wood is best as a natural resource supply is limited
2. Engineered Wood Flooring
A slender layer of hardwood fused over a high-quality plywood substrate

Looks like real wood but with greater resistance to moisture and water

Sound resonates underfoot
3. Laminate Flooring
Three layers of high-density particle board, a wood or tile photo on top, and a clear plastic protective cover

Mimics hardwood and is easy to maintain

Affordable 
Eco-friendly Hard Flooring Alternatives
4. Lux Vinyl
Made of vinyl, with a high-resolution image and a top shielding layer. LV tiles mimic stone, while LV planks mimic wood

Hard-wearing and water resistant

Absorbs sound and adds comfort

Fairly priced
5. Linoleum Flooring
Natural eco-friendly blend of linseed oil, tree resin, limestone, and wood dust

Feels softer underfoot, therefore more comfortable

Tough to wear and tear
6. Floor Tiles
Ceramic and porcelain are resilient, e

xtremely robust, and hard to damage

 

Simple to clean and care for

Unyielding underfoot and cold without underfloor heating
Other Hard Flooring Options
7. Natural Stone (Marble and Granite)
Trendy and resilient with a distinctive quality (inherent color and vein)

Hygienic and easy to keep clean but needs more care (as it is more absorbent, a sealant is a must to avert stains)

Hard underfoot and cool to feet
8. Polished Concrete
Hard-wearing and can withstand heavy foot traffic

Easy to keep clean and ideal for pet lovers

Soaks up and retains heat in sunny rooms
Flexible Flooring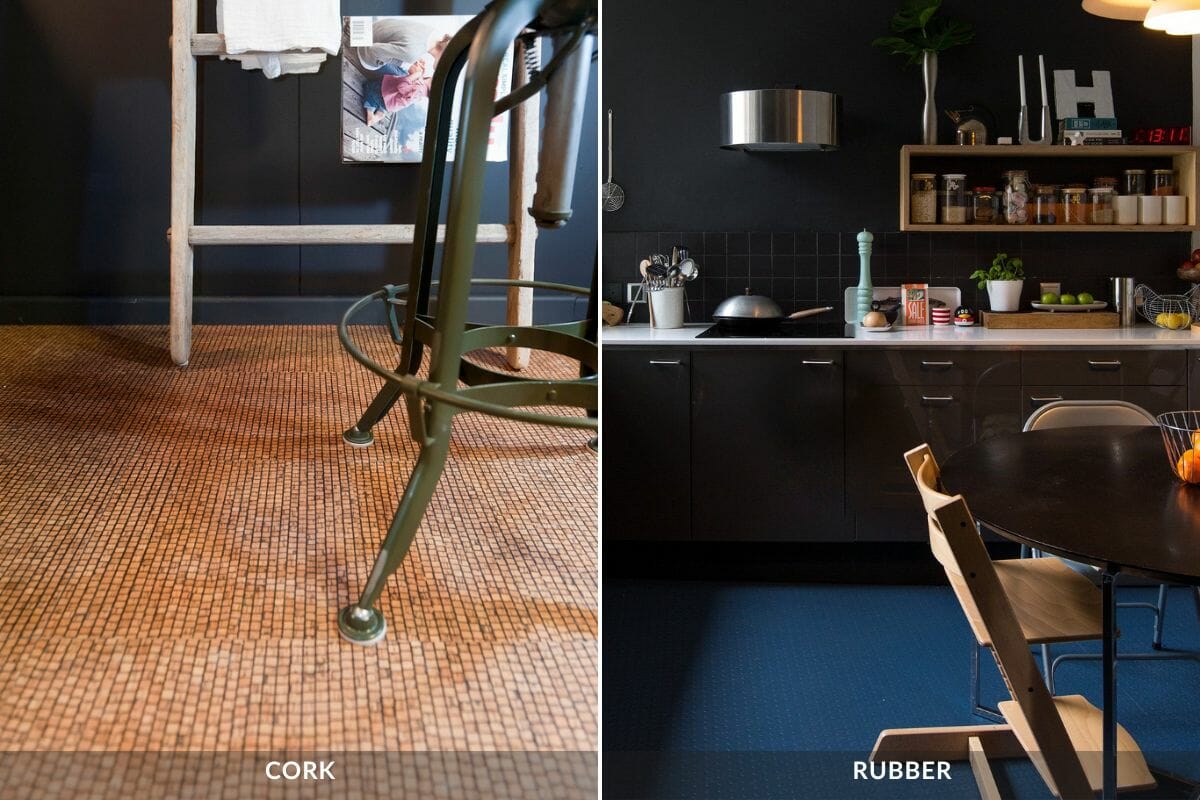 Softer flooring types are perfect for interiors that need to soften sounds and more flexible ground areas, like a basement.
1. Cork
An eco-friendly material derived from tree bark

Ideal for a family home as it absorbs sound and is moisture resistant

Durable and comfortable

Natural insulation properties
2. Rubber
Resilient and durable flooring in tile or sheet form

Waterproof and stain resistant

Easy to keep clean
Different Types of Soft Flooring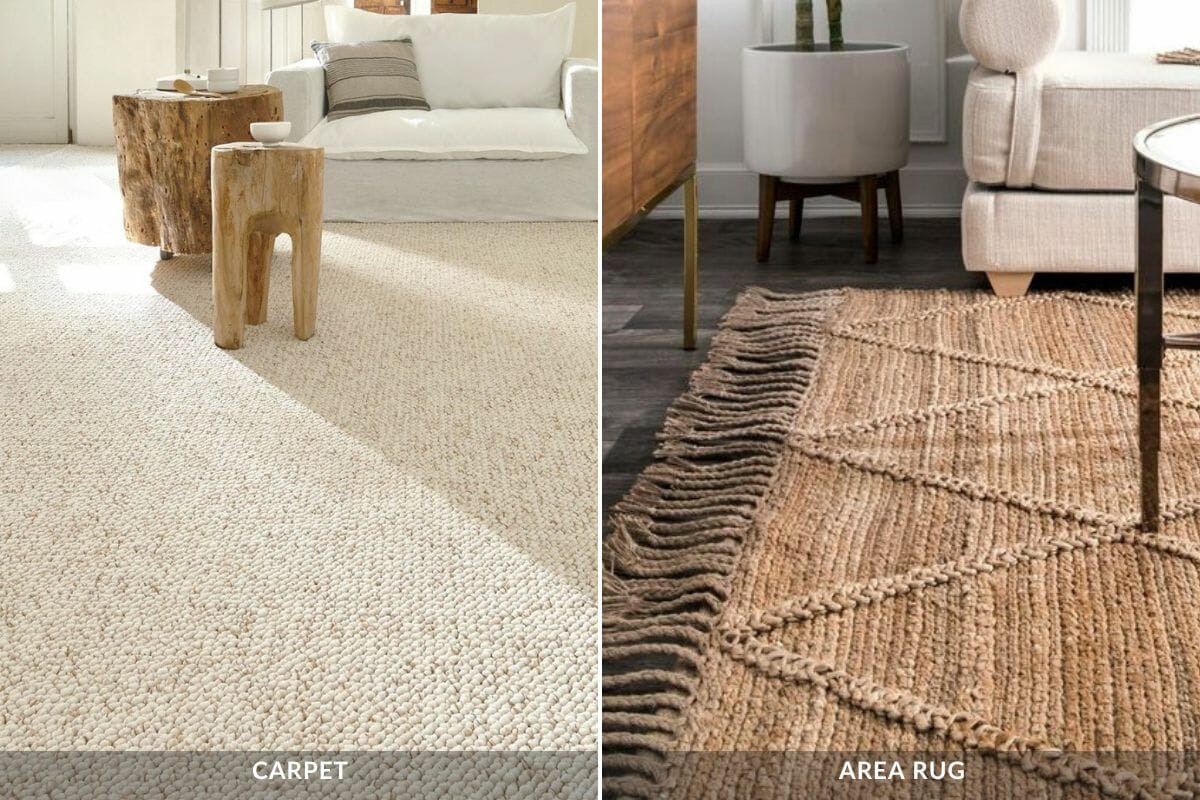 Soft floors bring coziness and warmth to interiors. Carpets and rugs come in many textures and styles and have excellent insulation properties.
1. Carpet
Gentle and cozy on feet

Excellent insulation and visually warms up the room

Various colors, fabrics, and patterns available

Tough to clean, can tarnish, and displays a wear pattern, but stain-tolerant brands exist
2. Rugs
Four general families of fibers: wool, acrylic, nylon, and polyester.

Each carpet has a distinct look and feel

The fibers have different resilience levels:

Cotton and linen age quickly

Sisal can take more abuse

Wool has lanolin which makes it very cleanable and stain resistant

Non-slip rug pad underneath is a must, as it provides additional padding, keeps the rug in place, and preserves its life

Your Guide to Flooring Types for Each Room of the House
Remember your wants regarding durability, design, and budget before picking a floor. Of course, a room's function, mood, and style play into your choices but do not limit yourself to just one option. Keep in mind, that once you find your ideal interior designer, they can take care of your flooring too! 
Flooring for the Living Room
A living room design is often a flexible and intimate space. The different types of flooring for living rooms can enhance certain styles or a preferred ambiance.
Warming Wood
Solid types of wood flooring feel and look timeless and can last for decades. That said, the durability depends on the wood's quality and if it is proactively maintained. For warmth and texture, add a rug or two.
A more affordable option is engineered wood flooring. Keep in mind that although it looks like an authentic solid wood floor, it is not as sound absorbent. 
Budget-Friendly Laminate
Laminate gives a wood-like finish which is an attractive and affordable alternative. The high-density core board has exceptional endurance, which is ideal for heavy furniture. In addition, it has a tough top layer that protects the surface against scratching and fading.
Best Types of Flooring for Kitchens
Kitchens require wear-resistant flooring as well as something that absorbs sound. Luckily, the best types of flooring for kitchens have many design options. This means you can personalize the space to your desires!
Diverse Porcelain Tiles
Porcelain tile is a must for a busy household because it's more hard-wearing. Plus, you can choose any design you want! The only drawback is that it is unyielding underfoot and cool. Fortunately, you can minimize the cold with a runner over a non-slip rug pad.
Comfy Lux Vinyl
This eco-friendly alternative is undoubtedly one of the top flooring types for kitchens. It's functional and stylish for any family home. Moreover, it's softer underfoot, water-resistant, warmer, and absorbs sound. This combo makes lux vinyl great for one of the coolest rooms in the house.
Top Types of Bathroom Flooring
A bathroom needs a little more TLC as one of the most used spaces in a home. Water-resistant types of flooring that are easy on the eye are easy to come by too!
Personalized Porcelain Tiles
Porcelain tiles are resilient and waterproof. As it is impervious to water, the subflooring beneath is undamaged, preventing mildew and mold. It's also very effective as shower tiles to withstand any puddles of standing water. It is a hard and cold surface but works well with radiant flooring systems. Choose a tile with a textured surface to prevent slipping – it'll also add a beautiful look!
Versatile Cork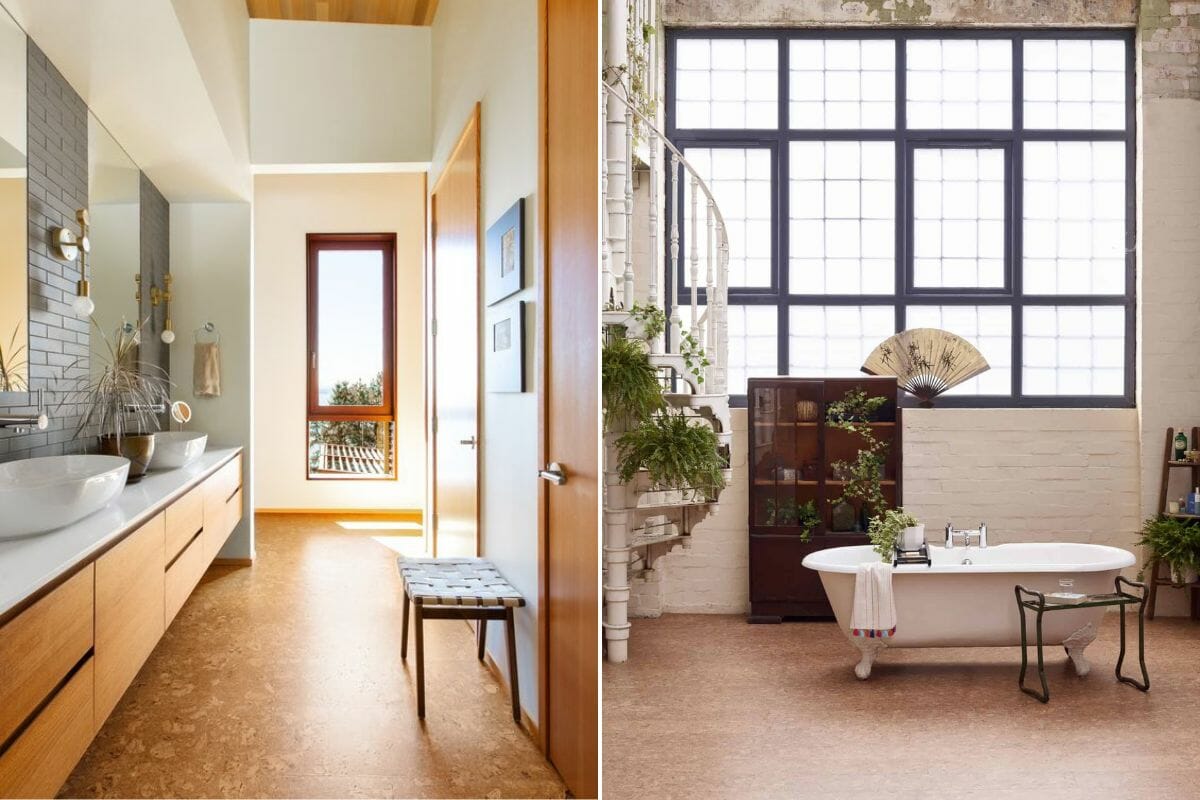 Cork's qualities make it ideal for bathrooms: it is waterproof, comfortable to stand on, and has a non-slid surface as it is naturally textured. However, you'll need to reseal it every couple of years to protect the surface from moisture. And, best of all, it absorbs sound!
Types of Flooring for Bedrooms
The bedroom should be the most welcoming space in a home. Whether you prefer wood or textured flooring for your bedrooms, you'll find something that suits your interior.
Contemporary Lux Vinyl
Lux vinyl is a good option if you have a home that houses different generations. The surface is more flexible, warmer underfoot, and soundproof. Just like carpets, it's a safer option for small ones and the elderly. Plus, it has an array of options to suit your decorating style.
Cozy Carpet
Cold feet no more! Soft and warm underfoot, carpet is the prevalent choice. Since it's thermal insulated to minimize heat loss, carpets keep the room warmer and quieter as it is sound dampening. As a result, even outside noise will be less. Plus, it's safer for children and the elderly because the soft surface will cushion any tumble.
Resilient Flooring for Entryways
Why not make a statement with the best flooring for an entryway? It's not only the first point of contact, but also the most used space in the home. Here you have a chance to create something unforgettable.
Your Pick of Tiles
Classic, stylish, and just beautiful! Porcelain may be more exclusive and it will keep for decades. As for cold feet, opt for a radiant flooring system and soften it underfoot with a French tapestry-woven Aubusson mat or a Turkish Bergama rug. Alternatively, opt for the trending Zellige tiles for an unmissable stamen. 
Unforgettable Hardwood 
Hardwood flooring is timeless and exceptional when reclaimed! But, oh, so worth your while as it adds value to your home. Solid wood adds natural warmth and gives comfort to those who enter from outside. Although warmer than tiles, adding a rug to warm against the chill is a good idea.
Types of Basement Flooring
Basements are exceptional when designed correctly. That said, you need to be mindful of possible floods or leaks and high humidity. For this reason, you need durable types of basement flooring that are also flexible. 
Beautiful Lux Vinyl
Lux vinyl is water resistant and durable – it's ideal for basements. You can create the style you want with LV planks mimicking wood and LV tiles resembling stone. This material looks and feels good, even more so on your budget. 
Flexible Rubber
The most flexible of all types of basement flooring is rubber. It's a good contender as it is waterproof, stain resistant, and comes in various styles. Whatever the functionality of this space – from a playroom to laundry – rubber is easy to keep clean. Best of all, it will tolerate little feet and their four-legged paw buddies!
Need help choosing the best flooring types for your home?
Get in touch with vetted interior designers to choose the best flooring and décor for your abode. Schedule a Free Interior Design Consultation to get started! 

[images: 1, 2, 3, 4, 5, 6, 7, 8, 9, 10, 11, 12, 13, 14, 15, 16, 17, 18, 19, 20, 21, 22, 23, 24, 25, 26, 27, 28, 29, 30, 31, 32, 33, 34]