Experience the enchantment of a warm neutral living room and dining room transformation, where a new homeowner's dreams come to life. The harmonious blend of soothing colors, cozy textures, and captivating details turn these spaces into a haven of comfort and style. Read on to see how serene simplicity turns this once ordinary dwelling intro an extraordinary retreat.
The Challenge: Warm Neutral Living Room & Dining
A recent Decorilla client was about the move into a new, spacious house. While in good overall condition, it was not aligning with the new owners' tastes and lifestyle. So they sought out professional help with remodeling the living room, as well as a few other spaces. Along with finding a sweet spot sweet between casual and formal style, the designer was also asked to:
Incorporate more seating into the layouts

Replace the existing large entertainment center with a shorter media console and a wall-mounted TV  

Ideally, keep the wall color and window treatments and incorporate them into the refreshed, transitional interior design

Install nice accent lighting instead of the existing ceiling fan 

Brighten up the dining room

Reinvent the home office space in a shape of a chic lounge bar
Pro Tip: Warm neutral design can fit nearly any style. Uncover your preferred style by taking

our

Free Interior Design Style Quiz

 today!
Warm Neutral Home Décor Inspiration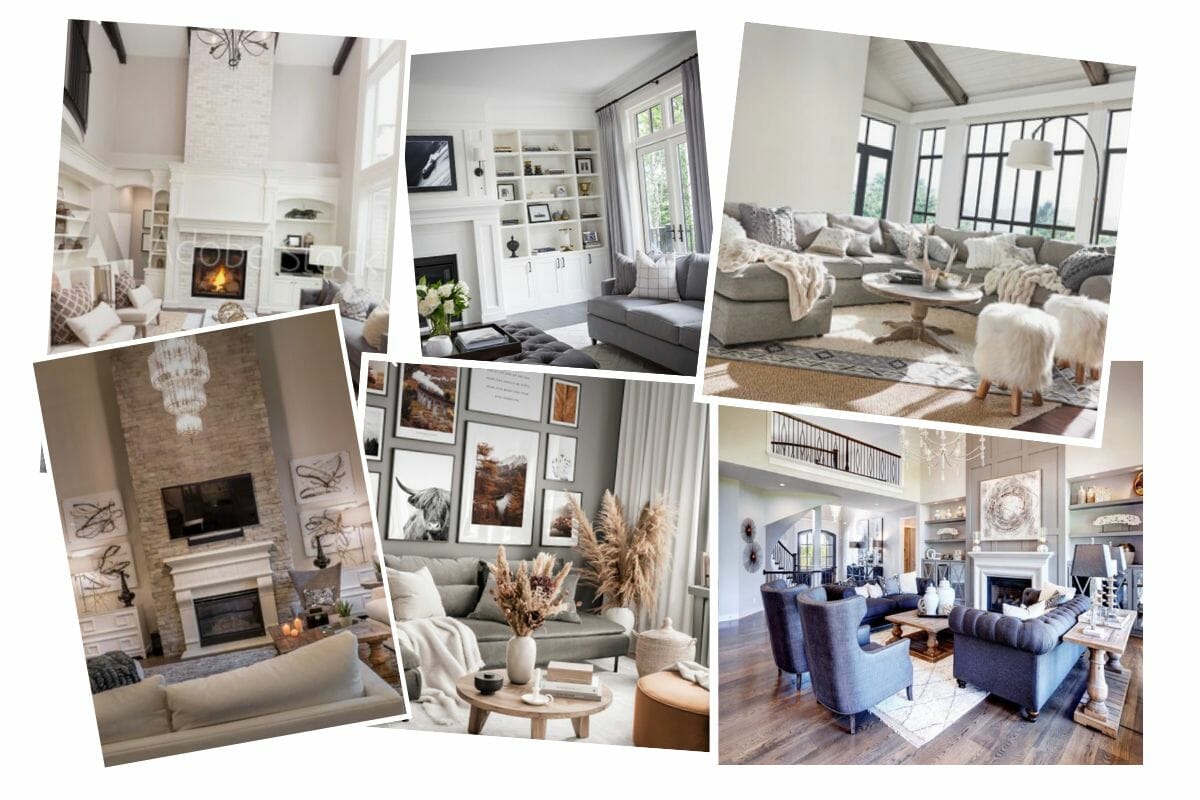 Warm neutral living room ideas have become increasingly popular in interior design, particularly in the realm of transitional style. Therefore it was no surprise that the client provided a comprehensive inspirational gallery filled with great examples. A multitude of ideas boasted subdued and earthy color schemes juxtaposed against contemporary furnishings and decor, from organic to farmhouse and luxurious. What they all had in common was sampling how warm neutral living room colors can create a serene atmosphere, simultaneously impactful and understated.  
Warm Neutral Living Room Ideas & Moodboard
The images in the gallery provided a valuable visual guide for designers, offering a precise insight into the desired style. In addition, using Decorilla's interactive questionnaire, the client effectively communicated other necessary details, such as their lifestyle, habits, and preferences. Armed with the information, the Decorilla team handpicked two exceptional interior designers to produce customized concepts.
After reviewing two equally impressive proposals, the client faced the challenge of choosing only one creator, which turned out to be Liana S. Her warm neutral living room colors and ideas ticked all boxes flawlessly. 
Liana's warm greige living room moodboard boasted a sophisticated yet cozy layout. Neoclassical influences coupled with a traditional-modern fusion, all embedded in a warm neutral color scheme of the living room. There was also a dash of breezy coastal flair, accentuated with pops of blue and bronze. The organic-inspired contemporary furnishings and decor created an inviting atmosphere, perfect for a space that exudes a modern refinement while remaining welcoming and relaxed.  

Warm Neutral Colors for Living Room Interior Design
Liana's carefully curated designs and warm neutral living room ideas transformed the space into a haven of comfort and style. The cozy, interaction-focused layout revolves around a stunning fireplace, making it the central focal point. A plethora of natural wooden textures complemented the ample seating with a fresh organic vibe and a dash of weather core for a lived-in look with character. 
The curvy lines of the tables and accent chair stylishly represent the contemporary interior design in a warm neutral living room. Their cocooning touches soften the setup and provide a sense of comfort and ease, in addition to enhancing visual dynamics. Abundant patterns serve a similar purpose, from the modern rug to woven poufs to elegantly subdued window screens. 
The sleek, abstract chandelier juxtaposes with the ceiling geometry while complimenting its intricate design at the same time. Meanwhile, per the client's wish, the adjacent wall hosts a small media center. Paired with the wall art, the TV became the element of a vignette, adding to the warm neutral home décor rather than intruding on its harmony.
Warm Neutral Interior Design for a Dining Room
The dining room features a single window towards the front of the room, restricting the amount of daylight it receives. Consequently, its design relies heavily on warm neutral home décor in soft, bright hues. The client also wanted to keep the layout classy and simple with a contemporary dining set, buffet, and curated decor.
The beauty of trendy neoclassical influences comes to shine in an eclectic, traditional-modern fusion, complemented by inviting, warm neutral colors. In addition, this warm neutral interior design perfectly pairs some cooler light grey and bronze shades to continue the warm greige living room's palette coherently. The result is a contemporary minimal, yet captivating atmosphere perfect for any occasion.
Eight sleek upholstered dining chairs surround the impressive monastery dining table, providing hosting-friendly, elegant space to gather around meals. A slim buffet completes the transitional layout without compromising comfortable traffic flow. Underfoot a trendy antique rug grounds the arrangement.  
The modern crystal chandelier tops the warm neutral home décor, emphasizing its old-world charm with a contemporary twist.  
Warm Neutral Home Décor In a Bar Lounge
Warm neutral living room colors also transformed a dated home office filled with oversized furniture into a breezy lounge bar. This space has no door, so it found its better use as an extension of the warm neutral living room. The stylish setup is ideally scaled to suit a modest floor area, featuring a comfortable loveseat and two swivel chairs. 
Moreover, the room not only provides an additional conversation hub but also hosts the client's collection of whiskey bottles. Arranged on sleek geometric shelving, the cluster becomes a statement, a functional part of the warm greige living room decor. 
Unlike the rest of the warm neutral home décor, this room leans more on the masculine side. Bold, unique features and colors make it feel like a chic hotel bar, inviting and ready for entertaining. 
Warm Neutral Interior Design Transformation
Warm beige paint colors for living rooms are a staple of contemporary interior design for a good reason. This color scheme makes an ideal background to accentuate lines, shapes, and various decor elements, from urban rustic to luxurious glam. In the case of this home, warm neutral interior design significantly elevated the space with a touch of elegance and style. At the same time, implementing more curvaceous lines was a welcome addition, offering a reprieve from the harsh, straight lines that dominated the rooms before.
Online Interior Design Shopping List + Perks
Thanks to Deocrilla's streamlined interior design process the client was able to transform their home into the space of their dreams. The curated selection of furniture and decor were brought to life in stunning 3D renderings – helping them envision the space before committing to any changes. They were then able to choose their favorite pieces from the personalized shopping list, featuring substantial trade discounts. And to make the process even easier, a dedicated white-glove shopping concierge handled all the details of ordering, tracking, and delivery. 
Top Picks for a Warm Neutral Color Living Room
Embrace warm neutral paint colors for the living room and adorn them with elegant furniture. While this look is perfect for those looking to fuse nostalgic flair with contemporary comfort, it also suits a number of different styles. So, check out this collection featuring some of our team's favorite elements: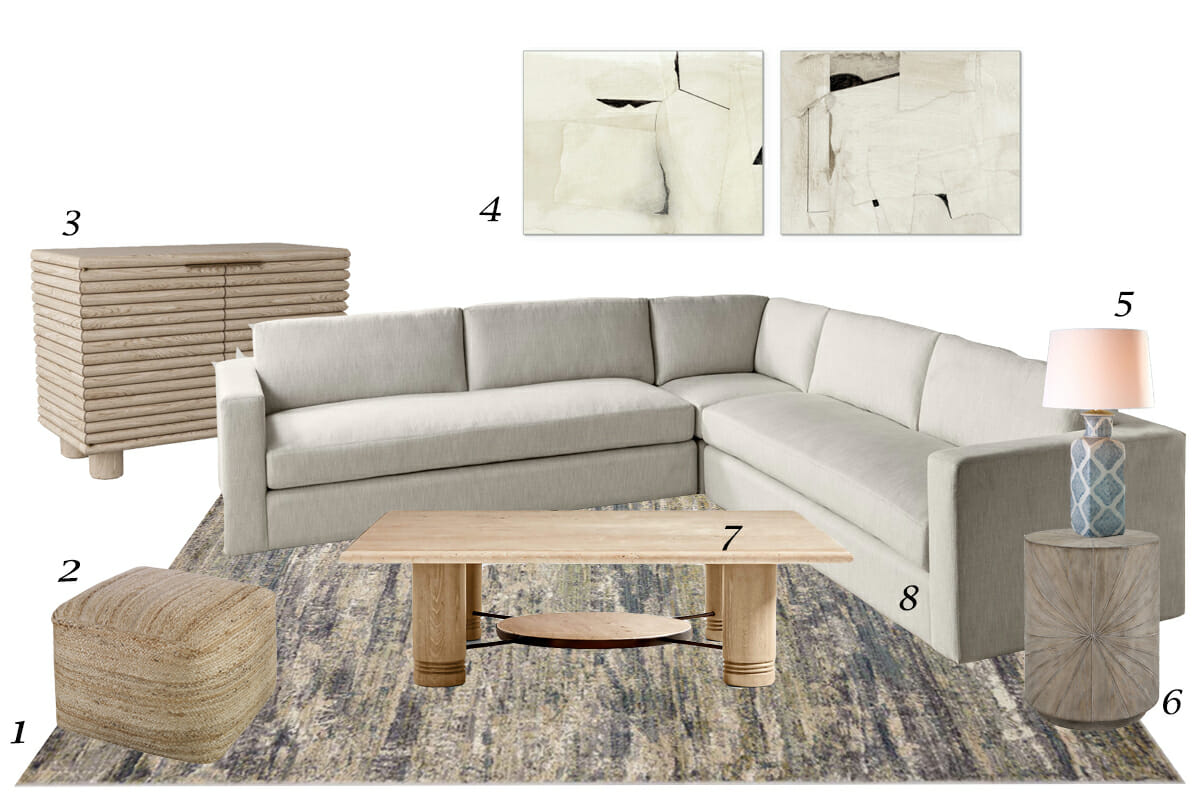 Ready to transform your home with online interior design?
You too can achieve your dream home with the help of our expert designers. Schedule a Free Interior Design Consultation to start your project today!