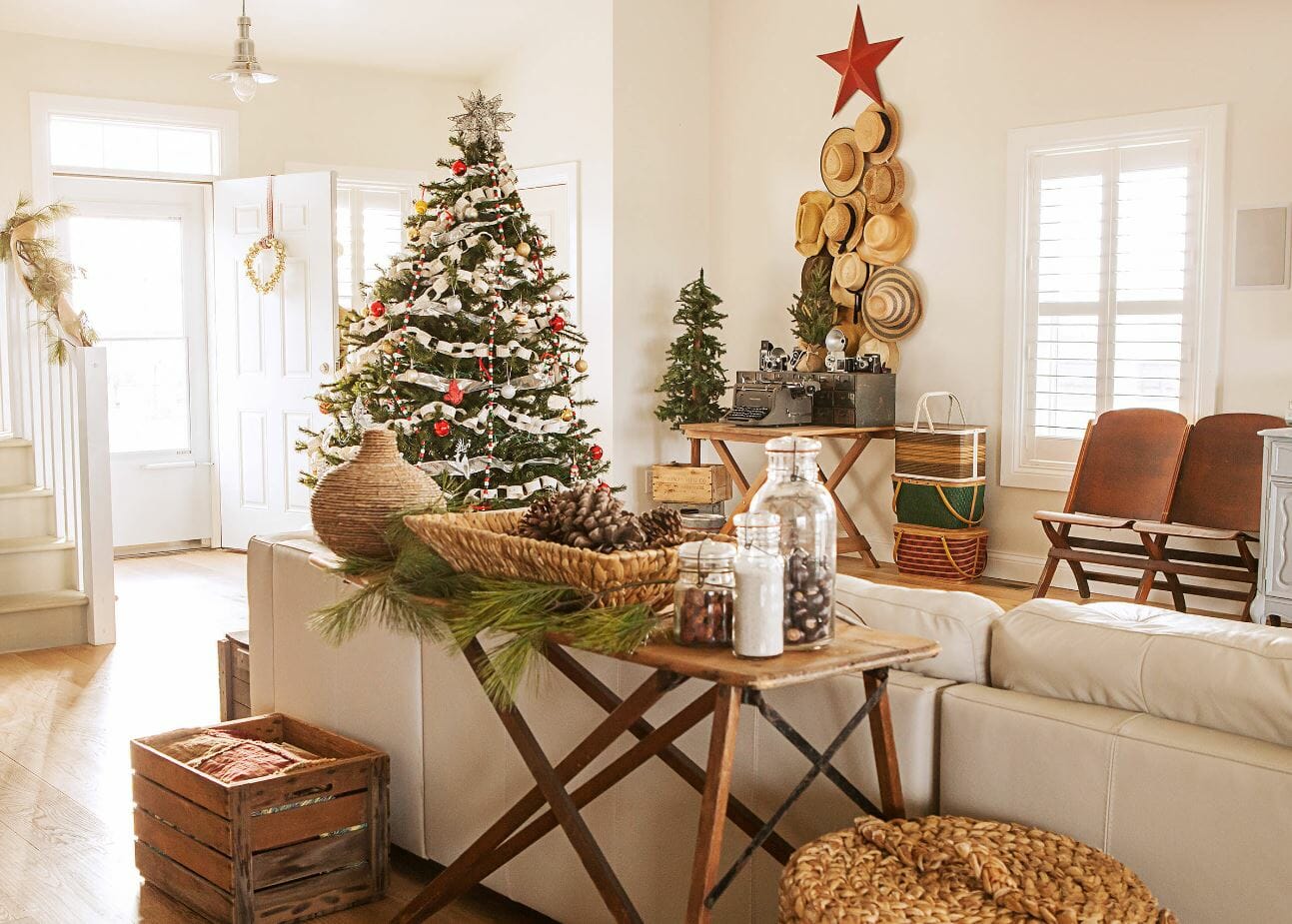 There is something about this time of year that is truly magical. Throughout this Christmas season we've seen new holiday home décor trends as well as timeless trends that seem to stick around year after year. Keep reading to see Decorilla interior designer's favorite holiday décor trends from 2018!
1. Choose a winter color pallet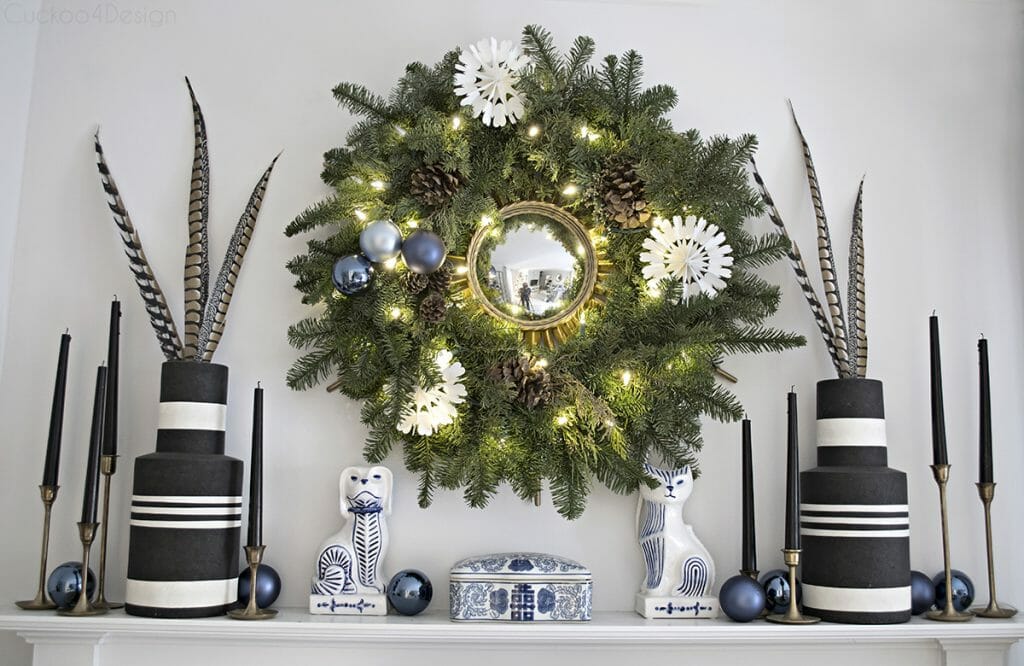 The traditional color palette of red and green will always have its place on our list, but it's time to give Christmas décor a modern twist. Incorporating blue, silver, and white is an easy way to give your Christmas accessories a subtle yet sophisticated winter feel.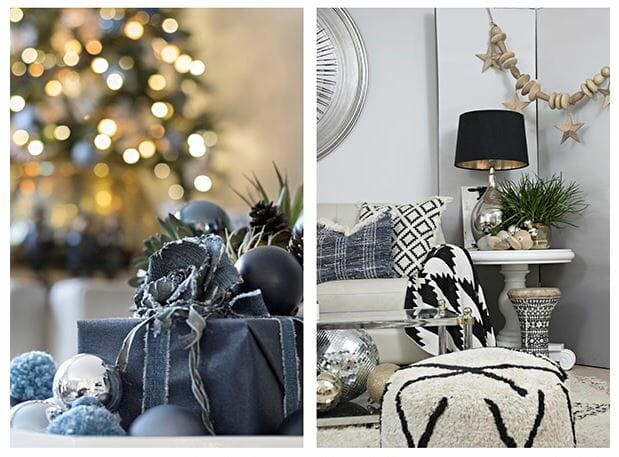 Keeping the red and green out of the equation allows for extending your holiday décor all the way into the New Year.
Designer tip: Use a flocked Christmas tree to really make those blue ornaments pop!
2. Minimalist Christmas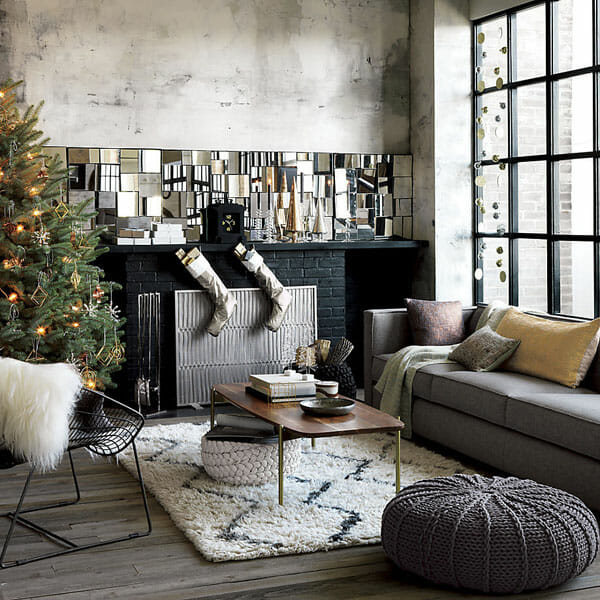 Layers upon layers of Christmas accessories definitely doesn't suit everyone's décor style. In recent years we've seen an increase of popularity with a minimal take on holiday home décor. When it comes to the best Christmas decorations our favorites tend to be pieces that can blend beautifully into anyone's décor style.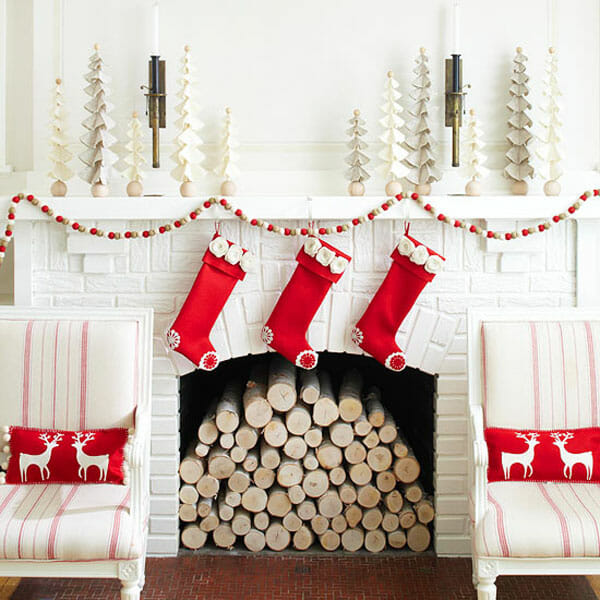 Minimal doesn't have to mean boring! Try using only one accent color and stick with that throughout your home. A simple garland replaces a big bushy garland beautifully and still feels festive as ever!
Designer tip: A collection of small trees is a great way to decorate your minimal Christmas mantle!
3. Greenery overload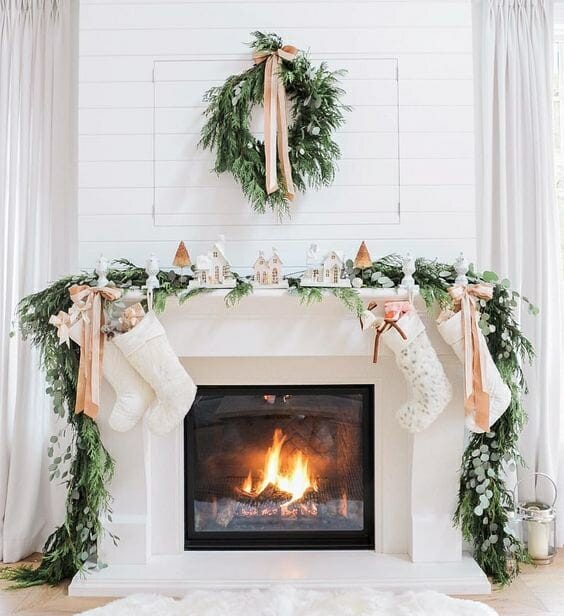 Traditional holiday garland has come a long way in recent years! While there are so many different renditions, real, faux, etc. we have to say one of our favorite trends we've been seeing this year is the incorporation of eucalyptus to the once pine swags.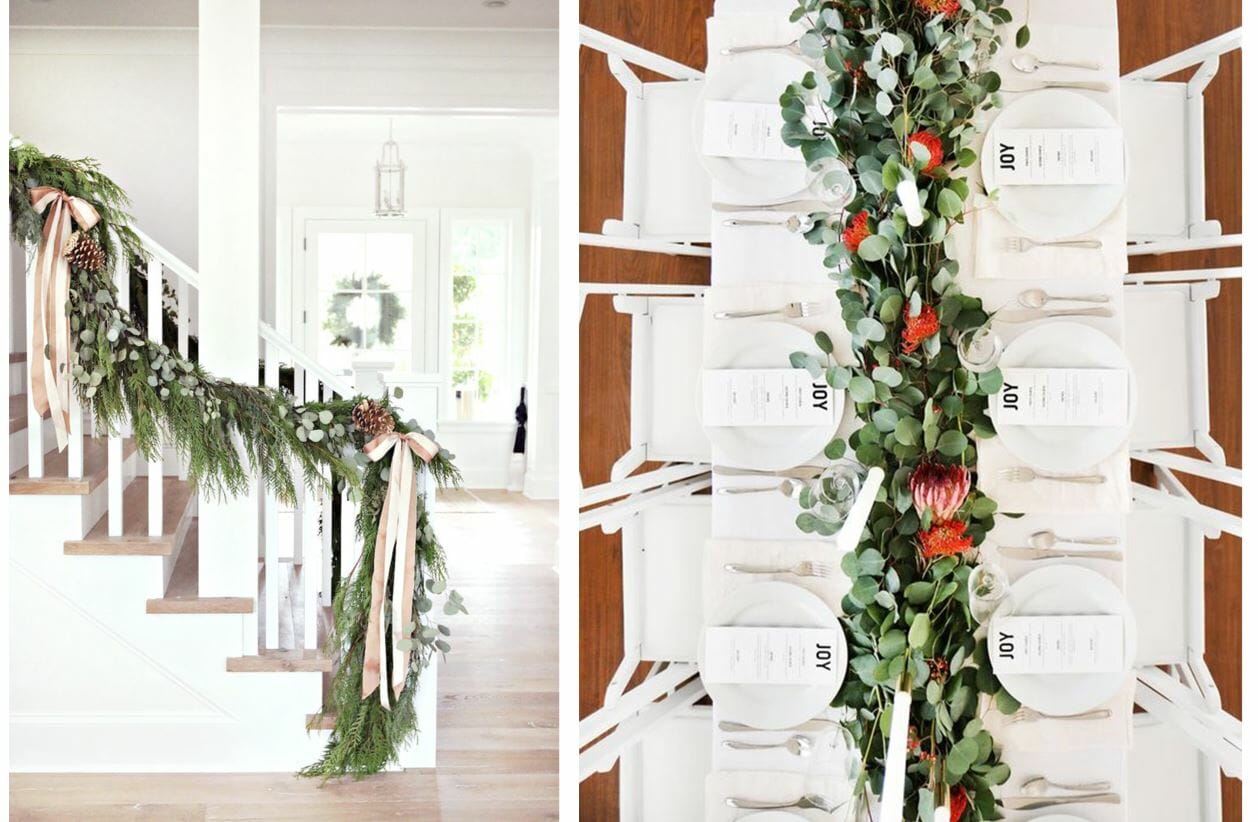 Garland isn't just for banisters and mantles anymore. A touch of greenery makes for the perfect table runner as well. If we could choose only one Christmas decoration this would be it!
Designer tip: Use seasonal colored florals to incorporate into your garland for a fresh, updated look!
4. Paper snowflakes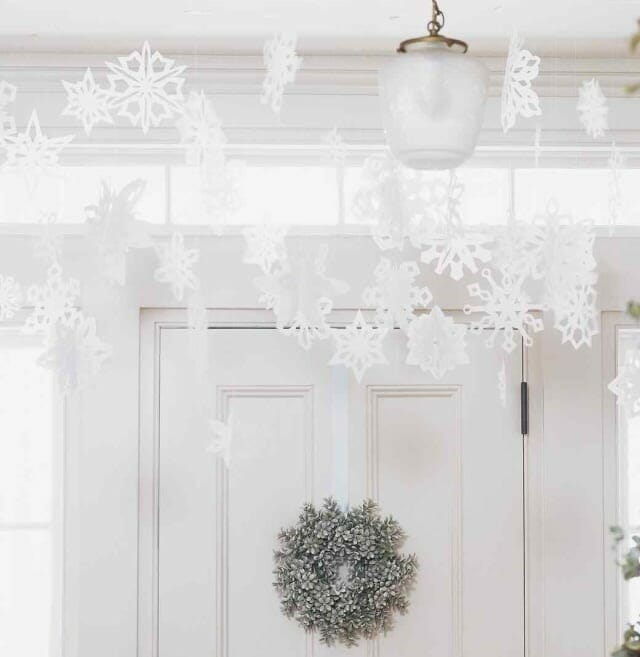 Perhaps one of the most affordable ways to decorate for the holidays is something most of us have done growing up; paper snowflakes! Turn your home into your own personal winter wonderland with three simple items – paper, scissors, and fishing line.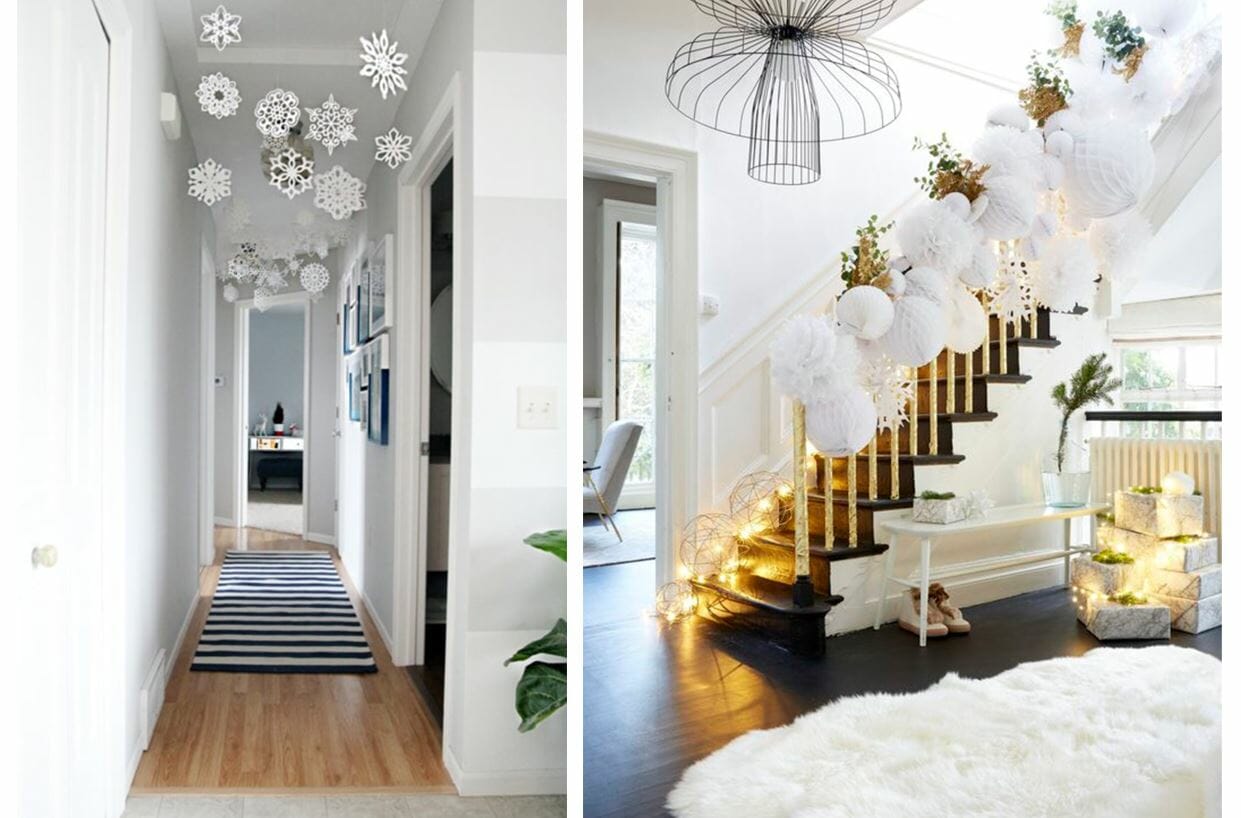 Paper snowflakes are so versatile when it comes to Christmas decorations. Line your banister, decorate your tree, hang from windows, or even the ceiling! Time to start a new family tradition of snowflake making!
Designer tip: Leave the snowflakes up until after the New Year for great winter décor!
5. Sheepskin rug under the tree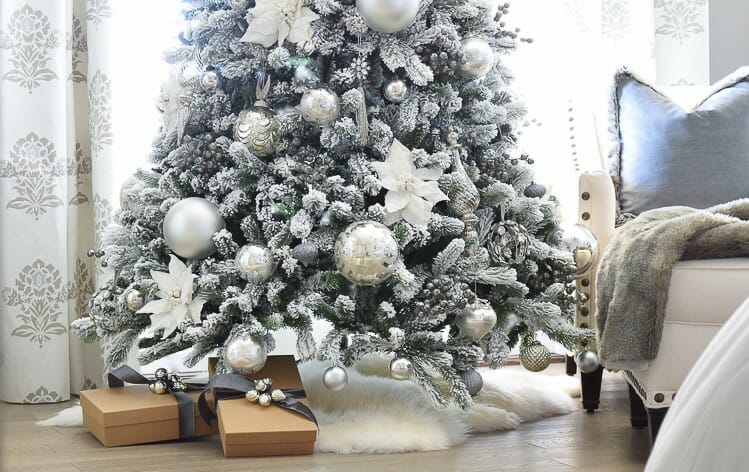 We can't all be lucky enough to have a white Christmas, so bring the snow inside (without the mess!) with the addition of a sheepskin rug below your tree. If you're looking for a winter wonderland Christmas vibe look no further.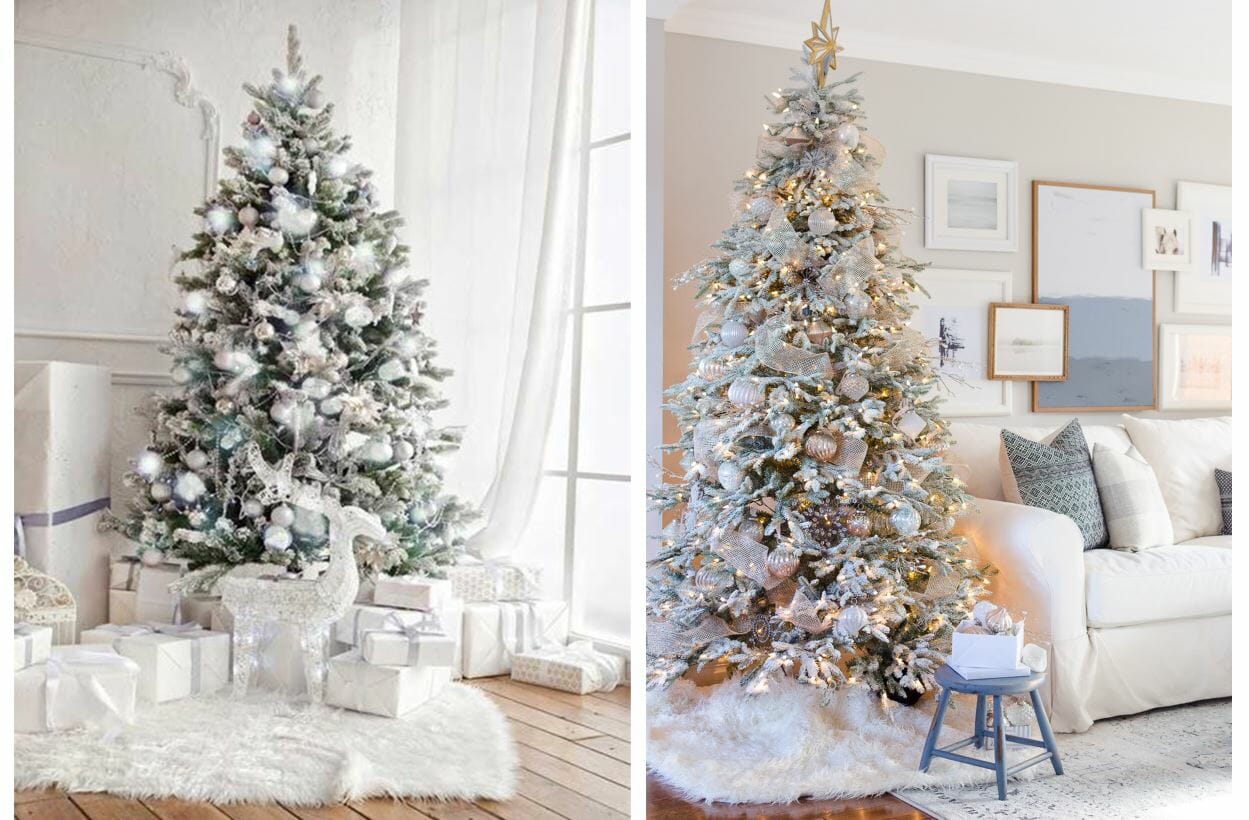 In addition, faux sheepskin rugs are a great décor item to use throughout the year, so once Christmas is over, it's easy to repurpose this décor into another space.
Designer tip: Flocked trees look best with this trend!
6. Asymmetrical mantle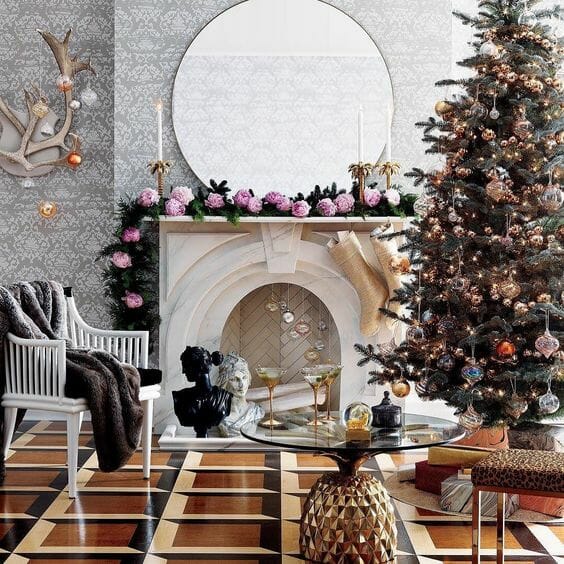 Spice up a traditional Christmas mantle by adding some interest with asymmetry. This can be accomplished in a number of ways. A Decorilla interior designer favorite is using the asymmetry with garland and stockings!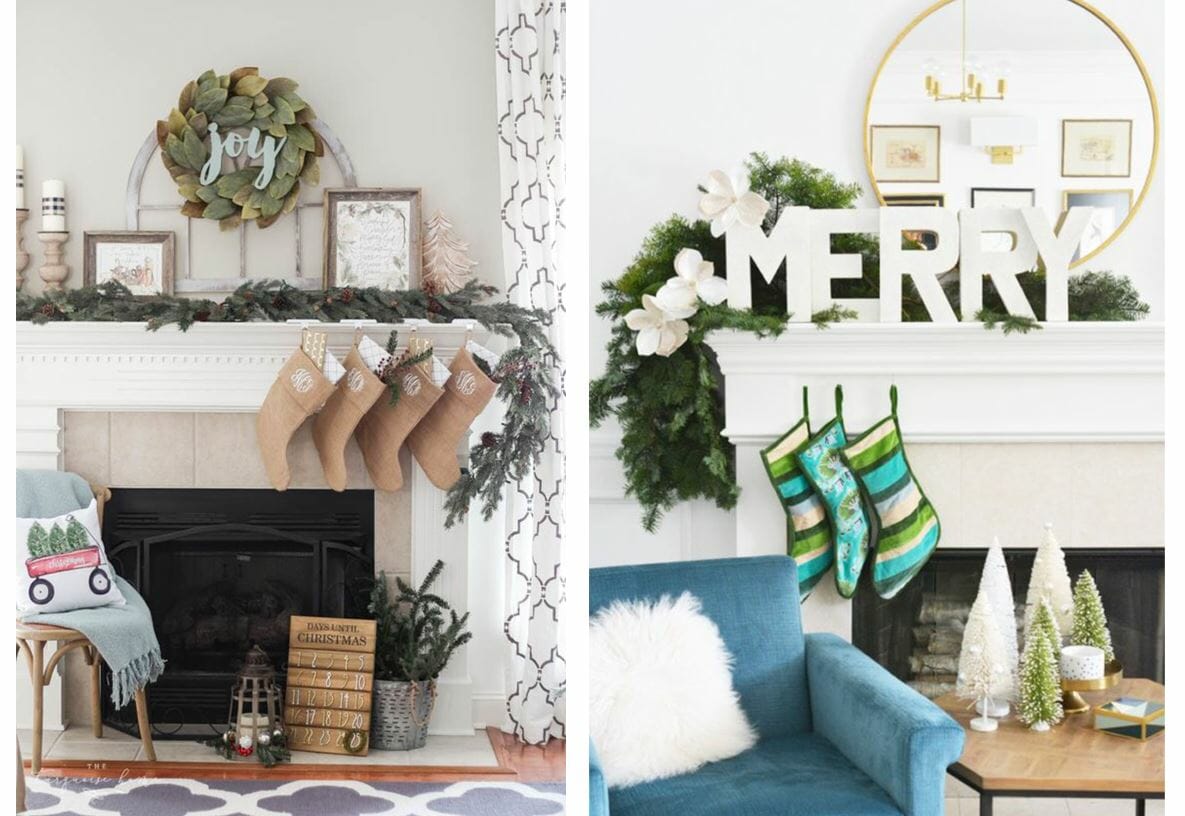 Visually, having mantle décor that is asymmetrical is much more interesting to look at versus perfectly symmetrical décor. Swag garland off to one side, and also gather the stockings to one side to really drive the asymmetrical look home.
Designer tip: When doing an asymmetrical mantle maintain the focus on the garland and stockings and keep the rest of the décor simple!
7. Modern Christmas village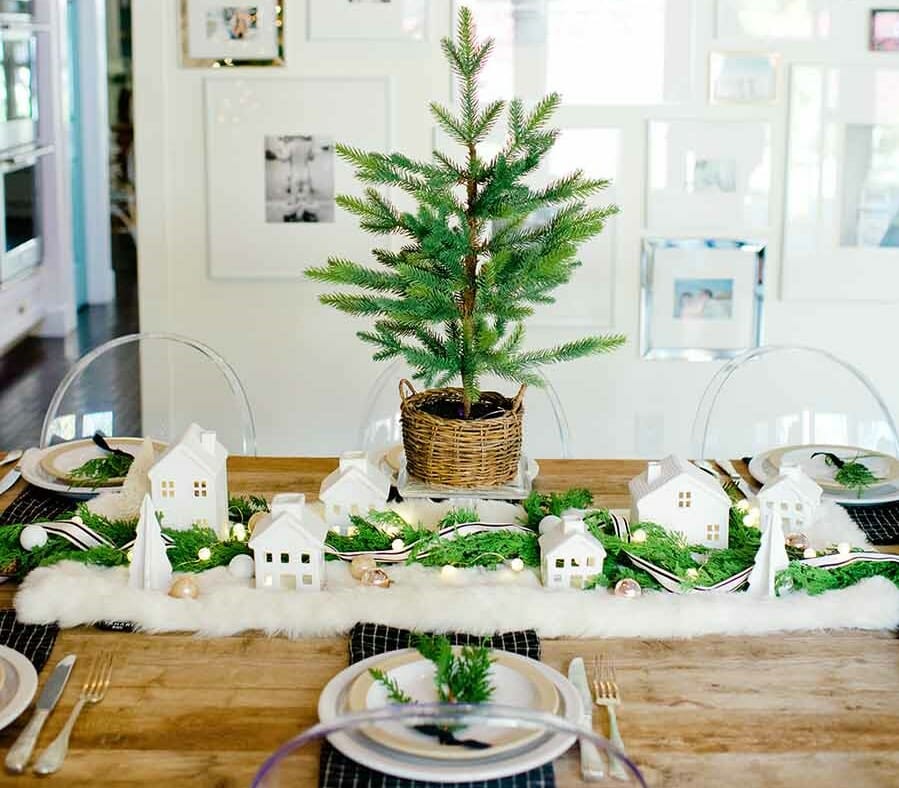 Christmas villages have come a long way since Department 56. Our designers are loving the minimal and modern Christmas village collections we've been seeing this year! A village is a great addition to your mantle, table top décor, or for filling a bookcase with Christmas spirit.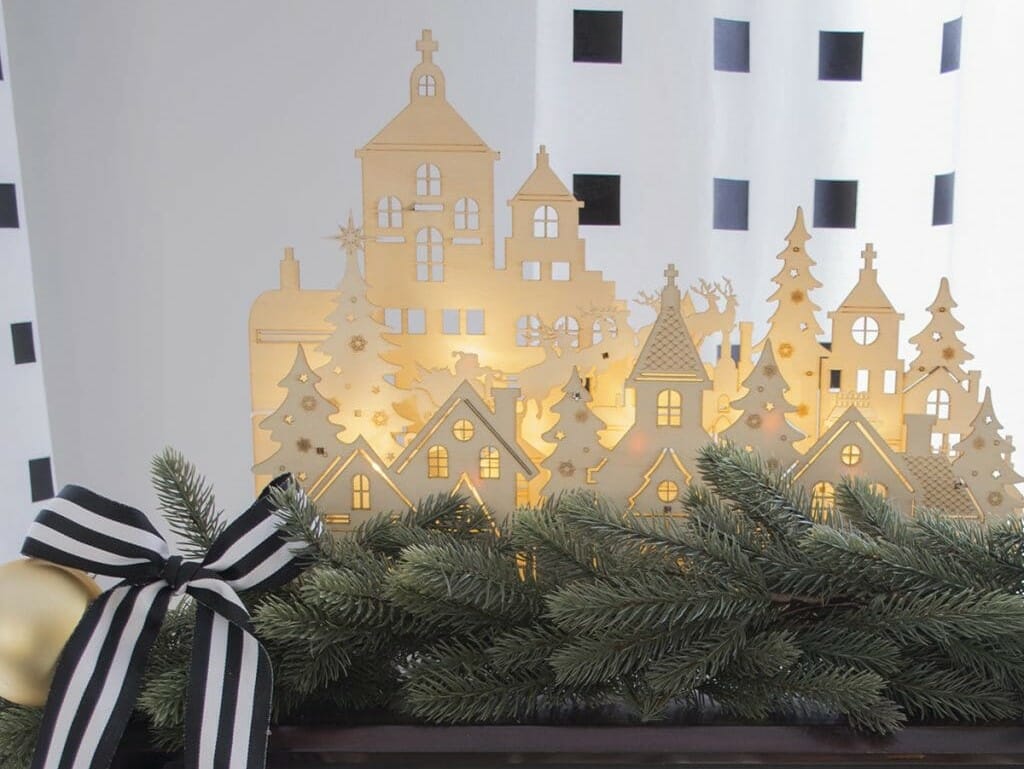 Don't forget to light up the village with twinkle lights for even more ambiance.
Designer tip: On a budget? Check out your local thrift store – some white spray paint on an old Christmas village can do wonders!
8. Decorate with candles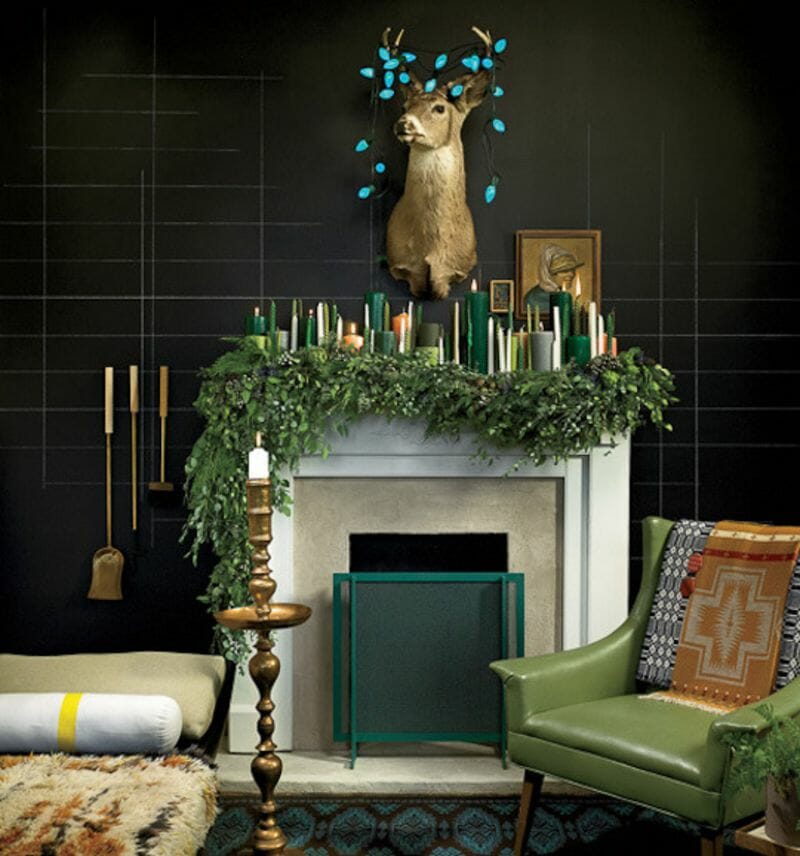 Minimal and easy, number eight on our list is for all of our candle lovers out there. Make your home feel festive with the addition of greenery and candles. A collection of different sized candles helps bring a cozy and inviting feel into your home.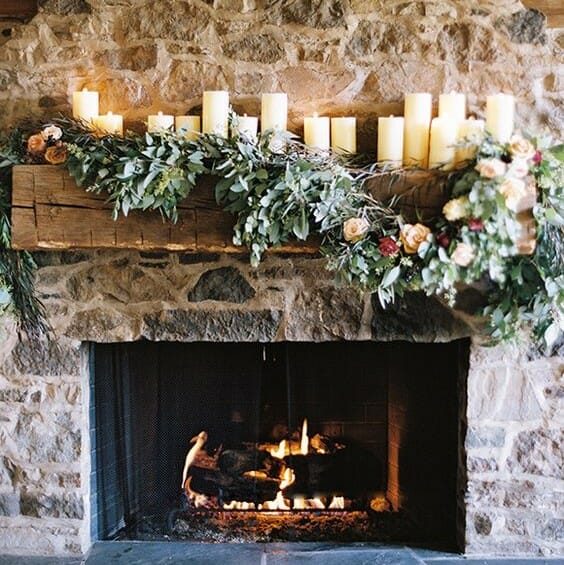 We especially love this holiday home décor trend if you don't have a working fireplace. Hygge is strong around the holiday season with all the cozy textures and soft twinkle of candle light.
Designer tip: This trend doesn't have to stay on the mantle, try a collection of candles as a centerpiece for the perfect festive gathering.
9. Ditch the tablecloth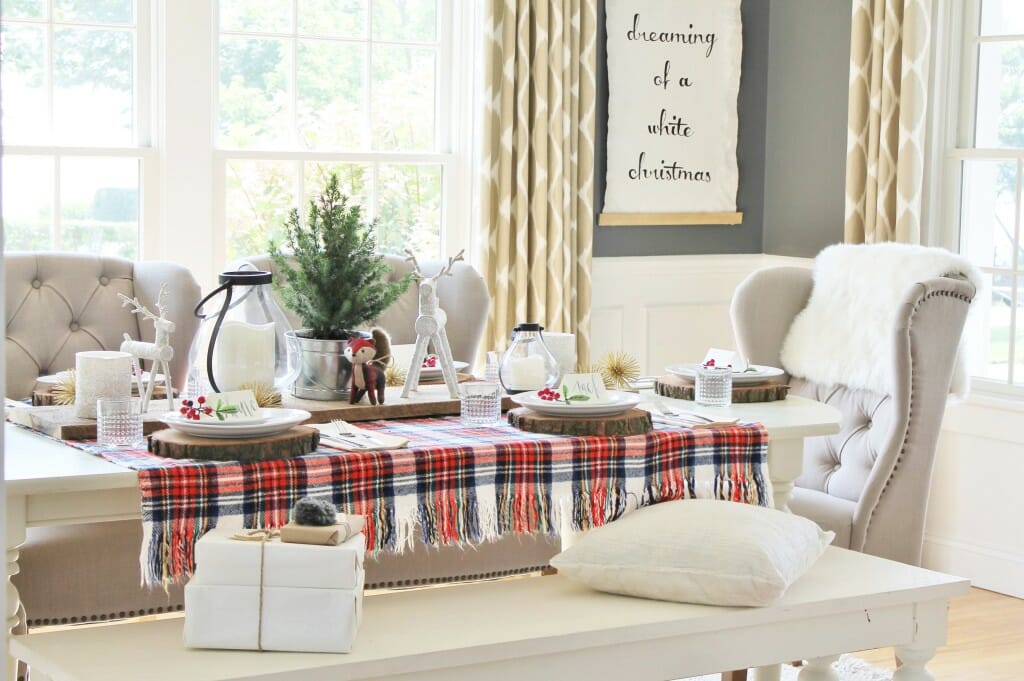 While tablecloths are always a good idea, we love this new rendition of the traditional Christmas trend. Ditch your old holiday table cloth and trade it in for a festive blanket instead! Typically, a blanket has a much warmer, and cozier texture than a tablecloth.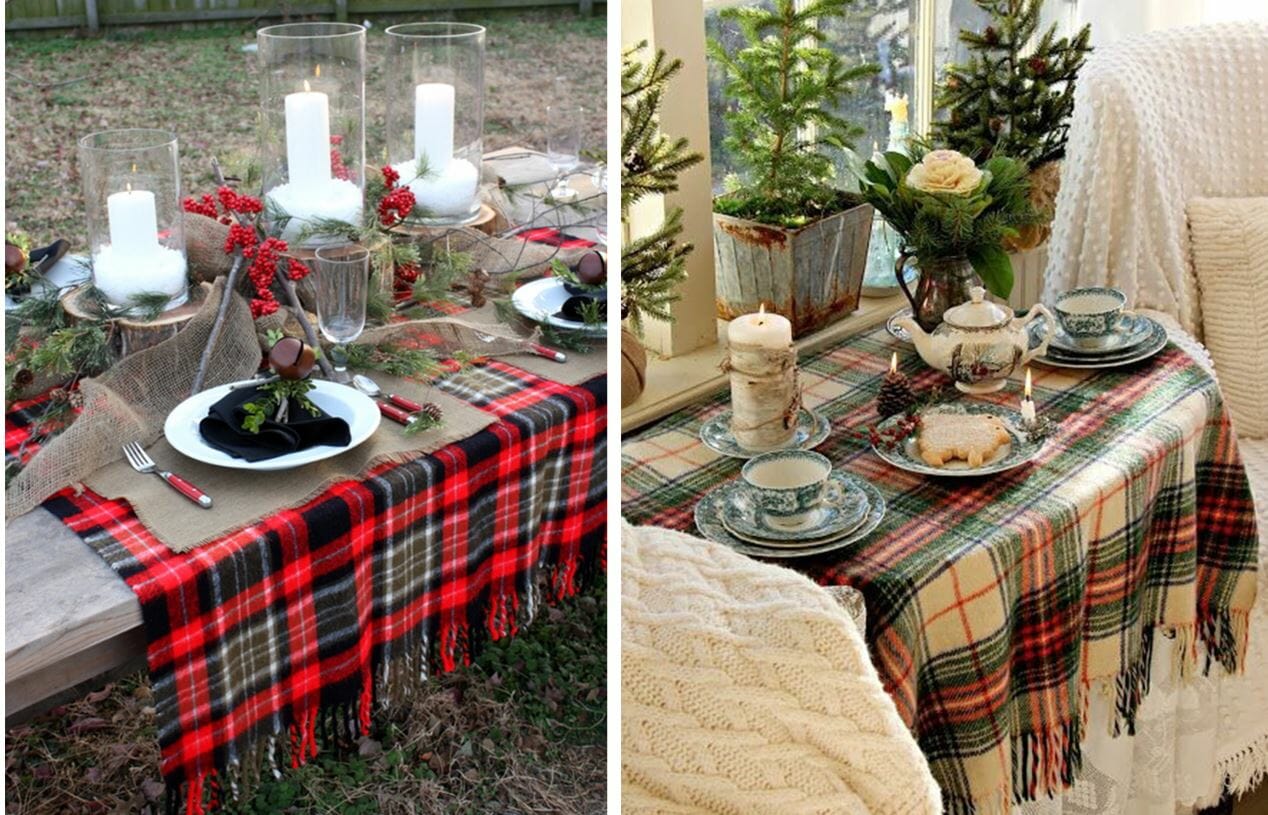 Although most blankets won't cover the entire dining table, that's okay! Show a peek of that beautiful table, or use a traditional tablecloth and layer a festive blanket on top.
Designer tip: Plaid patterns are always a good idea during Christmas time!
10. Christmas tree in a vase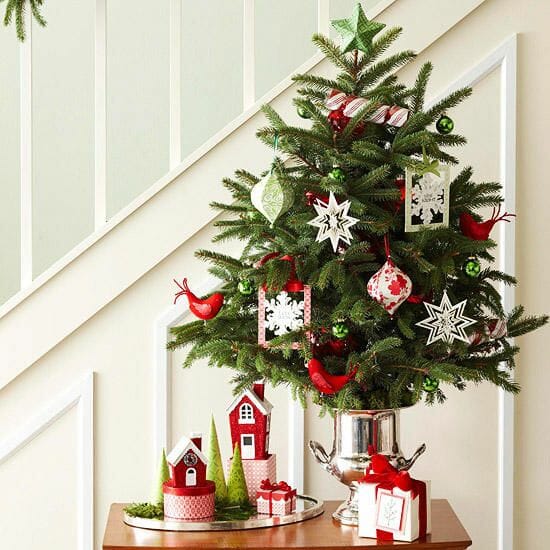 Whether you're trying to make every room in your house filled with holiday joy, or if you'd rather stick to the minimal décor look the final holiday home décor trend on our list is for everyone. A small scale Christmas tree can go nearly anywhere in your home.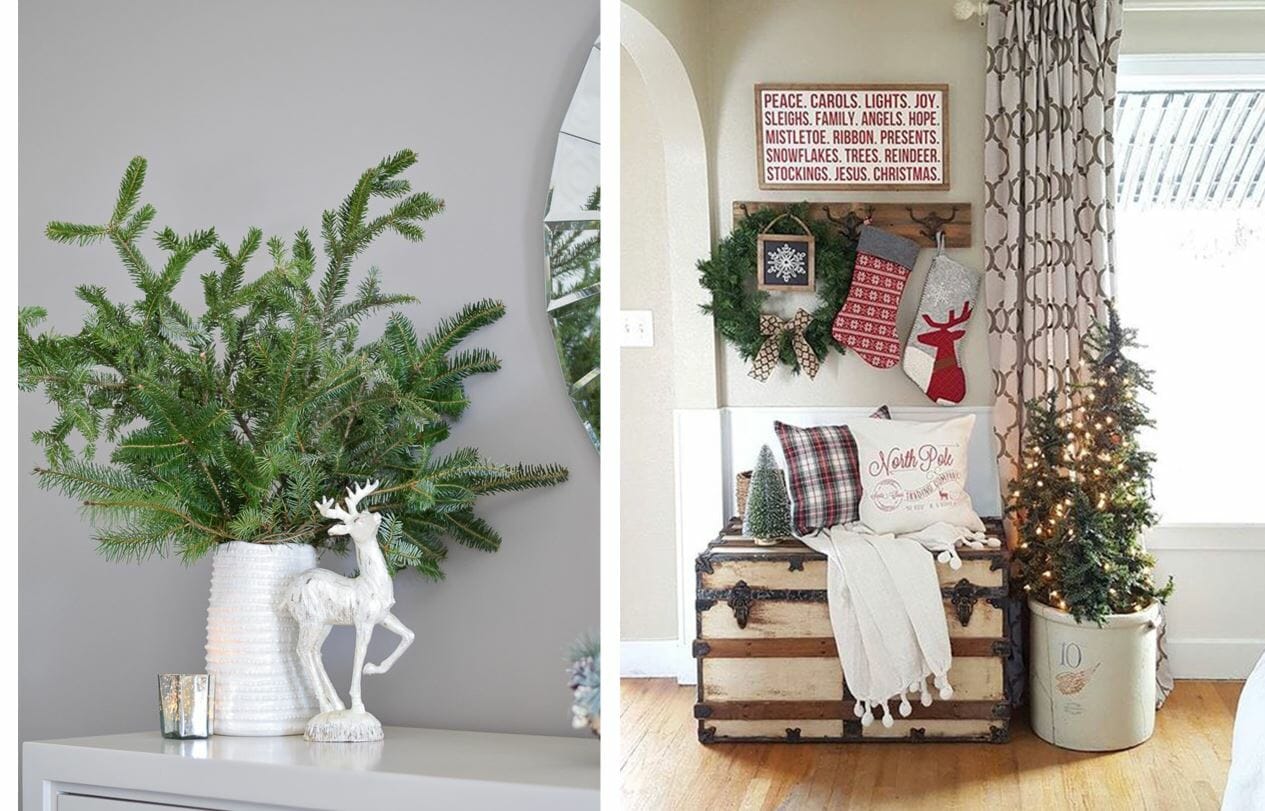 Christmas won't be in short supply with this easy decorating trend. Find a vase, bucket, etc and place some pine greenery inside. They look great adorned with ornaments or left completely natural.
Designer tip: Most hardware stores offer free Christmas tree trimmings that work perfectly in a vase with water!
Let this Christmas be one to remember and enjoy every moment spent with family and friends! Need a last minute holiday gift? Give the gift of great design with a Decorilla E-Design gift card. Happy Holiday from all of us at Decorilla!
Written by Decorilla designer, Brittany J.
[images: 1, 2, 3, 4, 5, 6, 7, 8, 9, 10, 11, 12, 13, 14, 15, 16, 17, 18, 19, 20, 21, 22, 23, 24, 25, 26, 27]