The clean lines and cozy vibes of a Scandi-style living room was just the look a recent client was after for their combined living and dining area. Utilizing minimalism, natural elements, and cool colors, they initiated a design journey that delivered. Read on for a behind-the-scenes look into this exciting room makeover!
The Challenge: Scandi-Style Living Room
A recent Decorilla client sought assistance revamping their living room and adjoined dining area in a small open-concept space. While the kitchen was freshly redone, the rest of the site felt "cramped, uncomfortable, and stuck in the past." With three kids running around, the parents were in dire need of creative suggestions on maximizing their home's potential. Therefore they asked the team to find a designer who could:
Keep a few beloved elements, such as the wooden counter stools, and integrate them into a stylish combined living & dining room interior design

Update the crowded dining room with contemporary solutions, at the same time transforming a dated and impractical built-in bench 

Create a more spacious, comfortable, and stylish setup inspired by Scandi-style living rooms for the whole family to enjoy

Elegantly incorporate smart storage that would help avoid the clutter piling up by the door

Replace a small and uncomfortable couch with a generous sectional sofa
Not sure if Scandinavian design is right for you? Then take our

Free Interior Design Style Quiz

to discover your decorating style today!
Inspiration: Scandi-Style Living Rooms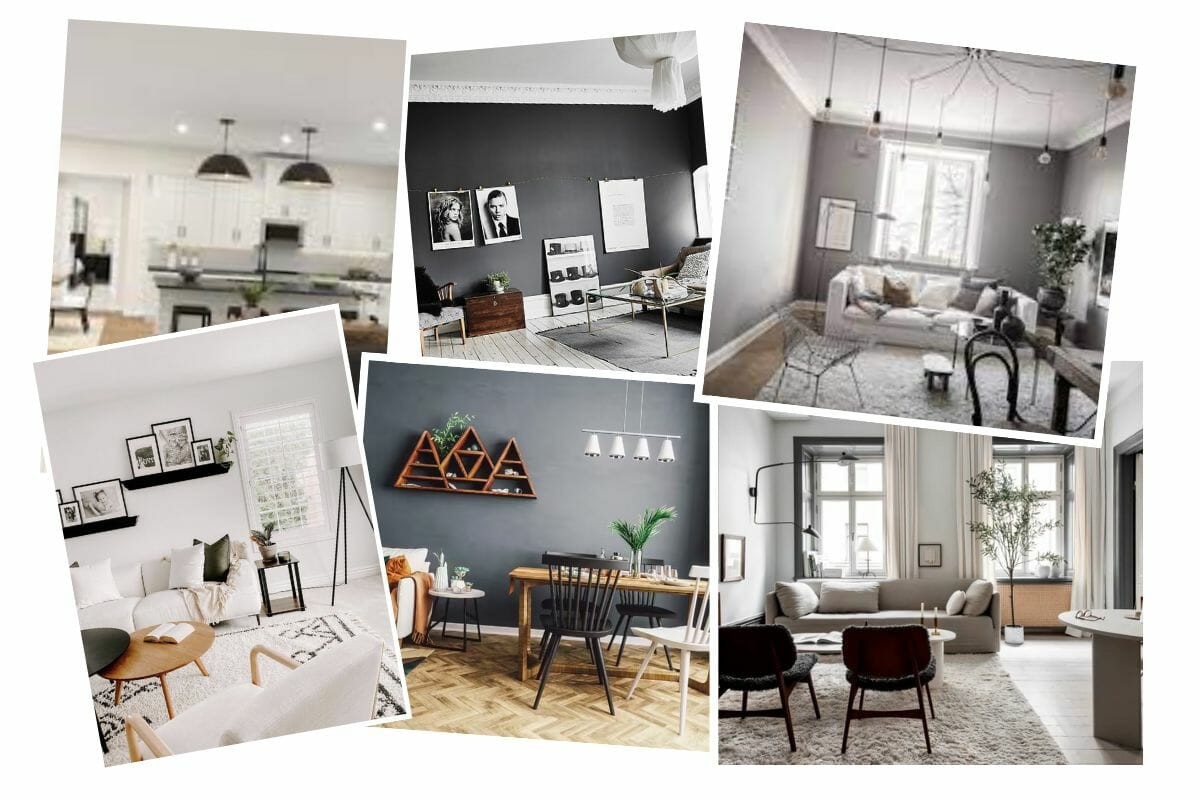 The client's inspirational images featured fresh color schemes, natural materials, bright wood, and plenty of light. Expectedly, those were the exact staples that make small Scandinavian living rooms feel as inviting as larger ones—as long as the essentials are in place. 
Nordic-Style Living and Dining Room Ideas & Moodboard
In addition to the inspirational gallery of Scandi-style living rooms, the client also completed the elaborate design questionnaire. While images offered valuable creative push, the quiz revealed their lifestyle, taste, and needs.
With this knowledge, the Decorilla team confidently chose two skilled designers specializing in the desired fashion. It took a while to weigh the options, but finally, the client's choice went to Rachel H. and her warm Scandinavian living & dining room design moodboard.
Rachel's creative solution for this Scandinavian decor scheme offered a perfect blend of elegance and functionality. The carefully curated set of elements grounded in a neutral palette created a contemporary appeal, while the clever use of decor and accessories ensured coziness and comfort. The subtle shading created a soft and fresh ambiance, emphasized through accent pieces such as the exquisite amber leather chair. 

Scandinavian Living Room Design Results
This modern, Nordic-style living room boasts a few key components that come together seamlessly to achieve a proper Scandinavian vibe. The white sectional sofa, accompanied by a modern swivel armchair and a sleek coffee table, serves as the backbone of the well-organized layout. The graphic rug and white, navy, and amber cushions and throws complement the setup perfectly, creating a harmonious scheme. 
While the fresh color palette sets the desired neutral foundation, clever accessorizing with multi-layered textures conveys a warm, inviting atmosphere. The result is a composition that elevates comfort without dislodging the minimalist simplicity of a typical small Scandinavian living room. 
How the Designer Transformed a Small Scandi-Style Living Room  
When it comes to achieving the perfect Scandi-style living room design, every detail matters. The original layout needed improved functionality and more seating options, but the limited floor space posed a serious challenge in addressing these issues. To avoid the room feeling cramped, the designer used clever solutions which helped establish visual balance. As a result, the bright palette combined with floor-to-ceiling curtains makes this small Scandinavian living room appear even more spacious than before, despite the additional furniture pieces. 
Scandinavian Dining Room Design
The Scandinavian-style dining room is an integral part of the living area; hence it features the same sleek aesthetics flowing throughout. Its minimalist yet slightly bold edge is softened by incorporating organic textures and subtle tonal changes. All elements stand out beautifully against the backdrop of the indigo wallpaper accent wall.
The cabinetry lends a built-in feel, while a sleek TV adds to the dominantly contemporary vogue. Simultaneously, the round Scandinavian modern dining table with velvet chairs juxtaposes these sharp forms. The key visual accent is, however, the molecular chandelier enveloping the arrangement with its chic elegance. 
Scandinavian-Style Dining Room Transformation Results
The existing cabinetry layout felt too weighty, making the small Scandinavian living & dining room feel dark and closed in return. Using a mix of practical and decorative elements, the designer remodeled it into a highly functional yet sophisticated composition perfect for unwinding with family or hosting small gatherings. Incorporating heavily textured elements and using layered veneer panels to add depth and interest also elevated the look of the space with a refined visual statement. 
Scandi-Style Living Room Shopping List
Transform your dull space into a stylish Nordic-style living room effortlessly, courtesy of Decorilla's hassle-free design service. In the early steps of the process, our clients uncover their homes' incredible potential with lifelike 3D renderings and expert advice. Next, a shopping list is curated just for them, featuring unbeatable trade discounts. And with the help of a white glove concierge service, it's easy to avoid the headaches often connected with ordering or transportation.
Nordic-Style Living Room Top Picks
The beauty of this style lies in its ability to inspire good mood, relaxation, and a sense of order. If you're seeking inspiration for your next makeover, check out our selection of stylish features, hand-picked for Scandi-style living rooms: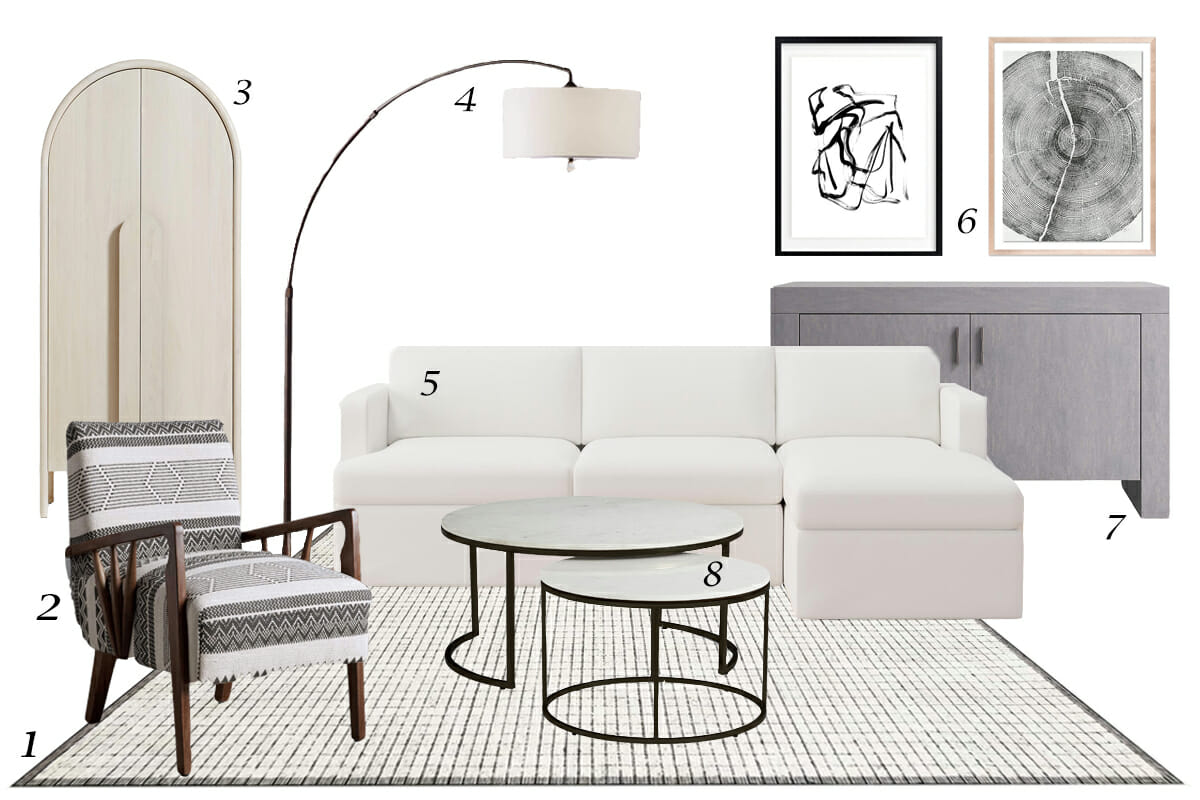 Looking for Scandi-style living room ideas curated for your home?
Our team of vetted designers can help create your dream interior. Schedule a Free Interior Design Consultation to start your project today!