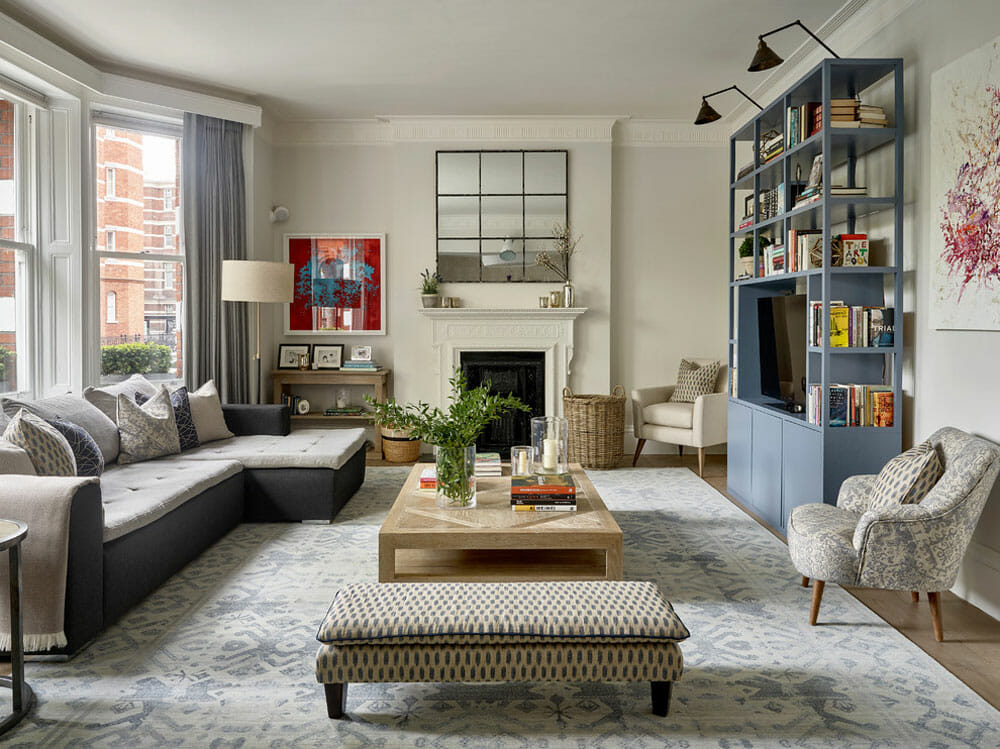 Apartments are often cookie-cutter layouts with little to no differences between units. But that doesn't mean you can't design your apartment to be unique. Adding a touch of personalization is easier than you might think. You only need two things to pull it off: a little decorating know-how and modern apartment decor. With this in mind, we've put together modern apartment design and decorating tips to help you get started!
Decorating a Modern Apartment
The blank canvas of a new apartment can leave you wondering "how do I decorate my modern apartment"? Taking the first steps in a homemaking project is often the trickiest part of modern apartment design. Whether you're hiring an interior designer or taking on the task yourself, we have the key design and decorating tips to make creating the home you want will be a breeze.
Modern Apartment Decor and Design Tips
Pick a Base Style
A home is often a blend of two or more styles. It's unlikely that you'll stick to one trend, but choosing a grounding style is important. It can act as a guide for making tough design decisions, and it will help you stay on track with the look you want to achieve.
Looking for

modern apartment decor but not sure where to start? Schedule your free interior design consultation

with a top online interior designer

today!
Make a Note of Dimensions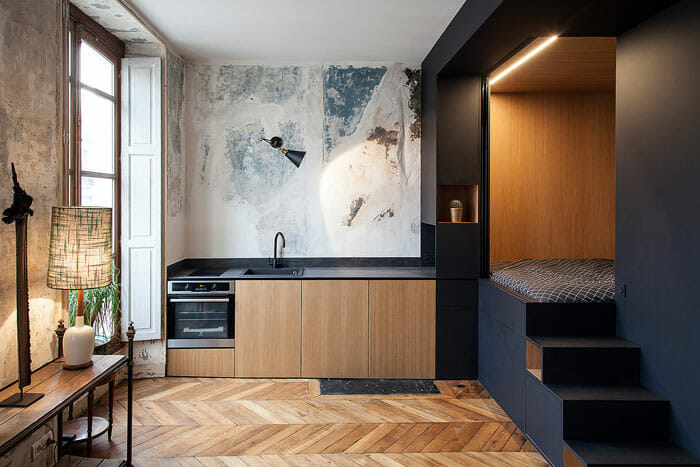 Essential furniture is a must, but can quickly become pointless in your modern apartment design if it is too big. Save yourself frustration and heartache by noting your home's wall-to-wall and floor-to-ceiling measurements when starting to design your apartment. Measuring the doorways can't hurt either. Some entryways are too slim for some furniture items to get through. Lastly, double-check the dimensions of whatever you want to ensure that it will comfortably fit the room.
Be Mindful of Lighting
Lighting influences every aspect of modern apartment design, from wall color to decor. The paint color on the walls, for instance, will appear differently in a home with softer light and one with cooler artificial light. Decor, like mirrored and metallic items, not only enhances the look of a room but also doubles the light.
Plan Storage
It's easy to forget about practical things like storage when you're wondering about decorations. But stowage is vital to successful modern apartment design. It keeps items organized and out of the way as well as opens space for more apartment decorating ideas.
Modern Apartment Decorating Ideas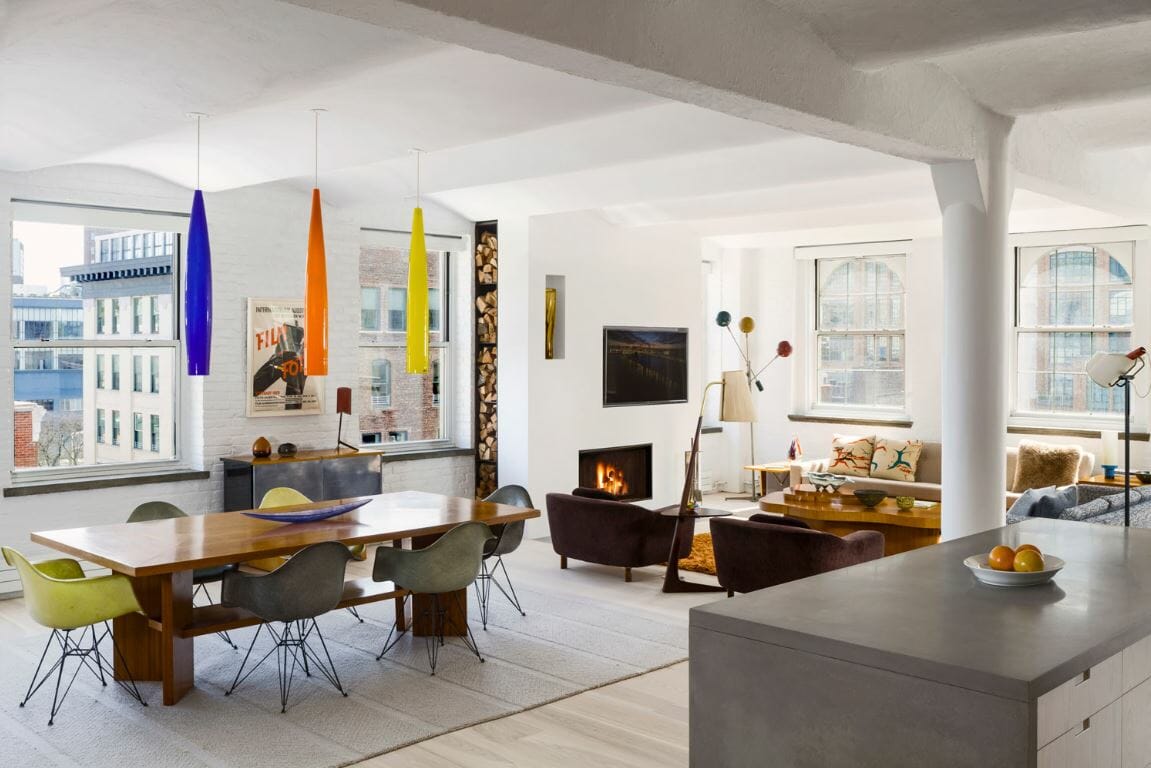 As your first step, get acquainted with modern apartment design ideas. Swoon-worthy online interior design images will certainly inspire you to perfect your modern home design.
Our 4 Favorite Modern Apartment Décor Ideas
1. Sliding Doors
Swapping traditional swing doors for sliding alternatives saves so much space while making a contemporary statement.
2. Open-Plan Layout
An open-plan interior gives you more space as well as the opportunity to create a cohesive design. One area can flow freely into another. For instance, a casual living room can seamlessly transition to a family kitchen.

3. Color Blocking & Zoning
A modern apartment design can get cluttered surprisingly quickly. But by using color blocking to design your apartment, you can create distinct functional areas. A splash of paint on the walls behind a desk in a living room, for instance, will visually separate the nook from a nearby sitting area.
4. Layering
Paying attention to the seven layers of an interior pays off. In addressing all the aspects of your design, you can create a full-rounded interior. Also keep in mind that every room consists of the same layers: walls and ceiling, flooring, upholstered furniture, accent fabrics, non-upholstered furniture, accessories and wall art, and lighting.
Consider Modern Small Apartment Decorating Ideas 
Apartments may be smaller than ever, but they can still pack a stylish punch. So long as you implement small apartment design tricks and trust your style sense, you can also decorate a swoon-worthy small apartment. Our favorite tips include zoning, incorporating illusions, and adding floor-to-ceiling elements.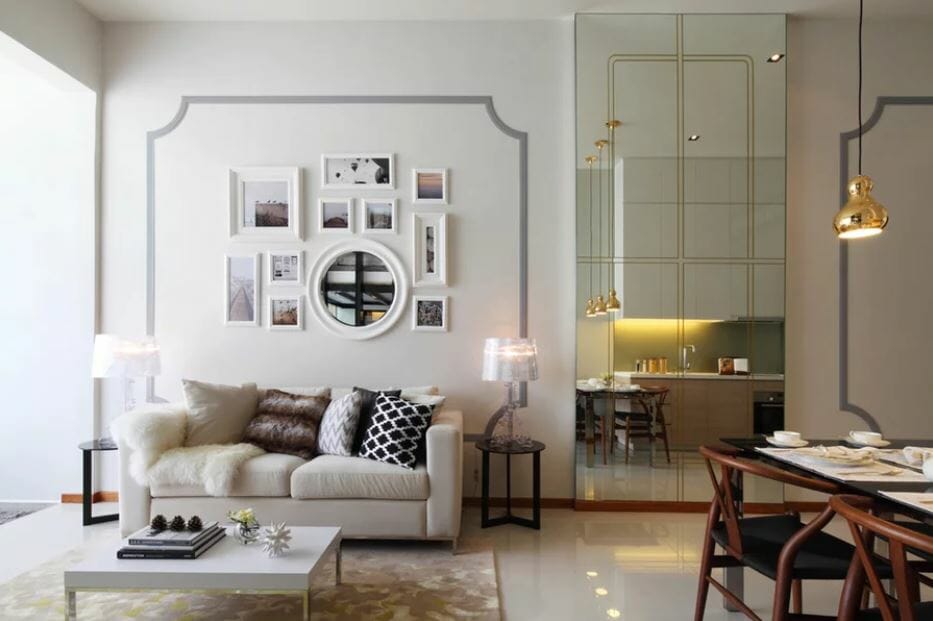 Firstly, zoning is the practice of creating separate areas in a multi-function room with color and decor like rugs. Secondly, you can make an interior seem larger than it is with visual illusions. For instance, a mirror can double the light of an interior while making it look a little bigger than it is. Finally, floor-to-ceiling furniture and decor, like curtains or shelves, can make a room feel taller than it is. Long drapes can also add a sumptuous luxury to any interior.
Modern Apartment Living Room Decor Ideas to Live Well
Creating a stunning modern apartment living room takes planning. Start by considering the main elements in your living room individually but also think of how they fit together. Essential pieces in a balanced living room include the sofa, coffee table, walls, and the TV cabinet. When you consider a couch, for instance, you'll think of possible throw pillows. But in the greater scheme of things, these accents should match those on the wall, coffee table, and cabinet.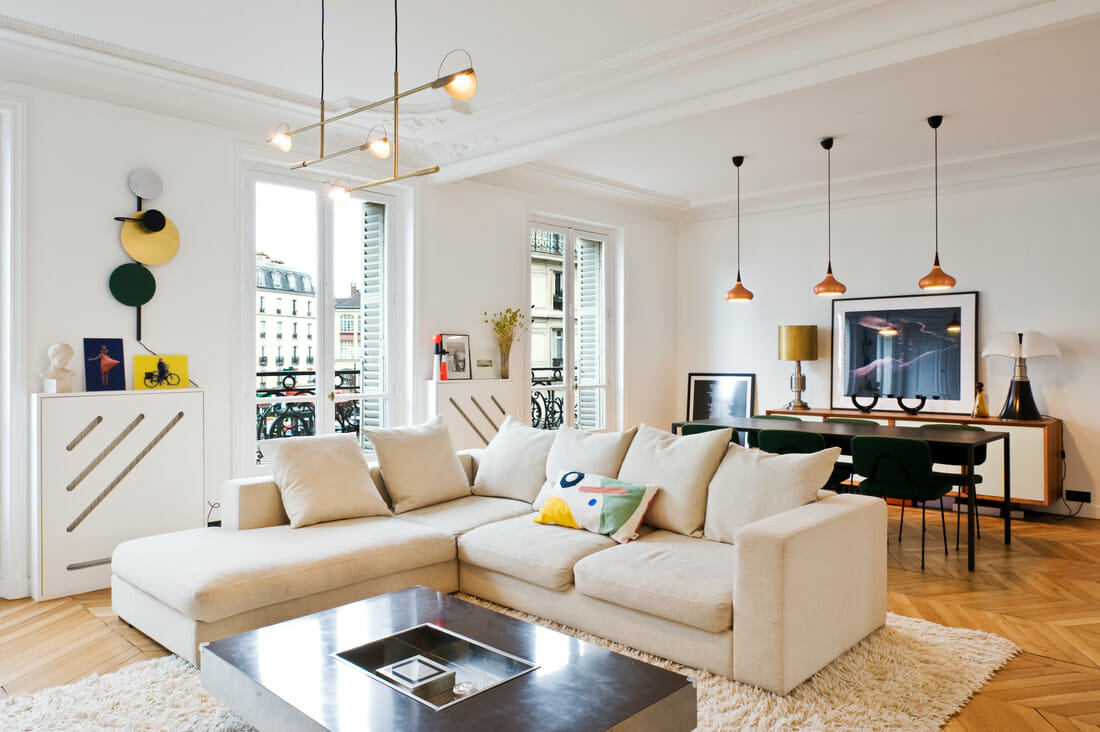 For modern apartment decor on a budget, shop thrifty or stick to the quality over quantity rule. This way, you'll only buy what you really want and what fits your style vision. Plus, you won't clutter your home with what you don't need.
Modern Apartment Bedroom Decor Ideas for Perfect Nights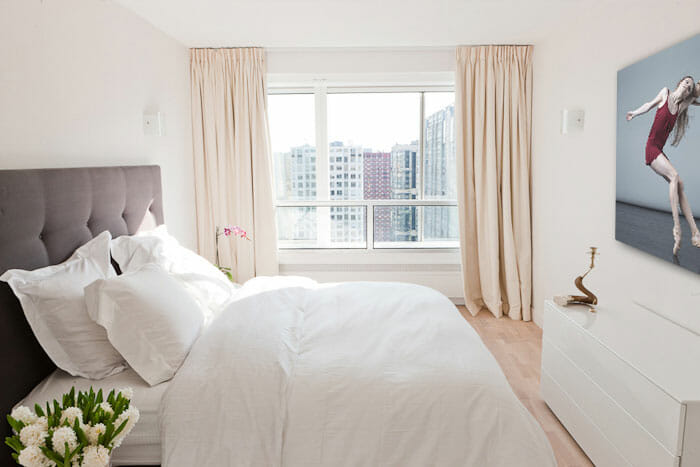 A bedroom is more than a pretty place. It must also be your one-stop rejuvenation center. Whether you take on the task by yourself or make use of online interior design services, you need calming apartment decorating ideas. Be mindful that a busy bedroom could make your mind feel cluttered. So keep it simple and stick with the necessities instead. A bed, two nightstands, closet, headboard, and pendant lights are all you need.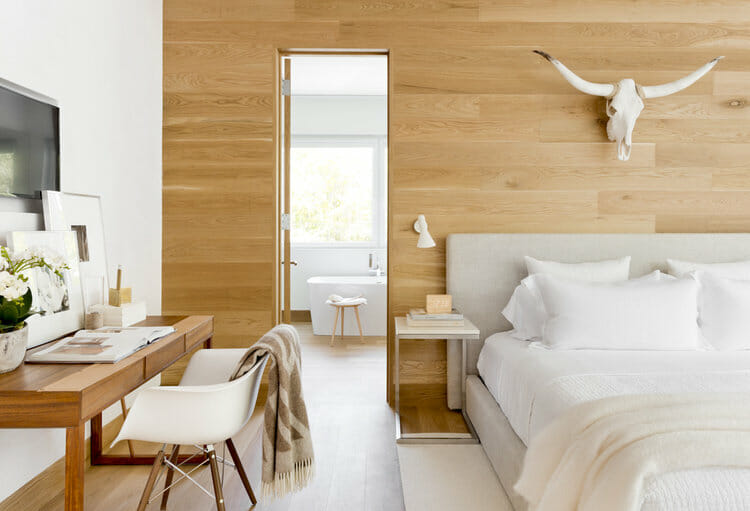 Make the most of the space by opting for sleek and minimal modern apartment decor. Too much artwork can also inadvertently distract you from your main goal – peaceful sleep. For an arty feel, an unusual headboard can double as wall art. The same applies to nightstands. They can be as unique as you want them to be – mix-and-matched modern or traditional symmetry. Just be sure to choose tables that have the same visual weight and size.
For a Unique Bedroom Try These Alternative Decor Ideas
Ceiling Decals
Modern apartment decor isn't limited to walls and tables. If you want to add intrigue into your modern bedroom interior, try ceiling decals!
Eclectic Doorknobs
Add a touch of whimsy with the humble doorknob. Many interior decor stores sell intricate and colorful doorknobs that could be just what your modern apartment design needs.
Sconces
Skip traditional table lamps and opt for sweet sconces instead. Not only will it open up space on the nightstands, but it will also add something unique to your home.
Damage-Free Modern Apartment Decor – A Tenant's Dream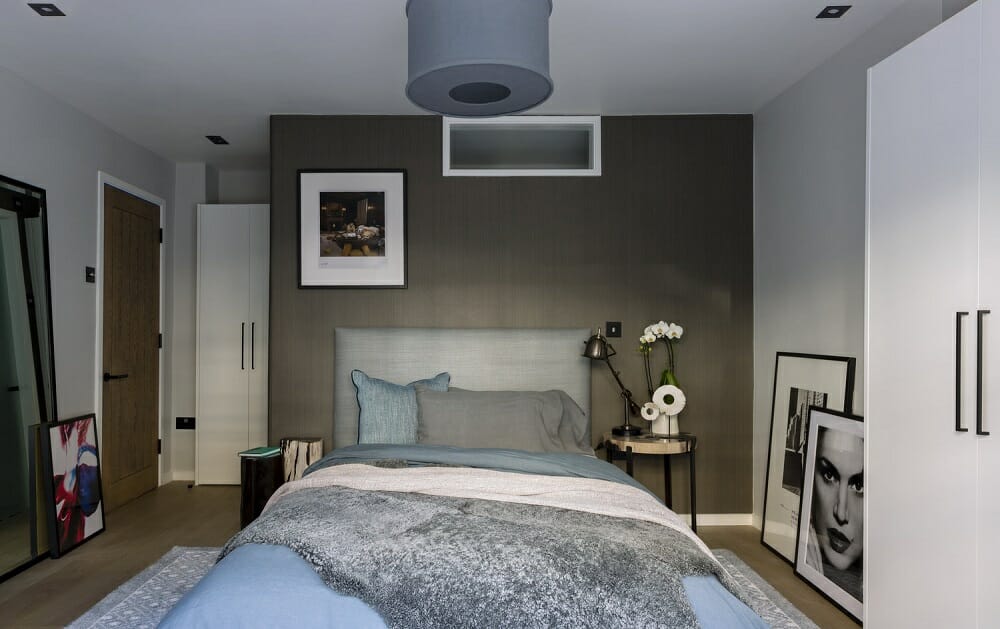 If you find yourself with a lease that's strict on decoration updates, always remember you can sidestep rental limitations with damage-free modern apartment decor. What's more, decoration that doesn't require nails is also great for people who prefer to change up their interior often.
3 Modern Apartment Decor Items That Won't Damage Your Apartment
1. Folding Screens
With origins tracing back to 206BCE China, the folding screen is here to stay. Nowadays, these dividers come in every possible style, from oriental to contemporary. You can use it as a strictly decorative feature or as a beautiful room divider.
2. Temporary Wallpaper
Thousands of temporary wallpaper options make it possible for tenants to really put their style stamp on their apartment.
3.  Tension Rods
If you want to hang curtains without installing curtain brackets, a tension rod could be the answer. These rods extend within a window frame, pushing against the sides of a recess. Keep in mind that lightweight curtains will work best with tension rods.
Modern Apartment Décor Inspiration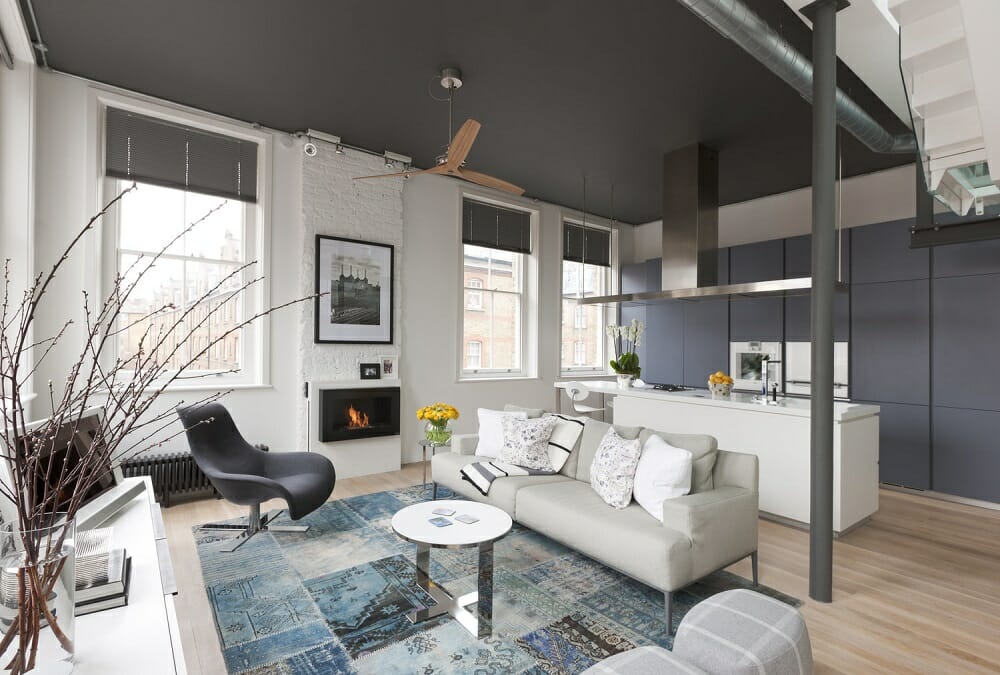 Breathtaking interiors are everywhere. And mid-century modern, Scandinavian, contemporary and transitional trends are among the most popular. To illustrate, we've listed some of our favorites below.
4 Inspiring Modern Apartment Interiors
1. Mid-Century Modern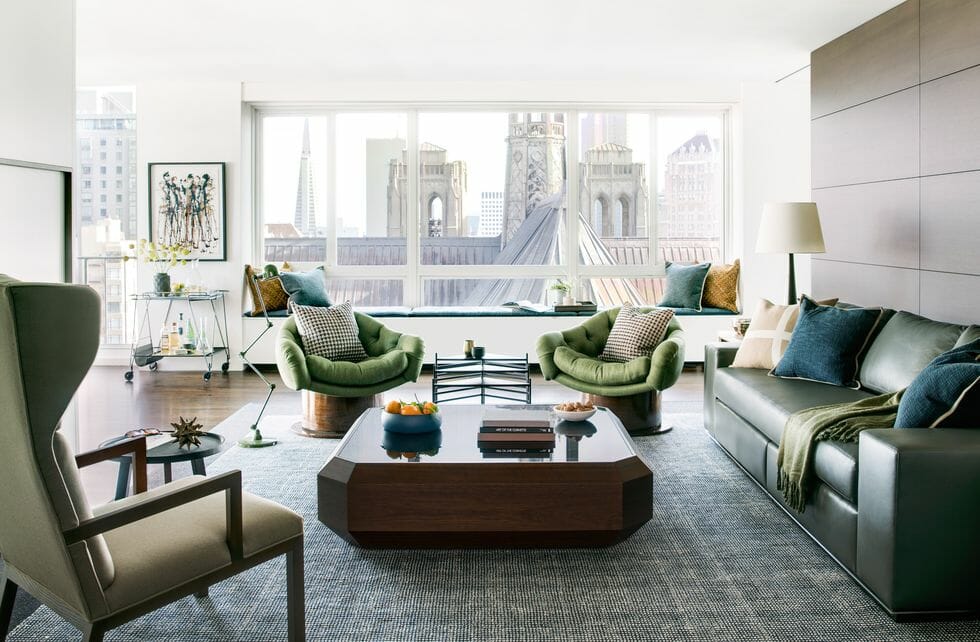 WHAT WE LOVE: A nostalgic look paired with clean lines and function-first furniture makes for a timeless modern apartment interior.
2. Scandinavian
WHAT WE LOVE: The neutral tones and minimal decor of this design trend work well for apartments with strict decorating limitations.
3. Transitional
WHAT WE LOVE: The perfect harmony between modern and traditional elements allows you to explore two popular interior design styles at once.
4. Contemporary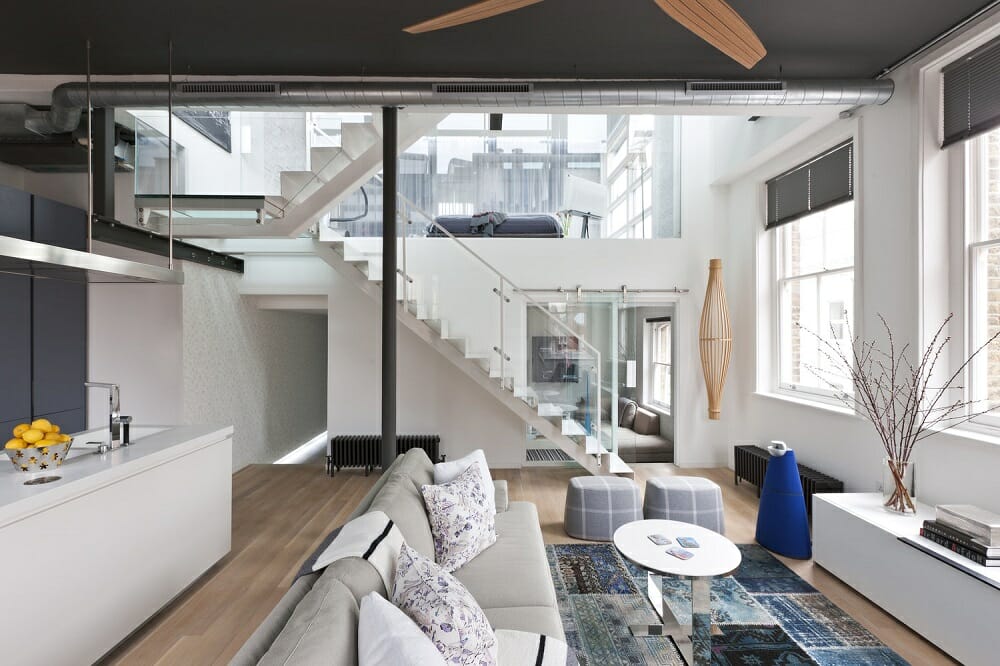 WHAT WE LOVE: The constant evolution of contemporary interior design and borrowing of elements from other styles gives way to endless decorating freedom to express yourself.
Feeling inspired to spruce up your space with modern apartment decor ideas, but not sure where to begin? Then schedule a Free Interior Design Consultation for expert assistance with getting started today!

[images: 1, 2, 3, 4, 5, 6, 7, 8, 9, 10, 11, 12, 13, 14, 15, 16, 17, 18, 19, 20, 21, 22, 23, 24]