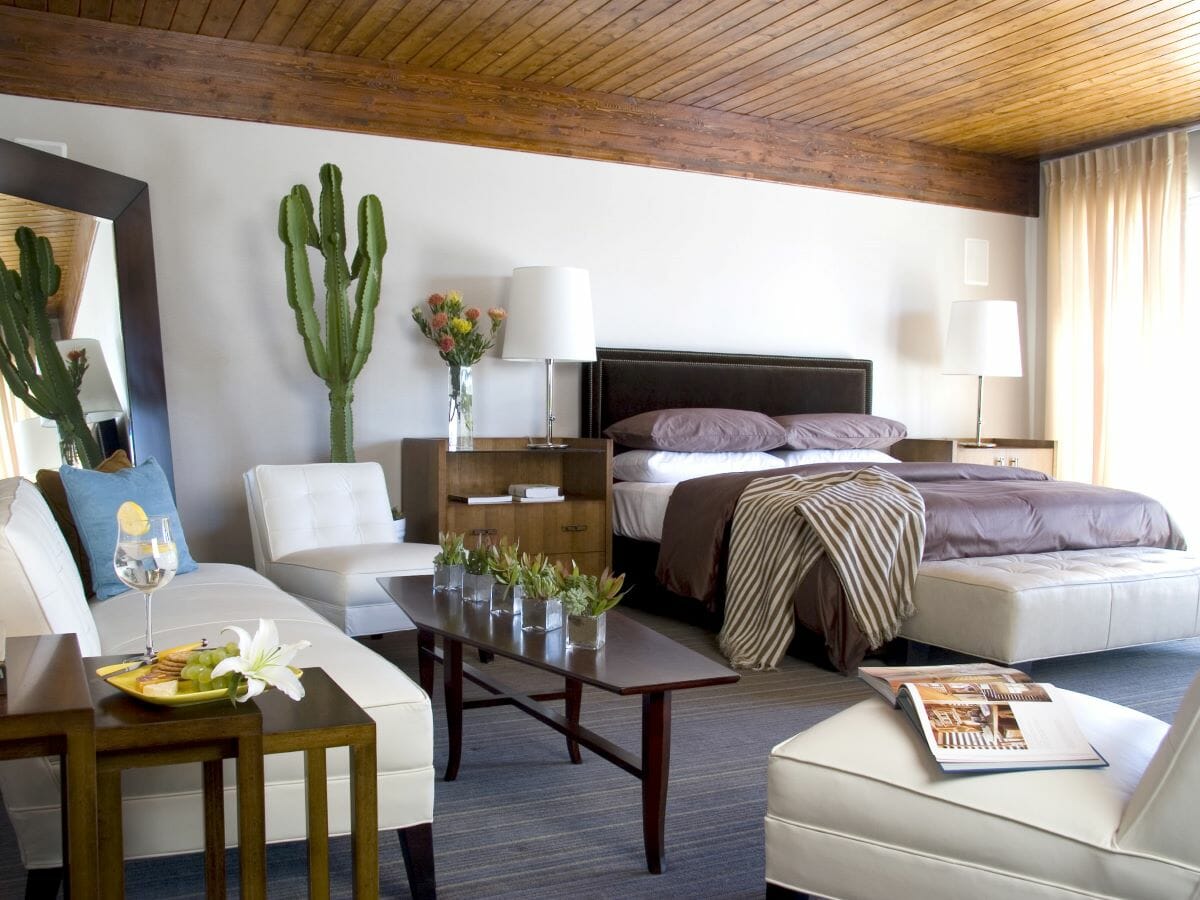 The bedroom is a private sanctuary in a home, one that many guests won't see. But this doesn't mean it should be designed with less care! In fact, we do one of the most important things for our health in the bedroom: sleeping. And a good bedroom interior design will make your nights even more restful.
Basic Bedroom Interior Design Tips
Before diving into the checklist, carefully set out your bedroom interior design ideas. Here are a few tips to help you along the way!
Pick a color

 that matches your style but also promotes peaceful sleep. Muted hues are best, but tranquil shades of forest green and navy can also set a calming backdrop. Remember that vibrant colors, like yellow and red, are energizing and might keep you up at night. 

Flooring makes a difference. 

The key is to make your bedroom comfortable, so choose something practical and warm. Carpets are a good option, but hard floors are great paired with a rug or two. Just remember to opt for a great area rug that expands beyond your bed.

Invest in a quality bed and bedding. 

Sleep is the bottom line of a bedroom. So take extra care in selecting a durable but high-quality mattress and good linen. The bed and frame can suit your style and even include drawers if you're low on space. But with the mattress, there is less flexibility. Ensure you pick the right one and pillows to alleviate any possible body aches, and invest in a high thread count duvet cover and sheets. 
Tip:

Picking your bedroom interior design style before starting is best. Still trying to figure out yours? Then take our

interior design style quiz

to find your true style!
Consider the size of the furniture and include essentials

. Apart from your bed, you'll have to think of storage and surface. Pedestals, dressers, and a bench or accent chair can fit into the room. But ensure enough space for your needs and scale it to your room and layout. 

Artificial lighting is a must. 

The best bedroom designing ideas have sleek pendants and gentle ceiling lights to emit a warm glow in the evenings. Include dimmable lighting and warm light bulbs to create a soothing environment perfect for preparing for rest.

Add curtains

 to block out external light. Not only does window dressing help sleep, but it can also add another layer to your design without cluttering the space. Whatever style you choose, ensure it fits properly above the windowsill. Keep in mind that a few inches higher and broader than the top of the window frame is best. Let it float on or just above the floor for a swopping and elongating effect.  
Essential Checklist for Your Bedroom Interior Design Ideas
Ready to discover how to improve the interior design for your bedroom, from guest rooms to master bedroom design? Then it's time to check out our bedroom checklist!
1. Function Comes First
To be sure your bedroom works for your lifestyle, you first need to think about how you will use the space. If sleep is the primary focus, then a bed and nightstands will be enough for a start. If your bedroom is also your closet, you'll need a wardrobe and more smart storage.
And if you like to hang out in your bedroom, you may also want to create a seating area with a daybed, a two-seater, or a comfy armchair. Either way, keep the furniture in your bedroom functional, including just what you need.
2. Ban Clutter in Your Bedroom Interior Design
The bedroom is a space to relax and recharge. So the last thing you want is to smother it in clothes, jewels, and other stuff! Get pretty boxes, baskets, and other small storage containers; they will help keep your bedroom interior design ideas tidy and organized at all times!
And if your bedroom is tiny, opt for furniture with multiple functions. For instance, a storage bed is a great choice. Give it a try, and you'll be amazed by the number of things you can fit below your bed!
3. Mindfully Mix Textures & Patterns
Mixing textures and patterns is an evergreen bedroom interior design idea. And for a good reason! Textures and patterns are vital to giving character to the space, adding interest and personality. An example? Patterned accent chairs, simple neutral bedding, and a few coordinating accessories are all you need!
Still, the interior design for a bedroom should focus on relaxation. So stay away from very busy patterns and keep the final result soothing to the eyes. You may even stick to a monochrome palette, using textures and relaxing patterns to bring interest.

4. Block Out External Light
Our brain associates nighttime with rest, so sleeping in the dark is essential to sleeping well. It doesn't have to be pitch black. But – especially if you live in the city – chances are your bedroom is far from being dark, even in the middle of the night. In this case, thick blackout curtains or blinds become a must to make your bedroom dark enough for a good sleep.
A TV, tablet, and smartphone should also stay away from your bedroom. These light sources can be worse than any other! In fact, the blue light of their screens can inhibit the production of melatonin, the hormone that tells our brain when it's time to sleep. So using your electronic devices in the bedroom can harm the quality of your sleep!
5. Layer Textiles
When it comes to your bed, layering is key. Once you have your bedding in place, enrich it with tactile bedroom designing ideas. Think decorative pillows and extra blankets! All these additional textiles have more than one purpose. First, they will add texture and pattern, helping to pull the bedroom interior design scheme together. But even more importantly, they will add warmth and coziness, making it an absolute pleasure to lie down and finally relax after a long day!
6. Add Greenery to Your Bedroom Designing Ideas
Greenery is relevant in a bedroom interior design and the rest of the home. Plants are always a good choice to give life to an interior. But did you know that plants can make your home healthier too? Some purifying plants are naturally able to clean the air from VOCs and allergens, making the air cleaner and healthier to breathe. Therefore, choosing the right plants for your bedroom will not only add a decorative piece to your space, but it will also help you sleep better!
Need help with your bedroom interior design ideas? 
So are you ready to step up your bedroom interior design? If you need professional advice, schedule Free Interior Design Consultation to chat with vetted designers today!