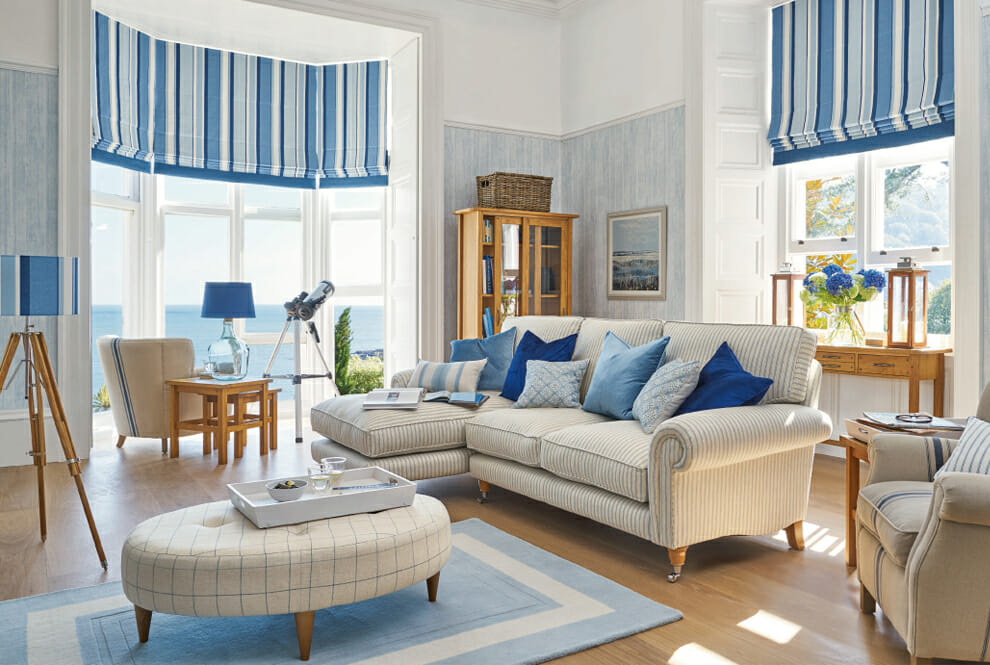 Light, airy, and blissfully beautiful. Coastal style interiors are not only pretty, but they also have a calming atmosphere. With a few tweaks on your own, your house can transform into a remarkably peaceful statement home. Read on for the complete guide on creating your calming coastal interior design!
What is Coastal Interior Design?
When it comes to defining different interior design styles, coastal interior design is often confused with nautical or Hampton's interior design styles. However, what sets coastal interior design apart is the laidback yet chic look. Modern coastal design embodies the atmosphere of a beautiful seaside retreat through color and furniture picks. Neutral and vibrant colors form the basis of the style as well as its texture-rich feature pieces like driftwood enhance its earthy aesthetic. Coastal style gets a bad rap for being tacky, but that's when it's mistaken for nautical style. Done right, this relaxing trend can make a home feel like a high-end island getaway.
Not sure if coastal interior design is right for you? Take our Free Interior Design Style Quiz to help discover your perfect style today!
What is the Difference between Coastal Interior Design Style and the Hamptons Style?
These two beach interior designs style may have many elements in common. But, when it comes to the details and the overall feel a house with Hamptons decorating style and a coastal home are worlds apart. Follow our cheatsheet below to tell seaside homey from island luxury when you need to.
You'll notice a distinct difference when it comes to the most natural element in Hampton and coastal interior design styles. In the elegant Hampton home, lilies or white roses will line a garden or adorn a dining table and manicured hedges often form part of the landscape design. Whereas lush plants like snake plants, palms and succulents decorate the garden and interior of a beach interior design.
Neutrals form the basis of Hamptons and coastal style homes, but the difference comes in the accent and highlights colors. Coastal interior design highlights the lively and laidback aspects of a sophisticated beachy resort. That's why these homes will have vibrant pops of yellow, coral and turquoise. Hamptons, on the other hand, explore dark accents as navy and stone add elegance to the stately style.
Rough and raw captures the essence of a beach interior design's natural elements. Coastal styles cherish the character of unique modern beach house décor while Hampton's interiors favor dark and polished finishes like walnut and rosewood flooring. Painted china also work exceptionally well in a Hampton's home.
Coastal interior design trends are playful and flexible when it comes to patterns. In a beachy home, you can easily swap a scatter cushion for a brightly colored accent cushion with a trendy print. But the elegance of the Hampton's style living space is better matched to paisleys, geometrics, and brocade.
What are the Coastal Interior Design Characteristics?
All homes with a coastal interior design style have visual characteristics in common. Coastal decor can even work in the cooler months! Click here to find the best ways to add winter decor to coastal design. If you want to create your own beach interior design, update your home's look by adding the signature elements below.
1. Beach Interior Design Basics: Layered Neutrals
Refreshing and relaxing is what a home with a beachy interior design feels like. For that, we can thank this design style's light color palette. Crisp whites and neutrals form the basis of coastal interior design, and the lighter, the better. When it comes to color in a modern coastal design, less is more. Light walls will certainly make the interior feel roomier and crips white linen can add a holiday touch to a home. Don't be afraid to play with neutral colors. Mixing sandy and white tones can result in a beautifully beach-inspired home.
2. Lovely & Comfy Linen Furniture
Pack away your suede and satin, because modern coastal design is all about casual and chill. That's why linen and cotton are a must in beach interior design homes. Lazy summers spent relaxing on a daybed on the porch is made even more comfortable with soft, touchable textures. No-fuss textiles make perfect slipcovers that are ideal for families. Not only can slipcovers be washed easily but you can also get creative with your choice of fabric. Lighter will make the room feel spacious while a pop of color can uplift the look.

3. Coastal Vibes With Free Airflow and an Open Plan Layout
Beachy interior design needs an open floor plan to create a breezy and airy atmosphere. Removing or restructuring borders can ensure that one room seamlessly flows into another, especially in an open plan living and dining room. Minimal modern beach house décor can bring larger open spaces together with a cohesive look. Often overlooked spaces like a hallway or a reading nook can feel exceptional after the addition of one or two accent pieces that help it flow into other rooms.
4. Outdoor-inspired Modern Coastal House Decor
Modern beach house decor is unlike the traditional beachy motifs we associate with coastal interiors. Now, subtle seaside touches in artwork or textured décor pieces add the finishing touches to a harmonious coastal style home. These beachy colors, like white and turquoise, or textures from rock, sand, and shell, can make a house feel like an island paradise. Apart from playing with color, you can enhance the coastal appeal by adding a typical seaside element, like a hammock. You can embrace coastal elements without it looking tacky. Start by avoiding clichéd anchor and fishy prints. Instead, let the landscape guide you. Bluegreen glass vases, earthy ceramics, jute grass rug, and different blues can remake your home.
5. Bursts of Colorful Fabrics
Any beautiful beach has one or two standout accent colors. Bright pinks from coral, green from surrounding foliage and burnt orange from the sun make the seaside irresistible. Add a pop of color into your home with modern beach house décor and textiles.
6. Carpet-Free Coastal Style
If you are tired of carpets bundling up where they shouldn't or are looking for a quick coastal interior design style update, its time to let the rug go. Removing the rug to expose a beautifully warm wood floor or cool concrete cover could instantly make your home feel more coastal than it did before.
7. Weathered Wood Underfoot
Light wood floors and furniture are still desirable in modern coastal interior designs today. The reason stems from the beauty of a piece of weathered wood. Blond woods like ash and beach are stunning flooring options that are durable and visually pleasing. Use a light floor cover throughout your home to join different parts of your home together.
8. Natural Fibre: A Coastal Interior Design Must
Going to the beach is a multisensory experience. Not only can you see the extraordinary beauty of the seaside, but you can also feel the sand through your tones and hear waves crashing on the shore. Continue the journey of the senses with modern beach house décor. Curtains flicking in the wind will enhance the sound of the wind, seagrass area rugs add luxurious texture, and rough linen scatters can pull the room together nicely.
9. Natural Light for Ambience
Large windows that let in ample natural light is ideal, but not always possible. Nevertheless, you can make natural light double with minimal window treatments, an eggshell wall finish and a large mirror that reflect light into the building. Alternatively, you can mimic natural light by adding warm artificial light into your home.
10. Light Window Treatments
Wispy white curtains that move with a soothing breeze is certainly a pretty sight. Increase your sensory experience (see natural fiber above) with the sound of the wind catching the tule window dressing. The effect can be relaxing, magical, and even blissful.

The 12 Essential Coastal Interior Design Do's and Don'ts to Live By
Each beautifully designed beachy home needed coastal interior design tips sooner or later. Luckily, we've put together what you should and shouldn't do when creating your calming home.
Do: Design around a color palette
Creating a cohesive and harmonious coastal interior design is possible if you stick to a few chosen colors. You can pick one to three main colors with one to two accent colors. For a beautifully beachy interior design home, your primary tones will lean toward the neutral spectrum of white, grey and beige. Highlight hues can be bright but add them with discretion without going overboard.
Don't: Design around a theme
Staying away from themes, in general, is the safest way to get started on your modern coastal home. If you pick a theme like sea life, you risk creating a home that feels outdated or kitsch.
Do: Add a coastal element
One or two nautical details can add chic whimsy to a room. For example, chunky rope or delicate netting can double as curtain tiebacks in a coastal living room, and a part of an old boat like the wheel can make an incredible statement feature in a spacious entryway.
Don't: Overdo the seaside component
Your house is not at sea, which is why too many nautical memorabilia might look off and tacky in your home. Keep it simple by sticking to a few favorites.
Do: Make the most of natural light
The coast is synonymous with sand, rolling waves and sunny days. So, it comes as no surprise that coastal interior designs are light-filled and bright. Let in as much natural light as possible by increasing the size of your windows or use a large mirror as a statement that doubles the light. Higher ceilings and light walls will also make your interior feel well lit and airy.
Don't: Add cold artificial light
As a beachy interior design copies the warmth from a sunny day at the beach, cold light will feel out of place. Instead, choose a combination of layered lighting that works well together. Focus on task, accent and general lighting. Task lighting can have a cooler hue but accent and task lighting are better warm.
Do: Choose minimalist or abstract beach-themed art or pattern
Contemporary art is making impressive strides every day. Interior lovers can have fun by playing with abstracts or minimalist artworks that embody the feeling and look of the coast without being obvious. Soft, flowy brush strokes can resemble waves, wind ripples in the sand or even a striking sunset. Alternatively, macro photographs, closeups of coastal flora, in particular, can have a similarly abstract and impressive look.
Don't: Decorate with outdated seaside motifs like fish and shells
Well-known beachy décor patterns and motifs like fish, shells and anchors are too blunt for a contemporary beach interior design. Statement shells or dried coral is also much more beautiful than a print or pattern. Plus, the natural elements will add a much needed textural touch to the modern coastal design.
Do: Be inspired by nature and play with color
Coasts around the world have an idyllic but unique beauty. One beach might have black sand, while another has green water. Let nature guide you as you play and experiment with your color palette. Black or charcoal might give your beachy interior design the spark its been missing.
Don't: Stick to the traditional color take
Blue, beige and yellow are the typical colors associated with the beach. However, it's important to expand your interior reference to create a home perfect for you. Green, purple or red can also form part of your design.
Do: Add weathered wood
Blond and white woods with a texture like driftwood still give coastal homes its beautifully balanced appeal. The rougher elements like wood, shell and rope complement soft textiles and wispy sheer or tule curtains.
Don't: Carpet the floor
Carpeted flooring is one thing we don't see in calm coastal interior designs. Simple and elegant flooring like timber, cork or tile creates an excellent care-free basis as these materials do not stain and clean easily.
Types of Modern Coastal House Décor
Coastal interior design is not boxed in, which means it can pair with other design styles to reflect your taste. By adding a few décor elements from another style, you can create a unique yet cohesive look. Here are the top variations of the modern coastal interior design:
French Coastal Design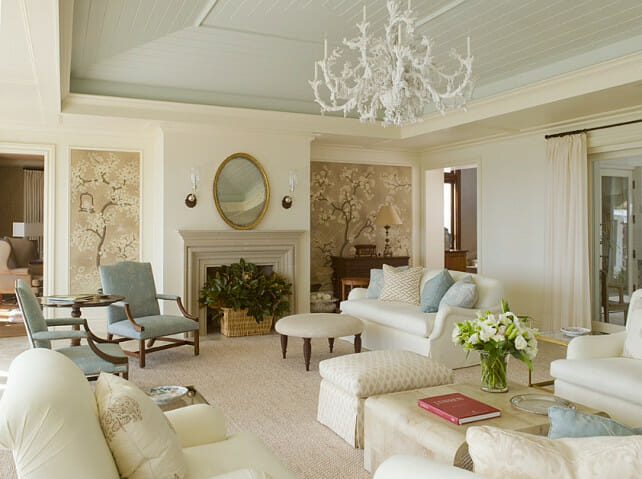 French coastal design is perfect for those who admire ornate antiques, have a passion for an artistic aesthetic but also want their home to have the relaxing atmosphere of a seaside getaway. These interiors balance comfort and chic effortlessly. You can update your coastal interior design by adding a detailed chandelier or a delicate table with curved legs similar to the French baroque style. There is no right or wrong, that's why experimentation is vital. Play with unique finds and incorporate these into your home to see whether the result is pleasing or not. French furniture is often dark, but you can choose unfinished wood or you can sand down the legs of a coffee table to make the piece more casual.
New England Coastal Design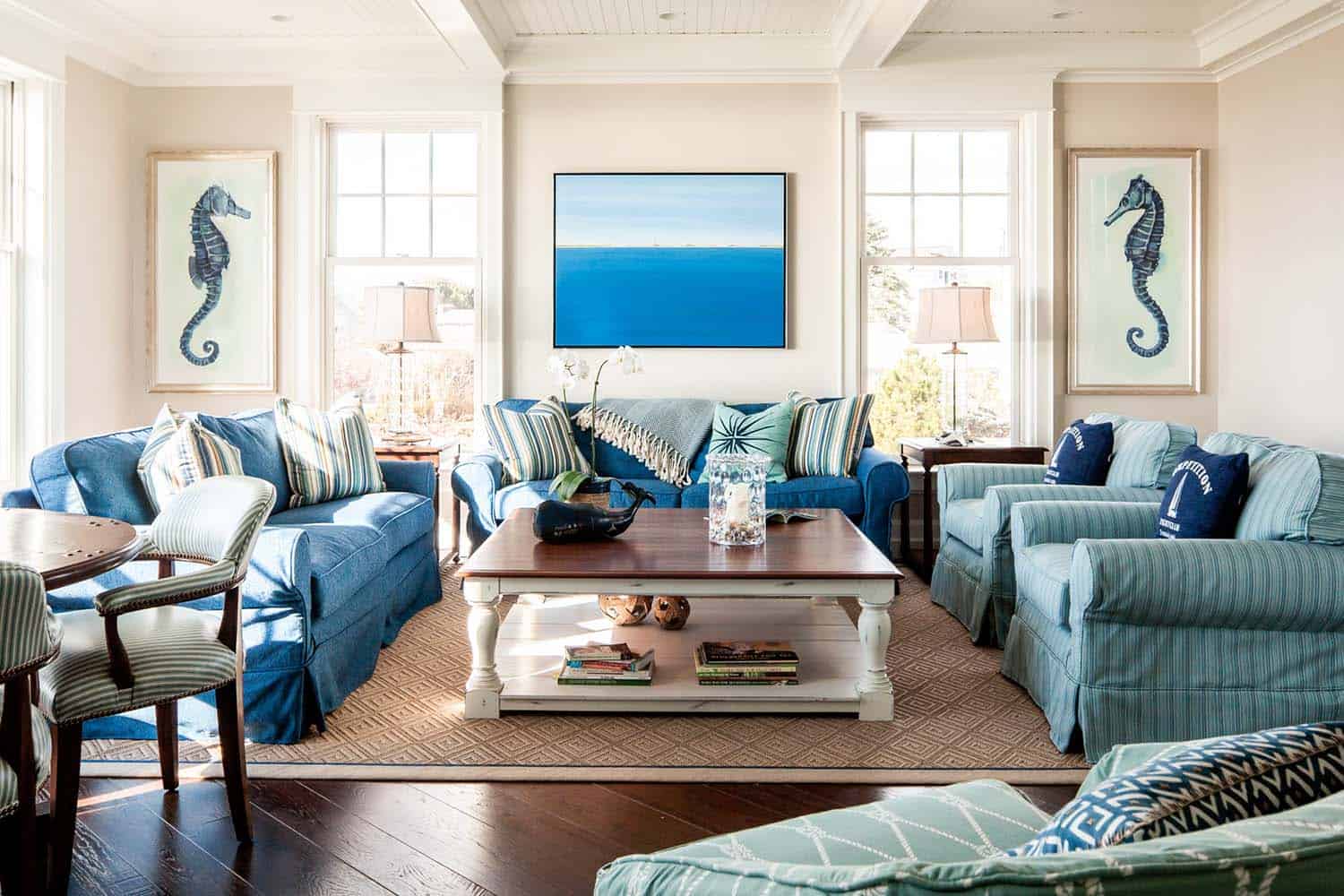 A New England coastal home resembles a British seaside cottage. To get the look, you can add a plush sofa, with a focus on comfort, and whitewashed wood cladding. The artwork is minimal, but the pieces that are there are more traditional landscape or seaside based.
Italian Coastal Interior Design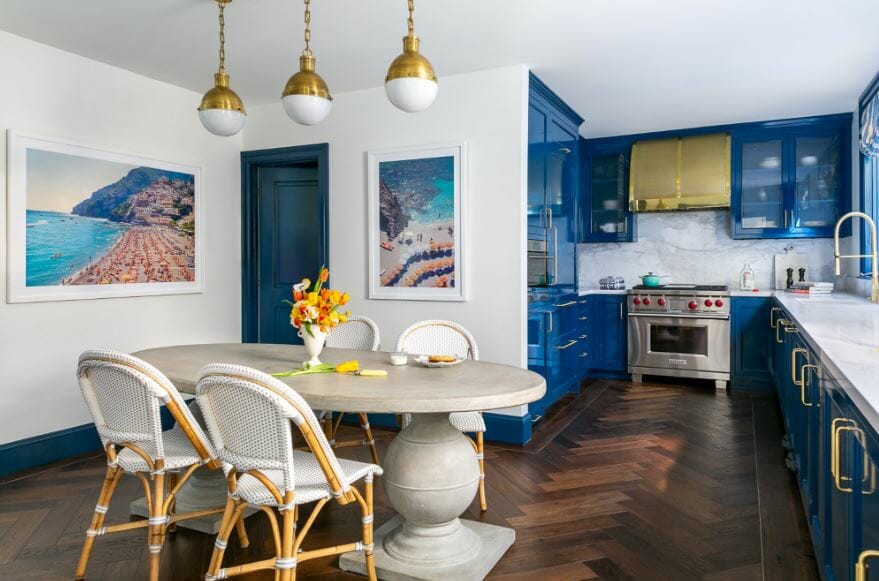 The Italian twist to coastal interior design comes in the form of architectural opulence. Arched windows and cornice detail in the ceiling set this Mediterranean version apart from the others. Make your coastal look pop by making a statement feature of your windows. Carved elements like sculptures and terracotta tones, either in tiles, fabrics or ceramics will give the perfect amount of European opulence to a casual interior.
Scandinavian Coastal Design
Scandi coastal is cool, calm and collected without being too cold. These interiors feel a bit cozier than any other, but they have the signature light wood in excess. The light woods in Scandinavian coastal design resemble driftwood in color and texture, which give this variant a truly exceptional look and feel. Try the Scandinavian take on coastal interior design by sticking to a muted color scheme with large coastal elements.
Want to freshen up your home with coastal interior design?
Our team of top interior designers can help design the perfect coastal interior for your home. Schedule a Free Interior Design Consultation and start your design journey today!