Beach interior design gushes a natural coastal air. From organic elements to soothing blues and whites mimicking the ocean, it's certainly covetable. And it's not difficult to see why it's such a loved style. Read on for all the inspiration you'd need with our favorite beach home interiors! 
Best Beach Home Interiors
Take your love of beach-style design to the next level with oceanic decorating ideas imbuing dreamy homes. With organic textures and a nautical atmosphere, this style overflows with summer holiday vibes! Let's jump into beach house interior design rich with a cool coastal vibe.
Wondering if beach interior design is right for you? Then, take our quick Interior Design Style Quiz to find your home style today!
1. Honor Natural Elements
Glass and wood are a classic combination in beach house interior design. Here, a cut log coffee table forms a statement as the clear top lets us see its texture and detail. The décor also evokes a sense of the outdoors in this coastal interior design.
2. Fun Contemporary Shell
A small touch can bring a coastal look to contemporary beach interiors. This chic bedroom, for instance, has a fun scallop scatter pillow right at its center. It gives a fun touch to the sleek space.
3. Teal Chairs
This sunroom takes inspiration from the sea. Its color scheme mimics its surroundings thanks to teal chairs and a light cerulean L-shaped sofa matched with dark wood and stone hues.

4.
Light & Bright
This light and bright kitchen echoes the atmosphere of the coast. Thanks to the mix of white, subtle sandy tones, and a pop of blue, the result is a calm yet well-thought-out space.
5. Built-In Shelves to Display Beach Interior Décor
Shelves lined with coastal décor add a touch of interest to this room. In addition to saving space, these shelves also show the beach interior's character. 
6. Bare Floors
Modern beach interior design often features bare floors. It's because their setting is warm or humid, where carpets would heat the room unnecessarily. Instead, tiled flooring takes precedence – just like this beach house design. Wood and stone also make great flooring options.
7. Bring Outside In
This beach design incorporates life with greenery. As a result, it evokes a feeling of living in the tropics, close to the seaside. Natural hues, inspired by the outdoors, create an outside-indoor air.
8. Beachy Rugs 
Everyone enjoys feeling at peace in their own space, and coastal homes certainly have that calming air. One way these interiors strengthen a casual and tranquil ambiance is with tactile comfort underfoot. Like this beach house interior design, softness comes with an Aegean blue rug.
9. Nautical Flair
Many things associated with the sea can complement a beach-themed interior design. This suspended wooden canoe brings an undoubtedly maritime feel! That said, be selective in the motifs you use. Opt for subtle touches instead of adding too many aquatic hints. 
10. Whitewash Furnishings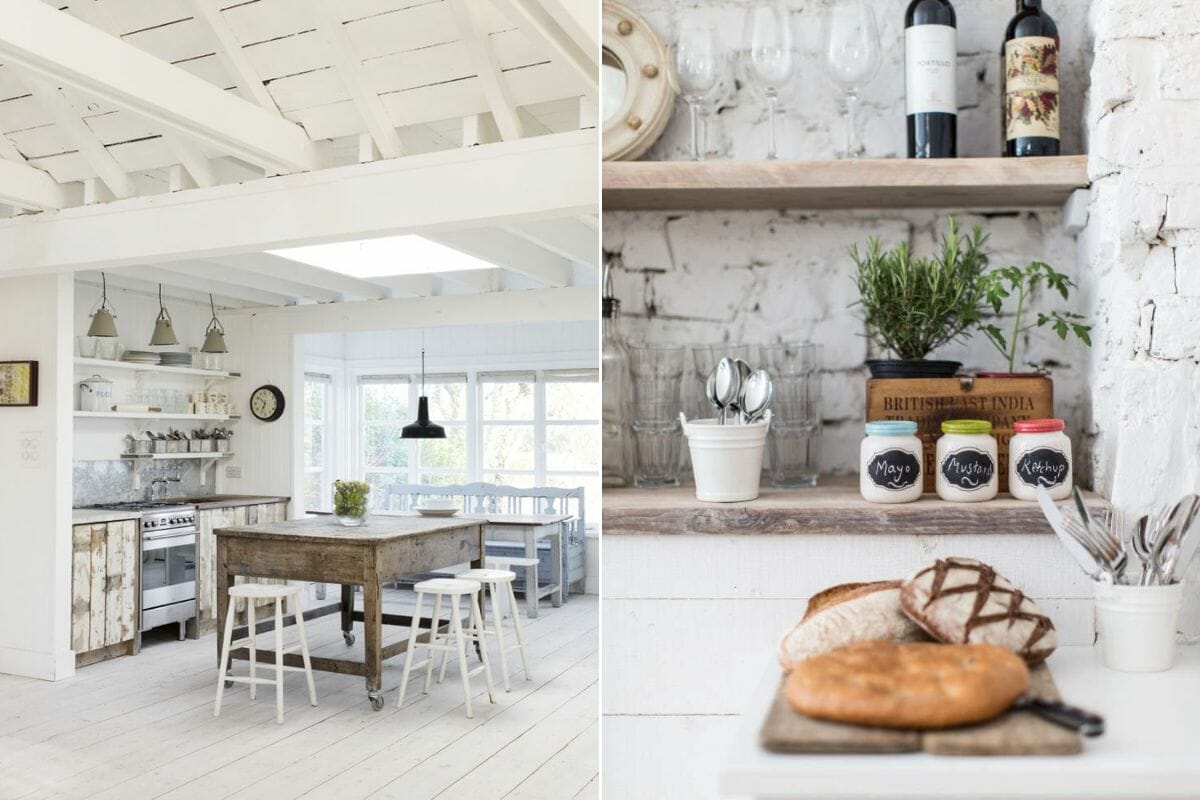 Few things say "beach" quite like whitewashed furniture. The weathered aesthetic of white-tinted wood or brick is perfectly at home in these casual coastal kitchens.
11. Beach Interior Design Lighting
Correct lighting can create the most relaxing atmosphere. With warm lightbulbs, light from pendants can resemble the gentle rays of sunset or sunrise. Beach home interiors, like this breezy blue kitchen, layer light to bring sunshine any time of day.
12. Wispy Linen Drapes
This beach home interior design incorporates flowy linen drapes for a beachy feel. On the one hand, these curtains filter light and provide privacy. On the other, they evoke a coastal, airy feeling in the room while adding texture and interest.
13. Limited Color Scheme
Too many colors can stimulate the human mind. This beachy home takes inspiration from the seaside with its muted color scheme. The result is a tranquil setting, perfect for unwinding or starting the day on a peaceful note.
14. Rough Textures
This beach house interior design represents the rugged coastline. It does so through a mixture of stone, wood, and tiles – resembling the cliffs and beach pebbles. Smooth textures also feature and bring a contrasting balance.
15. Oceanic Art
The artwork captures the twist and twirls of the sea in this contemporary bathroom. Moreover, the vivid strokes of impressionist art sit well in beach-inspired interiors.
16. Airy White Interior 
Just like light reflecting on the sandy beach, it illuminates this white interior design too. The kitchen has a spotless and pristine feel while evoking a coastal air thanks to its white and sandy color combo.
17
. Small Details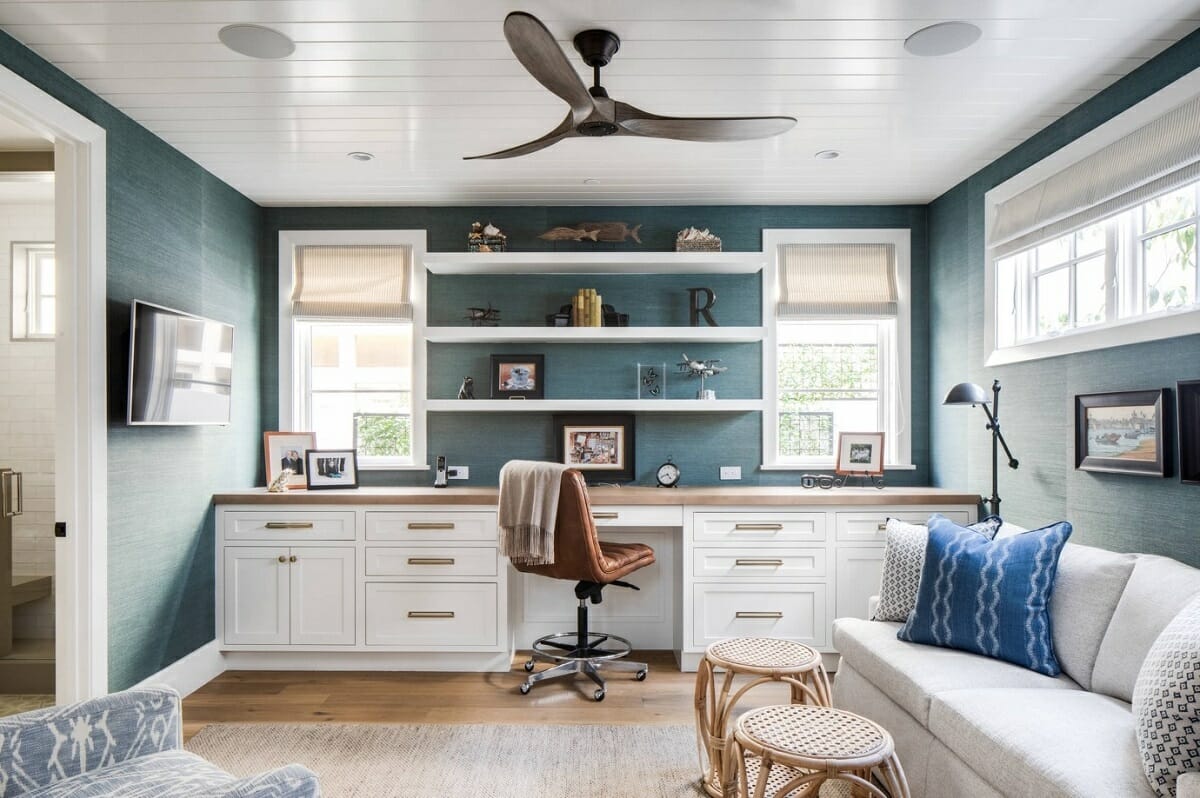 Coastal décor brings a sense of light-heartedness to any design. Here, a comfortable home office shows how the little things can make an impact! 
18. Rope Décor
Beached interiors are often easy to create with nautical-inspired décor and color. That said, it's best to keep things simple, like using a rope as wall decor. It's fun and perfectly beachy!
19
. Porch with a Beach-Inspired Interior Design
Comfy and light-colored furniture is essential for a beach interior design. This porch-meets-sunroom takes advantage of the warm weather and can extend hangouts well into the cooler months.
20. Ceiling Fans
Ceiling fans help to keep things airy in a coastal home. Plus, beautiful designs ensure a dual function as they can be uniquely decorative too. This particular fan plays on a rustic element within a beachy living room.
21. A Bit of Tie-Dye 
This cozy bedroom has an instant coastal uplift with a pair of throw pillows. Their white and blue tie-dye pattern resembles the beautiful tints in crashing waves.
22. Accent Wall
Keeping things natural pays off in beach house interior design. This stone accent wall, for example, invites a coastal air by using the outdoors to guide the indoor style.
23. Outdoor Inspired Décor
Beach home interiors are all about natural décor. Décor can be wooden or cork elements, like the accent table and chandelier bringing the coastal look to this bedroom design.
24. Blue Tiles
Instead of small accents, make a big splash with blue tiles in a white and wood bathroom. Here, hexagonal tiles are just what this interior needs for a fresh oceanic boost.
25. Blond Woods Underfoot
Living by the ocean often comes with talking strolls on the golden sand. Warm, blonde floors in a beach house interior design can resemble this pleasant glimmer, especially when glowing in the summer sun.
26. Natural Fibers
Beaches are abundant with natural fibers that could suit a home too. Seagrass, for instance, can create an area rug or textured pillows. Here, textures bring a memorable sensory experience befit of a beach-inspired home.
27. Glass Décor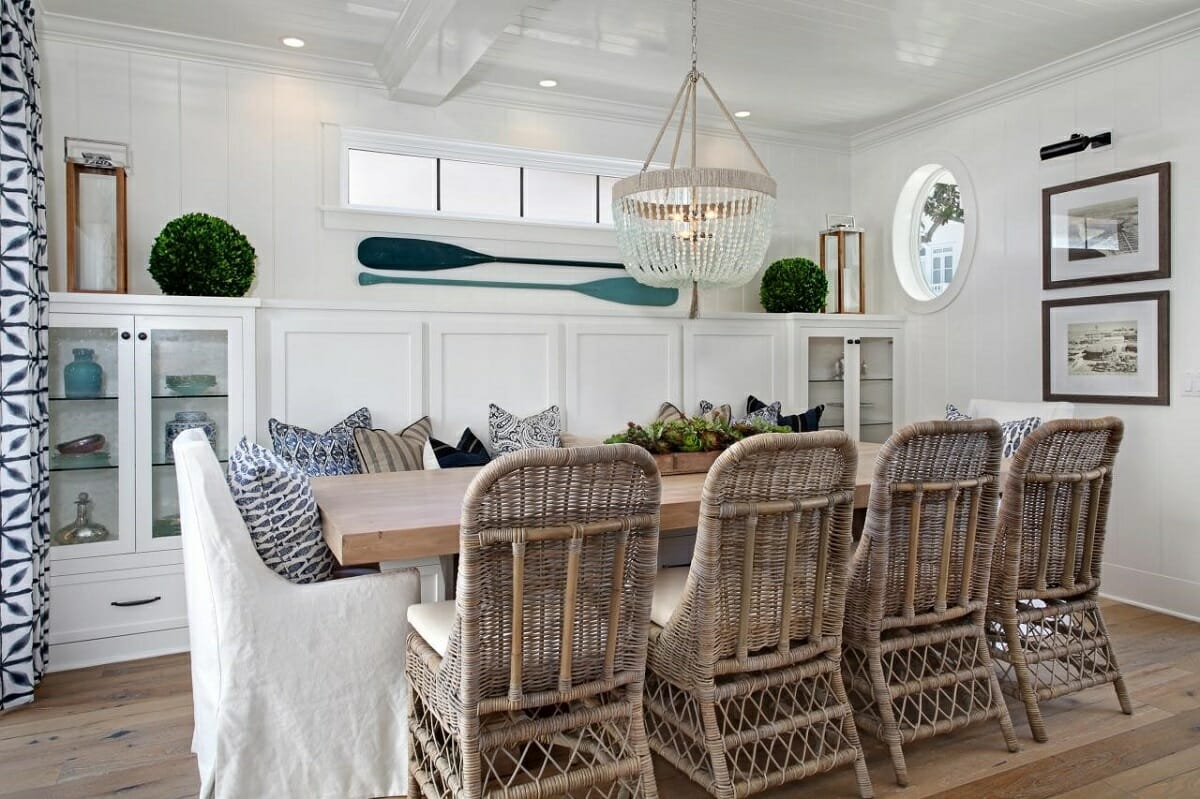 Nautical accessories made from sea glass are fitting for a beach home interior. This chandelier, for instance, consists of glass fragments that create a whimsical air.
28. Beachy Bedding
Living on the coast means being surrounded by seaside colors. Typically, this goes with light, sandy tones mixed with white and blue. However, the moody spectrum is just as at home in a beach-inspired interior design. Here, layered bedding with hues from the seaside is just what this bedroom needs.
29. Open-Plan Beach Interior Design
Airy and spacious open-plan layouts have a phenomenal atmosphere. Just like a breezy beach, these floor plans feel effortless and flow from one object to another. In this beach house, a combined kitchen, living, and dining room creates a harmonious design and airy feel. These are essential qualities of a beach-style interior design.
30. Dark Wallpaper
Bold moody wallpaper can accentuate beach-style home interiors. This dining room has an undeniable coastal look with its inverted color scheme.
Want your own dreamy beach interior design?
Your ideal beach interior can become a reality! Simply schedule a Free Interior Design Consultation with our leading team of design experts today.

[images: 1, 2, 3, 4, 5, 6, 7, 8, 9, 10, 11, 12, 13, 14, 15, 16, 17, 18, 19, 20, 21, 22, 23, 24, 25, 26, 27, 28, 29, 30, 31, 32, 33]