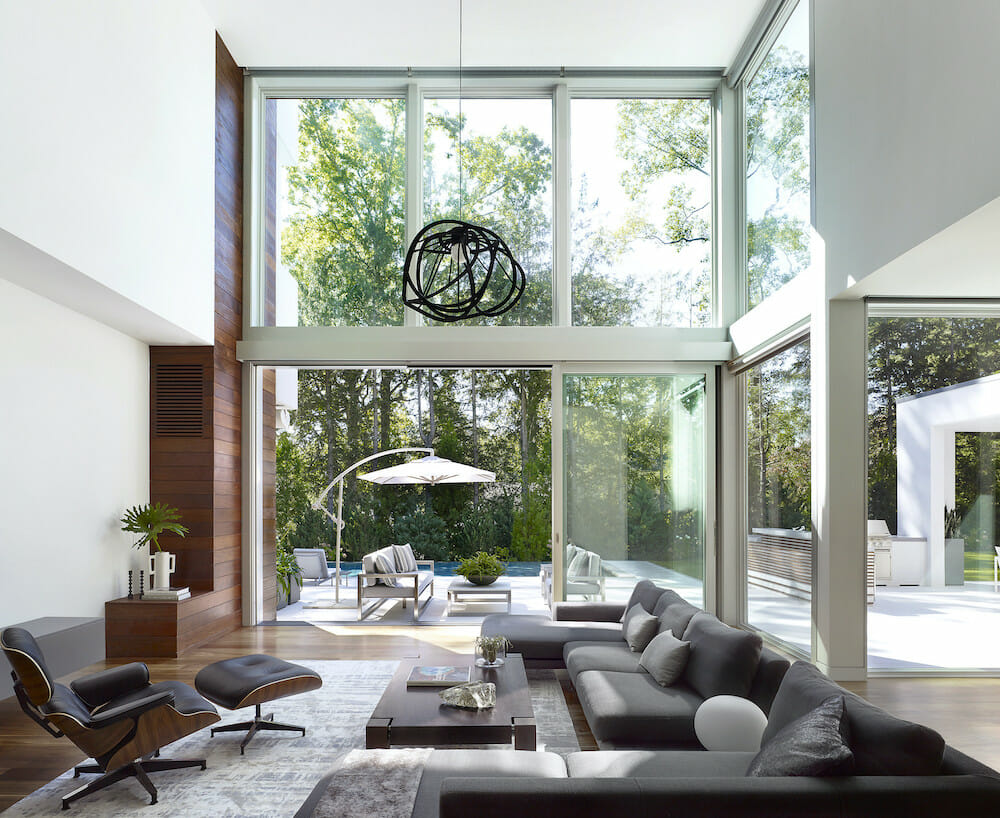 Designing a great room can be a daunting task. After all, it's one of the most important rooms in your home; the place where you entertain guests, relax with family and make lasting memories. However, with some planning and the right ideas, a modern great room design is just a step away. And if you wonder how, check out this recent Decorilla project. It started with a blank canvas and ended up as a stunning eye-catcher!
The Challenge: Modern Great Room & Modern Dining Room Design
The client was looking for a modern great room interior design without a clear idea about the details. What she imagined was a cozy space, well-defined, elegant, and uncluttered. Some general instructions required the chosen designer to:  
Come up with ideas for a space perfect for hosting family gatherings and entertaining guests. 

Use the latest dining room ideas to create a space that flows well while incorporating the client's style preferences.

Use a neutral color palette and furnishings with clean lines. 

Convey a sense of calm and order, using textures to add visual interest.
Pro Tip: Knowing your style preference can help guide your home makeover. Not sure if modern design is right for you?

Take our

Free Interior Design Style Quiz

to discover your unique decorating style today!
Inspiration Image Gallery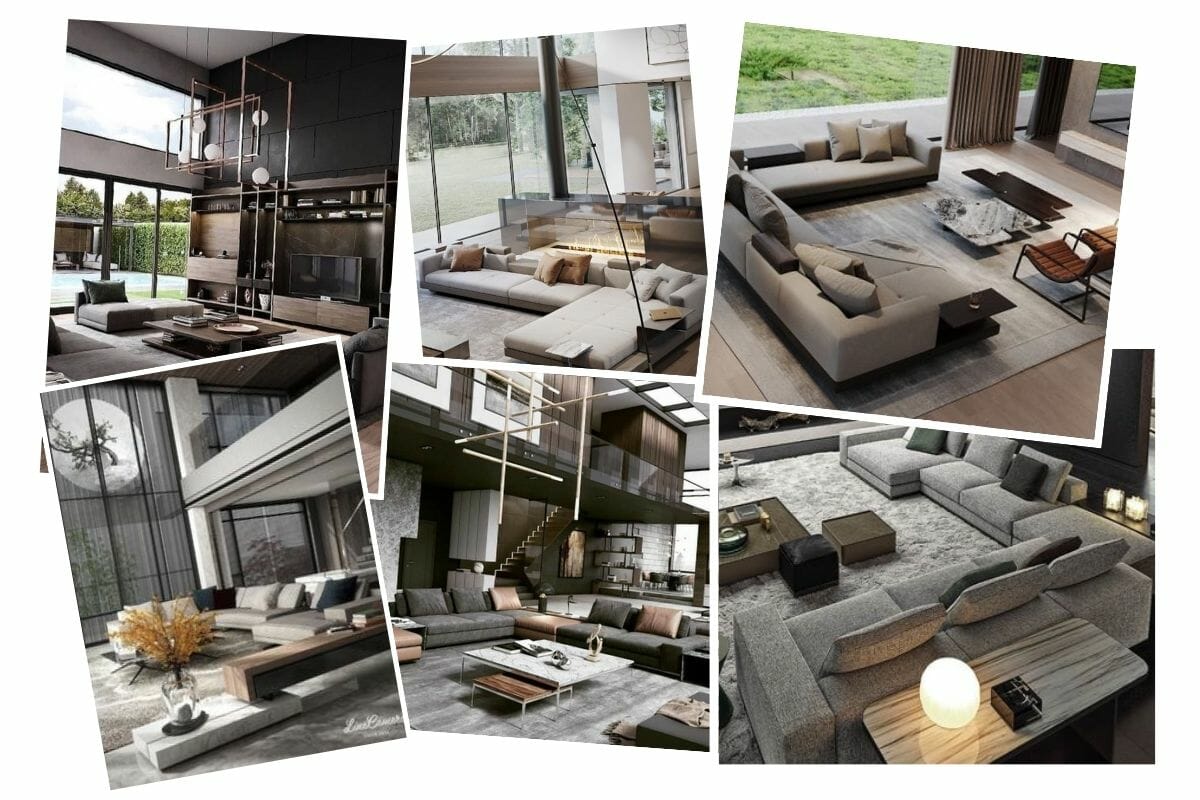 The inspirational image gallery was quite cohesive and defined, offering a more elaborate display of the client's taste and vision. It featured a set of modern interiors in a similar style, each composed to convey a sense of intimacy in such an ample space. Most rooms were comprised of a spacious sectional surrounded by some accent furniture and anchored by a large area rug. Such an inviting and comfortable seating area encourages conversation, being functional as much as stylish. 
Modern Great Room Ideas & Moodboard
The Decorilla interior design process allowed for the client to have the benefit of exploring different concepts from two designers. While the choice was touch, in the end it was the moodboard composed by Selma A. that fit with her lifestyle more. 
It featured a contemporary setup, yet with many traditional elements seamlessly blended in. The transitional arrangement was also polished with touches of glam to complement the stair railing and high ceiling. Such a simple, clean look left little to change for this modern online living room design.

Modern Great Room Designs
Although spacious, the furniture arrangement allowed for both easy conversation and uninterrupted traffic flow. Adding two ottomans to the sofa as well as a recliner enhanced the overall comfort while securing even more seating places. The room's focal point, however, was the untypical gallery wall delivering a strong visual statement with three oversized abstract paintings. In addition, all accessories were carefully curated in golds, black, and grey to complete a cohesive look. 
To make the overall flair more visually attractive, Selma combined different materials. Her modern great room ideas, therefore, included a variety of finishes, from leather and fabric to wood, metal, and glass. Furthermore, the subdued yet decorative choice of window treatments promoted the free flow of daylight while still providing warmth to the space. To top it all off, a modern,  pendant chandelier steals the show with elongated lights are varying length. 
Modern Dining Room Design
The selection of statement light fixtures continued in the modern dining room. Although different in design, all fixtures were connected by cool modern shapes. Meanwhile, the furnishings in the dining room were kept to the essentials without sacrificing any style. In addition, another oversized painting complemented the simplicity of the dining table set with its strong graphic pattern.   
Before Online Interior Design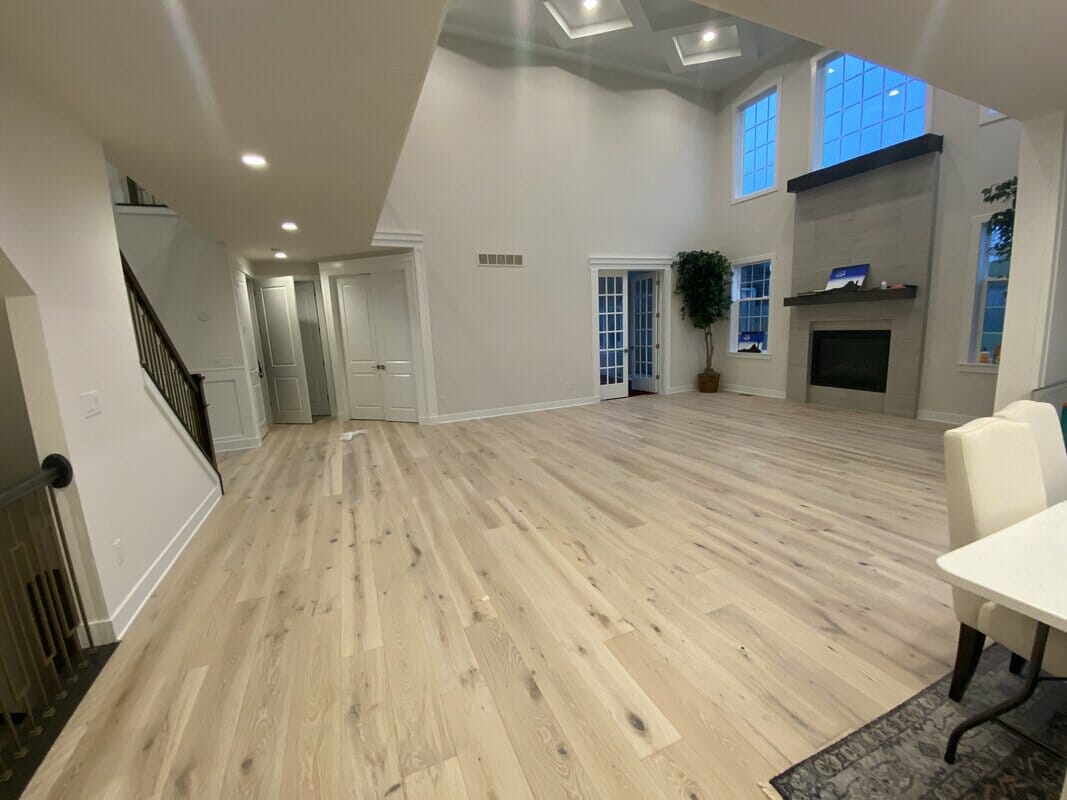 Selma's modern great room decorating ideas really brought to life an empty canvas. Unfurnished, it looked like something straight out of a construction catalog with its vaulted ceilings and tall windows. Also, like most empty rooms, it felt in need of a designer's touch. With the help of the online design service, the client easily turned the characterless space into a stunning living space, ready for entertaining. 
Online Shopping List
Every online interior design project comes with a tailored shopping list that includes exclusive trade discounts. In addition, the list is managed by a complementary white glove shopping concierge service who will handle all the details of ordering, tracking, and delivery!
Modern Great Room Decorating Ideas Top Picks
For those not ready to commit to a total makeover, we hand-picked some items for you to spruce up your great room on your own.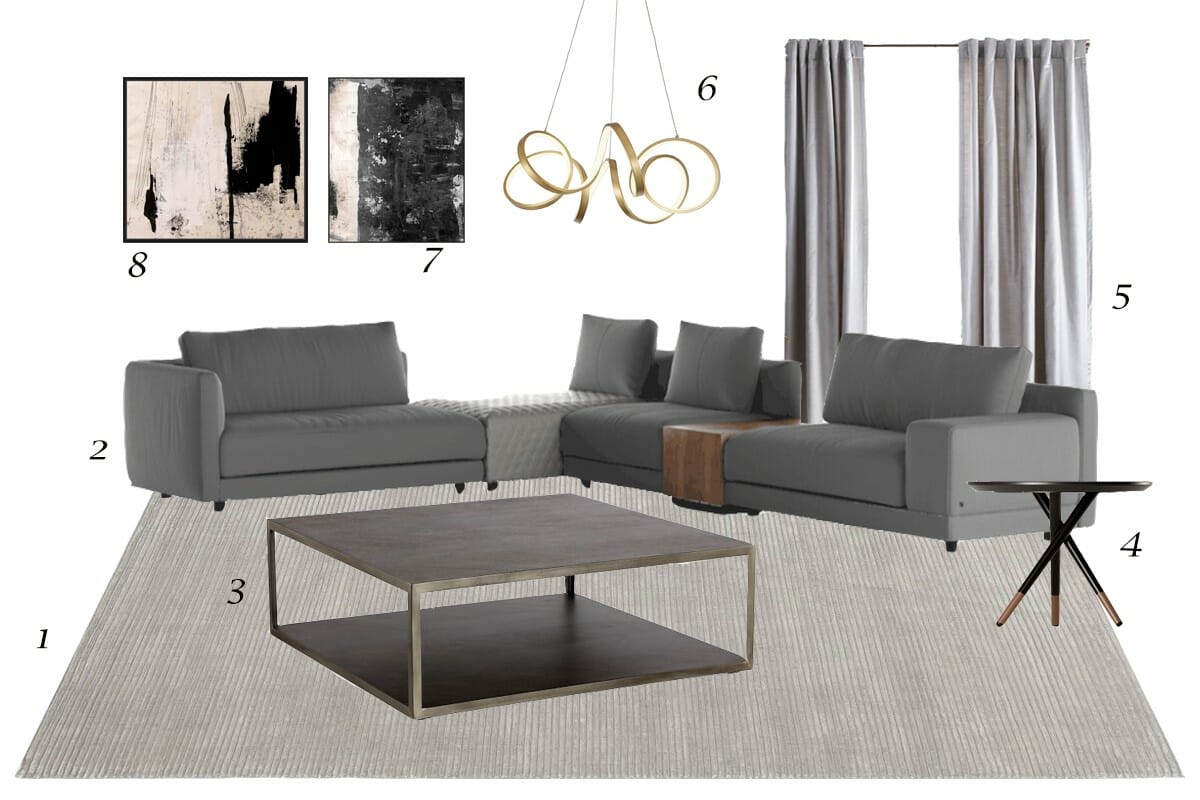 Are you ready to enjoy your new, modern great room?
Your home can also undergo an amazing transformation! Schedule a Free Interior Design Consultation to get started today!

Featured image source: [1]