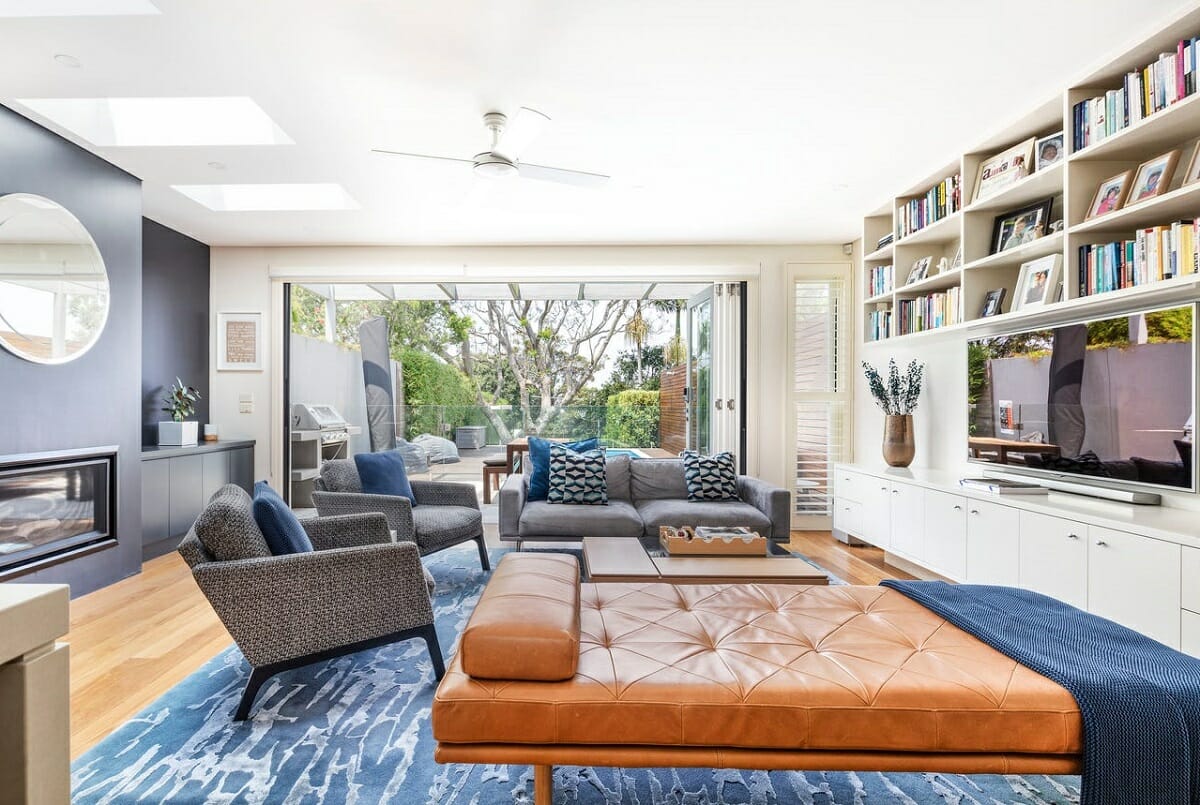 Modern contemporary design is perfect for a new home interior. You can bend it to your exact taste, yet it can also be challenging. For a recent client, the prospect was exciting! After purchasing a condo, he turned to Decorilla to make it his own. Read on to see its breathtaking result!  
The Challenge: Modern Contemporary Interior Design 
A new home brings about many opportunities as well as uncertainties. That's why direction is vital. This particular client was firm on his preferred style but open to suggestions. For this reason and to create a modern contemporary design the client loves, the designer had to:
Put together a modern contemporary home with comfy and inviting interior design

Incorporate a masculine yet neutral feel throughout

Soften the built-in beige wood finishings through a gray color palette

Integrate existing furnishings into the new design

Ensure patio furniture is easily movable in case of a hurricane

Design a versatile space for exercise, guest stays, and work with clever 

small office design

 
Not sure if contemporary design is the right look for your home?

Then, take our

Free Interior Design Style Quiz

to discover your unique decorating style today!
Inspiration for a Modern Contemporary Home Interior 
       
The client's inspiration was cohesive and unique. Overall, it displayed his excellent taste in modern contemporary home decorating. Their ideas and favorite interior design trends felt sophisticated yet tailored to an individual. Neutral color schemes featuring pops of blues were definitely among the must-haves. The client also liked neat workout stations, contemporary furniture, and luxurious bedrooms. 
Moodboard & Modern Contemporary Interior Design
The client could get started immediately as Decorilla's online process is effortless. First up was a quick quiz and answering a few questions about taste and budget. Then a virtual consultation fine-tuned the details. Now that they had the specs, the Decorilla team could match the client with interior designers who excel in contemporary designs. Each designer presented their concepts, but in the end, Jessica S. stole the show!
Jessica's moodboard displayed a neutral-hued design scheme. Ultimately, this would cut down the beige of the wood furnishings the client did not like. In addition, Jessica also thought of balance in shape and texture. And combined, these aspects would bring depth to the interior. 

Modern Contemporary Decorating Result
In the end, the condo is instantly welcoming. The different spaces form a cohesive whole through the integrated color scheme and furnishings. Clever and calming designs mute the beige of built-ins and flooring. Moreover, modern contemporary home décor soften edges. More specifically, abstract wall art is flowy and plush accents add coziness.
Sophisticated Living Room & Patio 
The living room is masculine in design with a pleasing contrast as charcoal grays and whites form the central area. That said, blue accents refresh and enliven the space. Tan dining chairs and bar stools echo the curviness of the black armchairs. Here, the dining nook complements the room's wood in a subtle and refined way.
Abstract and pop artwork tie in with the contemporary modern interior design style. It feels right on trend. And onto the floor, an area rug anchors the setting while its lightness creates an airy feel. In contrast, darker accents and finishes, like furniture legs and lighting, bring definition. Consequently, these add depth to the room and enhance the sophisticated, modern feeling.
Modern contemporary decorating continues onto the living room's patio. Its look certainly aligns with the covetable style. Although simple in design, the space feels chic and composed. Modern décor, like wicker lanterns and a coffee table, complement the white sofa and chairs. Lastly, a pop of greenery adds life to the patio, while the ocean view does the rest!
Peaceful Bedroom & Patio
The bedroom is a refuge of tranquillity, with blue details peeking through the otherwise neutral color scheme. Black accents also dot the interior, from the pendants to the fan and bed base. These underscore a light interior and create visual structure. Once again, a beautiful rug grounds the space. In addition, a large mirror makes for an open feel. The bedding and cabinets are white to aid the calmness and airiness of the room.
As with the living room, the bedroom patio also has a similar style. More specifically, dark and light contrasts form through twin chairs and ottomans, a side table, and a white pedestal. A welcome pop of green adds life once again. With candles and a beautiful view, this setting is certainly made for leisure! 
Multifunctional Office with Modern Contemporary Home Decor
The small office is a modern contemporary interior design masterpiece. Useful for three purposes (exercise, work, and guest stays), this space has it all. From the rustic wall to the neat cabinets – modern contemporary decorating reigns. Together, they create an industrial vibe that's perfect for a masculine home. Meanwhile, subtle salmon softens the aesthetic through abstract artwork. It gives this space a distinct look for this reason.
Online Shopping List 
Whether you are looking at a modern contemporary home interior or another style for your space – Decorilla can make it happen! Collaborations between clients and designers certainly see many perks. Helpful online shopping lists and implementation guides are among the essentials. Moreover, trade-exclusive discounts are available too! Like all other projects, these resources helped the client in his quest to create the perfect home.
Our Top Modern Contemporary Decorating Ideas
If you want an interior design transformation, you can certainly spice things up in no time. Besides, it only takes a few contemporary decor pieces and furnishings to recreate this look on your own. Use our top picks below to guide your update!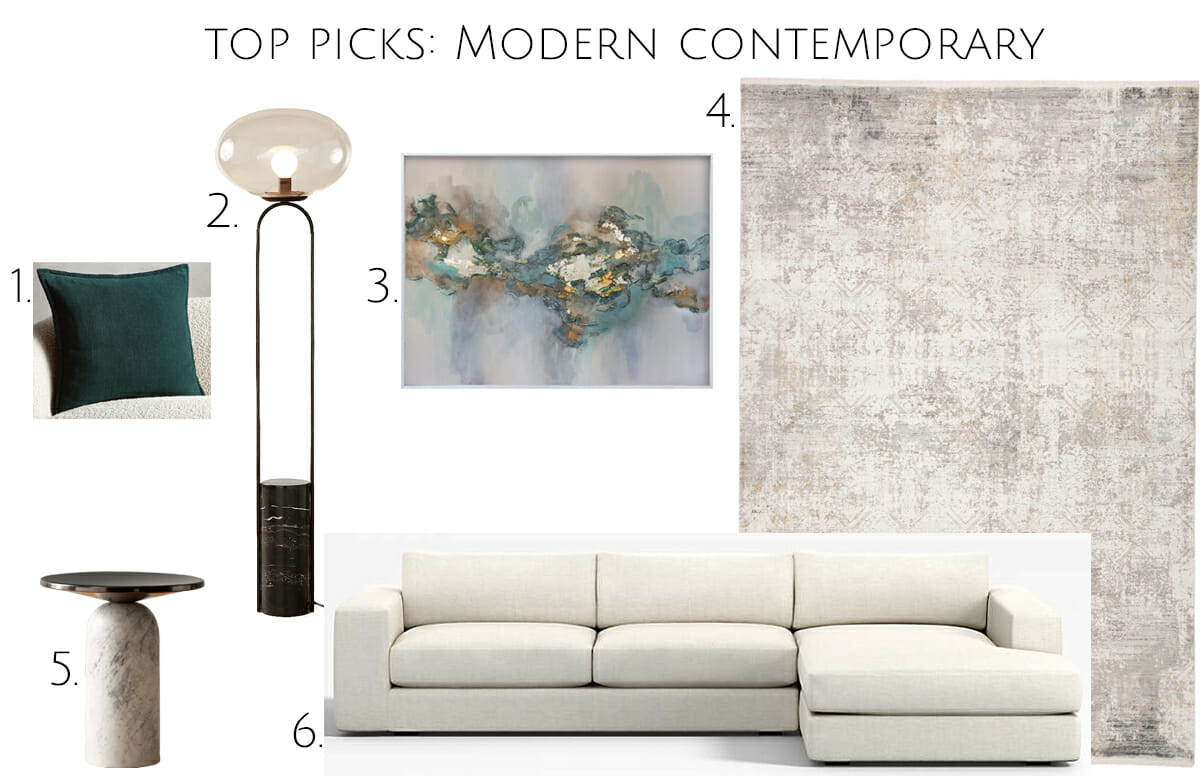 Want your own modern contemporary interior design?
You can have a stunning modern contemporary home interior too! S0, schedule a Free Interior Design Consultation to get started with a top designer today! 

[images: 1, Decorilla project images]