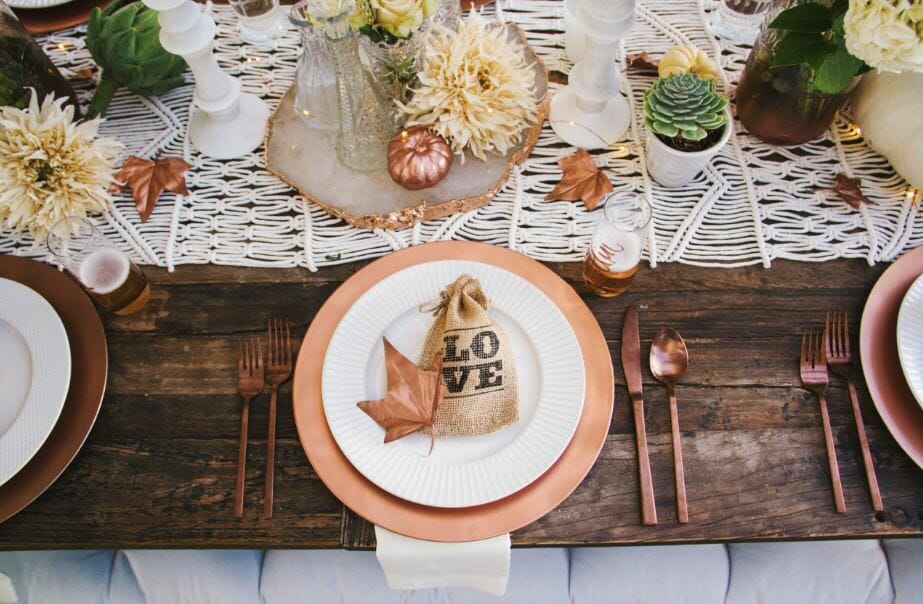 Fall is all about family, friends, fun, and of course, food. What a great time of year to take a minute and really think about what you are grateful for. Thanksgiving is such a special time of year with the holidays just around the corner and a new year about to make its appearance. Make sure you're ready for turkey day with these fall table decoration ideas, which of course will be sure to wow all in attendance. If you already have your fall table decorations figured out be sure to check out our top fall interior design trends to make sure your home is ready for those Thanksgiving guests!
1. Vase Made From Pumpkin

Centerpieces are so important when decorating for Thanksgiving. Being the focal point it's a great way to bring in color and texture. A great way to easily incorporate all those fall feels is by making a vase from a pumpkin! I mean come on, how much more fall can you get?! This super easy modern Thanksgiving décor can fit into any design style. Love florals? Simply hallow out a pumpkin, fill with some water, and insert flowers. Love succulents? Don't worry about hallowing out your pumpkin this time. Simply take a hot glue gun and glue moss and succulents right on top of the pumpkin.
2. Leaves & Greenery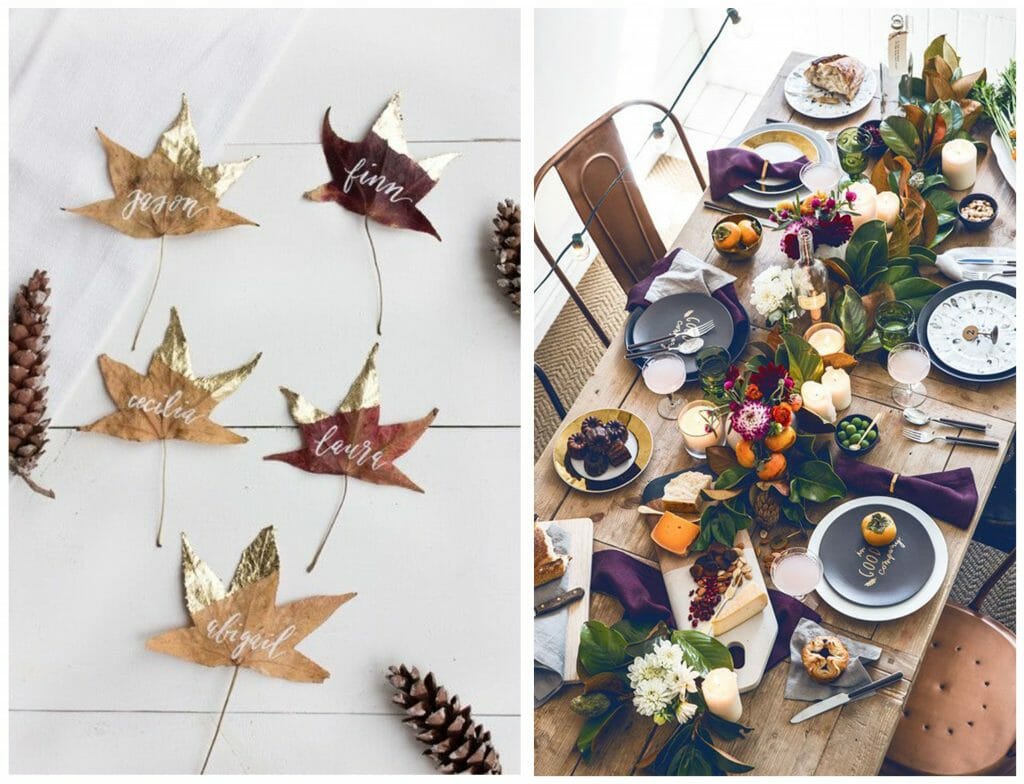 Incorporating nature is one of our number one favorite table decorations for any time of the year. Fall is the absolute perfect time to take advantage of this. With all the bright and vibrant reds and oranges in the leaves during the fall it's a great (not to mentions inexpensive) way to bring a little color to your Thanksgiving table decorations. Find a tree with some great colorful leaves and pick some of your favorites then scatter them on the dinner table. Want to stick with the neutral theme? Spray paint your leaves in a gold or copper to make them pop. You can also make those same spray painted leaves into a place card by using a sharpie to write your guests name.
If you would like to keep the feeling more modern thanksgiving decor simply add apples, pumpkins, or berries in a bowl with some greenery in a bowl in the center of the table for a minimal and clean centerpiece that is just as inviting and festive.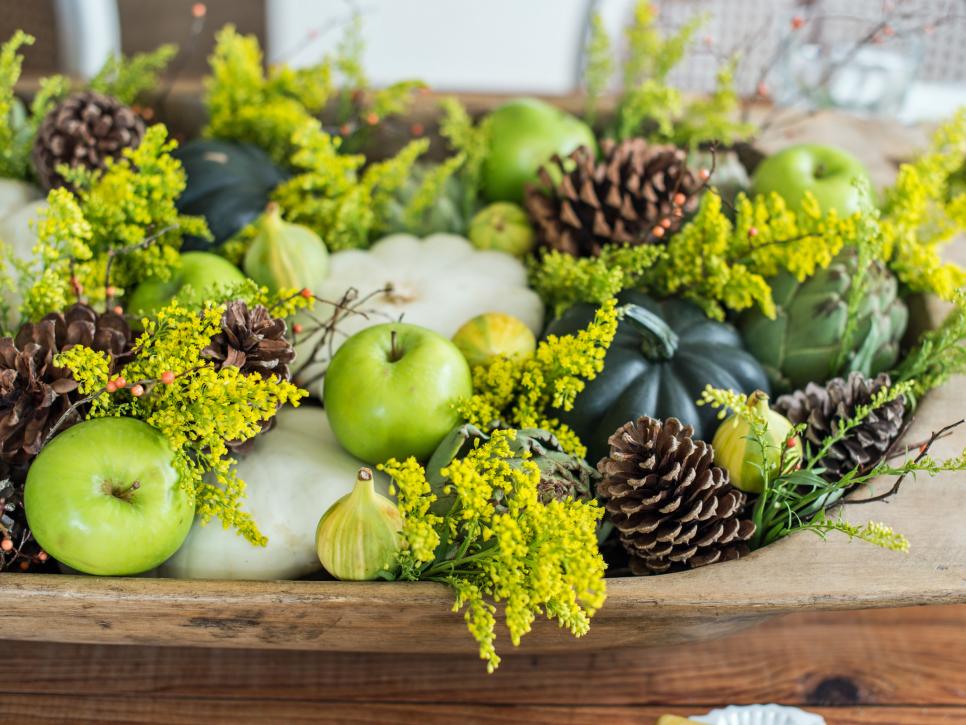 3. Painted Pumpkins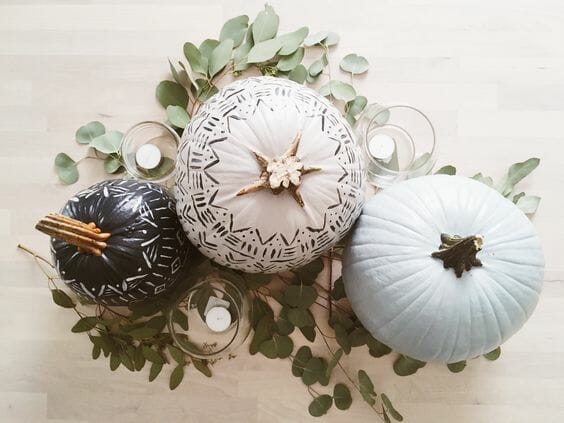 As you can see, our favorite fall table decoration is none other than pumpkins. A simple easy and beautiful addition to any Thanksgiving table. Is the average pumpkin just not quite what you're looking for? Paint them! The possibilities are endless. This is such a great option if you have a specific color scheme you'd like to stick with, or even if you want to just spice up your plain pumpkin with some patterns.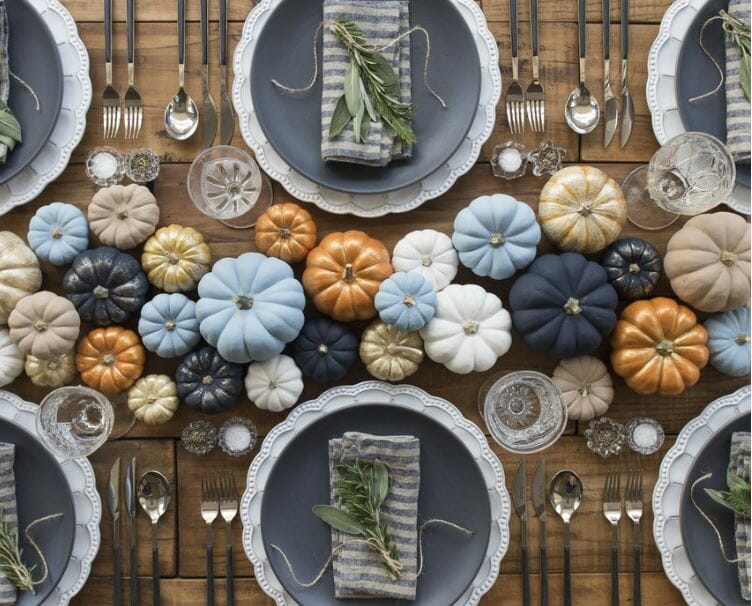 Fall table decorations don't have to be complicated. Look at how beautiful this table looks with a variety of painted mini pumpkins and a subtle touch of greenery. The perfect example of modern thanksgiving decor.
4. Keeping It Neutral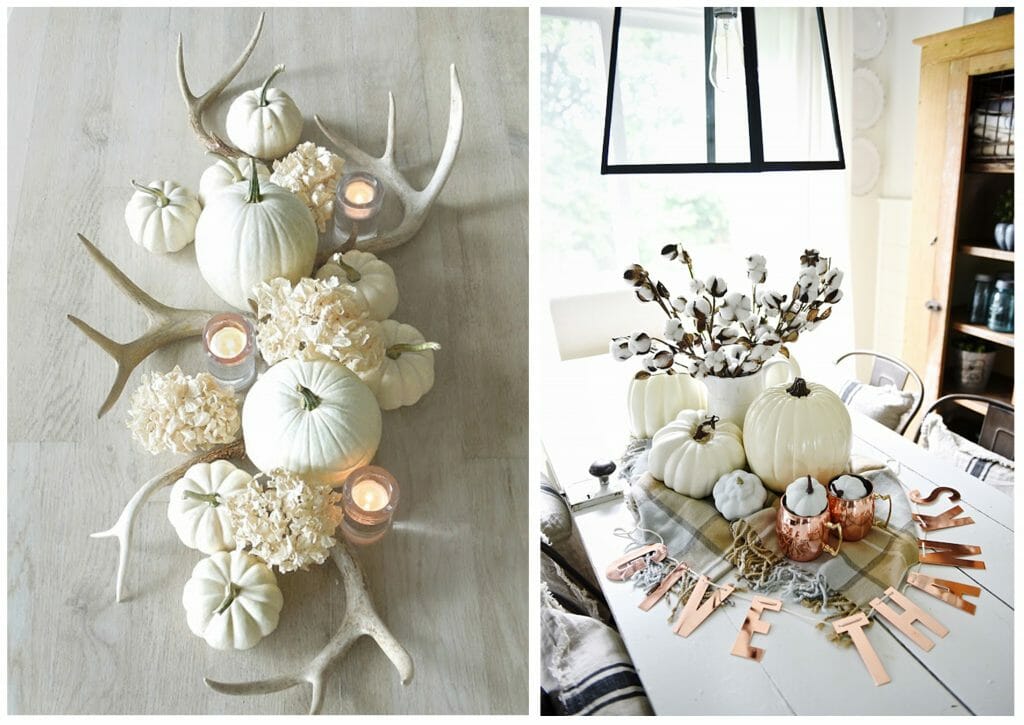 It's okay if you're not a fan of all those fall colors, orange isn't for everyone! One of our favorite trends that we're seeing a lot this year is neutral fall table decorations. White pumpkins are the perfect starting off point. The addition of greenery or neutral florals will help with the softness. Then finish of the table with a few metallic accents to really make the neutrals pop!
5. Fall Florals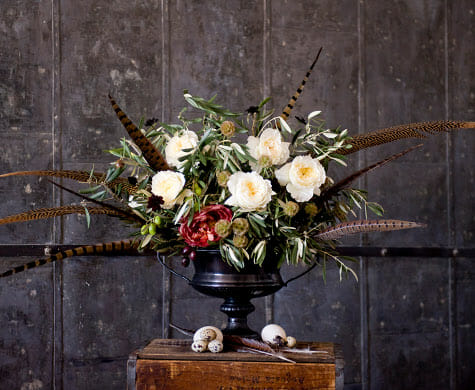 Flowers are another one of our go-to table decorations. The great thing about florals is that they can be incorporated into any design scheme and color scheme. When choosing your fall table decorations make sure you incorporate softness into the décor. This can be done in so many ways, but one of our personal favorites is to use a variety of flowers.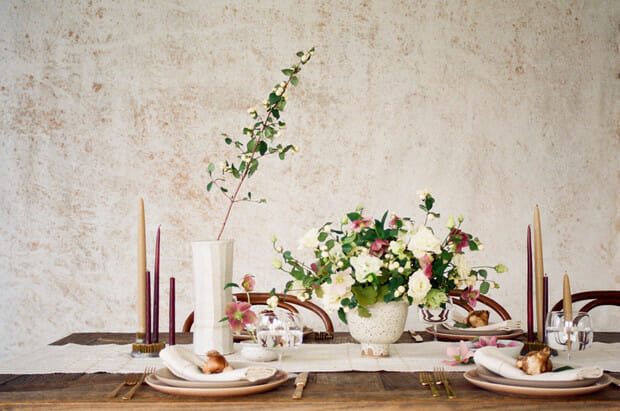 Another great way to add softness to your table is adding a runner. Table runners also make a great boundary for centerpieces. As long as you keep the decor on the runner it will ensure your guests have more than enough space for their plates, glasses, etc. The incorporation of candle sticks also help bring ambiance to the table setting.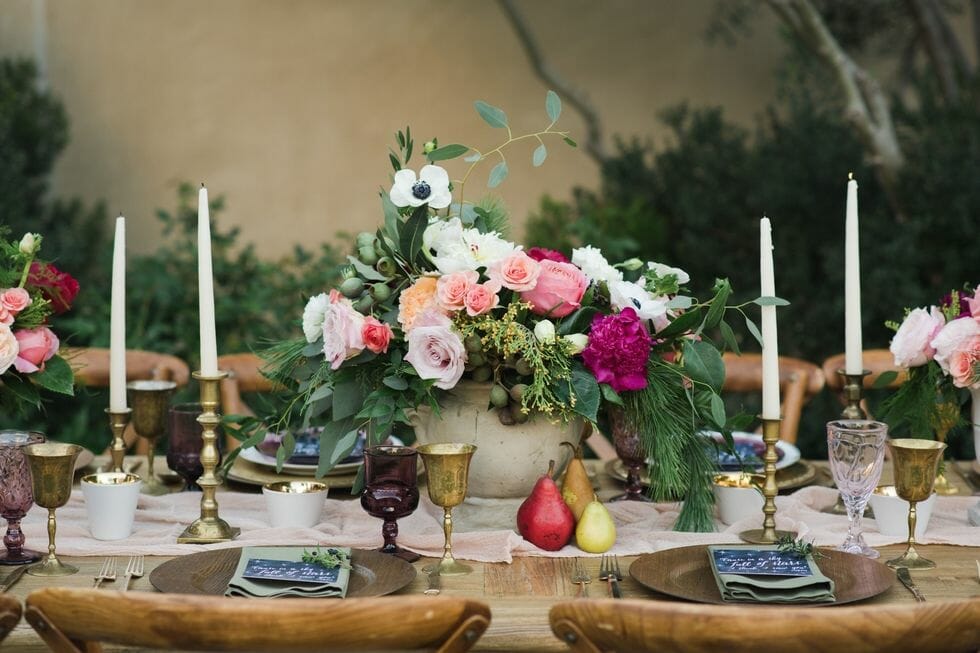 Designer tip: go fresh! The minute your guests sit down at the table they will be greeted by the smell of fresh flowers, which is sure to brighten anyone's day.
6. Wood Rounds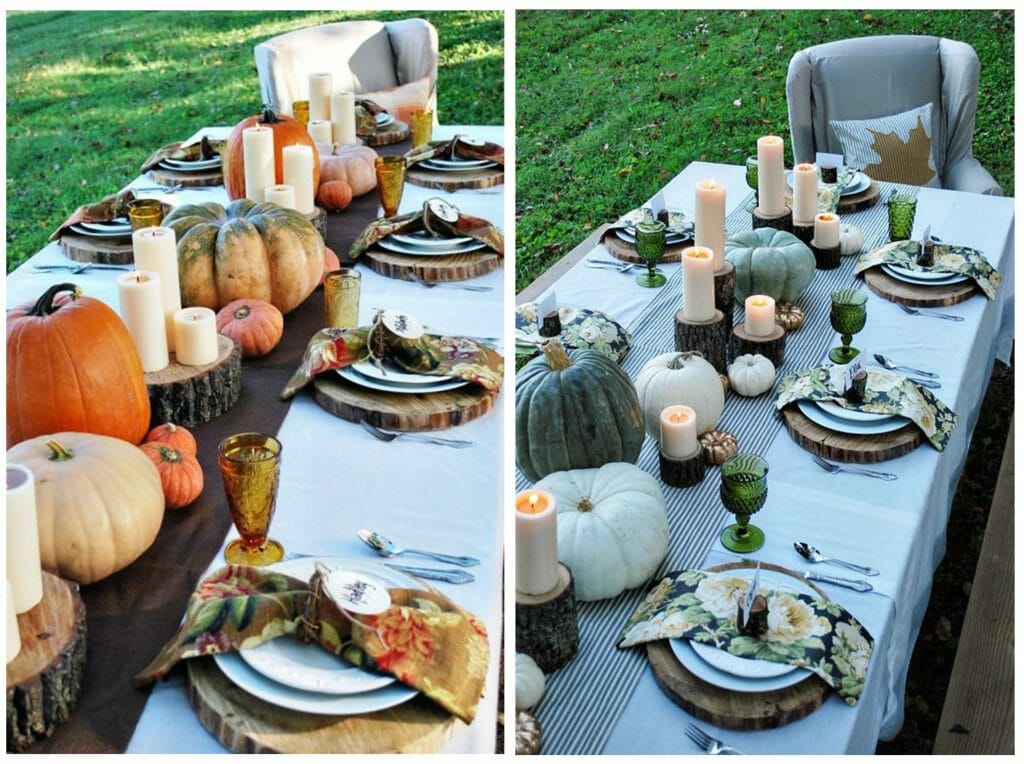 Perhaps one of our favorite fall table decorations this year is the use of wood rounds. This natural and rustic decor presents so many opportunities to make your thanksgiving table look like it was done by a pro. If you have rounds that are wide enough, they make great chargers to ground the place setting. We're loving the use of colored glass used in these table settings that incorporate the colors of fall. We also love this side by side comparison of traditional thanksgiving decor vs. neutral thanksgiving decor. Both look and feel just as festive!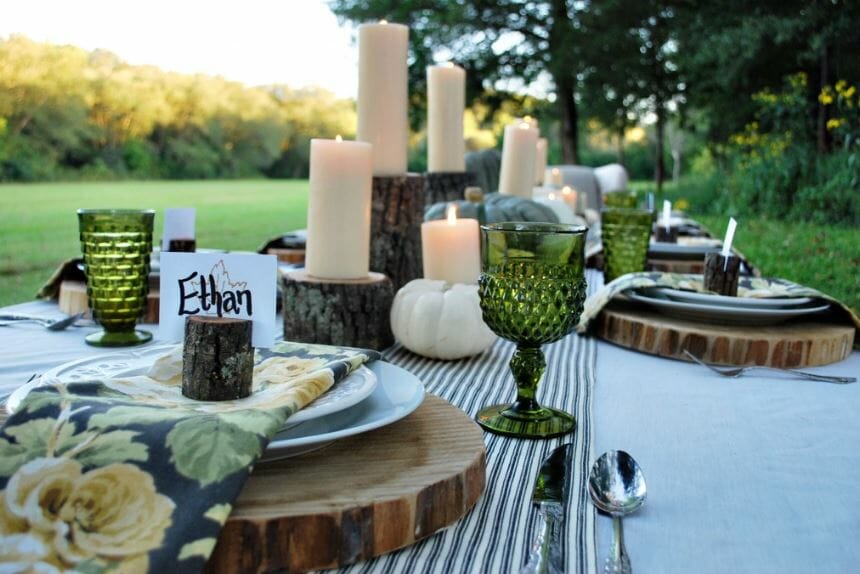 Another great way to use wood rounds is to use varying heights and place them down the length of the table with candles on top. Sprinkle in a few pumpkins, add a runner, and bam! There is your flawless thanksgiving table decor.
7. Pumpkin Place Cards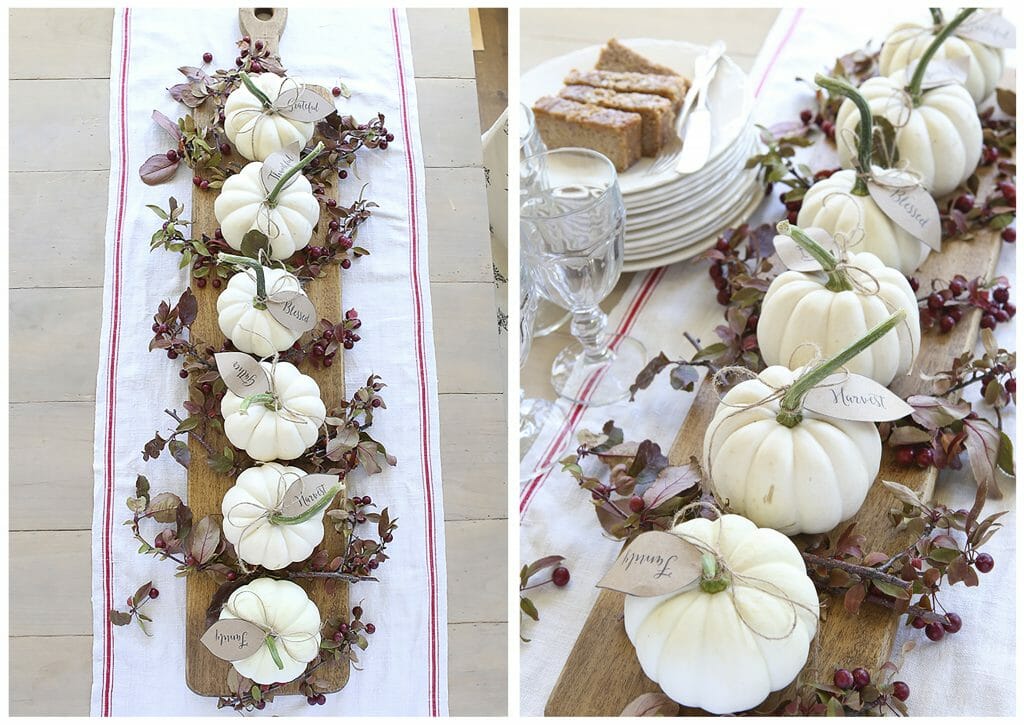 It's important to keep in mind that there is more to your fall table decor than just centerpieces. If you're planning to set the table before dinner mini pumpkins are a great festive way to let your guests know where to take a seat.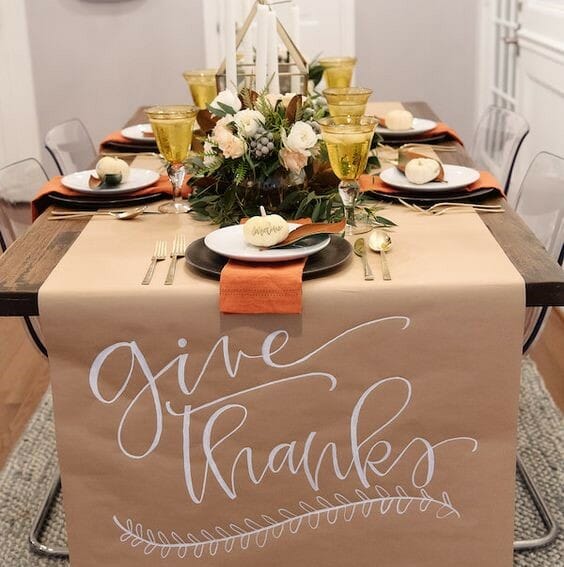 Incorporate the pumpkin place cards into the centerpiece or place them directly on the guest's plate to add interest and texture to the place setting. We're also loving the use of Kraft paper as a table runner which makes for super easy clean up! Pro thanksgiving tip: make a Kraft paper table cover for the kids table and place a cup of crayons in the center. It's the perfect opportunity to make those hand turkeys we all remember so well.  Sure to keep the kids busy all through dinner!
There is no doubt that incorporating a few of these fall table decorations will be sure to wow your guest and make everyone feel right at home. Feeling inspired by all of this fun fall table decor? Schedule a Free Interior Design Consultation Today to get started on your own personal design!
Written by Decorilla designer: Brittany S. 
[image: 1, 2, 3, 4, 5, 6, 7, 8, 9, 10, 11, 12, 13, 14, 15, 16, 17, 18, 19, 20]