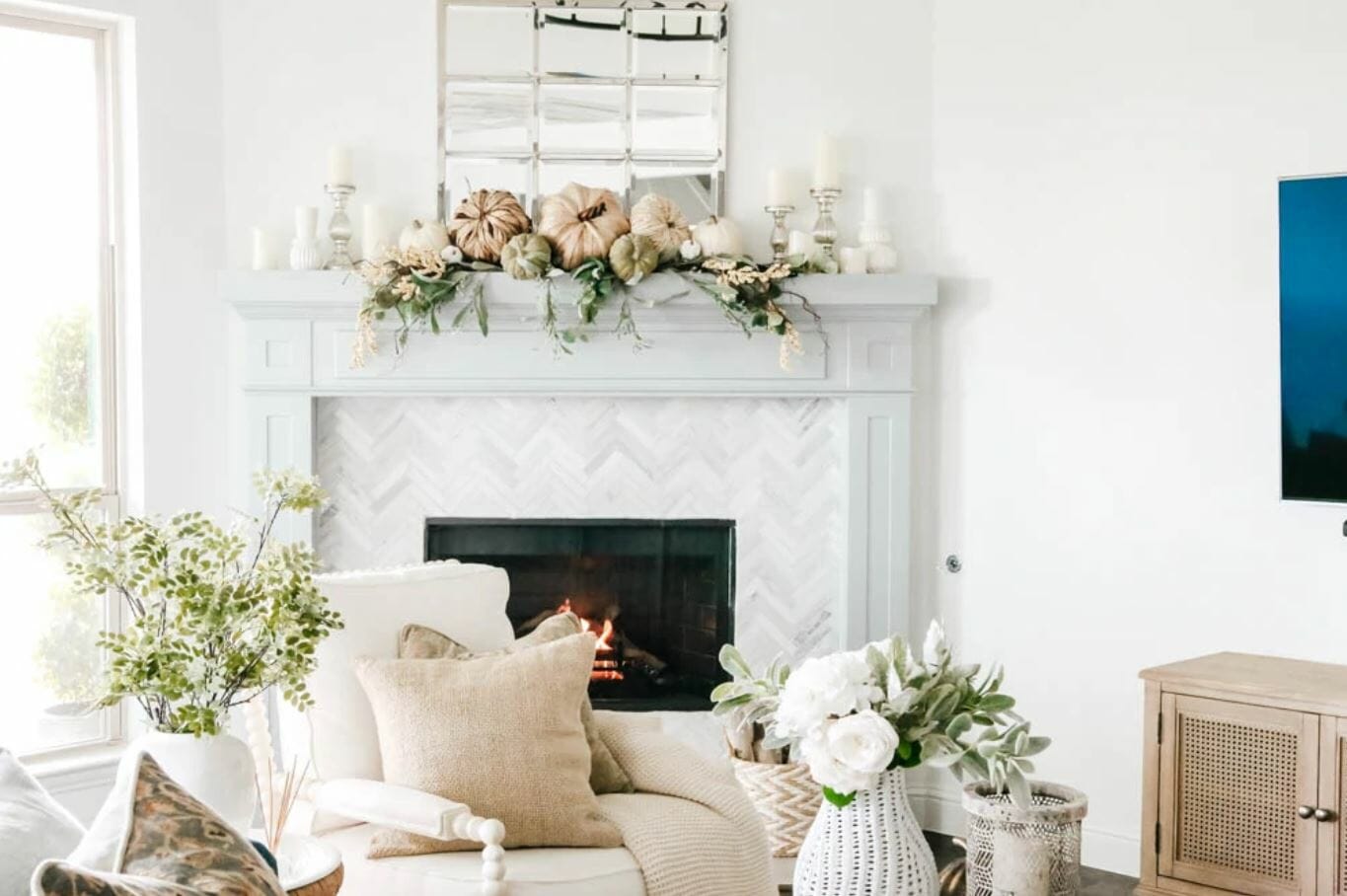 Whether you've been counting down the days to pumpkin-spice everything or the Holiday season takes you by surprise, you can decorate for Thanksgiving in no time with our expert decorating ideas from interior design pros. Come minimalist, traditionalist, or eclectics, we have swoon-worthy ideas for every type of host.
Thanksgiving Decorating Ideas and Inspiration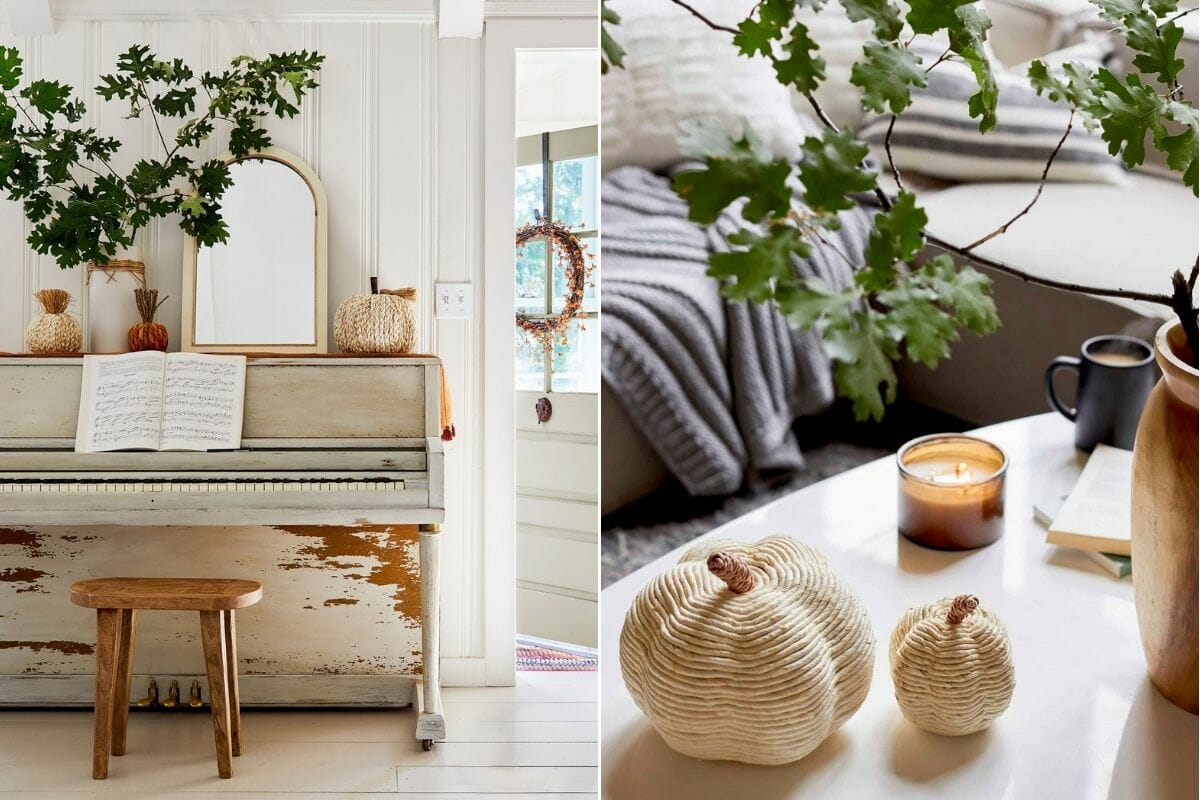 Before jumping into creating a festive yet tasteful interior, be inspired by Thanksgiving decorating ideas that take only a few tweaks to pull off.
1. A Hint of Holidays 
Creating a cozy and festive mood for Thanksgiving is easier than you think. In fact, you only need one or two pieces to get it right. Here hawthorn, low light, and roses make the living and dining rooms radiate a sophisticated holiday air.
DESIGN TIP: Decorate for Thanksgiving with flowers or fruit in bright seasonal colors like orange, red and yellow.
Want to get your home holiday-ready with beautiful Thanksgiving decorating ideas, but not sure where to begin? Then, schedule a Free Interior Design Consultation for professional assistance getting started today! 
2. Neutral Minimalism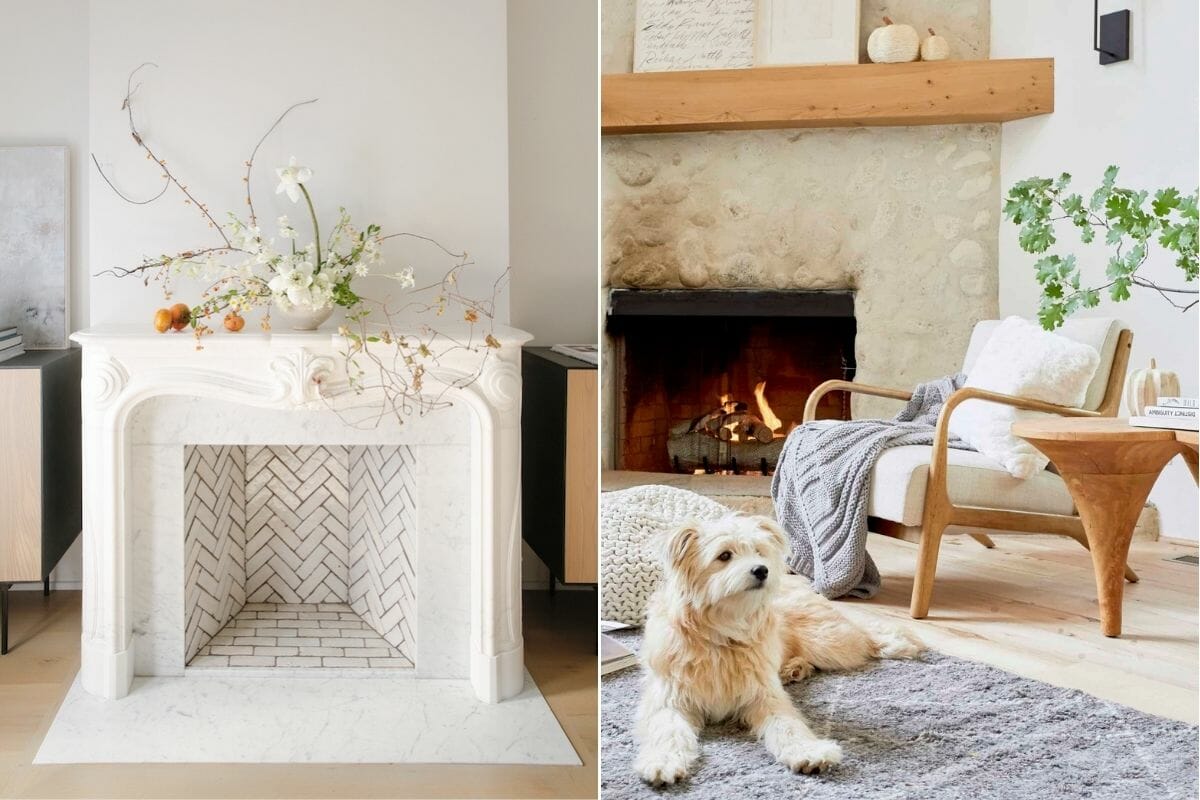 Thanksgiving decorating ideas are trendier than ever, blending in with interiors and complementing the overall style. Here a large but delicate bouquet of daffodils, daisies, and sprigs sit atop a mantelpiece, and the result is impactful. It's celebratory yet subtle. On the other hand, darling white pumpkins add fun but are chic enough to stay the entire year.
DESIGN TIP: Tone down your Thanksgiving home decorations with beautiful pieces that match your home's color scheme. Not only will it look sophisticated, but finding festive gems are also sure to bring a smile to your guests.
3. Fall into Entryway Cheer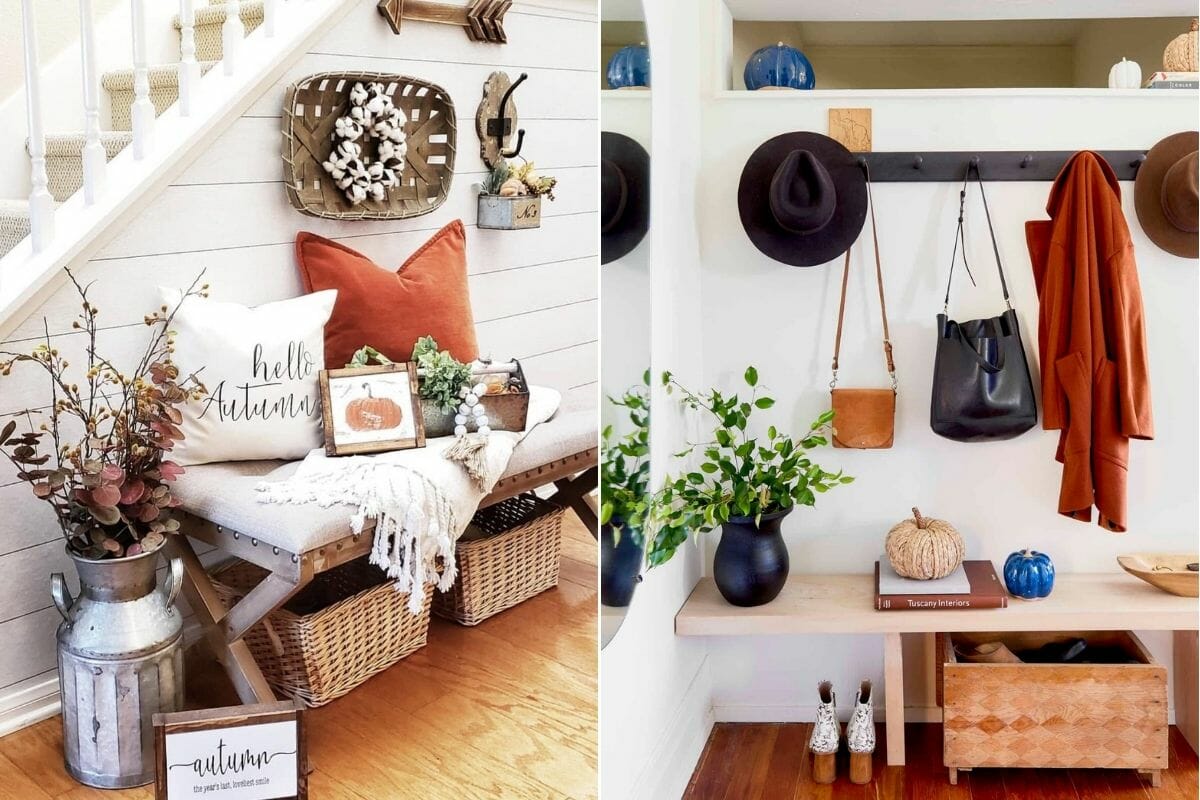 An entryway is a great place for Thanksgiving home decor because it's the first thing your guests will see. Both example entryways, pictured above, have the same autumnal color palette, but they have distinctly different styles. One has a traditional farm style, perfect for making a home cozy, whereas the other has a contemporary design, perfect for a style punch.
DESIGN TIP: Since an entryway is typically small, be practical, work with what you have, and don't add too much décor. A colorful amber coat on the coatrack and a festive decoration or two are all you need.
4. Cozied Bedrooms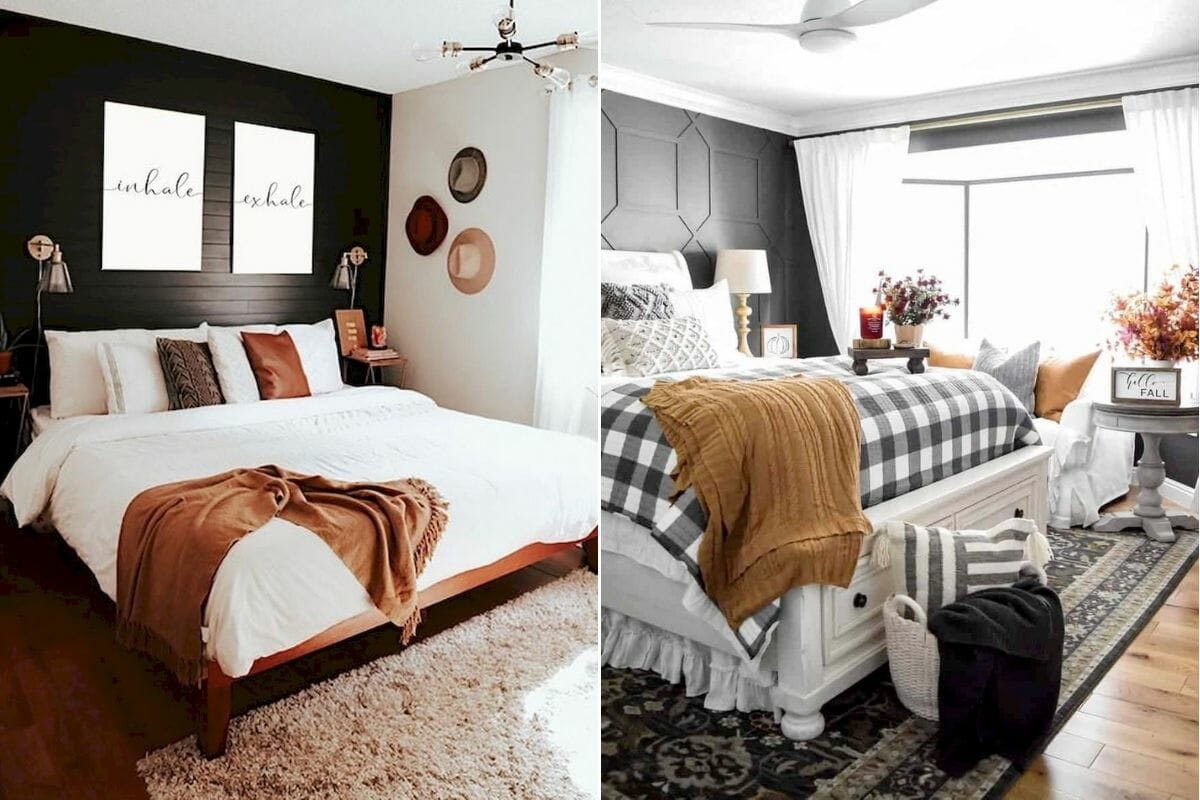 Guests often stay over after a Thanksgiving feast, and a bedroom dressed for the occasion can make the warm and fuzzy feelings linger a little longer. We love these bedrooms because they radiate the snugness of the season, albeit in modern and transitional styles.
DESIGN TIP: Keep the primary color scheme of a guest bedroom neutral – this makes it easy to change the look with accessories like scatter cushions, throws, and flowers.
5. Dried Wild Berries and Crabapples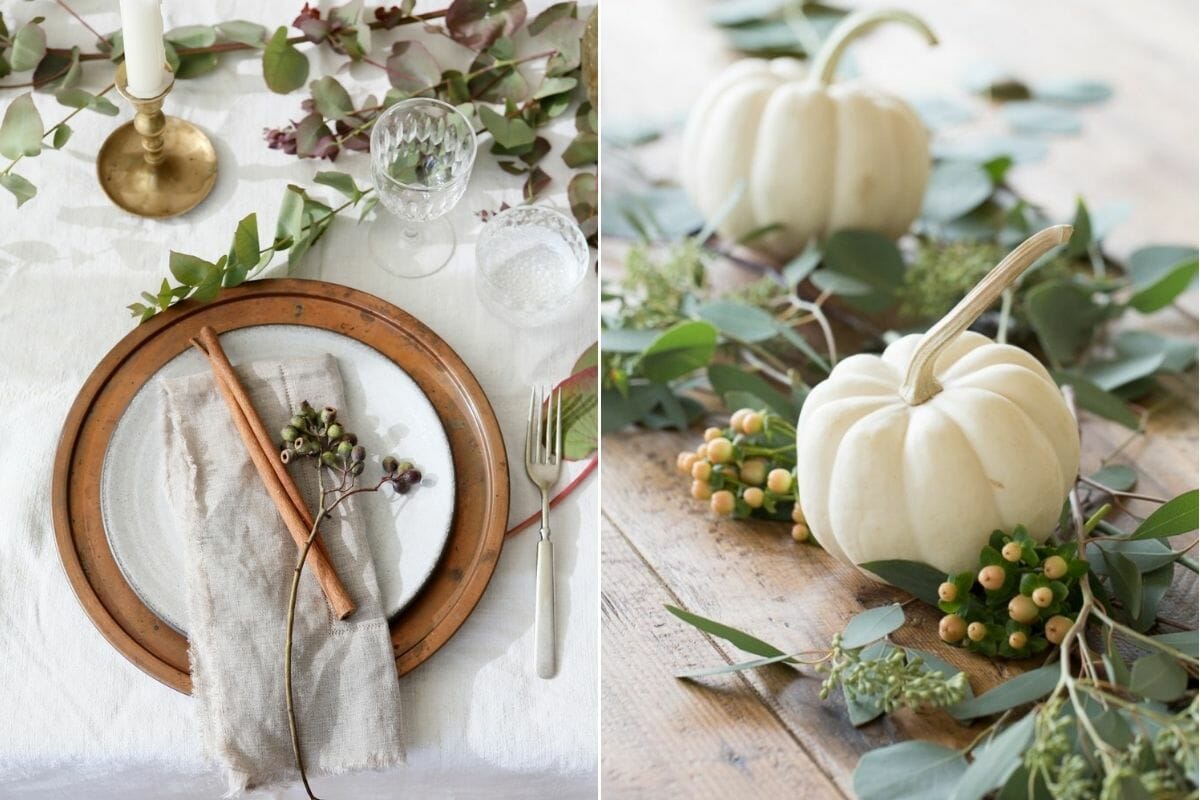 If you love natural décor, then subtle Thanksgiving decorating ideas with crabapple or berry sprigs are for you. The combination sets the tone for relaxed entertaining perfect for a day of appreciating the little things.
DESIGN TIP: Pair dried berry twigs with dried ingredients, such as mini corn cobs or cinnamon sticks to represent a Thanksgiving harvest. One twig per place setting is enough, or, as a casual centerpiece, a few twigs with a few eucalyptus leaves will do the trick.

Magazine-Worthy Thanksgiving Table Décor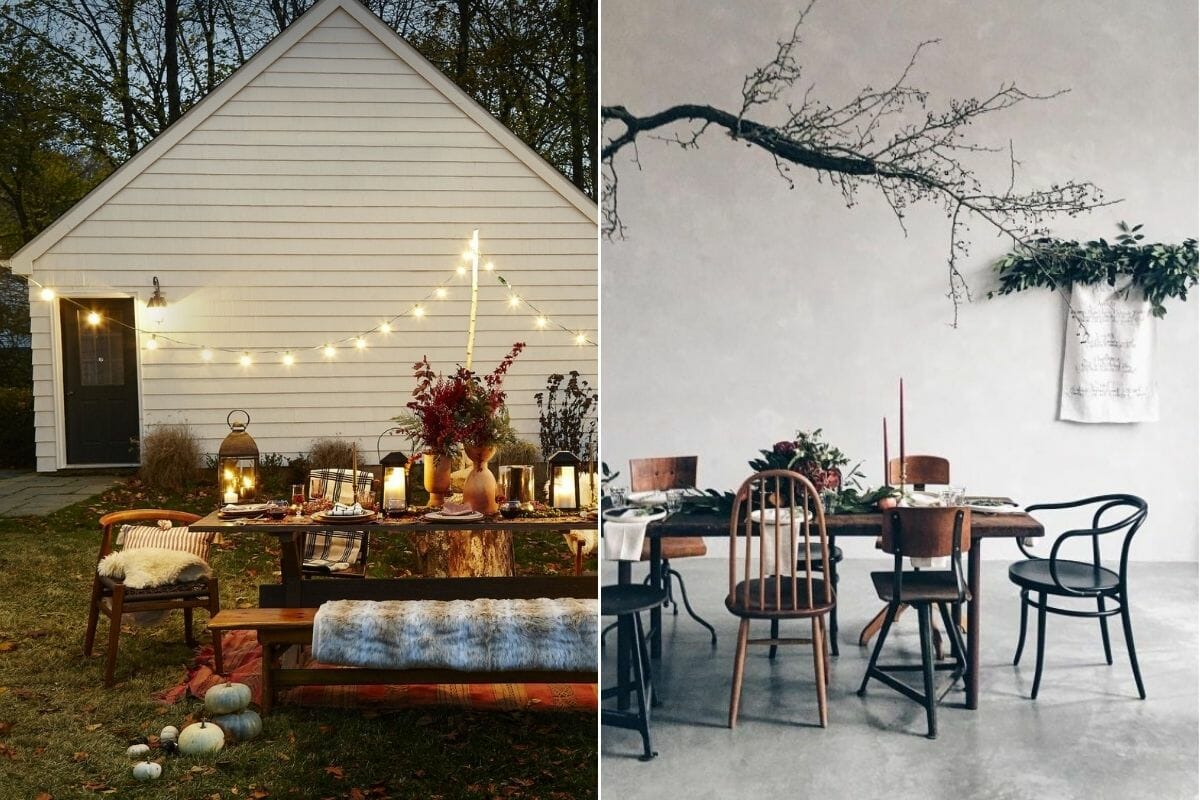 Toasts, celebration, and deliciousness all come alive around a Thanksgiving table setting, even more so when the décor can grace the cover of a magazine. Surprisingly, it doesn't take much to put together a breathtaking Thanksgiving table your guests will love. You can get away with using seasonal produce, ambient lighting, and a few blooms to set an incredible table.
How to Decorate a Swoon-Worthy Table Setting for Thanksgiving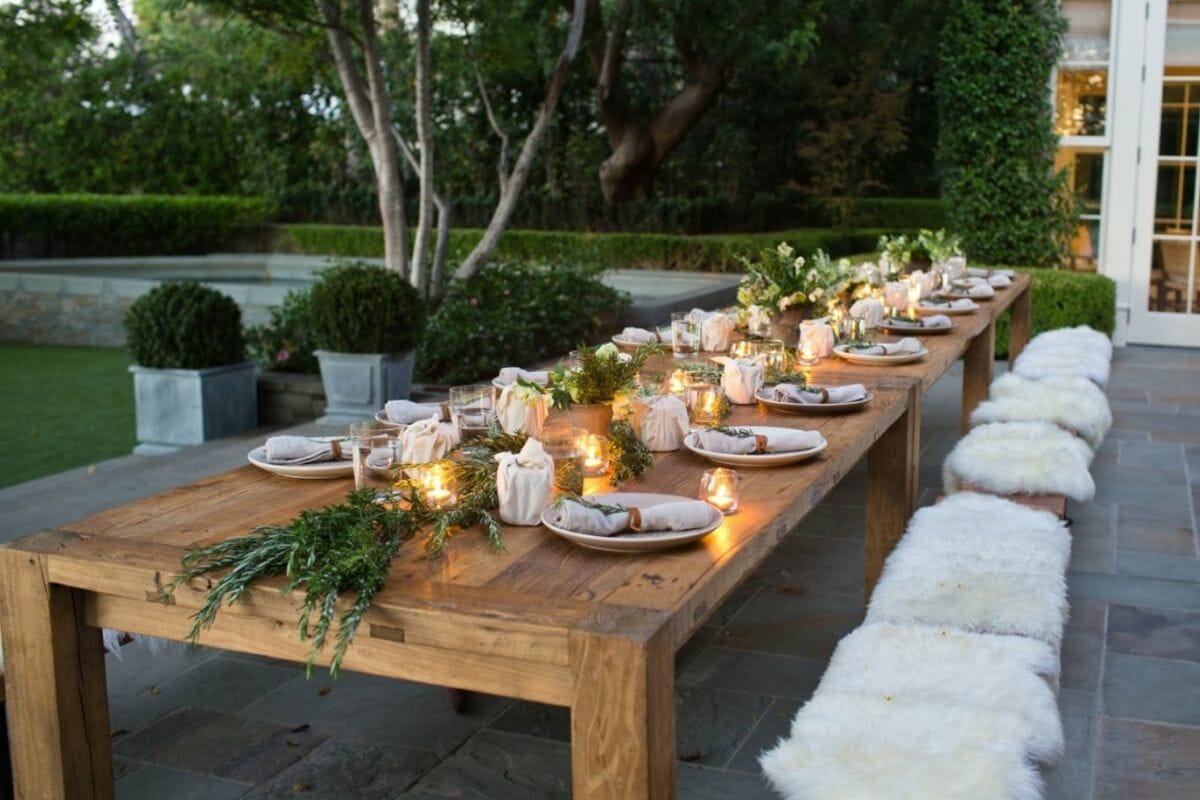 Less is better. When in doubt, leave it off – a busy Thanksgiving table setting tends to be overwhelming.
Opt for low but add height. Décor and candles must be short enough for guests to see and interact with the person sitting across them. You can add height with thin, tall candlesticks or delicate twigs.
Limit your color palette. To create a chic table setting, stick to two or three colors, as well as an accent hue. You can use the outdoors or even your menu ingredients as inspiration.
Seasonal ingredients can double as décor. Humble squashes, star anise, and whatever is fresh from the harvest can double as Thanksgiving table décor. One or two can be very impactful on a dining table.
Mix crockery, glassware, and cutlery. Mix differently shaped and textured plates, juxtapose copper and silver and add unique glassware – have fun with the essentials.
Add vintage. Aged pieces, like vases, or cutlery, can add instant personality to a table.
Our Favorite Thanksgiving Table Decor Ideas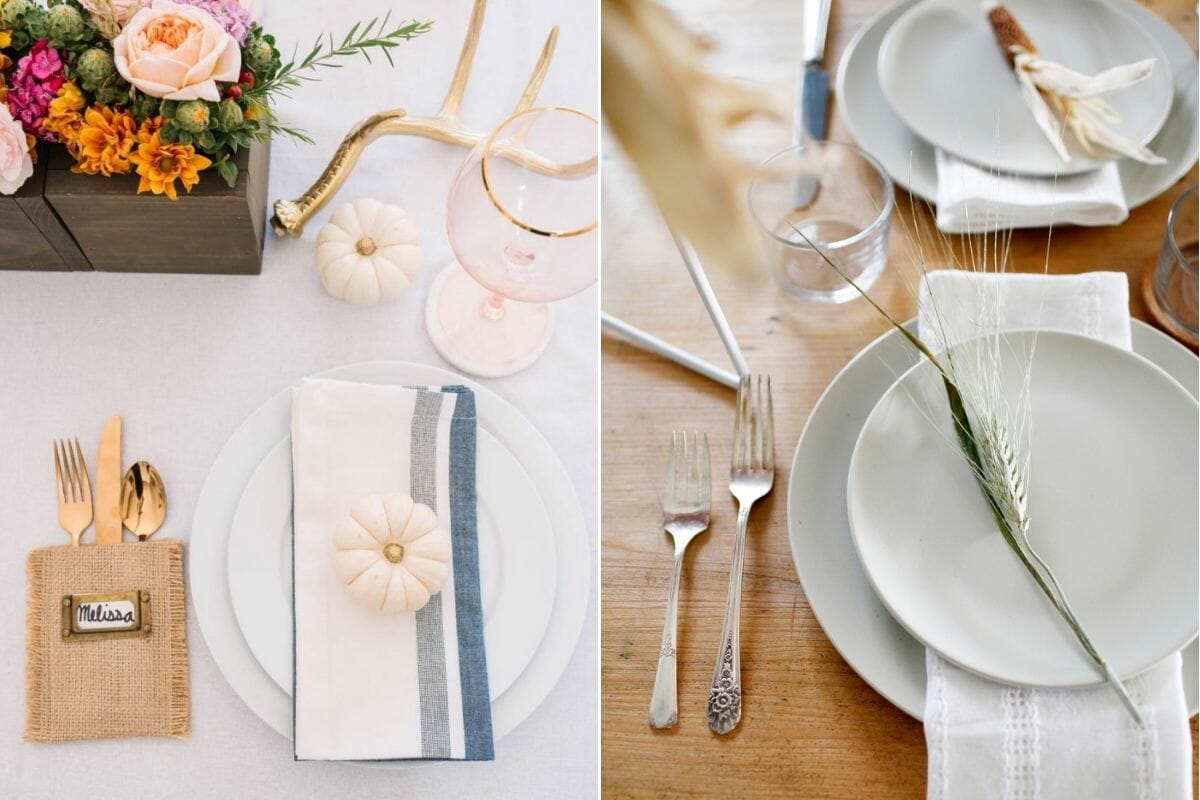 WHAT WE LOVE: That a singular blade of wheat or a mini squash makes such a stunning statement – these tables sing "less is more!"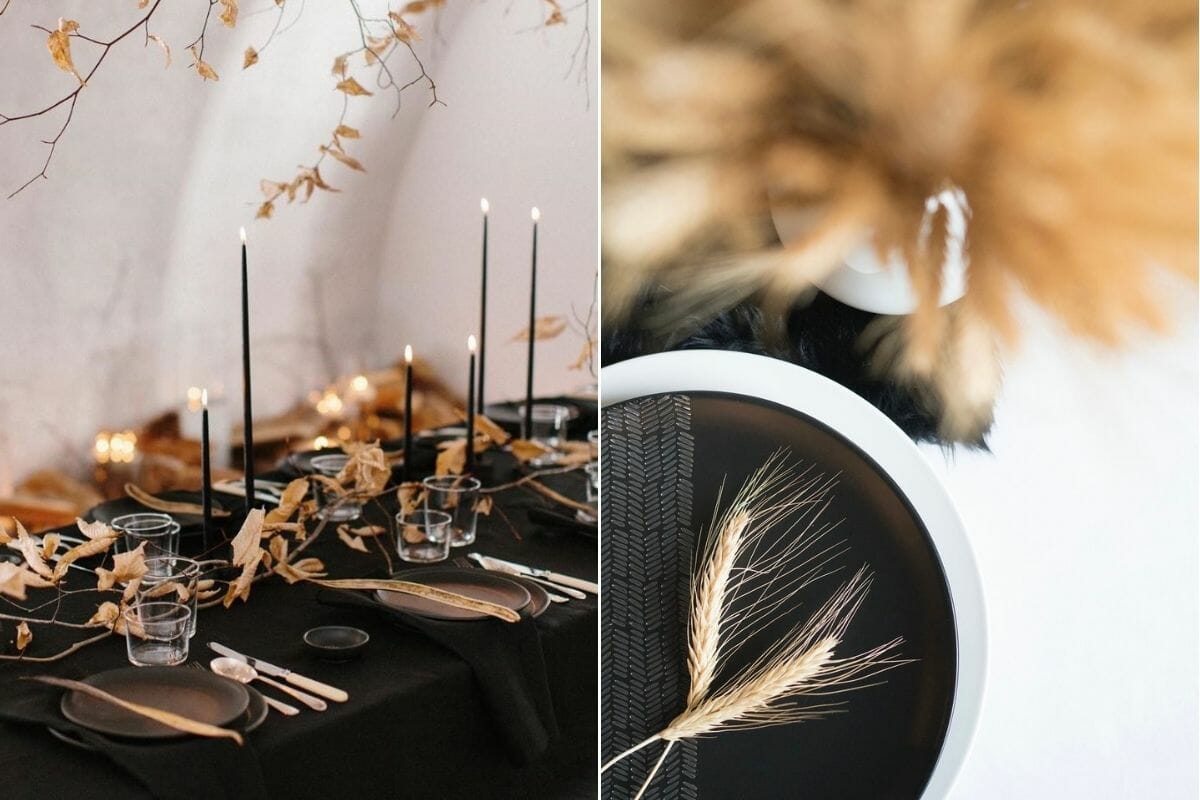 WHAT WE LOVE: The contrast of natural browns against black tableware. Paired with delicate candlesticks, the predominantly noir tablescape is romantic and inviting.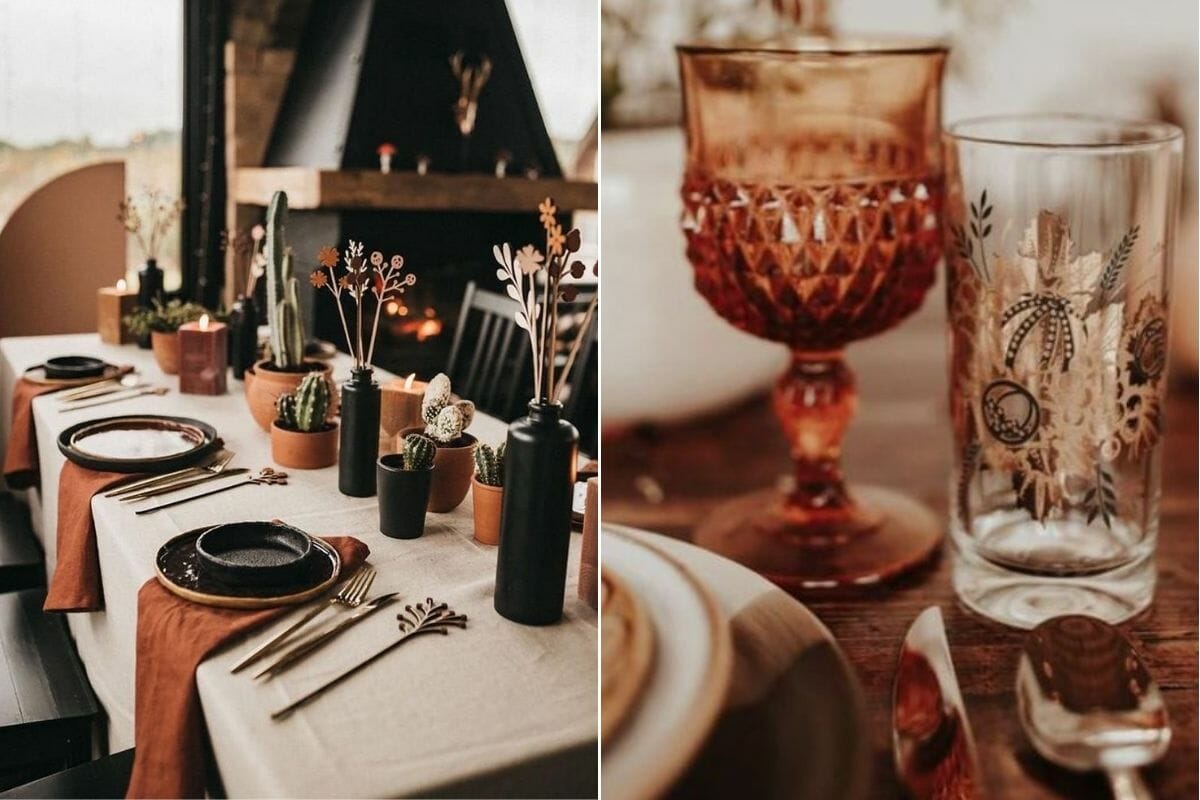 WHAT WE LOVE: The blend of terracotta and cream décor that provides just the right amount of nostalgia. The sweet succulents also add a contemporary touch we adore.
Thanksgiving Centerpieces to Gather Around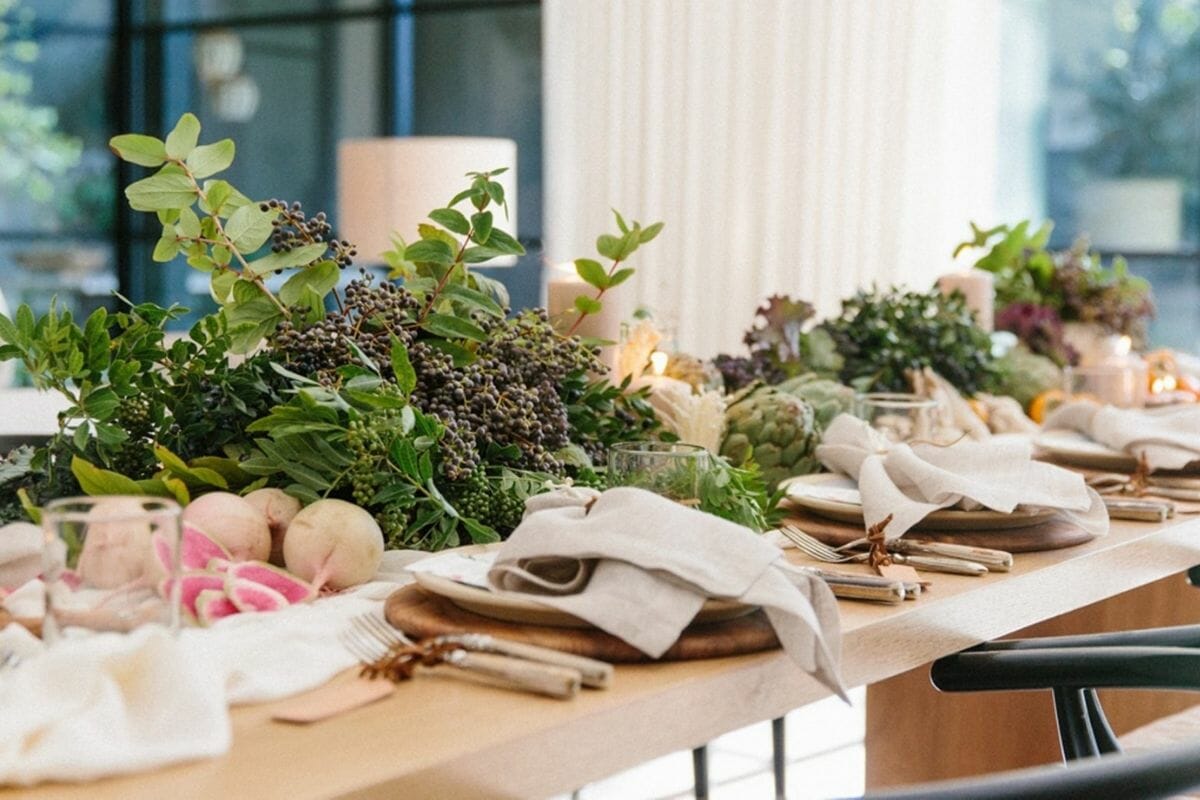 Centerpiece: where Thanksgiving decorating ideas truly come to life. Showstopper or not, a Thanksgiving table setting is where family and friends meet, so it's good to give it a special touch with chic holiday decoration.
Thanksgiving Centerpiece Do's and Don'ts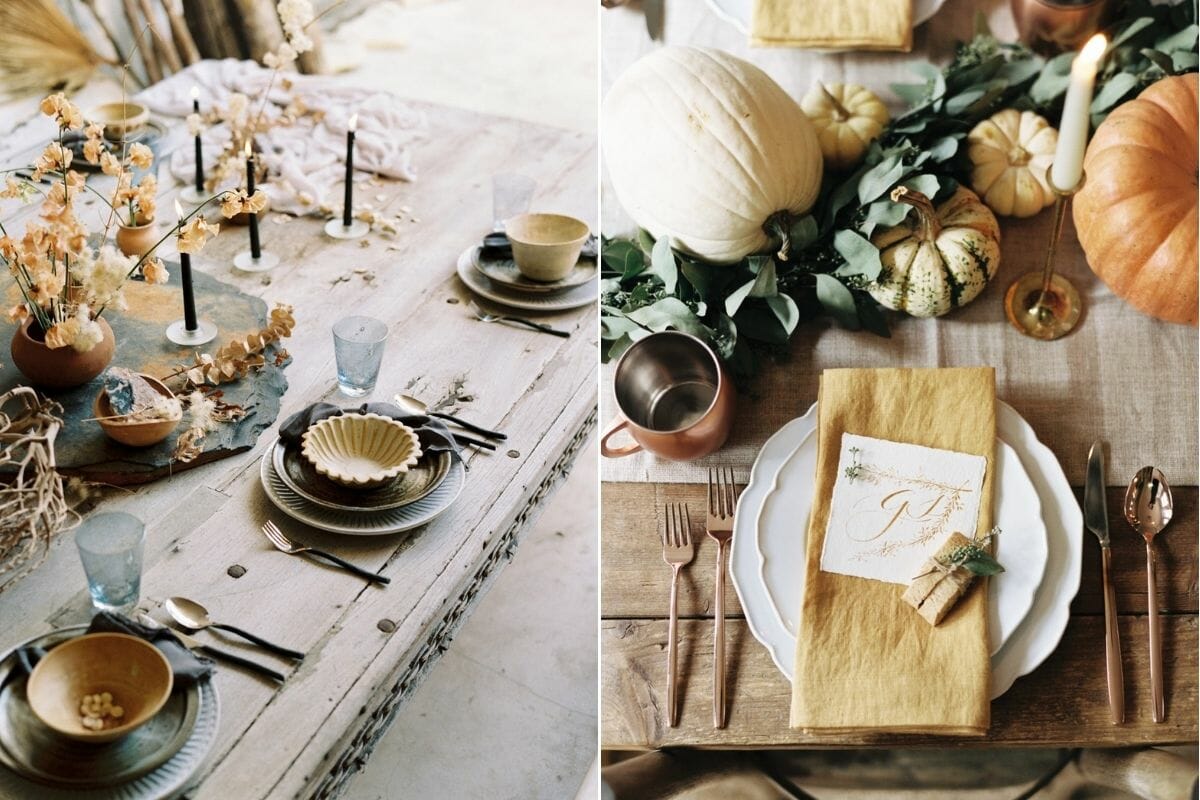 DO keep the Thanksgiving centerpiece small, especially if you want to serve your dishes in the middle of the table.
DON'T use overly fragrant flowers that can cause an allergic reaction in guests.
DO work in multiples. Candles, flowers, and other décor work well in pairs or groups of three, five, or seven.
DON'T forget to layer. You can arrange a beautiful table just by layering two or more textures, like bushy foliage and glossy candles set against burlap.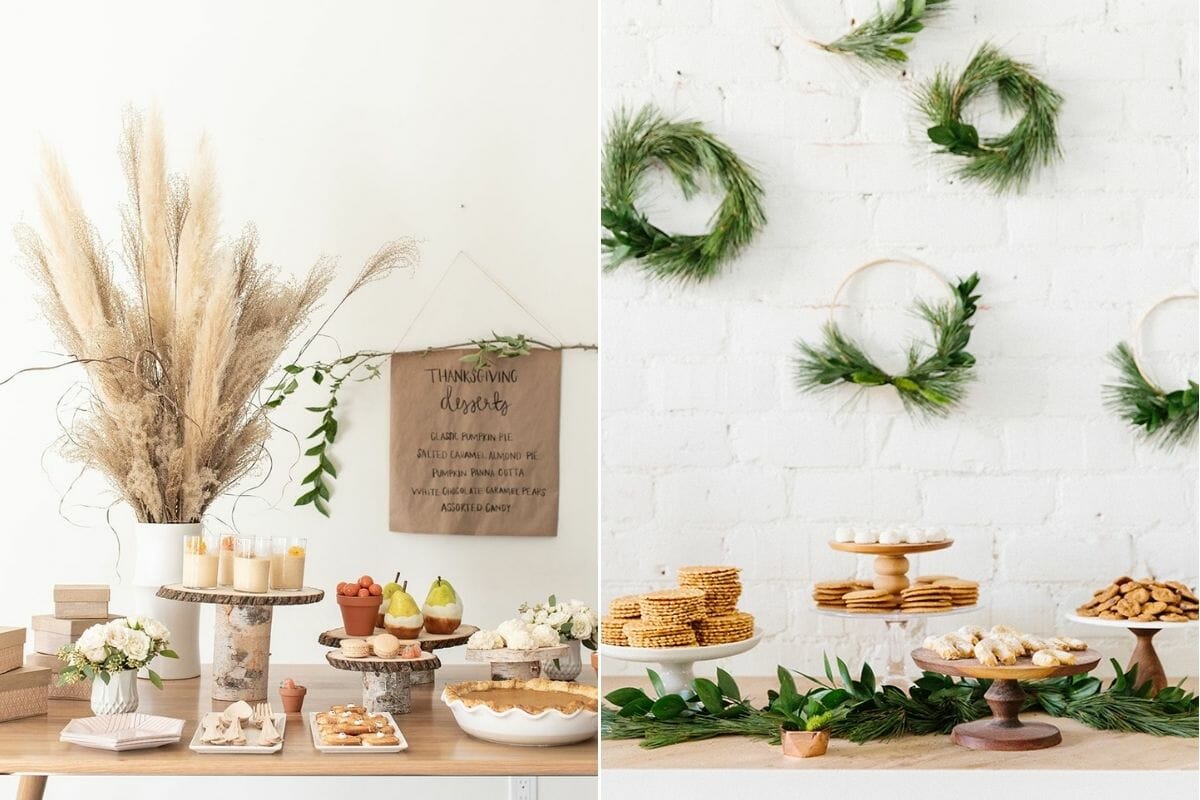 DO add objects of various heights, even if the pieces are only 2", 4" and 6" tall.
DON'T overcomplicate. Simple flowers and Thanksgiving table décor will create a timeless look.
DO balance the arrangement by using different shaped and sized decorations and flowers.
DON'T make use of elements that are too bulky or high. You want your guests to be able to see over décor to interact with one another.
DO display dishes on a separate buffet table if you want more space on the dining table. This extra can also double as a place to showcase an elaborate Thanksgiving centerpiece that won't be in the way.
Welcoming Thanksgiving Door Decorating Ideas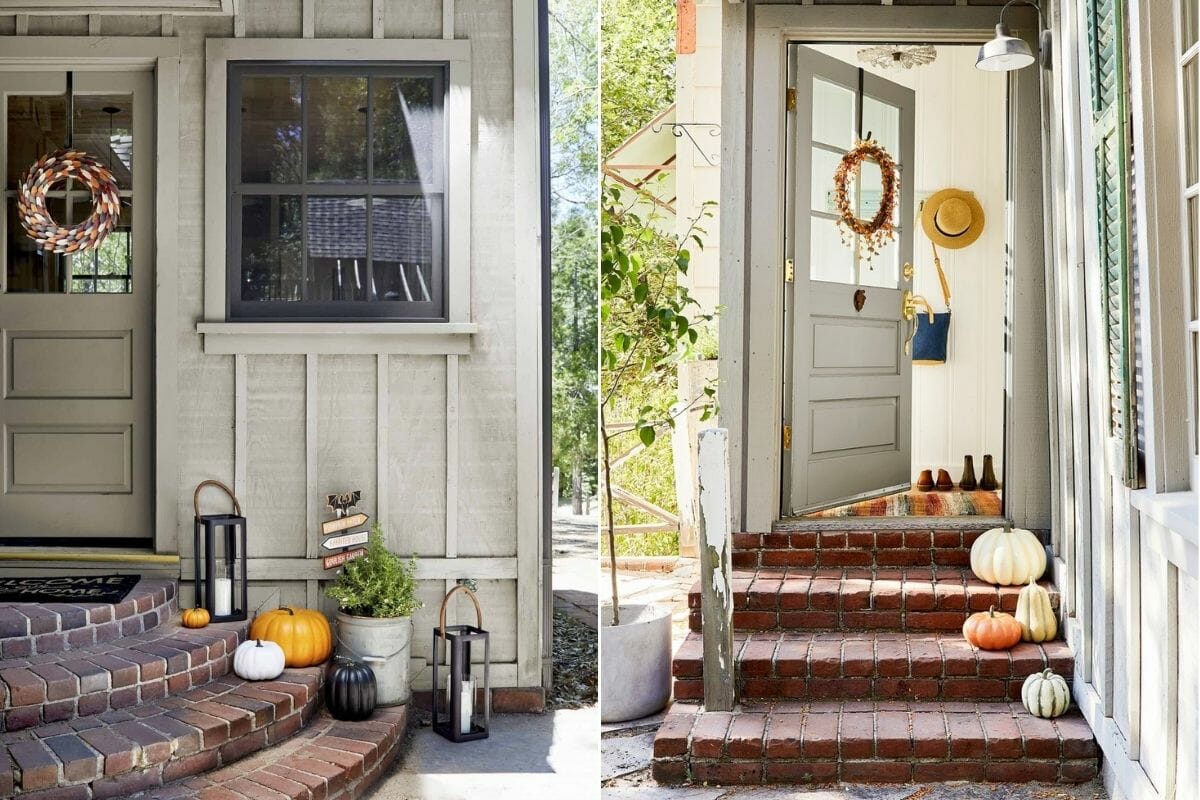 Welcome your loved ones with a beautiful and inviting doorstep. A beautiful Thanksgiving wreath certainly shows that your home is filled with festive spirit but there are contemporary décor ideas that could bring just as much cheer.
Decorate Your Doorway for Thanksgiving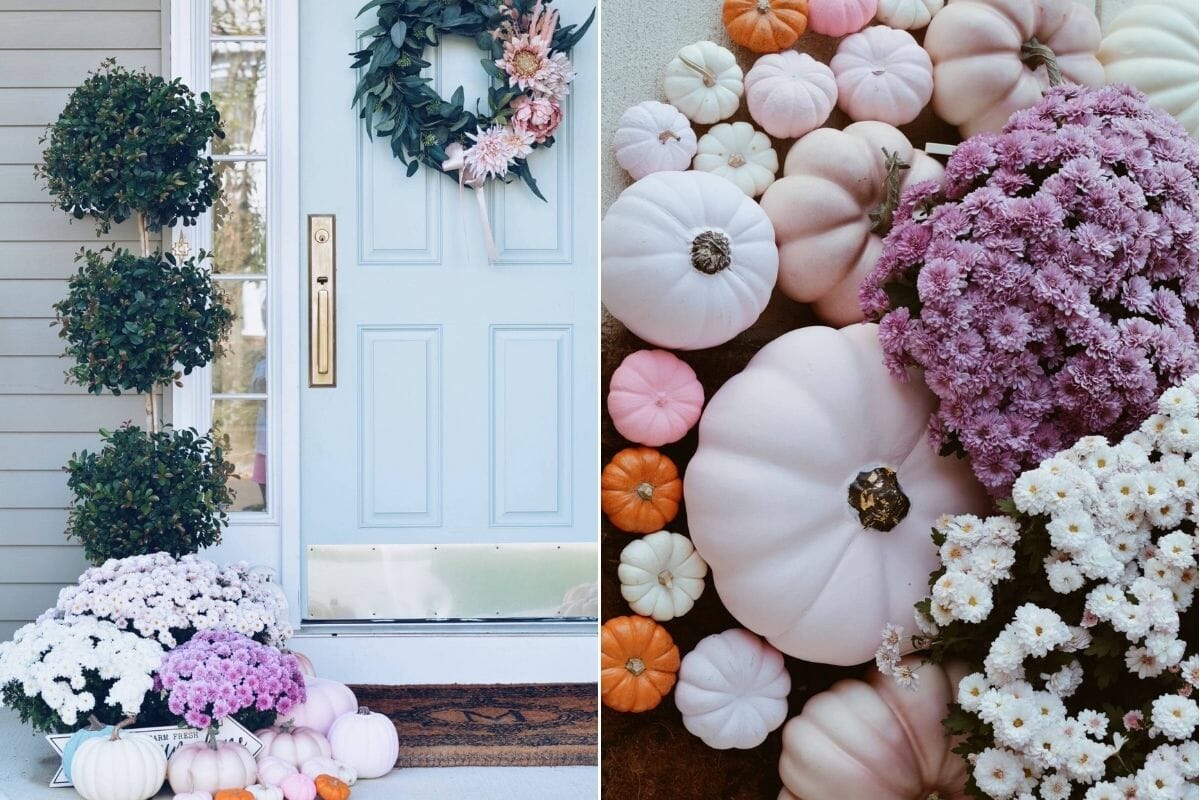 You can step away from fall colors if you feel like a change. Paint pumpkins in dusty pink and arrange them with flowerpots as a happy – alternative – hello to visitors. Mini Chrysanthemums or daises, for instance, will work well because they are easy to maintain and can last quite a while. These pink gourds and blooms also perfectly match the green and pink flowery wreath adorning the front door.
DESIGN TIP: Coordinate the color of your Thanksgiving door décor so that it forms a cohesive and pretty picture.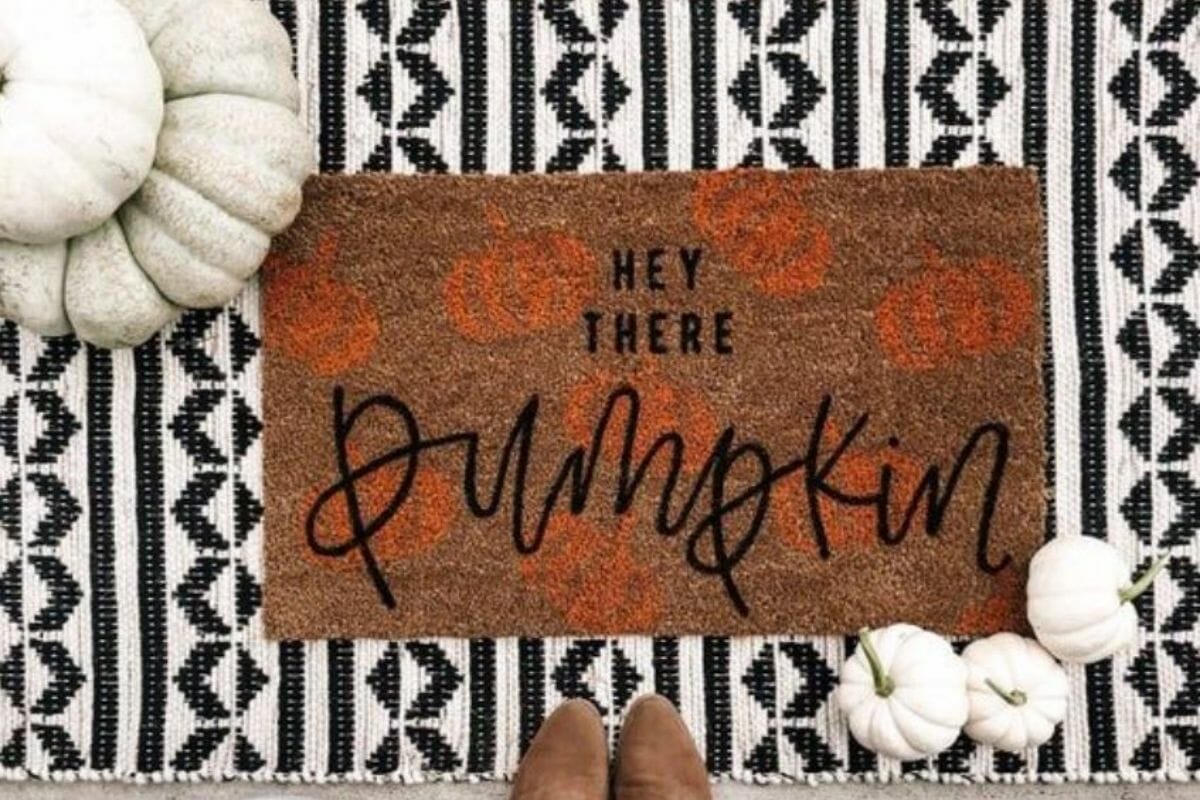 Elevate your welcome with a "Hello Pumpkin" doormat. Your guests are sure to feel some of the festive cheer as they wait on your doorstep.
DESIGN TIP: Decorate for Thanksgiving by making your doorstep extra special by placing a larger area rug underneath your welcome mat and topping one or two corners with holiday decor.
Perfect Colors for Thanksgiving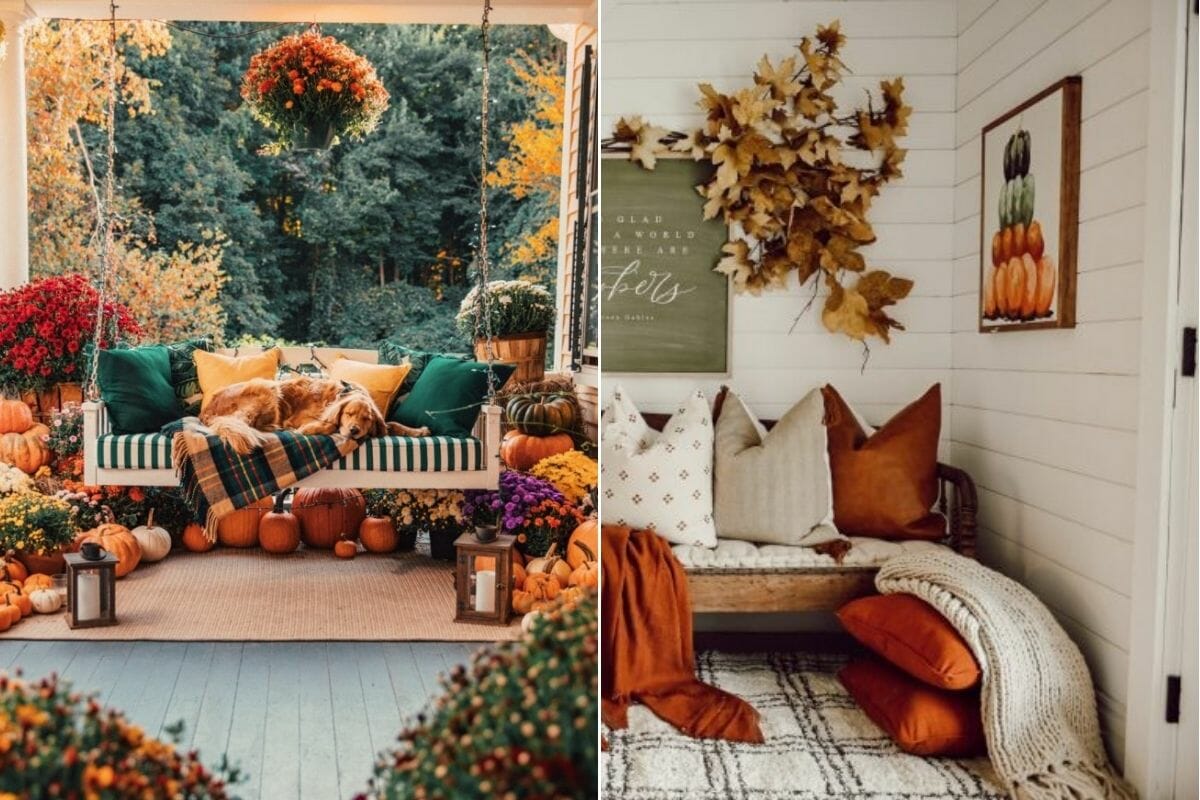 When we think of Thanksgiving colors, orange, red, yellow, and brown come to mind. These colors can make a room pop, but they can also feel a bit tired or outdated. Fortunately, you don't have to stick to a traditional palette when you decorate for Thanksgiving. With so much beautiful contemporary Thanksgiving home décor available, your color scheme can include any hue – even blue can work.
Gold and white is such a classic combination, it never fails to set the tone for the holidays. That's why this celebratory combination will forever be a timeless Thanksgiving color scheme.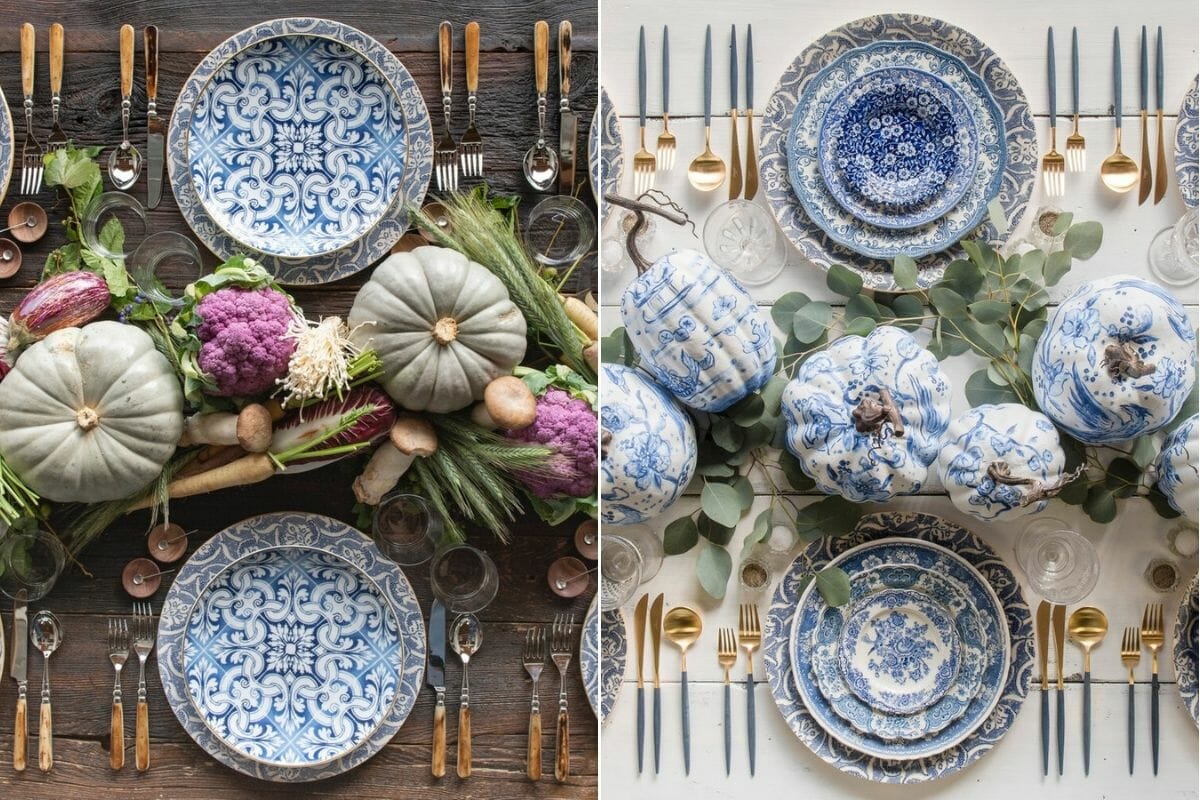 Blue is such an unlikely candidate for Thanksgiving decorating ideas, but it works. The cooler hue can give an air of formality (pictured on the right) or make a traditional setting feel a little lighter by contrasting with warm tones (pictured on the left).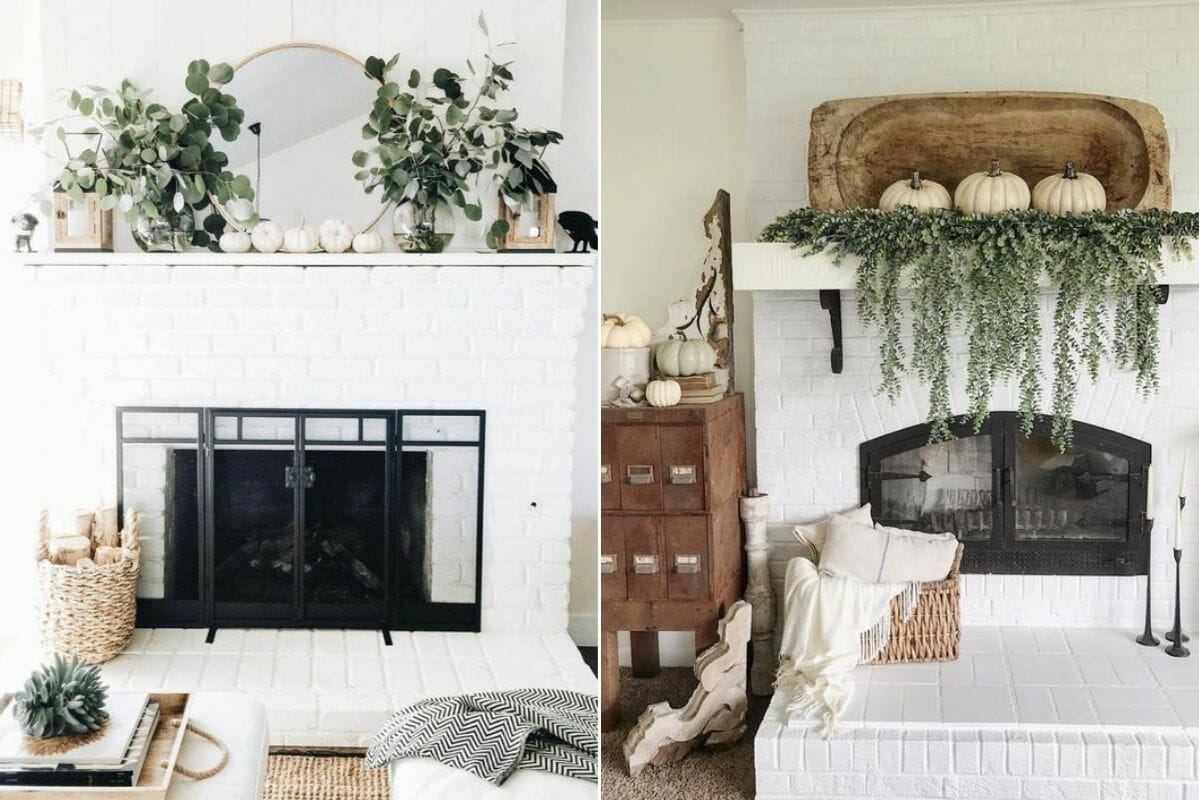 Not only is a green and white color scheme easy to pull off, but it is also very uplifting. To create the look, forage or buy a couple of bunches from the florist, and then arrange them with white Thanksgiving home décor in key areas in your home, like the dining room, mantelpiece, and entryway.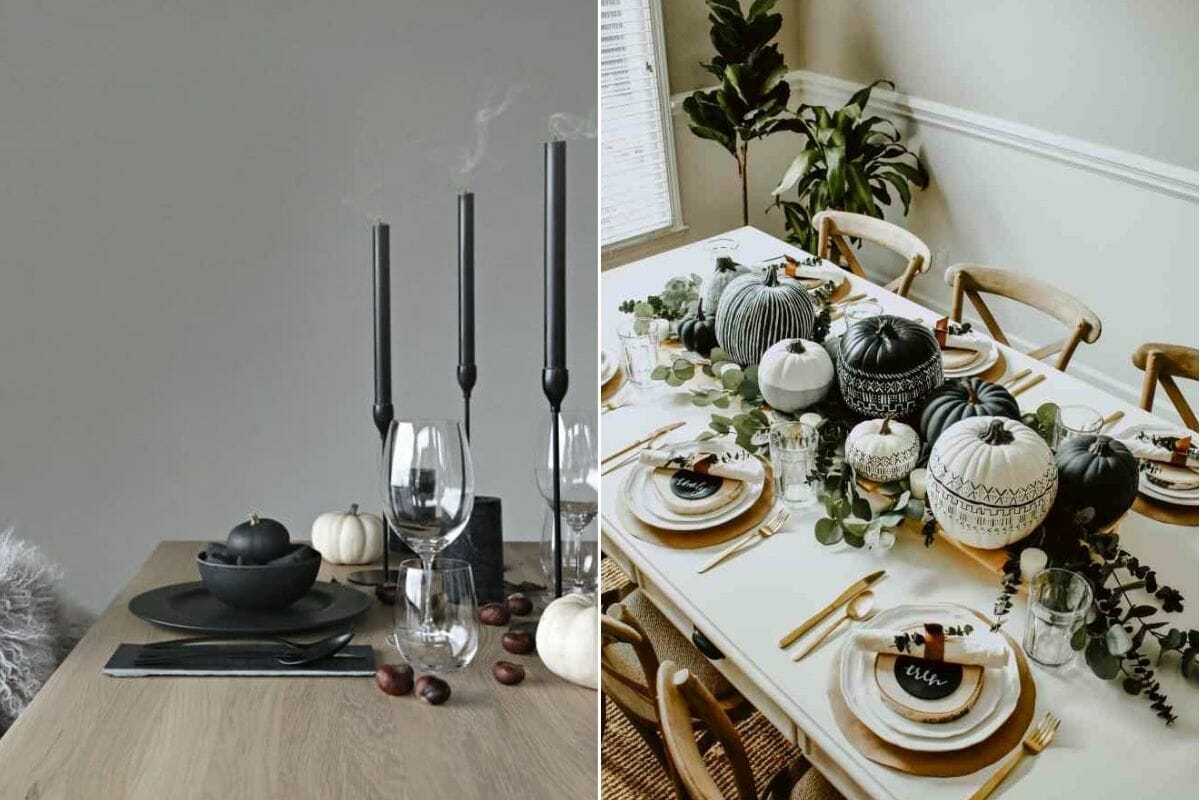 Black is another surprise that can provide a base for some of the most stunning and sophisticated Thanksgiving interiors. Pair the striking tone with white, earthy brown, gold, or green for a beautiful festive table.
Decorate for Thanksgiving with Our Favorite Home Décor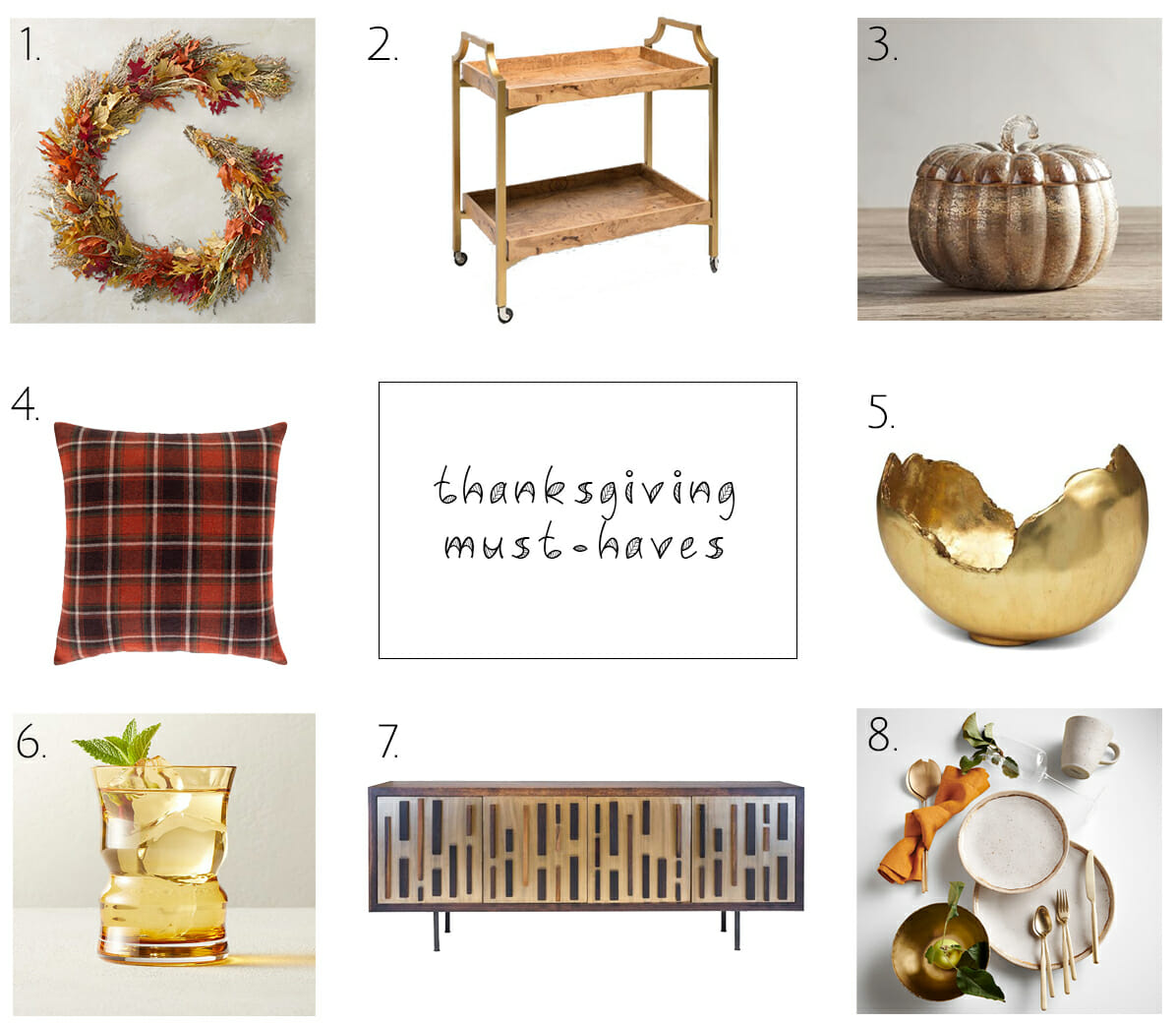 Decorate for Thanksgiving without fuss with our favorite picks. You can create a refined holiday interior in no time. Most importantly, Decorilla's white-glove shopping concierge, included in all online interior design packages, is able to save you time and money with done-for-you ordering and exclusive trade discounts.
Schedule a Free Consultation to see how you can save up to 35% on these Thanksgiving decor items and more through Decorilla! 
Harvest Leaves Garland: Whether strewn over your mantle or running down the center of your table this garland will certainly bring a festive air to your holiday décor.
Festive Drink Station: What are the holidays without some celebratory beverages? Make mixing up the perfect concoction a breeze with all the essentials on a bar cart.
Scented Pumpkin: Create a full sensory effect with your décor by incorporating holiday scents. Think pumpkin, cinnamon, evergreen, and spiced cider.
Hints of Fall Flannel: An easy way to bring in pops of fall décor around your home is to use cozy textured accents like flannel, knits, and furs.
Statement Golden Centerpiece: Give your centerpiece a touch of elegance with this gold burled bowl filled with seasonal harvest bounty.
Glowing Amber Glassware: These amber tumblers bring a strong vintage aesthetic to your table setting while fitting in nicely with the fall color scheme.
Beautiful Buffet: Leave more space at the dining table by displaying your delicious spread of food on a beautiful buffet off to the side.
Gold Accented Dinnerware: Perfect for a more sophisticated place setting, this dinnerware will give your guest the feeling of dining at a 5-star establishment.
Ready to add some of these beautiful Thanksgiving decorating ideas to your home, but not sure where to start? Then, schedule a Free Interior Design Consultation to get your home holiday-ready with the finest interior designers!

[images: 1, 2, 3, 4, 5, 6, 7, 8, 9, 10, 11, 12, 13, 14, 15, 16, 17, 18, 19, 20, 21, 22, 23, 24, 25, 26, 27, 28, 29, 30, 31, 32, 33, 34, 35, 36, 37, 38, 39, 40, 41, 42]