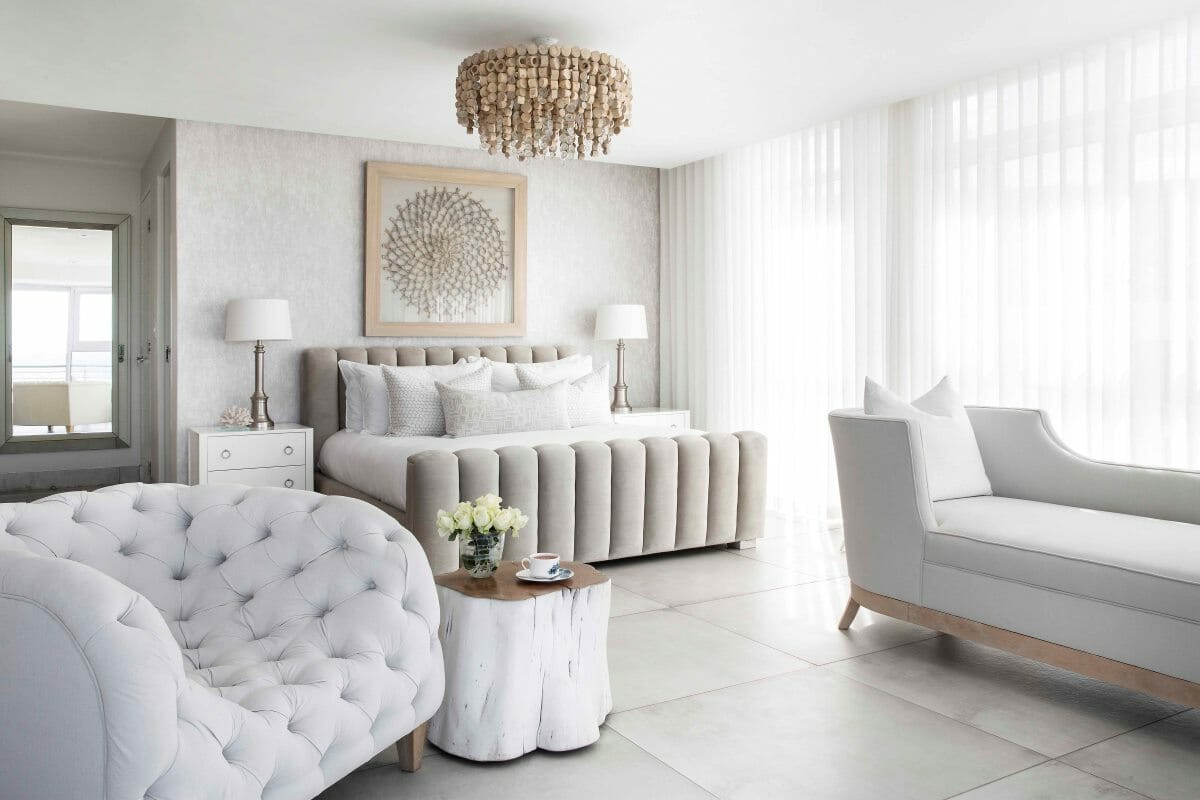 Although some trends come and go, a special few have enduring appeal. In fact, these are so much more than crazes. They can keep a room looking and feeling incredible for years to come. When embracing en vogue interior ideas, start with the bedroom. After all, it's one of the core spaces in any home. Read on for a forecast on 2023 bedroom trends with timeless potential.
2023 Bedroom Trends Bring Elegant Comfort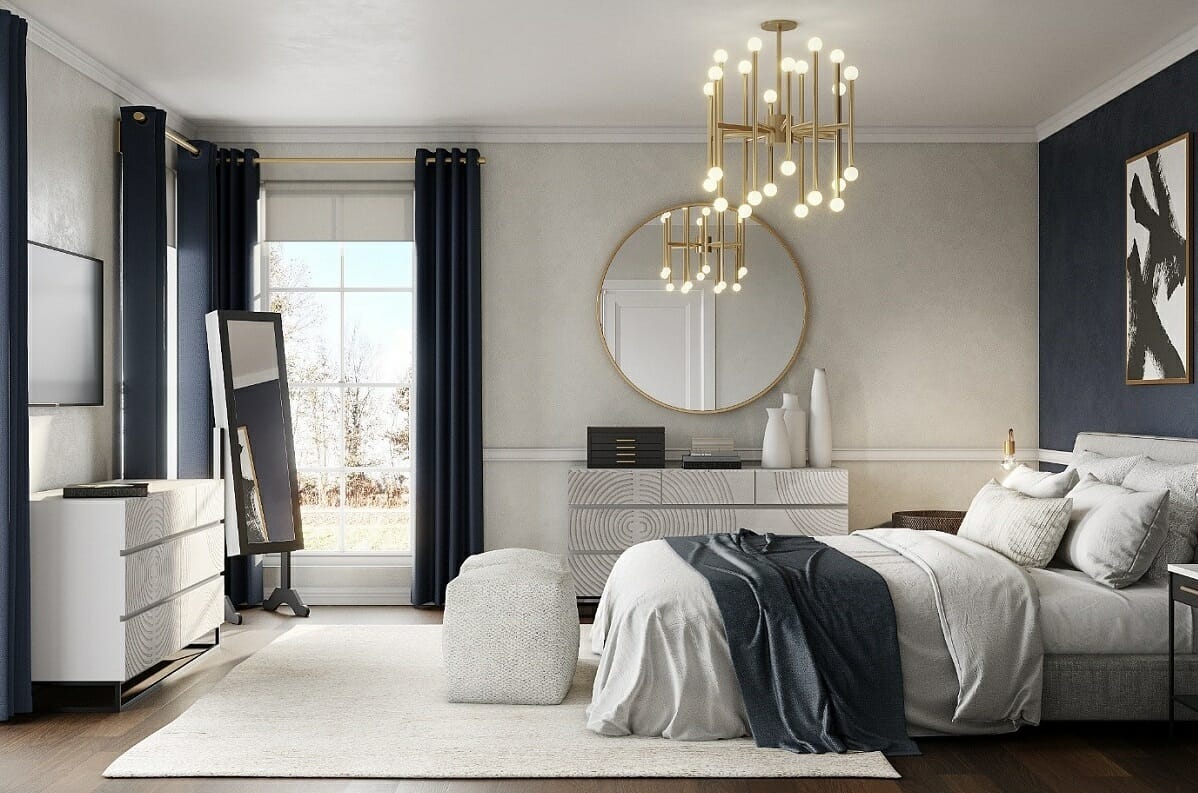 Since the bedroom trends of 2023 are so varied, there are looks and ideas to suit everyone's tastes. Plus, not all the interior design trends of 2023 need the same effort to pull off. Surprisingly, some only require updating a few key elements. Yet, others work best when they form part of a complete revamp. Whatever the case – there's an ideal trend for you to embrace.
Tip: It's important to know that bedroom trends 2023 come in many different styles. Taking an

interior design style quiz

can help you pinpoint which trends match your personal style! 
1. Serene Spa-Esque Bedroom Trends 2023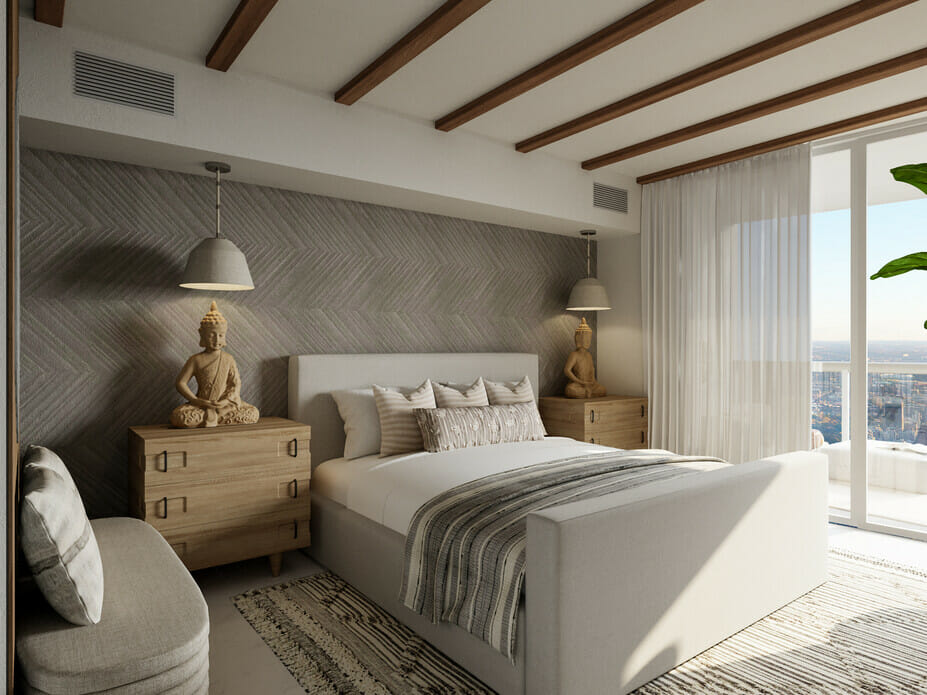 Maximizing relaxation was one of the biggest 2022 bedroom trends and decorating ideas. In 2023 it's getting elevated to sophisticated new levels. Now, it's about establishing a spa-like ambiance in the bedroom. The best part is that it's easy to implement. Just look to the characteristics of Japandi interiors for guidance. Functionality, simplicity, and a concern for wellbeing take priority.
Opt for a calm, neutral color scheme when creating a restful bedroom retreat. High-quality bedding and zen accessories like candles, diffusers, and indoor plants are also a must. Online bedroom design experts recommend clearing out clutter for a crisp minimalistic look.
2. Clean & Green Designs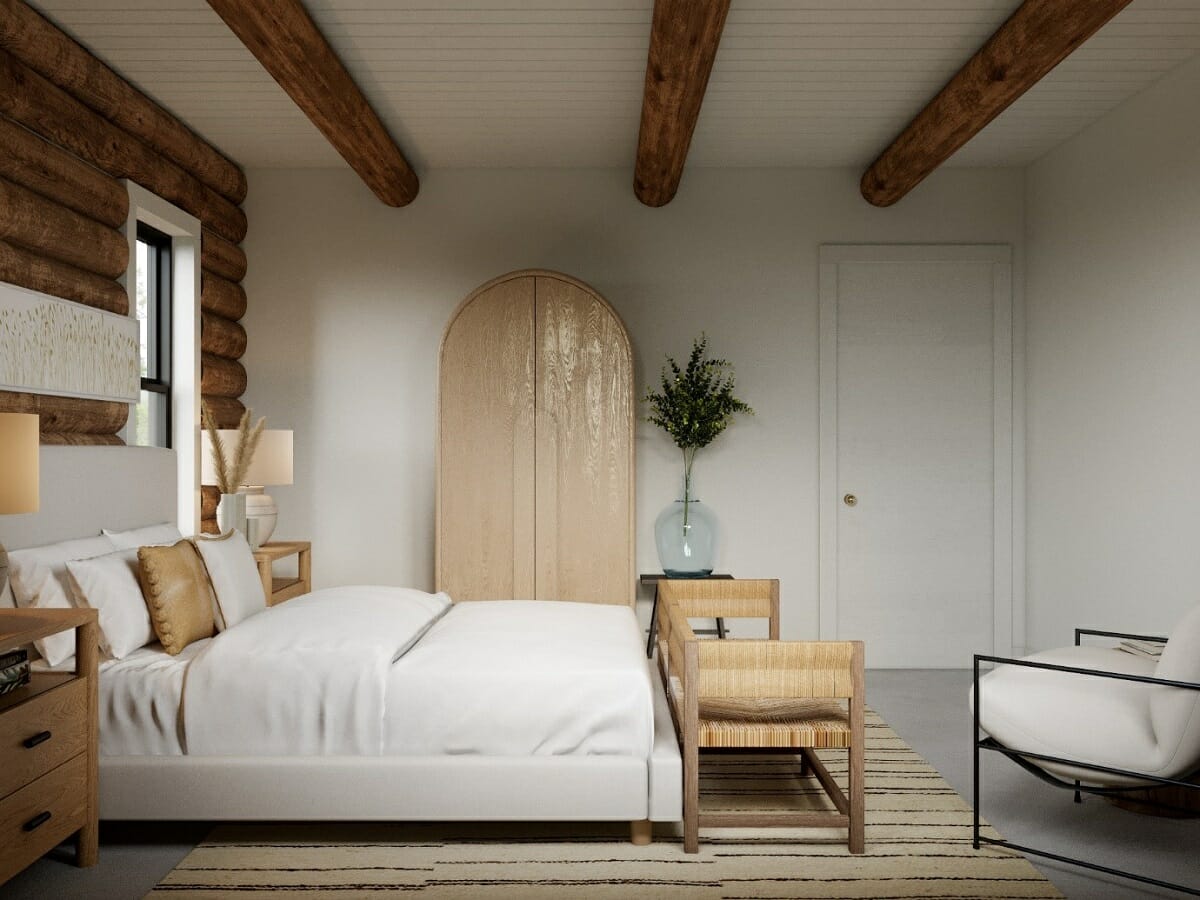 With every passing year, sustainability turns into a hotter topic. Since that's the case, environmentally-friendly alternatives are more accessible than ever. It's no wonder an eco-conscious look is among the up-and-coming bedroom trends of 2023.
Turn your bedroom into a neat, green sanctuary with pieces made from sustainably sourced materials. Locally produced, small batch items, in particular, have a lot of character. In turn, this leads to stunning, bespoke results. Consider organic cotton linens, rattan and wood furniture, and clay and stone décor. Indoor plants can further enhance the organic atmosphere.
3. Coastal Grandma 2023 Bedroom Design Trends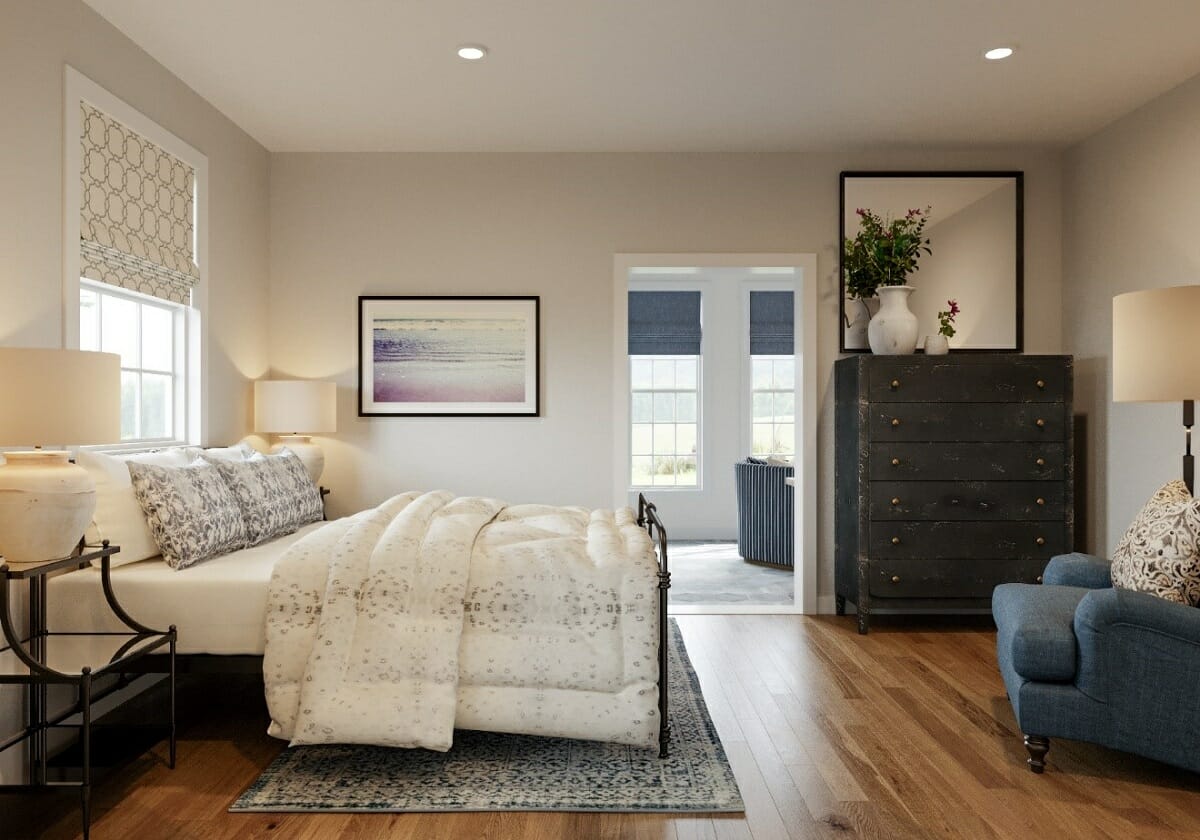 The coastal grandmother look continues to gain traction in the interior design world and shows no signs of slowing down. Contrary to the name, there's nothing old or dated about it – in fact, it's one of the most charming bedroom trends of 2023. The style has timeless appeal, capturing the essence of refined yet relaxed coastal living.
Coastal grandmother design is refreshingly understated yet highly elegant. Although oceanic themes are present, they're applied subtly. To achieve the desired results, go for a light, nautical blue and neutral color palette. Vintage furnishings and cozy but breezy fabrics are style staples. Finally, finish the room with a vase of flowers, wicker storage baskets, and even a slipcovered armchair.
4. Art Deco Revisited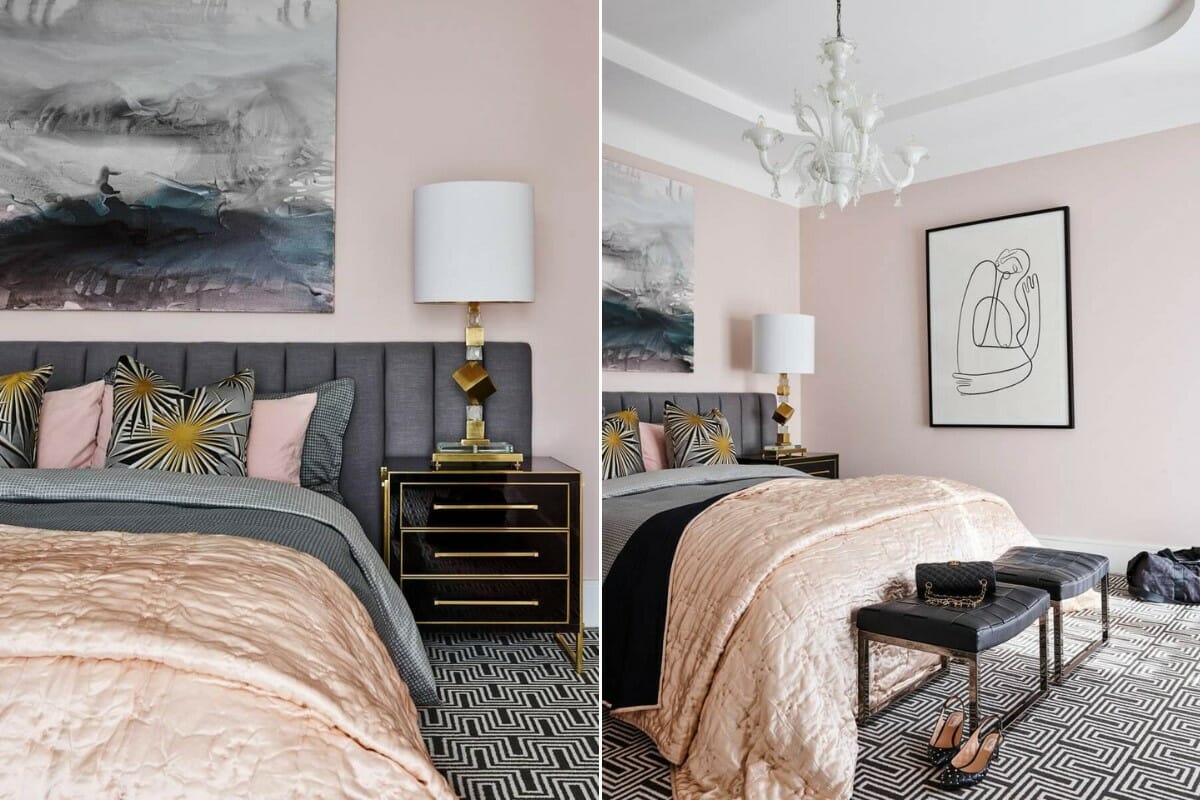 Creative types with a love of old world glamour rejoice – Art Deco is another of the top 2023 bedroom trends! It was bound to make a strong comeback sooner rather than later due to its bold patterns and general fun nature.
Make the look come alive by using muted base colors like beige or gray, then layer on extravagant hues of gold, sapphire, and emerald. The iconic geometric patterns should feature too, but balance them out with rounded shapes. Consider, for example, an Art Deco headboard with gently curved edges. Velvet finishes are another style hallmark and help to set a wonderfully deluxe tone.

Bedroom Decorating Ideas 2023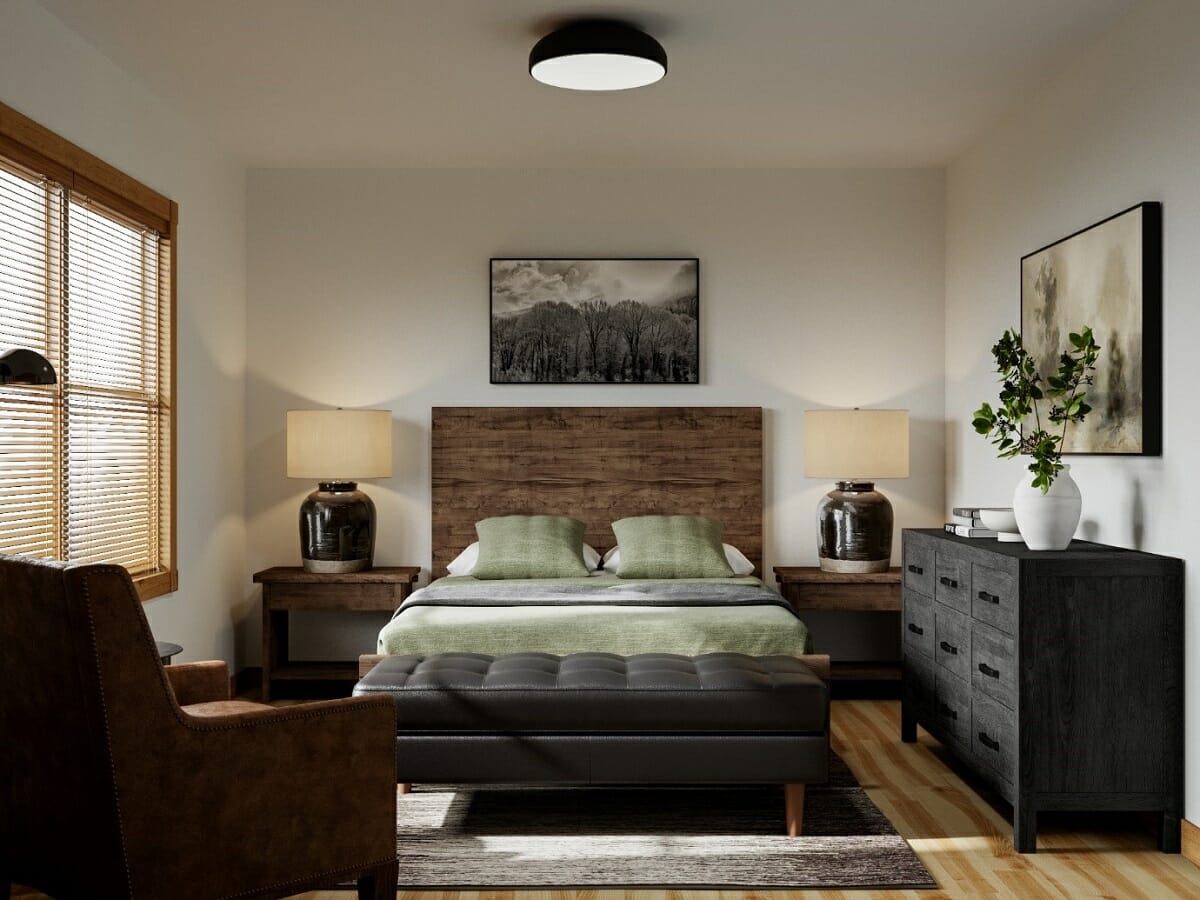 The ideal bedroom has to be more than a space where you go to rest and recharge. It needs to appeal to your stylistic senses too. Because we spend so much time in our rooms, we should ultimately enjoy them in every way. Thankfully, the bedroom decorating ideas of 2023 feature a good mix of functional and attractive solutions.
5. Maxed Comfort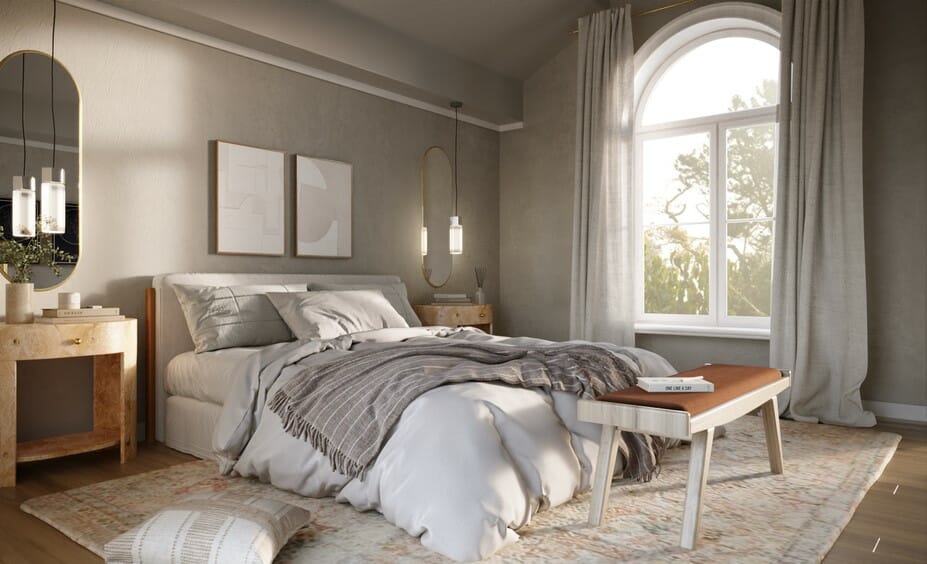 Comfort continues to be a top priority for the bedroom trends of 2023. Bedrooms should, after all, serve as relaxing escapes after long, tiring days out and about. That's why it's crucial to consider ergonomics when picking out new furniture – whether it's a mattress, bed base, or an accent chair. What furnishings feel like counts as much as their looks.
A comfortable bedroom is also convenient, meaning the layout is equally important. Ensure you can move around with ease. You'll want to invest in a spacious wardrobe to fit and organize as many items as possible. Excess clutter detracts from the enjoyment of any room. To finish off the comfy look, include fluffy pillows, plush bedding, and soft but practical lighting.
6. High-Quality Modern Curtains Bedroom Decorating Ideas 2023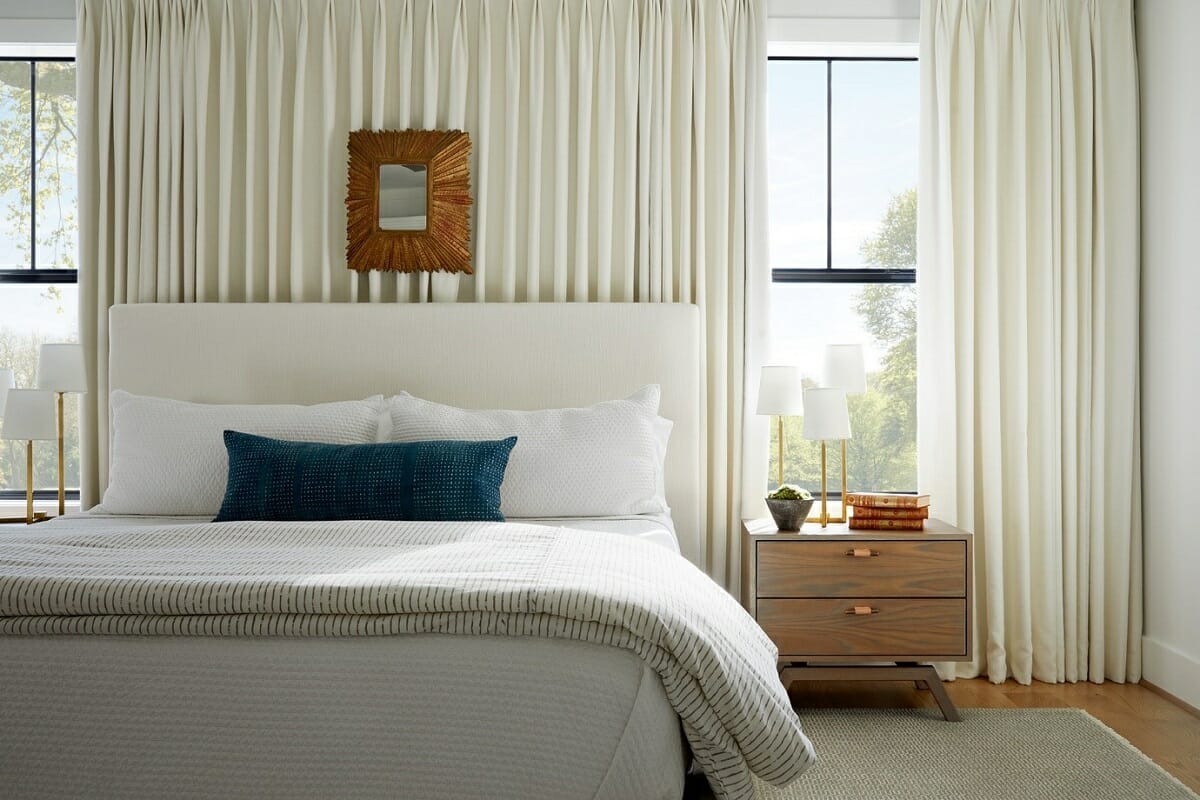 Not only are quality curtains a bedroom essential, but they're also forecasted to be among the top bedroom decorating ideas of 2023. Blackout curtains are a natural choice since they promote a good night's sleep. However, there are many other variants to consider. Even light and airy translucent ones can work in the bedroom, especially when layered.
In bedrooms without motifs, consider patterned curtains for an eye-catching window treatment. And if a sleeker, modern look is what you desire, opt for plain drapes that complement the color scheme. Also think about what effects curtain length, width, and fabric type have on the overall room ambiance.
7. Mix, Match & Embrace Bold Patterns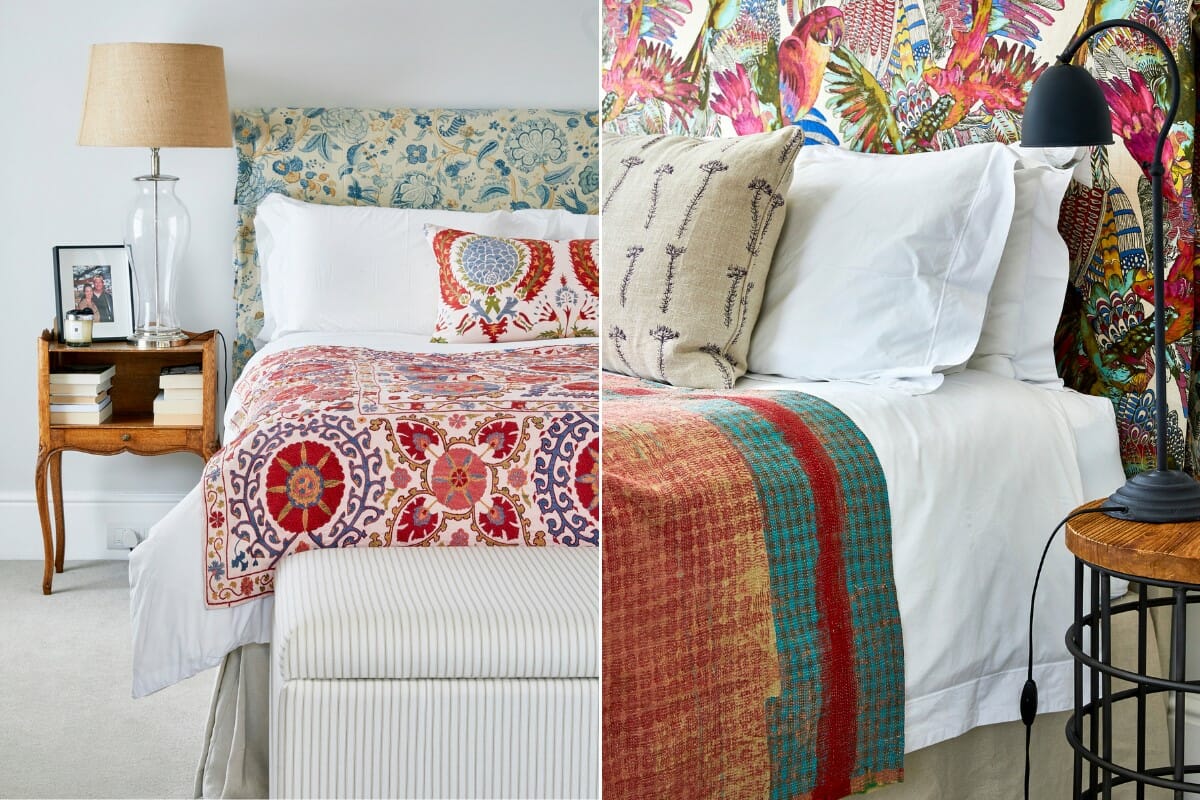 Instead of steering clear of big, bright, and bold patterns, embrace them. After all, they're among the most highly-anticipated 2023 bedroom trends! Besides, the bedroom is the perfect space to experiment with different patterns and combinations because it's so private.
You can stick to a single patterned surface or embrace many at once. Wallpaper with a striking motif is one excellent option, while printed bedding is sure to be a hit too. And don't forget about the potential of a graphic area rug.
8. Mismatched Throw Pillows Bedroom Trends 2023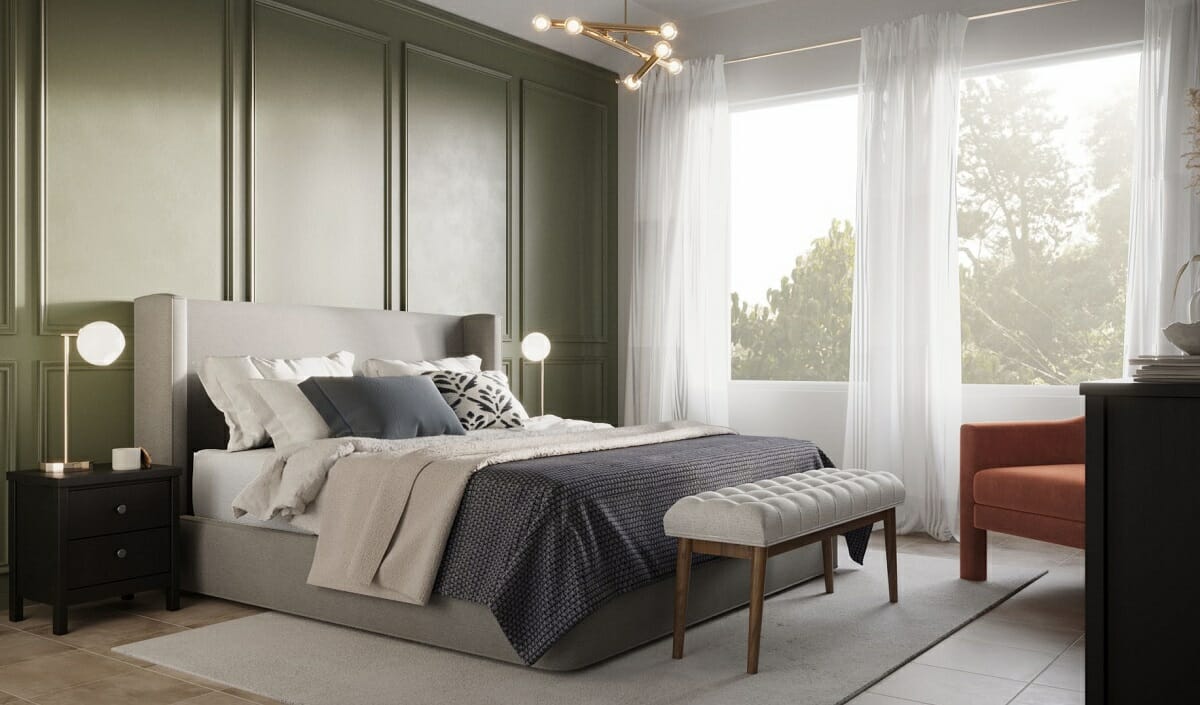 Although it was already a big hit this year, the bedding trends of 2023 continue to favor mismatched – and many – throw pillows. Not only do they increase visual appeal, but also textural appeal. Plus, they add depth and plushness to a bed.
When deciding on your contrasting throw pillow collection, look for ones that differ in size, shape, pattern, and color. In essence, you have unlimited possibilities. Particularly if you have an otherwise clean and simple bedroom. Create a bold pillow arrangement focal point to bring charm and coziness to a room.
Master Bedroom Interior Design Trends 2023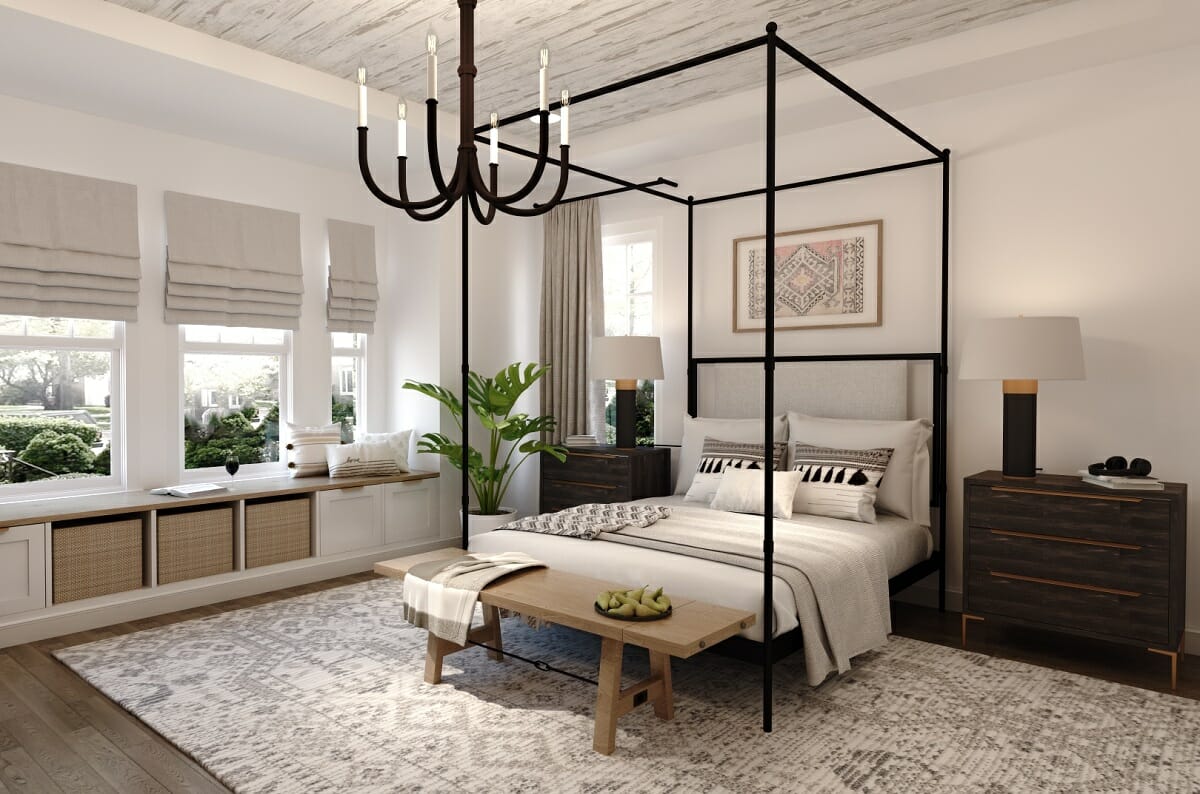 If any room is worthy of extra special touches and boasting the latest looks first, it's the master bedroom. The 2023 master bedroom trends have something to get everyone excited. Transform this room by splurging on a new bed base, headboard, artwork, and more to create the ultimate private bedtime hideaway.
9. Elegantly Upholstered Bed & Headboard Trends 2023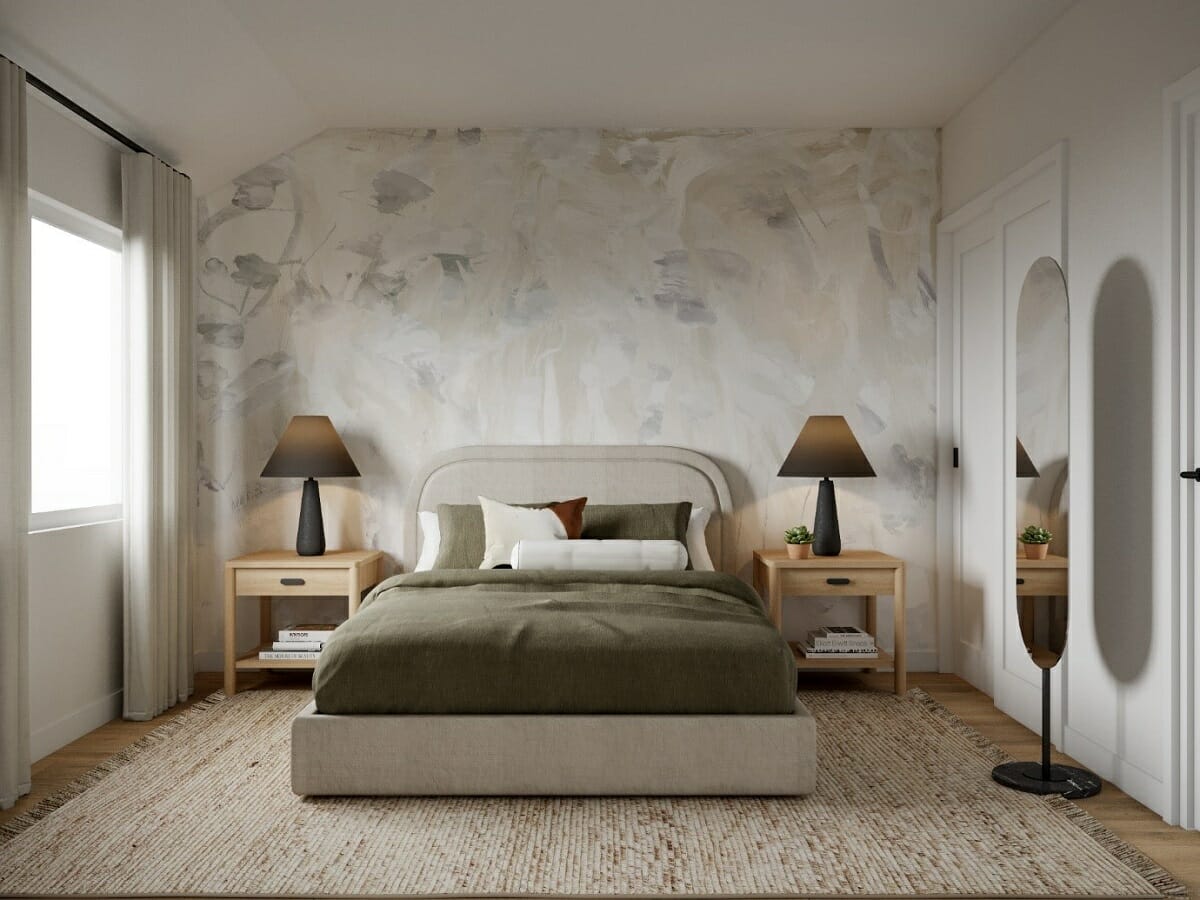 Within any bedroom, one element stands out – the bed. After all, it's the defining feature of the space. Thus, it only makes sense for one of the bedroom decorating ideas of 2023 to be a sumptuously upholstered bed or headboard.
Because the bed is central to the bedroom, its look can influence the entire room's ambiance. Luckily, there are many gorgeous options to ponder over. Also be mindful of the effects of color, size, material, design, and texture before settling on a new bed or headboard.
10. Wow with Accent Walls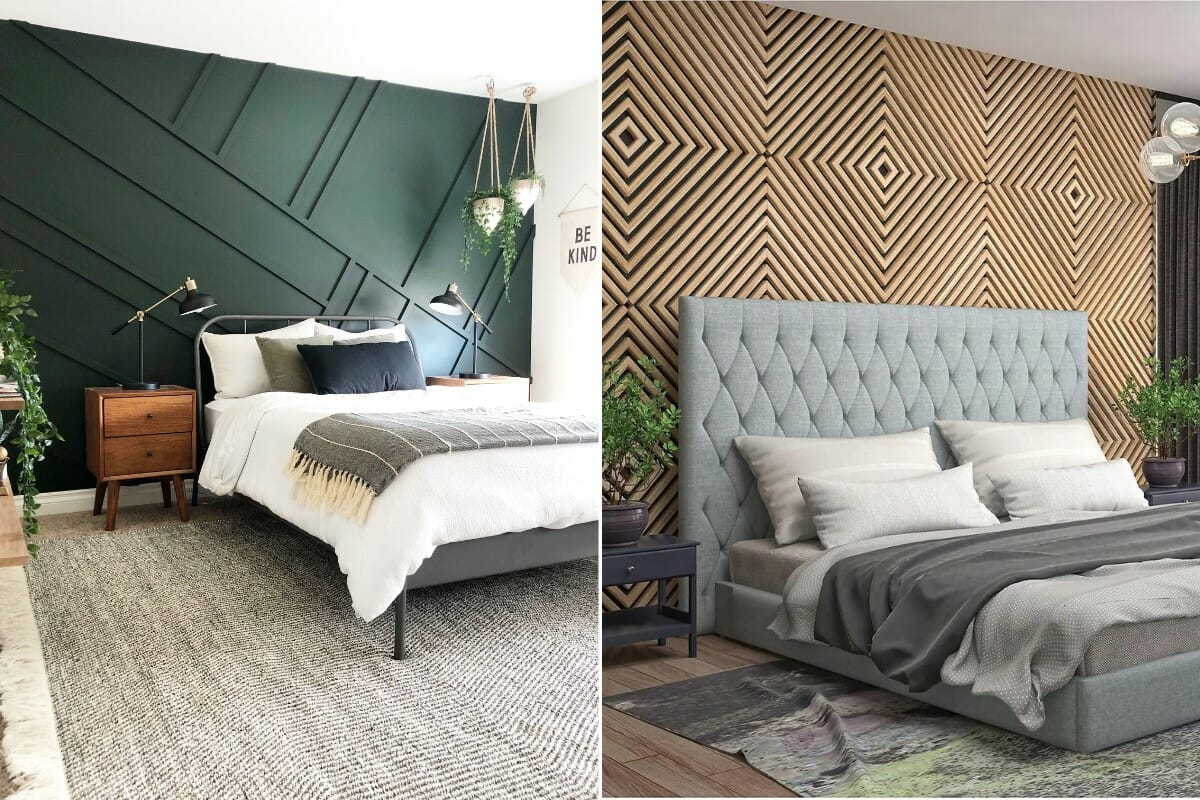 Among our favorite master bedroom trends of 2023 is the modern accent wall. The beauty of this particular trend lies in its versatility. Stunning statement walls can boast textured or graphic wallpaper, murals, and wooden panels. The possibilities are near endless!
More and more people are also choosing to match their statement walls to their headboards. Doing so extends the headboard and makes it seem far taller. The look is chic and current, establishing an undeniable luxe presence within the room.
11. Statement Pendant Lights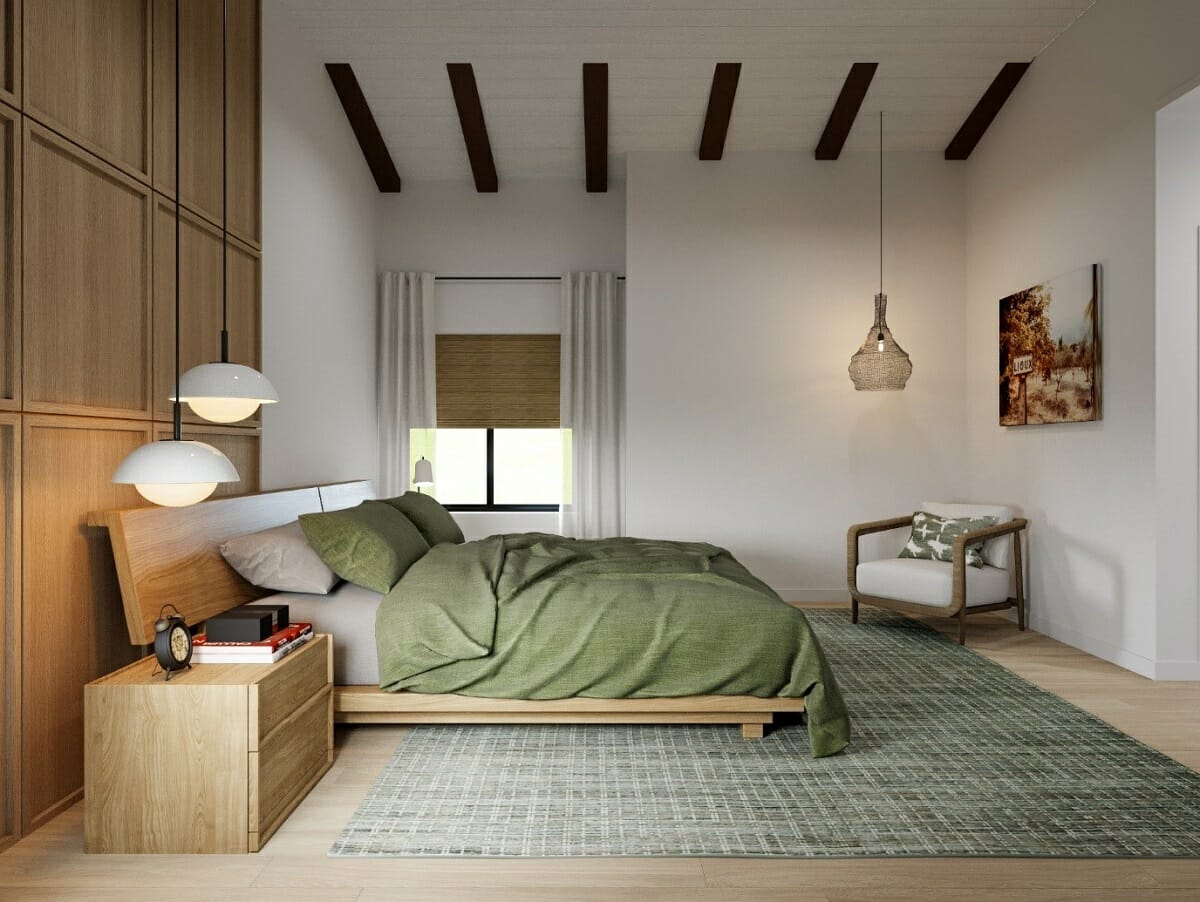 Replacing bedside lamps with pendant lights is another of the stunning yet functional bedroom decorating ideas of 2023. It's certainly a stylish alternative to the traditional solution. What's also great is that low-hanging pendants look incredible in any bedroom and free up surfaces.
There are thousands of designs available, whether you prefer an ornate or simple look. Pendant lights are especially striking when paired with an upholstered bed, headboard, and accent wall. Together, the trio can completely transform a once dull master bedroom into something truly memorable.
12. Oversized Artwork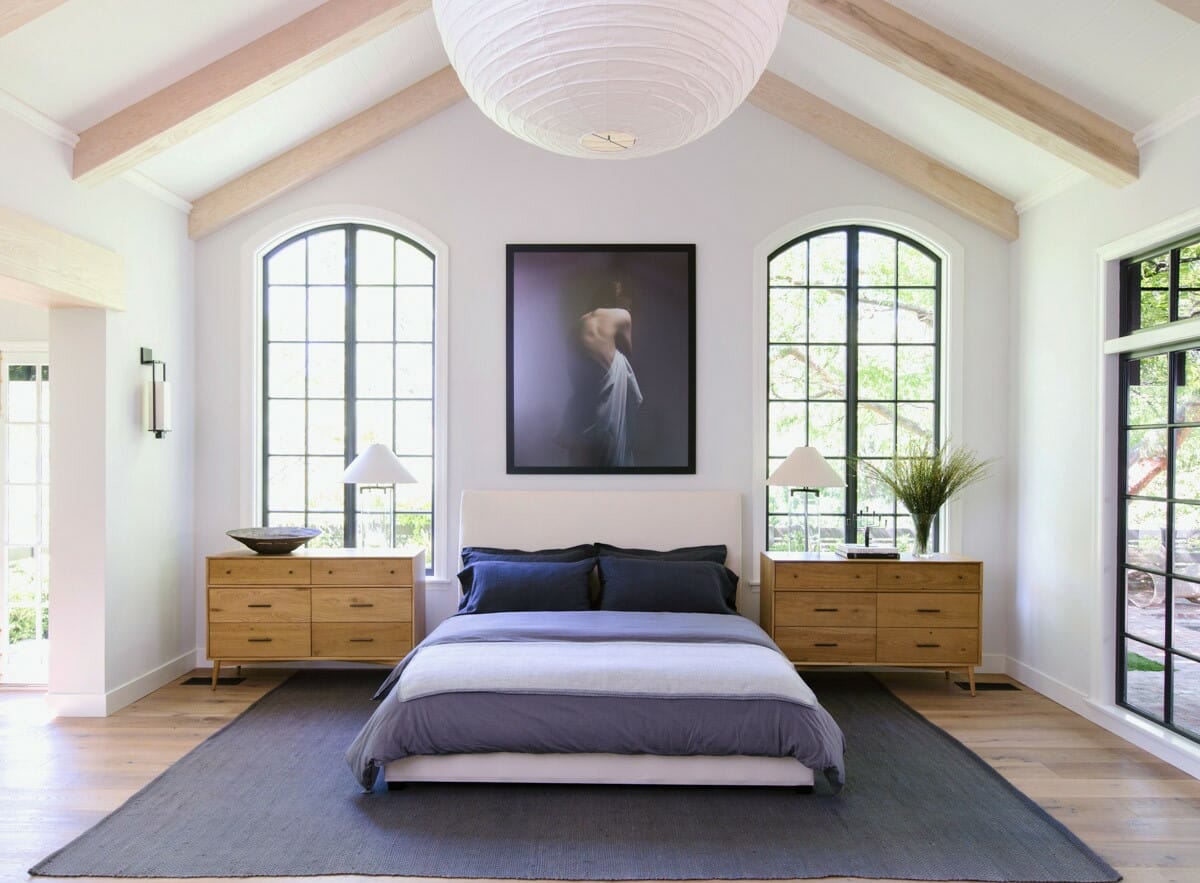 Although less can be more, bigger can also be better. The latter is the case for oversized artwork, another of the 2023 master bedroom trends. Art includes sculptures, paintings, or whatever medium you prefer. These pieces add personality to the room and enhance its artistic appeal. They also make great focal points due to their striking size and visual interest.
Line art – specifically any depicting faces – has been growing in popularity. Due to their minimalistic nature, incorporating these pieces into any master bedroom is a breeze, regardless of style.
Bedroom Color Trends 2023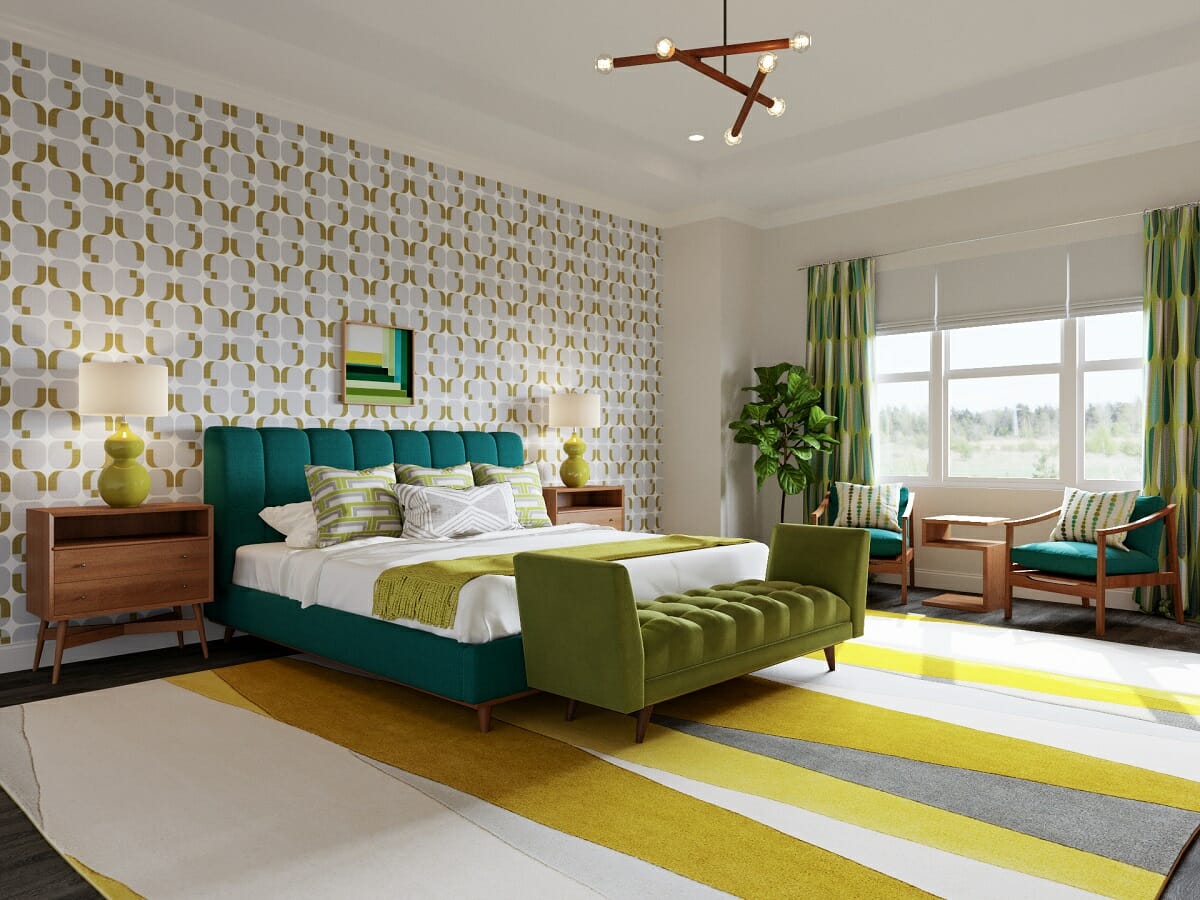 After going over the most anticipated décor and bedroom furniture trends of 2023, it's time to discuss color palettes. After all, hues have a significant impact on the ambiance and general mood of a room as a whole. Both warm and cool tones are present, meaning there's likely a stunning new color scheme to suit everyone's tastes.
13. Terrific Teal Hues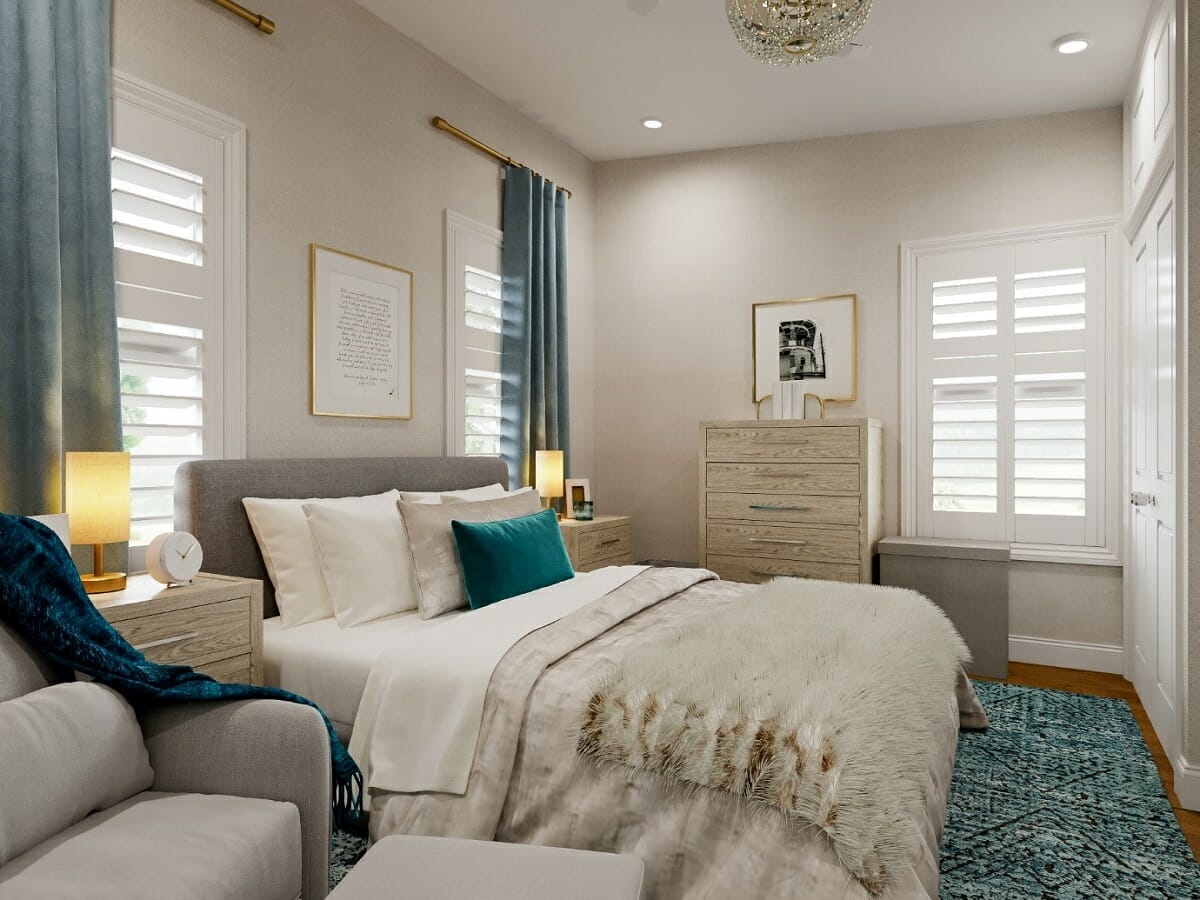 Enjoy the soothing effects of both blue and green by opting for a teal bedroom. This color scheme is among the best 2023 bedroom trends because of its versatile effects. Although it's on the cool side of the spectrum, teal has a richness and warmth to it yet also exudes the calmness associated with cool hues.
To enjoy the biggest impact, cover the bedroom walls in a full-bodied teal. However, for a subtler look, only paint the window frames and doors teal, then opt for white walls to make them pop. Throw pillows, bedding, and area rugs are also great ways to incorporate the color without resorting to a new paint job.
14. Beautiful Burgundy Accents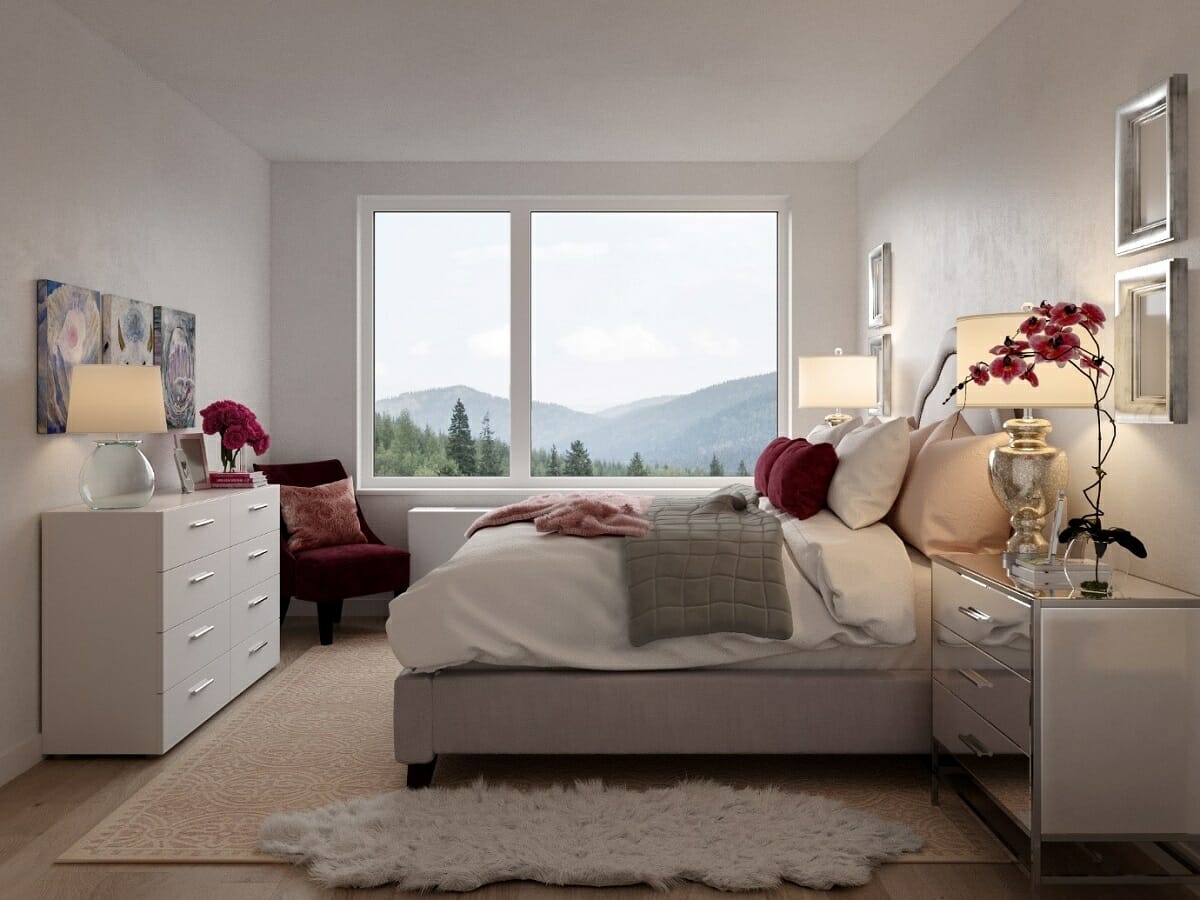 Rich and deep, burgundy – even a splash of it – can make a room seem more luxurious. Of all the bedroom color trends of 2023, it's probably the one hue that pairs beautifully with each of the others. Combine it with teal for a regal look, black to make it pop, and a warming terracotta for a cozy atmosphere.
Those who want a glamorous bedroom should consider a burgundy color palette with either silver or gold accents. Upon entering the room, these blends should make you feel like you're living the high life.
15. A Touch of Black is Back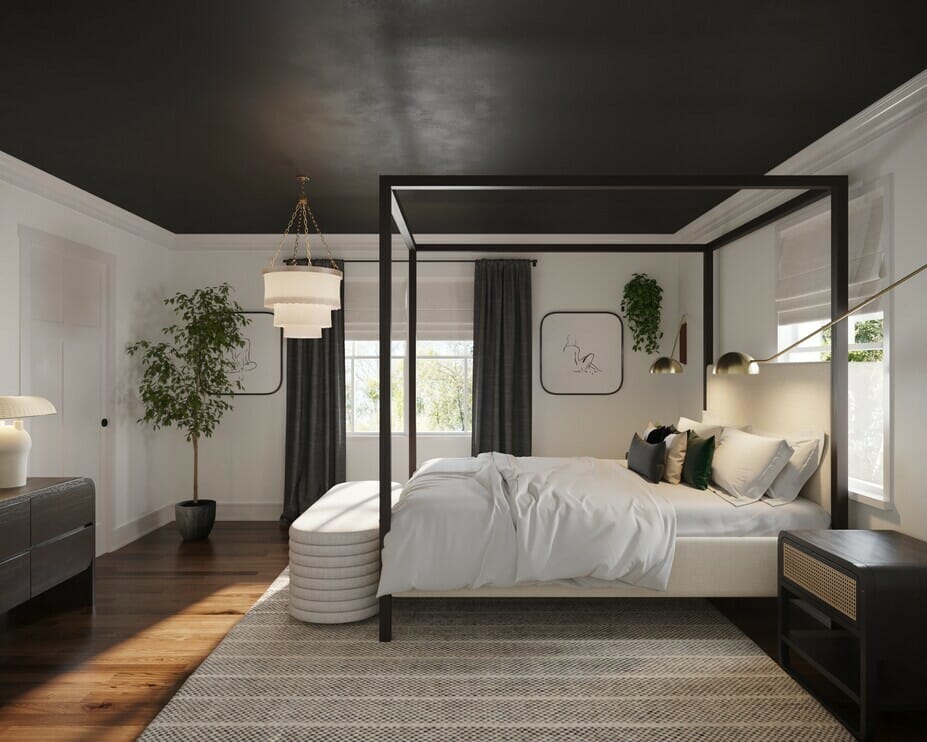 When deciding on a neutral tone for the bedroom, most people pick white for its all-purpose qualities. But finally, black is making a comeback as one of the best modern bedroom trends of 2023. Small rooms benefit from a coat of black paint or new accessories the most since they make spaces feel large yet intimate. Classic white accents or light grays are perfect for bringing balance.
16. Warming Terracotta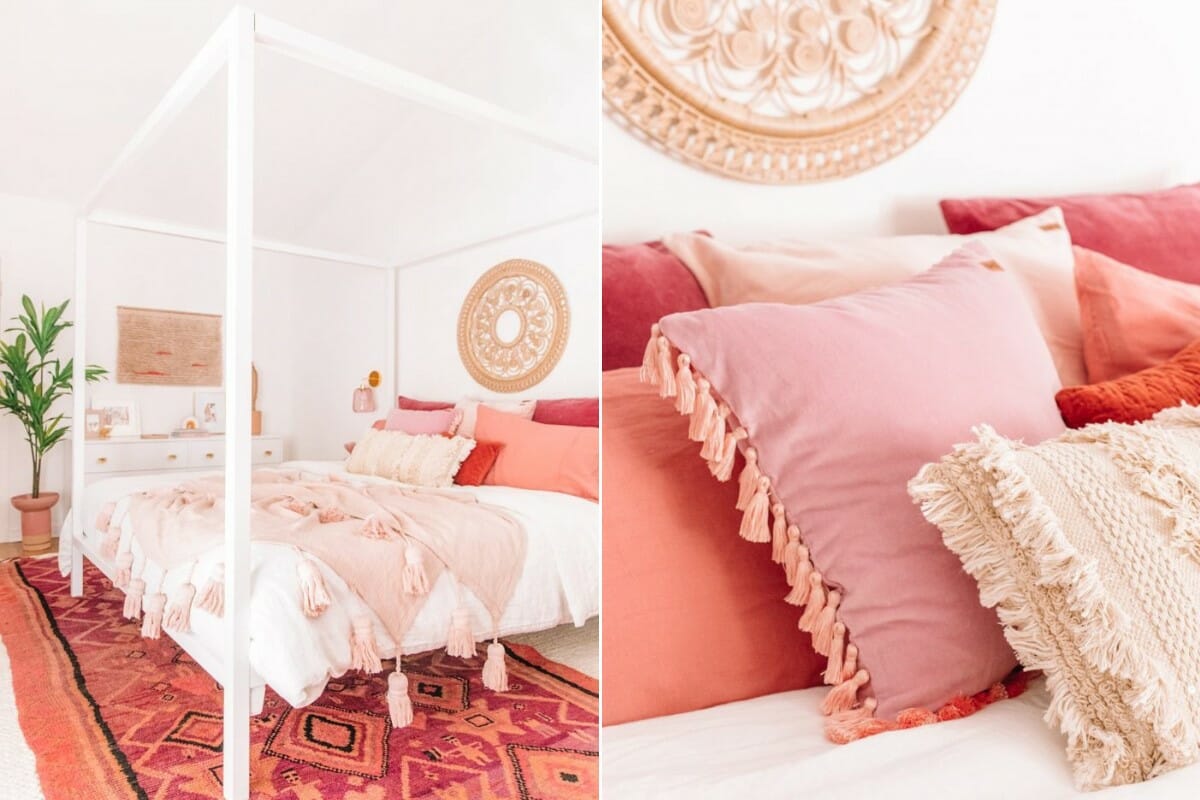 Terracotta is now entering the spotlight after being an overlooked color with great potential for some time. Finally, it's enjoying recognition as one of the bedroom color trends of 2023. The shade is ideal for anyone who prefers colors that are neither too bright nor unassuming. Terracotta is a striking tone, whether used on its own or as an accent color. Pair it with white or a warm beige to provide contrast and depth to designs.
Need help implementing the best 2023 bedroom trends at home?
With so many great bedroom decorating ideas in 2023, it can be tough to decide which is a good fit for your room. However, our team of leading interior designers can help! Schedule a Free Interior Design Consultation for help embracing the latest trends today!

[images: 1, 2, 3, 4, 5, 6, 7, 8, 9, 10, 11, 12, 13, 14, 15, 16, 17, 18, 19, 20, 21, 22, 23, 24, 25]