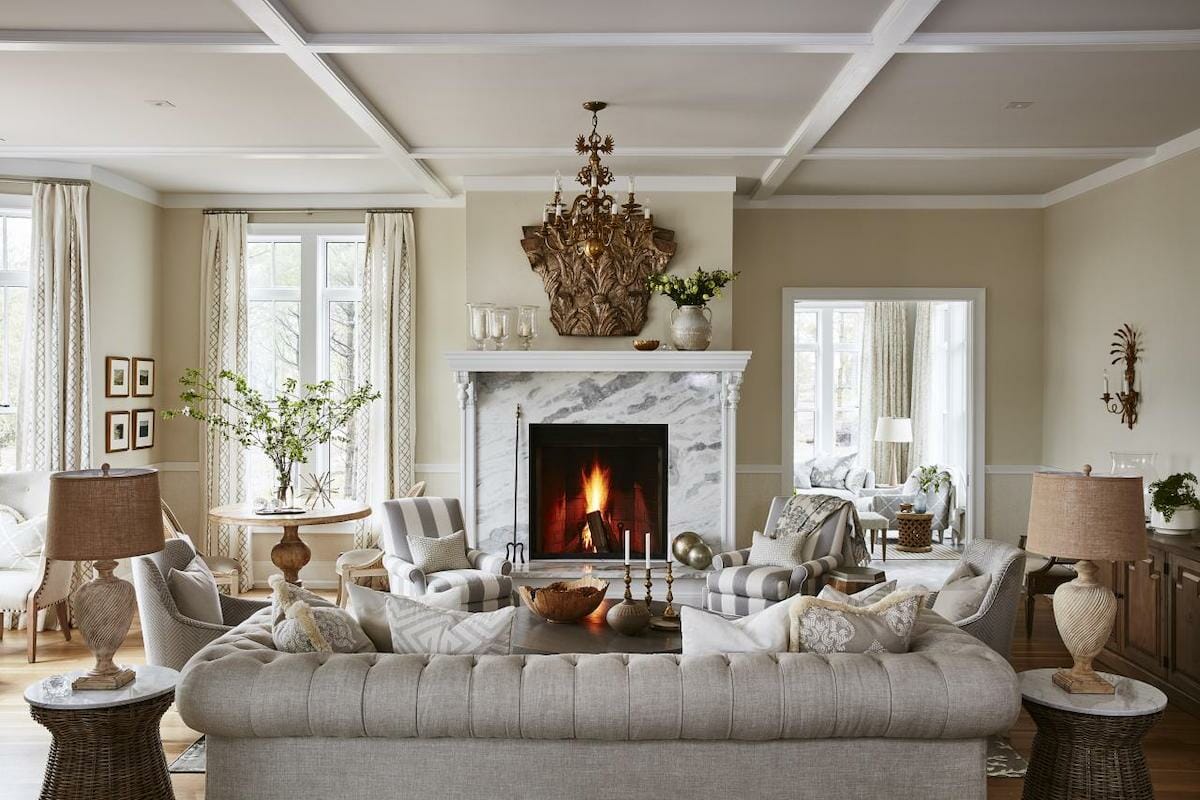 One of the most memorable eras of the past inspires traditional interior design. While classic, this style can certainly be covetable. These warm and comforting spaces often overflow with sophisticated, layered designs. So if you are a fan of this style, read on for our designer-approved traditional interior design ideas!  
Quick Guide to Traditional Interior Design 
There are vital points to putting together a beautiful traditional interior style. So we've asked our expert designers for three of their top tips. With their knowledgeable advice, you can pull off this look at home.
Unsure if you like traditional interior design? Then, take our quick Interior Design Style Quiz to find your true style right away!
Balance the Interior Design Elements
Be sure to select pieces that work together in harmony. For instance, items that coordinate in terms of style and color. However, remember that adding an unexpected hue or item can also add visual interest.
Create a Memorable Space
To create the perfect traditional interior, you need to mix in non-traditional elements. These can include a contemporary jewel hue or fresh layout that makes a great base. From here, you can design a personal and memorable space. To reach this goal, consider traditional decorating style as your starting point rather than the end goal.
Choose a Handful of Colors
Traditional home interiors allow for subtle color experimentation. In fact, it's a good idea to move away from all-white in exchange for powerful tones. That said, pick a palette before you start decorating. One primary hue with two or three accent tones is best for a unified design. A traditional dining and living room can hold different furnishings, but you can connect them through colors.
Timeless Traditional Interior Design & Decor Inspo
The luxury of the 18th and 19th centuries comes to the fore in traditional interior designs. For this reason, the style is a little glam, sometimes formal, but always welcoming. Let's explore some of our favorite looks!
1. Natural Materials
Natural materials, in particular wood, are a hit in traditional homes. Plus, with these materials comes organic colors. This traditional-style living room has natural elements with a glam twist, namely the glossy coffee table and twin mirrors.
2.
Architectural Details
This raised ceiling shows off a traditional design at its finest. Its intricate wainscoting makes the room feel tall and stately as a result. In addition, the architectural detail of the ceiling adds a sense of grandeur to the room.

3.
Traditional Kid's Room Interior Design
This traditional kid's bedroom has a classic decor scheme that gives you a warm and fuzzy feeling of nostalgia. The vibrant blue built-in bunk beds also add a modern touch to a beloved favorite. Moreover, the decorative chair adds a timeless element to this space.
4.
Traditional Arches
Traditional architecture and interior design are lavish and curvy. In this traditional living room design, the arched windows set the tone. As a result, a majestic and welcoming air adorns the room.
5.
Traditional Style Home Décor
These spaces display each homeowner's favorite artwork and collections. A dark, earthy color scheme sets a moody air that transports you to another time.
6.
Decorative Patterns
This orderly and floral wallpaper speaks to a traditional interior design. Besides being aesthetically pleasing, this pattern ties the room together. Furthermore, an accent chair echoes the delicate motif in its peacock upholstery.
7.
A Maximalist Celebration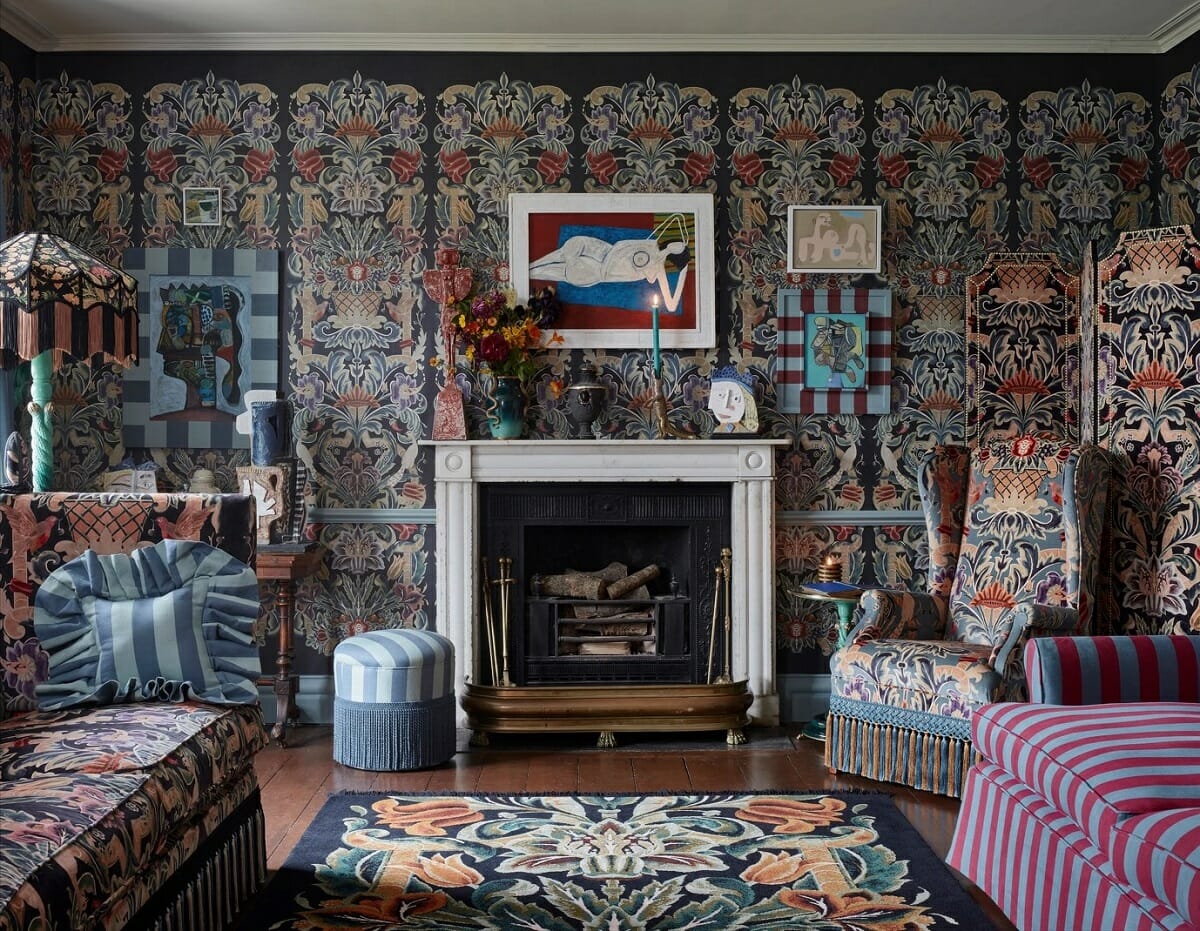 A traditional decorating style is undoubtedly maximalist. In fact, the more layers of materials and décor, the better! This living room is cozy yet sophisticated, thanks to coordinating rich colors and patterns.
8

. Classic

Color Palettes
Traditional interior design typically has a neutral scheme with pops of deeply colored home décor. This dining room shows how a subtle base can have interest because of its blue, green, and burgundy highlights.
9.
Symmetrical Floor Plan
Symmetry often features in traditional design. Here, a living room incorporates a calm ambiance through a mirrored layout and wrap-around seating.
10. Light Features
Lighting is a vital element in a traditional decorating style. Here, a chandelier draws visitors into a classic space, while table lamps and candles add a warming glow. 
11. Finer Details
Every detail matters in a traditional style interior. For example, these interiors often feature ornate candle stick holders, chandeliers, and mirrors. This space boasts all three while adding a touch of silver for natural sophistication.
12.
Traditional Interior Design for a Living Room
Layers of color and texture create a sense of history and glamour in this living room. Yet, the space has a Mediterranean ambiance too. The traditional home décor and furnishings also bring effortless, elegant symmetry.
13.
Beach-Inspired Traditional Interior Design
A traditional decorating style should be both classic and approachable. And in a seaside setting, it can take on a coastal color while keeping a classical air. The result is a soothing feel without being too casual.
14.
Cozy Den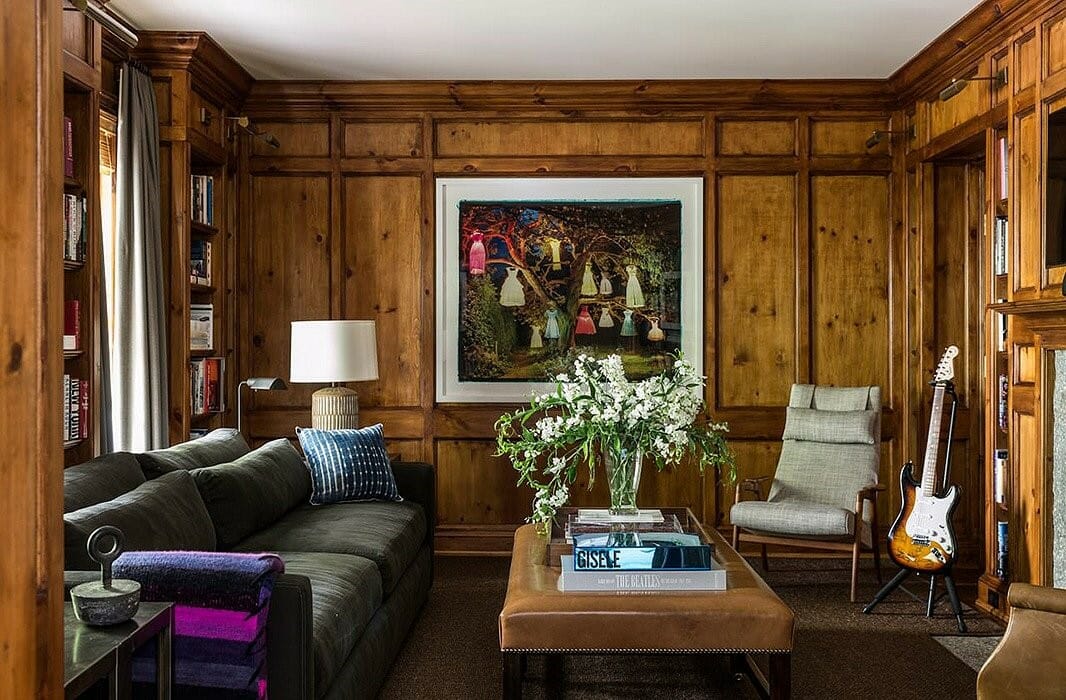 Everyone loves a space where they can nestle up and get comfortable. This cozy den radiates warmth from its wooden walls, while the varied tactile elements add depth and dimension.
15. Statement Chandelier
Chandeliers will always stay in style because of their visually appealing aesthetic. This dining room features a captivating fixture that contrasts the light interior while lifting the mood of the space as a focal point.
16.
Family-Friendly Traditional Interior Design
This spacious living room features ample seating. It's distinctive of traditional designs which accommodate large families. The interior also has a stand-out deep buttoned ottoman. Its rich teal hue creates a statement while also providing extra seating.
17.
Slightly Formal
This traditional interior is filled with gentle whites and layers of texture. An angular sofa, glass chandelier, and high-backed chair add a timeless and luxurious feel. Moreover, the glossy finishes result in a high-end bedroom.
18. Wood Finishes
Traditional homes often feature dark wood in a glossy stain or finish. This living room holds a stylish bar cabinet, desk, floors, and chairs with polished wood that complements the light scheme.
19.
Bright & Light
This nursery is a traditional space with a twist. Its bright, airy vibe forms a gorgeous backdrop for decorative pieces and the romantic wallpaper motif. The high-backed chair and deep buttoned ottoman also add traditional refinement and charm. 
20.
Book Displays
Put together but not overly fancy, this elegant living room feels traditional yet in vogue. Here, a feature wall and a rich green hue cover shelves and frame a classic fireplace. The moody color and comfy furniture make this space the perfect haven for book lovers.
21.
Spacious
Traditional Kitchen
This traditional kitchen has painted cabinets, a granite countertop, and marble floors. While leaning on these classic elements, it still allows room for family fun or guests, thanks to ample seating.
22.
Huge Wall Art
Wall art is a great way to bring personality to a traditional room. This dining room features a stand-out artwork to add a decorative flair. 
23.
Glamorous Traditional Home Décor 
At first glance, this distinct living room appears more glamorous than traditional. However, it contains staples of traditional home décor and furnishings that add flair. For instance, the chandelier and detailed wallpaper feature typical traditional designs.
24.
Quirky Antiques
This bedroom makes a stylish statement with a traditional design filled with quirky antiques. The bedframe immediately grabs the eye, while the side tables add old-school flair.
25. Timeless Hallways
Creating a first impression with an inviting, timeless entryway is always a good idea. These hallways balance functionality with dark floors, credenzas, and refined decor.
Want your traditional interior design? 
Need assistance in getting that designer look? Then, schedule a Free Interior Design Consultation for expert help in creating your home style!

[images: 1, 2, 3, 4, 5, 6, 7, 8, 9, 10, 11, 12, 13, 14, 15, 16, 17, 18, 19, 20, 21, 22, 23, 24, 25, 26, 27, 28, 29, 30, 31, 32, 33]