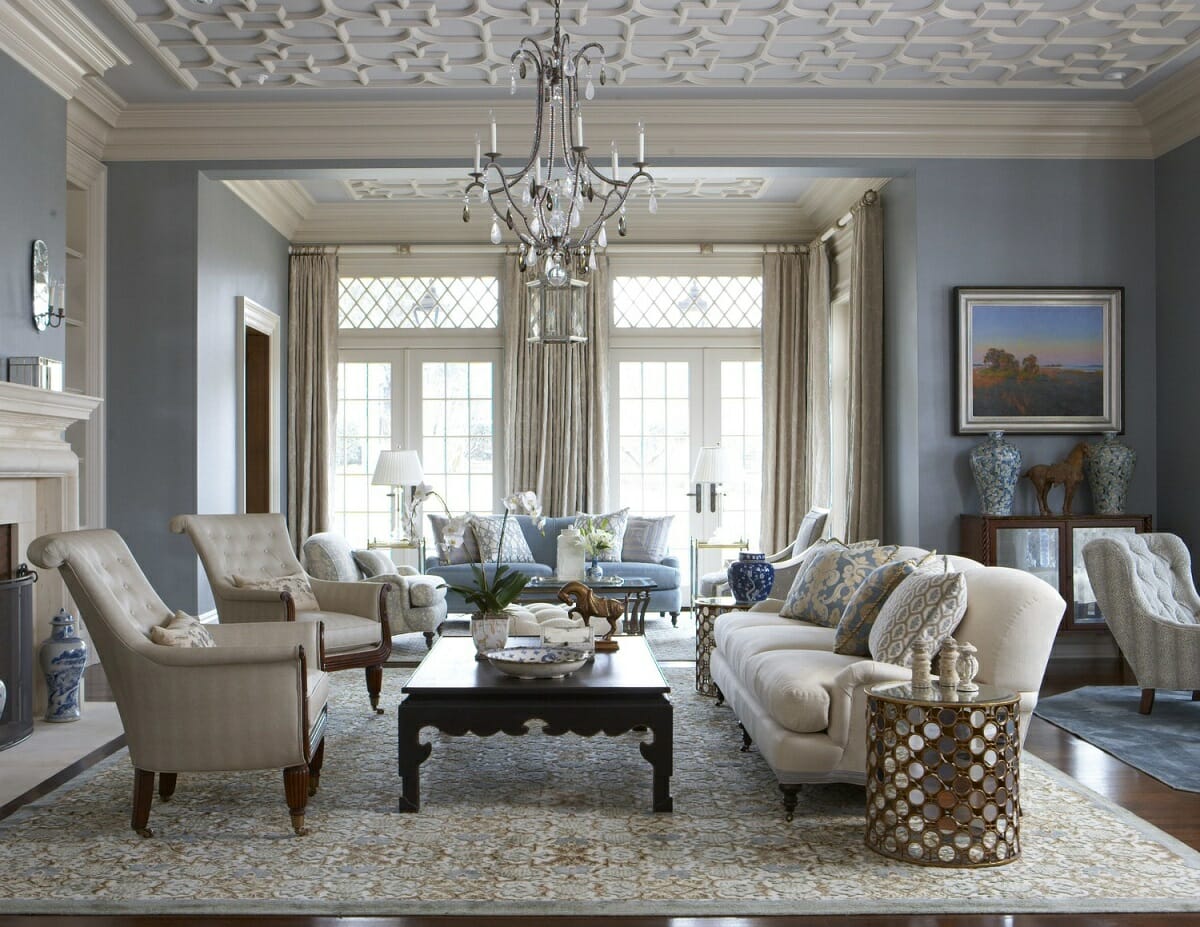 Renovating a home is exciting, but it can be equally daunting. A dining and living room makeover can be challenging, especially when taking down walls and changing the entire layout. That's why one recent client turned to Decorilla for help. It's a good thing she did, as her updated traditional dining room and lounge are exquisite. Take a look at the transformation below.
The Challenge: Traditional Dining Room and Living Room Makeover
After an initial reconstruction, the client's home was ready for an interior design overhaul. Redesigning a large space can certainly be tricky, but through trained eyes, design problems are always solvable. The designer had to address the following challenges:
Reconfiguring the entire ground floor, which contained a family room, dining room, and an awkward kitchen.
Making the area feel light and bright despite the lack of natural light.
Incorporating traditional furniture that is timeless and glamorous.
The Inspiration: Traditional Home Style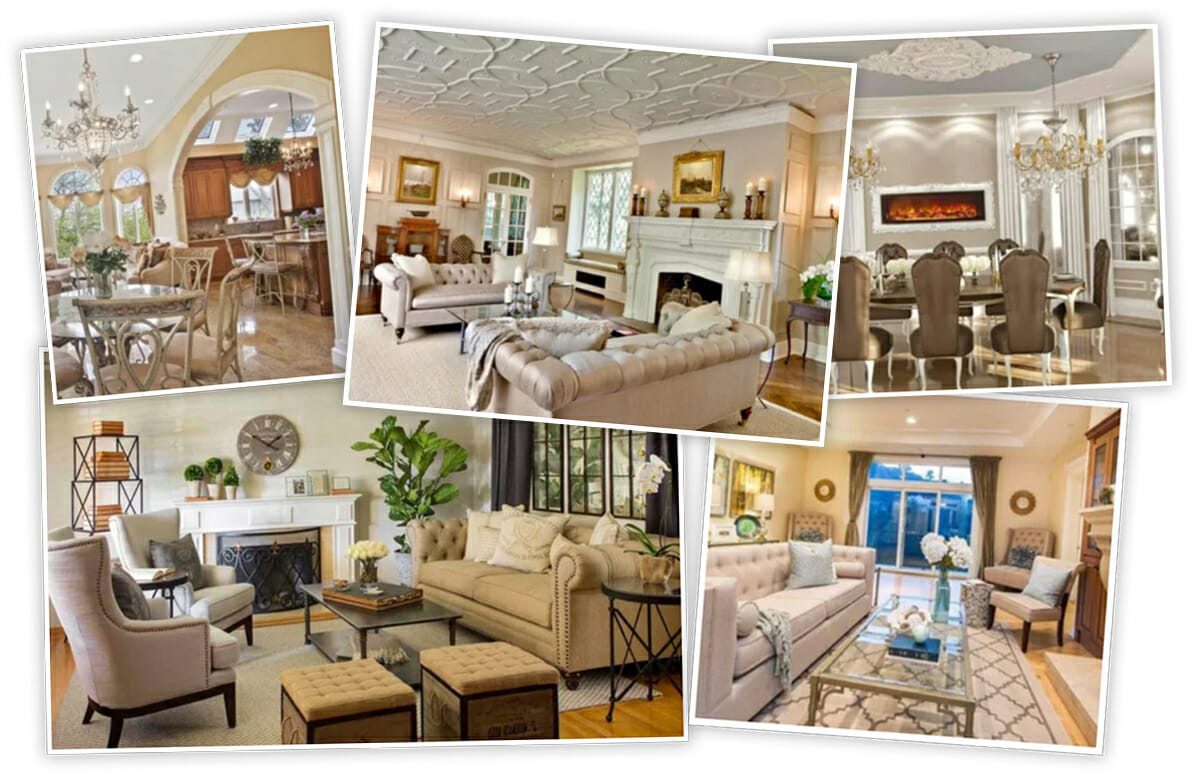 Interiors with a touch of French decoration filled the client's inspiration collection. In these images, a sophisticated yet livable traditional interior design shines through. Not only do these homes have luxurious furniture and fabrics in common, but they also feature ornate ceilings. Thanks to the client's visual guide, designers could create concepts that cover all the client's requirements.
Not sure where to start with your own traditional dining and living room makeover? Schedule your Free Online Interior Design Consultation to learn more about your interior design options today!
The Traditional Dining and Living Room Design
Initially, the client received two concepts, each in the traditional home style she loves. However, she decided to reconfigure her home with the expertise of architect Inga Oren first. Due to her generous interior makeover budget, she could change the structure of the ground floor and open the awkward layout. Once the client was ready to furnish the inside of her home, Decorilla interior designer, Tijana Z's proposal for a traditional dining and living room makeover ticked all the boxes.
Tijana chose a light color palette to brighten the once dark living and dining room design. To bring even more light into the room, the designer suggested white, beige, and metallic furnishings. White and metallic surfaces reflect light, multiplying the effect. These include white seating, offset by navy accent chairs, curtains, and scatter cushions. Keeping the client's love of intricate design in mind, Tijana also included French rococo-inspired dining chairs, a detailed coffee table, and a curved bench.

Traditional Dining Room Result
Stepping through the arched front doors and into the foyer, you're met with the exquisite living room on the left and opulent traditional dining room and kitchen on the right. Both areas show off recessed ceilings, but the section above the dining area, especially, echoes 18th-century grandeur. The open kitchen and dining area feel light due to off white cabinetry, walls with an eggshell finish, downlights, and two chandeliers highlighting the kitchen island and dining table.
As part of the final design package, 3D renderings give clients a visual representation of their finished interior. Here an 8-seater table with a marble top and pearl white chairs set the tone for formal dining. But their rococo design brings lightness, almost whimsical element to the room. And finally, a sumptuous chandelier balances the curves of the table while blue velvet curtains balance the gilded details.
From Dream to Reality
Premier Precision Photography captured the traditional home style in perfect clarity. The completed project is bright, lavish, and balanced. Curves contrast with straight lines while metals and soft creams come to life when combined with deep blue. Above all, the photographs tell an interior design success story.
The Traditional Living Room Makeover
After the living room makeover, the interior is open and welcoming, far from the dark, impractical room it was before. Now, generous seating, lush greenery, and unique decor fill the space, creating an elegant, yet warm and welcoming interior. Thanks to the reconfiguration, the new layout certainly allows for a grander and more inviting living room.
Traditional Home Style Accessories & Lighting
The living room makeover wouldn't be complete without finishing touches. Similarly, lighting can make all the difference, and even make what was once austere, inviting. Before, blocked off rooms had little sunlight and insufficient artificial lighting. Fortunately, through layered light, the designer could mimic the glow of a sunny day. The chandelier and table lamps not only add more light but also add visual depth with their height. Finally, to soften the formality of the interior, large neutral and blue scatter cushions adorn the white leather seats.
Traditional Furniture
The living room makeover made way for a symmetrical, formal lounge that frames the period fireplace. Additionally, for an increased visual impact, two dark grey accent chairs sit on either side of the fireplace, breaking the white mantel and wall panels. They also ensure that the white Chesterfield sofa and loveseats don't fade into their surroundings.
Design Your Own Traditional Home Style Interior
Traditional home styles, from dining rooms to lounges to bedrooms, all incorporate timeless classic design. Be it in the form of luxurious drapes, candelabras, tufted seating, ornate coffee tables, or classic artwork. If you want to recreate a bespoke traditional interior at home, use our top picks below as a quick decorating guide.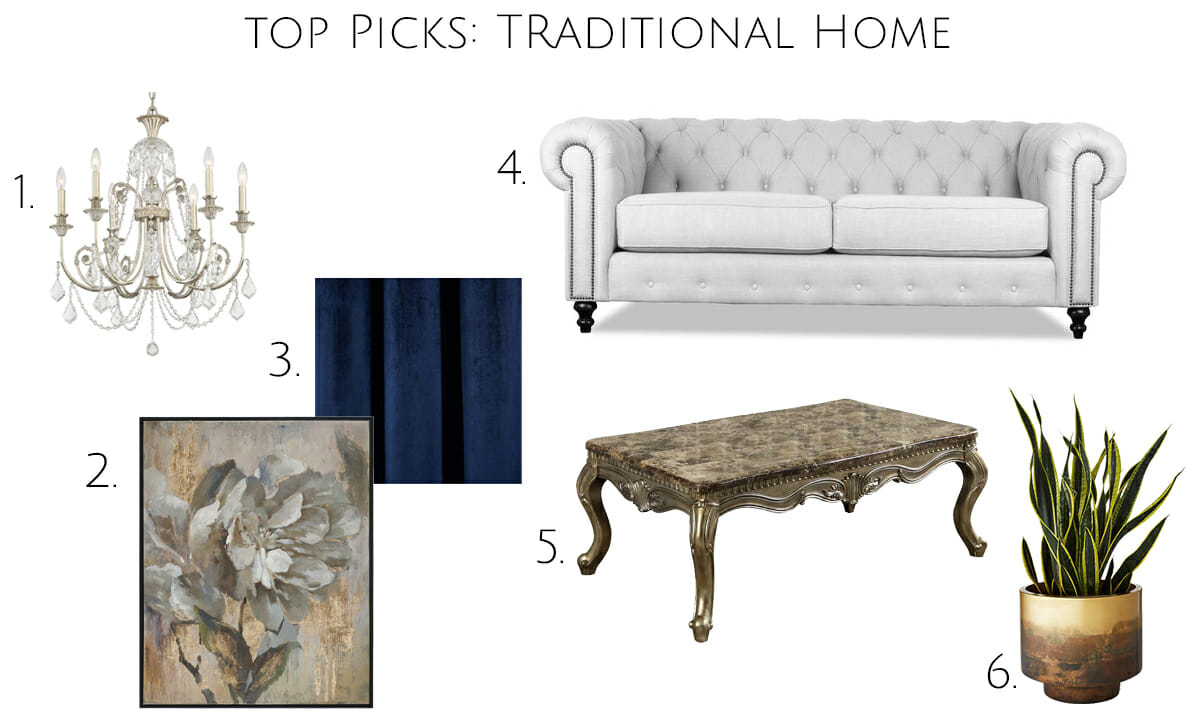 With the insight and precision of an interior designer, the client could finally make the best use of her first floor. Now the traditional dining room and lounge are picture-perfect – ready for luxe entertaining. This successful design project created another beautiful home and made one homeowner very happy as a result.
Get started on your own traditional dining and living room makeover today! Schedule a Free Interior Design Consultation with an expert interior designer to get started creating your dream home.

[images: 1, Decorilla project renderings, Premier Precision Photography: Project Photography]