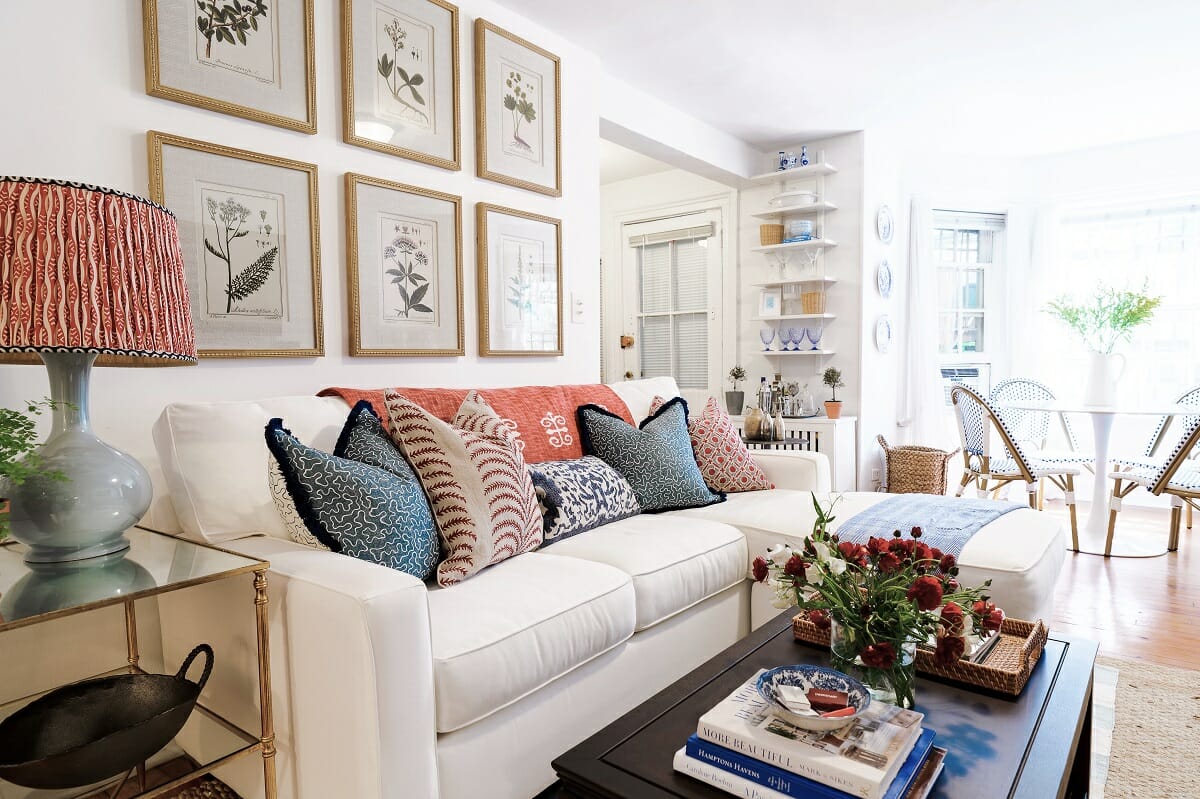 Unique and universally appealing, New England interior design reflects the region's influences. These include coastal living, colonial heritage, and the locals' love for nature. This aesthetic emphasizes comfort, functionality, and simplicity. While not everyone lives in New England, anyone can have a traditional New England interior design at home. We've put together tips on how to do just that – read on for some inspiration! 
W

hat is New England interior design?
Rich in history and tradition, New England-style interior design ideas have stood the test of time. It's no wonder as these interiors include natural materials that add warmth and texture. In addition, the style holds a muted color scheme, traditional furniture, and nautical elements to depict the coast. Known for its timeless style, New England style décor has a charm that inspires homeowners worldwide.
Unsure if New England interior design fits your home? Then try our

 Free Interior Design Style Quiz

to find your true style!
From Rhode Island designers to the charm of Greenwich design, New England has plenty of talent when it comes to interior creators. The style incorporates personalized accessories, like vintage or antique items. As a result, traditional New England interior design is full of personality and holds a welcoming ambiance. 
10 Classic New England Interior Design Ideas
With an emphasis on traditional design, the New England decorating style focuses on creating an inviting atmosphere. It also reflects the unique personality of regional Boston interior design. Moreover, it is a versatile style that can adapt to different spaces and budgets. So, let's get into quick tips to recreate the look in your own home!
1. Stick to a Muted Color Palette
White, beige, oatmeal and blue make up the soothing color scheme characteristic of New England-style homes interior. These hues mimic the region's natural environment while ensuring a calming atmosphere. White is great for walls, as it forms an airy feeling and allows the highlighting of other elements. In addition, oatmeal and gray are good for defining the design and bringing a warm feel to furniture. Lastly, blue is a popular accent hue, evoking the ocean. 

2. Include Vintage New England Cottage Decor & Furniture
Including vintage pieces in your New England style décor selection adds character, charm, and a feeling of history. So, include this history when repurposing items. For instance, these can be vintage-like stools or unique pendant lights that tell a story. By doing so, you combine design interest with functionality. By embracing the imperfections of antiques, you also allow the wear and tear to add depth to your space. 
3. Add Nautical Elements
Nautical elements make great New England style décor. The coastal charm of the area reflects through seashells, coral pieces, and other nautical-themed items. As a result, your New England home interior gains a touch of whimsy and authenticity. Overall, you'll infuse your interior with a sense of adventure and connect it to the ocean, resulting in a memorable interior design style. 
4. Highlight the Fireplace
A fireplace instantly evokes the cozy and inviting atmosphere of New England cottage interiors. This focal point not only provides warmth, but a feeling of nostalgia and personality too. In fact, tradition and heritage naturally imply when one combines New England cottage décor with a crackling fire. As a result, the fireplace anchors the room and adds a timeless elegance. 
5. Bring in Traditional Furniture
Traditional New England interior design embodies the region's heritage. Therefore, you can elevate your New England interior by opting for traditional furniture pieces. For example, wingback chairs and vintage cabinets can be just what your space needs. When decorated correctly, they ooze coziness and instantly make a room feel like home.  
6. Incorporate Natural Materials
Celebrate New England's natural beauty through the use of wood, stone, and brick. In this way, you'll hint towards the sustainability of your design while enhancing its rustic charm. With rustic textures and earthy tones, these natural elements are useful for flooring, accent walls, or even fireplaces. Lastly, consider including other complementary earthy items, like woven baskets and organic linen. As a result, you'll bring depth and dimension to your interior. 
7. Put Down a Few Patterns
Patterned fabrics are true to New England interior design. Florals, paisleys, and plaids are common patterns on pillows, upholstery, curtains, and even accent wallpaper. However, balance these designs with other neutral elements in the room. For instance, provide more solid colors for flooring and walls to prevent overwhelming the area.
8. Layer Your Lighting
Modern New England-style interiors are known for their layered lighting. Consequently, they have a warm and inviting ambiance. Various types of lighting are possible, such as overhead, table lamps, and floor lamps. In addition, add vintage touches to your New England colonial house interior through the use of lanterns. These are reminiscent of lighthouses that guided those at sea in the past. 
9: Focus on Functionality & Comfort
Taking a practical and functional approach to New England style living rooms is important. And to do so, a comfortable layout is required. As a result, your space will promote easy flow and movement. Both New England style décor and furniture should be aesthetically pleasing yet functional. Consequently, your home will be conducive to your everyday lifestyle. 
10. Layer Your Textures
Create a snug and pleasant atmosphere by layering textures in a New England interior design. Mix and match fabrics, include earthy fibers, and play with patterns. As a result, you'll end up with dimension and visual interest in a space. That said, stick to a cohesive color palette and style to balance your differing textures and materials. 
Want your own New England interior design?
Whether you're looking for a New England design or any other look, a team of expert designers can help! Simply schedule a Free Interior Design Consultation to get started today!